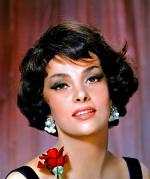 L'actrice italienne Gina Lollobrigida est décédée ce lundi 16 janvier 2023 à l'âge de 95 ans à Rome, Italie.
« Adieu à une diva du grand écran, protagoniste de plus d'un demi-siècle d'histoire du cinéma italien. Son charme est éternel. Ciao Lollo », a tweeté le ministre de la Culture Gennaro Sangiuliano.
En septembre dernier, la comédienne avait été victime d'une mauvaise chute à son domicile et s'était fracturé le col du fémur, entraînant son hospitalisation.
Italian actress Gina Lollobrigida died on Monday January 16, 2023 at the age of 95 in Rome, Italy.
" Farewell to a diva of the big screen, protagonist of more than half a century of Italian cinema history. Her charm is eternal. Ciao Lollo," Culture Minister Gennaro Sangiuliano tweeted.
Last September, the actress had suffered a bad fall at her home and had fractured the neck of the femur, resulting in her hospitalization.
---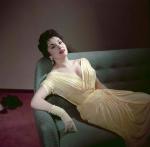 Née le 4 juillet 1927 à Subiaco (Italie, Latium), Luigia Lollobrigida - de son vrai nom - est issue d'une modeste famille du milieu ouvrier. Elle est remarquée par le milieu cinématographique dans un roman-photo où elle posait sous le pseudonyme de Diana Loris, alors qu'elle poursuivait des études aux Beaux-Arts et participait à des concours de beauté (en 1947, elle termine deuxième au concours de Miss Rome et troisième à celui de Miss Italie). Durant des années, sa présence à l'écran, dans des rôles secondaires, n'est dictée que par ses atouts physiques, sa beauté voluptueuse.
Elle accède aux premiers rôles en France: dans Fanfan la Tulipe, de Christian Jaque (1952) et dans Les Belles de nuit de René Clair (1952), tous deux aux côtés de l'acteur Gérard Philipe. Puis elle accède à la notoriété avec La Belle Romaine, de Luigi Zampa (1954), et reste une inoubliable Esmeralda remarquée dans sa robe rouge dans Notre-Dame de Paris de Jean Delannoy (1956), puis enchaîne avec les succès de Pain, amour et fantaisie puis Pain, amour et jalousie, de Luigi Comencini (en 1953 et 1954, aux côtés de Vittorio de Sica), Le Grand Jeu de Robert Siodmak (avec Arletty en 1954).
Born on July 4, 1927 in Subiaco (Italy, Lazio), Luigia Lollobrigida - her real name - comes from a modest working-class family. She was noticed by the cinematographic community in a photo novel magazine where she posed under the pseudonym of Diana Loris, while she was studying at the Beaux-Arts and participated in beauty contests (in 1947, she finished second in the contest of Miss Rome and third to Miss Italy). For years, her presence on the screen, in secondary roles, was dictated only by her physical assets, her voluptuous beauty.
She reached the leading roles in France: in Fanfan la Tulipe, by Christian Jaque (1952) and in Beauties of the Night by René Clair (1952), both alongside actor Gérard Philipe. Then she rose to fame with Woman of Rome, by Luigi Zampa (1954), and remained an unforgettable Esmeralda noticed in her red dress in The Hunchback of Notre Dame by Jean Delannoy (1956), then continued with the successes of Bread, Love and Dreams then Frisky, by Luigi Comencini (in 1953 and 1954, alongside actor Vittorio de Sica), Flesh and the Woman by Robert Siodmak (with Arletty in 1954).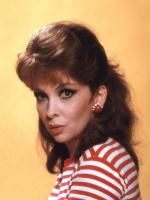 Elle part ensuite à Hollywood, faisant face aux assaults d'Howard Hugues qui la maintien séquestrée plusieurs mois dans une chambre de l'Hôtel Town House sur Wilshire Boulevard, à Los Angeles; elle donne la réplique à Humphrey Bogart (Plus fort que le diable, de John Huston, 1953), à Burt Lancaster et Tony Curtis (Trapèze, de Carol Reed, 1956), à Yul Brynner (Salomon et la reine de Saba, de King Vidor, 1959), à Rock Hudson (Le Rendez-vous de septembre, de Robert Mulligan, 1961).
Elle rentre en Italie en 1962, faisant notamment face à une condamnation à deux mois de prison en 1966, finalement amnistiée, pour attentat à la pudeur dans Les Poupées, à cause de tenues osées. Elle tourne en pointillés: La Marine en folie de Franck Tashlin en 1968, Ce merveilleux automne de Mauro Bolognini en 1969, Roi, dame, valet de Jerzy Skolimovski en 1972, puis joue un second rôle (celui de la fée turquoise) dans Les Aventures de Pinocchio, serie télévisée de Luigi Comencini.
Elle se consacre en fait désormais à sa passion pour la photographie dès 1973 en faisant quelques apparitions dans des séries télé américaines pendant les années 1980s (comme dans Falcon Crest) ou des feuilletons italiens dans les années 1990s.
She then left for Hollywood, facing the assaults of Howard Hughes who kept her sequestered for several months in a room at the Town House Hotel on Wilshire Boulevard, in Los Angeles; she replies to Humphrey Bogart (Beat the Devil, by John Huston, 1953), Burt Lancaster and Tony Curtis (Trapeze, by Carol Reed, 1956), Yul Brynner (Solomon and Sheba, by King Vidor, 1959), to Rock Hudson (Come September, by Robert Mulligan, 1961).
She came back to Italy in 1962, notably facing a two-month prison sentence in 1966, finally amnestied, for indecent assault in The Dolls, because of daring outfits. She makes films until 1973: The Private Navy of Sgt. O'Farrell by Franck Tashlin in 1968, That Splendid November by Mauro Bolognini in 1969, King, Queen, Knave by Jerzy Skolimovski in 1972, then plays a supporting role (that of the turquoise fairy) in The Adventures from Pinocchio, television series by Luigi Comencini.
In fact, she now devoted herself to her passion for photography from 1973, making a few appearances in American TV series during the 1980s (as Falcon Crest) or Italian soap operas in the 1990s.

---
Gina & Marilyn
Le 14 septembre 1954, l'actrice italienne arrive à New York pour participier à la première de l'un de ses films. Le lendemain, soit le 15 septembre 1954, participant à des interviews pour la presse américaine, le journaliste Earl Wilson lui propose de rencontrer Marilyn Monroe, alors en tournage de la fameuse scène de la robe blanche qui se soulève par l'air d'une bouche de métro pour le film Sept ans de réflexion et tourné dans les rues de la ville (sur Lexington Avenue). Après les prises de vues, l'équipe du film se réfugie au cinéma du Trans-Lux Theatre: c'est là qu'Earl Wilson fait les présentations entre Gina Lollobrigida et Marilyn Monroe. La rencontre sera furtive, le temps de prendre quelques photos.
Toute sa vie, en interview, les journalistes aimaient demander à Gina de parler de Marilyn (elle fait partie des rares actrices européennes à avoir été prise en photographie avec Marilyn); elle faisait toujours remarquer que Marilyn était très belle et d'une grande sensibilité.
sur le blog: 15/09/1954 NYC - Sur le tournage de The Seven Year Itch partie 3
On September 14, 1954, the Italian actress arrived in New York to attend the premiere of one of her films. The next day, September 15, 1954, taking part in interviews for the American press, the journalist Earl Wilson offered her to meet Marilyn Monroe, then filming the famous scene of the white dress being lifted by the air of a metro entrance for the film The Seven Year Itch and filmed in the streets of the city (on Lexington Avenue). After the filming, the film crew takes refuge in the Trans-Lux Theater cinema: this is where Earl Wilson makes the presentations between Gina Lollobrigida and Marilyn Monroe. The meeting will be furtive, the time to take some photos.
All her life, in interviews, journalists liked to ask Gina to talk about Marilyn (she is one of the rare European actresses to have been photographed with Marilyn); she always pointed out that Marilyn was very beautiful and very sensitive.


En août 1955, Joe DiMaggio, ex-mari de Marilyn, se rend en Europe. Il fait une escale à Paris avant de se rendre dans le village natal de ses parents à Palermo, en Sicile (Italie). Le 29 août 1955, il rend visite à l'équipe de tournage du film "Trapèze" au Cirque d'Hiver à Paris, où il est photographié avec Gina.
In August 1955, Joe DiMaggio, Marilyn's ex-husband, goes to Europe. He made a stopover in Paris before going to his parents' native village in Palermo, Sicily (Italy). On August 29, 1955, he visited the film crew of the film "Trapeze" at the Cirque d'Hiver in Paris, where he was photographed with Gina.

Magazine Semaine du Monde, 21/09/1955, France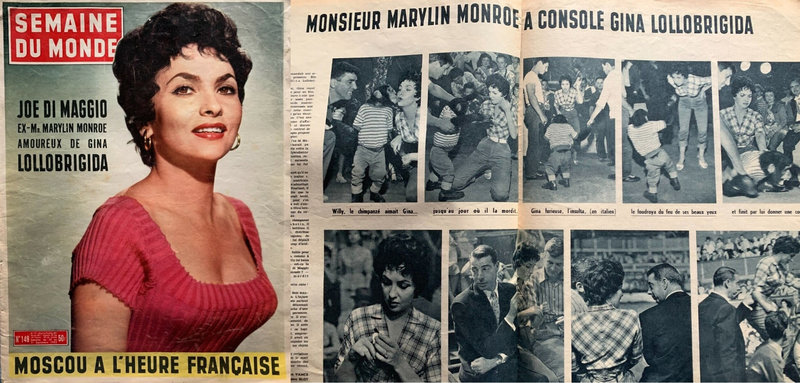 Gina était aussi une grande sculptrice, certaines de ses oeuvres étant même parfois gigantesques (comme celle la représentant en Esmeralda). Elle a notamment fait une sculpture de petite taille représentant Marilyn Monroe qu'elle avait nommée "La Amica" ("L'Amitié" en italien).

Gina was also a great sculptress, some of her works being sometimes gigantic (like the one representing herself as Esmeralda). In particular, she made a small sculpture representing Marilyn Monroe which she had named "La Amica" ("Friendship" in Italian).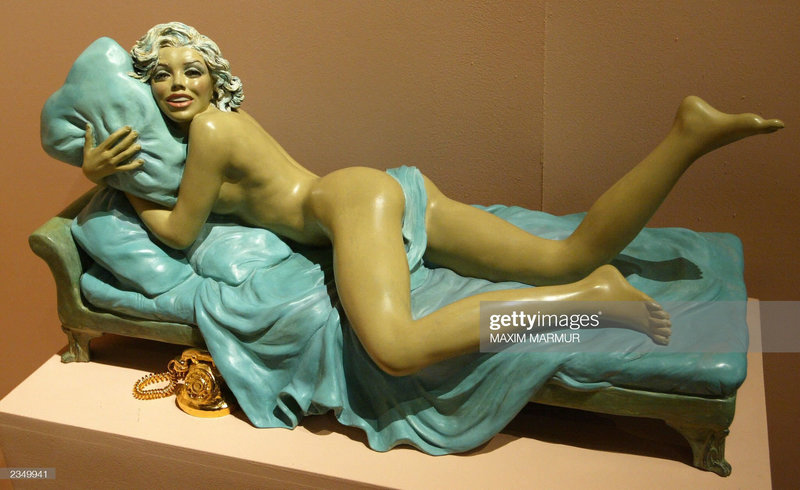 Expo à l' Hotel de la Monnaie de Paris en octobre 2003
---
Sur le web
article "Gina Lollobrigida parle de Marilyn" sur le blog Ava, Gene, Audrey et Les Autres Ava, Gene, Audrey et Les Autres
filmographie sur imdb
photographies HQ sur Dr. Macro's

---
© All images are copyright and protected by their respective owners, assignees or others.
copyright text by GinieLand.