31 janvier 2023
Fin avril / début mai 1949, Marilyn Monroe se rend au studio photo du photographe Tom Kelley situé au 376 North Seward à Hollywood, après avoir retrouvé dans ses affaires la carte de visite qu'il lui avait remis en octobre 1948 (il l'avait rencontrée par hasard sur Sunset Boulevard, à Los Angeles, alors qu'elle venait d'avoir un accident avec sa voiture et qu'elle n'avait pas un sous en poche). Elle a besoin d'argent car après avoir tourné le film La Pêche au trésor, elle ne reçoit aucune autre proposition de l'industrie cinématographique. Elle décide donc de se tourner vers son "ancien" métier: modèle pour photographe.
Il semble qu'elle soit arrivée au studio de Kelley sans avoir pris de rendez-vous. Kelley racontera: "Marilyn est venue un samedi après-midi. Rien de particulier ne la distinguait des dizaines d'autres modèles potentiels. Ses cheveux étaient maintenant blonds roux, longs, bouclés et bouffants autour du visage, le style populaire de la fin des années 1940. Sa jupe était serrée. Son chemisier était très décolleté. Elle portait des chaussures à talons, avec une bride à la cheville. Sa bouche était maquillée comme celle de Joan Crawford, à l'ancienne, et elle n'arrêtait pas d'humidifier ses lèvres."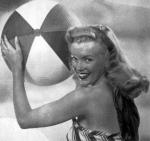 Le photographe travaille alors sur un projet de publicité pour une marque de bière et le modèle qu'il a engagé vient de se désister. La femme du photographe, Natalie Kelley, amène Marilyn dans une pièce annexe pour retoucher son maquillage et l'aider à se changer; Marilyn enfile son maillot de bain deux pièces noir et blanc de Rose Marie Reid et on lui tend un ballon de plage multicolore. "Je crois que ça devrait aller" déclare Tom Kelley en découvrant Marilyn, qui pose pendant plus d'une heure. Le photographe se souvient qu'elle ne s'est jamais plainte et elle a même refusé de faire une pause quand cela lui a été proposé. Marilyn a été payée 30 $ pour sa séance de pose.
Deux semaines plus tard, les fabricants de Pabst Beer reçoivent leur nouvelle affiche intitulée "Swimming" et le directeur commercial félicite le photographe en posant des questions sur le modèle. Tom Kelley est conforté par l'opinion qu'il s'était fait de Marilyn en la rencontrant la première fois: elle est d'une incroyable photogénie. D'ailleurs, la publicité pour la bière va attirer l'oeil d'un autre directeur commercial, John Baumgarten, qui fabrique des calendriers à Chicago. C'est ainsi que Marilyn posera nue pour Tom Kelley: les fameuses photos de la séance rouge du calendrier "Golden Dreams".
> séance 27/05/1949 Red Velvet - par Tom Kelley
L'affiche publicitaire Pabst Beer reste à ce jour introuvable et inconnue. On ne connait qu'une seule photographie (en noir et blanc) prise lors de cette séance.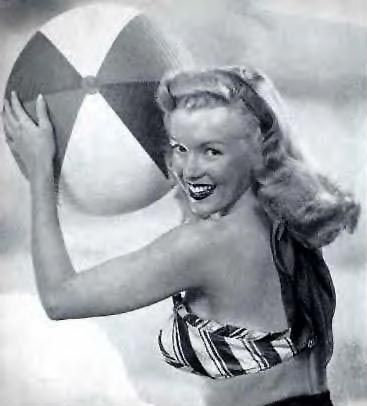 Late April / early May 1949, Marilyn Monroe goes to to photographer Tom Kelley's photo studio located at 376 North Seward in Hollywood, after finding in her belongings the business card he has given her in October 1948 (he met her by chance on Sunset Boulevard, in Los Angeles, when she has just had an accident with her car and she had no money in her pocket). She needs the money because after shooting the movie Love Happy, she doesn't receive any other offers from the film industry. She therefore decides to turn to her "old" profession: model for photographer.
It seems she arrives at Kelley's studio without having made an appointment. Kelley recounts: "Marilyn came in one Saturday afternoon. There wasn't anything in particular to distinguish her from the scores of other would-be models. Her hair was now reddish-blonde, worn long, curly and fluffed around the face, a style popular in the late 1940's. Her skirt was tight. Her blouse was very low-cut. She wore high-heeled shoes, ankle strapped. Her mouth was made up like Joan Crawford's, old-style, and she kept on moistening her lips."

The photographer is then working on an advertising project for a brand of beer and the model he has hired has just withdrawn. The photographer's wife, Natalie Kelley, takes Marilyn to an adjoining room to touch up her make-up and help her change; Marilyn puts on her black and white two-piece swimsuit by Rose Marie Reid and a multicolored beach ball is handed to her. "I think it should be fine" declares Tom Kelley discovering Marilyn, who poses for more than an hour. The photographer remembers that she never complained and even refused to take a break when it was offered to her. Marilyn was paid $30 for her posing session.
Two weeks later, the makers of Pabst Beer receive their new poster titled "Swimming" and the business manager congratulates the photographer asking about the model. Tom Kelley is comforted by the opinion he had on Marilyn when he met her the first time: she is incredibly photogenic. Moreover, the advertisement for the beer will attract the eye of another sales manager, John Baumgarten, who manufactures calendars in Chicago. This is how Marilyn will pose naked for Tom Kelley: the famous photos of the red sitting for the "Golden Dreams" calendar.
The Pabst Beer advertising poster remains untraceable and unknown to this day. We know of only one photograph (in black and white) taken during this session.
---
sources:
Livre "Marilyn Monroe, la biographie" de Donald Spoto
Livre "Holding a Good Thought for Marilyn, 1926-1954 The Hollywood Years' de Stacy Eubank
Magazine Los Angeles, n°6, juin 1991: article "Marilyn: The Naked Truth" by Tom Kelley
---
- Bonus sur le blog -
Plus d'informations sur le maillot de bain:
More information about the swimsuit:
article Maillot de bain en taffetas à carreaux de Rose Marie Reid

---
© All images are copyright and protected by their respective owners, assignees or others.
copyright text by GinieLand.