Robe orange ornée de perles
Orange beaded gown

Robe de soirée jaune orangée, longue jusqu'au pied de style empire avec la jupe en biais, avec une épaule dénudée et une large bretelles à l'autre épaule, orné de bijoux perlées, et au dos entièrement découvert.
Orange-yellow evening dress, long to the foot in an empire style with a bias skirt, with one bare shoulder and wide straps on the other shoulder, decorated with beaded jewels, and with a completely open back.
---
La Robe portée par d'autres
The Dress worn by others
---
Cette robe est portée initialement par l'actrice allemande Hildegard Knef dans le film de la 20th Century Fox Les neiges du Kilimandjaro de Henry King, avec Gregory Peck, Susan Hayward et Ava Gardner dans les rôles principaux. Le film est sorti sur les écrans américains en septembre 1952. La robe est une création de Charles Le Maire, le superviseur des costumes du film. La scène dans laquelle Hildegard porte la robe a été coupée au montage, mais il subsiste des photographies publicitaires sur lesquelles elle porte la robe.
Dans cette scène, elle chante "Alles war so leer/You Do Something To Me" : coupée dans la version américaine du film, la scène est conservée dans la version allemande.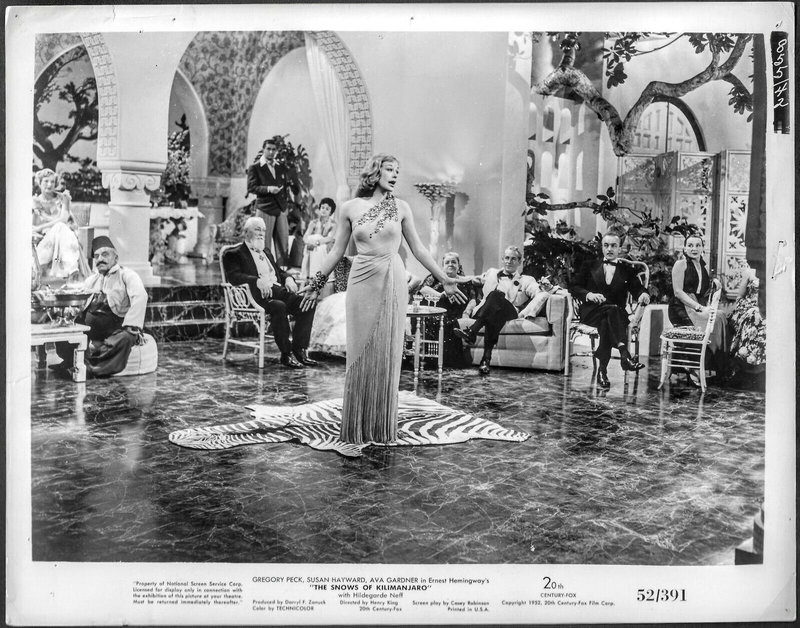 VIDEO - extrait de la scene

This dress was originally worn by German actress Hildegard Knef in Henry King's movie of 20th Century Fox The snows of Kilimanjaro, starring Gregory Peck, Susan Hayward and Ava Gardner. The film is released in US screens in September 1952. The dress was designed by Charles Le Maire, the film's costume supervisor. The scene in which Hildegard wears the dress was cut, but there are publicity photographs in which she is wearing the dress.
In this scene, she sings "Alles war so leer/You Do Something To Me": cut in the American version of the film, the scene is kept in the German version.

---
Marilyn et la robe
Marilyn and the gown
---
Marilyn Monroe emprunte la robe qui avait été remise au département costumes des studios de la Fox, pour la porter à une séance de portraits studio pour la Fox par John Florea, en 1953.
Marilyn Monroe borrows the dress that had been given to the costume department of Fox studios, to wear it to a studio portrait session for Fox by John Florea, in 1953.
---
L'après Marilyn
After Marilyn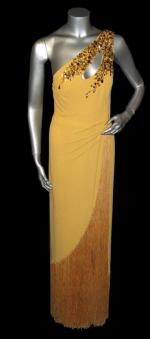 La robe est aujourd'hui la propriété du fan et collectionneur américain Greg Schreiner, qui possède plusieurs vêtements, photographies et objets divers de Marilyn qu'il a acheté aux enchères au fil des années. Il prête souvent les éléments de sa collection pour des expositions. Sa collection est en ligne sur son site internet "The Marilyn Monroe Site".
The dress is now the property of American fan and collector Greg Schreiner, who owns several of Marilyn's clothes, photographs and miscellaneous objects that he bought at auction over the years. He often lends items from his collection for exhibitions. His collection is online on his website "The Marilyn Monroe Site".
Page du "MM Site": "The Snows of Kilimanjaro"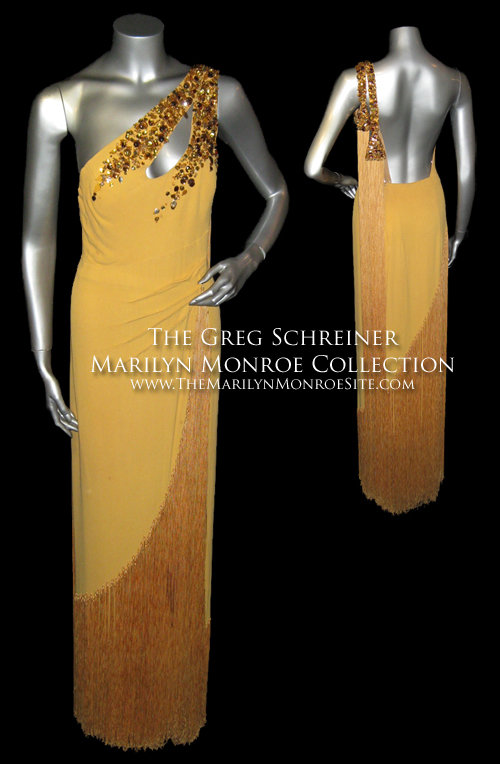 ---
The snows of Kilimanjaro

Marilyn a empunté une autre robe de Charles Le Maire portée aussi par Hildegard Knef dans le même film: la robe noire à l'encolure à bijoux, encore pour une séance de portraits en studio pour la Fox en 1952 (séance de Frank Powolny).
article Robe noire avec col à bijoux de Charles Le Maire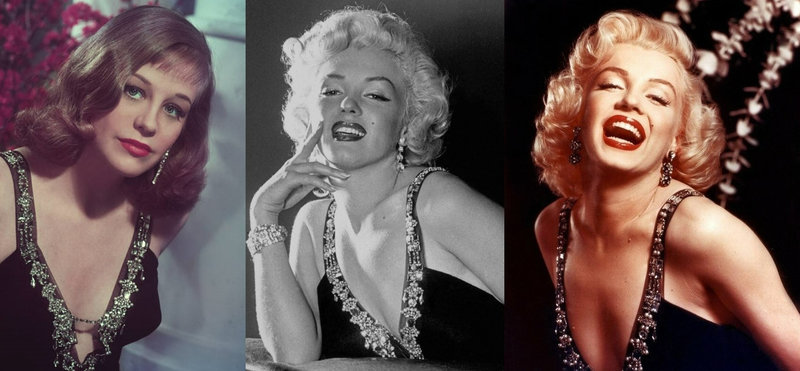 Marilyn borrowed another Charles Le Maire dress also worn by Hildegard Knef in the same film: the black dress with the jeweled neckline, again for a studio portrait session for Fox in 1952 (Frank Powolny session).
---
> sur le web
Le film The snows of Kilimanjaro sur imdb
---
© All images are copyright and protected by their respective owners, assignees or others.
copyright text by GinieLand.