Und sie hieß Marilyn

Paroles : Hildegard Knef
Musique : Hans Hammerschmid
Chant: Hildegard Knef
Année de sortie: 1974
Crédit label: Philips

---
Le titre figure sur les singles et albums suivants:
1974 - Single EP / 45 Tours de "Der Alte Wolf" - en Face B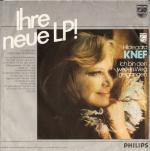 1975 - Album LP / 33 Tours de "Star Für Millionen" - 12 Titres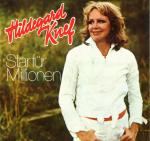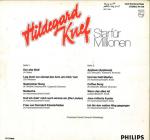 1976 - Album LP / 33 Tours de "Star Für Millionen" - 12 Titres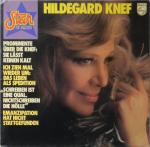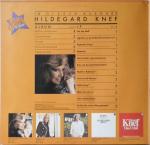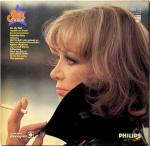 ---
---
Paroles
Und sie hieß Marilyn
Ein scheues Kind
Ein dreistes Kind
Ein Waisenkind

Mit Namen Marilyn
Wer kannte nicht
Wer wusste nicht
Die traurige Geschicht?
Des Mädchens Marilyn

Und sie hieß Marilyn
Sie blieb allein
Ein Leben lang
Ein kurzes Leben lang

Man sprach von Marilyn
Man sang ihr Lied
Man malt ihr Bild
Man wärmte sich im Licht
Des Mädchens Marilyn

Sie konnte lächeln wie kein andres,
Mit leisem Stimmchen singen
Und die sanften Träume schüren

Und in staunend weiten Augen
Unter platinweißer Strähne
Standen Ängste vor der Nacht

Und sie hieß Marilyn
Sie war der Preis
Wer gab sie preis
Für was, für wen

Man spricht von Marilyn
Man singt ihr Lied
Man malt ihr Bild
Man wärmt sich in dem Licht
Des Mädchens Marilyn

Als Andy Warhol, Arthur Miller, Norman Mailer
Und noch viele sie umschwärmten, war's zu spät.

Die Legende geht des Weges,
Und am Ende steht ein Bildnis
Und ein Mund, der lächelnd schweigt

Und sie hieß Marilyn
Sie suchte sie
Sie brauchte sie
Die Liebe, die sie nie und nimmer fand
Und so ging sie und ließ uns die Legende
Von dem Mädchen
Dem Mädchen Marilyn
Dem Mädchen Marilyn
Monroe
---
Traduction
Et son nom était Marilyn
Une enfant timide
Une enfant audacieuce
Une orphelin

Quis 'appelait Marilyn
Qui ne savait pas
Qui ne savait pas
La triste histoire ?
De la fille Marilyn

Et son nom était Marilyn
Elle est restée seule
Une longue vie
Une courte durée de vie

Ils ont parlé de Marilyn
Ils ont chanté sa chanson
Tu peins son image
On se réchauffait à la lumière
De la fille Marilyn

Elle pouvait sourire comme aucune autre
Chanter à voix basse
Et attiser les doux rêves

Et dans de grands yeux étonnés
Sous une mèche blonde platine
Debout apeurée dans la nuit

Et son nom était Marilyn
Elle était le prix
qui les a révélés
Pour quoi, pour qui

On parle de Marilyn
Tu chantes sa chanson
Tu peins son image
Tu te réchauffes à la lumière
De la fille Marilyn

Comme Andy Warhol, Arthur Miller, Norman Mailer
Et bien d'autres grouillaient autour d'elle, il était trop tard.

La légende va dans le sens
Et à la fin il y a une image
Et une bouche qui sourit et se tait

Et son nom était Marilyn
Elle la cherchait
Elle avait besoin d'eux
L'amour qu'elle n'a jamais, jamais trouvé
Et donc elle est partie et nous a laissé la légende
De la fille
La fille Marilyn
La fille Marilyn
Monroe

---
Translation

And her name was Marilyn
A shy child
A bold child
An orphan

Named Marilyn
Who didn't know
Who didn't know
The sad story?
Of the girl Marilyn

And her name was Marilyn
She stayed alone
A life long
A short lifetime

They spoke of Marilyn
They sang her song
You paint her picture
One warmed oneself in the light
Of the girl Marilyn

She could smile like no other
Sing in a low voice
And stir up the gentle dreams

And in astonished wide eyes
Under platinum blond strand
Standing fears of the night

And her name was Marilyn
She was the prize
who revealed them
For what, for whom

One speaks of Marilyn
You sing her song
You paint her picture
You warm yourself in the light
Of the girl Marilyn

As Andy Warhol, Arthur Miller, Norman Mailer
And many more swarmed around her, it was too late.

The legend goes the way
And at the end there is an image
And a mouth that smiles and is silent

And her name was Marilyn
She was looking for her
She needed them
The love she never, ever found
And so she went and left us the legend
From the girl
The girl Marilyn
The girl Marilyn
Monroe
---
Bonus Infos
Hildegard Knef (1925 - 2002) était une actrice, chanteuse et compositrice allemande. Elle débute sa carrière dans le cinéma allemand pendant la seconde guerre mondiale. Maîtresse du producteur de films allemands Ewald Von Demandowsky, ils s'engagent ensemble dans la lutte contre les nazis. Arrêtée par les soviétiques, Hildegard est envoyée dans un camp de prisonniers, d'où elle parvient à s'échapper grâce aux autres codétenus. Elle retourne à Berlin où elle intègre le théâtre de Viktor de Kowa. Elle tient des rôles marquants dans le cinéma allemand et après la guerre, elle part aux Etats-Unis où elle tourne Les Neiges de Kilimanjaro (1952) et se produit ensuite sur la scène musicale de Broadway (en 1955). A la fin des années 1950s, elle s'installe à Paris et noue une liaison avec Boris Vian, qui lui écrit des chansons. Elle engage ainsi en parallèle une belle carrière de chanteuse de jazz. En 1970, elle publie son autobiographie qui devient un best-seller en Allemagne. Elle décède d'une pneunomie à l'âge de 76 ans.



Hildegard Knef (1925 - 2002) was a German actress, singer and songwriter.

She began her career in German cinema during the Second World War.

Mistress of the German film producer Ewald Von Demandowsky, they engage together in the fight against the Nazis.

Arrested by the Soviets, Hildegard is sent to a prison camp, from where she manages to escape thanks to the other fellow prisoners.

She returned to Berlin where she joined Viktor de Kowa's theater.

She held significant roles in German cinema and after the war, she left for the United States where she filmed The Snows of Kilimanjaro (1952) and then performed on the Broadway musical stage (in 1955).

At the end of the 1950s, she moved to Paris and formed an affair with Boris Vian, who wrote songs for her.

She thus engages in parallel a beautiful career of jazz singer.

In 1970, she published her autobiography which became a bestseller in Germany.

She died of pneumonia at the age of 76.
Son plus grand succès américain reste l'adaptation du roman d'Ernest Hemingway "Les Neiges du Kilimanjaro" en

1952

, où elle joue un rôle secondaire auprès des têtes d'affiche Gregory Peck, Ava Garder et Susan Hayward. Elle sera très surprise et déçue de constater que le montage de la version américaine a supprimé bon nombre de ses scènes (notamment celles où elle chantait deux chansons: "Just One Of Those Things" et "Alles war so leer/You Do Something To Me").
Dans le film, Hildegard Knef porte des tenues du costumier de la Fox

Charles Le Maire

. Marilyn Monroe empruntera à son tour deux robes portées par Hildegard dans le film, pour des poses de portraits publicitaires.
Apparemment, elles se seraient rencontrées dans les studios de la 20th Century Fox durant cette période (vers

octobre 1951

) au département des costumes de la Fox. Elles auraient même liées une sorte d'amitié autour de la littérature. Marilyn posait beaucoup de questions sur les auteurs et livres allemands et Hildegard lui prêtait des livres; c'est ainsi que Marilyn a porté son dévolu sur les auteurs allemands

Thomas Mann et Rainer Maria Rilke.


En plus d'avoir écrit cette chanson en hommage à Marilyn, Hildegard évoque Marilyn dans ses Mémoires (À cheval donné (Der geschenkte Gaul - Bericht aus einem Leben):
'

"Une fille à l'air moitié endormie, aux cheveux blonds platine pris dans un bonnet de douche en plastique transparent, au visage pâle barbouillé d'une épaisse couche de crème, s'assied à côté de moi. Elle fouille dans un sac de plage délavé et en sort un sandwich, un pilulier,

un livre. Elle sourit à mon reflet dans le miroir. "Salut, je m'appelle Marilyn Monroe, et toi ?""


La p

remière impression d'Hildegard sur Marilyn est:

"une enfant aux jambes courtes sur pattes et aux fesses grasses, qui se dirigeait d'un pas traînant, en vielles sandales, vers la salle de maquillage.

Une

heure et demie après, elle en ressort:

seuls les yeux sont encore reconnaissables. Elle semble avoir mûrie grâce au maquillage, les jambes semblent plus longues, le corps plus élancé, le visage lumineux brille comme s'il était éclairé par des bougies..."




Les deux femmes sont invitées à la même soirée lors d'un dîner pour annoncer des récompenses et de nouvelles découvertes. Hildegard raconte: '

"Maintenant, elle porte une robe rouge qui est trop étroite pour elle ; robe que j'ai déjà vue dans la garde-robe de la Fox - bien qu'elle soit très moulante, elle ressemble à une vieille robe de maman sortie de l'armoire. Yeux mi-clos, bouche

entr'ouverte, les mains un peu tremblantes. Un verre de trop, comme une enfant qui prend son premier punch. Les photographes lèvent leurs appareils haut, flashent dans son décolleté. Elle se penche et s'étire, se tourne et sourit, consent, s'offre aux objectifs

. Quelqu'un se penche en avant et lui chuchote à l'oreille. "Non, s'il vous plaît", dit-elle, "je ne peux pas." La main tremblante renverse un verre. Enfin, elle se lève, les gens ricanent, la jupe serrée pressent ses genoux l'un contre l'autre

, elle trébuche vers le micro. La marche est absurde et elle a des kilomètres à parcourir ; ils fixent la robe, attendent qu'elle éclate et libèrent la poitrine, le ventre, les fesses. Le maître de cérémonie rugit: "Marilyn

Monroe !" Elle se stabilise sur le pied du micro, ferme les yeux, laisse une longue pause pendant laquelle on entend sa respiration amplifiée par la sono

- court, haletant, obscène.

"Salut", murmure-t-elle, puis retourne à sa place.'

Her greatest American success remains the adaptation of Ernest Hemingway's novel "The Snows of Kilimanjaro" in 1952, where she plays a secondary role alongside headliners Gregory Peck, Ava Garder and Susan Hayward. She will be very surprised and disappointed to find that the editing of the American version deleted many of her scenes (in particular those where she sang two songs: "Just One Of Those Things" and "Alles war so leer/You Do Something To Me

").




In the film, Hildegard Knef wears outfits by Fox costume designer Charles Le Maire.

Marilyn Monroe will in turn borrow two dresses worn by Hildegard in the film, for publicity portrait poses.

Apparently, they would have met in the studios of 20th Century Fox during this period (around October 1951) in the Fox' costume department.

They would even have linked a kind of friendship around literature.

Marilyn asked a lot of questions about German authors and books and Hildegard lent her books;

this is how Marilyn set her sights on the German authors Thomas Mann and Rainer Maria Rilke.


In addition to having written this song in homage to Marilyn, Hildegard evokes Marilyn in her Memoirs (The Gift Horse: Report on a Life):
"The sleepy-looking girl, with the transparent plastic shower cap over her whiteblonde hair and a thick layer of cream on her pale face, sits down beside me. She digs around in a faded beach bag and takes out a sandwich, a pillbox, a book. She smiles at my reflection in the mirror. "Hi, my name's Marilyn Monroe, what's yours ?""
The first impression of Knef about Marilyn is: "a child with short legs and a fat bottom, scuffing over the makeup room in old sandals. An hour and half later, only the eyes are still recognizable. She seems to have grown with the makeup, the legs seem longer, the body more willowy, the face glows as if lit by candles..."


The two women are invited to the same party for a dinner to announce awards and new discoveries.

Hildegard recounts:

'Now, she's wearing a red dress that's too tight for her; I've seen it before in the Fox wardrobe - although it's too tight, it looks like one of Mum's old ones dug out of the wardrobe. Eyes Half-closed, mouth half-open, hands trembling a little. One glass too many, a child's first go at the punch. The photographers hold their cameras up high, flash into her cleavage. She leans and streches, turns and smiles, is willing, offers herself to the lenses. Someone bends forward and whispers into her ear. "No, please," she says, "I can't." The trembling hand knocks over a glass. Finally she stands up, the people snigger, the tight skirt presses her knees together, she trips to the microphone. The walk is absurd and she's got miles to go; they stare at the dress, wait for it to burst and liberate the bosom, the belly, the bottom. The master of ceremonies roars: "Marilyn Monroe !" She steadies herself on the mike stand, closes her eyes, leaves a long pause in which one hears her amplified breathing - short, panting, obscene. "Hi", she whispers, and starts the trip back.'

Sur le blog:
article Robe noire avec col à bijoux de Charles Le Maire
article Robe orange ornée de perles de Charles Le Maire
---
Sources :
discographie sur discogs.com de Hildegard Knef
biographie sur wikipedia
filmographie sur imdb
chronologie biographie sur le site officiel hildegardknef.de
Livre "The Secret lives of Marilyn Monroe" ("Les vies secrètes de Marilyn Monroe") d'Anthony Summers

---
© All images are copyright and protected by their respective owners, assignees or others.
copyright text by GinieLand.