Maillot de bain bicolore une pièce
Two-tone one-piece swimsuit

Maillot de bain une pièce bicolore - en noir et blanc - dont les bandes noires sur chacun des côtés du buste permettent de souligner la silhouette, avec des bretelles blanches croisées dans le dos. On ne sait si ce maillot de bain fait parti de la garde robe personnelle de Marilyn Monroe ou si elle l'avait emprunté au département costumes des studios; elle le porte principalement pendant l'année 1947 à des sorties et événements publicitaires.
Two-tone one-piece swimsuit - in black and white - whose black bands on each side of the bust highlight the silhouette,with white straps crossed in the back. We don't know if this swimsuit is part of Marilyn Monroe's personal wardrobe or if she had borrowed it from the costume department of the studios; she mainly wore it during the year 1947 at outings and publicity events.
---
Marilyn porte le maillot de bain le 20 juillet 1947 pour le tournoi de Golf annuel de la 20th Century Fox qui se déroule au parcours de golf dans le quartier de Brentwood, en Californie. Les participants (au nombre de 300) sont tous des salariés des studios de la Fox et reçoivent chacun un cadeau. On ne sait si Marilyn est présente en tant que participante ou en simple "caddy" (peut être de l'acteur Henry Fonda, avec qui elle est photographiée); bien que l'ensemble des participants sont habillés, Marilyn compte bien se faire remarquer en portant ce maillot de bain avec des chaussures à semelles compensées.

Marilyn wore the swimsuit on July 20, 1947 for the annual 20th Century Fox Golf Tournament, which took place at the golf course in Brentwood, California. The participants (300 in number) are all employees of Fox studios and each receive a gift. We don't know if Marilyn is present as a participant or as a simple "caddy" (maybe of the actor Henry Fonda, with whom she is photographed); although all the participants are dressed, Marilyn intends to be noticed by wearing this swimsuit with platform shoes.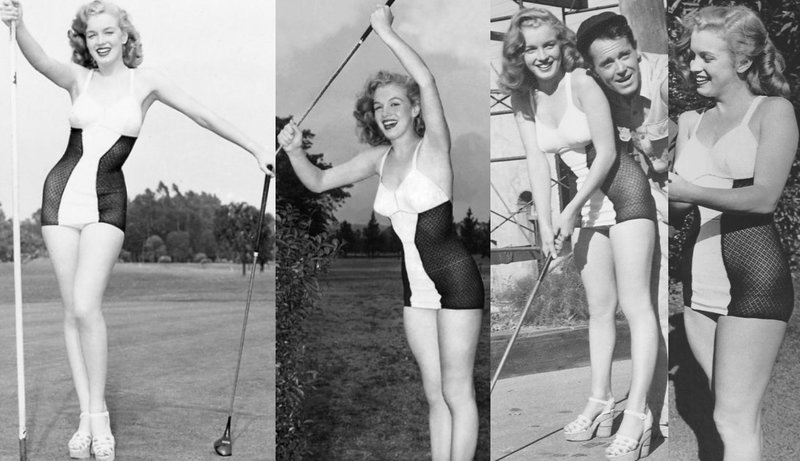 Est-ce à ce tournoi de golf que Marilyn est photographiée avec des chaussons fourrés ? L'hypothèse pourrait être que ces chaussons soient parmi les cadeaux reçus par la Fox. Ou cette photographie peut aussi faire partie d'un autre événement.
Is it at this golf tournament that Marilyn is photographed with furry slippers? The hypothesis could be that these slippers are among the gifts received by Fox. Or this photograph can also be part of another event.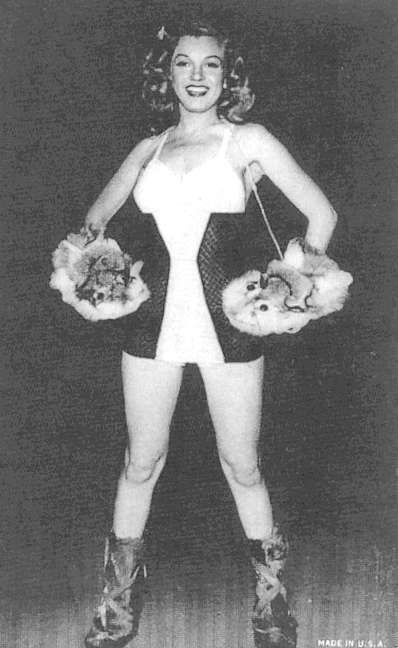 ---
Pendant le mois de juillet 1947, Marilyn pose pour des portraits publicitaires pour la Fox , debout, dans un simple studio, en prenant des poses ingénue et de style pin-up. Elle porte toujours les mêmes sandales plateformes aux pieds.

During the month of July 1947 Marilyn poses for publicity portraits for the Fox, standing, in a simple studio, taking ingenuous and pin-up style poses. She always wears the same platform sandals on her feet.
---
Marilyn est envoyée par les studios de la Fox, avec d'autres starlettes, pour participer à un show publicitaire à Las Vegas début août 1947 à l'hôtel Flamingo , où elle est photographiée près de la piscine de l'hôtel avec un groupe d'amis (dont Bill Pursel, son petit ami). Elle porte encore les mêmes chaussures.

Marilyn is sent by the Fox studios, along with other starlets, to participate in a publicity show in Las Vegas at the beginning of August 1947 at the Flamingo hotel, where she is photographed near the hotel swimming pool with a group of friends (including Bill Pursel, her boyfriend). She still wears the same shoes.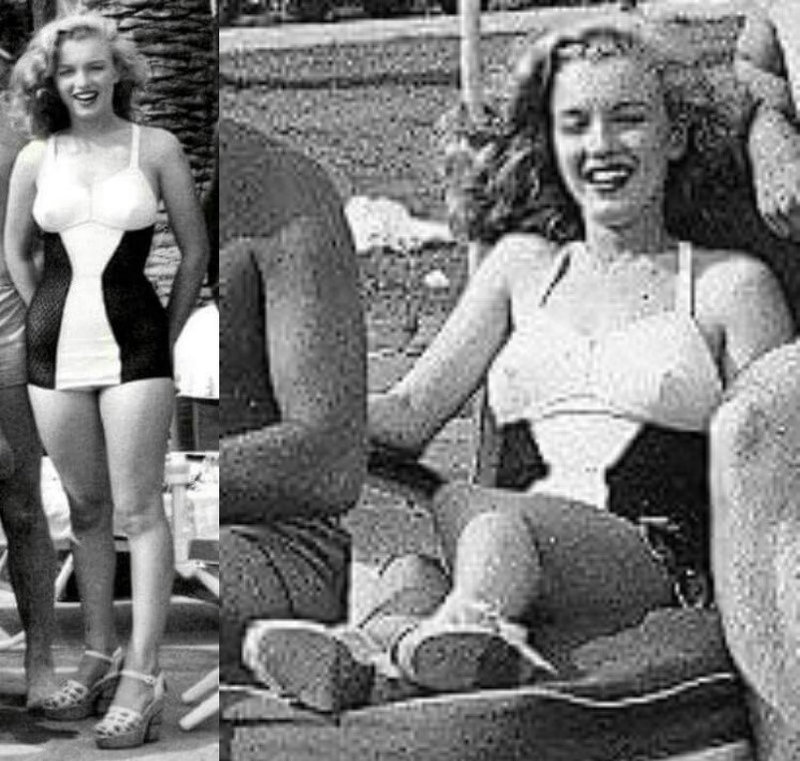 ---
Autre coup publicitaire organisé par les studios de la Fox: Marilyn et une autre starlette (Donna Hamilton) officient comme hotesses d'accueil du 12 au 16 octobre 1947 à la Convention des receveurs de la Poste qui se déroule à Los Angeles. Lors de cet événement, des cartes postales représentant les deux starlettes sont distribuées gratuitement - les photographies ayant été prises donc certainement avant la convention. Elle porte toujours les mêmes sandales.

Another publicity stunt organized by the Fox studios: Marilyn and another starlet (Donna Hamilton), officiate as hostesses from October 12 to 16, 1947 at the Postmasters Convention which takes place in Los Angeles. During this event, postcards representing the two starlets are distributed free of charge - the photographs having therefore been taken certainly before the convention. She always wears the same sandals.
---
Une photographie rare et privée de Marilyn Monroe non datée (vers 1947) prise dans une rue , dont le lieu reste inconnu, la montre de dos, tournée vers l'objectif, vêtue du maillot de bain, dont les cheveux sont enroulés dans un genre de turban, et avec encore et toujours les mêmes chaussures aux pieds.

A rare and private undated (circa 1947) photograph of Marilyn Monroe taken in a street, the location remain unknown, showing her back, facing the lens, wearing the bathing suit, her hair rolled up in a genus turban, and with the same shoes over and over again.
---
C'est deux ans plus tard qu'on revoit Marilyn portant le maillot de bain: en 1949, pour un Flipbook de "Love Happy" , des petites images d'animation, ici pour promouvoir le film "La Pêche au trésor" des Marx Brothers. Marilyn pose avec Harpo Marx, mimant un jeu de séduction. Elle a enfin changé de paire de chaussures: elle porte une paire de chaussures à talons noirs, ouvertes aux orteils.
It's two years later that Marilyn is seen again wearing the bathing suit: in 1949, for a Flipbook of "Love Happy", small animation images, here to promote the Marx Borthers film. Marilyn poses with Harpo Marx, mimicking a game of seduction. She finally changed her pair of shoes: she wears a pair of black heels, open toes.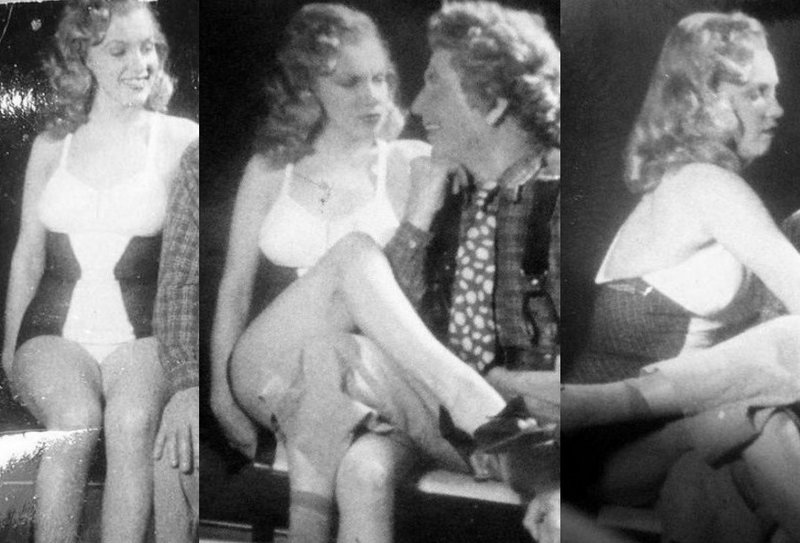 ---
Le maillot porté par d'autres
The Swimsuit worn by others

---
- Ann Miller - 1940's -

- Hazel Brooks - 1947 -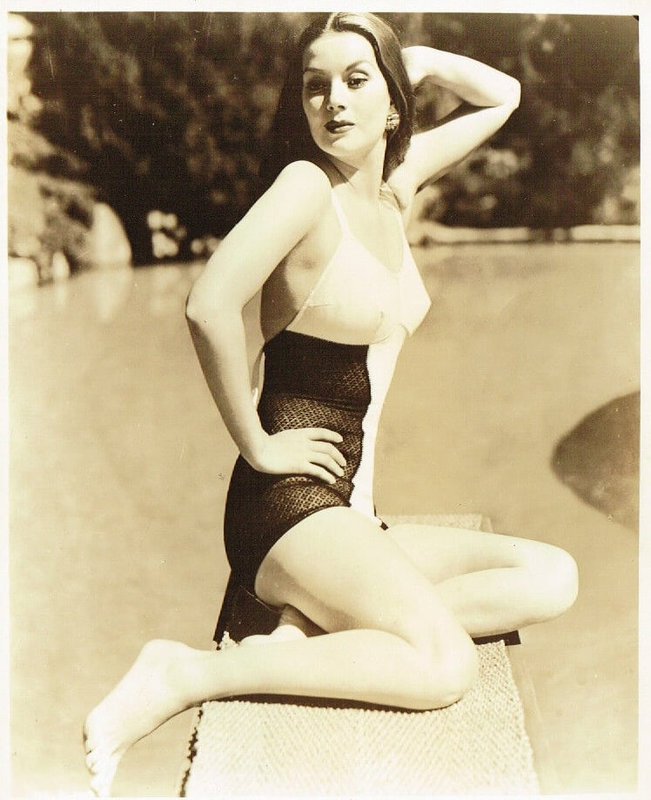 - Starlettes non identifiées - 1940's -

- Marguerite Chapman - 1940's -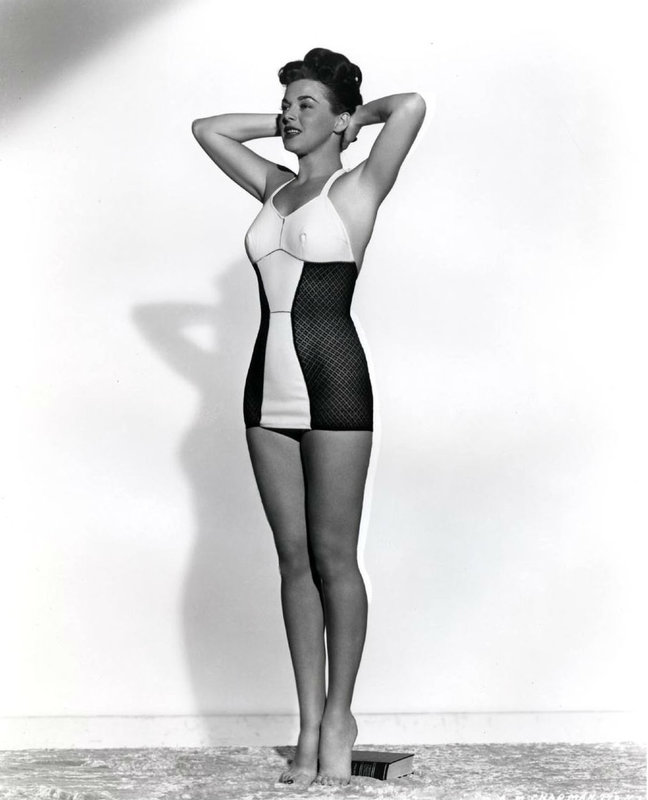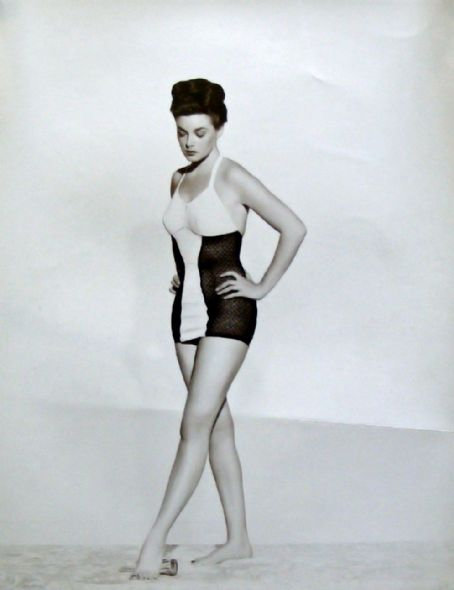 - Mala Powers - Cinémonde de 1955 -
- Noreen Mortensen - Laff de 1947 -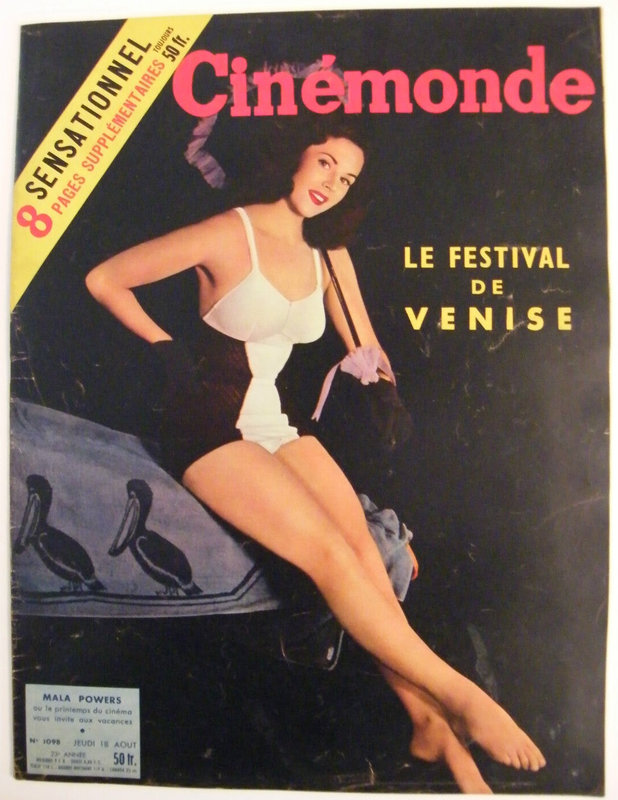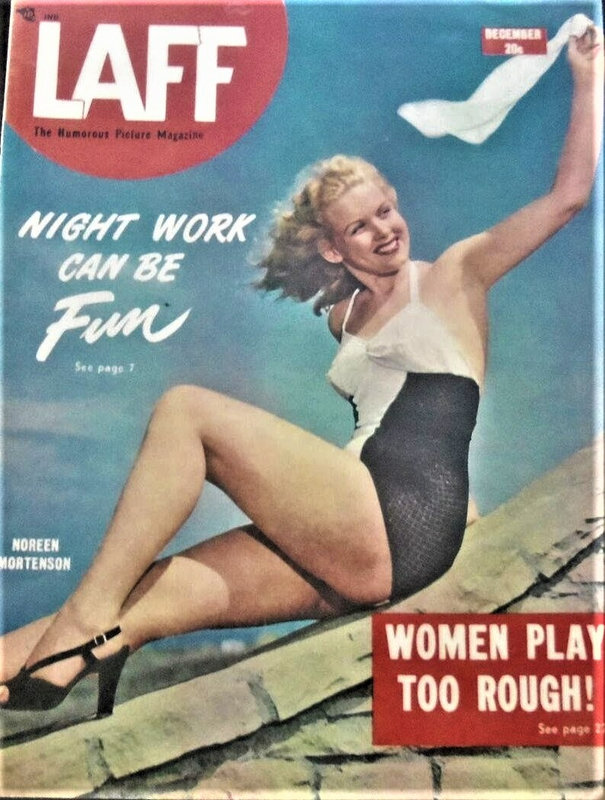 ---
Inspirations
D'autres maillots de bain une pièce bicolores
Other two-tone one-piece swimsuits

- Barbara Bates - 1940's -
- Betty Hutton - 1940's -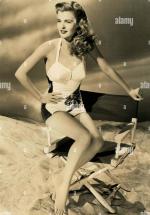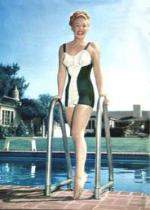 - Jane Adams - 1940's -
- Ann Rutherford - 1940's -
- Rita Hayworth - 1942 -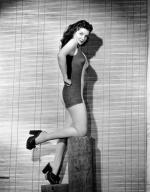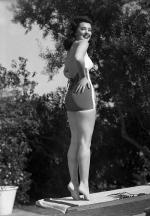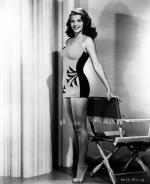 - Alexis Smith et Donna Reed portent le même maillot - 1940's -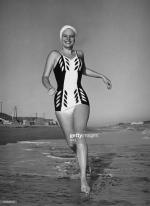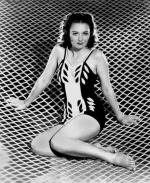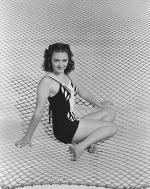 L'actrice porte un maillot de la marque Catalina

-Jeanne Crain et Cyd Charisse (1947) portent un maillot "Catalina"
- Publicité maillots "Catalina" -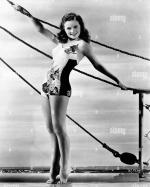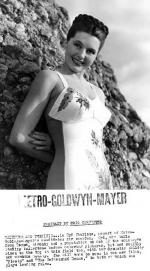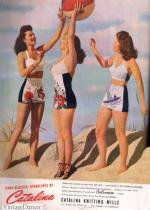 - Mary Anderson, June Haver, Gale Robbins, Jeanne Crain, Trudy Marshall - 1943
Mary Anderson porte un maillot bicolore avec des motifs (feuilles d'arbres)
Gale Robbins porte un maillot bicolore à motif de flamant
Mary Anderson wears a two-tone swimsuit with patterns (tree leaves)
Gale Robbins wears two-tone flamingo jersey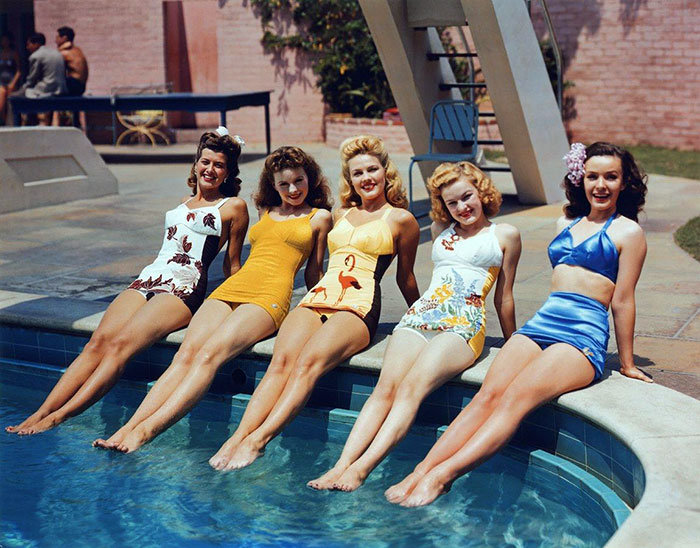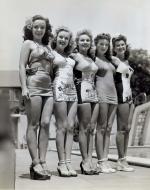 - Publicité maillot "Sea Goddess" - 1947 -

- Finalistes "Miss Pacific", 1952 -

- Concours de sosies 'silhouettes' de Marilyn, 1959 -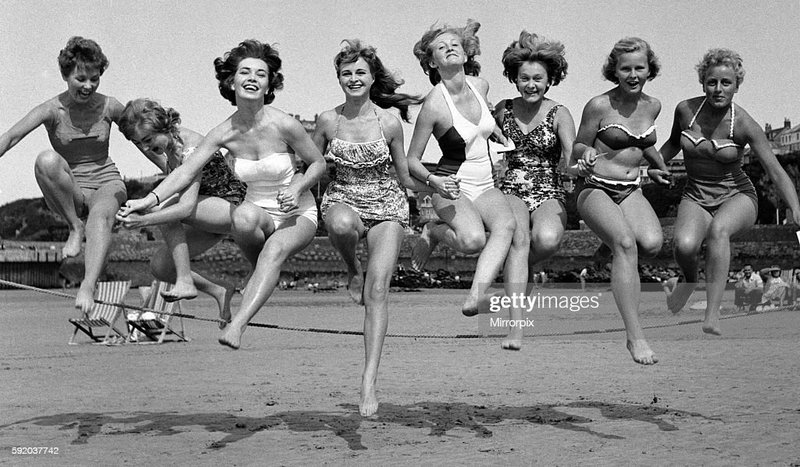 ---
> prochainement en ligne: Les maillots bicolores deux pièces de Marilyn
---
© All images are copyright and protected by their respective owners, assignees or others.
copyright text by GinieLand.