Daily News

country: USA
date: 1949, August, 14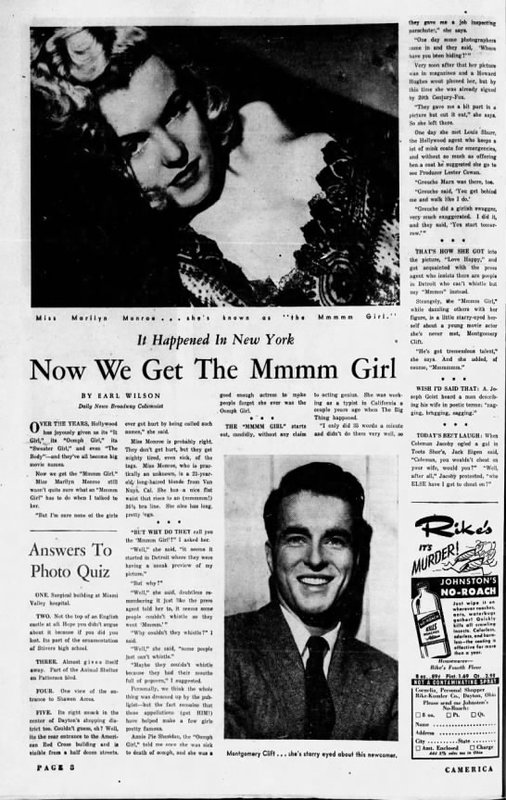 pays: USA
date: 14 août 1949

---
article
It Happened in New York
Now We Get The Mmmm Girl
by Earl Wilson
Daily News Broadway Columnist
OVER THE YEARS, Hollywood has joyously given us its "It Girl," its "Oomph Girl," its "Sweater Girl," and even "The Body" - and they've all become big movie names.
Now we get the "Mmmm Girl."
Miss Marilyn Monroe still wasn't quite sure what an "Mmmm Girl" has to do when I talked to her.
"But I'm sure none of the girls ever got hurt by being called such names," she said.
Miss Monroe is probably right. They don't get hurt, but they get mighty tired, even sick, of the tags. Miss Monroe, who is practically an unknown, is a 21-year-old, long-haired blonde from Van Nuys, Cal. She has a nice flat waist that rises to an (mmmmm!) 36 1/2 bra line. She also has long, pretty legs.
* * *
"BUT WHY DO THEY call you the 'Mmmm Girl'? I asked her.
"Well," she said, "it seems it started in Detroit where they were having a sneak preview of my picture."
"But why?"
"Well," she said, doubteless remembering it just like the press agent told her to, it seems some people couldn't whistle so they went 'Mmmm'."
"Why couldn't they whistle?" I said.
"Well," she said, "some people just can't whistle."
"Maybe they couldn't whistle because they had their mouths full of popcorn," I suggested.
Personnaly, we think the whole thing was dreamed up by the publicist - but the fact remains that these appellations (get HIM!) have helped make a few girls pretty famous.
Annie Pie Sheridan, the "Oomph Girl," told me once she was sick to death of oomph, and she was a good enough actress to make people forget she ever was the Oomph Girl.
* * *
THE "MMMM GIRL" starts out, candidly, without any claim to acting genius. She was working as a typist in California a couple years ago when The Big Thing happened.
"I only did 35 words a minute and didn't do them very well, so they gave me a job inspecting parachutes," she says.
"One day some photographers came in and they said, 'Where have you been hiding?'"
Very soon after that her picture was in magazines and a Howard Hughes scout phoned her, but by this time she was already signed by 20th Century-Fox.
"They gave me a bit part in a picture but cut it out," she says. So she left there.
One day she met Louis Shurr, the Hollywood agent who keeps a lot of mink coats for emergencies, and without so much offering her a coat he suggested she go to see Producer Lester Cowan.
"Groucho Marx was there, too.
"Groucho said, 'You get behind me and walk like I do.'
"Groucho did a girlish swagger, very much exaggerated. I did it, and they said, 'You start tomorrow.'"
* * *
THAT'S HOW SHE GOT into the picture, "Love Happy," and got acquainted with the press agent who insists there are people in Detroit who can't whistle but say "Mmmm" instead.
Strangely, the "Mmmm Girl," while dazzling others with her figure, is a little starry-eyed herself about a young movie actor she's never met, Montgomery Clift.
"He's got tremendous talent," she says. And she added, of course, "Mmmmmm."
---
traduction
C'est arrivé à New York
Maintenant, nous avons la fille Mmmm
par Earl Wilson
Chroniqueur du Daily News à Broadway

AU FIL DES ANNÉES, Hollywood nous a joyeusement donné sa "It Girl", sa "Oomph Girl", sa "Sweater Girl" et même "The Body" - et elles sont toutes devenues de grands noms du cinéma.
Maintenant, nous avons la "Mmmm Girl".


Mlle Marilyn Monroe n'était toujours pas sûre de ce qu'une "Mmmm Girl" devait faire quand je lui ai parlé.


"Mais je suis sûre qu'aucune des filles n'a jamais été offusquée en se faisant appeler par de tels noms", a-t-elle déclaré.


Mlle Monroe a probablement raison.

Elles ne sont pas offusquées, mais sont très fatiguées, voire malades, de ces surnoms.

Miss Monroe, qui est pratiquement une inconnue, est une blonde aux cheveux longs de 21 ans de Van Nuys, en Californie.

Elle a une belle taille plate qui monte jusqu'à un bonnet de soutien-gorge (mmmmm!) de 95.

Elle a aussi de longues et jolies jambes.


* * *


"MAIS POURQUOI EST-CE QU'ILS t'appellent la 'Mmmm Girl' ? Je lui ai demandé.




"Eh bien," dit-elle, "il semble que cela a commencé à Detroit où ils ont pu voir en avant-première mon film."


"Mais pourquoi ?"


"Eh bien", a-t-elle dit, se souvenant sans doute ce que l'attaché de presse lui avait dit, "il semble que certaines personnes ne pouvaient pas siffler alors elles ont dit "Mmmm".


"

Pourquoi ne pouvaient-ils pas siffler ?" ai-je

dit.


"Eh bien," dit-elle, "certaines personnes ne savent tout simplement pas siffler."
"Peut-être qu'ils ne pouvaient pas siffler parce qu'ils avaient la bouche pleine de pop-corn," ai-je suggéré.


Personnellement, nous pensons que tout a été imaginé par le publiciste - mais il n'en reste pas moins que ces appellations (venant de LUI !) ont contribué à rendre certaines filles assez célèbres.




Annie Pie Sheridan, la "Oomph Girl", m'a dit un jour qu'elle en avait marre de ce oomph, et qu'elle était une actrice assez bonne pour faire oublier aux gens qu'elle avait toujours été la Oomph Girl.


* * *


THE "MMMM GIRL" débute, franchement, sans aucune prétention du génie d'acteur.

Elle travaillait comme dactylographe en Californie il y a quelques années lorsque La Grande Chose est arrivée.




"Je ne faisais que 35 mots par minute et je ne les faisais pas très bien, alors ils m'ont donné un travail d'inspection de parachutes", dit-elle.


"Un jour, des photographes sont entrés et ils ont dit : 'Où te cachais-tu ?'"


Très peu de temps après, sa photo a été publiée dans des magazines et un dépisteur d'Howard Hughes lui a téléphoné, mais à ce moment-là, elle était déjà signée par la 20th Century-Fox.




"Ils m'ont donné un petit rôle dans un film mais l'ont coupé au montage", dit-elle.

Elle est donc partie de là.


Un jour, elle rencontre Louis Shurr, l'agent d'Hollywood qui garde beaucoup de manteaux de vison pour les urgences, et sans trop lui proposer de manteau, il lui propose d'aller voir le producteur Lester Cowan.


"Groucho Marx était là aussi.


"Groucho a dit : 'Tu te mets derrière moi et tu marches comme moi.'




"Groucho a fait une démarche de fille, très exagérée. Je l'ai fait, et ils ont dit: "Vous commencez demain.'"


* * *
C'EST AINSI QU'ELLE A EU LE ROLE dans le film, "La pêche au trésor", et a fait la connaissance de l'attaché de presse qui insiste sur le fait qu'il y a des gens à Detroit qui ne peuvent pas siffler mais disent "Mmmm" à la place.


Étrangement, la "Mmmm Girl", tout en éblouissant les autres avec sa silhouette, est elle-même un peu pétillante à propos d'un jeune acteur de cinéma qu'elle n'a jamais rencontré, Montgomery Clift.

"Il a un talent énorme", dit-elle.




Et elle a ajouté, bien sûr, "Mmmmmm."
---
Pour info: Pendant sa tournée de promotion pour le film "La pêche au trésor" pour lequel elle sillone plusieurs villes aux Etats-Unis, Marilyn Monroe est à New York du 22 au 30 juin 1949 et y retourne fin juillet. C'est au Sherry Netherland Hotel, où elle loge, qu'elle rencontre le 24 juillet 1949 le journaliste people Earl Wilson qui écrit pour le "Daily News", journal qui se décline dans les diverses villes des Etats américains. L'article complet paraît le 14 août 1949 (mais des éditions locales en publie des extraits dès le 28 juillet dans le "Daily Press" en Virginie, "The Times Recorder" en Ohio; le 30 juillet dans le "Galveston Daily News" au Texas et le 31 juillet dans "The Akron Beacon Journal" en Ohio, "Pittsburgh Post-Gazette" en Pennsylvannie, "Winston-Salem Journal" en Caroline du Nord).
Il s'agit ici de la première interview qu'Earl Wilson fait de Marilyn; il fera parti par la suite, des journalistes qui écrira de nombreuses chroniques sur elle.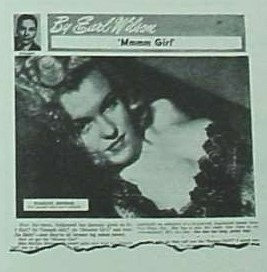 For information: During her promotional tour for the film "Love Happy" for which she traveled to several cities in the United States, Marilyn Monroe was in New York from June 22 to 30, 1949 and returned there at the end of July. It was at the Sherry Netherland Hotel, where she was staying, that on July 24, 1949, she met the celebrity journalist Earl Wilson who wrote for the "Daily News", a newspaper which was distributed in the various cities of the American States. The article appears on August 14, 1949.
This is the first interview that Earl Wilson does of Marilyn; he will later be part of the journalists who will write many chronicles on her.
---
- Dans la presse -
Pittsburgh Post-Gazette, 31/07/1949
The Akron Beacon Journal, 31/07/1949
Winston-Salem Journal, 31/07/1949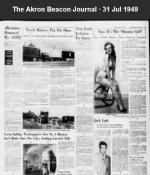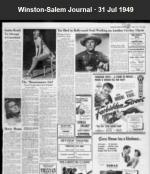 Times Recorder The Zanesville Ohio, 28/07/1949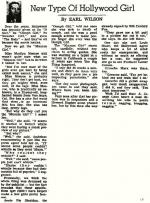 The Terre Haute Star, 30/07/1949
The Akron Beacon Journal, Ohio, 31/07/1949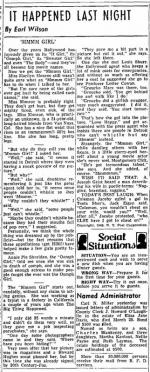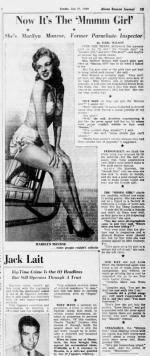 ---
Source scan: newspaper.com

---
© All images are copyright and protected by their respective owners, assignees or others.