Les looks de Marilyn au cinéma
Marilyn's looks at the cinema
---
La pêche au trésor

---
Les vêtements de la 'cliente' de Grunion
The clothes of the Grunion's 'client'

Dans les crédits officiels du film, il est indiqué que les costumes sont de Richard Bachler (pour les hommes), et aussi les stylistes Grace Houston et Norma (Koch). Le maquilleur est Fred Phillips et le coiffeur Scotty Rackin.


In the film's official credits, the costumes are said to be by Richard Bachler (for the men), and also stylists Grace Houston and Norma Koch. The makeup artist is Fred Phillips and the hairstylist Scotty Rackin.
---
Dans le film
Marilyn Monroe porte une tenue

In the movie
Marilyn Monroe wears one outfit
---
Une longue robe bustier de soirée et une étole en fourrure.
A long strapless evening dress and a fur stole.

Cette robe appartenait à Marilyn Monroe qui l'a portée plusieurs fois.
This dress belonged to Marilyn Monroe who wore it several times.
- article Longue robe bustier de 'Love Happy'

L'étole en fourrure appartient aux studios labellisé "Costume Western Co."
l'étiquette cousue à l'intérieure mentionne le nom de "Marilyn Monroe".
Etole en vison avec une doublure en satin gris-brun clair bordé de noir.
Taille: 76 en longueur, 15 à son point le plus large et 9 au plus étroit.
La doublure comporte la mention ''MJA'', peut être des initiales d'une actrice
(ou le titre d'un autre film) dans lequel l'étole aurait été portée.
The fur stole belongs to the studios with label "Western Costume Co."
the label sewn within reading the name ''Marilyn Monroe''.
Mink Stole with a lining in a light brown-gray satin trimmed in black.
It measures approximately 76'' long, 15'' at its widest point and 9'' at its narrowest.
Monogram to lining shows ''MJA'', maybe from an actress
(or title of another movie) to which this stole was worn.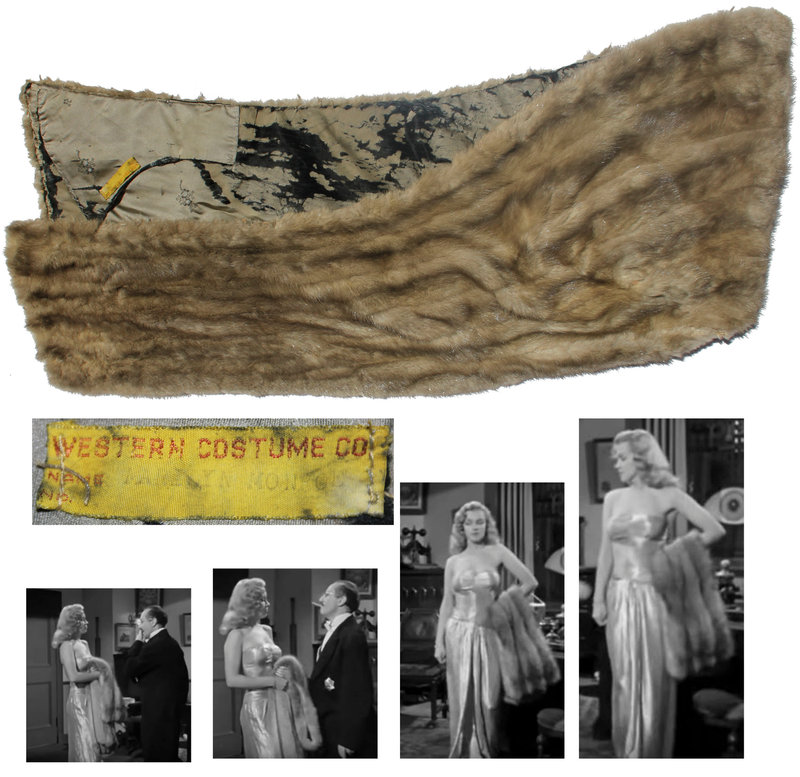 L'étole de fourrure a été vendue aux enchères
Nate D Sanders - lot #174 - 29/09/2016
Page web: Marilyn Monroe Mink Stole
avec une mise à prix à 20 000 $

---
Pour les séances de portraits publicitaires
Marilyn Monroe porte quatre tenues
For the publicity portraits session
Marilyn Monroe wears four outfits
---
Bien que son rôle dans le film soit mineur (elle est une simple cliente de Grunion, interprété par Groucho Marx) n'apparaissant à l'écran que 40 secondes, Marilyn Monroe a participé à la promotion du film en posant pour de nombreuses séances publicitaires.
Although her role in the film is minor (she is a simple client of Grunion, played by Groucho Marx) only appearing on screen for 40 seconds, Marilyn Monroe participated in the promotion of the film by posing for numerous publicity sessions.
Pour deux séances de portraits, elle a emprunté deux bikinis avec une jupe cape attachée à la taille parmi les costumes des studios. Ces tenues sont portées par des figurantes dans le film, dans une scène où de jolis filles défilent devant Harpo Marx, portant même un chapeau coordonnée à la tenue.
For two portrait sessions, she borrowed two bikinis

with a cape skirt tied at the waist

from the studio costumes. These outfits are worn by extras girls in the film, in a scene where pretty girls parade in front of Harpo Marx

, even wearing a matching hat.
- Le bikini indien en fourrure d'ermine -
- The Indian bikini in ermine fur -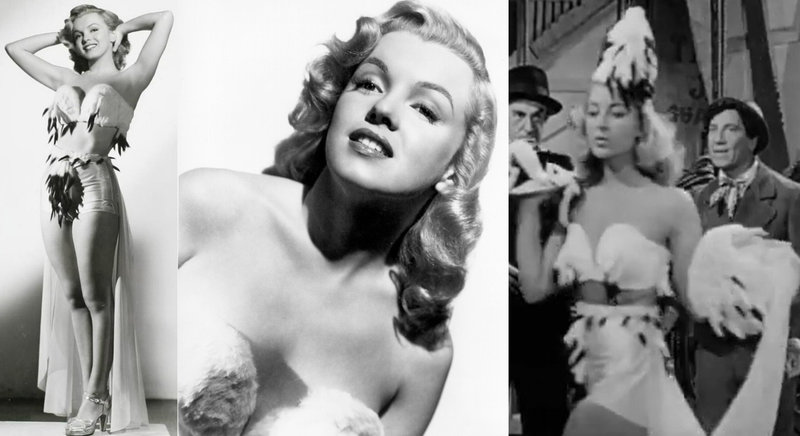 - Le bikini à fleurs -
- The bikini with flowers -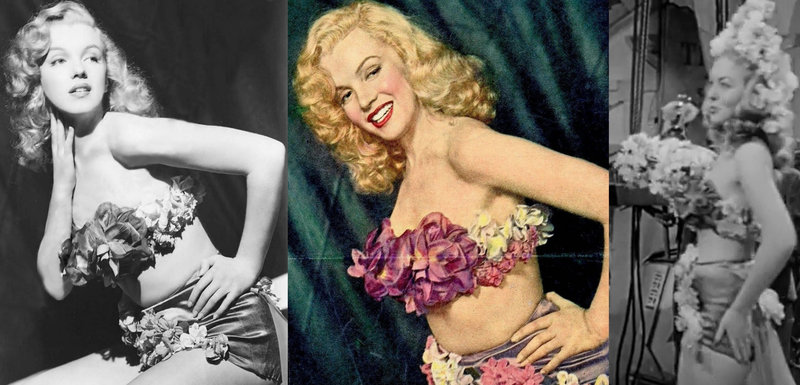 - Captures de la scène du film avec les figurantes qui défilent (à 30min) -
- Captures of the scene of the film with the extras parading (at 30min) -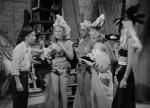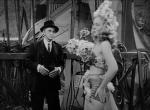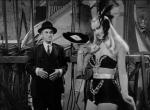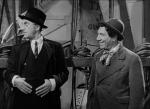 Pour deux autres séances de portraits, elle porte deux tenues inédites, sobres et chics: une robe en dentelles noire et une robe à longues manches noires avec des épaulettes (style typique des années 1940s).
For two other portrait sessions, she wore two original, sober and chic outfits: a black lace dress and a black long-sleeved dress with shoulder pads (typical style of the 1940s).
- La robe noire en dentelles -
- The black lace dress -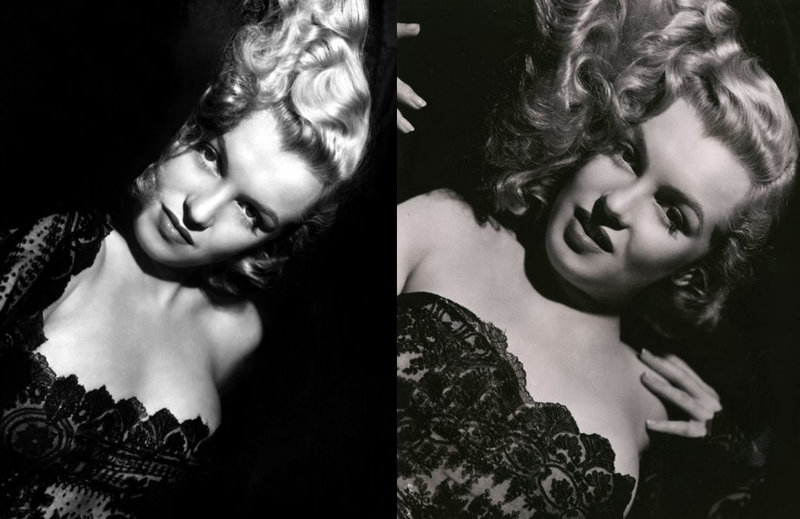 - La robe noire à épaulettes -
- The black dress with shoulder pads -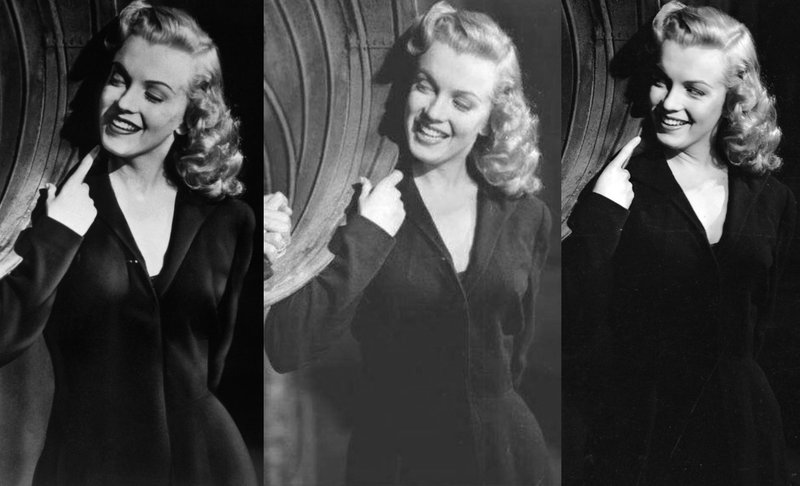 ---
Autres supports publicitaires
Marilyn Monroe porte deux maillots de bain
Other advertising medias
Marilyn Monroe wears two swimsuits

---
Pour promouvoir le film, Marilyn participe à des prises de vues avec Harpo Marx et Chico Marx. Ces photographies prises par un procédé spécifique sont destinées à former des petits sketchs, en les visualisant de façon très rapide, tel un petit film d'animation et vendus sous forme de petit livret dénommé "flipbook". On ne connait que trois séquences auxquelles a participé Marilyn et pour lesquelles elle est vêtue de deux maillots de bain: un maillot deux pièces à pois et à volant, et un maillot une pièce noir et blanc qu'elle a porté plusieurs fois l'année 1947.
To promote the film, Marilyn participates in shootings with Harpo Marx and Chico Marx. These photographs taken by a specific process are intended to form small sketches, by viewing them very quickly, like a small animated film and sold in the form of a small booklet called "flipbook". Only three sequences are known in which Marilyn took part and for which she is dressed in two swimsuits: a two-piece swimsuit with polka dots and a ruffle, and a black and white one-piece swimsuit that she has worn several times during the year 1947.
- article Maillot de bain bicolore une pièce
---
Les chaussures
The shoes
---
La paire de chaussures portée par Marilyn sont dorées à petits talons, avec plusieurs petites ouvertures sur le pied, mais au talon fermé, fermées par une sangle en haut du pied. Il faut vraiment bien ouvrir l'oeil pour les distinguer à ses pieds pendant sa scène d'apparition dans le film, tant la robe qu'elle porte est d'une longueur qui couvre les pieds.
Elle a déjà porté cette paire de chaussures en 1948: pour une séance photos de JR Eyerman en répétition avec le musicien Phil Moore au club Mocambo (en novembre 1948), à la grande soirée chez Sam Spiegel (du réveillon du 31 décembre 1948); mais aussi lors de séances de pose de style pin-up pour Earl Moran (courant 1948 / 1949), et pour une série de portraits publicitaires pour promouvoir le film "La Pêche au trésor" (en 1949).
Elle porte une paire du même style pour le film de la Columbia " Les Reines du Music-Hall " (tourné entre mi-mai et mi-juin 1948 - entouré en bleu sur la photo ci-dessous) sauf que le talon est ouvert.

The pair of shoes worn by Marilyn are golden with small heels, with several small openings on the foot, but with a closed heel, closed by a strap at the top of the foot. Keep really your eyes open to see them at her feet during her appearance scene in the film, as the dress she wears is so length that it covers her feet.
She has already worn this pair of shoes in 1948: for a photo shoot of JR Eyerman in rehearsal with musician Phil Moore at the Mocambo club (in November 1948), at the big party at Sam Spiegel's (from New Year's Eve on December 31, 1948); but also during pin-up style posing sessions for Earl Moran (during 1948 / 1949), and for a series of publicity portraits to promote the film "Love Happy" (in 1949).
She wears a pair of same style in the Columbia film "Ladies of the Chorus" (shot between mid-May and mid-June 1948- circled in blue in the photo below) except the heel is open.

---
La coiffure
The hairstyle

---
Marilyn Monroe conserve le style de coiffure qui lui a été élaboré par les studios de la Columbia pour lequel elle a tourné " Les Reines du Music-Hall " en 1948. La Columbia avait relooké Marilyn à l'image de leur star sous contrat, la rousse flamboyante Rita Hayworth. Ce style de coiffure de cheveux mi-longs, ondulés et crantés, avec la raie placée sur le côté, a été initiée par une autre actrice des années 1940s, Veronica Lake, star de la Paramount et dont la coiffure deviendra célèbre. On retrouve même aussi le style de pose photographique où les actrices sont allongées et placent leur chevelure librement en arrière.
Marilyn Monroe keeps the hairstyle that was developed for her by the Columbia studios for which she has filmed "Ladies of the Chorus" in 1948. Columbia had revamped Marilyn in the image of their star under contract, the Flamboyant redhead Rita Hayworth. This mid-length, wavy and scalloped hair style, with the parting placed on the side, was initiated by an another actress of the 1940s, Veronica Lake, star of Paramount and whose hair style would become famous. We even also find the style of photographic pose where the actresses are lying down and place their hair freely behind.


sur le web - article 1943, Les cheveux de Veronica Lake
---
© All images are copyright and protected by their respective owners, assignees or others.
copyright text by GinieLand.