17 février 2011
Marilyn Monroe pose pour une publicité pour de la lotion
(la 'Tar Tan Suntan Lotion').
Les photos ont été prises à l'hôtel Roosevelt à Hollywood
où de nombreuses starlettes se retrouvaient pour des sessions photos
20 octobre 2010
Portrait de Marilyn Monroe en 1951
-couverture de Quick Magazine -
Photographie de Earl Theisen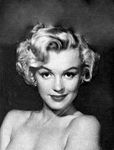 ---
19 octobre 2010
Portraits glamour de Marilyn Monroe
publié en 1951 dans Quick Magazine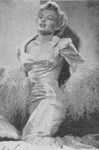 27 août 2010
1951, Marilyn Monroe et le professeur de chant Phil Moore au piano, répètent la chanson "Kiss" que Marilyn devra interpréter dans son prochain film Niagara. En effet, c'est la seule chanson qu'elle chante à moitié dans le film, par dessus le disque, dans l'une des scènes désormais célèbre du film; mais elle enregistrera une version où elle est seule à chanter (avec des choeurs qui l'accompagnent) en studio, pour une sortie en disque.

> presse magazine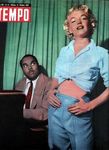 20 juillet 2010
Marilyn Monroe photographiée par Tom Kelley en 1951. La photographie a servi de publicité pour la marque City Club Shoes.
Marilyn Monroe photographed by Tom Kelley in 1951. The photograph served as advertising for the brand City Club Shoes.
> blog: Publicité pour City Club Shoes

---
© All images are copyright and protected by their respective owners, assignees or others.
copyright text by GinieLand.

27 juin 2010
Marilyn Monroe devant son petit réfrigérateur
puis soulevant des haltères - vers 1951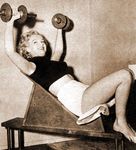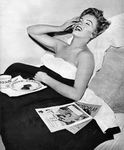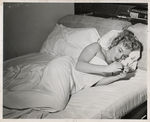 A la fin de l'année 1951, Marilyn Monroe part vivre quelques temps chez Natasha Lytess, sa professeur d'art dramatique, qui avait une maison au 611 North Crescent Drive, West Hollywood.

---
Avec la fille de Natasha et des amies
Mars 1951, Marilyn Monroe pose pour des photos publicitaires avec des joueurs de baseball de l'équipe des Chicago White Sox: Joe Dobson, Edward Erautt, Gus Zernial et Hank Majeskie; c'est notamment par l'une de ces photos que Joe DiMaggio découvrira Marilyn et voudra la rencontrer.