08 novembre 2007
En mai 1952 Marilyn Monroe est opérée de l'appendicite à Los Angeles. Pendant sa convalescence, elle reçoit un reporter photographe dans sa chambre d'hôpital, où on la découvre en train de lire une carte de Joe Di Maggio, qu'elle fréquente depuis quelques mois. A côté de son lit, se trouve un bouquet de roses envoyées par Joe. Marilyn avait eu des douleurs à l'appendice en mars de la même année, mais étant alors en plein tournage de Monkey Business, l'opération fut reportée en mai.
> Photographies prises le 6 mai, jour de sa sortie
Marilyn a été opérée la semaine précédente
> Avec le maquilleur Dick

Le 21 août 1952 Marilyn Monroe enregistre dans l'émission de radio "Statement in full" sur la station NBC un spécial "Hollywood Star Playhouse" en différé. On lui fait visiter les locaux de la station radio qui se trouve à Manhattan, dans New York, et on lui montre le fonctionnement de l'enregistrement d'une émission, avec toutes les techniques et matériels utilisés. Quand à l'émission, elle sera diffusée sur les ondes dix jours plus tard, le 31 août.
On 1952 August, 21, Marilyn Monroe record a special radio show called "Hollywood Star Playhouse" on the "Statement in full" program, on the NBC Radio Station in Manhattan. She visits the place, located ib Manhattan, New York City, and she is shown how a program is recorded, with all the techniques and materials used. The show will be diffused ten days after, on August 31.
> le programme radiophonique sur Hollywood Star Playhouse
> planche contact / contact sheet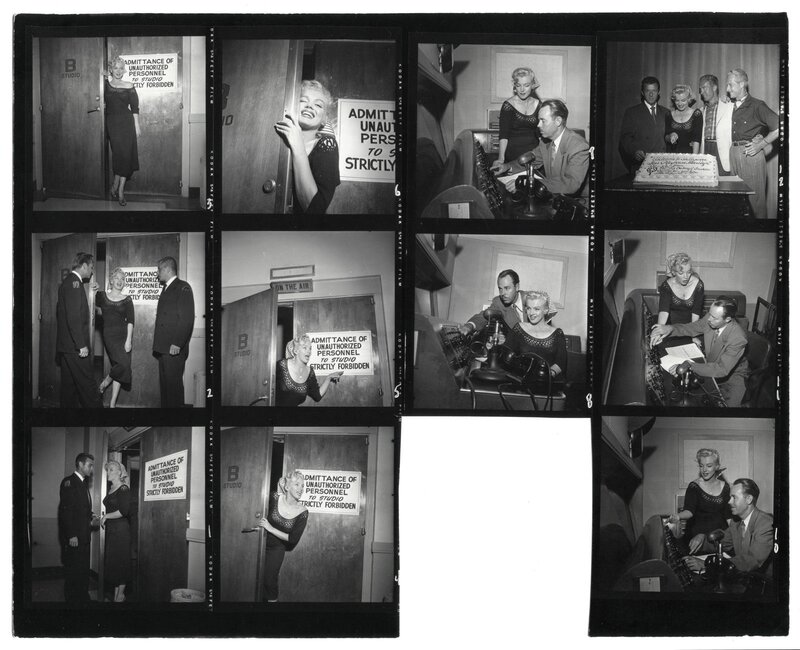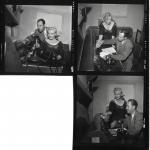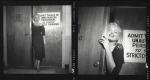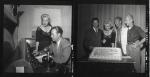 ---
> photographies de Murray Garrett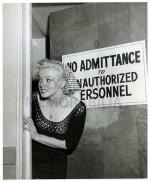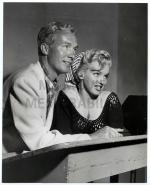 ---
© All images are copyright and protected by their respective owners, assignees or others.
copyright text by GinieLand.

05 novembre 2007
Le 08 novembre 1952, Marilyn Monroe se trouve dans les studios de la 20th Century Fox à Los Angeles pour passer des essais coiffures et maquillage pour le prochain film qu'elle doit tourner "Les Hommes préfèrent les blondes".

On November 08, 1952, Marilyn Monroe is at the 20th Century Fox studios in Los Angeles to make the hairstyles and makeup tests for the next film she will to shoot "Gentlemen Prefer Blondes".
---
Le même jour, quand elle regagne sa loge des studios de la Fox, Marilyn Monroe annote un article rédigé par Zsa Zsa Gabor, en vue de la publication d'un article sur "Ce qui ne va pas avec les hommes américains ?" pour le magazine Look (article qui sera publié avec les annotations de Marilyn le 30 décembre 1952) et photographiée par Earl Theisen.
The same day, when she goes to her dressing room at the Fox studios, Marilyn Monroe annotates an article written by Zsa Zsa Gabor, in order to the publication of an article on "What's wrong with American men? " for Look magazine (article to be published with Marilyn's annotations on November 30, 1952) and photographed by Earl Theisen.
- Annotation de l'article de Zsa Zsa Gabor -
- Annotation of the Zsa Zsa Gabor's article -

---
- Planches Contact -
- Contact Sheet -
---
- Dans la presse -
Look, 30/12/1952 - USA
---
© All images are copyright and protected by their respective owners, assignees or others.
copyright text by GinieLand.
Marilyn Monroe embarque à l'aéroport de La Guardia à Hollywood le 26 août 1952 pour se rendre à Atlantic City, où est organisé l'élection de "Miss America Pageant" auquelle participe Marilyn en tant que "Grand Marshall", mais aussi afin de faire la promotion pour son dernier film Monkey Business.
Lors de son séjour à Atlantic City, Marilyn Monroe rencontre les femmes américaines engagées dans l'armée de terre (U.S Army), de mer (U.S Navy), de l'air (U.S Air Force), et de la corporation maritime (Marine Corps) le 1er septembre 1952. C'est l'Etat qui demanda à Marilyn de poser avec des femmes de l'armée US afin d'offrir une publicité de recrutement. Cependant, les photos représentant Marilyn dans des poses très sexy -notamment son décolleté plongeant- furent jugées trop provocante et l'armée décida d'annuler cette campagne de publicité.
Marilyn porte une robe de la créatrice Ceil Chapman.

> Avec Ann Garnier, 'Miss Indiana'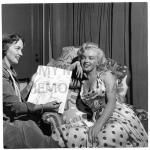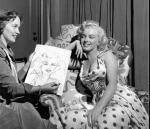 ---
- Bonus sur le blog -
04 novembre 2007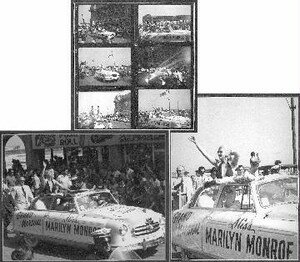 Marilyn Monroe est la première femme à officier en tant que "Grand Marshall" (la marraine) au concours de "Miss America beauty pageant" (le concours de beauté de Miss America) qui s'est déroulé ce 2 septembre 1952 à Atlantic City dans le New Jersey. La présence de Marilyn avait été mise en oeuvre par la Twentieth Century-Fox qui en profita pour que la star fasse de la publicité pour le film Monkey Business (Chérie, je me sens rajeunir) où elle tient le rôle de Lois Laurel au côté de Cary Grant. Pour cette occasion, Marilyn Monroe porte une tenue qui a été spécialement conçue pour elle (cette longue robe noire au grand col blanc et au décolleté vertigineux, qu'elle reportera notamment pour une célèbre séance photo de Powolny, image reprise par Andy Warhol), et le grand badge de la parade.
Marilyn Monroe parade en voiture dans les rues d' Atlantic City pour faire la promotion du film Monkey Business (Chérie, je me sens rajeunir) puis visite un orphelinat, en septembre 1952.
>> vidéo

30 octobre 2007
Le 3 septembre 1952, Marilyn Monroe prend l'avion pour rentrer à Los Angeles, après avoir assisté à la Parade d'Atlantic City.
>> vidéo

28 octobre 2007
Marilyn Monroe prend des poses lassives dans son lit en 1952
On aperçoit sur sa table de nuit, un flacon de son parfum préféré: le Chanel n°5. La plus célèbre réplique de Marilyn Monroe à un journaliste qui lui demanda ce qu'elle portait pour dormir, elle répliqua "Chanel n°5", comme l'illustrent ces photos où Marilyn dort nue avec une goutte de Chanel.
sous l'objectif du photographe Bob Beerman
27 octobre 2007
Marilyn Monroe pose en lingerie, début 1952,
à New York, pour le magazine Tempo
photographiée par Carlyle Blackwell Jr

Marilyn Monroe

poses

dressed in lingerie

, in

early

1952


in

New York,

for

Tempo

magazine




photographed by

Carlyle Blackwell

Jr.
---
© All images are copyright and protected by their respective owners, assignees or others.
copyright text by GinieLand.