28 juillet 2018
Le mercredi 15 novembre 1961, le photographe Douglas Kirkland, 25 ans, se rend à l'appartement de Marilyn Monroe à Doheny Drive (à Beverly Hills) pour programmer la séance photos que lui a commandé le magazine Look qui fête ses 25 ans: ils ont demandé au photographe de livrer une photo percutante.
Kirkland est accompagné de deux collègues de Look, Jack Hamilton et Stanley Gordon. Il est surpris par la modeste demeure: un petit appartement simple. Marilyn leur propose les deux seules chaises de la chambre et elle s'asseoit avec Kirkland sur le lit. Intimidé, il ne sait comment annoncer à Marilyn comment il veut la photographier; elle lui répond: "Je sais ce qu'il nous faut: des draps de soie blanche et rien d'autre. Les draps devront absolument être en soie."
Avant de partir, John Springer, l'agent de Marilyn, explique à Kirkland qu'elle est en période de convalescence et qu'elle a perdu beaucoup de poids (elle a été opérée de la vésicule biliaire en juin): Marilyn pensait alors que sa poitrine avait aussi maigri et cela la contrariait. Il lui demande aussi de ne divulguer l'adresse de Marilyn à personne, pour ne pas qu'elle se fasse poursuivre par des admirateurs et puisse rester tranquille.
On Wednesday, November 15, 1961, photographer Douglas Kirkland aged 25, goes to Marilyn Monroe's apartment in Doheny Drive (Beverly Hills) to schedule the photo shoot commissioned by Look magazine, which is celebrating its 25th anniversary: they asked to the photographer to deliver a punchy photo.
Kirkland is accompanied by two colleagues from Look, Jack Hamilton and Stanley Gordon. He is surprised by the modest home: a small simple apartment. Marilyn offers them the only two chairs in the room and she sits with Kirkland on the bed. Intimidated, he doesn't know how to announce her how he wants to photograph her; She replys: "I know what we need: white silk sheets and nothing else, the sheets must be silk."
Before leaving, John Springer, Marilyn's agent, explains to Kirkland that she is recovering and has lost a lot of weight (she had a gallbladder surgery in June): Marilyn thought that her breast had also thinned and that annoyed her. He also asks him to don't divulge Marilyn's address to anyone, so that she will not be pursued by admirers and remain calm.

---
> source: livre Douglas Kirkland, Une nuit avec Marilyn
---
© All images are copyright and protected by their respective owners, assignees or others.
copyright text by GinieLand.
Le vendredi 17 novembre 1961, dans un studio loué à Hollywood (le studio John Engstead sur Santa Monica Boulevard), le photographe Douglas Kirkland et ses assistants préparent la venue de Marilyn Monroe: du champagne Dom Perignon au frais, et des disques de Frank Sinatra.
On Friday, November, 17, 1961, in a studio rented in Hollywood (the John Engstead Studio on Santa Monica Boulevard), the photographer Douglas Kirkland and his assistants prepare the arrival of Marilyn Monroe: champagne Dom Perignon in the fridge, and records by Frank Sinatra.
Le rendez-vous est fixé à 19h, mais Marilyn arrive à 21h30. D'ailleurs, l'agent de Marilyn, John Springer, avait prévenu Kirkland et son associé, l'écrivain Jack Hamilton: "Elle arrive parfois en retard mais elle finit toujours par arriver."
Marilyn est accompagnée de deux assistantes: l'une s'occupe de la coiffure et du maquillage (Agnes Flanagan), l'autre est son habilleuse, portant un sac de vêtements.
Parmi les autres personnes présentes: John Springer, Jack Hamilton, un assistant et le responsable du studio.
Kirkland a installé un appareil photo sur le petit balcon pour photographier le lit en plongée. Mais il ne sait pas encore comment il veut la photographier: il a l'idée d'utiliser d'abord une grande étoffe blanche. Marilyn n'est pas emballée mais se prête au jeu en enfilant l'une des robes qu'elle a apportée. La séance se révèle inefficace. Marilyn et Kirkland trouvent le tissu trop ordinaire: "Je ne suis pas du genre à porter de la toile au rabais !" Ils font alors une pause pour réorganiser la séance.
The appointment is fixed at 7 pm, but Marilyn arrives at 9:30 pm. Anyway, Marilyn's agent, John Springer, had informed Kirkland and his associate, writer Jack Hamilton: "She sometimes arrives late but she always ends up arriving."
Marilyn is accompanied by two assistants: one is in charge of hair and make-up (Agnes Flanagan), the other is her dressmaker, carrying a bag of clothes.
The other persons are John Springer, Jack Hamilton, an assistant, and the studio manager.
Kirkland installed a camera on the small balcony to photograph the bed. But he doesn't know yet how he wants to photograph her: he has the idea of ​​using first a large white fabric. Marilyn is not excited but she is ready to try and by putting on one of the dresses she has brought. The setting is ineffective. Marilyn and Kirkland find the fabric too ordinary: "I'm not the one to wear cheap clothes !" They then make a break to reorganize the session.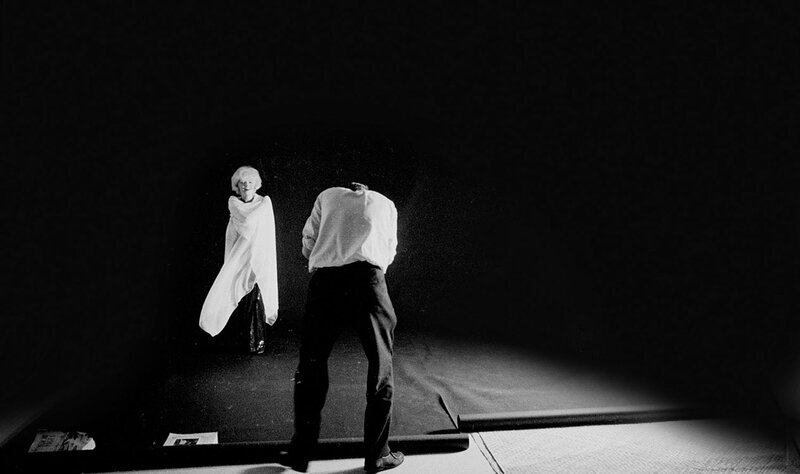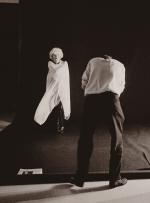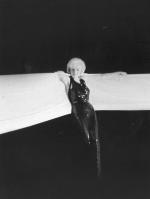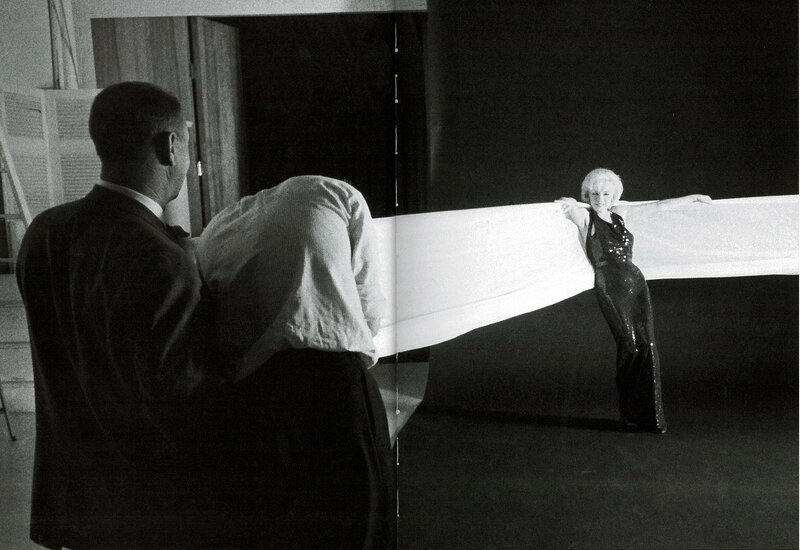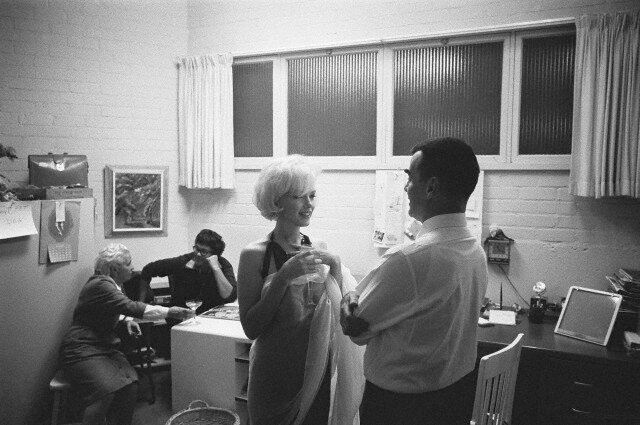 > avec le journaliste de Look, Jack Hamilton
---
Douglas Kirkland amène Marilyn vers le lit défait de draps de soie blanche en lui demandant d'imaginer comment elle aimerait qu'on se souvienne d'elle dans 25 ans, puisque la photo devait fêtait le 25ème anniversaire du magazine Look. Marilyn retourne dans sa loge et y ressort en peignoir blanc qu'elle retire pour se glisser dans les draps de soie. Pendant que Kirkland la photographie, perché du balcon, elle boit quelques gorgées de champagne. Parfois Kirkland s'arrête et boit avec elle.
En pleine séance, elle demande au reste de l'équipe de la laisser seule avec le photographe: "D'habitude, ça marche mieux comme ça !" Pour Kirkland, ce fut alors "Une expérience très intime (...) Tout se jouait désormais entre Marilyn, mon appareil et moi. (...) L'ambiance était calme, douce et séduisante."
D'après Kirkland, Marilyn lui demande en pleine séance qu'il la rejoigne dans le lit; il explique que bien qu'il en avait très envie, il était alors marié et père de trois enfants et sa bonne conscience lui fait refuser la proposition. Selon Kirkland, toute cette tension sexuelle a permis de livrer de bonnes photos.
Douglas Kirkland takes Marilyn to the unmade bed of white silk sheets and asks her to imagine how she would like to be remembered in 25 years, because the photo was to celebrate the 25th anniversary of Look magazine. Marilyn goes back to her dressing room and comes out in a white bathrobe, which she pulls out to slip into the silk sheets. While Kirkland photographs her, perched on the balcony, she drinks a few cups of champagne. Sometimes Kirkland stops and drinks with her.
In the middle of the session, she asks the rest of the team to leave her alone with the photographer: "Usually, it works better like that !" For Kirkland, it was then "A very intimate experience (...) Everything was now played between Marilyn, my camera and me (...) The atmosphere was calm, sweet and seductive."
According to Kirkland, Marilyn asks him to join her in the bed; he explains that although he wanted to do it, he was married with three children and his good conscience made him refuse the offer. According to Kirkland, all this sexual tension allowed to deliver good photos.
---
- The Bed Sitting -
- Backstage of The Bed Sitting -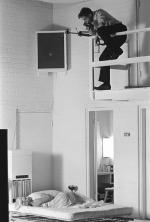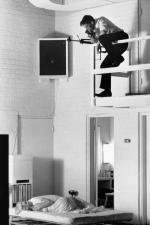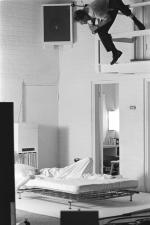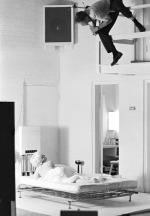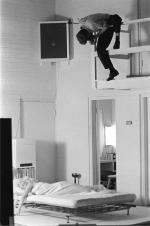 Quand il a terminé, il la rejoint et s'allonge par terre à côté du lit pour discuter seuls une vingtaine de minutes avant de refaire entrer les autres. Son assistant a pris quelques photos. Puis Marilyn remet son peignoir et retourne dans sa loge.
Elle part peu après minuit. Elle prend rendez-vous avec Kirkland le lendemain après midi chez elle pour visionner les photos.
When he has finished, he joins her and lies on the floor next to the bed to discuss about twenty minutes before the others enter. His assistant took some photos. Then Marilyn puts on her bathrobe and goes back to her dressing room.
She leaves the studio shortly after midnight. She makes an appointment with Kirkland the next day afternoon at home to view the photos.
---
Marilyn Monroe quitte le studio photo
Instantanés pris par James Haspiel
Marilyn Monroe leaves the studio
Snapshots taken by James Haspiel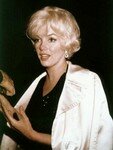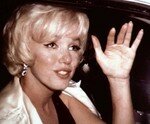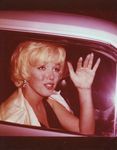 ---
> source: livre Douglas Kirkland, Une nuit avec Marilyn
---
© All images are copyright and protected by their respective owners, assignees or others.
copyright text by GinieLand.
22 juillet 2018
Le samedi 18 novembre 1961, tôt le matin, le photographe Douglas Kirkland apporte les pellicules de la séance de photos qu'il a prises la veille avec Marilyn au laboratoire pour les avoir développées dans l'après-midi. Il demande un développement E2 pour Ektachrome. Quand il les récupère, il les scrute sur la table lumineuse, découvrant des mauvais clichés et des réussis, faisant une marque au feutre dans le coin de celles qu'il préfère. Il se rend à l'appartement de Marilyn Monroe à Doheny Drive avec les photos et une petite table lumineuse. Il découvre une Marilyn méconnaissable, très différente de celle qu'il a vu la veille: fatiguée et triste, elle porte des lunettes noires, un foulard noué sur la tête, et parle d'une voix monocorde.
Pour regarder les photos, Marilyn veut une loupe mais Kirkland n'en a pas apporté. Alors elle lui demande d'aller à la boutique Thrifty Drug, sur Sunset, pour acheter une loupe, un feutre et une paire de ciseaux.
A son retour, Marilyn passe en revue rapidement les photos, puis quitte la pièce. Quand elle revient, elle lui dit "Ce n'est pas terrible. Mais je veux les revoir." Elle les re-examine plus longuement et déclare: "Il y en a quelques-unes de bonnes, mais les autres, je n'en veux à aucun prix !" Elle regroupe en tas les mauvais clichés et explique à Kirkland les raisons pour lesquelles elle n'en veut pas, puis les coupe en miettes avec la paire de ciseaux. Le photographe, bien qu'il comprenne ses raisons, est choqué de voir son travail se réduire en miettes de cette façon.
Elle examine à nouveau les clichés qu'elle avait mis de côté et sélectionne celui qu'elle considère le meilleur: quand elle serre l'oreiller dans ses bras. Elle se met alors à contempler longuement la photo. Marilyn aurait dit à Kirkland: "J'aime cette fille, parce que c'est le genre de femme avec qui tous les hommes voudraient vivre. Le genre de fille qu'un camionneur aimerait avoir dans son lit." Enfin, elle aurait promis à Kirkland, le désir de vouloir retravailler avec lui.
On Saturday, November, 18, 1961, early in the morning, photographer Douglas Kirkland brings the films of the photos session he took the day before with Marilyn at the laboratory for having developed them in the afternoon. He asks for an E2 development for Ektachrome. When he retrieves them, he scrutinizes them on the light table, discovering bad and successful shots, making a mark with a pen in the corner of those he prefers. He goes to Marilyn Monroe's apartment in Doheny Drive with the pictures and a small light table. He discovers a Marilyn unrecognizable, very different from the one he saw the day before: tired and sad, she wears dark glasses, a scarf tied on the head, and speaks in a monotone voice.
To look at the pictures, Marilyn wants a magnifying glass but Kirkland did not bring any. So she asks him to go to the Thrifty Drug Shop on Sunset to buy a magnifying glass, a marker pen and a pair of scissors.
When he goes back, Marilyn quickly reviews the photos and leaves the room. When she comes back, she says, "It's not terrible, but I want to see them again." She re-examines them longer and declares: "There are some good ones, but the others, I do not want at any price!" She piles up the bad shots and explains to Kirkland the reasons she doesn't want them, then cut them to pieces with the scissors. The photographer, although he understands her reasons, is shocked to see his work crumbling to pieces in this way.
She examines again the photos she has put aside and selects the one she considers the best: when she squeezes the pillow in her arms. She begins to contemplate the picture longer. Marilyn would have said to Kirkland, "I like this girl, because she's the kind of woman that every man would like to be in there with. The kind of girl a trucker driver would like to be in that bed with." Finally, she would have promised to Kirkland, the desire to want to work again with him.
---
> source: livre Douglas Kirkland, Une nuit avec Marilyn
---
© All images are copyright and protected by their respective owners, assignees or others.
copyright text by GinieLand.
12 novembre 2016
Instantanés de Maf, le (dernier) chien de Marilyn, pris dans son appartement de New York, en 1961. Photographies probablement prises par Marilyn Monroe.
Snapshots of Maf, the (last) Marilyn's dog, taken in her New York's apartment, in 1961. Photographs probably taken by Marilyn Monroe.
---
© All images are copyright and protected by their respective owners, assignees or others.
copyright text by GinieLand.
Enregistrer
Enregistrer
14 avril 2014
Marilyn Monroe en 1961 dans les jardins de la maison de Frank Sinatra, avec May Britt, la femme de Sammy Davis Jr, ici enceinte de leur fille Tracey Davis, qui va naître en juillet 1961.
Marilyn Monroe in 1961 in the garden of the Frank Sinatra's home, with May Britt, wife of Sammy Davis Jr, here pregnant of their daughter Tracey Davis, who will be born in July 1961.
Photographie publiée dans le livre "Sammy Davis Jr.: A Personal Journey with My Father" de Tracey Davis, Nina Bunche Pierce.
Extrait: Maman et Marilyn Monroe en tant qu'invités chez Frank Sinatra. Maman était alors enceinte de moi.
"Maman était devenue la sensation du jour au lendemain sur les affiches de film ou les couvertures des magazines à gogo après avoir remporté le rôle dans "L'Ange Bleu". Le remake du film de 1930 qui avait fait de Marlène Dietrich une star. Le rôle avait été initialement prévu pour une star telle que Marilyn Monroe. Maman disait qu'il n'y avait jamais eu tension entre elle et Marilyn. Elle disait "Quelques années après, nous avons été invitées chez Sinatra. Aucune de nous deux n'aimions les fêtes. Marilyn, comme moi, était timide. J'étais enceinte de toi à l'époque, et Marilyn et moi avons été photographiées ensemble. C'est devenue plus tard une photographie célèbre".
Photograph published in the book "Sammy Davis Jr.: A Personal Journey with My Father" by Tracey Davis, Nina Bunche Pierce
extract: Mom and Marilyn Monroe as houseguests of Frank Sinatra; mom was pregnant with me at the time.
"Mom became an overnight sensation on film posters and magazine covers galore after she won the part in The Blue Angel. The film was a remake of the 1930 classic of the same that had made Marlene Dietrich a star. The part had previously been slated for no less a star than Marilyn Monroe. Mom said there was never any tension between her and Marilyn. She said, 'Years later we were houseguests at Sinatra's place. Marilyn, like me, was shy. Neither of us were the life of the party. I was pregnant with you at the time, and Marilyn and I had our picture taken together. Later it became quite a famous shot.'"
---
> source forum EverlastingStar
Thanks to Joan Newman from the forum.

---
© All images are copyright and protected by their respective owners, assignees or others.
copyright text by GinieLand.
01 septembre 2013
Le 20 janvier 1961, Marilyn Monroe quitte New York en compagnie de son attaché de presse Pat Newcomb et de son avocat new-yorkais Aaron Frosch pour se rendre au Mexique (à Juarez, via El Paso, une ville du Texas) afin de finaliser son divorce d'avec Arthur Miller qui n'était pas présent: il avait signé une renonciation de ses droits à contester une demande unilatérale de divorce. Et en ce même jour, Miller assiste à la cérémonie d'investiture du Président Kennedy à Washington.
In January 20, 1961, Marilyn Monroe leaves New York with her publicist Pat Newcomb and her New York lawyer Aaron Frosch to go to Mexico (in Juarez, via El Paso, Texas) to finalize the divorce with Arthur Miller who was not there: he signed a waiver of his right to challenge an unilateral divorce. And that same day, Miller attended the Inaugural Adress and Bal of President Kennedy in Washington.

Le divorce du couple est prononcé pour "incompatibilité d'humeur" par le juge Miguel Gomez Guerra.
Arthur Miller obtient la garde de leur chien (basset) Hugo et conserve sa propriété à Roxbury; il n'y a pas de pension.
The couple's divorce is pronounced for "irreconcilable differences" by Judge Miguel Gomez Guerra.
Arthur Miller keeps their dog Hugo and retains its house in Roxbury; there is no pension.
> Marilyn quitte son appartement new-yorkais
Marilyn leaves her New York Apartment
(au 444 East 57th Street)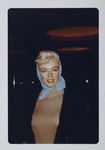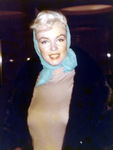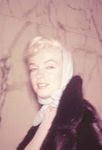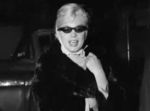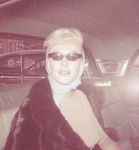 ---
© All images are copyright and protected by their respective owners, assignees or others.
copyright text by GinieLand.
Marilyn Monroe sort de son appartement new-yorkais (au 444 East 57th Street) et monte dans un taxi, vers janvier 1961.
Marilyn Monroe get out of her New York apartment (in 444 East 57th Street) and get in a taxi, circa January 1961.
---
© All images are copyright and protected by their respective owners, assignees or others.
copyright text by GinieLand.
27 mars 2011
Le 31 janvier 1961, a lieu la première du film The Misfits (Les Désaxés) au Capitol Theater de Broadway. Marilyn Monroe s'y est rendue accompagnée de Montgomery Clift. Quand à Arthur Miller, dont Marilyn vient de divorcer, il est accompagné de ses enfants Jane et Robert; Le producteur du film Frank E. Taylor était avec sa femme et leurs deux enfants. Ce fut une soirée un peu pénible pour Marilyn qui évita de croiser Arthur. Une fois la projection terminée, elle quitta le théâtre.
> photographie de Paul Schumach

> photographie de Phil Burchman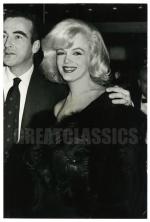 06 mars 2011
Marilyn Monroe et Joe DiMaggio
se promène sur une plage de Floride, le 28 mars 1961.
Marilyn Monroe et Joe DiMaggio
à Redington Beach en Floride, le 22 mars 1961.
>> Marilyn en maillot de bain avec Joe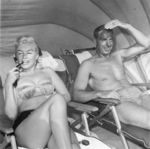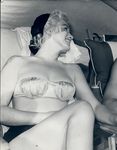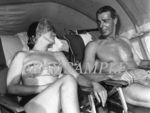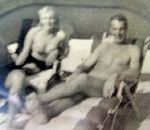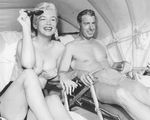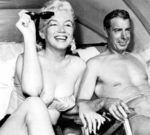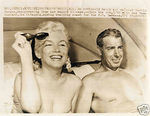 >> Marilyn en veste et pantalon avec Joe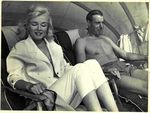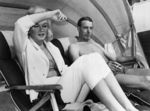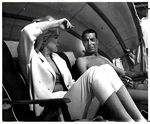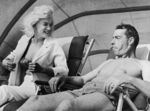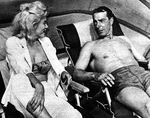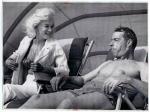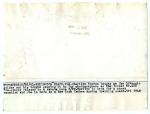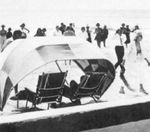 >> video


>> Marilyn en short, fuit les paparazzis