17 mars 2021
Gentlemen Prefer Blondes
en vinyle

---
Année de sortie: 1953

Il existe 8 versions du vinyle de la bande-originale du film
---
Pays: USA
Label: MGM Records
Référence: E-208
Disques: Vinyle, 10"
Format: LP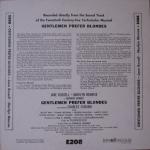 Contenu
- Face A -
Bye Bye Baby
Vocals – Jane Russell
Written-By – Styne, Robin

A Little Girl From Little Rock
Vocals – Jane Russell, Marilyn Monroe
Written-By – Styne, Robin

Diamonds Are A Girl's Best Friend
Vocals – Marilyn Monroe
Written-By – Styne, Robin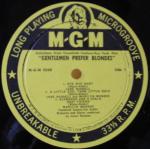 - Face B -
Ain't There Anyone Here For Love
Vocals – Jane Russell
Written-By – Adamson, Carmichael

When Love Goes Wrong (Nothing Goes Right)
Vocals – Jane Russell, Marilyn Monroe
Written-By – Adamson, Carmichael

Bye Bye Baby
Vocals – Marilyn Monroe
Written-By – Styne, Robin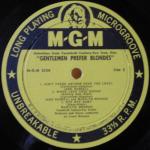 ---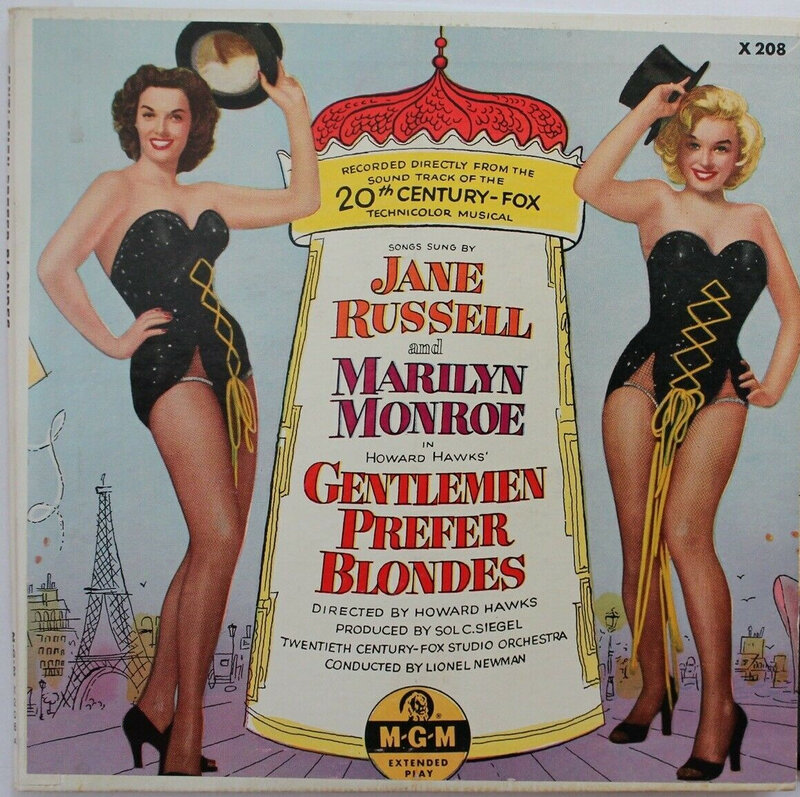 Pays: USA
Label: MGM Records
Référence: X-208
Disques: 2 x Vinyle, 7"
Format: 45 RPM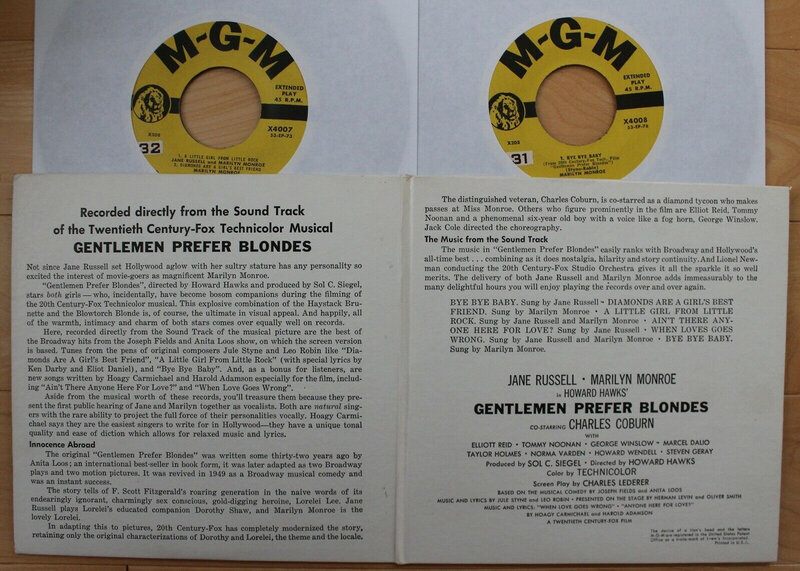 Contenu
- Disque 1 -
- Face A -
1/ A Little Girl From Little Rock
Vocals – Jane Russell, Marilyn Monroe
Written-By – Styne, Robin
2/ Diamonds Are A Girl's Best Friend
Vocals – Marilyn Monroe
Written-By – Styne, Robin
- Face B -
1/ Ain't There Anyone Here For Love
Vocals – Jane Russell
Written-By – Adamson, Carmichael
2/ When Love Goes Wrong (Nothing Goes Right)
Vocals – Jane Russell, Marilyn Monroe
Written-By – Adamson, Carmichael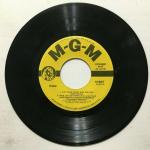 - Disque 2 -
- Face A -
Bye Bye Baby
Vocals – Jane Russell
Written-By – Styne, Robin
- Face B -
Bye Bye Baby
Vocals – Marilyn Monroe
Written-By – Styne, Robin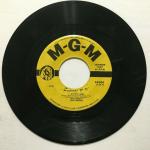 ---
Pays: USA
Label: MGM Records
Référence: 208
Disques: 3 x Vinyle, 10"
Format: 78 RPM
Contenu
Disque 1
Face A: Diamonds Are A Girl's Best Friend
Vocals – Marilyn Monroe
Face B: A Little Girl From Little Rock
Vocals – Jane Russell, Marilyn Monroe
Disque 2
Face A: When Love Goes Wrong (Nothing Goes Right)
Vocals – Jane Russell, Marilyn Monroe
Face B: Aint There Anyone Here For Love ?
Vocals – Jane Russell
Disque 3
Face A: Bye Bye Baby
Vocals – Marilyn Monroe
Face B: Bye Bye Baby
Vocals – Jane Russell
---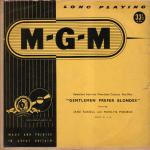 Pays: Grande-Bretagne
Label: MGM Records
Référence: D 116
Disques: Vinyle, 10"
Format: LP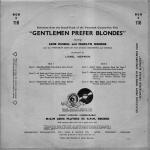 Contenu
- Face A -
Jane Russell And Chorus – Bye Bye Baby
Written-By – Styne, Robin

Jane Russell and Marilyn Monroe – A Little Girl From Little Rock
Lyrics By [Special Lyrics] – Daniel, Darby
Written-By – Styne, Robin

Marilyn Monroe – Diamonds Are Girl's Best Friend
Written-By – Styne, Robin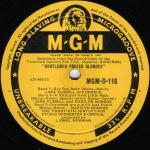 - Face B -
Jane Russell – Ain't There Anyone Here For Love ?
Written By – Carmichael-Adamson
Written-By – Adamson, Carmichael

Jane Russell & Marilyn Monroe With Chorus – When Love Goes Wrong
Written By – Carmichael-Adamson
Written-By – Adamson, Carmichael

Marilyn Monroe & Chorus – Bye Bye Baby
Written-By – Styne, Robin
---
Pays: Grande-Bretagne
Label: MGM Records
Référence: D 116
Disques: Vinyle, 10"
Format: LP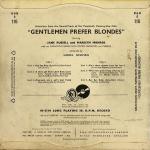 Contenu
- Face A -
Bye Bye Baby
A Little Girl From Little Rock
Lyrics By [Special Lyrics] – Daniel, Darby
Diamonds Are Girl's Best Friend
- Face B -
Ain't There Anyone Here For Love ?
When Love Goes Wrong
Bye Bye Baby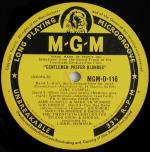 ---
Pays: Canada
Label: MGM Records
Référence: E-208
Disques: Vinyle, 10"
Format: LP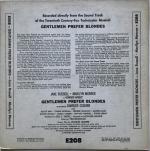 Contenu
- Side 1 / Face A -
Bye Bye Baby
Vocals – Jane Russell
Written-By – Styne, Robin

A Little Girl From Little Rock
Vocals – Jane Russell, Marilyn Monroe
Written-By – Styne, Robin

Diamonds Are A Girl's Best Friend
Vocals – Marilyn Monroe
Written-By – Styne, Robin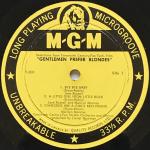 - Side 2 / Face B -
Ain't There Anyone Here For Love
Vocals – Jane Russell
Written-By – Adamson, Carmichael

When Love Goes Wrong (Nothing Goes Right)
Vocals – Jane Russell, Marilyn Monroe
Written-By – Adamson, Carmichael

Bye Bye Baby
Vocals – Marilyn Monroe
Written-By – Styne, Robin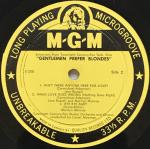 ---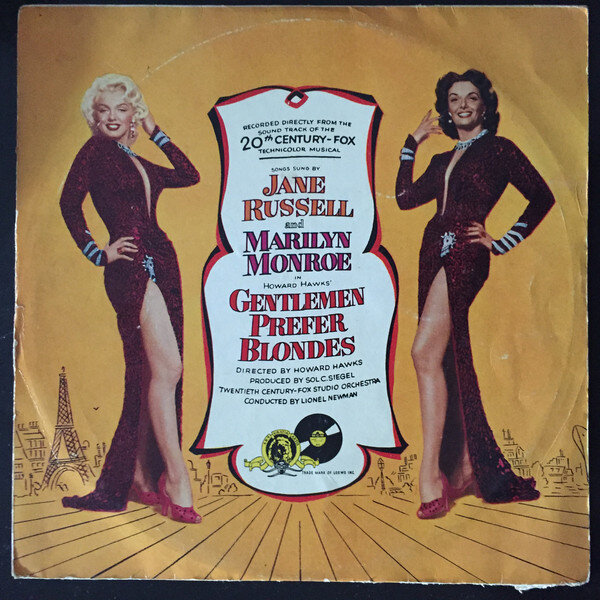 Pays: AUSTRALIE
Label: MGM Records (EMI)
Référence: 7501
Disques: Vinyle, 10"
Format: Gatefold
Contenu
- Face A -
A Little Girl From Little Rock
Vocals – Jane Russell, Marilyn Monroe
Written-By – Styne*, Robin*
Diamonds Are A Girl's Best Friend
Vocals – Marilyn Monroe
Written-By – Styne*, Robin

Ain't There Anyone Here For Love
Vocals – Jane Russell
Written-By – Adamson*, Carmichael
- Face B -

When Love Goes Wrong (Nothing Goes Right)
Vocals – Jane Russell, Marilyn Monroe
Written-By – Adamson*, Carmichael*

Bye Bye Baby
Vocals – Jane Russell
Written-By – Styne, Robin

Bye Bye Baby
Vocals – Marilyn Monroe
Written-By – Styne, Robin
---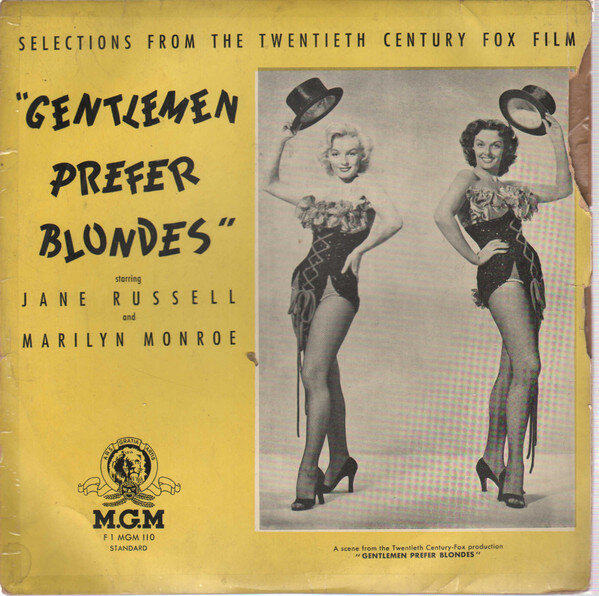 Pays: FRANCE
Label: MGM Records
Référence: F1 110
Disques: Vinyle, 10"
Format: LP
Contenu
- Face A -
Jane Russel – Bye Bye Baby
Jane Russel and Marilyn Monroe – A Little Girl From Little Rock
Marilyn Monroe – Diamonds Are Girl's Best Friend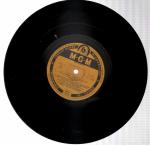 - Face B -
Jane Russel – Ain't There Anyone Here For Love
Jane Russel and Marilyn Monroe – When Love Goes Wrong (Nothing Goes Right)
Marilyn Monroe – Bye Bye Baby
---
> sur le web - le site Discogs
---
© All images are copyright and protected by their respective owners, assignees or others.
copyright text by GinieLand.
25 octobre 2014
Marilyn Monroe
Box of Diamonds
Format: Vinyle

Date de sortie: 2014, Juillet
Nombre de Disques 6
Label: Mis
Prix: 65,76 Euros
Edition Limitée à 1000 exemplaires
Ou le commander ? sur amazon.fr
Description -Coffret composé de 6 disques vinyles, chacun d'une couleur différente, en édition limitée, comportant les chansons les plus emblèmatiques de Marilyn Monroe, contenu dans une boîte métallisée. Contient un adaptateur vinyle.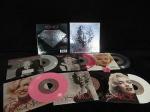 Disc 1 - (Black Vinyl)
Side A:
1. Diamonds Are A Girl's Best Friend
Side B:
1. Diamonds Are A Girl's Best Friend (Swing Cats Remix)

Disc 2 - (White Vinyl)
Side A:
1. A Little Girl From Little Rock
Side B:
1. The River Of No Return
2. Some Like It Hot

Disc 3 - (Clear Vinyl)
Side A:
1. Bye Bye Baby
Side B:
1. Kiss

Disc 4 - (Pink Vinyl)
Side A:
1. I Wanna Be Loved By You
Side B:
1. A Fine Romance

Disc 5 - (Pink Translucent)
Side A:
1. My Heart Belongs To Daddy
Side B:
1. She Acts Like A Woman Should

Disc 6 - (Grey Marbled)
Side A:
1. Happy Birthday, Mr. President
Side B:
1. I'm Through With Love

---
Vous avez le disque ? Do you have the disc ?
Apportez votre critique, votre avis ou votre note (/10)
Gives your opinion, review or note (/10)