22 août 2013

en ligne sur vanityfair.fr

19 août 2013
A sex-symbol becomes a thing. I just hate being a thing. But if I'm going to be a symbol of something I'd rather have it sex than some other things we've got symbols of.

Un sex-symbol devient une chose. Je déteste être une chose. Mais si je dois vraiment être le symbole de quelque chose, j'aime autant que ce soit du sexe plutôt que d'autres choses pour lesquelles nous avons déjà des symboles.

01 juin 2013
*photographe
It was an emotional bond that Marilyn had to her public, the ordinary people, the guys in uniform - the working class, those who struggled through wars and the Depression, whose poverty was no shame - that drove Marilyn. They were her public and, like myself, she would never let them down.

Il y avait un lien affectif qui unissait Marilyn à son public, les gens ordinaires, les gars en uniforme - la classe ouvrière, ceux qui ont lutté à travers les guerres et la Dépression, pour qui la pauvreté n'était pas une honte - qui ont conduit Marilyn. Ils formaient son public et, comme pour moi, elle ne les aurait jamais laissés tomber.
29 mai 2013
*extrait d'une émission de télévision de 1986: Jean-Claude Brialy commente une photographie de Marilyn Monroe:

"Alors là, c'est la femme la plus belle du monde. Marilyn Monroe en train de sauter. Elle sautait en l'air. Regarde comme elle est belle. La joie de vivre, le bonheur de vivre. Est-ce que tu as remarqué une chose ?! Elle est morte au mois d'août, un dimanche. J'ai remarqué que, souvent, les acteurs de cinéma meurent le dimanche, ou le lundi, jour de relâche pour le théâtre. C'est très étrange, le destin. James Cagney, Humphrey Bogart, sont mort un dimanche... (il ajoute, en contemplant la photo) Elle était belle."
31 janvier 2013
*Marilyn aurait prononcé ces propos lors de la signature de son contrat d'enregistrement musical au bureau de Victor's Hollywood chez RCA.
I'm so happy to be making records. Now people will get to know another side of me.
Je suis si heureuse de faire des disques. Maintenant les gens pourront connaître une autre part de moi.
28 décembre 2012
I'm selfish, impatient and a little insecure. I make mistakes, I am out of control and at times hard to handle. But if you can't handle me at my worst, then you sure as hell don't deserve me at my best.
Je suis égoïste, impatiente et peu sûre de moi. Je fais des erreurs, je suis hors de contrôle et parfois difficile à gérer. Mais si vous ne pouvez pas me supporter pour le pire, nul doute que vous ne me méritez pas pour le meilleur.

13 octobre 2012
I've been on a calendar, but never on time.

J'ai figuré dans un calendrier, mais je n'ai jamais été à l'heure.
02 octobre 2012
*photographe. Sur le tournage de 'Something's Got to Give', en 1962: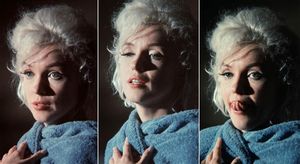 -Vous êtes déjà célèbre, maintenant, vous allez me rendre célèbre... dixit Schiller.
-"Ne soyez pas si insolent, les photographes, ça se remplace facilement, répliqua Marilyn.

*photographe. Marilyn dans la salle d'habillage de 'Let's Make Love' (Le Milliardaire), en 1960: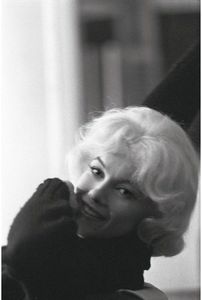 En regardant par dessus son épaule gauche, elle m'a lancé un sourire mutin qui m'a appris tous ce que je devais savoir sur Marilyn Monroe :
elle savait qui elle était,
elle savait qui j'étais,
elle savait quoi faire...

20 septembre 2012
*chanteur, auteur, compositeur. En découvrant une photographie représentant la piscine de la maison où décéda Marilyn Monroe (sa demeure de Brentwood), Bob Dylan écrivit ce poème.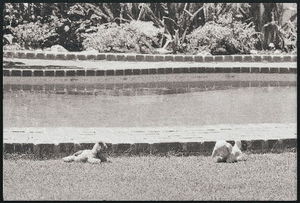 death silenced her pool
the day she died
hovered over
her little toy dogs
but left no trace
of itself
at her
funeral