19 février 2012
*photographe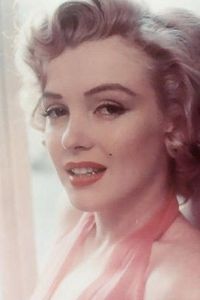 Je connais peu d'actrices douées d'un si formidable talent pour communiquer avec un objectif.
On dirait qu'elle essaye de séduire l'appareil comme si c'était un être humain.
14 février 2012
*réalisateur de Comment épouser un millionnaire ? en 1953
Marilyn incarne pour tous les hommes ce qu'ils recherchent dans leurs rêves insatisfaits. Elle est la fille avec qui on voudrait tromper sa femme.
07 février 2012
Fame will go by and, so long, I've had you, fame. If it goes by, I've always known it was fickle.
So at least it's something I experience, but that's not where I live.
La célébrité passera. Eh bien, qu'elle passe. Adieu célébrité, je t'ai eue, et j'ai toujours su que tu ne valais pas grand chose.
Pour moi, tu auras été au moins une expérience, vrai, mais tu n'es pas ma vie.

04 février 2012
*actrice, partenaire de Marilyn dans Comment épouser un millionnaire ? en 1953
Marilyn est ce qui est arrivé de plus important à Hollywood depuis des années. L'industrie du cinéma allait de son petit bonhomme de chemin quand tout à coup - waouh ! - Marilyn est arrivée. Elle est le coup de fouet qui a réveillé Hollywood.
22 décembre 2011
What do I wear in bed ? Why, Chanel No. 5, of course.
Ce que je porte la nuit pour dormir ?
Quelques gouttes de Chanel n°5.

02 décembre 2011
*actrice, auteur et metteur en scène de théâtre, anglaise. Professeur d'art dramatique à New York, Marilyn a suivi ses cours sa première année passée à New York. Constance décède le 25 avril 1955, et Marilyn assiste à son enterrement, accompagnée de Truma Capote.

She is a beautiful child. I don't think she is an actress at all, not in any traditional sense. What she has – this presence, this luminosity, this flickering intelligence – could never surface on the stage. It's so fragile and subtle, it can only be caught by the camera. It's like a hummingbird in flight; only a camera can freeze the poetry of it. But anyone who thinks this girl is simply another Harlow or harlot or whatever is mad. I hope, I really pray, that she survives long enough to free the strange, lovely talent that's wandering through her like a jailed spirit.
C'est une belle enfant. Je ne pense pas qu'elle soit une véritable actrice, au sens traditionnel du terme. Ce qu'elle était -sa présence, sa luminosité, son intelligence vacillante- ne pourrait jamais apparaître sur scène. C'est tellement fragile et subtil, que seule la caméra peut le saisir. C'est comme un colibri en plein vol; seule la caméra peut bloquer la poésie qui en ressort. Mais que quiconque pense que cette fille est juste une autre Harlow ou une fille facile ou n'importe quoi d'autre, est fou. J'éspère, et je prie, qu'elle survive assez longtemps pour affranchir l'étrange, d'un adorable talent qui vagabonde à travers elle comme une âme emprisonnée.
02 novembre 2011
*actrice, interpréta le rôle de Jean Harlow dans un Biopic; Elle déclara dans une interview accordée à François Chalais, pendant le Festival de Cannes de 1965: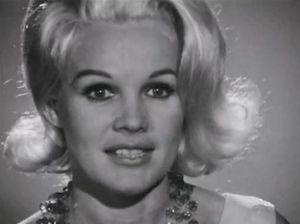 Je crois que la vie de Marilyn a été très triste, et que même sa vie de star a été triste. Elle aurait du tirer mille fois de la vie, elle en a presque rien eu. Elle a été terriblement maltraitrée par Hollywood; moi aussi, mais la différence est que j'ai une vie personnelle et que l'attitude de Hollywood m'indiffére, ma vie n'est pas concernée. Marilyn était si seule, elle était terriblement sensible à tout ce qui lui était extérieur et toute sa vie en a été bouleversée.
J'ai déjà eu tellement de mal à être Carroll Baker que je n'ai pas cherché à être autre chose. On m'a choisi parce qu'il y avait un vide à remplir, on avait besoin de filles pour un certain type de rôle, mais je crois que presque en tout, je diffère de Marilyn.

J'ai bien connu Marilyn, surtout après sa mort, car personne ne se rendait compte de son vivant à quel point elle souffrait. Nous nous sommes tous alors sentis coupable. Je ne pourrais jamais jouer son rôle, je me sens trop près d'elle.

> l'interview vidéo est en ligne sur le site de l' INA

Sex is a part of nature. I go along with nature.
Le sexe fait parti de la nature. Je suis le prolongement de la nature.

17 octobre 2011
When you speak of the American way of life, everybody thinks of chewing gum, Coca-Cola and Marilyn Monroe.
Lorsque vous évoquez le style de vie américain, tout le monde pense au chewing-gum, au coca-cola et à Marilyn Monroe.

13 octobre 2011
Dreaming about being an actress, is more exciting than being one.
Rêver à être une actrice est plus excitant que d'en être une.