08 octobre 2011
No one ever told me I was pretty when I was a little girl. All little girls should be told they're pretty, even if they aren't.
On ne m'a jamais dit que j'étais jolie quand j'étais petite fille. On devrait dire à toutes les petites filles qu'elles sont jolies, même si ce n'est pas vrai.

30 septembre 2011
*photographe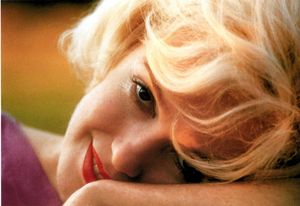 Le corps, les cheveux, la peau, le regard, la démarche: les plus belles photos d'elle que j'ai vues sont en dessous de la réalité. Elle est magique.
26 septembre 2011
An actress is not a machine, but they treat you like a machine. A money machine.
Une actrice n'est pas une machine, mais ils vous traitent comme si vous étiez une machine. Une machine à sous.
19 août 2011
*journaliste et écrivain
She was a warm, wonderful person who gave me full attention while interviewing her during her lunch break while shooting a billboard for "Niagara." Some stars talk to you while looking over your shoulder for someone more important. Not Marilyn.
Elle était une personne chaleureuse, merveilleuse, qui me donna son entière attention pendant que je l'interviewais lors de sa pause déjeuner alors qu'elle posait pour des affiches publicitaires du film "Niagara." Certaines stars vous parlent tout en prenant des airs hautains. Pas Marilyn.

>> sources citation sur 87thinfantrydivision.com

09 juillet 2011
*femme du Président John F. Kennedy, déclara, à la mort de Marilyn Monroe:
C'est une étoile qui continuera longtemps à briller au-dessus de nous.
11 juin 2011
In Hollywood a girl's virtue is much less important than her hairdo. You're judged by how you look, not by what you are.
Hollywood's a place where they'll pay you a thousand dollars for a kiss, and fifty cents for your soul. I know, because I turned down the first offer often enough and held out for the fifty cents.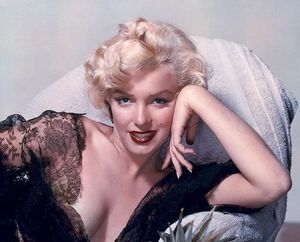 A Hollywood, la vertu d'une femme est beaucoup moins importante que sa coiffure. On vous juge sur votre apparence et pas sur ce que vous êtes.
A Hollywood, on vous paiera un baiser mille dollars et on vous donnera cinquente cents pour votre âme. Je le sais, parce que j'ai très souvent refusé la première proposition et souvent mendié la seconde.

*extrait de Marilyn Monroe : In Her Own Words (1983), édité par Roger Taylor

*acteur, il a eu une liaison épisodique avec Marilyn Monroe, de 1954 à 1962.
Do you remember when Marilyn Monroe died? Everybody stopped work, and you could see all that day the same expressions on their faces, the same thought: "How can a girl with success, fame, youth, money, beauty . . . how could she kill herself?" Nobody could understand it because those are the things that everybody wants, and they can't believe that life wasn't important to Marilyn Monroe, or that her life was elsewhere.
Vous vous souvenez de la mort de Marilyn Monroe ? Tout le monde a cessé le travail, et tout le monde avait la même expression sur le visage, les mêmes pensées: "Comment une fille, qui avait autant de succés, de célébrité, de jeunesse, d'argent, de beauté... Comment a-t-elle pu se tuer ?" Personne ne pouvait comprendre, parce que ce sont des choses que tout le monde envie, et on ne pouvait pas imaginer que la vie ne signifiait rien pour Marilyn Monroe, ou que sa vie était ailleurs.

05 juin 2011
I am not interested in money. I just want to be wonderful.
L'argent ne m'intéresse pas. Je veux juste être merveilleuse.

Dogs never bite me. Just humans !
Les chiens ne m'ont jamais mordue. Seulement les humains !

*actrice, elle tourna avec Marilyn dans Scudda Hoo! Scudda Hay!
When you look at Marilyn on the screen, you don't want anything bad to happen to her. You really care that she should be all right... happy.
Quand on regarde Marilyn à l'écran, on ne veut qu'il ne lui arrive rien de mal. On se soucie vraiment qu'elle devrait être très bien... heureuse.

Enregistrer