22 décembre 2011
What do I wear in bed ? Why, Chanel No. 5, of course.
Ce que je porte la nuit pour dormir ?
Quelques gouttes de Chanel n°5.

02 décembre 2011
*actrice, auteur et metteur en scène de théâtre, anglaise. Professeur d'art dramatique à New York, Marilyn a suivi ses cours sa première année passée à New York. Constance décède le 25 avril 1955, et Marilyn assiste à son enterrement, accompagnée de Truma Capote.

She is a beautiful child. I don't think she is an actress at all, not in any traditional sense. What she has – this presence, this luminosity, this flickering intelligence – could never surface on the stage. It's so fragile and subtle, it can only be caught by the camera. It's like a hummingbird in flight; only a camera can freeze the poetry of it. But anyone who thinks this girl is simply another Harlow or harlot or whatever is mad. I hope, I really pray, that she survives long enough to free the strange, lovely talent that's wandering through her like a jailed spirit.
C'est une belle enfant. Je ne pense pas qu'elle soit une véritable actrice, au sens traditionnel du terme. Ce qu'elle était -sa présence, sa luminosité, son intelligence vacillante- ne pourrait jamais apparaître sur scène. C'est tellement fragile et subtil, que seule la caméra peut le saisir. C'est comme un colibri en plein vol; seule la caméra peut bloquer la poésie qui en ressort. Mais que quiconque pense que cette fille est juste une autre Harlow ou une fille facile ou n'importe quoi d'autre, est fou. J'éspère, et je prie, qu'elle survive assez longtemps pour affranchir l'étrange, d'un adorable talent qui vagabonde à travers elle comme une âme emprisonnée.
02 novembre 2011
*actrice, interpréta le rôle de Jean Harlow dans un Biopic; Elle déclara dans une interview accordée à François Chalais, pendant le Festival de Cannes de 1965:
Je crois que la vie de Marilyn a été très triste, et que même sa vie de star a été triste. Elle aurait du tirer mille fois de la vie, elle en a presque rien eu. Elle a été terriblement maltraitrée par Hollywood; moi aussi, mais la différence est que j'ai une vie personnelle et que l'attitude de Hollywood m'indiffére, ma vie n'est pas concernée. Marilyn était si seule, elle était terriblement sensible à tout ce qui lui était extérieur et toute sa vie en a été bouleversée.
J'ai déjà eu tellement de mal à être Carroll Baker que je n'ai pas cherché à être autre chose. On m'a choisi parce qu'il y avait un vide à remplir, on avait besoin de filles pour un certain type de rôle, mais je crois que presque en tout, je diffère de Marilyn.

J'ai bien connu Marilyn, surtout après sa mort, car personne ne se rendait compte de son vivant à quel point elle souffrait. Nous nous sommes tous alors sentis coupable. Je ne pourrais jamais jouer son rôle, je me sens trop près d'elle.

> l'interview vidéo est en ligne sur le site de l' INA

Sex is a part of nature. I go along with nature.
Le sexe fait parti de la nature. Je suis le prolongement de la nature.

17 octobre 2011
When you speak of the American way of life, everybody thinks of chewing gum, Coca-Cola and Marilyn Monroe.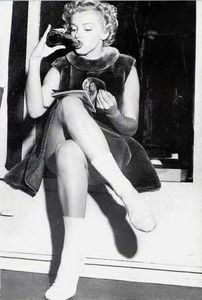 Lorsque vous évoquez le style de vie américain, tout le monde pense au chewing-gum, au coca-cola et à Marilyn Monroe.

13 octobre 2011
Dreaming about being an actress, is more exciting than being one.
Rêver à être une actrice est plus excitant que d'en être une.

08 octobre 2011
No one ever told me I was pretty when I was a little girl. All little girls should be told they're pretty, even if they aren't.
On ne m'a jamais dit que j'étais jolie quand j'étais petite fille. On devrait dire à toutes les petites filles qu'elles sont jolies, même si ce n'est pas vrai.

30 septembre 2011
*photographe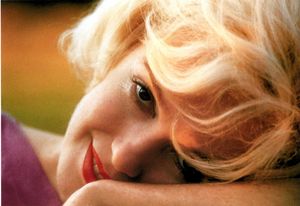 Le corps, les cheveux, la peau, le regard, la démarche: les plus belles photos d'elle que j'ai vues sont en dessous de la réalité. Elle est magique.
26 septembre 2011
An actress is not a machine, but they treat you like a machine. A money machine.
Une actrice n'est pas une machine, mais ils vous traitent comme si vous étiez une machine. Une machine à sous.
19 août 2011
*journaliste et écrivain
She was a warm, wonderful person who gave me full attention while interviewing her during her lunch break while shooting a billboard for "Niagara." Some stars talk to you while looking over your shoulder for someone more important. Not Marilyn.
Elle était une personne chaleureuse, merveilleuse, qui me donna son entière attention pendant que je l'interviewais lors de sa pause déjeuner alors qu'elle posait pour des affiches publicitaires du film "Niagara." Certaines stars vous parlent tout en prenant des airs hautains. Pas Marilyn.

>> sources citation sur 87thinfantrydivision.com