10 novembre 2007
Les Dates de sorties dans le monde
USA: 7 décembre 1947
USA, Los Angeles: 16 janvier 1948

Le Titre du film dans le monde
USA: Dangerous Years
Italie: Juventud en peligro

Fiche technique
Réalisateur : Arthur Pierson
Scénariste : Arnold Belgard
Producteur : Sol M. Wurtzel
Image : Benjamin H. Kline
Musique : Rudy Schrager
Son : Max M. Hutchinson
Montage : Frank Babridge, William F. Claxton
Chef décorateur : Al Greenwood
Production Pays : Etats-Unis
Société de production: 20th Century Fox [us]
Genre : drame
Film en noir et blanc
Durée : 1h 02min
Distribution (créditée)
Billy Halop (sous le nom William Halop) : Danny Jones
Scotty Beckett: Willy Miller
Richard Gaines : Edgar Burns
Ann E. Todd : Doris Martin
Jerôme Cowan : Weston
Anabel Shaw : Connie Burns
Darryl Hickman : Leo Emerson
Dickie Moore : Gene Spooner
Harry Harvey Jr. : Phil Kenny
Gil Stratton (sous le nom de Gil Stratton Jr.) : Tammy McDonald
Harry Shannon : Judge Raymond
Donald Curtis : Jeff Carter
Joseph Vitale : August Miller
Marilyn Monroe : Evie
Nana Bryant: Miss Templeton
Synopsis

Danny est le chef d'une bande de délinquants qui accomplissent des méfaits des plus divers. Un soir, une de leurs tentatives de cambriolage tourne mal et se termine par le meurtre d'un professeur. Danny, accusé du meurtre, est alors arrêté et traîné en justice.
>> Sur le web:
- le film sur imdb (en anglais)
- infos sur le film sur wikipedia (en français)
- fiche du film sur allocine (en français)
- fiche du film sur CinEmotions (en français)
Dangerous Years

Secrets de tournage ...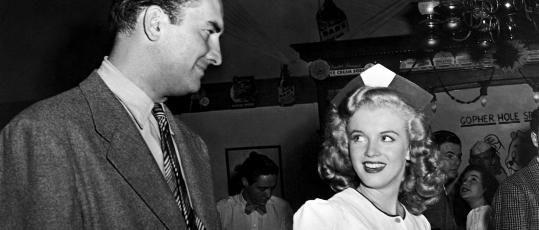 ... et anecdotes
L'Histoire ne retiendra ce film, a posteriori, qu'en raison de la présence de Marilyn Monroe au générique.

Il s'agit officiellement du premier film de Marilyn Monroe en raison de la date de sa sortie, mais elle l'a tourné après Scudda Hoo! Scudda Hay! . Elle y joue une serveuse dans un café où les jeunes se réunissent et elle ne prononce que quelques mots.

Sol M. Wurtzel

(le producteur) paya

Marilyn

125 $ pour son rôle d'Evie. Engagée pour jouer le rôle d'une secrétaire, pour une semaine de tournage, elle interpréta finalement celui de la serveuse, dont le tournage ne prit qu'une journée.

La 20th Century Fox ne renouvela pas son contrat à l'issue du tournage et Marilyn va ensuite travailler pour d'autres studios avant de revenir à la Fox pour une plus longue période.

Marilyn retournera sous les ordres du réalisateur Arthur Pierson dans Home Town Story (1951).

---
© All images are copyright and protected by their respective owners, assignees or others.
copyright text by GinieLand.
Dangerous Years
Les Affiches

Dangerous Years
Photos

Marilyn Monroe tient un rôle mineur dans le film:
elle est la serveuse Evie du bar où les jeunes se retrouvent
Dangerous Years
Les critiques
Motion Picture Herald
Certaines causes de la délinquance juvéline et certains adultes policiers désignés pour les arrêter , sont explorés ici d'une façon intéressante avec vigueur dans ce mélodrame réalisé par Arthur Pierson.
Some of the causes of juvenile delinquency, and some of the adult policies designed to offset them, are explored interestingly here in a melodrama forcefully directed by Arthur Pierson.