01 août 2008
Don't Bother to Knock
Troublez-moi ce soir
Les Dates de sorties dans le monde
USA: 18 juillet 1952
Suède: 22 août 1952
Royaume-Uni: 8 décembre 1952
Finlande: 19 décembre 1952
Australie: 26 février1953
Allemagne Ouest: 6 mars 1953
Autriche: avril 1953
Danemark: 18 janvier 1954
Japon: 1954
Le Titre du film dans le monde
USA: Don't bother to knock
France: Troublez-moi ce soir
Espagne: Niebla en el alma
Italie: La Tua bocca brucia
Allemagne / Autriche: Versuchung auf 809
Grèce: To 6o kleidi tis garsonieras
Grèce (autre titre): Flogismena heili
Brésil: Almas Desesperadas
Danemark: Brændende læber
Finlande: Draama hotellissa
Suède: Drama på hotell
Fiche technique
Réalisateur: Roy Ward Baker
Scénaristes: Daniel Taradash (adaptation)
d'après une histoire de Charlotte Armstrong
Producteur: Julian Blaustein
Production: 20th Century Fox
Directeur musical: Lionel Newman
Orchestrateurs: Earle H Hagen et Bernard Mayers
Image: Lucien Ballard
Montage: George A. Gittens
Direction artistique: Richard Irvine et Lyle Wheeler
Décorateur plateau: Paul S. Fox et Thomas Little
Costumes: Travilla
et Charles Le Maire
Maquillage: Ben Nye
Son: Bernard Freericks et Harry M Leonard
Effets spéciaux: Ray Kellogg
Genre: thriller dramatique
Durée: 76 min
Noir et Blanc
Distribution (créditée)
Richard Widmark: Jed Towers
Marilyn Monroe: Nell Forbes
Anne Bancroft: Lyn Lesley
Donna Corcoran: Bunny Jones
Jeanne Cagney: Rochelle
Lurene Tuttle: Ruth Jones
Elisha Cook Jr.: Eddie Forbes
Jim Backus: Peter Jones
Verna Felton: Mrs. Emma Ballew
Willis Bouchey: Joe the Bartender
Don Beddoe: Mr. Ballew
Synopsis

Dans un hôtel à New York, une femme, Lyn, semble attendre un homme. Lyn est en fait la chanteuse du bar de cet hôtel et entonne une chanson romantique pour la clientèle. Dans sa chambre du même hôtel, Jed relit une lettre de rupture. Lyn et Jed étaient ensemble. Au même moment, une jeune femme, Nell, arrive à l'hôtel car son oncle Eddie, qui y est liftier, lui a trouvé un job de baby-sitting pour la soirée. Elle va prendre soin de la petite Bunny pendant que ses parents sortent. Jed descend écouter Lyn. Ils discutent et Lyn lui reproche notamment son caractère froid et cynique: elle confirme leur séparation. Pendant ce temps, Nell fouille dans les affaires de la maman de la petite - qu'elle vient de coucher - et essaye des bijoux. Retourné dans sa chambre, Jed aperçoit par la fenêtre Nell. Ils entrent en contact par téléphone. Eddie vient voir Nell et la surprend portant un déshabillé et les bijoux de la maman absente. Il l'oblige à tout remettre en place. Puis Jed, avec sa bouteille de Bourbon, vient frapper à la porte de Nell. Avant qu'elle n'ouvre, on aperçoit des cicatrices sur ses poignets. Ils font connaissance, on apprend que Nell a perdu pendant la guerre son fiancé, pilote, puis ils s'embrassent après que Jed ait mentionné qu'il est aussi pilote d'avion. Mais ils sont surpris par la petite fille qui ne dormait pas. Cette apparition éveille quelques soupçons chez Jed qui croyait Nell seule et, ensuite, une tragédie est même évitée: Nell voulait pousser par la fenêtre la petite. Pendant ce temps, les parents, insouciants, sont toujours à leur soirée. Découvrant des cicatrices aux poignets de Nell, Jed n'a plus aucun doute: il préfère partir pour rejoindre Lyn. Mais Eddie arrive et déclare à sa nièce "Je pensais que tu allais mieux". La situation s'envenime et Nell assome son oncle. Ayant entendu du bruit, des clients de l'hôtel frappe à la porte, mais Nell les rassure. Elle le peut: l'enfant, pour qu'elle ne crie pas, est attachée sur son lit. Jed part à son rendez-vous. Quelques minutes plus tard arrive la maman qui découvre sa fille séquestrée. Jed revient juste à temps pour séparer la mère et Nell qui se battent. Nell profite d'un moment d'inattention pour s'échapper. À la réception de l'hôtel, elle trouve des lames de rasoir. On peut craindre alors le pire mais Jed, de nouveau et en présence de Lyn, sauve la situation. Il n'est pas la brute que Lyn s'imaginait et ils partent boire un verre ensemble alors que la police emmène Nell vers un hôpital qui pourra la traiter.
>> Sur le web:
- tout sur le film sur imdb (en anglais)
- infos sur le film sur wikipedia français
- le dvd du film avec captures sur dvdbeaver (en anglais)
>> Vidéo Movie Trailer de Don't Bother to Knock
présentation "bande annonce" du film
en V.O (anglais) non sous-titré
29 juillet 2008
Les Affiches Ciné, cartes lobby,
jaquettes dvd et vhs dans le monde
Don't bother to knock
Photos d'exploitation cinéma
- lobby cartes -
Troublez-moi ce soir

---
Tests Costumes
---
costumier / designer: William Travilla
---
prises de vues le 3 décembre 1951
---
prises de vues le 6 décembre 1951
---
Tests Coiffure
---
---
> fiches costumes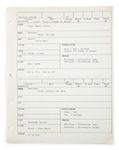 ---
© All images are copyright and protected by their respective owners, assignees or others.
copyright text by GinieLand.
Clichés publicitaires de Marilyn Monroe pour Don't Bother to Knock
Troublez-moi ce soir
Photos publicitaires
Clichés publicitaires des acteurs de Don't Bother to Knock
*** Marilyn Monroe se bagarre avec Lurene Tuttle ***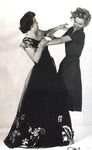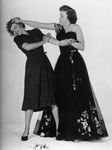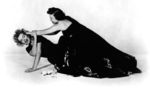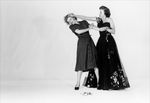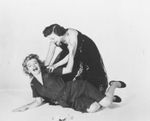 *** Marilyn Monroe prend en otage Donna Corcoran ***

*** Marilyn Monroe dans les bras de Richard Widmark ***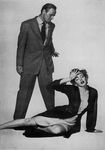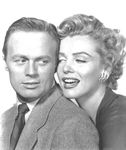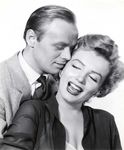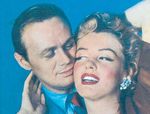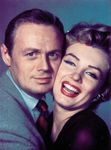 scènes de Don't bother to Knock (Troublez-moi ce soir),
où Nell (Marilyn Monroe) porte une nuisette.
28 juillet 2008
Don't bother to knock
Sur le tournage

Marilyn Monroe sur le plateau de Don't bother to Knock
dans les scènes où elle porte un déshabillé sexy.
scènes de Don't bother to Knock (Troublez-moi ce soir),
où Nell (Marilyn Monroe) porte une robe grise.