05 mai 2008
We're not married !
Cinq mariages à l'essai
Les Dates de sorties dans le monde
USA: 11 juillet 1952
France: 17 décembre 1952
Suède: 1 janvier 1953
Finlande: 9 janvier 1953
Italie: 21 janvier 1953
Hong Kong: 5 mars 1953
Autriche: 6 mars 1953
Allemagne: 18 décembre 1953
Danemark: 7 avril 1954
Le Titre du film dans le monde
USA: We're not married
France: Cinq mariages à l'essai
Allemagne/Autriche: Wir sind gar nicht verheiratet
Finlande: Laittomasti naimisissa
Italie: Matrimoni a sorpresa
Portugal: Não Estamos Casados
Espagne: No estamos casados
Suède: Vi är inte gifta!
Danemark: Vi er ikke gift
Fiche technique
Réalisateur: Edmund Goulding
Scénaristes: Nunnally Johnson (script)
et Dwight Taylor (adaptation)
d'après une histoire de Gina Kaus et Jay Dratler
Assistant réalisateur: Paul Helmick
Producteur: Nunnally Johnson
Production: 20th Century Fox
Musique originale: Cyril J. Mockridge
Orchestrateur: Bernard Mayers
Directeur musical: Lionel Newman
Image: Leo Tover
Montage: Louis R. Loeffler
Direction artistique: Leland Fuller et Lyle R. Wheeler
Décorateur plateau: Thomas Little
et Claude E. Carpenter
Costumes: Eloise Jensson
du département de Charles Le Maire
Maquillage: Ben Nye
Coiffeur: Helen Turpin
Son: W.D. Flick et Roger Heman Sr.
Effets spéciaux: Ray Kellogg
Genre: comédie romantique
Durée: 86 min
Noir et Blanc
Distribution (créditée)
Ginger Rogers: Ramona Gladwyn
Fred Allen: Steve Gladwyn
Victor Moore: Melvin Bush (juge de paix)
Marilyn Monroe: Annabel Jones Norris
David Wayne: Jeff Norris
Eve Arden: Katie Woodruff
Paul Douglas: Hector Woodruff
Eddie Bracken: Willie Fisher
Mitzi Gaynor: Patricia Reynolds Fisher alias Patsy
Louis Calhern: Freddie Melrose
Zsa Zsa Gabor: Eve Melrose
James Gleason: Duffy
Paul Stewart: l'avocat Stone
Jane Darwell: Mrs. Bush
Synopsis

Cinq couples mariés apprennent que leur union n'est pas légale car le juge Melvin Bush les ayant unis n'était pas encore en fonction.
- Le premier couple: Ramona et Steve Gladwyn animent ensemble une émission radiophonique populaire où ils forment l'image du couple américain parfait, alors qu'ils ne s'entendent plus au quotidien. Lorsqu'ils reçoivent la lettre qui annonce que leur mariage n'est pas valable, ils s'en réjouissent mais la chaîne de radio ne veut plus qu'ils continuent à animer une émission familiale s'ils ne sont plus mari et femme...
- Le deuxième couple: Annabel Norris remporte gagne le titre de Miss Mississippi des femmes mariées, ce qui ne ravie pas son mari Jeff qui doit alors s'adonner aux obligations ménagères et s'occuper de leur bébé. Il reçoit la lettre, ce qui signifie qu'elle doit être déchue de son titre car non légalement mariée, et qu'elle va devoir réintégrer le foyer...
- Le troisième couple: Katie et Hector Woodruff ont atteint la zone d'indifférence sympathique et de discussions convenues. Hector reçoit la lettre et se surprend, puisqu'il est à nouveau libre, de rêver à de nouvelles et nombreuses conquêtes...
- Le quatrième couple: Freddie Melrose, un riche hommes d'affaires, se fait piéger par sa femme Eve bien qu'il ne soit coupable d'aucun adultère. Elle réclame le divorce et au moins la moitié de sa fortune. Freddie reçoit la lettre qui l'informe qu'officiellement il n'a pas convolé...
- Le cinquième couple est séparé pour cause d'engagement militaire. Sur le quai de la gare, Willie Fischer apprend que Patsy est enceinte et plus tard dans le train, par une lettre, qu'ils ne sont pas mariés: il ne veut pas que son enfant naisse sans père...
>> Sur le web:
- tout sur le film sur imdb (en anglais)
- infos sur le film sur wikipedia français
- Le film sur allocine (en français)
- une critique sur dvdtimes (en anglais)
Cing mariages à l'essai
Secrets de tournage ...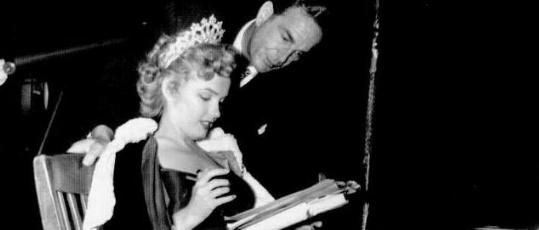 ... et anecdotes
Son rôle
C'est le 15ème film de Marilyn Monroe, positionnée 4ème au générique. Selon le scénariste Nunnaly Johnson, l'un des objectifs du film était de pouvoir montrer la starlette Marilyn Monroe en maillot de bains: il imagina donc ce personnage d'Annabel Morris qui est une reine de beauté qui regrette de s'être mariée, car ne peut donc pas concourir au titre de "Miss America". Et Johnson s'appuya probablement sur la vie de Marilyn tant son personnage d'Annabel lui ressemble fortement: d'abord lorsque son premier mari Jim Dougherty n'acceptait pas qu'elle entame une carrière de mannequin car elle négligeait leur foyer, mais Marilyn était farouchement décidée à poursuivre ses rêves de gloire, puis elle décrocha aussi un titre de "Miss", celui de "Miss Cheesecake" en 1951. Autant de faits parallèles avec son personnage, loin du rôle de composition.
Quelques mois plus tôt, l'affaire du calendrier pour lequel elle posa nue en 1949 a été rendue publique (dans le Los Angeles Time du 13 mars 1952) et Marilyn, à la sortie de ce film (le 11 juillet 1952), n'est en fait pas encore une star de premier plan. Comme Ginger Rogers et les autres acteurs de ce film, son passage à l'écran est relativement court, de quelques minutes.

Les scènes de Marilyn dans le film
1- Marilyn apparaît à la 28ème minute lorsqu'elle gagne le concours de "Madame Mississippi en maillot de bain".
2- Ensuite, à la maison, elle prépare ses affaires pour repartir sur la route avec le promoteur du concours, à la conquête de Madame Amérique.
3- Quelques jours plus tard, elle rentre, toujours avec son promoteur, et son mari leur apprend qu'elle est destituée car en vérité pas mariée. Elle est très contente: elle va pouvoir se présenter au concours de "Miss Mississippi" (Mademoiselle Mississippi). Avant la révélation du non-mariage, le promoteur commente au mari que "She's gonna be one of the most famous women in the United States" ("Elle sera l'une des femmes les plus célèbres des États-Unis"), des paroles prophétiques.
Elle gagne le nouveau défi.
4- A la toute fin du film, elle se remarie avec son mari dans un plan qui ne dure que quelques secondes.

Deux tigresses blondes
Marilyn et Zsa Zsa Gabor ont un compte à régler depuis que l'actrice hongroise a interdit à son mari, le comédien Georges Sanders (cf photo ci-contre), d'adresser la parole à Marilyn, à qui il donna la réplique en 1950 dans All About Eve. D'ailleurs leur mariage ne tiendra guère, Sanders épousera par la suite la propre soeur de son ex-femme. Mais voilà l'occasion à Marilyn de montrer à sa blonde rivale qu'elle aussi s'avère capable de se faire une place à Hollywood ! On peut imaginer qu'il fallait cependant davantage pour déconcerter la bouillante Zsa Zsa, restée célèbre pour ses multiples frasques (mariée neuf fois -dont une union qui ne tint qu'une journée-, petit séjour en prison après avoir giflé un policier...) qui ont fasconné sa réputation de femme au tempérament volcanique. Et c'est sans doute par prudence que l'équipe de production s'arrangea pour que les deux femmes ne se croisent pas sur le plateau et aucun incident ne fut à déplorer.

Retrouvailles passées et futures
- Avec les acteurs / actrices suivants, Marilyn Monroe aura partagé l'affiche de Cinq mariages à l'essai:
Ginger Rogers : Monkey Business (Chérie, je me sens rajeunir -en 1952).
David Wayne : As young as you feel (Rendez-moi ma femme -en 1951), O Henry's full house (La Sarabande des pantins -en 1952) et How to marry a millionaire (Comment épouser un millionnaire -en 1953).

- Avec le scénariste Nunnally Johnson, qui a écrit à plusieurs reprises des scripts déstinés à Marilyn:
O Henry's full house (La Sarabande des pantins -en 1952), How to marry a millionaire (Comment épouser un millionnaire -en 1953); et Marilyn lui fit appel en 1962 pour remanier le script de Something's Got to Give (son dernier film inachevé).
Cependant, bien que Marilyn et Nunnally étaient proches, ce dernier a malgré tout tenu des propos extrêmement durs à son égard. Par exemple: "She was either too fey for me too understand, or too stupid, and certainly too unprofessionnal for me" ("Elle était trop bizarre à comprendre, ou trop stupide, et certainement pas assez professionnelle pour moi"); il semblerait qu'il se soit exprimé ainsi après qu'elle ait repoussé un de ses projets, "How to be very, very popular" , film qui fut un bide.
>> Vidéo Movie Trailer de We're not married
présentation "bande annonce" du film à sketchs
en V.O (anglais) non sous-titré
Cinq mariages à l'essai
Les Affiches

Les Affiches Ciné, cartes lobby,
jaquettes dvd & vhs
---
>> quelques affiches sur cinemasterpieces
Cing mariages à l'essai
Photos d'exploitation cinéma
Cinq mariages à l'essai

---
Tests Costumes
---
costumière / designer: Elois Jensen
---
prises de vues le 11 janvier 1952
---
> fiches costumes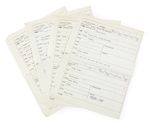 ---
> costumes esquisses / sketches d'Elois Jenssen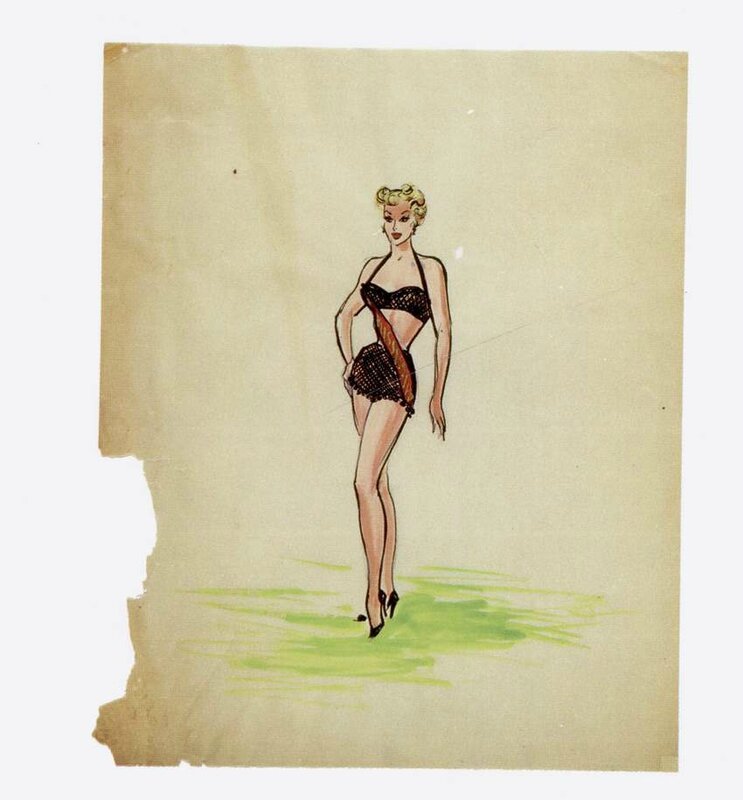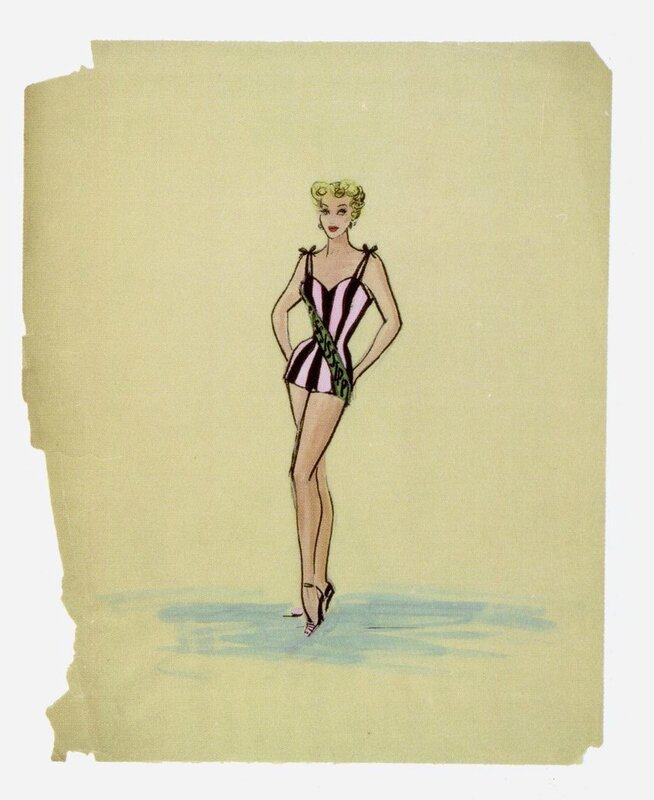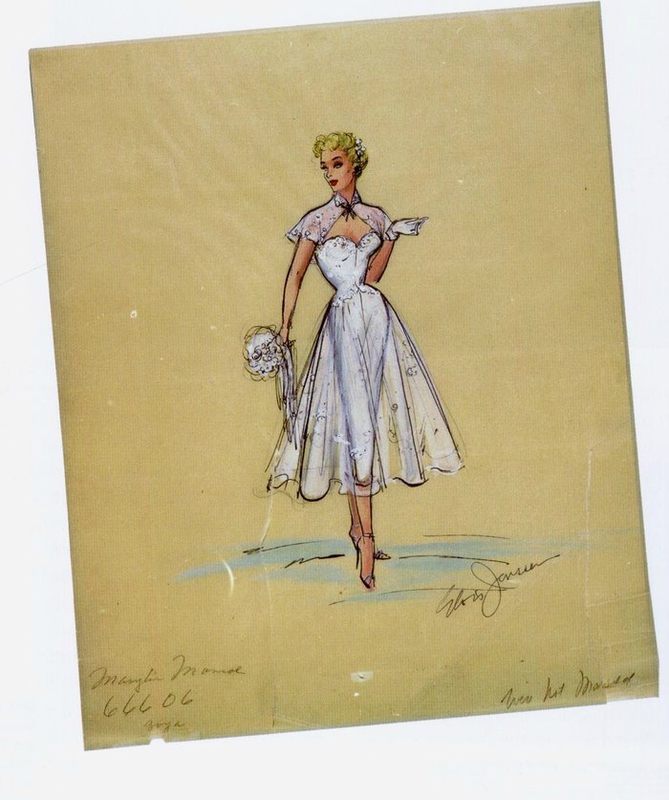 ---
© All images are copyright and protected by their respective owners, assignees or others.
copyright text by GinieLand.

Cinq mariages à l'essai
Photos Studio
Photographies promotionelles de Marilyn Monroe
pour le film We're not married en 1952
-Photographies publicitaires pour la Saint Valentin du 14 février 1952
destinées aux soldats américains-

---
Photographies de Art Adams
Séance datée du 11 février 1952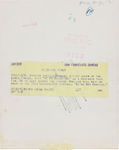 ---
---
Photographies de Earl Theisen
Février 1952 - Los Angeles, Studios de la Fox

1952, February - Los Angeles, in the Fox Studios

- Marilyn & Earl Theisen -
- informations sur la photographie -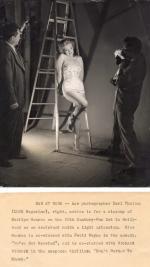 ---
- Magazine -
Filmjournalen, 25/05/1952 - SUEDE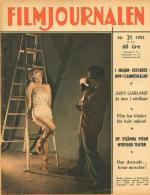 ---
© All images are copyright and protected by their respective owners, assignees or others.
copyright text by GinieLand.

Cinq mariages à l'essai
Photos Studio
Clichés publicitaires pour le film We're not married
Portraits de Marilyn Monroe par le photographie Frank Powolny
Promotional photos for Wer're not married
Marilyn Monroe Portraits by photographer Frank Powolny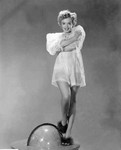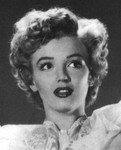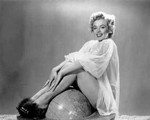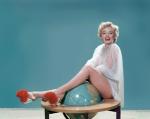 ---
© All images are copyright and protected by their respective owners, assignees or others.
copyright text by GinieLand.
Enregistrer
Enregistrer
Enregistrer
04 mai 2008
Cinq mariages à l'essai
Photos - partie 1
Première scène de Marilyn Monroedans We're not married (Cinq mariages à l'essai):
Annabel Morris défile en maillot noir sur le podium à l'oganisation du concours de beauté de "Miss en maillot de bain" (the "Bathing Beauty Contest") et remporte le trophée. Puis elle rentre chez elle pour dire au revoir à son mari et préparer sa valise pour partir sur les routes et participer aux autres concours américains.
Cinq mariages à l'essai
Sur le tournage - partie 1

Marilyn Monroe sur le plateau de We're not married
- Marilyn et le réalisateur Edmund Goulding

---