04 septembre 2013
Marilyn en sirène vue par divers artistes
02 septembre 2013
Pop Art by Charles Fazzino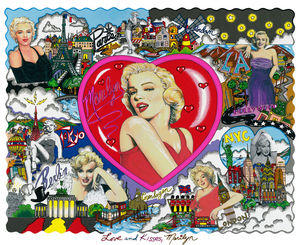 31 août 2013
Pop Art by Barton F. Gunderson
> source: bartgunderson.com
Marilyn Monroe Coca-Cola and the USA Baby!
Acrylic on Watercolor Board Owner: Boogie's Diner Aspen Copyright 2009
all rights reserved by Barton Gunderson
26 août 2013
artiste inconnu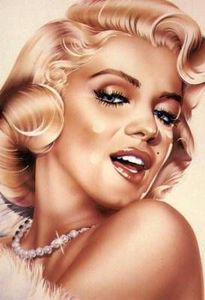 24 août 2013
15 Artist Tributes to Marilyn Monroe
publié le 31/05/2013
en ligne sur redesignrevolution.com
Recognize the name Norma Jeane Mortensen? We didn't think so – Norma Jeane Mortensen is more affectionately known to the entire world as Marilyn Monroe – one of the most well known icons associated with beauty in not only the United States – but the world. In honor of her 87th birthday on June 1, we take a look back at the one of the most well known pop culture icons in the world.
Marilyn Monroe is probably the most celebrated and recognizable actress in the entertainment industry. Sure, she sung of diamonds being a girl's best friend, but her life was anything but grand prior to being discovered by RKO Pictures' Howard Hughes, a multi-millionaire businessman, film producer and director.
Her father abandoned the family prior to her birth, poverty was a constant struggle, and her mother was mentally unstable. At the age of nine, she was placed in an orphanage after being in and out of various foster homes. After overcoming a seemingly difficult childhood, Marilyn Monroe went on to make a name for herself in the growing entertainment industry.
Did you know any of these fun facts about Marilyn?
She is known for her breathless voice, voluptuous figure, sparkling blue eyes – don't forget the beauty mark or platinum blonde hair!
She debuted her famous platinum blonde locks in 1952′s Monkey Business
The identity of Marilyn Monroe was created in 1946, but she didn't legally changer her name until 1956.
Marilyn was the first woman to be featured on the cover of Playboy Magazine.
In 1953, she starred in Gentlemen Prefer Blondes and began dating the one and only Joe DiMaggio. A huge movie role and a relationship with baseball great Joe DiMaggio – talk about making it big!
In 1999, she was voted People Magazine's "Sexiest Woman of the Century".
We decided to honor Marilyn in true Redesign fashion, and it was obvious it would not be hard to find amazing pieces of art that paid tribute to this iconic figure. Check out our 15 favorite artist tributes to Miss Monroe below.
---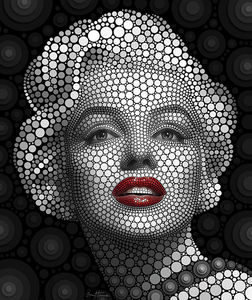 Portrait Made of Thousands of Circles by Ben Heine
It took the artist a week of intense work to create this piece. We also featured his portraits in our Lady Gaga and Elvis Presley roundups.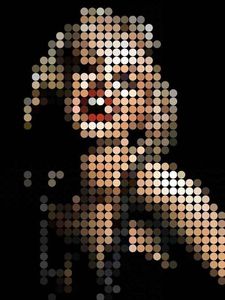 Large Pixel Portrait by Heather Herscheid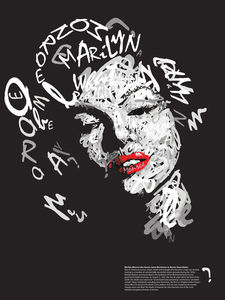 Mistral Typographer Poster by Rhiannon Bellmore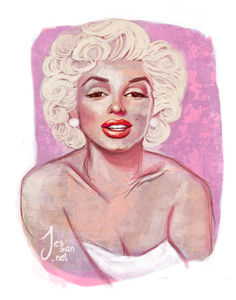 Digital Quick Sketch by Jessica Sanchez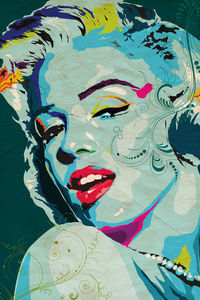 Art Print by Ciaran Monoghan $80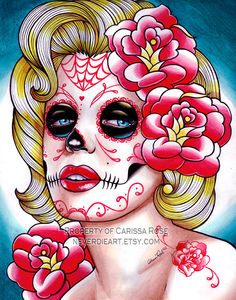 Day of the Dead Marilyn by misscarissarose

Watercolor Painting by Andrea Schepisi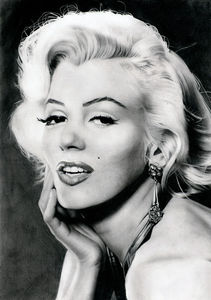 Hyperrealistic Potrait by Stanbos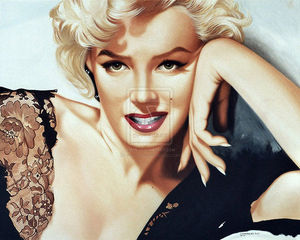 Acrylic on Canvas by antonio56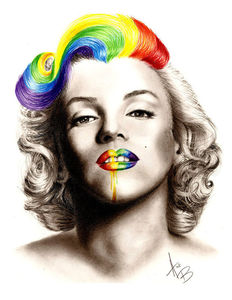 Graphite and Colored Pencil Drawning by BabyDollB
08 août 2013
artiste inconnu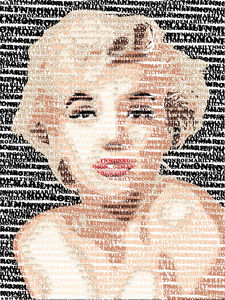 11 février 2013
Walter Molino: illustrateur pour la presse italienne
Walter Molino (né en novembre 1915 à Reggio Emilia, mort en 1998) était illustrateur de presse (on prétend qu'il fut le caricaturiste préféré de Mussolini), dessinateur de bande dessinée dès les années 30, et illustrateur pour les frères Del Duca (Alceo et Domenico, qui ont lancé en 1946 le magazine "Grand Hotel" en Italie, pendant que leur troisième frère exilé en France, lance "Nous Deux" en 1947), qui lui offrent un emploi dès 1946, alors qu'il est interdit de presse - il utilisera le pseudonyme de Sten pendant une dizaine d'années, pour ses couvertures et ses romans dessinés. C'est lui qui crée la première couverture de "Grand Hôtel" et de "Nous Deux" (le magazine français ne faisait que reprendre les illustrations de sa version italienne). Il dessinera jusque dans les années 80 pour Grand Hôtel, mais sa collaboration à Nous Deux s'interrompt à la fin des années soixante.
Giulio Bertoletti sera le second de Molino pendant des années, avant de devenir le principal dessinateur de "Nous Deux", où il sera rejoint par d'autres créateurs très majoritairement italiens.
(source article sur le blog alfavendee.com )
> magazine "Grand Hotel"
de 1951

> magazine "Grand Hotel"
de 1952 (Marilyn et Tony Curtis)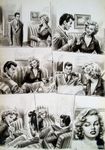 > magazine "Grand Hotel" de 1953
magazine "Nous Deux" de 1953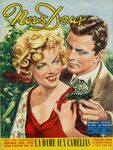 > magazine "Bei Dir" de 1953
magazine "Nous Deux" de 1953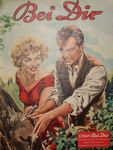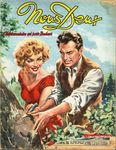 > magazine "La domenica del corriere"
du 7 mars 1954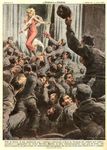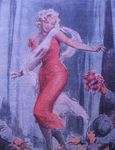 > magazine "Nous Deux" de 1955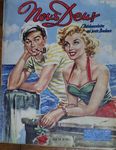 > magazine "Grand Hotel" de 1955
magazine "Nous Deux Almanach" de 1958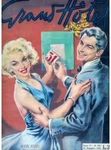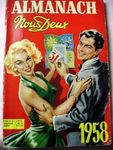 > magazine "Grand Hotel" de 1956
magazine "Nous Deux" de 1955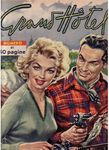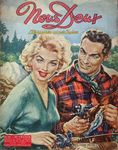 > magazine "La domenica del corriere"
de 1956 (Marilyn et Arthur Miller)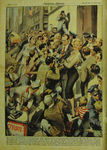 > magazine "Nous Deux" de 1956

> magazine "Nous Deux" de 1957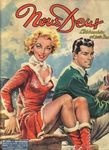 > magazine "Grand Hotel" de 1959

> magazine "Nous Deux" non daté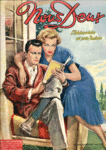 > magazine et date inconnus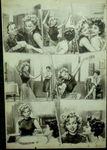 21 janvier 2013
"Harley Dream"
artiste inconnu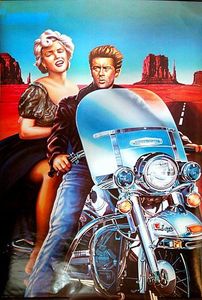 13 janvier 2013
Movieland Wax Museum
---
Le 'Movieland Wax Museum' de Californie (en français le 'musée de cire des stars d'Hollywood') était l'un des plus grands musée de cire des Etats-Unis, et le plus fréquenté pendant des années.
Le musée présentait plus de 300 figures de cire, sur 150 mises en scène. Le musée fut fondé par Allen Parkinson et ouvrit ses portes le 4 mai 1962; il fut vendu à la société 'Six Flags Corporation' en 1970 qui ouvra une succursale en 1975 à Orlando en Floride, nommée le "Stars Hall of Fame", qui ferma en 1984 et fut revendu au publicitaire 'Harcourt Brace Jovanovich' qui revendit les objets et statues à l' 'American Musical Academy of Arts Association' et ouvrit un showroom pour du matériel éducatif.
Quand au musée basé en Californie, il fut vendu en 1985 à la société 'Fong & Paul Associates', déjà propriétaires du musée de cire de Fisherman's Wharf à San Francisco. Mais le 31 octobre 2005, après avoir reçu près de 10 millions de visiteurs en 43 ans, le musée californien ferma définitivement ses portes. Bon nombre de statues de cire furent vendues aux enchères en mars 2006.
Movieland Wax Museum
7711 Beach Boulevard
Buena Park, CA 90620
> L'entrée du musée: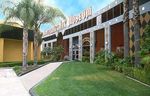 > Les statues de Marilyn au fil des années: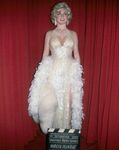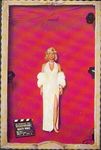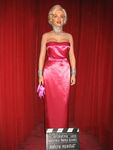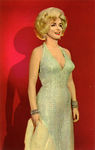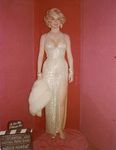 > Article de presse: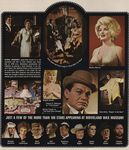 ---
Le 'Movieland Wax Museum of the Stars' se situe en Ontario, au Canada, à Niagara Falls. Il contient des figures de célébrités du cinéma, de la télévision et de la musique.
Movieland Wax Museum of the Stars
4848 Clifton Hill
Niagara Falls
Ontario Canada

---
>> sources:
Site officiel musée USA movielandwaxmuseum.org
Article du Musée Californie sur wikipedia
Site officiel musée Canada cliftonhill.com
Article du Musée d'Ontario sur waymarking.com
Enregistrer