03 septembre 2007
Nicole Kidman est annoncée dans le remake de
"Comment épouser un millionnaire"
le 27/04/2007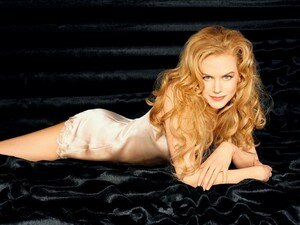 L'actrice australienne est semble-t-il abonnée aux remakes, même si on ne peut pas dire que cela lui ait porté bonheur jusqu'à présent... Après un dommageable Ma sorcière bien-aimée et un rapidement oublié Et l'homme créa la femme, Nicole Kidman se tourne vers une autre comédie avec un remake annoncée de Comment épouser un millionnaire, film de 1953 avec Marilyn Monroe et Lauren Bacall.
"Comment épouser un millionnaire" présentait l'histoire légère de trois superbes créatures (Bacall, Monroe et Betty Grable) lancées tel des bull-terriers sur les traces d'un Pan Pan grabataire, à la recherche de la poule aux oeufs d'or qui pourrait leur assurer soirées dansantes, luxe et volupté.
Cette comédie légère donnera sans doute à Nicole Kidman un peu de baume au coeur après les trois films plutôt dramatiques qu'elle va tourner pour Baz Luhrman (Australia), Lars Von Triers (Washington) et Wong Kar Wai (The Lady From Shangaï).
>> Source article: MaxiVIP
05 août 2007
le 05/08/2007
>> source: article sur gala.fr
Article publié le 6 septembre 2006
Dans la nuit du 4 au 5 août 1962, Marilyn Monroe choisi de mettre fin à ses jours. Cette fameuse nuit , une star sensuelle s'éteint et une légende est née.
La blonde la plus célèbre du monde avait trois passions : le sexe, les barbituriques... Et la psychanalyse. Un jour, son psychanalyste lui demanda ce qu'il faudrait écrire sur sa tombe. De son petit rire gloussant, elle répliqua : « Marilyn Monroe, blonde, 94.53.89. » Il aura fallu presque cinquante ans, depuis cette aube triste du 5 août 1962 où Marilyn gît nue sous un drap, pour comprendre le cœur d'une femme sous le strass de la déesse. Norma Jean Baker-Marilyn Monroe était d'une intelligence à fleur de peau, aussi intelligente que blessée, aussi vive et gaie qu'autodestructrice.
En janvier 1960, quand elle fait venir pour la première fois à son chevet Ralph Greenson, le psy du Tout-Hollywood, il la juge trop fragile pour l'analyse et choisit une psychothérapie : « Tous les hommes veulent m'allonger, sauf vous ! », plaisanta l'actrice. Ils ne se lâcheront plus. Marilyn n'est pas une novice, depuis le milieu des années cinquante, la psychanalyse l'a suivie à travers le monde : Anna Freud l'a même prise en charge à Londres (Greenson restera discret sur ces séances, ne voulant pas entacher le nom de Freud par un cas qu'il pressentait funeste). Marianne Kris – qui plus tard soignera Jackie Kennedy – la suivra à New York. Dans cette ville qu'elle aime, en perruque brune et lunettes noires, la star se fond dans l'anonymat des rencontres sexuelles.
Revenue à Los Angeles, elle raconte tout à Greenson. Il devient le gourou de la femme la plus célèbre et la plus fragile du monde. Sa carrière chancelle. La Fox s'épouvante de ses retards... A Greenson, elle murmure : « Ce n'est peut-être pas pour faire attendre les hommes que je suis en retard, c'est pour faire attendre la mort. » Il est sidéré. La nuit, elle l'appelle pendant des heures : « Docteur Greenson, la première fois que vous m'avez reçue, vous m'avez regardée du fond de vous-même. Comme s'il y avait quelqu'un en moi à qui vous alliez me présenter. Ça m'a fait du bien. » Elle sera toujours ponctuelle chez Greenson, mettant même une bouteille de Dom Pérignon au frais pour chaque fin de séance. « Je ne l'ai jamais touchée, confiera Greenson, on n'écoute pas les gens que l'on touche. »
Mais une passion va les lier. Il veut sauver Marilyn Monroe. On l'accuse d'avoir sous-estimé sa dépendance aux barbituriques, probablement, mais depuis ses premiers essais, à dix-huit ans, Marilyn se gave de Demerol, Penthotal, Phénobarbital, Amytal... Sa connaissance de la pharmacopée stupéfia Greenson. Elle piquait les capsules à coups d'épingle pour accélérer leur effet. Rien n'y fait, son angoisse empire. La panique l'envahit de plus en plus souvent sur les plateaux.
Dans Certains l'aiment chaud, il fallut quatre-vingts prises pour lui faire dire « Mais où est cette bouteille de Bourbon ? » Et dans Quelque chose doit craquer, film terminal, elle ne put jamais prononcer sa première réplique « Nick, mon chéri ». Côté vie privée, rien ne tient. Greenson mesure son vide et son vertige sexuel. Elle lui avoue qu'elle peut s'offrir à n'importe qui, au plombier venu réparer sa baignoire, à un chauffeur de taxi de nuit. Et Montand ? « Il est parti, il m'a appelée "une passade". » Et Arthur Miller, son dernier mari ? « Il me trouve laide et idiote et lourde et fatigante et malheureuse, je crois. » Rencontrant Miller, Greenson le prévient : « Il faut l'aimer intégralement, sinon c'est comme si vous ne lui donniez rien. » Miller n'aura pas cette force, et s'enfuit.
Tout le monde a peur. A New York en février 1961, Marianne Kris, la voyant dans un état catastrophique après quarante-deux séances en deux mois, prendra la décision de l'interner de force. Epreuve apocalyptique pour Marilyn. Elle éclate une vitre avec une chaise, menace de s'ouvrir les veines. Joe DiMaggio, son ex-mari, qu'elle n'avait pas revu depuis sept ans, la sort du gouffre. Dans Marilyn dernières séances*, on trouve son immense lettre écrite à Greenson depuis la clinique, très belle : « Je n'ai pas dormi de la nuit. Parfois je me demande à quoi sert la nuit. Pour moi ce n'est jamais qu'un affreux jour sans fin... »
A L.A., Greenson la récupère. Son état s'aggrave. Aucun psy ne fit jamais de diagnostic de Marilyn Monroe. Dans sa correspondance, Greenson répète seulement : « Elle est très malade. » Schizophrène ? Un peu. Paranoïaque ? Un peu. Borderline, dirait-on aujourd'hui, incapable de se relever des blessures psychiques qu'elle a vécues enfant (père disparu, mère folle, abandons, abus pro bables). Et narcissique, évidemment, le noyau le plus dur à vaincre pour la psychanalyse. Sa mise à nu semble la laisser au bord du vide, sans la guérir. Rien ne tient. Sauf la peur. Les objectifs des photographes et les miroirs la calment, un peu.
Bientôt, cette femme qui pleure, tantôt sublime, tantôt bouffie et blafarde, Greenson doute de pouvoir la guérir, alors il va la protéger, devenir son père, lui offrir la famille qu'elle n'a pas eue. Pulvérisant le cadre de la psychanalyse, il va littéralement adopter et diriger une petite fille de trente-quatre ans. Elle le voit tous les jours, même le dimanche, à 50 dollars la séance (tarif préférentiel mais onéreux). Le soir, Marilyn dîne chez son psy, en famille dans sa belle hacienda. Après le repas, elle fait même la vaisselle. Quand sa tuyauterie tombe en panne, ravie, elle se précipite chez les Greenson pour se laver les cheveux. Nuit et jour, elle et lui s'appellent. Peu à peu, il décide de tout. Les films, les cachets (Marilyn fut sous-payée jusqu'à sa mort). Oui, elle jouera la revenante névrosée de Quelque chose doit craquer. Grassement rémunéré par les studios, Greenson doit contrôler le script, le montage, et garantir la ponctualité de Marilyn. Il échouera.
Mais on n'en peut plus de Marilyn, les Kennedy, les studios, les psys, le personnel de maison. Inquiet et dépassé, Greenson décide de prendre enfin ses premières vacances depuis deux ans. Il lui laisse un psy temporaire : Milton Wexler, pourtant hostile au traitement de Greenson. Selon lui, replacer Marilyn Monroe devant une famille, un foyer ne fait que renforcer sa détresse de n'en avoir jamais eu. Greenson part pour l'Europe. Le tournage de Quelque chose doit craquer commence. Il ne finira jamais. Marilyn va craquer. Elle le sait. Elle l'a dit lors de sa dernière séance. Avec la mort de l'enfant qu'elle portait de Miller, à trente-six ans, elle comptabilise dix-sept fausses couches et avortements. Elle se sauve pour chanter ce célèbre Happy Birthday éméché et paroxystique à l'homme le plus puissant du monde. Dernière baise, la nuit même, au Carlyle, avant que Kennedy ne coupe les ponts. Rage. Menace, chantage. Folie. Sinatra reprend la main, conviant l'actrice dans un casino du Nevada, pour une tournante entre potes. Il existe une photo, une seule, atroce, d'une Marilyn nue, défoncée, à quatre pattes entre des jambes d'hommes. Greenson revient. Trop tard ?
La psychanalyse ne l'a pas sauvée. Nul ne sait aujourd'hui ce qui s'est passé à Santa Monica. Ce corps déplacé. Ces hommes du F.B.I., partout. Ralph Greenson brisa la vitre de la chambre où gisait sa patiente, il est « le dernier homme à l'avoir vue vivante, et le premier à l'avoir vue morte » titra la presse. Il valide le suicide. Dans le ciel vide et plein d'étoiles où vivait Marilyn, la psychanalyse ne fut pas assez forte pour retrouver un sens. Un jour après une séance, Greenson trouva un petit mot plié laissé par Marilyn. C'était un poème. « La nuit n'a ni regard ni silence / Sauf pour la nuit elle-même. »
Jean-François Kervéan
* De Michel Schneider, éd. Grasset.
Février 1954, Marilyn se produit sur scène devant les G.I's
photo personnelle prise par un soldat
source: Donald Don Dean Page
02 août 2007
le 02/08/2007
La maison Profiles in History, spécialisée dans la dispersion d'objets vus dans des films ou ayant appartenu à des célébrités, propose 1000 objets au total, lors de cette vente à Los Angeles les 2 et 3 août 2007, diffusée en simultané sur internet. Ainsi, pour 30.000 à 50.000 dollars, les amateurs de mécanique pourront espérer enlever la grosse Chevrolet Suburban 1994 du mafioso Tony Soprano de la série télé Soprano, dédicacée par l'acteur James Gandolfini sur le pare-soleil.
Les médicaments de Marilyn Monroe, plus exactement des fioles ayant contenu des cachets destinés à la star, sont mis en vente aux enchères en Californie, ces 2 et 3 août. Les fioles, portant encore le nom de l'actrice américaine décédée le 5 août 1962, sont estimées à une somme de 2000 à 3000 dollars la pièce.

La voiture de course pilotée par Tom Cruise dans Jours de tonnerre est estimée entre 40.000 et 60.000 dollars. L'enchère de départ du pantalon de Rhett Butler, alias Clark Gable dans Autant en emporte le vent, est de 2500 dollars. Egalement attendus sous le marteau, un costume porté par le capitaine Kirk, alias William Shatner dans un film Star Trek, de même qu'un microphone utilisé par le roi du rock Elvis Presley et le chanteur country Johnny Cash. Les acheteurs se disputeront, enfin, des lunettes dorées du King et une de ses ceintures.
>> source: article sur tf1.lci.fr
28 juillet 2007
May 09, 2007
By David Walker
A federal court in New York has rejected the claim of Marilyn Monroe's estate that it owns rights of publicity in the actress's likenesses, including photographs. In addition to undercutting a lawsuit against a photo archive for unauthorized commercial use of a Monroe photograph, the decision opens the door for anyone to use Monroe images commercially without permission from the estate.
The estate, MMLLC, and its licensing agency, CMG Worldwide, sued the Shaw Family Archives and its agent, Bradford Licensing Associates in 2005. The suit alleged commercial use of Marilyn Monroe's likeness without permission, in violation of Indiana's right of publicity law. Among the alleged violations was a t-shirt, purchased at an Indiana Target store, bearing an image of Monroe credited to the Shaw Family Archives.
For years, MMLLC has collected fees for commercial use of Monroe's likeness, on the grounds that it owns Monroe's rights of publicity. Those commercial licensing fees are separate from (and in addition to) usage fees that licensees pay to the copyright holders of the images.
The Shaw Family Archives, owned and operated by the three children of the late Monroe photographer Sam Shaw, responded to MMLLC's lawsuit by challenging the validity of the estate's right-of-publicity claims.
MMLLC argued that it had controlling interest in Monroe's rights of publicity because of a transfer clause in the actress's will. But SAF argued that Monroe couldn't pass those rights along in her will, because they were non-existent at the time of her death.
The federal court in New York agreed.
So-called postmortem (or after death) rights of publicity exist by law in some states but not others. The Indiana law didn't apply, the court ruled, because Monroe never lived there, and because the Indiana law was enacted in 1994—long after Monroe's death in 1962.

It is a matter of debate whether Monroe was a resident of New York or California at the time of her death in 1962. But California didn't enact a postmortem right of publicity law until 1984, and New York still doesn't have one. Since neither of those states had rights of publicity laws on the books at the time of Monroe's death, the court ruled, she never had any publicity rights to pass on to heirs or beneficiaries.
"Any publicity laws she enjoyed during her lifetime were extinguished at her death by operation of law," the judge wrote in her decision. MMLLC argued that the Indiana law conferred publicity rights after Monroe's death, but the judge dismissed that argument as "untenable."
"We're beside ourselves…this is a big boost, because a lot of people wouldn't do [business] with us before," says Meta Shaw Stevens, who owns Shaw Family Archives with her sister Edith Shaw Marcus and her brother Larry Shaw. She explains that "in the past, [our clients] had to pay a tremendous amount of money to CMG, which left very little money for photos. Now companies can come to us, and they don't have to pay CMG."
Through spokesperson Michael Nagel, CMG declined to comment about the ruling. It is unknown whether the company will appeal
According to Christopher Serbagi, who represented SFA along with Sam Shaw's grandson David Marcus, CMG lobbied for the enactment of Indiana's right of publicity law, hoping to bestow rights of publicity on celebrities and their heirs no matter where they lived (CMG represents various celebrities and celebrity estates).
"[MMLLC and CMG] took a big risk and lost" in deciding to test the Indiana law and their right of publicity claims, says Serbagi.
Users of Monroe images usually capitulate to CMG's demands, rather than take on the cost and risk of a legal battle, Serbagi says.
But the Shaw family decided to fight, Meta Stevens says, because "we didn't have very much to lose. If we had lost, we would have been where we were." Most of the legal work, she says, was done by her nephew, David Marcus.
"It's the David and Goliath story. My nephew worked feverishly on behalf of his grandfather and other photographers in a similar situation. He's a one man operation up against a mega law firm, and something good happened."
Serbagi says SFA is now pursuing its counter-claims against CMG. "We intend to vigorously pursue them for interfering with our business relationships, and for causing us financial damage," he says.
>> source: article sur pdnonline.com
Photographer Sam Shaw took some of the most famous pictures of the Hollywood icon
>> source: article sur Law.com
24 juillet 2007
L'Affiche européenne de l'expo Marilyn & Friends

---
Communiqué de presse de l'exposition des photographes Sam et Larry Shaw: Marilyn Monroe et ses amis, qui s'était tenue du 22 juin au 9 octobre 2004 à la Galerie Photo de Montpellier (France).
Cliquez ici: Sam_Shaw_2004_expo_Montpellier_Marilynetsesamis
ci-dessous, article paru dans Le Figaro 2004, sur l'expo de Montpellier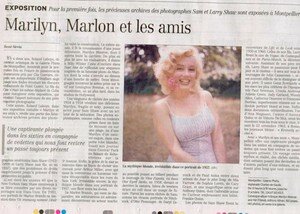 ---
Communiqué de presse de l'exposition des photographes Sam et Larry Shaw: Marilyn and Friends , qui s'était déroulée du 16 décembre 2005 au 18 février 2006 à la Young Gallery à Bruxelles (Belgique).
Cliquez ici: Sam_Shaw_2005_expo_Brussels_MarilynandFriends
/!/ Fichiers pdf, vous devez disposez du logiciel Acrobat Reader pour les ouvrir
10 juillet 2007
article publié le le 10 juillet 2007
>> source: article sur Telegraph.co.uk
By Philip Sherwell in New York
Her sultry pout and peroxide blonde hair helped make Marilyn Monroe one of the most famous faces in showbusiness. Now her instantly recognisable looks are at the centre of a bitter legal row over the control of dead celebrities' images, one that is pitting some of the biggest names in entertainment and sport against each other.
Yoko Ono, Al Pacino and the estates of the tennis champion Arthur Ashe and the baseball legend Babe Ruth are among those backing new legislation that would give the heirs of dead celebrities full control over commercial use of their names and images.
Opponents, who include the children of Ray Charles and Marlon Brando as well as the photographers who captured iconic images of Monroe, contend that new laws proposed in California and New York would restrict public access throughout the world to the pictures and work of hundreds of actors and artists.
The intensity of the confrontation reflects the highly lucrative business of marketing the famous names that keep filling the coffers even in death. According to the latest dead rich list compiled by Forbes magazine, the top 13 dead celebrities raked in $247?million (£125?million) for their estates last year from deals for their works, or rights to use their names and images for marketing and memorabilia.
Arnold Schwarzenegger, the actor-turned-politician, now has a pivotal role in the process. As the governor of California, he must decide whether to sign a bill passed last month by the state legislature that expands the control of heirs over how deceased celebrities are marketed.

The immediate controversy is over who has the right to control images such as the world famous pose of Monroe, with dress billowing over a subway grate, in a photo shoot taken by Sam Shaw for the film The Seven Year Itch.
The star's sole heir, Anna Strasberg, the Venezuelan-born widow of Monroe's acting coach Lee Strasberg, to whom she left her estate, is pitted against the children of four photographers who worked closely with the international sex symbol. It has turned into an ugly and unpleasant fight.
The enduring allure of Monroe, who died of a sleeping pill overdose aged 36 in 1962, earned $8 million for her estate for 2005-06 from perfumes, handbags and advertising campaigns for the likes of Dom Perignon and General Motors.
Those were all authorised by the Marilyn Monroe Limited Liability Company, established by Mrs Strasberg. But in 2005, she sued the picture archives that had been independently selling photographs for merchandising.
Although there was no dispute that the archives owned the copyrights, and indeed in some cases Monroe had also signed release forms, Mrs Strasberg argued that she should control marketing rights — and of course licensing fees.
The court hearings on the East and West coasts went against her in May, prompting Mrs Strasberg to launch her legislative push in June. The proposals stalled in New York but were fast-tracked in California, where lawmakers are historically more supportive of the entertainment industry.
Her battle has angered the descendants of the photographers who helped make Marilyn Monroe famous. "Sam Shaw owned the copyright to the photos and the billowing skirt concept was his. Now we are facing an attempt to enact retroactive legislation," said his grandson David Marcus.
Joshua Greene, whose photographer father Milton was a former business partner of Monroe and shot some 5,000 pictures of her, is equally indignant. "My father and Marilyn were partners, she happily signed away the rights to the photos, she lived in our house and she babysat for me, but now Marilyn Monroe LLC wants the right to control those images," he said.
The Monroe estate counters that it is pursuing its duty to protect the star's reputation from exploitation on inappropriate items such as condoms and knickers — items that have been found bearing her image.
Currently, a British T-shirt manufacturer who wants to feature a Milton Greene picture of Monroe must seek permission and pay a fee to the photographer's archive. If the new legislation is passed, he would also need authority from Mrs Strasberg and pay her charges too.
Anna Strasberg enlisted big?name allies for the legislative push. Yoko Ono gave support on behalf of her murdered husband John Lennon, the former Beatle, while Al Pacino said: "I feel one's likeness and image should be protected in some way and not abused or denigrated for the sake of profit."
Mrs Strasberg's son David said his family was determined to protect Monroe's legacy and had rejected proposals such as Marilyn cigarettes and condoms.
"The only people who are opposed to this legislation are those who want to make a quick buck out of Marilyn," he said. "You can still use photos of Marilyn in artworks and newspapers and books. But we are determined to prevent her exploitation."
However, the children of Ray Charles joined a campaign urging Mr Schwarzenegger not to sign the legislation, including a petition which suggests that Anna Strasberg only wants to change the law to make "millions of dollars from those wishing to use the name or likeness of Marilyn Monroe".
And Surjit Soni, a lawyer for two California-based picture archives, contended the law would cause "pandemonium" in the courts and reduce the availability worldwide of Monroe memorabilia.
"If this legislation is passed, the public throughout the world would be at the mercy of Anna Strasberg's taste and sensibilities," he said.
16 juin 2007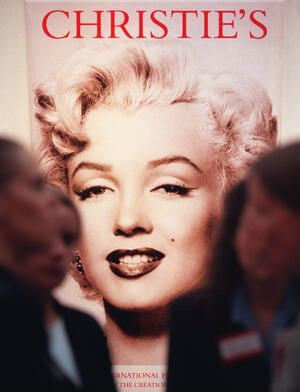 La première grande vente aux enchères consacrée à Marilyn Monroe fut celle organisée par la maison Christie's (vente les 27 et 28 octobre 1999 à New York), qui proposait 576 lots sur Marilyn: l'ensemble de cette incroyable collection était restée à l'abri d'un entrepôt depuis la mort de Marilyn en 1962 et appartenait à Anna Strasberg, veuve de Lee Strasberg.
Cette vente aux enchères était précédée d'une exposition de certains effets (un millier aux USA et une centaine en dehors du territoire américain) présentés sur quelques jours dans diverses villes à travers le monde: l'inauguration a lieu au Rockfeller Plaza de New York aux Etats-Unis (début juin), puis en tournée à Buenos Aires en Argentine (le 12 juillet), à Los Angeles (le 19 août) aux Etats-Unis, à Londres (le 17 septembre) en Angleterre, à Paris (sur 3 jours: du 06 au 08 octobre) en France, à Saint Pétersbourg en Russie, en Floride aux Etats-Unis puis le retour à New York où l'ensemble de la collection était exposée les jours précédents la vente.
Dans le "meilleur" de la vente: ses tenues Pucci, la robe de Jean-Louis portée à l'anniversaire de JFK, la veste mexicaine, ses Golden Globes, son piano blanc.
- Exemple: ticket d'invitation expo de Buenos Aires -
- Example: Buenos Aires expo invitation ticket -

The first big auction dedicated to Marilyn Monroe was the one organized by Christie's (sale on October 27 and 28, 1999 in New York), which offered 576 lots on Marilyn: the whole of this incredible collection had remained under cover of a warehouse since Marilyn's death in 1962 and belonged to Anna Strasberg, widow of Lee Strasberg.
This auction was preceded by an exhibition of certain effects (a thousand in the USA and a hundred outside the American territory) presented over a few days in various cities around the world: the inauguration takes place at Rockefeller Plaza in New York (early June) in the United States, then on tour in Buenos Aires (July 12) in Argentina, in Los Angeles (August 19) in the United States, in London (September 17) in England, in Paris (over 3 days: from 06 to 08 October) in France, in St Petersburg in Russia, in Florida in the United States then to return to New York where the entire collection was exhibited the days preceding the sale.
In the "best" of the sale: the Pucci outfits, the Jean-Louis dress worn on JFK's birthday, the mexican jacket, her Golden Globes, her white piano.

---
Lors de l'exposition, le catalogue complet de 415 pages (vendu à l'époque 85 Dollars, soit près de 500 francs en France) ainsi qu'un petit livret de 8 pages étaient vendus en stand. Les tirages de catalogues de vente d'enchères étant limités, il est aujourd'hui impossible d'en acheter de nouvelles éditions, mais de les trouver seulement revendus d'occasion.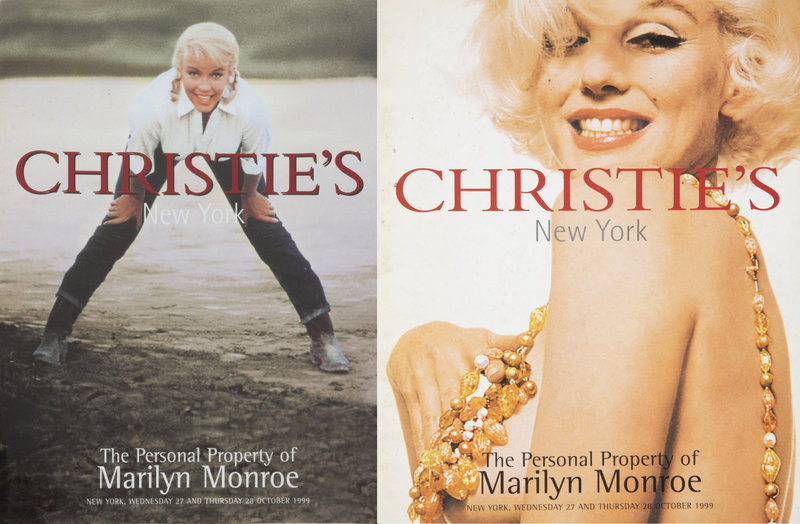 - sur le blog: Catalogue, Lots et Vente -
> Catalogue "The Personal Property of Marilyn Monroe", Christie's 27 & 28/10/1999
During the exhibition, the complete catalog of 415 pages (sold at the time for $ 85) as well as a small booklet of 8 pages were sold at the stand. Since the prints of auction catalogs are limited, it is now impossible to buy new editions, but to find them only resold second-hand.
---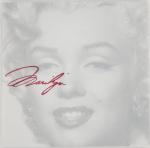 L'exposition ainsi que la vente constituaient alors un événement mondial. Jamais il n'y avait eu d'exposition ni de vente d'une telle ampleur consacrée à Marilyn Monroe; l'exposition va rencontrer un succès phénoménal et mondial.
Bertrand Du Vignaud, qui était alors vice-président de Christie's France, commentait à l'époque : «On n'imagine pas à quel point la star est toujours adulée. Lorsque cette exposition a été présentée à Londres, en septembre, il y avait quatre heures de file d'attente pour venir la voir.»
The exhibition as well as the sale then constituted a world event. Never there had been an exhibition or sale of such magnitude devoted to Marilyn Monroe; the exhibition will meet a phenomenal and worldwide success.
Bertrand Du Vignaud, who was then vice-president of Christie's France, commented at the time: "You can't imagine how much the star is still adored. When this exhibition was presented in London in September, there was a four-hour queue to come and see it."
---
De nombreuses personnalités des pays où l'expo est présentée s'y rendront (en France: les actrices Nicole Calfan, Julie Depardieu, Sylvie Joly, l'actrice et chanteuse Jane Birkin, le styliste et couturier Azzedine Alaïa, la femme d'affaires Liliane Bettencourt, la veuve d'Yves Montand Carole Amiel...); la presse internationale couvre l'événement ainsi que d'autres médias comme la télévision (une émission américaine présentée par Barbara Walters qui reçoit Tony Curtis et le directeur de studios des années 1950s David Brown et d'autres proches de Marilyn sera diffusée le 20 octobre 1999 sur ABC, Walt Disney Television).
- Barbara Walters & Tony Curtis -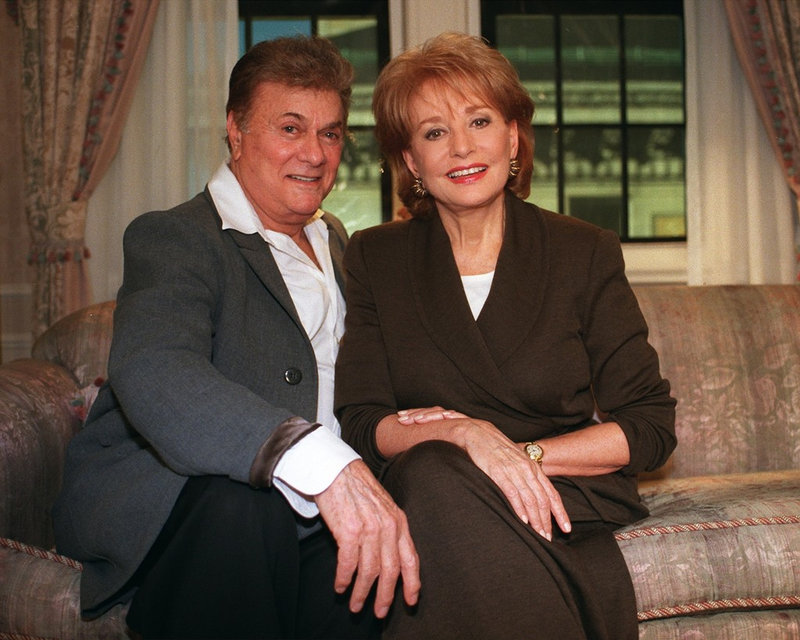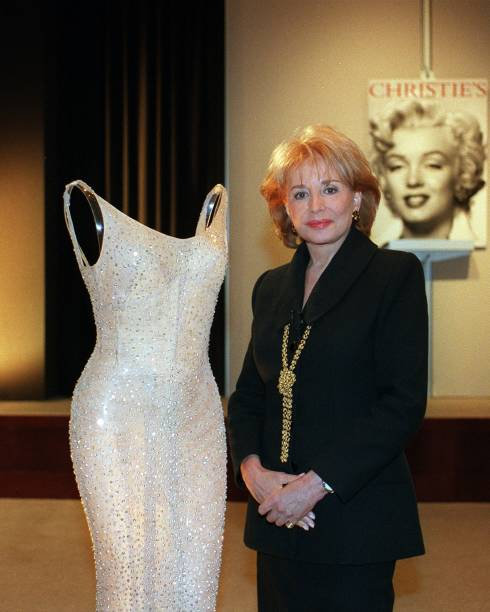 Many personalities from the countries where the exhibition is presented will go there (in France: actresses Nicole Calfan, Julie Depardieu, Sylvie Joly, actress and singer Jane Birkin, stylist and couturier Azzedine Alaïa, businesswoman Liliane Bettencourt, the Yves Montand's widow Carole Amiel...); the international press covers the event as well as other media such as television (an American program presented by Barbara Walters which receives Tony Curtis and the 1950s studio director David Brown and other relatives of Marilyn will be broadcast on October 20 1999 on ABC, Walt Disney Television).
- Paris Match, France, 19/08/1999 -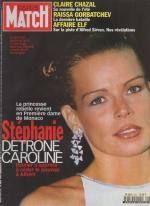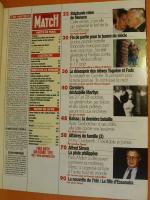 ---
- PHOTOGRAPHIES -
---
- La robe "JFK" de Jean-Louis -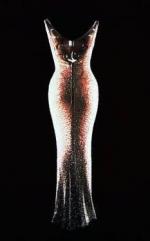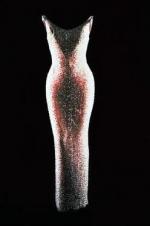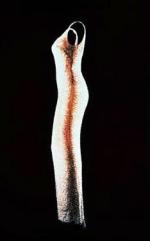 ---
Sources article
article expo à Paris sur L'Orient-LeJour
livre Icon: The Life, Times and Films of Marilyn Monroe Volume 2 1956 TO 1962 & Beyond

Sources photos de l'expo sur des blogs
expo New-York sur Sallan's corner
expo New-York sur Nanodating the blog
expo Londres sur Blogspot Marilyn Monroe clothes
expo Paris sur Crazy for you

---
© All images are copyright and protected by their respective owners, assignees or others.
copyright text by GinieLand.