29 janvier 2017
Chanel n°5, crème Nivea et huile d'olive : les secrets de beauté de Marilyn Monroe
Article publié le 21/12/2016
en ligne sur Madame Figaro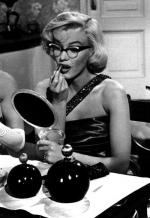 Dans les années cinquante, les stars avaient des habitudes beauté plus ou moins déroutantes. Zoom sur la routine soin et maquillage de Marilyn Monroe.

Si la légende retient que Marilyn Monroe dormait seulement avec quelques gouttes de Chanel n°5, l'actrice avait d'autres habitudes beauté beaucoup moins connues. Pour préserver son teint laiteux, l'actrice se protégeait du soleil et ne s'exposait jamais aux rayons UV sans protection. De plus, Norma Jeane Mortenson était obsédée par l'hydratation, afin d'obtenir un teint glowy qui accroche parfaitement la lumière, notamment au cinéma. C'est pourquoi, comme l'explique un article de Vogue us, elle utilisait la célèbre crème Nivea comme base de maquillage pour se concocter un teint pâle. La star soignait également sa peau avec de l'huile d'olive et était une amatrice de la crème très riche de huit heures d'Elizabeth Arden. Son habitude quotidienne plutôt originale ? Plonger son visage dans de l'eau très chaude chaque soir. Une astuce surprenante héritée du dermatologue star de l'époque, le docteur Erno Lazlo.

Le contouring avant l'heure

Pour sa mise en beauté, Marilyn Monroe était d'une grande exigence. Son maquilleur attitré, Allan "Whitey" Snyder, avait coutume d'utiliser de la vaseline ou de l'huile de coco en guise d'enlumineur sur les pommettes et les tempes de l'actrice. Cette dernière voulait également qu'on lui en applique sur les paupières afin qu'elles soient brillantes. La star était, de plus, une adepte du contouring, une technique de maquillage qui n'appartient donc pas à Kim Kardashian. Comme le rapporte le site du magazine américain Marie-Claire, Marilyn demandait à son maquilleur d'appliquer cinq teintes différentes de rouges à lèvres et de gloss pour se créer une bouche plus charnue. Le sombre s'appliquait sur les coins extérieurs et le contour, les teintes clairs au milieu de la bouche. Enfin, pour un regard de biche, l'héroïne de Certains l'aiment chaud utilisait un recourbe cils, le mascara de Helena Rubinstein et des faux cils. Un make-up qui n'a finalement pas pris une ride.
Les produis de beauté cultes de Marilyn Monroe
En images
-- NIVEA --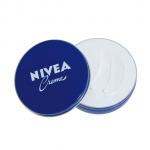 Crème multi-usages, Nivea, 4,99 € le pot de 250 ml,
disponible dans les points de vente de la marque.
-- MAX FACTOR --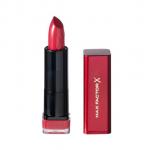 Rouge à lèvres teinte « Marilyn Berry Red »,
collection « The Marilyn Monroe Lipstick Collection »,
Max Factor, 9,95 €, disponible dans les points de vente de la marque
-- ELIZABETH ARDEN --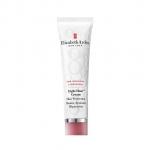 Baume apaisant réparateur sans parfum « Crème de huit heures »,
Elizabeth Arden, 35,50 € le tube de 50ml,
disponible dans les points de vente de la marque.


-- MAKE UP FOREVER --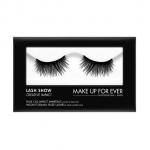 Faux cils « Lash Show »,
Make Up Forever, 17,50 €, en vente sur sephora.fr.


-- AROMA-ZONE --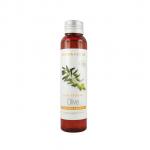 Huile végétale d'olive bio, Aroma-Zone,
5,90 € le flacon de 200ml, en vente sur aroma-zone.com.


-- REVLON --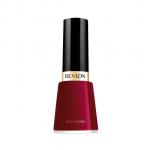 Vernis à ongles rouge "Nail Enamel",
Revlon, 9,90 €, disponible dans les points de vente de la marque.


-- HELENA RUBINSTEIN --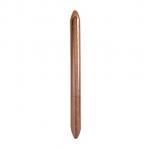 Mascara "Long Lash", Helena Rubinstein,
42 €, en vente sur helenarubinstein.com.

-- RMS BEAUTY --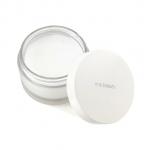 Crème à tout faire d'huile de noix de coco pure « Raw Coconut Cream »,
RMS Beauty, 17 € le pot de 70 g, en vente sur ohmycream.com.


-- THE BODY SHOP --

Recourbe-cils, The Body Shop,
5,50 €, en vente sur thebodyshop.com.


-- VASELINE --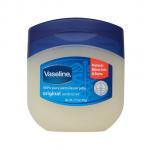 Vaseline pure, Vaseline,
5,10 € le pot de 106 g, en vente sur biovea.net.
15 janvier 2017
The Lost Footage of Marilyn Monroe
That film image of Ms. Monroe's skirt rising high in a gust of air? It's a reshoot of a discarded and more risqué scene seldom seen until now.

published in January 13, 2017
by HELENE STAPINSKIJAN
en ligne sur nytimes.com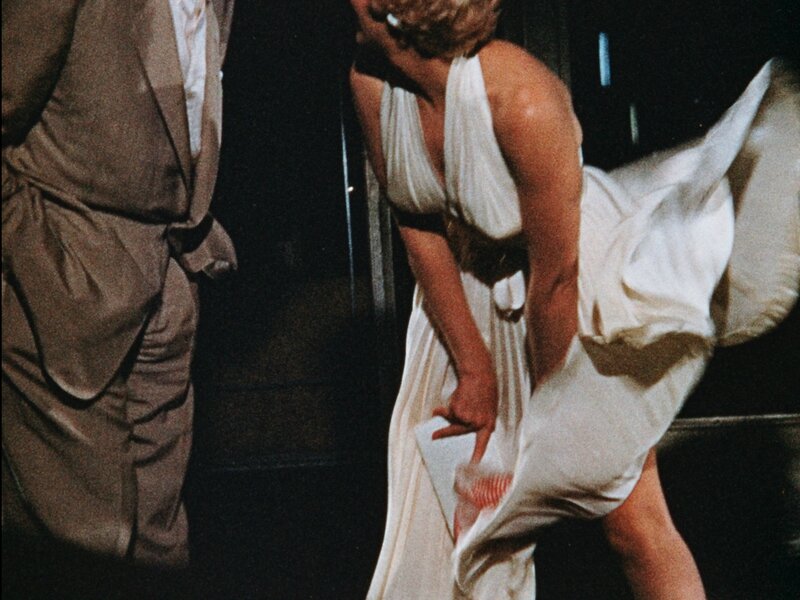 A still of Marilyn Monroe filming "The Seven Year Itch" on the Upper East Side from the found footage of Jules Schulback, a furrier and avid taker of home movies.
Credit Jules Schulback, via Bonnie Siegler
It happened one night in the late summer of 1954.
Jules Schulback, a New York furrier and taker of home movies, heard that Marilyn Monroe would be on the Upper East Side of Manhattan filming scenes again for her new picture, "The Seven Year Itch." Two days earlier, Mr. Schulback had taken footage of her with his 16-millimeter Bolex movie camera around the corner from his townhouse apartment.
So he grabbed the camera — the one usually used for family picnics and parades and the stuff of everyday life — and headed over to the subway grate in front of Wright's Food shop, just down the street from the Trans-Lux movie theater on Lexington Avenue and 52nd Street.
Though it was around 1 a.m., a large crowd had already gathered, mostly newspaper photographers and curious men waiting to see Marilyn. The movie studio and the director, Billy Wilder, had counted on this, inviting the press and the public to drum up buzz for the new movie, which starred Ms. Monroe as "the Girl Upstairs," who entices a middle-aged executive, played by Tom Ewell, while his wife is away with the kids for the summer.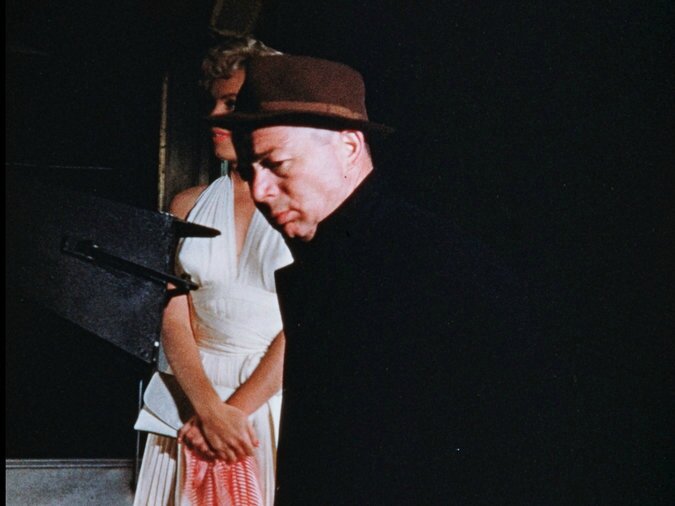 Mr. Schulback captured Billy Wilder, the director of "The Seven Year Itch,"
with Ms. Monroe in the background in her famous dress,
accessorized by a white clutch and a red-and-white scarf.
Credit Jules Schulback, via Bonnie Siegler
In the famous street scene, the two are leaving the movies as Ms. Monroe pauses over a grate to enjoy the breeze from the subway as it blows up her dress on a hot summer night. "Isn't it delicious ?" she purrs. The breeze came from a large fan under the grate operated by the film's special effects chief. The night — Sept. 15 — was actually quite chilly. But the stunt worked. It became known as "the shot seen around the world."

But there was a dark subtext to the comedy. Gathered at that late hour were hundreds of gawkers, almost all men, who catcalled and yelled things like, "Higher! Higher !" as Ms. Monroe's dress blew up over her head. For two hours, the men watched from surrounding buildings and from the street.
"Unfortunately, one of them was her husband, Joe DiMaggio," Mr. Wilder is quoted as saying in his biography, "Nobody's Perfect." "And he didn't like what he saw, or what everyone else was seeing."
Mr. DiMaggio hadn't planned on visiting the set that night, and was waiting for his wife at the St. Regis Hotel, where the couple were staying. But the columnist Walter Winchell had persuaded him to come along. Ms. Monroe was not happy her husband had shown up. But he was even more unhappy and angrily stormed off. Later that night the couple had a screaming fight in their room. The next morning, her hairdresser covered up Ms. Monroe's bruises with makeup. Three weeks later, Ms. Monroe filed for divorce.

Mr. Wilder never used the Lexington Avenue footage and reshot the scene on a closed lot in Hollywood, though photographs of that night appeared everywhere. Except for some brief, grainy shots from a newsreel covering the divorce, footage from that night was never screened.
"The footage immediately disappeared," Mr. Wilder said in the biography. "But one day I'm sure some film scholar will dig it up."

A filmstrip discovered in a shopping bag filled with home movies offers a rare glimpse of
Marilyn Monroe in color in New York.
By JULES SCHULBACK, VIA BONNIE SIEGLER
The story of the night Marilyn Monroe's white halter-top dress blew up was well known among Jules Schulback's children, and even among his grandchildren. His granddaughter Bonnie Siegler said he bragged from time to time about his personal film shoot with Marilyn.
"He was a real raconteur," said Ms. Siegler, a graphic designer who runs her own company, Eight and a Half. "I didn't know if the story was real." But even though she had never seen it, she often told people that her grandfather had footage of Marilyn Monroe on the subway grate.

Ms. Siegler's older sister, Rayna Dineen, said her grandfather, whom they called Opi (a German term of endearment), was rarely without his camera. "He would be filming everywhere, all the time." There were reels of vacations, family picnics, birthday parties and bar mitzvahs. He had even filmed a 12-minute day in the life of his daughters, depicting them waking up, brushing their teeth and going to school.
"But the Marilyn story was one of his favorite stories to tell," Ms. Dineen said.
It was just one of dozens of amazing tales. Mr. Schulback had a long, technicolorful life, one so filled with drama that his Monroe story sometimes seemed like a footnote.

In 1938, Mr. Schulback had argued with his family in Germany that Adolf Hitler was much more dangerous than anyone thought. According to Ms. Siegler, his family believed that Hitler's hate speech was simply rhetoric, and that he wouldn't act on anything he was saying. Mr. Schulback, 25 at the time, urged them to pack their bags and leave Berlin with him. But they resisted, opting to wait and see how things developed, never imagining the horror that awaited them and millions of other European Jews.
Mr. Schulback was not taking any chances.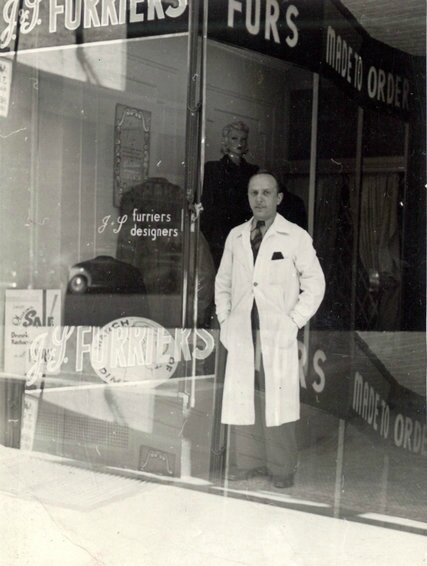 Mr. Schulback was a furrier by trade. He chronicled his family and the odd serendipitous moment in his neighborhood — such as Marilyn Monroe on location — with his 16-millimeter Bolex movie camera.
In 1938, Jews immigrating to the United States needed a sponsor, someone to take financial responsibility for them. Mr. Schulback sold everything he had, bought an expensive suit, booked passage on the Queen Mary, reserved a room at the Plaza and headed to America to find a sponsor for him and his wife, Edith, and their daughter Helen, who was then a toddler.

"He was like: 'I'm your lost, rich relative. I won't be a burden.' But he had no money. He played it," Ms. Siegler said. He secured a signature, then returned to collect his family, but was stopped trying to enter Nazi Germany by a suspicious border guard. Knowing the Germans were big fans of the 1934 Clark Gable hit, "It Happened One Night," Mr. Schulback told the guard he was the distributor for Mr. Gable's new movie. He claimed that if he couldn't enter the country, neither would the film. "The guy was like, 'Oh, we love Clark Gable,' and waved him through," Ms. Siegler said.

Mr. Schulback grabbed Edith and Helen, again imploring his other relatives to leave, and escaped back to the United States with a few suitcases, claiming to the Nazi immigration officers that his family was going on vacation. The date was Nov. 8, the day before Kristallnacht.

In Berlin, he had been a furrier, and his shop was destroyed that night. His remaining family — four sisters, parents and in-laws — would all perish in the Holocaust.
The United States was good to Mr. Schulback. He and his family lived a happy, successful life in New York, much of it preserved in his home movies.

As a child, Ms. Siegler loved going to her grandfather's Upper East Side apartment not just because of his great stories and sense of humor, but also because he lived opposite the New York Doll Hospital. From his apartment window, she could see the buckets of doll eyes and doll arms. "It was really intense," she said.

When Edith had a stroke in the 1970s, she was given only a few weeks to live. But Mr. Schulback, always a man of action, refused to let his wife die in the hospital and took her home. The couple moved into the ground-floor apartment of a building around the corner, and Mr. Schulback became her nurse. "Half her body was paralyzed, she couldn't speak," Ms. Siegler said. "But he loved her and took care of her for 26 years until she finally died."

After 35 years in that same apartment, Mr. Schulback — who had been president of the 61st Street Block Association — was forced to leave. The Andrew W. Mellon Foundation had bought the townhouse where he lived and the one behind it and wanted to reconfigure the property. So Ms. Siegler and her husband, Jeff Scher, helped move her 92-year-old grandfather to a new place on the other side of Central Park.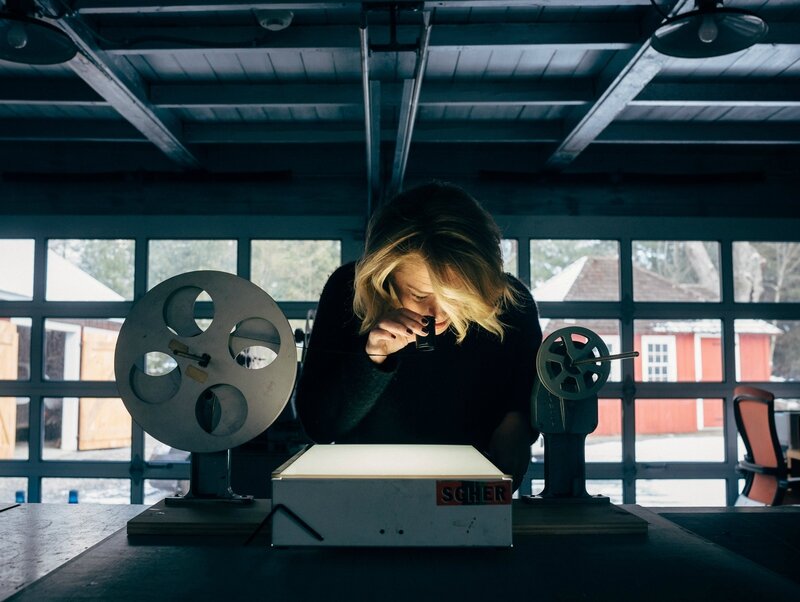 Bonnie Siegler examines film of Ms. Monroe taken by Mr. Schulback,
who was her grandfather, over a light box in her studio.
Credit Ryan Christopher Jones for The New York Times
In 2004, in the arduous packing up of Mr. Schulback's home, the couple came across a big stash of film. It was stored in a back room that the family called "Opi's fur room," where Mr. Schulback had once assembled garments from animal pelts for his business. "No one ever wanted to go back there," Ms. Siegler said. "But when we went in, we found this plastic bag filled with just tons of film, home movies, bought movies and everything mixed together."

Ms. Siegler's husband, an experimental filmmaker, couldn't wait to screen the films. He was particularly interested in seeing whether Marilyn and the subway grate footage actually existed. "It was like this family myth," Mr. Scher said. "So long rumored and never confirmed."

The same was true for its source material. For decades, innuendo swirled around the Lexington Avenue shoot for "The Seven Year Itch." Ms. Monroe and Mr. DiMaggio had married that January and had already had a bumpy ride, the Yankee Clipper enraged by her exhibitionism and by rumors of infidelity, according to Lois W. Banner, the author of the 2012 biography "Marilyn: The Passion and the Paradox."
"She was having an affair with her musical director at the time, and everyone knew about it in the business," said Dr. Banner, a professor emeritus of history and gender studies at the University of Southern California. So before he even arrived on set, there was tension. "DiMaggio," Dr. Banner said, "was not happy with Marilyn."

There are several theories as to why the footage from that night was never used. Some believe the Manhattan shoot was done purely as a publicity stunt, which was made even more sensational when Mr. DiMaggio showed up. Some biographers say the enthusiastic crowd was just too noisy, making the film unusable.
A third theory was that the footage was too risqué and Ms. Monroe wanted to shoot a more demure version, so as not to further infuriate her husband. There was even talk at the time that she wasn't wearing any underwear. Mr. Wilder tried to put those rumors to rest in his biography. She had put on not just one, but two sets of underwear, he said.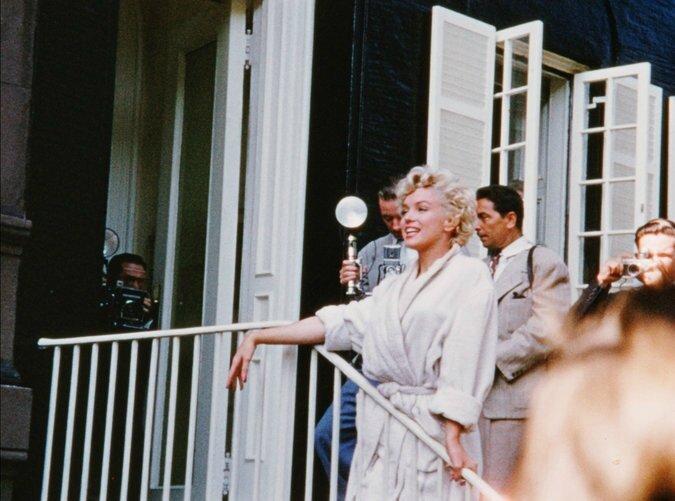 Before the billowing-skirt scene, Mr. Schulback filmed Ms. Monroe in a terry robe
greeting fans and members of the press on the stoop of 164 East 61st Street.
Credit Jules Schulback, via Bonnie Siegler
Dr. Banner said all three reasons quite likely played into the final decision to reshoot. "But the photographs of that night had gone viral by the time the film was being put together," she said, "and played a great role in her fame." The skirt-blowing scene used in the finished film is incredibly brief and tame. The image many people have of that moment comes from the press shots and publicity stills in New York, and not from the finished movie.

Back in the pelt room of Mr. Schulback's apartment, Mr. Scher excitedly gathered up the old metal film canisters. None were labeled, Mr. Scher recalled. Some of the film was off the reel and sitting there like big balls of spaghetti, as if there had been a projector mishap years ago.
Later that night in his studio in the couple's apartment on West 16th Street, Mr. Scher slowly and carefully wound the film, since some of it was very brittle and in danger of breaking. He did a few repairs and then began looking at it using a light box, spooling it from reel to reel by hand. There were about 50 rolls of 16-millimeter film and around 75 rolls of 8 millimeter.
There were the family outings and parades. The birthdays and bar mitzvahs.
And there, amid the mundane scenes of precious everyday life, was Marilyn Monroe, in crisp, colorful Kodachrome. "This stuff just popped out," Mr. Scher said. "It was real! Preserved like the home movies are, too. Just these moments in time."
Mr. Scher could clearly see the actress's dress billowing up. "Like a parachute with a pair of legs attached," he said. "It was startling. Like seeing a myth materialize."
It was a shadow version of lost footage amid home movies of a family that almost certainly wouldn't have existed had the Schulbacks stayed in Germany.

Ms. Siegler zeroing in to Ms. Monroe by using a photographer's loupe.
The Schulback footage has been seldom seen since it was taken in 1954.
Credit Ryan Christopher Jones for The New York Times
Mr. Scher called out to his wife: "It's really here!" They watched all 3 minutes 17 seconds in amazement.
"There was something so magical about it," Ms. Siegler said. "For years I didn't know if it was real. I certainly didn't believe it wholeheartedly. And there it was. It was like the end of the story."
The film starts with a spliced-in intertitle that reads "World Premiere," Mr. Schulback's little inside joke.
And then there is Marilyn Monroe, in a white terry robe, coming down the stoop of a white-shuttered building at 164 East 61st Street, between Lexington and Third Avenues. It was the earlier scene — before the subway grate footage — that Mr. Schulback had shot. Cameramen and press photographers are gathered outside as the actress smiles and waves.

Cut to Ms. Monroe in a second-floor window wearing a slip and blow-drying her hair. Mr. Ewell walks down the street and into the building. The film cuts inexplicably to 30 seconds of what must be a Shriners parade in Manhattan, then jumps to another intertitle, which reads "Our Baby."

And suddenly, there is Ms. Monroe again, this time on the subway grate in that famously fluttering white dress, holding a matching white clutch in her right hand and a red-and-white-striped scarf in her left.

Mr. Schulback was incredibly close, filming right behind Mr. Wilder's shoulder, stopping to wind his hand-held camera every 25 seconds. Now and then, a silhouette of the director's arm intrudes into Mr. Schulback's crystal-clear shot. At one point Mr. Wilder, in a fedora, passes across the frame. Ms. Monroe gets into position and yawns, while the cinematographer sets up the camera. Through a gap in the film crew, Mr. Schulback captures just her face, looking off to the left, serious and unsmiling.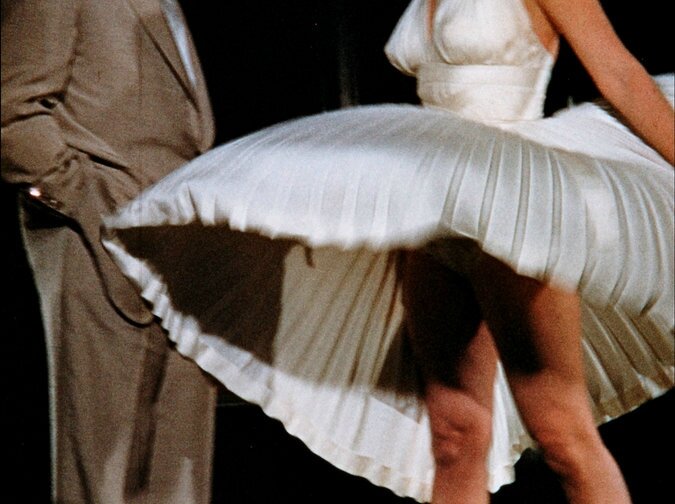 Another skirt-goes-wild still from the Schulback footage.
Credit Jules Schulback, via Bonnie Siegler
Then Mr. Ewell is there, chatting with Ms. Monroe, who pushes him into position. The dress flutters again, Ms. Monroe holds it down, bending slightly, smiling and talking to Mr. Ewell, but it flutters up some more and she laughs, her head thrown back. It blows up again, but she doesn't push it down this time, and it flies up over her head, clearly revealing two pairs of underwear that, because of the bright lights, do not protect Ms. Monroe's modesty quite as much as she might have liked.

Then, as suddenly as she appeared, Marilyn is gone, and the film reverts to home-movie mode: Edith Schulback walking on the grass at a family outing in the country. It's like being shaken from some crazy dream, back to reality.
Interest in that moment in film history from more than 50 years ago endures. The new movie musical starring Ryan Gosling and Emma Stone, "La La Land," makes brief filmic reference to it in the opening number, with a young dancer's yellow dress blowing up. And a Snickers commercial from the Super Bowl last year stars Willem Dafoe, Eugene Levy and a computer-generated Monroe on the famous set. "It's that iconic image," said Dr. Banner, the Monroe biographer. "People are still fascinated by the context in which it all happened."

After screening the film with her husband, Ms. Siegler immediately told her grandfather that she had found the footage. "I was so excited about it — more for the reason that his story was true." She shrugged. "But he never had any doubts." Mr. Schulback moved in 2005 and died six months later.
Ms. Siegler and Mr. Scher made a print and screened it for about 100 people in 2004 at the upstate home of their friends Kurt Andersen and his wife, Anne Kreamer. The two couples had started a small film festival for neighbors and friends, hanging a sheet on the side of a barn and serving popcorn, ice pops and beer.
The people in the audience that summer night had no idea what they were in for.
"That scene is one of the most iconic scenes in American cinema," said Mr. Andersen, an author, radio host and a founder of Spy magazine. "So to have film of it actually being shot, it's like watching the Zapruder film. It's just extraordinary."
The crowd that evening sat in silence as Marilyn Monroe's dress blew up on the side of the barn. "People were gob-smacked," Mr. Andersen said. "They were like, 'What did I just see ?'"

That was the only time anyone outside the family had seen the film. Until now.
Correction: January 13, 2017
An earlier version of this article misspelled the surname of the writer who screened the Marilyn Monroe home movie in his backyard. He is Kurt Andersen, not Anderson
---
> video 1

> video 2 (plans en rapproché)

captures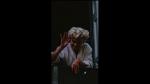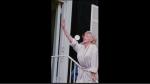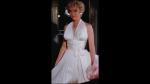 > captures dans les articles du blog:
screen caps on the articles in the blog:
13/09/1954 Sur le tournage de The Seven Year Itch 15 - partie 2
13/09/1954 Sur le tournage de The Seven Year Itch 15 - partie 1
15/09/1954 NYC - Sur le tournage de The Seven Year Itch scène 11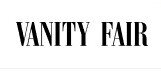 See Marilyn Monroe Giggle Through Her Wedding Reception, Movie Rehearsals, and More in Long-Lost Film
Watch photographer Milton H. Greene's lost footage of his most famous muse.
published in July 12, 2016
by Julie Miller
en ligne sur vanityfair.com
Fine-art fashion photographer Milton H. Greene captured some of the greatest stars of the 1950s and 1960s in his enduring portraits, including Grace Kelly, Elizabeth Taylor, Cary Grant, Sophia Loren, Audrey Hepburn, and Paul Newman. But it was Greene's portraits of Marilyn Monroe—his muse, friend, onetime roommate, and professional collaborator—for which he is most famous.
The two met in 1953—the same year Monroe appeared on-screen in Gentlemen Prefer Blondes—when Greene photographed the bombshell for Look magazine. Photographer and subject bonded, and their relationship over the next few years yielded one production company (Marilyn Monroe Productions, whose titles include The Prince and the Showgirl), a memoir, and over 50 photo sessions.
Beginning July 16, the Morrison Hotel Gallery at the Sunset Marquis Hotel will display some of Greene's never-before-seen photos from these sessions in its "Some Like It Hot" exhibit. The presentation will also feature 16-mm-film footage (previewed above), showing Monroe in rare and relaxed form—mostly out of the spotlight. Among the moments Greene captured: a cheerful Monroe kissing her third husband, Arthur Miller, and greeting guests at the couple's 1956 wedding reception; Monroe performing a musical number in the 1956 romantic comedy Bus Stop; and the beauty preening between the sheets for an intimate photo shoot.
In a statement to Vanity Fair, Joshua Greene said of his father's work, "There was an elegance to the simplicity of the sessions. Milton was not afraid to be vulnerable with his subjects, which created confidence and trust between them."
Photographer and Morrison Hotel Gallery co-owner Timothy White added of Greene and Monroe, "They spent a lot of time together and she often ran to Milton and his family for an escape from the pressures of Hollywood. With that trust came the access and opportunity for Milton to be with her and to photograph her freely. He became a trusted confidant who always had his still and movie camera with him as he documented her life."
"Seeing this film footage for the first time gives you the chills," continues White. "They're like home movies, yet one of the biggest stars of our time has obviously let her guard down and allows Milton to film her most playful, private, and important moments in her life. . . . It's a window into something we've never before seen . . . but always wanted to."
The "Some Like It Hot" exhibit will continue through July 24 (2016).
---
> extrait d'un JT américain - interview de Timothy White
et images des séquences tournées par Greene avec
des images inédites du mariage de Marilyn avec Miller
extract of US news - interview of Timothy White
and footages of Greene's home movies with unseen images
of Marilyn Monroe and Arthur Miller's wedding

captures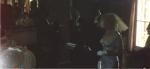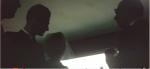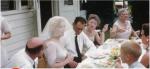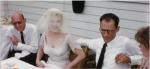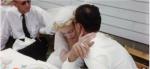 > retrouvez les captures dans l'article consacré au mariage:
find all the screen caps on the article dedicated to the wedding:
1/07/1956 Cérémonie Juive Mariage Marilyn et Arthur
---
Enregistrer
All photos are copyright and protected by their respective owners.
copyright text by GinieLand.
18 novembre 2016

Marilyn Monroe : la robe du «Happy Birthday» s'envole à 4,8 millions de dollars
Article publié le 18/11/2016
en ligne sur lefigaro.fr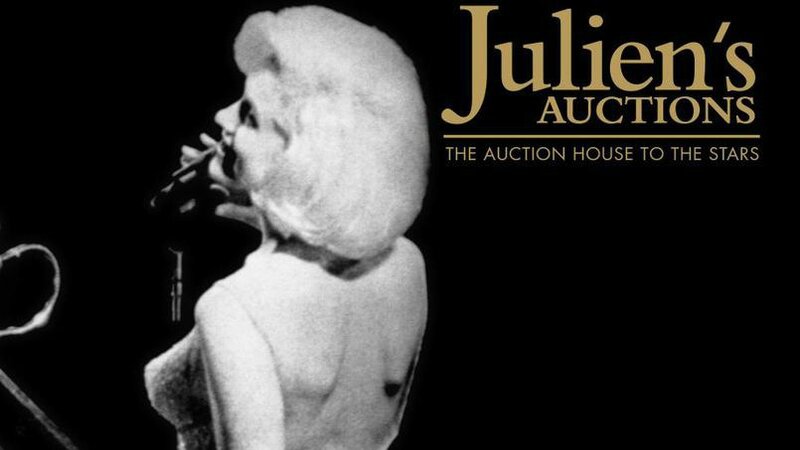 ENCHÈRES - Plus qu'un vêtement, l'étoffe incarne à elle seule toute la sensualité de la légende des années 50. Mise en vente le jeudi 17 novembre dernier à Los Angeles par la maison Julien's Auctions, elle a été acquise pour la royale somme de... 4,8 millions de dollars!
«Happy Birthday to you Mister President...» Les courbes affolantes de Marilyn Monroe n'ont pas fini de faire tourner les têtes. Le célèbre fourreau à paillettes porté par l'actrice en 1962 pour le 45e anniversaire du président Kennedy a été acquis pour la mirobolante somme de 4,8 millions d'euros. Un chiffre bien supérieur aux estimations de la maison Julien's Auctions, qui organisait la vente dans un quartier glamour de Los Angeles.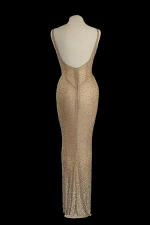 Il faut dire que l'étoffe moirée revêt désormais une dimension historique, sinon mythique. Cousue à même le corps de Marilyn, elle est indissociable du célébrissime «Happy Birthday» chanté lascivement par l'actrice en l'honneur de JFK pour son anniversaire, le 19 mai 1962. D'une couleur chair qui ne dissimulait rien de l'anatomie de l'actrice, brodée à la main de 2.500 cristaux, elle avait été estimée entre deux et trois millions de dollars par Julien's Auctions.
«C'est surtout le ton si intime et la projection sur les mots «Mr President» qui ont enflammé le public, la presse, et en ont fait un grand moment de culture populaire», souligne la maison d'enchères dans un communiqué. Susurrée, presque soupirée, elle a duré en tout «30 secondes, mais plus de cinq décennies plus tard, elle reste la plus célèbre version de «Happy birthday», relève encore Julien's Auctions.
La robe a finalement été achetée par Ripley's Believe It or Not! (Croyez-le ou pas!), un empire médiatique qui possède également une chaîne de musées, dont un à Hollywood, consacrés aux objets bizarres ou bien ayant une signification historique.
Elle avait été achetée lors d'une première vente aux enchères en 1999 par le riche homme d'affaires Martin Zweig pour la somme de 1,3 million de dollars. Le succès de cette robe est tel qu'un simple dessin de la robe par son concepteur, Bob Mackie, s'est vendu 10.000 dollars.
5,5 millions de dollars pour la robe de «Sept ans de réflexion»
Le record de vente pour une relique de Marilyn reste toutefois de 5,5 millions de dollars. Ils ont été versés il y a cinq ans par l'acheteur de la robe portée dans la scène du film Sept ans de réflexion où l'actrice, debout sur une bouche d'aération, tente avec un succès mitigé de l'empêcher de voler.
Parmi les autres objets en vente, une robe portée par l'actrice dans le film Certains l'aiment chaud, vendue 450.000 dollars, et une autre robe de soirée, pour 125.000 dollars, tandis qu'une paire de chaussures Ferragamo partait dans le même temps pour 34.000 dollars.
Le millier de pièces en vente jeudi soir provenaient de la collection de Lee Strasberg, coach en théâtre et ami de Marilyn Monroe, qui lui avait légué tous ses objets personnels. Celui-ci, qui avait également travaillé avec toute une palette d'acteurs dont James Dean, Dustin Hoffman, Jack Nicholson, Al Pacino, Jane Fonda ou Robert DeNiro, est décédé en 1982.
23 octobre 2016

Dimanche 23 octobre 2016 - 19h05 - Arte
- à revoir en replay pendant 7 jours-

Magazine - Personne ne bouge
"Spécial Célibat"

Depuis la fin du siècle dernier, la célibataire ultime a un nom : Bridget Jones - Scandale : en 1953, Marilyn est nue à la une du premier numéro de Playboy - Clipologie : "Single ladies" de Beyoncé - James Bond est l'archétype du célibataire - Perle rare : un entretien de 1976 avec Warren Beatty, l'acteur aux 12 775 conquêtes...

Story : Bridget Jones
Depuis la fin du siècle dernier, la célibataire ultime a un nom : Bridget Jones. Une héroïne de livres au succès planétaire, incarnée par Renée Zellweger à l'écran.

Garde-robe : le jogging
C'est bien connu, les célibataires n'ont que deux options vestimentaires : le look "prêt à choper tout ce qui bouge" ou... le jogging !

Scandale !
En 1953, Hugh Hefner lance" Playboy". Pour son premier numéro, le patron de presse frappe fort : il achète des photos dénudées de Marilyn, shootées juste avant sa célébrité, et les met en une.

Clipologie : "Single ladies"
Avec "Single ladies", Beyoncé signe un tube intersidéral emmené par une chorégraphie devenue instantanément iconique.

Star system : la méthode du "célib céleb"
Pour entretenir leur image, les vedettes mettent en scène leur(s) couple(s), leur(s) mariage(s), leur(s) séparation(s)... Vous voulez devenir une star ou le rester ? Découvrez la méthode du "célib céleb".

Icône : James Bond
Archétype du célibataire, James Bond incarne le mythe de la séduction au masculin. Mais ce serial tombeur a connu ses peines de coeur et a même eu un jour la bague au doigt.

Perle rare
En 1976, Warren Beatty répond aux questions de Garry McDonald alias Norman Gunston. Selon la légende, l'acteur aurait accroché 12 775 conquêtes à son tableau de chasse, ce qui ne lui a pas laissé beaucoup de temps pour expérimenter le célibat...
Enregistrer
04 octobre 2016
Décès du photographe Georges Barris, à l'âge de 94 ans, le 30 septembre 2016.
Sur le blog: Tag George Barris
---
George Barris, Who Took the Last Photos of Marilyn Monroe, Dies at 94
Article published on 10/02/2016
online hollywoodreporter
He photographed the actress on a beach in Santa Monica in July 1962, just weeks before her death.
George Barris, the photojournalist who took the last professional shots of Marilyn Monroe, died Friday at his home in Thousand Oaks, Calif., his daughter Caroline told The Hollywood Reporter. He was 94.
Barris photographed the actress on a windswept beach in Santa Monica on July 13, 1962, about three weeks before she was found dead of a drug overdose at age 36. He moved to France after her death and remained there for two decades.
In 1995, Barris published a book, Marilyn: Her Life in Her Own Words: Marilyn Monroe's Revealing Last Words and Photographs, that featured his iconic photos. He said that they had been working on the book together.
Eight of his prints, several of which showed Monroe in a bikini or wrapped in a towel, were sold at auction in May 2015.
Barris and Monroe became friends after they met on the set of The Seven-Year Itch (1955).
"When I first saw her, I thought she was the most beautiful, fantastic person I'd ever met," Barris told the Los Angeles Daily News in 2012. "She completely knocked me off my feet."
He said that he never believed that her death was a suicide.
While on assignment for Cosmopolitan, Barris photographed Elizabeth Taylor while she filmed Cleopatra (1963) in Rome, and during his career he also shot such stars as Steve McQueen, Marlon Brando, Charlie Chaplin, Frank Sinatra, Clark Gable, Sophia Loren and Walt Disney. His daughter also said that he photographed Chubby Checker for the singer's "The Twist" record cover.
A native of New York City, Barris enlisted in the U.S. Army and served in the office of public relations during World War II. He was Gen. Dwight D. Eisenhower's personal photographer for the welcoming Victory Parade in New York on June 19, 1945.
Survivors also include his wife Carla, another daughter, Stephanie; and his mentee, Xavier Clemente.
---
> A lire aussi l'article hommage du The Telegraph : "George Barris, photojournalist who captured Marilyn Monroe's final weeks – obituary"
Enregistrer
Enregistrer
Enregistrer
27 septembre 2016

Lundi 03 octobre 2016 - 20h45 - France 5

Film - Certains l'aiment Chaud
Durée : 2h05min
Année et origine : 1959, USA
Réalisateur: Billy Wilder

Acteurs: Marilyn Monroe (Sugar Kane Kowalczyk), Tony Curtis (Joe / «Joséphine»), Jack Lemmon (Jerry / «Daphné»), George Raft (Spats Colombo), Pat O'Brien (Mulligan), Joe E Brown (Osgood Fielding III), Billy Gray (Sig Poliakoff), George E Stone (Toothpick Charlie)...
L'histoire: Chicago, 1929. Joe et Jerry, deux musiciens au chômage, sont les témoins involontaires d'un sanglant règlement de comptes. Pris en chasse par les gangsters, ils se retrouvent par hasard dans un orchestre féminin. Travestis en femmes, ils sont engagés et partent pour la Floride sous les pseudonymes respectifs de Joséphine et Daphné. Rapidement, les quiproquos s'enchaînent. Joe est très attiré par Sugar, une vamp naïve qui ne voit en lui qu'une confidente. De son côté, Jerry est courtisé par Osgood Fielding III, un milliardaire prêt à tout pour l'épouser. Joe abandonne de temps à autre ses habits féminins et se fait passer pour un nanti aux yeux de Sugar. Cependant, un congrès de gangsters se tient à Miami. Reconnus, Jerry et Joe doivent à nouveau fuir...

09 septembre 2016
Du 22 octobre 2016 au 1er mai 2017, exposition Marilyn Monroe I Wanna Be Loved By You au Centre d'art de l'Hôtel de Caumont d'Aix-en-Provence.

Description: Marilyn Monroe (1926-1962) est certainement la star la plus photographiée dans l'histoire du cinéma. André de Dienes, Milton Greene, Philippe Halsman, Eve Arnold, Cecil Beaton, Richard Avedon, Sam Shaw, Ed Feingersh, George Barris, Bert Stern… les meilleurs photographes de son temps l'ont immortalisée, faisant de Marilyn l'icône que tout le monde connaît.

A travers une soixantaine de tirages photographiques, principalement issus de collections privées, et de nombreux supports multimédia, l'exposition « Marilyn » raconte l'histoire de la relation particulière que Marilyn Monroe a toujours entretenue avec la photographie et les photographes. Une relation centrale dans la construction de son image mythique.

Plus encore que la caméra, Marilyn aimait l'appareil photo et les photographes le lui rendaient bien. On sait combien Marilyn Monroe s'est prêtée au jeu de la célébrité, renvoyant à chaque paparazzi un sourire éclatant. Très jeune, elle dévore les magazines de cinéma dont les photos idéalisées éveillent son intérêt pour la photographie. Débutant comme modèle puis comme pin-up, elle comprend vite le pouvoir de l'image, dont elle a besoin pour lancer sa carrière cinématographique, et s'en empare. Sa photogénie exceptionnelle et son travail intensif avec les photographes hollywoodiens réputés portent vite leurs fruits et elle apparaît en couverture de nombreux magazines, contribuant au développement de sa popularité comme de son érotisme. C'est sous l'objectif des photographes publicitaires des studios que Norma Jeane Baker, petite fille à l'enfance difficile, devient Marilyn Monroe, la star. Les médias construisent l'image toute faite d'une femme joyeuse, radieuse. Or Marilyn est multiple, complexe. Car l'icône a deux faces : celle, solaire et lumineuse, de la blonde et celle, plus sombre, d'une jeune femme perfectionniste, fragile et vulnérable.
Marilyn noue un dialogue de confiance avec les photographes, plus qu'avec les journalistes ou même les réalisateurs. Elle initie très régulièrement des séances de photographie pour façonner elle-même son image et se défaire du rôle dans lequel l'enferment les médias et les studios hollywoodiens, la Fox en particulier. Marilyn tient à contrôler chaque image – comme sur ces planches contacts de la « Dernière Séance » de Bert Stern, présentée en fin d'exposition, où elle barre les clichés qui lui déplaisent. C'est cette co-construction de son image, révélant la maîtrise du photographe autant que la sienne, qui est ainsi donnée à voir.
---
Lieu et adresse: L'hôtel de Caumont est un hôtel particulier situé au nᵒ 3 rue Joseph Cabassol dans le quartier Mazarin à Aix-en-Provence.
Horaires: Le Centre d'Art est ouvert tous les jours de 10h à 18h. Dernière entrée 30 minutes avant la fermeture.
Tarifs: Individuels:
Plein tarif : 13 €
Tarif réduit : 10 € (étudiants, enfants de 7 à 17 ans, demandeurs d'emploi)
Audioguide exposition temporaire : 3 € // Livret de visite exposition temporaire : 2 € // Application smartphones et tablettes exposition temporaire (disponibles) : 1,99 € et 3,99 € (HD)
Livret de visite et application smartphones et tablettes collections permanentes : gratuit
Les enfants de 7 à 17 ans, les porteurs du Pass Education, les étudiants, les titulaires d'une carte d'invalidité et les demandeurs d'emploi bénéficient du tarif réduit (sur présentation d'un justificatif). Les enfants de moins de 7 ans et les journalistes entrent gratuitement (sur présentation d'un justificatif)
Offre Famille
L'entrée est gratuite pour le 2e enfant âgé de 7 à 17 ans (avec deux adultes et un enfant payant).

Site Web: caumont-centredart.com

19 mai 1962. Ivre-morte, Marilyn Monroe monte sur scène pour fêter l'anniversaire de Kennedy
Article publié le 19/05/2015
en ligne sur mosaikhub
Par Frédéric Lewino et Gwendoline Dos Santos pour Le Point
"Et maintenant, Monsieur le Président, mesdames et messieurs... Marilyn Monroe !" s'égosille l'acteur Peter Lawford, beau-frère de John Fitzgerald Kennedy. Il est chargé d'annoncer les stars venues fêter les 45 ans du président. Personne ne sort des coulisses ! La blonde se fait désirer. Aurait-elle croisé DSK ? Lawford raconte une petite blague au public pour le faire patienter, puis recommence l'annonce : "Et maintenant..." Toujours personne. Les 15 000 personnes présentes dans la salle n'en peuvent plus d'attendre le clou du spectacle. 40 millions de téléspectateurs sont rivés à leur petit écran. Dans son berceau, Obama fait un rot. Suspense... "Ladies and gentlemen, the late Marilyn Monroe !" hurle pour la vingtième fois Lawford. Cette fois, la star monte enfin sur scène dans une robe somptueuse. Tonnerre d'applaudissements. Elle s'avance en sautillant vers le micro, se débarrasse de son étole d'hermine et entame avec hésitation "Happy Birthday, Mister President", qui entre immédiatement dans l'histoire.
Maîtresse épisodique de JFK depuis le milieu des années 50, Marilyn n'aurait raté cet anniversaire pour rien au monde. Que la Fox qui l'a menacée de la virer si elle quittait le plateau de Something's Got to Give aille se faire foutre ! Elle a besoin de deux jours, c'est tout. Elle appelle Robert Kennedy, qui lui est redevable de quelques "gâteries", pour plaider sa cause auprès de Milton S. Gould, le patron de la Fox. Même l'attorney général des États-Unis se heurte à un refus. "C'est no !" Elle fait son job d'actrice, sinon elle est virée ! Depuis que le tournage a commencé trois semaines auparavant, elle n'a pas cessé de se faire porter malade. Désormais, plus de bons de sortie. Même pour assister à l'anniversaire du président !
First Lady
Le 17 mai, Marilyn est donc sur le plateau. Elle tourne, ou du moins essaie de tourner entre deux coupes de Dom Pérignon, se bourrant de pilules pharmaceutiques. Soudain, un hélicoptère se pose à proximité du studio. Peter Lawford en sort, se dirige vers Marilyn, la saisit et l'entraîne à bord de l'appareil qui s'envole immédiatement. Direction : New York. Un enlèvement prémédité par la star. Elle, se plier aux ordres du patron de la Fox ? Pas question.
À cette époque, Marilyn s'est mise en tête de devenir la "First Lady" ! Elle espère encore que John divorcera de Jackie pour l'épouser. Du grand n'importe quoi ! En fait, elle commence à fatiguer le président qui est plus près de la larguer que de la marier. Même si Jackie, apprenant la venue de la blonde hollywoodienne à la soirée privée de son époux, décide ne pas y mettre les pieds.
Grande inspiration...
Pour cette soirée très spéciale, Marilyn a commandé une robe à 12 000 dollars au couturier français Jean-Louis, cette même robe qui sera vendue plus d'un million de dollars 37 ans plus tard. Elle n'avait donné qu'une consigne au créateur : qu'elle soit si sexy qu'elle seule puisse la porter sur la planète, sans rien dessous. Elle comporte vingt couches de soie, et dix-huit couturières consacrent sept jours à temps plein pour y coudre plusieurs milliers de pierres du Rhin scintillantes. Petit détail qui aura son importance : le fourreau est si étroit que Marilyn ne peut l'enfiler. Il faudra le coudre sur elle, juste avant de monter en scène. C'est pour cela que, contrairement à son habitude, elle n'arrive pas en retard au Madison Square Garden où se déroule la "petite fête privée". Debout sur un tabouret, dans sa loge, elle attend que les couturières lui greffent la fameuse robe. Ça y est, la voilà prête à bondir sur scène. Avant que ce soit son tour, elle sirote des coupes de Dom Pérignon tout en gobant quelques Smarties pharmaceutiques. Elle sait qu'elle est belle, même l'esprit embrumé.
Maria Callas, Ella Fitzgerald, Jimmy Durante, Peggy Lee et bien d'autres se sont déjà succédé sur scène. C'est à elle que revient d'achever en beauté le show. Des molosses viennent la chercher dans sa loge, et étant donné qu'il lui est presque impossible de marcher dans sa robe, ils la soulèvent telle une poupée de porcelaine pour la déposer derrière le rideau de scène. Elle entend Lawford l'annoncer. Morte de trac, elle prend une grande inspiration... Mais qu'a-t-elle fait ? Les coutures de la robe n'ont pas résisté. "Shit !" Impossible d'apparaître devant les caméras à moitié à poil, puisque, effectivement, elle ne porte rien sous son fourreau.
"Happy Birthday" torride
Les fesses à l'air, elle retourne à sa loge. Les couturières s'affairent, Marilyn vide encore quelques coupes. Pendant ce temps, le brave Lawford l'annonce encore et encore. La voilà, enfin. Tonnerre d'applaudissements. Personne ne lui en veut de son retard. Elle est si belle, si fragile, si attendrissante. Elle s'approche du micro, le silence se fait dans la salle. Visiblement, elle est éméchée, mais on la sent également très excitée à l'idée de chanter pour "The Prez" comme elle l'appelle. Elle prend son souffle. Et merde, sa robe recommence à craquer sur son fessier. S'en rend-elle compte, absorbée par sa déclaration d'amour ? Son "Happy Birthday" est torride. Un ange passe... nu et en érection. Elle chante comme si elle faisait l'amour au président devant 15 000 personnes et 40 millions de téléspectateurs.
JFK, comme tous les hommes présents, ne rêve que d'une chose que la décence oblige à taire. Marilyn jubile, elle a fait sensation. C'est sûr, et bientôt, elle sera la First Lady. Son John va l'épouser. La malheureuse naïve. Elle tombe de l'Everest cinq jours plus tard quand JFK la fait appeler par Peter Lawford pour lui annoncer que leur aventure est terminée, qu'elle ne doit plus le contacter. La voilà virée du cheptel présidentiel comme une malpropre. Elle devenait trop incontrôlable, trop dangereuse pour la réputation du président. L'actrice trahie implore, supplie, mais rien n'y fait. Elle ne sera jamais First Lady. Cerise sur le gâteau, elle est finalement licenciée par la Fox. Le château de cartes s'effondre. Elle ne le remontera jamais. Le 4 août suivant, elle fait une ultime overdose, la dernière d'une très longue série. Suicide ? Assassinat ? Accident ? Le mystère demeure, 50 ans plus tard.

La robe sexy de Marilyn pour Kennedy (encore) en vente
Article publié le 08/09/2016
en ligne sur lefigaro.fr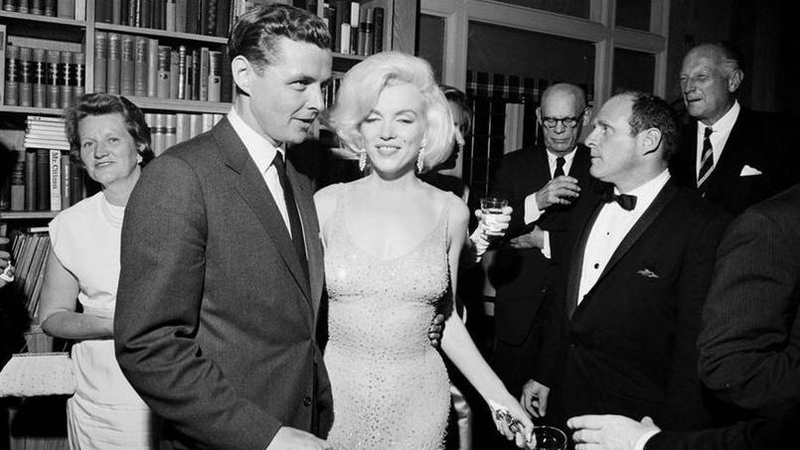 ENCHÈRES - En novembre, Juliens' Auctions espère atteindre 2 millions de dollars pour le fourreau à paillettes que la star porta en 1962 pour l'anniversaire du président des États-Unis. Le double de la somme déboursée en 1999 sous le marteau de Christie's, où elle a été acquise pour 1,2 million de dollars.

Elle est entrée dans la légende. Cinquante-quatre ans après l'avoir prononcée, la séquence lors de laquelle Marilyn Monroe lança son fameux: «Happy Birthday Mr. President», à John Fitzgerald Kennedy, devant un parterre de 15.000 invités venus fêter, ce soir du 19 mai 1962, les 45 ans du président des États-Unis, tourne en boucle sur Internet. Sa déclaration est aussi célèbre que l'icône blonde américaine, moulée dans une sensuelle robe de soie pailletée d'or cousue à même son corps, nu de sous-vêtements. Un incident extraordinaire aurait permis de le découvrir: les coutures auraient craqué, «dévoilant son magnifique cul», peut-on lire dans le croustillant article de Frédéric Lewino et Gwendoline Dos Santo, paru dans Le Point.
Cette robe mythique, achetée par Marilyn Monroe pour 12.000 dollars à un couturier français en 1962, a été vendue plus d'un million de dollars en 1999 chez Christie's. Or, la voici à nouveau sur le marché, proposée dans une vente fleuve dédiée à la star les 17, 18 et 19 novembre prochains chez Julien's Auctions, à Los Angeles. «Plus de cinquante ans après sa mort, le monde reste fasciné par la beauté et le talent de Marilyn Monroe», estime Martin Nolan, directeur général de la société d'enchères spécialisée sur les stars de Hollywood. Pour lui, «il s'agit des archives les plus importantes de Marilyn Monroe (...) à être mises sur le marché depuis des décennies».

Costumes de cinéma, gants, bijoux, lettres et manuscrits ... Les souvenirs de Marilyn proviennent entre autres de son collectionneur fétiche, David Gainsborough Roberts, qui se sépare notamment de la fameuse robe de cocktail noire portée par Marilyn dans Certains l'aiment chaud. Sur son site, Julien's Auctions affirme vouloir rendre hommage à ce mythe de sensualité, qui aurait eu 90 ans cette année.