02 août 2007
le 02/08/2007
La maison Profiles in History, spécialisée dans la dispersion d'objets vus dans des films ou ayant appartenu à des célébrités, propose 1000 objets au total, lors de cette vente à Los Angeles les 2 et 3 août 2007, diffusée en simultané sur internet. Ainsi, pour 30.000 à 50.000 dollars, les amateurs de mécanique pourront espérer enlever la grosse Chevrolet Suburban 1994 du mafioso Tony Soprano de la série télé Soprano, dédicacée par l'acteur James Gandolfini sur le pare-soleil.
Les médicaments de Marilyn Monroe, plus exactement des fioles ayant contenu des cachets destinés à la star, sont mis en vente aux enchères en Californie, ces 2 et 3 août. Les fioles, portant encore le nom de l'actrice américaine décédée le 5 août 1962, sont estimées à une somme de 2000 à 3000 dollars la pièce.

La voiture de course pilotée par Tom Cruise dans Jours de tonnerre est estimée entre 40.000 et 60.000 dollars. L'enchère de départ du pantalon de Rhett Butler, alias Clark Gable dans Autant en emporte le vent, est de 2500 dollars. Egalement attendus sous le marteau, un costume porté par le capitaine Kirk, alias William Shatner dans un film Star Trek, de même qu'un microphone utilisé par le roi du rock Elvis Presley et le chanteur country Johnny Cash. Les acheteurs se disputeront, enfin, des lunettes dorées du King et une de ses ceintures.
>> source: article sur tf1.lci.fr
28 juillet 2007
May 09, 2007
By David Walker
A federal court in New York has rejected the claim of Marilyn Monroe's estate that it owns rights of publicity in the actress's likenesses, including photographs. In addition to undercutting a lawsuit against a photo archive for unauthorized commercial use of a Monroe photograph, the decision opens the door for anyone to use Monroe images commercially without permission from the estate.
The estate, MMLLC, and its licensing agency, CMG Worldwide, sued the Shaw Family Archives and its agent, Bradford Licensing Associates in 2005. The suit alleged commercial use of Marilyn Monroe's likeness without permission, in violation of Indiana's right of publicity law. Among the alleged violations was a t-shirt, purchased at an Indiana Target store, bearing an image of Monroe credited to the Shaw Family Archives.
For years, MMLLC has collected fees for commercial use of Monroe's likeness, on the grounds that it owns Monroe's rights of publicity. Those commercial licensing fees are separate from (and in addition to) usage fees that licensees pay to the copyright holders of the images.
The Shaw Family Archives, owned and operated by the three children of the late Monroe photographer Sam Shaw, responded to MMLLC's lawsuit by challenging the validity of the estate's right-of-publicity claims.
MMLLC argued that it had controlling interest in Monroe's rights of publicity because of a transfer clause in the actress's will. But SAF argued that Monroe couldn't pass those rights along in her will, because they were non-existent at the time of her death.
The federal court in New York agreed.
So-called postmortem (or after death) rights of publicity exist by law in some states but not others. The Indiana law didn't apply, the court ruled, because Monroe never lived there, and because the Indiana law was enacted in 1994—long after Monroe's death in 1962.

It is a matter of debate whether Monroe was a resident of New York or California at the time of her death in 1962. But California didn't enact a postmortem right of publicity law until 1984, and New York still doesn't have one. Since neither of those states had rights of publicity laws on the books at the time of Monroe's death, the court ruled, she never had any publicity rights to pass on to heirs or beneficiaries.
"Any publicity laws she enjoyed during her lifetime were extinguished at her death by operation of law," the judge wrote in her decision. MMLLC argued that the Indiana law conferred publicity rights after Monroe's death, but the judge dismissed that argument as "untenable."
"We're beside ourselves…this is a big boost, because a lot of people wouldn't do [business] with us before," says Meta Shaw Stevens, who owns Shaw Family Archives with her sister Edith Shaw Marcus and her brother Larry Shaw. She explains that "in the past, [our clients] had to pay a tremendous amount of money to CMG, which left very little money for photos. Now companies can come to us, and they don't have to pay CMG."
Through spokesperson Michael Nagel, CMG declined to comment about the ruling. It is unknown whether the company will appeal
According to Christopher Serbagi, who represented SFA along with Sam Shaw's grandson David Marcus, CMG lobbied for the enactment of Indiana's right of publicity law, hoping to bestow rights of publicity on celebrities and their heirs no matter where they lived (CMG represents various celebrities and celebrity estates).
"[MMLLC and CMG] took a big risk and lost" in deciding to test the Indiana law and their right of publicity claims, says Serbagi.
Users of Monroe images usually capitulate to CMG's demands, rather than take on the cost and risk of a legal battle, Serbagi says.
But the Shaw family decided to fight, Meta Stevens says, because "we didn't have very much to lose. If we had lost, we would have been where we were." Most of the legal work, she says, was done by her nephew, David Marcus.
"It's the David and Goliath story. My nephew worked feverishly on behalf of his grandfather and other photographers in a similar situation. He's a one man operation up against a mega law firm, and something good happened."
Serbagi says SFA is now pursuing its counter-claims against CMG. "We intend to vigorously pursue them for interfering with our business relationships, and for causing us financial damage," he says.
>> source: article sur pdnonline.com
Photographer Sam Shaw took some of the most famous pictures of the Hollywood icon
>> source: article sur Law.com
24 juillet 2007
L'Affiche européenne de l'expo Marilyn & Friends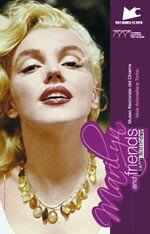 ---
Communiqué de presse de l'exposition des photographes Sam et Larry Shaw: Marilyn Monroe et ses amis, qui s'était tenue du 22 juin au 9 octobre 2004 à la Galerie Photo de Montpellier (France).
Cliquez ici: Sam_Shaw_2004_expo_Montpellier_Marilynetsesamis
ci-dessous, article paru dans Le Figaro 2004, sur l'expo de Montpellier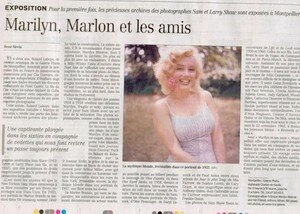 ---
Communiqué de presse de l'exposition des photographes Sam et Larry Shaw: Marilyn and Friends , qui s'était déroulée du 16 décembre 2005 au 18 février 2006 à la Young Gallery à Bruxelles (Belgique).
Cliquez ici: Sam_Shaw_2005_expo_Brussels_MarilynandFriends
/!/ Fichiers pdf, vous devez disposez du logiciel Acrobat Reader pour les ouvrir
10 juillet 2007
article publié le le 10 juillet 2007
>> source: article sur Telegraph.co.uk
By Philip Sherwell in New York
Her sultry pout and peroxide blonde hair helped make Marilyn Monroe one of the most famous faces in showbusiness. Now her instantly recognisable looks are at the centre of a bitter legal row over the control of dead celebrities' images, one that is pitting some of the biggest names in entertainment and sport against each other.
Yoko Ono, Al Pacino and the estates of the tennis champion Arthur Ashe and the baseball legend Babe Ruth are among those backing new legislation that would give the heirs of dead celebrities full control over commercial use of their names and images.
Opponents, who include the children of Ray Charles and Marlon Brando as well as the photographers who captured iconic images of Monroe, contend that new laws proposed in California and New York would restrict public access throughout the world to the pictures and work of hundreds of actors and artists.
The intensity of the confrontation reflects the highly lucrative business of marketing the famous names that keep filling the coffers even in death. According to the latest dead rich list compiled by Forbes magazine, the top 13 dead celebrities raked in $247?million (£125?million) for their estates last year from deals for their works, or rights to use their names and images for marketing and memorabilia.
Arnold Schwarzenegger, the actor-turned-politician, now has a pivotal role in the process. As the governor of California, he must decide whether to sign a bill passed last month by the state legislature that expands the control of heirs over how deceased celebrities are marketed.

The immediate controversy is over who has the right to control images such as the world famous pose of Monroe, with dress billowing over a subway grate, in a photo shoot taken by Sam Shaw for the film The Seven Year Itch.
The star's sole heir, Anna Strasberg, the Venezuelan-born widow of Monroe's acting coach Lee Strasberg, to whom she left her estate, is pitted against the children of four photographers who worked closely with the international sex symbol. It has turned into an ugly and unpleasant fight.
The enduring allure of Monroe, who died of a sleeping pill overdose aged 36 in 1962, earned $8 million for her estate for 2005-06 from perfumes, handbags and advertising campaigns for the likes of Dom Perignon and General Motors.
Those were all authorised by the Marilyn Monroe Limited Liability Company, established by Mrs Strasberg. But in 2005, she sued the picture archives that had been independently selling photographs for merchandising.
Although there was no dispute that the archives owned the copyrights, and indeed in some cases Monroe had also signed release forms, Mrs Strasberg argued that she should control marketing rights — and of course licensing fees.
The court hearings on the East and West coasts went against her in May, prompting Mrs Strasberg to launch her legislative push in June. The proposals stalled in New York but were fast-tracked in California, where lawmakers are historically more supportive of the entertainment industry.
Her battle has angered the descendants of the photographers who helped make Marilyn Monroe famous. "Sam Shaw owned the copyright to the photos and the billowing skirt concept was his. Now we are facing an attempt to enact retroactive legislation," said his grandson David Marcus.
Joshua Greene, whose photographer father Milton was a former business partner of Monroe and shot some 5,000 pictures of her, is equally indignant. "My father and Marilyn were partners, she happily signed away the rights to the photos, she lived in our house and she babysat for me, but now Marilyn Monroe LLC wants the right to control those images," he said.
The Monroe estate counters that it is pursuing its duty to protect the star's reputation from exploitation on inappropriate items such as condoms and knickers — items that have been found bearing her image.
Currently, a British T-shirt manufacturer who wants to feature a Milton Greene picture of Monroe must seek permission and pay a fee to the photographer's archive. If the new legislation is passed, he would also need authority from Mrs Strasberg and pay her charges too.
Anna Strasberg enlisted big?name allies for the legislative push. Yoko Ono gave support on behalf of her murdered husband John Lennon, the former Beatle, while Al Pacino said: "I feel one's likeness and image should be protected in some way and not abused or denigrated for the sake of profit."
Mrs Strasberg's son David said his family was determined to protect Monroe's legacy and had rejected proposals such as Marilyn cigarettes and condoms.
"The only people who are opposed to this legislation are those who want to make a quick buck out of Marilyn," he said. "You can still use photos of Marilyn in artworks and newspapers and books. But we are determined to prevent her exploitation."
However, the children of Ray Charles joined a campaign urging Mr Schwarzenegger not to sign the legislation, including a petition which suggests that Anna Strasberg only wants to change the law to make "millions of dollars from those wishing to use the name or likeness of Marilyn Monroe".
And Surjit Soni, a lawyer for two California-based picture archives, contended the law would cause "pandemonium" in the courts and reduce the availability worldwide of Monroe memorabilia.
"If this legislation is passed, the public throughout the world would be at the mercy of Anna Strasberg's taste and sensibilities," he said.