11 octobre 2014

Samedi 18 octobre 2014 - 13h20 - TF1

Magazine - Les petites mains d'Hollywood
Durée: 110 min
Année: 2014
Au sommaire: "4 saisons à la maternelle": Durant quatre saisons, d'un Noël à l'autre, une équipe a partagé et filmé la vie d'une classe de Jonzac, près de Bordeaux.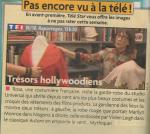 "Les petites mains d'Hollywood": Ils sont costumiers, doublures voix, dresseurs: à Hollywood, des milliers de petites mains travaillent dans l'ombre des stars. Parmi eux, une poignée de Français a misé sur ces carrières en coulisses. Portraits.
NB: Dans ce deuxième reportage, on découvrira notamment le portrait de Rosa, costumière à Hollywood, qui emmènera les caméras dans la garde-robe des studios Universal, qui comporte notamment la veste rouge que Marilyn porte dans "Niagara" (voir article ci-contre).
15 août 2014
L'actrice américaine Lauren Bacall meurt à l'âge de 89 ans
article publié sur lemonde.fr
- le 13 août 2014
L'icône américaine du cinéma Lauren Bacall, surnommée « the Look » (« le Regard ») au sommet de sa carrière pendant l'âge d'or d'Hollywood, est morte mardi 12 août 2014 à l'âge de 89 ans.
Les représentants de la succession Bogart ont confirmé sur un compte Twitter officiel, des informations du site TMZ, de même que des membres de sa famille au Los Angeles Times et au Washington Post.
D'après TMZ, l'actrice a été victime d'un « accident vasculaire cérébral ».
Née le 16 septembre 1924 à New York, Lauren Bacall (Betty Joan Perske de son vrai nom) est la fille unique d'immigrants juifs roumano-polonais, de la famille de l'ancien président israélien Shimon Peres.

A 15 ans, la jeune fille s'inscrit à l'Academie des arts dramatiques de New York mais, faute d'argent, ne suit les cours que pendant un an. Vivant de petits rôles au théâtre et d'un emploi d'ouvreuse, elle se décrit alors comme « une perche sans poitrine et avec des grands pieds » – mais est élue « Miss Greenwich » en 1942.

Devenue mannequin, elle fait, en 1943, la couverture du magazine de mode Harper's Bazaar, où elle est remarquée par la femme du cinéaste Howard Hawks. L'année suivante, Hawks devient son mentor et lui fait adopter une voix grave pour jouer avec Humphrey Bogart dans Le Port de l'angoisse.

Lors d'une scène culte, elle lui intime : « Vous n'avez pas à jouer avec moi, Steve. (...) Si vous avez besoin de moi, vous n'avez qu'à siffler. Vous savez siffler, Steve ? Vous rapprochez vos lèvres comme ça, et vous soufflez ». Dans le même film, elle chantait d'une voix grave dans un long fourreau noir « How little we know » devant un Bogart sourire aux lèvres.

Sa rencontre avec l'acteur de 44 ans se transforme rapidement en histoire d'amour dont raffolera Hollywood. Lauren Bacall épouse Bogart l'année suivante, et sera sa compagne au cinéma comme à la ville jusqu'à la mort de l'acteur.
C'est de nouveau à côté de Bogart qu'elle joue dans un autre grand film noir d'Hollywood en 1946, Le Grand Sommeil, puis dans deux autres réalisations de la même veine (Les Passagers de la nuit de Delmer Daves en 1947, et Key Largo de John Huston en 1948).

Avec Jean Negulesco, l'actrice découvre ensuite le registre de la comédie dans Comment épouser un millionnaire (1953), aux côtés de Marilyn Monroe et Betty Grable, et Les femmes mènent le monde (1954).

Lorsque « Bogie » meurt d'un cancer de l'œsophage, en 1957, la jeune veuve de 32 ans se tourne vers les planches de Broadway. Son talent sera récompensé par deux Tony Awards (l'Oscar du théâtre), pour Applause en 1970 et Woman of the Year en 1981.

L'actrice charmera aussi ses fans au cinéma dans Le Crime de l'Orient-Express de Sydney Lumet (1974), Le Dernier des géants, de John Wayne (1976), et Prêt-à-porter de Robert Altman (1994).

Son jeu dans Leçons de séduction de Barbra Streisand est récompensé, en 1996, par une nomination pour l'Oscar du meilleur second rôle et, en 1997, par un Golden Globe dans la même catégorie.

Elle s'illustre encore dans Manderlay de Lars von Trier, nommé en 2005 au Festival de Cannes. En 2009, un Oscar d'honneur est décerné à Lauren Bacall pour sa contribution essentielle à l'âge d'or du cinéma.
---
>> Marilyn et Lauren Bacall <<
> En 1953, Lauren Bacall fait partie du trio d'actrice qui se partage l'affiche de "Comment épouser un millionnaire" ("How to marry a millionnaire") aux côtés de Marilyn Monroe et de Betty Grable.
> Le 13 mars 1953, pendant le tournage du film, Lauren Bacall remet le prix Look à Marilyn.
> Le 4 novembre 1953 , lors de la première du film, Marilyn Monroe traverse le tapis rouge avec Lauren Bacall, Humphrey Boggart et le scénariste Nunnally Johnson.

>> Sur le blog: Marilyn et Lauren Bacall
08 juillet 2014
Dumped! Giant Marilyn Monroe Thrown Out with the Trash
2014, June - online nbcnews.com

A man walks past a giant statue of U.S. actress Marilyn Monroe, dumped at a garbage collecting company in Guigang, Guangxi Zhuang Autonomous Region on June 18, 2014. China Daily via Reuters
A giant statue of actress Marilyn Monroe was dumped at a garbage collecting company in Guigang, China. The almost 30-foot tall stainless steel statue, which weighs about eight tons, was made by several Chinese artists over two years, based on the famous scene from her movie "The Seven Year Itch."

The statue was transported to the garbage collecting company early this week for unknown reasons after being on display outside a business center in the city for only 6 months, local media reported.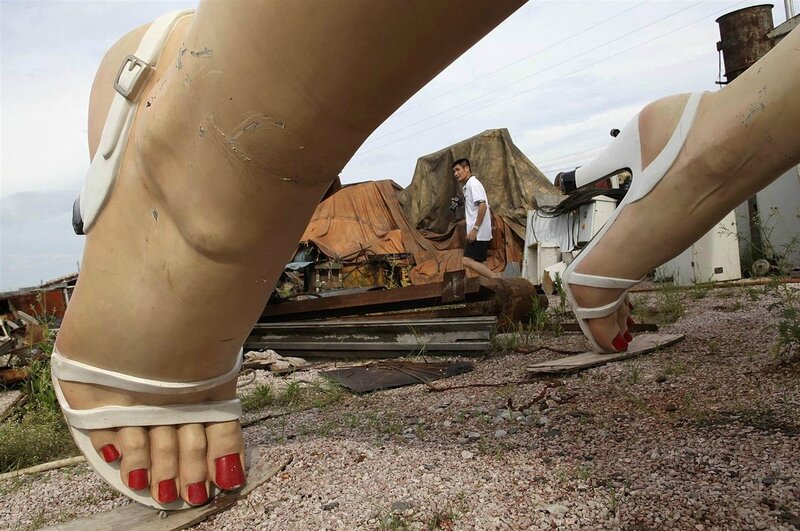 A man walks past the feet of a giant statue of U.S. actress Marilyn Monroe at the dump site of a garbage collecting company in Guigang, China.
07 juillet 2014

Hollywood's 100 Favorite Films
article publié sur lemonde.fr
le 25 juin 2014
Who better to judge the best movies of all time than the people who make them? Studio chiefs, Oscar winners and TV royalty all were surveyed as THR publishes its first definitive entertainment-industry ranking of cinema's most superlative.
Le magazine américain The Hollywood Reporter a établi un questionnaire envoyé au "tout" Hollywood afin de déterminer les 100 plus grands films du 7ème Art par "ceux qui les font". Plus de 2100 réalisateurs, techniciens, oscarisés, agents ou responsables de studios ont répondu.
Les cinq premiers:
1/ Le parrain (1972)
2/ Le magicien d'Oz (1939)
3/ Citizen kane (1941)
4/ Les évadés (1994)
5/ Pulp Fiction (1994)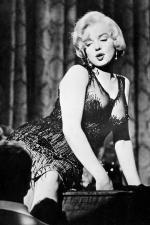 Marilyn Monroe est présente avec le film Certains l'aiment chaud (Some Like it Hot) à la 47ème place.
Director: Billy Wilder
Cast: Marilyn Monroe, Tony Curtis, Jack Lemmon
Domestic lifetime gross (adjusted for inflation, 2014): No numbers available
Famous quote: "I'm a boy. I'm a boy. I wish I were dead. I'm a boy. Boy, oh boy, am I a boy. Now, what am I gonna do about my engagement present?" — Jerry
"Everybody quotes me as saying kissing Marilyn was like kissing Hitler," Curtis told a reporter a few years before his death. "I never said that. I said that kissing Marilyn was like f--ing her, the way she would grind against me."
25 juin 2014
Eli Wallach, le « Truand » de Sergio Leone, est mort
article publié sur lemonde.fr
par Isabelle Regnier - le 25 juin 2014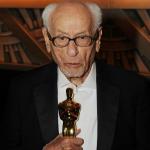 En 2010, alors qu'il remettait à son vieil ami Eli Wallach un Governors Award pour l'ensemble de sa carrière, Clint Eastwood saluait le dernier acteur vivant de Baby Doll, d'Elia Kazan, et des Désaxés, de John Huston. Avec une malice inquiète, il ajoutait qu'il était également l'un des deux derniers survivants du casting de Le Bon, la Brute et le Truand, posant implicitement la question de celui d'entre eux deux qui partirait le premier. La réponse est tombée hier, quand le New York Times a annoncé la mort d'Eli Wallach. Celui qui reste identifié dans la mémoire collective à Tuco, le truand comique et pas bien futé du western de Sergio Leone, s'est éteint le 24 juin 2014, à l'âge de 98 ans.

Né à Brooklyn en 1915, dans une famille juive d'origine polonaise, Eli Wallach s'initie au théâtre après avoir obtenu un diplôme d'histoire à l'université du Texas et un master en éducation au City College de New York. Engagé dans l'armée américaine pendant la seconde guerre mondiale, il officie comme sergent dans un hopital militaire à Hawaï, avant d'être envoyé comme second lieutenant à Casablanca et en France. La petite histoire retient que pendant ce séjour en France, il écrit et met en scène avec quelques camarades une pièce parodique sur l'armée, dans laquelle il s'attribue le rôle de Hitler.

L'AMI DE MARILYN MONROE

De retour aux Etats-Unis, Eli Wallach prend des cours de théâtre avec Erwin Piscator, et intègre, dès sa création, en 1947, l'Actors Studio. Sous la direction de Robert Lewis, il joue aux côtés de Marlon Brando, de Montgomery Clift, de Sidney Lumet, fait la connaissance d'Anne Jackson, actrice de théâtre, qui deviendra bientôt sa femme et avec qui il aura trois enfants, devient ami avec Marilyn Monroe. En 1945, il fait ses débuts à Brodway. Six ans plus tard, sa performance dans The Rose Tatoo, de Tennessee Williams, lui vaut un Tony Award. Entre-temps, il a commencé à travailler pour la télévision, qui lui fournira régulièrement des emplois jusqu'à la fin de sa carrière. Dans son autobiographie, l'acteur écrit d'ailleurs que le personnage de Mr. Freeze, qu'il joua dans une série Batman dans les années 1960, lui a valu plus de courriers de fans que tous ses rôles réunis.

C'est Elia Kazan, cofondateur de l'Actors Studio, qui lui donne son premier rôle au cinéma, celui de Silva Vacarro dans Baby Doll (La Poupée de chair, 1956), riche propriétaire terrien et prédateur pervers qui séduit la jeune épouse encore vierge (Carroll Baker) du pauvre Archie Lee (Karl Malden). Ce rôle, qui lui vaut le prix du meilleur espoir masculin de la BAFTA (British Academy of Film and Television Arts), est le point de départ d'une longue carrière sur grand écran, qui le cantonnera le plus souvent aux personnages secondaires. S'il papillonne dans tous les genres, circulant même, dans les années 1970, entre les Etats-Unis et l'Europe, il se spécialise dans les personnages tordus, antipathiques, tendant parfois vers le grotesque.

TRAFIQUANT PSYCHOPATHE

En 1958, Don Siegel lui offre le rôle d'un trafiquant d'héroïne psychopathe dans The Lineup. Il sera ensuite Calvera, le chef des pillards contre lesquels se rebiffent les villageois mexicain dans The Magnificent Seven (Les Sept Mercenaires, 1960), de John Sturges, et Guido dans The Misfits (Les Désaxés, 1961), de John Huston, aux côté de Marilyn Monroe, de Clark Gable et de Montgomery Clift.

On le verra encore dans Lord Jim (1965), de Richard Brooks, aux côtés de Peter O'Toole, qu'il retrouve l'année suivante dans How to Steal a Million (Comment voler un million de dollars, 1966) de William Wyler, juste avant d'embarquer pour l'Espagne, où il tourne dans Il Buono, il Brutto, il Cattivo (Le Bon, la Brute, et le Truand, 1966), de Sergio Leone.

Une brouille avec Sergio Leone mettra un terme à leur collaboration, mais l'acteur tournera encore une série de westerns spaghettis — Les Quatre de l'Ave Maria (I quattro dell'Ave Maria, 1968), de Giuseppe Colizzi ; Et Viva la Revolution! (¡Viva la muerte... tua!, 1971), de Duccio Tessari ; Le Blanc, le Jaune et le Noir (Il bianco il giallo il nero, 1975), de Sergio Corbucci — et de films italiens — Jo le fou (Crazy Joe, 1974), de Carlo Lizzani ; Attenti al buffone (1975), d'Alberto Bevilacqua. A la même époque, il joue un mafieux italien dans Le Cerveau, de Gérard Oury (1969), qui deviendra un des incontournables du cinéma du dimanche soir à la télévision française.

La fin de sa carrière cinématographique fut ponctuée d'apparitions dans quelques grands films comme Le Parrain III (The Godfather: Part III, 1990), de Francis Ford Coppola, Mystic River (2003), de Clint Eastwood, ou plus récemment encore The Ghost Writer (2010), de Roman Polanski.
---
> Eli et Marilyn sur le tournage de "Les Désaxés"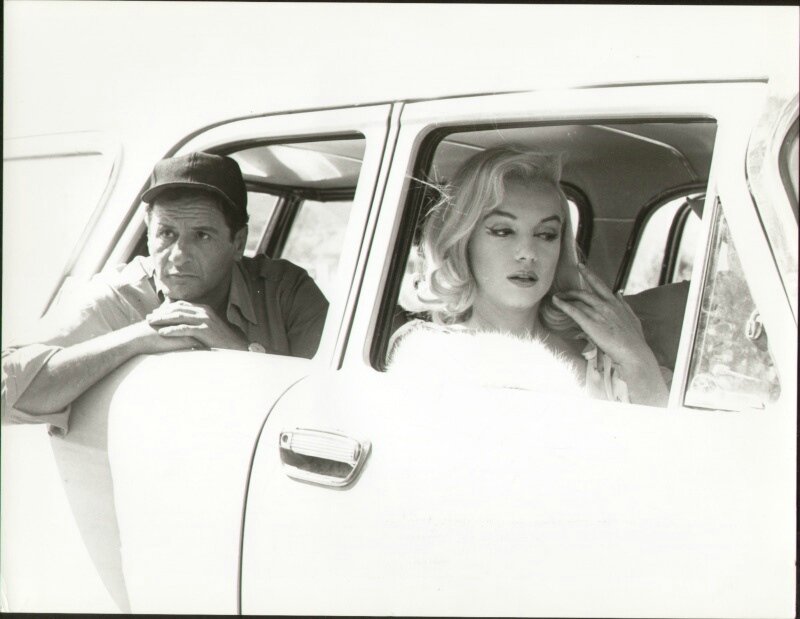 18 juin 2014

USA : 4,6 millions de dollars pour reposer aux côtés de Marilyn Monroe
Article publié le 17/06/2014
en ligne sur lefigaro.fr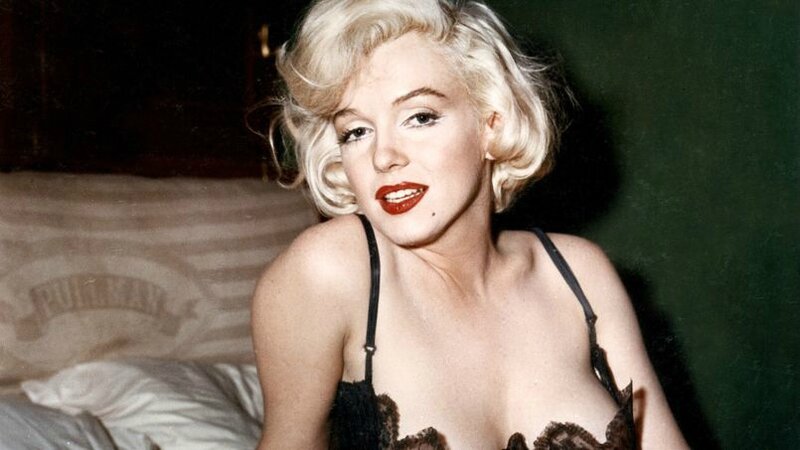 Aux États-Unis, les emplacements mortuaires situés à côté de tombes célèbres se vendent à prix d'or. Un business florissant, sordide mais en pleine expansion.

Qui veut être enterré à côté de Marilyn Monroe pour 4,6 millions de dollars ? Au pays de la démesure, rien n'est impossible. La nouvelle tendance permet de dire: «À la vie à la mort» à son idole, en se faisant enterrer le plus près possible de la tombe de celle-ci. Le New York Times explique qu'aux États-Unis il est tout à fait envisageable, et même de plus en plus à la mode, d'acheter des lots de terre et réserver son emplacement mortuaire auprès des grands artistes de ce monde. Pour reposer dans l'éternité auprès de Duke Ellington et de Miles Davis, un saxophoniste de 52 ans, Victore Goines, a déboursé la modique somme de 25.000 dollars.

C'est en 1992 que cette idée loufoque a été lancée. Hugh Hefner, le fondateur et propriétaire du magazine Playboy, avait acheté, pour 75.000 dollars, l'emplacement situé à côté de la tombe de Marilyn Monroe au Westwood Village Memorial Park Cemetery de Los Angeles. «Passer l'éternité aux côtés de Marilyn était une perspective trop plaisante pour qu'on la laisse filer», avait-il lancé. Chanceux d'avoir été un pionnier en la matière, les places aux côtés de la pin-up se sont ensuite vendues jusqu'à 4,6 millions de dollars sur eBay.

En France, un tel trafic est impossible

La vente d'emplacements «VIP» devient un vrai business aux États-Unis. Heureusement, en France, un tel trafic ne serait envisageable puisque les emplacements parisiens (cimetières où reposent la majorité des célébrités) sont donnés aléatoirement, selon disponibilités. Inutile donc d'espérer débourser des sommes astronomiques pour reposer auprès d'Oscar Wilde, Jim Morrison ou de Frédéric Chopin...
08 juin 2014
Rihanna : la robe du scandale
Article publié le 4 juin 2014
sur lemonde.fr
Quasiment nue sous une robe de mailles fines aux milliers de cristaux, la chanteuse Rihanna a été sacrée lundi 2 juin 2014 par l'élite de la mode new-yorkaise icône mode de l'année (aux CFDA Fashion Awards à New York), saluant son goût pointu mais aussi, et surtout, son audace.

Adam Selman, responsable de cette robe scandaleuse porté par Rihanna, a révélé la genèse de cette tenue. Petit ami du styliste de la star, Mel Ottenberg, il a notamment expliqué que 230 000 cristaux Swarovski avaient été cousus sur la maille translucide. Avec des gants assortis, un foulard sur la tête, une fourrure rose et un simple string, la robe a fait parler d'elle. « Nous voulions vraiment faire un peu scandaleux », a expliqué M. Selman à Style.com, tandis que M. Ottenberg a révélé qu'« au moins huit personnes [avaie]nt travaillé toute la nuit pour mettre la touche finale ».
En effet, le concepteur a enregistré une courte vidéo Instagram de son équipe en train d'appliquer minutieusement les cristaux sur le tissu. Adam Selman a déjà conçu les costumes de la tournée de Rihanna en 2011 et créé avec elle sa collection pour River Island. Mais il considère que ce dos nu, qui laisse peu de place à l'imagination, était le plus grand risque qu'il a pris à ce jour.
Le processus de création de la robe a commencé le mois dernier, quand lui et M. Ottenberg ont habillé la chanteuse pour les MTV Movie Awards.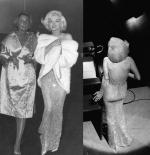 La matière mousseuse de la robe a été comparé au style « old Hollywood » que Joséphine Baker portait, mais serait également un clin d'œil à la robe qu'étrennait Marilyn Monroe pour l'anniversaire de JFK.
07 juin 2014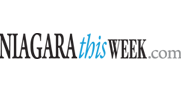 Niagara Falls' two weeks with Marilyn
Article published on July, 23, 2012
on niagarathisweek.com
Some 60 years before Nik Wallenda walked a tightrope and focused attention from across the world on Niagara Falls; nearly two decades before the Christopher Reeve's Superman made his famous flight over the mighty cataract to save a young boy's life in 1979, Marilyn Monroe brought the bright lights of Hollywood north of the border to Niagara Falls.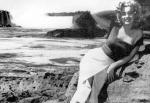 The soon-to-be screen goddess was in Niagara Falls for the filming of Niagara, a film noir classic with co-star Joseph Cotten. In total, the star was in the city for about two weeks, from June 5 to 18, 1952.

"She stayed at the General Brock Hotel — now the Crowne Plaza. She stayed in Room 801," says Sherman Zavitz, historian for the City of Niagara Falls. And when she wasn't working on the film, Monroe took pleasure with the same activities as most tourists did during the time period, he says.
"When she had some free time she took a ride on the Maid of the Mist. She shopped. She toured the Oneida silverware plant," Zavitz says. That plant is long gone — the property is now occupied by Casino Niagara — but Pauline Tanos remembers Marilyn's visit well. Her husband, Alex, who has since passed away, was a foreman in the hammer room at the Falls Avenue facility.
"He saw her. He thought she was very beautiful," Pauline says. "He whistled at her. She just kind of smiled."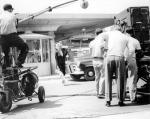 Monroe had become a well-known name by the time filming on Niagara began and thus became as big an attraction as the falls itself while she was here.
"She was certainly noticed by people around the falls," Zavitz says. "She was a well-known name at that point. She was a great looking girl — very photogenic."

Monroe had appeared in several films before Niagara including All About Eve and Monkey Business, but her role as Rose Loomis in Niagara is considered to be the one that put her career on the fast track. In the same year (1953) Niagara hit the theatres, Monroe also starred in Gentlemen Prefer Blondes as well as How to Marry a Millionaire.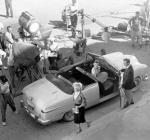 Photographer George Bailey was just eight years old at the time of Monroe's visit to Niagara but he remembers his father, Manny, talking about his many encounters with her. "My dad, who was second mate of the Maid of the Mist, had the chance to be near her many times," Bailey says. "His impression was that she was most definitely a beautiful lady but very shy or perhaps insecure."
Manny Bailey even made it into the final cut of the movie, Bailey says.
"Don't blink. He's in a scene on the plankway of the Maid of the Mist. Now, how many people can say they know someone who appeared in a movie with Marilyn Monroe ?"

Ron Dewberry and his sister, Sandra Jeanneret, were just little — Ron was five and Sandra was two — but they remember their father, Hank, telling them stories around the dinner table.
"He served them (Monroe and Cotten) dinner," Ron says. "He came home and raved about it. We didn't know what the heck was going on."
"Dad was a server at the Rapids Tavern on River Road," Sandra adds.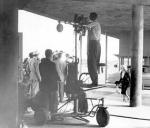 The movie centres around married couple George (Cotten) and Rose Loomis (Monroe), who are vacationing in Niagara Falls. George, a Second World War veteran is experiencing mental health issues that he thinks are due to his war experiences. Rose, meanwhile has taken on a lover and plots to have George murdered. Polly Cutler, in Niagara Falls with her husband, Ray, on their honeymoon, is in the neighbouring cabin to the Loomises and becomes the unfortunate bystander who gets caught up in the intrigue between the unhappy couple.

The Rainbow Cabins were built specifically for the movie and were taken down at the end of shooting. But buildings used in the movie can still be seen around the city, including City Hall, although the building was remodelled two years later in 1954. The former morgue located at Zimmerman Avenue and Park Street, used for the police station in the movie, still stands. The boat launch were Joseph Cotten's character steals a boat is located along Bridgewater Street in Chippawa. The building which is now the Riverside Tavern can be seen in the background. But most notably, the carillon tower near the Rainbow Bridge still stands, although the chimes are now pre-recorded. The structure plays a pivotal role in the film including its climax.
© pictures: GEORGE BAILEY/NIAGARA FALLS PUBLIC LIBRARY
03 juin 2014
Fête for Marilyn Monroe
Article published on May, 29, 2014
by Iona Kirby
online on blog willoughbyphotos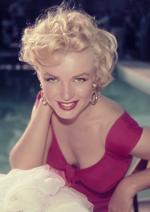 "My agent Charles Block called to tell me that 20th Century Fox had a press call for a party that was to honor Marilyn Monroe, and he wanted me to cover it. Ray Anthony, the popular band leader, had written a song called Marilyn and there would no doubt be other celebrities to photograph.

I told him that I just didn't feel this was my kind of photography, but the logic of his argument was too irresistible: "You need money to pay the bills, and anything you get on Monroe will sell!"

Reluctantly, I went. There were at least 50 other Hollywood photographers there, waiting for Marilyn to arrive. Fox had flown Marilyn from the studio to the party in a helicopter, hoping to make a dramatic entrance. As the chopper was landing, the downdraft blew all of the umbrellas, the sheet music from the orchestra, several ladies' hats and God knows what into the pool. I was standing up above, laughing at this scene.

The photographers all rushed toward the landing helicopter, and I just stood where I was. And then an amazing thing happened: Marilyn walked right up to me, with all of the other photographers trailing behind her. For one very brief moment, I had her alone. It was probably the only single shot made of her like that, and it was just pure luck.

As I was about to take the photograph, and looking down at her through my reflex viewfinder, I could feel the hairs on the back of my neck rising. Marilyn had some sort of energy field that it would seem she could switch on or off when she posed, which I don't think I will ever see again. Hollywood's publicity departments called it sex appeal and thought it was achieved by showing cleavage, but they missed the point. This attractive energy is something you are born with. It is there to see at any age. Some people have more, some less, and I prefer to call it gender."
02 juin 2014

MARILYN: The Lost Photographs of a Hollywood Star
Article published on 26 May 2014
by Todd Klick
online on limitedruns
Limited Runs is pleased to announce the exclusive release MARILYN: The Lost Photographs of a Hollywood Star. The collection of fine art prints feature previously unavailable or unseen photographs of the Hollywood legend, taken by five fascinating lensmen who stepped into the icon's life at the right place, and the right time. These uncovered images are offered for the first time as fine art prints. - See more at: http://www.limitedruns.com/blog/movie/marilyn-the-lost-photographs-of-a-hollywood-star/#sthash.q6HIf8pa.dpuf
Limited Runs is pleased to announce the exclusive release MARILYN: The Lost Photographs of a Hollywood Star. The collection of fine art prints feature previously unavailable or unseen photographs of the Hollywood legend, taken by five fascinating lensmen who stepped into the icon's life at the right place, and the right time. These uncovered images are offered for the first time as fine art prints.
The photographers featured: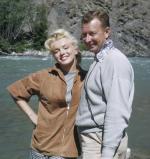 Allan "Whitey" Snyder, born in California, started his career as an assistant make-up artist on the 1948 film, The Walls of Jericho. Later, he worked as head make-up artist on Rosemary's Baby (1968), Little House on the Prairie (1981) and Highway to Heaven (1984). He was nominated twice for Primetime Emmy Awards for Outstanding Achievement in Make-Up, including one for Marilyn: The Untold Story. Assigned to do Miss Monroe's make-up for her first Twentieth Century Fox screen test in 1946, Snyder went on to develop a close working relationship with Monroe, and became best known as her personal make-up artist. Towards the end of Monroe's life, she asked Snyder to prepare her face if she were to die before him. He fulfilled that promise in 1962, and was a pallbearer at her funeral.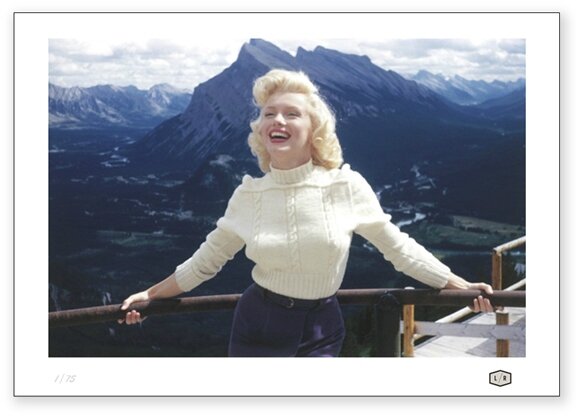 Taken by Snyder in August 1953 while on location filming River of No Return with Robert Mitchum. Look Magazine sent a photographer to this photo shoot. Milton H. Greene was assigned to shoot the cover image when he met Marilyn for the first time. Milton sent Marilyn proofs from this first sitting and Marilyn responded by sending him two dozen roses and called to say "they were the most beautiful pictures she had ever seen" and asked Milton to be her official photographer.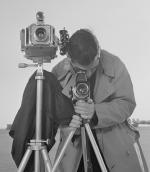 Milton H. Greene was awarded a scholarship to Pratt Institute, but decided to pursue a photography career instead. In his early twenties, he became known as the "Color Photographer's Wonder Boy." His fashion shots appeared in Harper's Bazaar and Vogue. He also photographed many high profile personalities in the '50s and '60s, including Frank Sinatra, Audrey Hepburn, Grace Kelly, Elizabeth Taylor, Judy Garland and numerous others. But it was Greene's iconic images of Marilyn Monroe, as her official photographer, that changed the course of his career.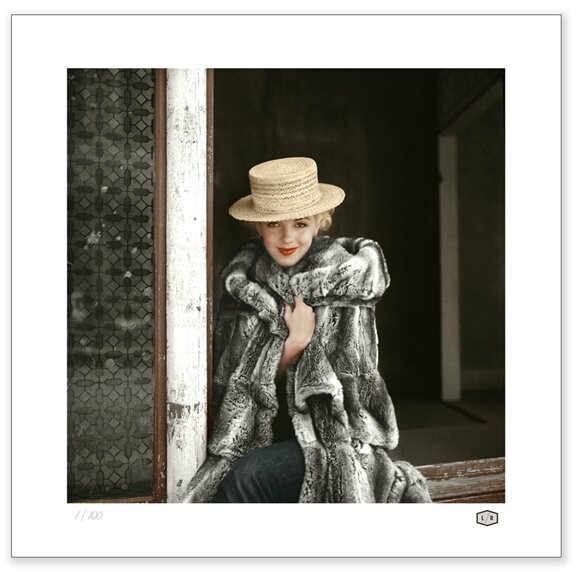 On Sunday, April 15, 1956, with a day off during filming of Bus Stop, Marilyn and Milton held a photo shoot on the 20th Century-Fox backlot, officially known as the "Grey Fur" and "Gypsy" sittings.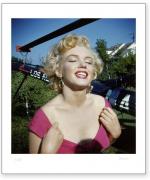 Employed as a sound engineer for ABC television, Caesars Casino in Las Vegas, and Capitol Records, Lani Carlson worked with Frank Sinatra, Elvis Presley, Ann Margaret, and The Beatles.
Posing as a photographer for the Chicago Tribune, Lani talked his way into press parties and Academy Award celebrations where he photographed celebrities like Cary Grant, Elizabeth Taylor, Clark Cable, Fred Astaire, and Marilyn Monroe.
In 1960, United Artists hired the Reno, Nevada-based cinematographer, Thomas "Doc" Kaminski, to document the filming of The Misfits, starring Clark Gable, Montgomery Clift and Marilyn Monroe. While Kaminski filmed the making of the movie, he also shot stills of the actors on set, which he mailed to his family. Those private, unpublished photos, which gathered dust for over 40 years, captured a natural and relaxed Monroe, as well as her serious acting side.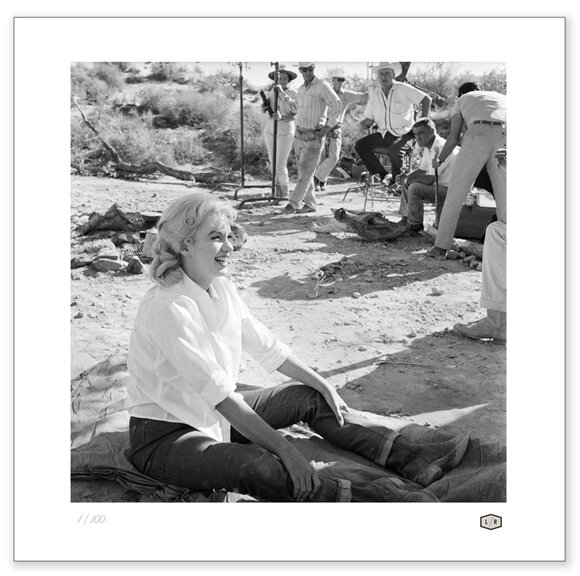 Little is known about Los Angeles photographer, Mischa Pelz. However, after a Southern California earthquake revealed one of Pelz's print boxes in the late photographer's storage room, Pelz's former assistant discovered lost photos of Marilyn Monroe that Pelz had shot one sunny afternoon in 1953—images of a burgeoning superstar the public has never seen.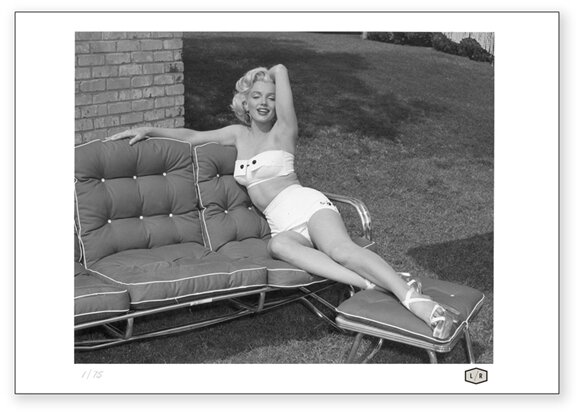 ---
> View the entire collection MARILYN: The Lost Photographs of a Hollywood Star

The collection will be available for public viewing starting in June with dates in Hollywood and San Francisco, and New York City in July with additional dates to follow in the fall.

The current dates of the exhibit are:
June 6, 2014 – Boulevard3, 6523 W. Sunset Blvd., Hollywood, CA 90028 (formerly the historic Hollywood Athletic Club)
June 19th through June 21st 2014 – Sarah Stocking Gallery, 368 Jackson Street, San Francisco, California 94111 (located in the heart of downtown San Francisco in historic Jackson Square)
July 22nd through July 26th 2014 – RASA TriBeCa Gallery, 37 Walker Street, New York, NY 10013