29 novembre 2011
lot n°268: Marilyn Monroe, Jayne Mansfield, & Mamie van Doren
9 1-sheet posters & 4 stills
(Various, 1952-56) Gelatin-silver prints (4) from Kiss Them for Me; together with 27" x 41" one-sheet posters (9) for: We're Not Married; O'Henry's Full House; Will Success Spoil Rock Hunter?; Girls Town; The sheriff of Fractured Jaw; Private Lives of Adam and Eve; Platinum High School; The Misfits; and Kiss Me, Stupid. Some have minor losses or stains, overall Very Good to Very Fine.
Estimate: $300 - $500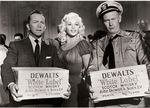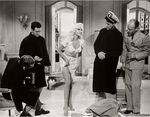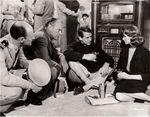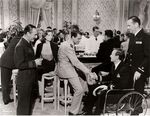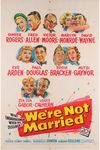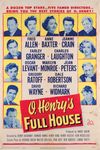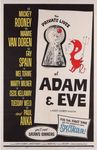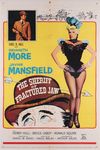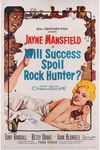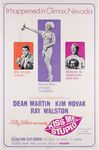 ---
lot n°696: Collection of (6) photos of Marilyn Monroe:
singing, posing, and with husbands, printed ca. 1970
Lot comprised of (6) gelatin-silver double-weight semi-gloss 11" x 14" prints of Marilyn Monroe, printed ca. 1970 from the original negatives. Includes: recording "Let's Make Love" soundtrack (2); at beach in bathing suits (2); and one each with husbands Joe DiMaggio and Arthur Miller. Tiny corner losses and minor bumping and handling, else Very Good to Fine.
Estimate: $300 - $500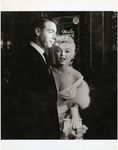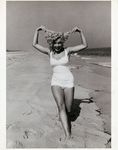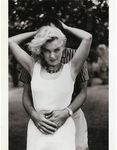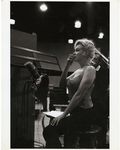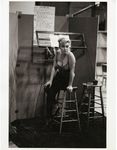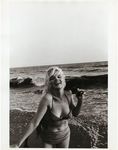 ---
lot n°697: Collection of (5) oversize photos of Marilyn Monroe at home,
printed ca. 1970
Lot comprised of (5) gelatin-silver double-weight semi-gloss 11" x 14" prints of Marilyn Monroe, printed ca. 1970 from the original negatives. All shot at various times in one or more of Marilyn's own homes. Tiny corner losses and minor bumping and handling, else Very Good to Fine.
Estimate: $200 - $300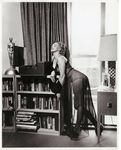 ---
lot n°698: Marilyn Monroe oversize print by Andre de Dienes, café window pose
(1949/'92) 11"x14" fiber print, Estate signed and stamped. Very fine.
Estimate: $400 - $600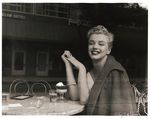 ---
lot n°701: Collection of (4) 16 x 20 photos of Marilyn Monroe intimate portraits,
printed ca. 1970
Gelatin-silver double-weight semi-gloss 16" x 20" prints (4) of Marilyn Monroe, all being intimate portraits from various locations and times, printed ca. 1970 from the original negatives. Condition varies, with minor to moderate handling, creasing, and edge chipping from storage to each.
Estimate: $200 - $300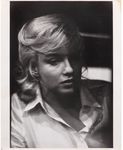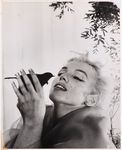 ---
lot n°703: Marilyn Monroe original 4 x 5 in. color camera transparency
Marilyn Monroe original color camera transparency, swimsuit pose with platform shoes
Estimate: $200 - $300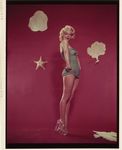 ---
lot n°706: Marilyn Monroe original 4 x 5 in. color camera transparency
Color 4 x 5 in. transparency of Marilyn Monroe posing seated in a kitchen wearing a bathing suit. Very fine
Estimate: $200 - $300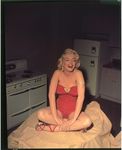 ---
lot n°707: Marilyn Monroe original 3 x 4 in. color camera transparency
Color 3 x 4 in. transparency of Marilyn Monroe glamour shot wearing fur. Pinhole at lower left corner tip. Very fine.
Estimate: $200 - $300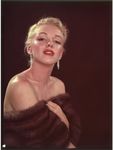 ---
lot n°709: Marilyn Monroe original camera negatives
from How to Marry a Millionaire and Something's Got To Give
Five (4) 8 x 10 in. ((1) 4 x 5 in.) original camera negatives on safety film of Marilyn Monroe, one from How to Marry a Millionaire (1953), one from The Misfits (1961), and two from Something's Got To Give (1962). A print accompanies the 4 x 5 in. negative and is crossed out in orange marker, presumably done by Marilyn herself, since she had editorial rights to all of her publicity images and typically used this color pen. One with pencil retouching. Fine.
Estimate: $400 - $600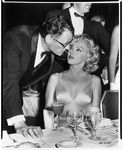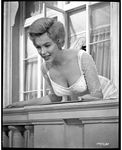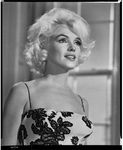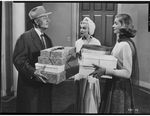 ---
lot n°711: Marilyn Monroe original camera negatives, glamour poses
Five (5) 4 x 5 in. original camera negatives on safety film of Marilyn Monroe in glamour poses, one risqué topless portrait attributed to Earl Moran. Very fine.
Estimate: $400 - $600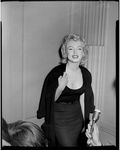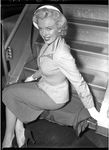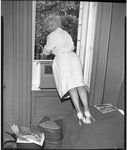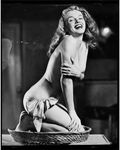 ---
lot n°714: Pair of Marilyn Monroe 8 x 10 color transparencies from How to Marry a Millionaire
Pair of color 8 x 10 in. color transparencies, one of Marilyn Monroe with Betty Grable and Lauren Bacall from How to Marry a Millionaire and one with Yves Montand from Let's Make Love. Very good and Fine.
Estimate: $200 - $300

---
lot n°725: Marilyn Monroe collection of (10) portrait and scene stills, 1950-1963
Gelatin-silver glossy prints (9) and (1) color still, of Marilyn Monroe from the following films: Asphalt Jungle (1950, 1); Home Town Story (1951, 1); We're not Married (1952, 1); Don't Bother to Knock (1952, 1); The Seven Year Itch (1955, 1); The Prince and the Showgirl (1957, 3 including special cheesecake publicity pose); Something's Got to Give (1962/uncompleted, 1); and Marilyn (1963, 1). Two trimmed slightly for publication, generally Very Good to Fine.
Estimate: $200 - $300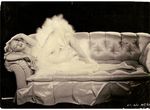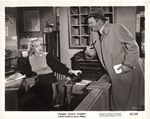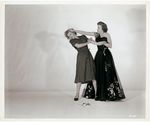 ---
lot n°727: All About Eve British Quad poster
(TCF, 1950) British Quad, 30 x 40 in., folded and unrestored. Very fine. Remarkable, unused condition.
Estimate: $500 - $700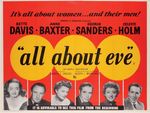 ---
lot n°728: All About Eve British Quad poster
(TCF, 1953) British Quad, 20 x 40 in., folded and unrestored. Faint ½ in. creased tear at upper center margin; otherwise, Very fine. Remarkable, unused condition.
Estimate: $500 - $700

---
lot n°729: "Marilyn" signature title art for the 1963 documentary Marilyn
(TCF, 1963) Title camera art for the Twentieth Century-Fox compilation of archival footage documenting Monroe's early studio beginnings as a bit player in A Ticket to Tomahawk (1950) to her final screen moments in the unfinished Something's Got to Give (1962). Enamel on glass, the entire piece measures 24 in. x 34 in, the logo art measures approx. 6 in. x 20 in. The portrait of Marilyn is a reproduction to complete the display. Housed in an archival frame and perfect for display. An original piece created for the production by Pacific Title.
Estimate: $6 000 - $8 000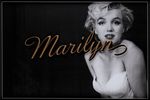 ---
lot n°730: Life magazine newsstand poster of Marilyn Monroe's first Life cover, 1952
Newsstand poster featuring the April 7, 1952 issue of LIFE magazine with cover photograph of Marilyn Monroe by Philippe Halsman, being her first of many LIFE covers to follow in the next decade. One of the most iconic and indelible images from her early career. Measures 26 ½ in. x 34 ½ in. on linen measuring 28 ½ in. x 36 ½ in. Very fine.
Estimate: $800 - $1 200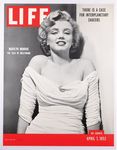 ---
lot n°731: Marilyn Monroe and Joe DiMaggio wire photo from their wedding day
Gelatin-silver print, 7 in. x 9 in. UPI wire photo (not trimmed, this is correct size for this medium) dated 1/14/[1954] announcing the marriage by civil ceremony of Marilyn Monroe to Joe DiMaggio. Friends close to both reported later that Marilyn informed her studio press agent ahead of time, unbeknownst to Joe who wanted a quiet and very private event. This kind of discord likely contributed heavily to the marriage lasting a mere nine months. Wire photos tend to be much more ephemeral than studio publicity material, as they were the "fax" of the time for news organizations to spread images quickly, and tended to be discarded immediately. This example remains in exceptional condition for a print of its type.
Estimate: $300 - $500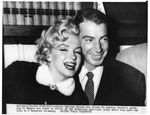 28 novembre 2011

Mardi 29 novembre 2011 - sur Arte - à 14:45
Film - Mister Lonely
Durée : 108 minutes
Année et origine : 2006, Royaume-Uni, France.
Réalisateur: Harmony Korine
Image: Marcel Zyskind
Musique: Jason Spaceman, The Sun City Girls
Montage: Paul Zucker, Valdís Oskarsdóttir

Acteur: Denis Lavant, Diego Luna, Esme Creed-Miles, James Fox, Samantha Morton.
L'histoire: Les pérégrinations d'un groupe de sosies de stars vivant en communauté au fin fond de l'Écosse. Un ovni drôle et mélancolique signé Harmony Korine.
Le speech: À Paris, le sosie de Michael Jackson rencontre celui de Marilyn Monroe. Cette dernière vit dans un château en Écosse, entourée de clones de stars : Charlie Chaplin, son mari, leur fille Shirley Temple, mais aussi le pape, James Dean, la reine d'Angleterre, Abraham Lincoln et d'autres encore. Tombé sous le charme de la belle Marilyn, Michael accepte de la suivre dans les Highlands...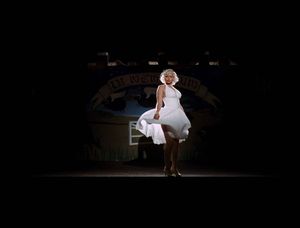 Critique du site arte: Soif d'absolu
Le réalisateur porte un regard plein de tendresse sur ces sosies faussement joyeux qui préfèrent se réfugier dans un monde où personne ne vieillit et où tous sont célèbres plutôt que de se cogner à la vie. Dans une ambiance surréaliste, Michael, Marilyn et leurs acolytes tentent ainsi de monter un spectacle afin de conquérir le public local. Parallèlement, dans la jungle, un groupe de nonnes fait l'expérience du miracle en s'initiant à la chute libre. Mêlant humour farfelu et poésie d'une infinie tristesse, ce film déconcertant offre une réflexion sur la solitude, et sur la soif d'absolu, qui trouve rarement satisfaction.
> sur le blog
l'article sur Samantha Morton

lot n°716: Marilyn Monroe (Norma Jeane) original family photograph
age 2, with her later notation on verso
From the personal effects of a relative of Marilyn Monroe (nee Norma Jeane Mortensen/ Baker) to the owner of the image archive "Silver Screen" (now deceased), to the current owner, an original gelatin-silver 3¾" x 4¾" family snapshot of toddler Norma Jeane at the beach. She is playing with another toddler she calls "Donna" in the pencil notation attributed to Norma Jeane herself, "gidy up horsy" at the beach, Donna & me I'm the horse"; comparisons were carefully made to other writing from her teen years, and this is a confident match, so she could have made this notation anytime before leaving home at age 16.
Estimate: $800 - $1 200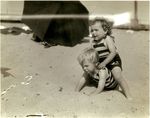 ---
lot n°717: Marilyn Monroe unique collection
of 16+ personally owned family photographs and negatives
of Marilyn Monroe and her Mother.
A unique archive of 16+ original 2 ½ x 4 ¼ in. to 3 ½ in. x 4 ½ in. personal family photographs and negatives of Marilyn Monroe with her mother Gladys Pearl Baker (née Monroe) and presumably grandmother, as well as other family members and friends spanning toddler age through to adolescence. Her mother Gladys is pictured in several with a woman who is likely her best friend, Grace McKee, the woman that went on to become her guardian and ward of state. Marilyn is pictured in several as a toddler, as a teenager holding a baby on a bench, standing with Chico Marx on stage, as a young swimsuit model etc. Includes additional copy prints and negatives made from original photographs (originals not present). Approx. 30 items total. An incredible glimpse into Marilyn's early family life and unique opportunity to acquire a rich trove of original material.
Estimate: $2 000 - $3 000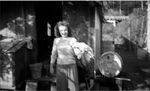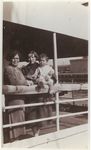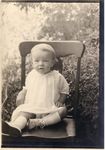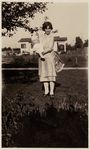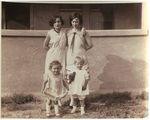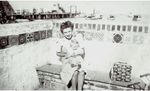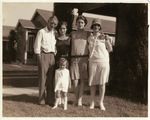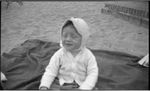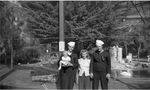 ---
lot n°718: Marilyn Monroe (Norma Jeane) original photobooth
snapshot self-portrait, Ca. 1940
From the personal effects of a relative of Marilyn Monroe (nee Norma Jeane Mortensen/ Baker) to the owner of the image archive "Silver Screen" (now deceased), to the current owner, a 1 ½" x 1 ¼" self-generated "photobooth" self-portrait, cut out of the original multi-shot strip by a teenage Norma Jeane and given to a family member. We have not heard of the survival of other such photos generated by[Marilyn] herself, though of course at least a few must have been generated at the time, so it is conceivable for this to be a unique artifact in the pantheon of Marilyn Monroe's history. In any case, it is unique for this particular shot, as the photobooth technology only creates a single print of each exposure. Side margins are intact, and this particular image was trimmed out of the middle of a multi-shot strip, so no upper or lower margin is present; else, surprisingly Fine for such a small ephemeral object.
Estimate: $800 - $1 200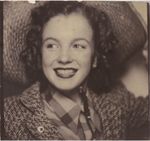 lot n°721: Marilyn Monroe's personal photograph
signed by Clark Gable, Humphrey Bogart, Gary Cooper...
Marilyn Monroe's personal photograph signed by Clark Gable, Humphrey Bogart, Lauren Bacall, Gary Cooper, Jimmy Stewart, Peter Lawford, William Holden, Groucho Marx, Susan Hayward and others - Gelatin silver matte double-weight 16 ¼ in. x 20 ¼ in. print of Marilyn Monroe by Frank Powolny. Signed in ink, likely as a get-well gesture, by numerous Hollywood stars (some of which she never worked with): Jimmy Stewart, Gary Cooper, Henry Hathaway, Clifton Webb, Claudette Colbert, Robert Stack, Humphrey Bogart, Lauren Bacall, Peter Lawford, Susan Hayward, Clark Gable, William Holden, Evelyn Keyes, Groucho Marx, and others. Approx. 29 signatures total. Very good; with ¼ in. tear at the upper left border, border creases, and mounting remnants on the verso. Provenance: Christie's New York - The Personal Property of Marilyn Monroe, Lot 1, October 27-28, 1999 and sold for $88,300.
Estimate: $30 000 - $50 000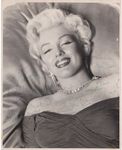 ---
lot n°722: Marilyn Monroe beautiful photograph signed
Gelatin silver glossy 8 x 10 in. portrait of a young Marilyn Monroe wearing a sheer lace trimmed nightgown.
Inscribed and signed in light blue ink, "To Eddy Lavender, Best Wishes, Marilyn Monroe." Dated Feb. 20, 1948 in an unknown hand on the verso. Exhibits tiny brown dot in lower margin, faint emulsion cracks, and crease at lower right corner; otherwise, Fine condition.
Estimate: $12 000 - $15 000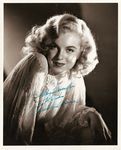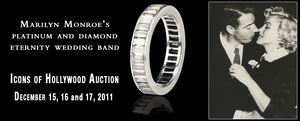 lot n°732: Marilyn Monroe's platinum and diamond
eternity wedding band given to her by Joe DiMaggio
A platinum eternity band set with 35 baguette-cut diamonds (one diamond missing just as it was at the Christie's Personal Property of Marilyn Monroe sale in 1999), VS1 clarity with a total carat weight of 3.5 (when all diamonds were present), given to Marilyn Monroe by Joe DiMaggio on their wedding day on January 14, 1954.

After Marilyn did some publicity photographs wearing a sexy short-skirted baseball outfit in the winter of 1951-1952, DiMaggio saw the pictures and learned that she was a rising Hollywood starlet and was determined to meet her as soon as possible. They were introduced at an Italian restaurant on Sunset Boulevard and DiMaggio was surprised to learn that she had never attended a baseball game and knew practically nothing about the game. For his part, DiMaggio was suspicious of Hollywood and its invented idolatry. Despite this, the couple had an immediate and palpable chemistry; Marilyn was drawn to this calm, handsome ex-ballplayer while DiMaggio was smitten by her considerable charm and a passionate romance was instantly ignited.

The two were married in an intimate civil ceremony at San Francisco City Hall, out of the spotlight, a rarity for both of them. DiMaggio's friend Reno Barsocchini and his old San Francisco Seals manager, Francis Joseph "Lefty" O'Doul, together with O'Doul's wife and the judge were the only people in attendance. Marilyn had no loved ones present. Standing beside Joe, holding three orchids, she promised to "love, honor and cherish." When the orchids withered in her perspiring hands, she turned to Joe and asked that if she died before him, would he place flowers at her grave every week, like William Powell had done at the grave of Jean Harlow? Joe promised that he would.

When the ceremony was completed, the newly married couple exited the courtroom to over 100 reporters, fans and autograph hounds. Unbeknownst to Joe, Marilyn had shared the news with studio publicity chief, Harry Brand. The newlyweds were photographed kissing and submitted to a barrage of questions including famously, "How many children did they plan?" "I'd like to have six," Marilyn responded. "One," said Joe.

The dreams of America's favorite couple were short-lived as the couple's relationship was strained from the outset. On September 15, 1954 during filming of the famous subway grate sequence of The Seven Year Itch, DiMaggio was urged by friend Walter Winchell to come view the spectacle that was taking place on Lexington Avenue. DiMaggio relented and witnessed the iconic scene of Marilyn astride the subway vent with white dress billowing upward. DiMaggio was furious and stormed off. Two weeks later, Marilyn filed a petition for divorce; the marriage lasting only nine months.

In February, 1961, Monroe was admitted to the Payne Whitney Psychiatric Clinic where she contacted DiMaggio. He secured her release and she spent some time with him in Florida where the couple reconciled. True to his promise, after her death, DiMaggio continued to send one half-dozen roses to her crypt three times a week for 20 years. Unlike Marilyn's other husbands or others who knew her, DiMaggio refused to talk publicly about her, the woman he loved more than any other.

Provenance: Christie's Personal Property of Marilyn Monroe, Lot 10, October 27-28, 1999 and sold for $772,500.
Estimate: $300 000 - $500 000
lot n°733: Marilyn Monroe signature camisole top
by Travilla from River of No Return
(TCF, 1954) For Marilyn's studio-imposed adventure in the Canadian wilderness, director Otto Preminger chose to bless film-goers with the joy of watching her, for a large part of the screen time, in this simple yet highly erotic camisole designed by Travilla. Complemented on screen by skin-tight blue jeans, and accented at one point with a good soaking in the river rapids, this little bit of cotton muslin with lace embroidery has become over the succeeding decades one of Marilyn's most recognized, iconic, and exploited fashions. With interior label inscribed "1-81-2- 4739 A713-05 M. Monroe". A few very minor stains, otherwise virtually identical to condition as worn on screen, including the off-white coloring, and the intentional rough-hewn bottom margin. A precious and immediately identified artifact from this great star's career.
Estimate: $40 000 - $60 000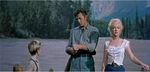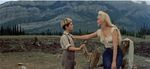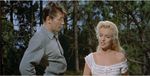 ---
lot n°734: Marilyn Monroe 2-piece dance costume
by Dorothy Jeakins from Let's Make Love
(TCF, 1960) For Marilyn Monroe's singing and dancing character "Amanda Dell" in Let's Make Love, Dorothy Jeakins designed for her this sheer, sexy two-piece pink silk shirt/ black dance-brief combination, worn for rehearsal scenes in the stage musical set within the film. Both pieces bear internal TCF labels inscribed "F-13 M. Monroe" and apart from a few scattered minor to moderate stains in the shirt and minor separations in the brief, they remain essentially intact and presentable. With the long sleeves casually rolled up and shirt tucked into brief, this was a lovely and happy look for her in what was to be her penultimate film.
Estimate: $80 000 - $100 000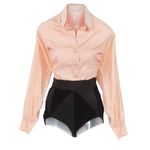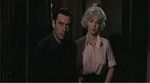 ---
lot n°734: Marilyn Monroe "Vicky" green cummerbund
from There's No Business Like Show Business
(TCF, 1954) The stylish "color" accent to a very simple though effective costume designed by Travilla for Marilyn Monroe in There's No Business Like Show Business, being a large green cummerbund-sash which she wears over a Capri-style black full-body leotard for her languorous and eminently sexy performance of "Lazy". Bears internal studio wardrobe tag inscribed in cursive "Marilyn Monroe A729-38" with a few faint stains or fading spots, generally Fine.
Estimate: $6 000 - $8 000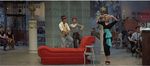 lot n°762: Warner Brothers Large bronze key ca. 1950"s,
a symbolic key to the studio 11 inches x 4 inches
A tradition existed for some years at Warner Bros. Studio of welcoming dignitary and celebrity guests (like major stars on loan from other studios) with one of these commemorative "keys to the studio" in a publicity event for the benefit of promoting Warner's largesse and standing in the industry. One such key was presented to Marilyn Monroe by Jack Warner when she filmed The Prince and the Showgirl with them, and that key was sold at her estate auction by Christie's in 1999 for $32,200. Polished cast bronze, 11 in. x 4 in. and weighing 12.2oz.
Estimate: $2 000 - $3 000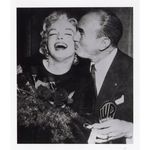 lot n°694: 18-year-old Marilyn Monroe amazing autograph letter signed
18-year-old Marilyn Monroe amazing autograph letter signed - MONROE, MARILYN. Amazing Autograph Letter Signed "Norma Jeane", Four pages, blue-lined Octavo sheets, dated June 15, 1944. Penned at the top, and stricken-through, is the address "14668 Parthenia St, Van Nuys" (curiously, she never lived at that address). Written to Grace Goddard, Norma Jeane's legal guardian and 'mother' figure during the tumultuous years of her youth. Norma Jeane — just 18 years of age — pens (in full):

"Dearest Grace,
I was so happy to hear from you. I was so thrilled to read your letter and learn of all that you have been doing lately. [Grace had recently moved to West Virginia]
I will send you your picture very s[h]ortly now, I'm going down Saturday to find out more about it. Also will send you lots of snapshoots at the same time I send you the picture. I found out that a 10² x 12² (that was the size you wanted wasn't it?) cost exactly $5.00.
Jimmie has been gone for seven weeks and the first word I received from him was the day before my birthday. He sent a cable night letter by Western Union saying 'Darling, on you birthday, I send you a whole world of love'. I was simply thrilled to death to hear from him.
I have never really written and told you of Jimmies and my married life together. Of course I know that if it hadn't been for you we might not have ever been married and I know I owe you a lot for that fact alone, besides countless others. That is why I feel that I should let you know about us. I love Jimmie just more than anyone (in a differn't way I suppose than anyone) and I know I shall never be happy with anyone else as long as I live, and I know he feels the same towards me. So you see we are really very happy together that is of course, when we can be together. We both miss each other terribly. We will be married two years June 19th. And we really have had quite a happy life together.
I am working 10 hrs. a day at Radioplane Co., at Metropolitain Airport. I am saving almost everything I earn (to help pay for our future home after the war.) The work isn't easy at all for I am on my feet all day and walking quite a bit.
I was all set to get a Civil Service job with the Army, all my papers filled out and everything set to go, and then I found out I would be working with all Army fellows. I was over there one day, there are just too many wolves to be working with, there are enough of those at Radioplane Co. with out a whole army full of them. The Personal [Personnel] Officer said that he would hire me but that he wouldn't advice it for my own sake, so I am back at Radioplane Co. & pretty contented.
Well I guess that is about all for now.
With much love,
Norma Jeane"

Summer of 1944 was a fateful time for young Norma Jeane Dougherty. Circa 1943-44, she landed her first job at Radioplane Co. (a defense contractor in Burbank, California), through the influence of her mother-in-law, Ethel. Her husband, Jim, had recently joined the U.S. Merchant Marine and shipped off to war just "seven weeks" previously.
Although she here thanks Grace for the instrumental role she played in organizing and consenting to her marriage, it is known that she later harbored feelings of resentment towards Grace for taking off to West Virginia (in effect, abandoning Norma Jeane), and believed that her "surrogate mother" had arranged the marriage as a convenient way to get rid of her. Despite Norma Jeane gushing over her love for her husband, her marriage was soon to unravel. Just a few months later, Norma Jeane met a man who would vault her to stardom: Army photographer David Conover. Conover had been tasked by his commanding officer (who was, interestingly enough, actor and future President Ronald Reagan) to photograph women factory workers who were helping with the war effort. Making the rounds at Radioplane he was naturally drawn to Norma Jeane, who, along with her stunning beauty and bubbly personality, seemed to have a certain "aura" around the camera.
She soon appeared on the cover of Yank magazine, and the die was cast. Heeding the advice of Conover and Grace, she obtained a divorce from Dougherty (September 13, 1946), and began one of the most famous careers in Hollywood.
A wonderful letter, showing how Norma Jeane viewed her world and her future with Jim Dougherty just two years into their marriage — though her life would soon change forever. Numerous corrections throughout, and page one exhibits original ink-blot. Overall, in excellent condition.
Estimate: $40 000 - $60 000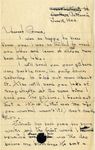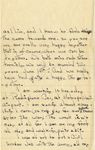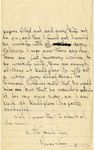 ---
lot n°719: Marilyn Monroe's personal annotated
working promptbook-script for The Sleeping Prince
(aka The Prince and the Showgirl) - (Warner Bros., 1957) Clasp-bound in crimson paper covers, and intentionally printed in half-size (5" x 8") for ease of use on set, especially considering the elaborate costumes required for this drawing-room comedy starring, and co-produced by, Marilyn Monroe and Laurence Olivier. This example is identified on the specially-printed titled front cover as "PERSONAL COPY OF MISS MONROE". Many pages inside exhibit not only scene and dialogue notes attributed to Monroe's own hand, but many personal thoughts and observations by her as well, namely "What am I doing here with this man/I can't believe my eyes, ears/ watch him/'oh no'/this idiot/ Chanel #5/ I just think it's a joke/ don't take anyone else's tone/ affective memory/ heart breaking" plus at least one slightly naughty joke, "like a music box: a tinkle", among other 'notes to self'. Accounts from the time agree that Marilyn had more trouble working with Olivier than with any other male lead in her career. At least (31) of this small, character-dialogue promptbook-script's (68) pages exhibit anywhere from one to numerous notations by Miss Monroe, making this one of the most intensely personal artifacts extant from her professional career. Covers are significantly tattered all around the margins, and front cover, together with first (2) pages, are torn 2/3 down from top near spine, else intact and complete as originally issued.
Estimate: $30 000 - $50 000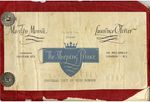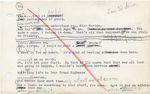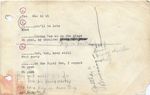 ---
lot n°723: Marilyn Monroe signed check to her housekeeper, Eunice Murray
Personal check signed, 3 in. x 8 ¼ in., dated July 10, 1962 and drawn from Marilyn Monroe's account paying her housekeeper Eunice Murray $100.00. Signed "Marilyn Monroe" in blue ink. Cancellation stamps on recto and verso and bearing Murray's endorsement signature on the verso. Murray was Monroe's housekeeper during the last years of her life and accompanied Monroe during her trip to Mexico in February, 1962. Eunice Murray was staying with Monroe the night of the star's death and reportedly called Monroe's psychiatrist, Dr. Ralph Greenson, upon discovering the body the night of August 5, 1962. This check was signed just three weeks prior to Monroe's death and amazingly stamped "PAID" on August 7, two days after she died. A wonderful association.
Estimate: $1 500 - $2 500


---
lot n°724: Joe DiMaggio autograph postcard signed to Marilyn Monroe
Autograph Postcard Signed, "Joe," to "Dearest Marilyn" from Copenhagen, Denmark and postmarked May 20, 1962. DiMaggio pens, "Dearest Marilyn, Have a short stop over here at Copenhagen enroute for the 'long underwear country.' Should be there in about three hours. Spent nine days here in 1958. Wonderful country. The famous Tivoli park was one of my favorite places. Love, Joe." Addressed in DiMaggio's hand to "Miss Marilyn Monroe, 12305 Fifth Helena Dr., Los Angeles 49, California, USA." In February, 1961, Monroe was admitted to the Payne Whitney Psychiatric Clinic where she contacted DiMaggio. He secured her release and she spent some time with him in Florida where the couple reconciled. Accompanied by a printed photograph of the couple on their wedding day
Estimate: $4 000 - $6 000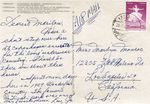 ---
lot n°737: Marilyn Monroe invitation to JFK birthday celebration with call sheet from her personal property
From the Christie's 1999 sale of the personal property of Marilyn Monroe, three items for one event which document one of the most significant personal moments for her. In chronological sequence, the first is the personal invitation from "New York's Birthday Salute to the President" requesting her presence at Madison Square Garden on May 19, 1962 to celebrate President John F. Kennedy's birthday gala party; the second is a 2pp mimeo call-sheet for the evening's order of events, detailing Marilyn's appearance at #35, "Marilyn Monroe and Stars", which an unknown hand has doodled what might be a stage, and written in red grease pencil, with corrections in graphite, "Who do you have to be to ask- Who do you have to be to be disappointment-" ; the last is the official illustrated program for the birthday event with iconic portrait of Kennedy on cover, with red, white and blue patriotic design. All three items were the personal examples in Marilyn Monroe's possession during the time of this historic event, for which she performed an extraordinarily sexy, breathy rendition of "Happy Birthday"to the President (even calling in sick to work at Fox in order to do so), and each shows extra folds and slight handling by her, presumably to secure inside a purse that night. Kennedy remarked on stage that he could retire from politics after such a performance; Peter Lawford introduced her as "the late Marilyn Monroe", and sadly she would be gone to a mysterious death in just over two months.
Provenance: Christie's Personal Property of Marilyn Monroe, Lot 54, October 27-28, 1999 and sold for $129,000.
Estimate: $40 000 - $60 000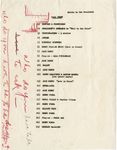 lot n°736: Marilyn Monroe portrait by Romeo Catozella
after a Modern Screen magazine cover
From her personal property - Acrylic on canvas, 28 in. x 22 in. (incorrectly catalogued by Christie's as oil) executed by artist and Marilyn Monroe fan Romeo Catozella of New York, and gifted to her. Based on a 1955 Modern Screen magazine cover photo portrait of Marilyn, and kept by her until her death in 1962. Includes an issue of the 1955 Modern Screen magazine. Provenance: Christie's 1999 Personal Property of Marilyn Monroe, Lot 346, $23,000.
Estimate: $10 000 - $15 000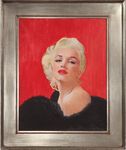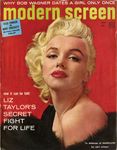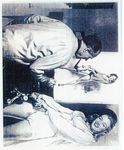 ---
lot n°738: Nude oil painting of Marilyn Monroe by Earl Moran
Original colorful painting by Earl Moran of a young and nude Marilyn Monroe in a prone pose painted from life circa 1948-1949. Accomplished in oil on board measuring 23 ½ in. x 35 ½ in. Signed "Earl Moran" at the lower right. Matted and framed.
Earl Moran (1893-1984) was the most important pin-up artist of the period. He studied with the legendary anatomist George Bridgman at the Art Students League in Manhattan, and after moving to Chicago in 1931, opened a small photograph and illustration studio. He submitted some paintings of models in bikinis to two calendar companies, Brown and Bigelow and Thomas D. Murphy Company, both of which purchased his work and launched his career. One year later he signed an exclusive contract with Brown and Bigelow and sold millions of calendars for the company over the next few years.
He moved to Hollywood in 1946 when a young starlet named Norma Jeane Dougherty was sent to his Sunset Boulevard studio by the Blue Book Agency. Over the next four years, Marilyn came by once a month for a two-hour modeling session. After Moran chose a costume, the models would assume dozens of poses while he peered through his camera's 20-pound lens. He generally worked in pastels traced in charcoal from his print, but this is one of only a few oils he did and without a doubt his very best subject.
The photograph he worked from for this sitting was taken by Moran's wife, and shows Marilyn lying prone and topless on cushions while wearing bikini briefs. As she became more comfortable during the session she removed the briefs and allowed Moran to complete the painting of her completely nude and adding a stylized colorful pillow-like base. Marilyn's beaming smile is a testament to her comfort and natural demeanor while posing for Moran.
Of all the models he worked with he thought Monroe was the sexiest, "better than anyone else…She expressed just what I wanted." They met for the last time on the set of There's No Business Like Show Business (1954). Marilyn embraced Moran telling him she loved the way he made her legs look wonderful. Certainly no better endorsement for this fine painting.
The consignor was a Moran pin-up model and a close friend of Earl Moran who gifted her the painting in the 1960s.
Estimate: $70 000 - $90 000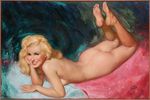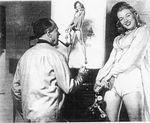 ---
lot n°1186: Original painting of Jack Lemmon as "Jerry" from Some Like it Hot
Original portrait of Jack Lemmon as "Jerry" from Some Like It Hot accomplished in oil on canvas. Stands 69 ¼ in. tall x 19 in. wide. Exhibits some cracking and moisture damage at the top edge. Includes a candid framed color print of Lemmon and Marilyn Monroe on the set of the film. Special shipping arrangements will apply.
Estimate: $300 - $500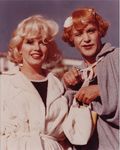 27 novembre 2011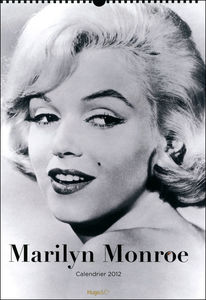 Calendrier 2012 Marilyn Monroe; édité par Hugo & Cie, avec 24 photographies noir et blanc (1 page pour 15 jours).
Prix éditeur: 19,95 Euros (on le trouve à 18,95 Euros à Carrefour).