06 janvier 2012
Le 9 juillet 1949, Marilyn Monroe se rend à Chicago: elle participe au lancement d'un match de base-ball au stade Wrigley en compagnie de stars d'Hollywood comme Roddy McDowall, Jean Peters, Claudette Colbert et Virginia O'Brien. Est-ce à cette occasion qu'elle rencontra son futur mari Joe DiMaggio ?
In 1949, July, 9, Marilyn Monroe goes to Chicago: she attended a Chicago Pro-Celeb Baseball Match in the Wrigley Field with Roddy McDowall, Jean Peters, Claudette Colbert, Virginia O'Brien and other Hollywood stars in the making. Did it on this occasion that she met future husband, Joe DiMaggio ?
> Presse : 'Boston Evening American'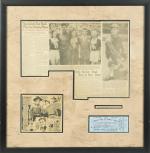 ---
Le soir, elle se rend au Rickett's NightClub avec Roddy McDowall.
The evening, she goes to the Rickett's NightClub with Roddy McDowall.

>> sources:
Photos à vendre sur marilynmonroe-photos.com
---
> dans la presse / in the press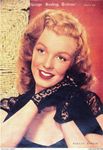 ---
© All images are copyright and protected by their respective owners, assignees or others.
copyright text by GinieLand.
Enregistrer
En hommage à la photographe Eve Arnold (1912 - 2012) qui vient de nous quitter à l'âge de 99 ans, la nouvelle bannière du blog représente Marilyn se reposant en 1955 lors de son voyage à Bement, suivie et photographiée par Eve Arnold.
Eve Arnold, un regard sans concession
Publié le 6/1/2012,
en ligne sur liberation
Disparition. Première femme à avoir rejoint l'agence Magnum en 1951, la photographe est morte à 99 ans.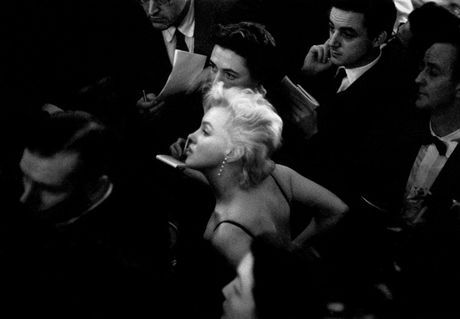 Marilyn à New York en 1956, pour la sortie du film «le Prince et la danseuse».
© Eve Arnold, Magnum
Eve Arnold est morte hier (mercredi 4 janvier 2012) à Londres, dans une maison de retraite. Elle avait 99 ans. Première femme à rejoindre l'agence Magnum en 1951, l'Américaine fut une photographe légendaire, tout autant par la qualité de ses reportages que par sa ténacité - comme les photojournalistes de cet âge d'or - à être au cœur de ses sujets. Presque dans leur ombre. Comme lorsqu'elle immortalisa la fragilité transparente de Marilyn Monroe sur le tournage des Misfits, film culte de John Huston, dans un corps-à-corps d'une grande sensualité, sous la lumière surnaturelle du désert du Nevada.
Visa. «Je pensais qu'elle avait un don devant l'objectif, mais ce don s'est révélé être du génie», confiera-t-elle un jour, toujours ravie d'évoquer la mémoire de celle qui la fit connaître au grand public. Il n'y eut pas que Marilyn. Le cinéma, ses stars et leurs péchés mignons, de Joan Crawford à Elizabeth Taylor, constitueront l'un de ses thèmes préférés, car elle avait un goût certain pour la mise en scène.
Née le 21 avril 1912 à Philadelphie (Pennsylvanie), Eve Arnold est la fille d'immigrants russes (le père était rabbin), qui eurent neuf enfants. Elle prit ses premières photos en 1946 avec un Rolleicord offert par son petit ami, avant d'étudier, en 1948, à la New School for Social Research de New York sous la direction d'Alexei Brodovitch, tête chercheuse du Harper's Bazaar. Son sujet d'études : Harlem. Qui lui vaut les félicitations de son professeur et un visa pour continuer… La reconnaissance viendra très vite, dès 1951, grâce au Picture Post qui la propulse tout en haut de l'affiche. Elle a de la chance, surtout du cran, et il en faut dans le monde si masculin de la photographie, où ses confrères, avec leurs Leica, occupent beaucoup de place.
Après son ancrage à l'agence Magnum, tout sourit à Eve Arnold, femme curieuse qui aborde de multiples sujets, de la maternité à la convention républicaine, de Mrs Kennedy à Margaret Thatcher, sans oublier son célèbre portrait de Malcolm X avec chapeau, de profil.
Poignant. Surtout, elle commence à voyager : Cuba, Chine, Afghanistan, et ne cesse d'enregistrer, ici et ailleurs, la condition humaine dans sa diversité. Les riches dans leurs voitures rutilantes. La reine Elizabeth d'Angleterre enveloppée d'un nuage bleu. Les top modèles. Le quotidien de ceux qui n'ont rien sur le dos. Comme ces deux gosses à Porto Rico, qu'elle isole en 1968. Un instant poignant et d'une grande douceur, fidèle à sa ligne de vue : ne jamais baisser les yeux sur la misère du monde.
Pourtant, Eve Arnold ne se sentait jamais vraiment satisfaite de ses photographies, comme elle le confia à Amanda Hopkinson dans le Guardian, ajoutant : «C'est la frustration qui m'a fait avancer.». Mais elle sut donner à ses photographies tout ce que la vie lui avait appris : «J'ai été pauvre et j'ai voulu documenter la pauvreté ; j'ai perdu un enfant et j'étais obsédée par la naissance ; j'étais intéressée par la politique et je voulais savoir comment nos vies en étaient affectées ; je suis une femme et je voulais tout savoir sur les femmes.»
04 janvier 2012
Le 15 août 1959, Marilyn Monroe et son mari Arthur Miller assistent à la pièce MacBeth, à Boston, au Boston Arts Center Theatre.
August 15th, 1959, in Boston, Marilyn Monroe and her husband Arthur Miller, are watching a performance of the play Macbeth, at the Boston Arts Center Theatre.

02 janvier 2012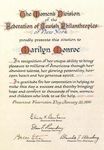 Le 26 janvier 1956, Marilyn Monroe reçoit à New York un certificat décerné par "The Women's Division of the Federation of Jewish Philantropies" en reconnaissance de sa capacité à divertir des millions d'Américains par son talent, sa personnalité lumineuse, son cœur ouvert et son esprit généreux. Marilyn a choisi de se convertir au judaïsme à l'approche de son mariage avec Arthur Miller. Ce jour là, Orson Welles et Victor Borge (comédien et pianiste) étaient présents, recevant aussi leurs certificats.
On January 26th, 1956, in New York, Marilyn Monroe receives a certificate given by "The Women's Division of the Federation of Jewish Philantropies" in recognition of her ability to enjoy the millions of Americans through her talent, her bright personality, her open heart and generous spirit. Marilyn chooses judaism just before her marriage with Arthur Miller. On that day, Orson Welles and Victor Borge (a comedian and pianist) are there, after being also converted.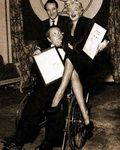 ---
© All images are copyright and protected by their respective owners, assignees or others.
copyright text by GinieLand.
Le 17 novembre 1955, Marilyn Monroe participe à la "1955 Thanksgiving week March of Muscular Dystrophy" à New York, afin de lutter contre les maladies de la dystrophies musculaires, dont est atteint Donald Thompson, un jeune garçon de 12 ans qui pose au côté de Marilyn. Jack Bostrick, le président de l'association internationale des pompiers qui organise la manifestation.
November 17th, 1955, in New York, Marilyn Monroe has a hug for 12-year-old Donald Thompson, a victim of Muscular Dystrophy. Donald is holding Miss Monroe's personal advance donation for the nation wide '1955 Thanksgiving week March of Muscular Dystrophy', sponsored by the Muscular Dystrophy Associations of America, Inc. At the left is Jack Bostick, of Fort Worth, Texas, Vice President of the International Association of Firefighters, which is spearheading the drive beginning Monday.
Pour commencer cette nouvelle année 2012, les articles des rubriques "années" mis en ligne, seront désormais en version bilingue: français et anglais.
To start this new year 2012, the articles of the items "année" (which means "year") posted on the blog, will be available in two language: french and english.
01 janvier 2012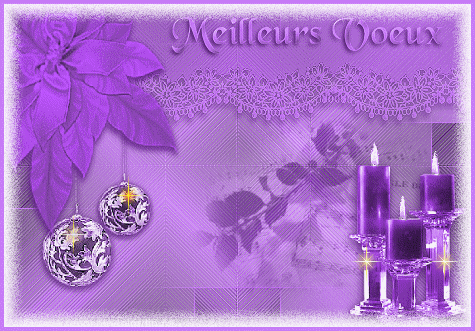 * * * * *
Je vous souhaite
une très bonne année
2012
* * * * *
Best wishes
and
Happy New Year 2012
* * * * *