22 décembre 2011

Les icônes du style: dans le dressing de Marilyn Monroe
Publié le 19/12/2011,
en ligne sur puretrend.com
Ventes aux enchères, expo arty, biopic... La garde-robe de Marilyn n'en finit pas de fasciner le monde entier. Si les clichés de la star version femme fatale en robe "grand soir", ou en bikini retro font partie des classiques, c'est une garde robe plus casual qu'affectionnait particulièrement Marilyn. L'actrice représentait la femme "Calvin Klein" avant l'heure, comme l'a souligné la costumière du film "My Week With Marilyn", Jill Taylor, au magazine InStyle.
Petit short et col roulé, jupe crayon et chemise d'homme, pantalon 3/4 et pull à col rond : loins des projecteurs, l'actrice mythique a toujours fait preuve d'une vraie modernité en matière de style, alliant confort et élégance, et mixant pièces masculines et féminines.
Une garde-robe sobre qui se transformait volontiers en boudoir glamour lors des apparitions publiques de la star, robe en lamé, collier de perles, escarpins vertigineux et veste en fourrure à l'appui.
Mais alors, comment s'habillerait Marilyn aujourd'hui ? Entre robe de diva, parures de stars, Chanel N°5 et pull en cachemire, découvrez notre sélection shopping pour vous offrir le look de la blonde la plus célèbre de l'histoire du cinéma !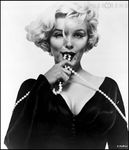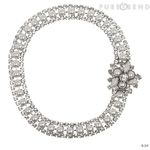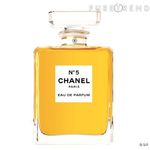 1/ Marilyn Monroe ou l'art du "less is more" : petite robe noire et collier de perles.
2/ Collier Miu Miu Prix : 512€ En vente sur www.net-a-porter.com
3/Eau de Parfum Chanel N°5 Prix : à partir de 49 €
---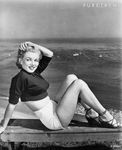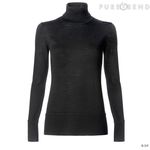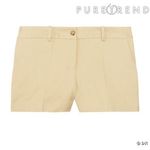 4/ Marilyn à la plage, ou l'icône de mode casual avant l'heure.
5/ Pull col roulé Mango Prix : 29,95 €
6/ Short Michael Kors Prix : 376 € En vente sur www.net-a-porter.com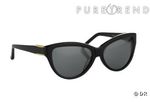 7/ Lunette Linda Farrow pour Agent Provocateur Prix : 250,15 €

---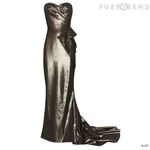 8/ La star version grand soir, en robe lamé.
9/ Robe Marchesa Prix : 5965 € En vente sur www.net-a-porter.com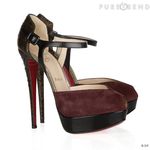 10/ Robe Chloé Prix : 6700 € En vente sur www.net-a-porter.com
11/ Escarpins Christian Louboutin Prix : 835 € En vente sur www.net-a-porter.com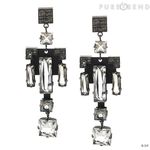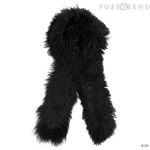 12/ Boucles d'oreilles d'oreilles Lanvin Prix : 600 € En vente sur www.net-a-porter.com
13/ Col en fausse fourrure Karl Donoghue Prix : 165 € En vente sur www.net-a-porter.com
---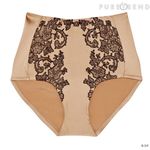 14/ Peignoir La Perla Prix : 606 € En vente sur www.net-a-porter.com
15/ Culotte Carine Gilson Prix : 384 € En vente sur www.net-a-porter.com
---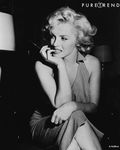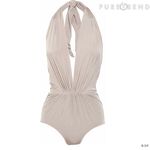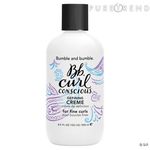 16/ Marilyn et sa collection de petites robes midi.
17/Maillot de bain Clube Bossa Prix : 547 € En vente sur www.net-a-porter.com
18/ BB Curl Conscious Bumble and Bumble Prix : 35,50 € En vente chez Sephora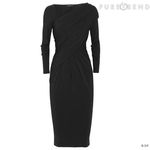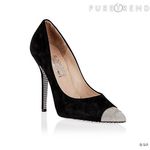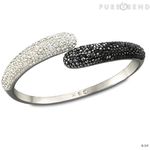 19/ Robe Donna Karan Prix : 1495 € En vente sur www.net-a-porter.com
20/ Escarpins Salvatore Ferragamo Prix : 495 €
21/ Bracelet "Louise" Swarovski Prix : 190 €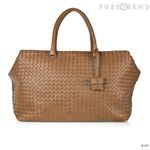 22/ Foulard Artemis Wragge Prix : 295 € En vente sur www.net-a-porter.com
23/ Sac Bottega Veneta Prix : 2650 € En vente sur www.net-a-porter.com
---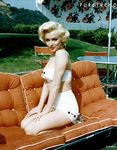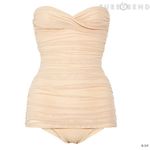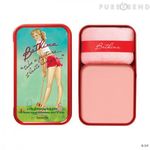 24/ Marilyn version pin-up fifties, en bikini rétro.
25/ Maillot de bain Norma Kamali Prix : 406 € En vente sur www.net-a-porter.com
26/ Baume Bathina, Benefit Prix : 32,50 € En vente chez Sephora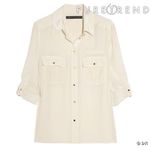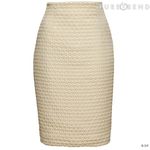 27/ Chemise Marc by Marc Jacobs Prix : 290 € En vente sur www.net-a-porter.com
28/ Jupe H&M Prix : 39,95 €
29/ Escarpins H&M Prix : 49,95 €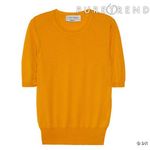 30/ Pull Yves Saint Laurent Prix : 550 € En vente sur www.net-a-porter.com
31/ Pantalon J.Crew Prix : 123 € En vente sur www.net-a-porter.com

---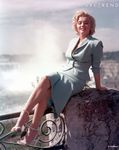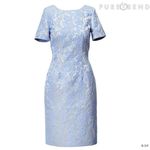 32/ Tailleur fifties et tons pastel, ou l'Amérique édulcorée des années 1950.
33/ Robe H&M Prix : 59,95 €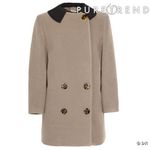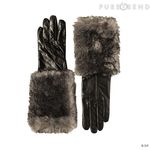 34/ Manteau Miu Miu Prix : 1365 € En vente sur www.net-a-porter.com
35/ Gants Zara Prix : 49,95 €


Cinq choses à savoir sur les tenues de Michelle Williams dans My Week with Marilyn
Publié le 13/12/2011,
en ligne sur puretrend.com
C'est l'un des évènements cinéma du début de l'année 2012, la sortie sur les écrans en mars prochain de "My Week with Marilyn". Basé sur deux livres autobiographiques de Colin Clark, "The Prince, The Showgirl and Me" et "My Week with Marilyn", le film retrace une partie du tournage du film "The Prince and The Showgirl" avec Marilyn Monroe et Laurence Olivier qui a eu lieu durant l'été 1956.

Colin Clark, assistant de Laurence Olivier à l'époque, raconte sa folle semaine passée avec Marilyn, alors tout juste mariée avec Arthur Miller. C'est Michelle Williams qui incarne l'actrice mythique, et les premières images du film révèlent une ressemblance frappante. Michelle a été habillée par la costumière Jill Taylor, qui s'est inspirée de photos d'archives et de pièces vintage, afin de réaliser une garde-robe digne de l'icone blonde du cinéma hollywoodien.

Découvrez cinq anecdotes à connaître sur les tenues de Michelle Williams dans le film "My Week with Marilyn" !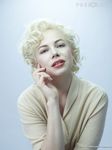 La garde-robe de Marilyn ressucitée
La costumière du film, Jill Taylor, a déclaré dans le magazine InStyle , qu'elle a étroitement collaboré avec Michelle Williams pour élaborer la parfaite garde-robe de Marilyn Monroe.
Michelle apportait des photos d'inspiration, et Jill en faisait des croquis.
---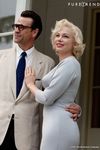 Une ôde à la mode vintage
Dans une interview pour le Vogue UK ,
Jill Taylor explique qu'elle s'est aussi inspirée de vêtements des années 50 chinés dans des boutiques vintage, ou repérés lors de ventes aux enchères. La costumière a également parcouru les archives photos de l'actrice pour reproduire des pièces que Marilyn portait, notamment lors de sa lune de miel avec Arthur Miller.
---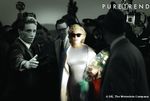 "The Prince and the Showgirl"
Lors de la scène qui fait référence au tournage du film "The Prince and the Showgirl", Michelle Williams porte une parfaite réplique de la robe blanche que portait Marilyn Monroe. Jill Taylor s'est inspiré d'une photo prise à l'époque durant le tournage. Il n'y avait qu'un seul exemplaire, si bien que Michelle a dû la porter durant les 11 jours de tournage de cette scène. L'équipe des costumes tremblait à l'idée que l'actrice ne la tache.
---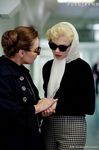 Icône casual made in USA
Si Marilyn est célèbre pour ses robes du soir et ses tenues sexy, Jill Taylor a découvert en fouillant dans les archives, que la star cherchait avant tout le confort dans sa vie privée. Des pièces simples et faciles à vivre, qui pourraient faire penser que Marilyn était "casual" avant l'heure.
---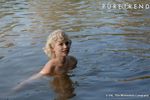 La petite robe noire
Même si Michelle Williams a aimé porter tous les costumes du film, elle avoue une préférences pour deux tenues : une robe noire, et un ensemble jupe crayon et chemise d'homme, particulièrement modernes et avant gardistes pour l'époque.
auteur inconnu (Robert ? )
20 décembre 2011
Le magazine américain Look du 3 juin 1952, publiait une photographie deMarilyn Monroe en couverture, et un article de 4 pages sur le film Clash by night.
19 décembre 2011
Marilyn vs. Marilyn: What The Prince and the Showgirl Says About Monroe's Biopic
Publié le 9/12/2011,
par Bruce Handy,
en ligne sur vanityfair.com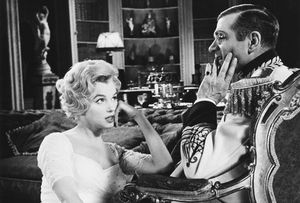 In November's Vanity Fair, I wrote a short piece about Michelle Williams's performance as Marilyn Monroe in My Week with Marilyn, the film about the making of 1957's The Prince and the Showgirl, in which Monroe starred opposite Laurence Olivier, who also directed. For an actress, I explained in my best cinema-studies voice, playing a woman who is arguably the most famous of all movie stars "is like an excruciatingly difficult platform dive, a win-gold-or-eat-ice figure-skating jump; Michelle Williams is the daredevil who executes the move flawlessly, brilliantly, exhilaratingly."

Hmmm. With the film—and the deadline—having receded a bit in memory, that blurb now feels a tad . . . gushy. But the performance really is terrific (the movie itself is entertaining, if pat), and as I also wrote, with, I hope, a more level head:
"That Williams—a first-rank actress who presumably wouldn't be caught dead in, say, a TV movie about a moth-eaten, overly mythologized sex symbol—had the nerve to take this on is impressive. That she has the talent to pull it off is maybe unprecedented. I can't think of a better performance (not even Tina Fey's Sarah Palin) in the role of an icon whose face, voice, and mannerisms are known by millions or even billions of people. Williams doesn't quite capture the on-screen Marilyn—no one could—but she comes very close. And as off-screen Marilyn, she's as funny and tragic, as sexy and pathetic and manipulative, as you cold ask for."
(Advice for budding writers: never go back and read something you published a couple of months ago. "Overly mythologized sex symbol" is fair, but "moth-eaten"? That seems a bit gratuitous, in hindsight.)

But enough about me! As a point of comparison, I thought it would be fun and interesting to watch The Prince and the Showgirl and see what all the fuss had been about. The film is a classic example of Hollywood's most prevalent genre: the awful movie made by talented people. The culprit isn't Monroe's neuroses, but rather a creaky, silly screenplay (adapted from what must have been a creaky, silly play). I wasn't expecting it to be good, anyway, but I was hoping it would serve as a tutorial in opposing acting styles—Monroe's intuitive emotional truths vs. Olivier's precision-tooled affect. A clash of the titans, to reference another lousy Olivier movie.

The best parts of My Week with Marilyn coax comedy, and some drama, from this opposition—from the real-life, on-set conflict between Monroe's Method acting and Olivier's classical training. She needed to find her motivation for every scene; he just wanted her to hit her marks and get the lines out as written. This philosophical difference is perhaps best illustrated in a famous, probably apocryphal anecdote from the set of 1976's Marathon Man, in which Olivier starred opposite Dustin Hoffman. The younger American actor showed up on set exhausted and disheveled one morning, and when Olivier asked why, Hoffman said he'd stayed up all night—as preparation for a scene in which his character was supposed to be exhausted and disheveled. "Try acting, dear boy," Olivier reportedly responded. "It's much easier."

Back in The Prince and the Showgirl, a scene about halfway through the film perfectly captures this tension. Monroe's and Olivier's characters are riding opposite each other in a carriage. This is the moment when the two, who have been at loggerheads, first notice the early stirrings of genuine attraction. A close-up on Olivier shows his monocled, tightly wound prince seemingly glaring at her; the shot holds for seconds, to the point where you start to think, O.K., Larry, I get it already (and maybe there's something to be said for Michael Bay movies after all). Then, almost imperceptibly, he begins to smile—a thin-lipped, begrudging smile, but a genuine thaw. Olivier knows exactly what he's doing: the shot is all about toying with the audience and building to a specific moment. It is a scene in itself.

The camera then cuts to a parallel close-up of Monroe. Her character doesn't quite know how to respond, and neither does the actress: she smiles, looks away, looks back, giggles, blushes, and is finally pleased. Those are all appropriate responses for the character, but in aggregate, you sense Monroe is searching for a true moment, trying to connect to the scene, but ultimately flailing. Who knows—I may be reading into the performance, and seeing what I expected to see. But the difference with Olivier's shot is stark, and he and his editor don't seem to have helped her by letting the shot go on so long, even if they perhaps felt it needed equal time, equal weight, to his.

The rest of the film reveals a more complicated actress. Its best scene is a long would-be seduction, in which Olivier has invited Monroe to his apartment for a late-night repast. He then mostly ignores her, tending to business and assuming she'll get drunk on his champagne and perforce go to bed with him. She, naturally, is onto him—she knows all the tricks—and here, Monroe is wonderful. Given a chance to show off her flair for comedy, she demonstrates that she too is capable of precise effects. She has a nice bit of business wherein she eats some caviar on toast while Olivier talks on the phone. You can see her growing more irritated with each bite, but also thinking, What the hell—caviar! Another bit has her drinking champagne while he reads the paper, talking to herself as she slowly gets drunk, registering each degree of inebriation in a way that echoes Lucille Ball touting Vitameatavegamin. Don't let anyone tell you that Monroe lacked technical chops.

Near the end of My Week with Marilyn, Olivier (Kenneth Branagh) is seen watching rushes and coming to the realization that, however much she vexes him, Monroe is a much greater screen actor than he'll ever be. Nice scene, but it's romantic baloney. Olivier is a great on-screen, even in junk like this. For one thing, as the carriage scene shows, he understood stillness, and how to let the audience come to him, in a way that Monroe never did. She was more of a heat-seeking missile.

But it's not a contest. When given the right scaffolding of dialogue and stage business, she too is great. Her greatest shortcoming as an actress, if it is a shortcoming, is that she didn't know how to fake it. The second half of the film, where the story turns loopy and improbable—her character is forced into being a go-between for silly political intrigue—leaves her looking lost. Judy Holiday or Betty Hutton might have made it work, but that's no knock on Monroe. The Prince and the Showgirl didn't deserve to work. And when Monroe had real material—like with Some Like It Hot—she soared.
(The Prince and the Showgirl is out of print on DVD, but seems to be findable on YouTube. Some Like It Hot is widely available and if you've never seen it, shame on you.)
17 décembre 2011
Naomi Watts is Marilyn Monroe For West East Magazine
décembre 2011,
en ligne sur ohlalamag.com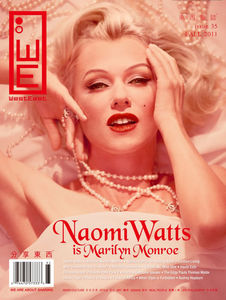 Lindsay Lohan is not the only one channeling Marilyn Monroe ... and after Michelle Williams in My Week With Marilyn, it looks like Naomi Watts did a pretty good job for the cover of Asian magazine West East.

It was announced at the Cannes Film Festival in France last May that Naomi will play Monroe in a biopic based on author Joyce Carol Oates's controversial, fictionalized memoir, Blonde. The movie, also called Blonde, was reportedly slated to start filming in January 2012, but so far nothing indicate on Naomi Watts' IMDB that this film is even in pre-production.

Photography of Naomi Watts for West East magazine by Ali Mahdavi.
Marlene or Greta? Greta
Marilyn or Liz? Marilyn
Linda or Christy? Christy
Fellini or Rossellini? Fellini and Rossellini
Sunset Boulevard or All about Eve? All about Eve
Funny Games or Fair Games? Funny Games
Children of the corn 4 or Babe 2? Babe 2
Leonardo or Sean? Leonardo and Sean
Leonardo or Michelangelo? Leonardo and Michelangelo
Bacon or Freud? Bacon
Bacon or Eggs? Bacon
St Laurent or Halston? St Laurent
Christobal Balenciaga or Charles James? Christobal Balenciaga
Mugler or Montana? Mugler
Newton or Avedon? Newton
Château Marmont or Beverly Hills Gotel? Beverly Hills Hotel
New York or L.A? New York
Paris or London? Paris
Shoes or Bags? Shoes
Gay or Straight? Gay and Straight
Sex or Acting? Sex and Acting
Size or Shape? Shape
Face or Body? Face
Tits or Ass? Ass
Kiss or Caresses? Kiss
Flesh or Bones? Bones
Blood or Tears? Tears
Love or Passion? Love
Death or Coma? Death
Gin or Vodka? Vodka
Photography: ALI MAHDAVI @ H&K
Styling: SUZANNE VON AICHINGER
Art direction: STEFANO CANULLI
Producer: VIRGINIA STEVENSON
Make up: FRANCES HATAWAY @ Jump
Hair: OSCAR BLANDI @ ABTP
Styling Assistant: JANA ADLER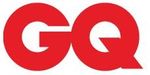 10 Fois Marilyn
Publié le 13/01/2011,
en ligne sur gqmagazine.fr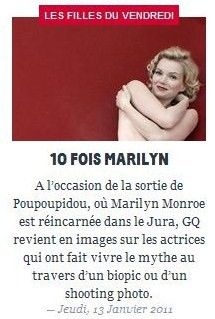 ---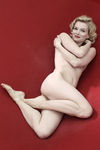 1/10
Sophie Quinton
La plus française
Elle est à l'affiche de Poupoupidou de Gérald Hustache-Mathieu, où elle joue une miss météo du Jura mystérieusement disparue. Encore plus mystérieux : elle croyait être la réincarnation de Marilyn. Jean-Paul Rouve mène l'enquête à Mouthe, la ville la plus froide de France.
---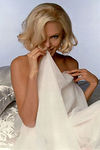 2/10
Angelina Jolie
La plus inattendue…
… au point qu'Angelina ne devrait finalement pas interpréter l'icône, malgré la rumeur née d'une déclaration d'Andrew O'Hagan, l'auteur de Vie et opinions de Maf le chien et de son amie Marilyn Monroe (Christian Bourgois)qui avait annoncé qu'elle serait de l'adaptation de son livre, aux côtés de George Clooney. Rien que ça.
---
3/10
Naomie Watts
La plus chic
L'actrice australienne sera de la nouvelle adaptation de Blonde de Joyce Carol Oates, qui avait auparavant connu les honneurs de la télévision. Naomi consentira t'elle à prendre quelques kilos pour adopter les courbes sexy de son personnage ?
---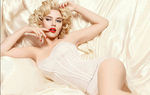 4/10
Scarlett Johansson
La plus glamour
L'héroïne de Lost In Translation est peut-être l'actrice qui ravive le mieux le glamour à la Monroe, avec ses courbes voluptueuses et ce pouvoir érotique paradoxal, car à la fois provoquant jusqu'à l'indécence et à la fois totalement innocent. Ce que la campagne publicitaire pour Dolce & Gabbana saisit parfaitement.
---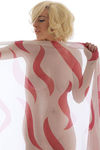 5/10
Lindsay Lohan
La plus dénudée
L'ex it-girl qui enchaîne les unes des tabloïds anglais comme des petits pains et a trouvé le temps, entre deux cure de désintox, de poser pour une série de photos inspirée de The Last Sitting, série de nus réalisée par Bert Stern, six semaines seulement avant la mort de Marilyn.
---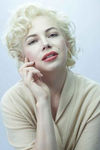 6/10
Michelle Williams
La plus sage
L'actrice mimi de la série Dawson devra faire oublier son air d'éternelle adolescente boudeuse pour gagner en féminité pulpeuse dans My Week With Marilyn, qui devrait voir le jour sur les écrans en 2011.
---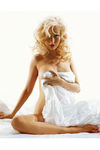 7/10
Christina Aguilera
La plus MTV

Christina Aguilera a choisi de jouer à la poupée Marilyn à l'occasion de la sortie de son nouvel album. Malgré la blondeur platine et un maquillage à la truelle, difficile de lui concéder la moindre ressemblance avec l'icône hollywoodienne.
---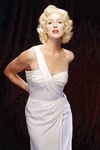 8/10
Poppy Montgomery
La plus improbable
L'agent Samantha Spade de FBI portés disparus a interprété Marilyn dans un téléfilm de 2001 adapté du récit de Joyce Carol Oates Blonde. Aussi crédible que si Jack Malone se muait en Marlon Brando.
---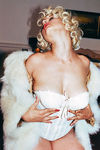 9/10
Samantha Morton
La plus trash
Samantha Morton n'incarne pas à proprement parler Marilyn, mais son sosie, dans le film d'Harmony Korine (le scénariste prodige de Kids et réalisateur de Gummo) Mister Lonely, où elle côtoie le gratin des sosies internationaux, réunis dans un village écossais vaguement coupé du monde et de la réalité.

---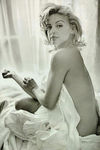 10/10
Ashley Judd
La plus nature
La petite amie de De Niro dans Heat a joué l'héroïne de Some Like it Hot à la télé dans Norma Jean & Marilyn. Pour incarner les deux phases de la vie de l'actrice, les producteurs ont choisi deux actrices, Ashley étant Norma (Jean Baker), la Marilyn d'avant la transformation - Mira Sorvino (la Maudite Aphrodite de Woody Allen) incarnant elle la blonde fatale apparue au mitan des années quarante.

Enregistrer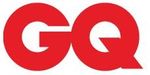 Les 12 livres intello-pop de 2011
Par Eve Beauvallet, Publié le 15/12/2011,
en ligne sur gqmagazine.fr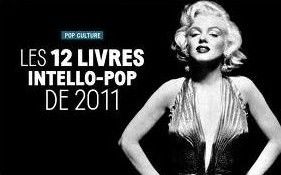 2/12
Vertiges du désir, Ollivier Pourriol
De quoi ça parle ? De Gilles Deleuze, Sharon Stone, Al Pacino, et de Brigitte Bardot… enfin de ses fesses.
C'est quoi ? La dernière petite bombe philo-ludique d'Ollivier Pourriol, nouvel Ali Badou du Grand Journal de Canal+. Ici, Bardot et Kidman s'allient à Sartre et Hegel pour causer cinéma, philosophie, et désir.
Ed. NiL, 243p., 19 €
Katy Perry : la nouvelle Marilyn Monroe !
Article publié le 24/11/2011
en ligne sur gossy.fr

Katy Perry est devenue complètement fan du film "My Week With Marilyn"… Il y a quelques jours la chanteuse a fait un mix entre la bande annonce du long métrage et sa dernière chanson. Totalement conquis par la prestation de notre jolie Katy, le producteur du film a décidé de créer une comédie musicale dont elle serait la vedette ! Poupoupidou…
Katy alias Marilyn !

Décidément Katy Perry cartonne de plus en plus dans le monde du show-business ! Après "I Kissed a Girl" ou encore "Teenage Dream", la jeune femme vient de lancer sa nouvelle chanson : "The One That Got Away", et il faut dire que celle-ci fait un carton ! Récemment, la chanteuse s'est faite remarquer lors de sa prestation durant l'émission X Factor mais apparemment ça ne lui suffit pas ! Et oui Katy souhaite aller plus loin et montre encore une fois qu'elle est pleine de ressources. En effet, en grande fan de "My Week With Marilyn", la jolie brune a récemment posté sur Twitter et Facebook, la bande annonce du film mêlée à une de ses dernières chansons…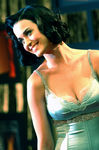 Une idée un peu farfelue mais qui on doit le dire peut rapporter gros ! En plus de séduire 250 000 fans qui se sont précipités sur la vidéo, elle a aussi conquis le producteur du long métrage lui même : Harvey Weinstein. Remarquant que son film et la jeune femme pouvait faire un duo d'enfer, il a tout de suite eu une brillante idée : la création d'une comédie musicale :

"Si le film marche, j'en ferai une comédie musicale sur Broadway, et je proposerai le rôle principal à Katy en premier. Je pense qu'elle peut jouer Marilyn à Broadway… Elle serait fantastique !" a t'il déclaré à E-Online.

En y pensant bien, on imagine bien notre Katy Perry dans une jolie robe blanche sur scène !
Un rôle très convoité !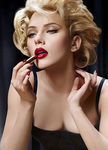 "My Week With Marilyn" raconte les coulisses du tournage de "La princesse et la danseuse" durant lesquelles, Marilyn Monroe a eu une aventure avec un assistant du réalisateur. On découvre dans celui-ci une Michelle Williams époustouflante qui nous fait fondre à tel point son jeu est remarquable. De plus, il faut dire que la jeune femme ressemble à s'y méprendre à la jolie blonde ! Seulement une autre actrice aurait pu incarner ce rôle : Scarlett Johansson bien sûr !

Pulpeuse, blonde avec un visage de poupée, elle aurait été parfaite… Malheureusement quand la production a approché Scarlett pour lui demander d'incarner Marilyn, celle-ci n'avait pas l'air intéressé !

Une décision qu'elle pourrait amèrement regretter quand on sait que Michelle Williams est pressentie pour remporter un Oscar…
14 décembre 2011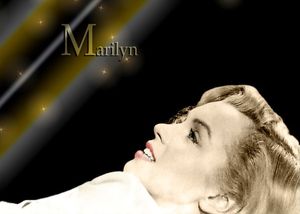 > du site hdwallpapersdesktop