12 juillet 2015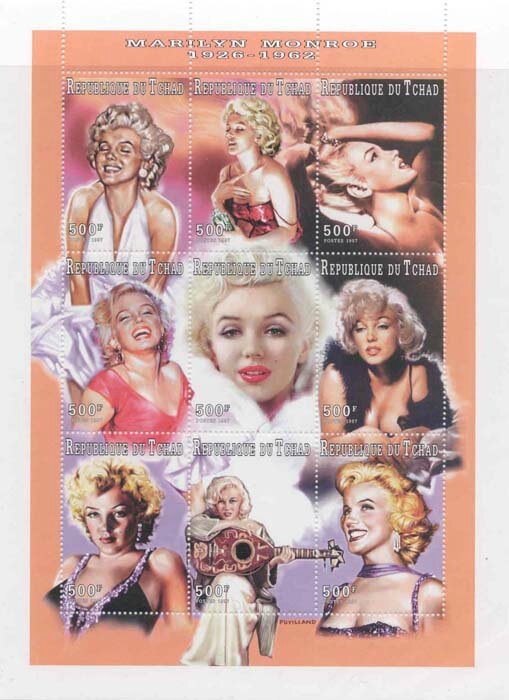 09 juillet 2015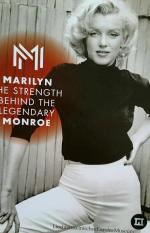 Catalogue et booklet "Marilyn – The Strength Behind The Legendary Monroe" en vente sur marilynmonroe-sammlung.de au prix de 20 Euros, présente la collection personnelle du collectionneur allemand Ted Stampfer, un fan de Marilyn Monroe qui est parvenu à acquérir, au fil des années, plus de 700 pièces. Catalogue officiel de son expo Die Starke Monroe organisée au Liechtenstein en 2015.

Cette exposition de la collection de Ted Stampfler est une reprise de l'expo de 2014 Private Marilyn qui avait eu lieu en Suisse. Il y est présenté cette fois-ci près de 400 objets personnels ayant appartenu à Marilyn Monroe au Liechtenstein (entre la Suisse et l'Autriche).
L'exposition se penche sur la question de l'émancipation de la femme dans les années 50 à l'exemple de la femme la plus photographiée du XXe siècle: l'actrice, chanteuse et icône de la mode Marilyn Monroe. Elle présente la forte personnalité de cette femme exceptionnelle qui, 53 ans après sa mort, n'a rien perdu de la fascination qu'elle suscite et dont l'influence sur la société est encore perceptible aujourd'hui.
Le Musée national du Liechtenstein présente 400 objets qui proviennent initialement de sa succession et font actuellement partie de la collection privée Ted Stampfer, la plus grande collection de ce genre regroupant des objets ayant appartenu à Marilyn Monroe.
On peut y voir des vêtements luxueux, des accessoires personnels, des produits de beauté et de coiffure, des accessoires de cinéma, des documents privés, des films et des photos dont la présentation, dans cette constellation, est une première mondiale. Des objets prêtés par des collectionneurs du monde entier viennent compléter cette collection.
Les visiteurs plongent dans le monde de Marilyn et traversent chronologiquement les stades les plus importants de son évolution et les périodes déterminantes de sa vie. Ils découvrent des objets uniques qui témoignent de la vie et de l'œuvre de cette femme exceptionnelle tout en révélant son identité de femme émancipée. Pour cela, l'exposition s'intéresse aussi bien à l'évolution physique de Marilyn et au rôle qu'elle fait jouer à son corps, qu'à la manière très personnelle dont elle se rebelle contre une industrie cinématographique dominée par les hommes. Grâce à sa hardiesse, elle obtiendra entre autres de meilleures conditions contractuelles et des droits de codécision, mais pourra aussi fonder sa propre société de production cinématographique, ce qui lui assurera une plus grande indépendance.
Un catalogue éponyme accompagnant l'exposition est en vente dans la boutique du musée au prix de 20.00 CHF, ainsi que différentes autres publications.
Directeur général: Directeur Prof. Dr. Rainer Vollkommer
Administrateur et collectionneur: Ted Stampfer
> site officiel marilynmonroe-sammlung.de
> photographies sur flickr

Liechtenstein National Museum
Städtle 43, P.O. Box1216
9490 Vaduz
Principality of Liechtenstein
> article de l'expo sur PR Newswire :
The special exhibition presents the emancipation of women in the 1950s through the example of the most photographed woman of the 20th century -- the actress, singer and style icon, Marilyn Monroe.
The exhibition here focuses on the strength behind the exceptional phenomenon who, even 53 years after her death in 1962, has not lost her charm and influence, which in society and the women's movement to this day is palpable.
Presented are more than 400 selected pieces from the private collection of Ted Stampfer, the world's largest collection of Marilyn Monroe originals of its kind. Through his willingness to present his collection in exhibitions, the art collector and expert wants not only to remember the actress, who was intellectually underestimated during her lifetime and reduced by filmmakers and media to her visual appeal, but also to make exhibit attendees aware of the clever and ambitious businesswoman. Most of the pieces originate from her estate, of which the items were stored after Marilyn Monroe's death in August 1962, until 1999, until large portions of it were put up for auction with auction houses like Christie's and Julien's. The exhibition is rounded out by individual pieces from other international collectors.
Uniquely designed and seen for the first time worldwide, the National Museum in Liechtenstein thus enables its exhibition visitors to dive into Monroe's world. Visitors walk through the most important chronological development stages of her life, and can view special exhibits that not only give a glimpse into her life and the work of this extraordinary woman, but also highlight her emancipated side. These include: high-quality articles of clothing; accessories; beauty, skincare and styling products; personal and film company documents; film props; and extensive photo and film footage presented by means of electronic media.
The exhibition, however, is not just focused on presenting personal belongings from a late actress. Rather, it focuses more on the unknown private person -- the real face behind the Hollywood icon. Thus, it gives an intimate look at the real person behind the fictional persona Marilyn Monroe. Using examples, visitors learn about an ambitious woman of the 1940s and 1950s, who, despite the prevailing gender roles of her time, reached her own set goals gradually and with great confidence.
Adressed is on the one hand, the outward makeover of a natural brunette girl, who became with the conscious use of her body the most desirable woman in the world. This is, for example, demonstrated with the original false eyelashes, various containers of makeup, articles and accessories used as highlights for her hair styling, which were significantly involved in the transformation process. But also Marilyn's favorite clothing is presented, including her white and checkered capri pants, which she liked to combine with a black turtleneck sweater. She wore them both in her private life as well as in important photo shoots (for example in the famous shoots with photographer Alfred Eisenstaedt and Milton Greene). These iconic photographs today show us not only a timeless beauty, but a self-confident woman, who was well aware of her own charisma.
In addition, the exhibition also highlights the public person and reports about the strong side of a woman who had to compete in a man's world in the 1950s. There are character traits and self-confident behavior demonstrated, which culminated at the height of Monroe's career to rebel against the male-dominated film industry. This courageous behavior led to, among other things, better contract terms and the ability to have more say over her career, plus to establishing her own film production company -- another way she became more independent. The exhibition presents original costumes, film props and important documents on the films that were produced by Monroe herself.
Besides the interest in her own career and her personal advancement, Marilyn Monroe was also involved in helping the disadvantaged and minorities. This is illustrated with the example of Ella Fitzgerald, the famous African-American jazz singer, for whom Monroe actively campaigned to obtain engagements in a hip nightclub that was typically reserved for white artists. Fitzgerald later reported that Monroe's influence and active action were instrumental in her international success as a singer.
The exhibition offers in all its aspects a comprehensive view of the strong-willed character of a woman who was ahead of her time. And it also reveals to the visitor that Marilyn Monroe, by her behavior in different ways, exerted a formative influence on the emancipation of women, making her one of the most important cultural and historical figures of the 20th century.
08 juillet 2015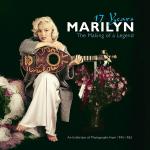 17 Years | Marilyn | The Making of a Legend
> plus d'infos sur Photo Iconix et sur Andrew Weiss Gallery
> le catalogue (ci-contre) à $45.00 en vente sur andrewweissgallery.com
Cette exposition internationale de photographies organisée par Andrew Weiss en 2014 a exposé sur trois continents le travail de sept photographes montrant la carrière de Marilyn de sa première à sa dernière séance photo. L'expo comprend aussi tous les types de photographes, de ceux de la presse, aux artistes professionnels, et aux simples amateurs. C'est une collection étonnante de photographies prises de 1945 jusqu'en 1962.
This international exhibition of photographs curated by Andrew Weiss in 2014 showcases on three continents the work of seven photographers spanning Marilyn's career from her first to her last professional sittings. The exhibition also includes every type of photographer, from journeyman press shooters, to acclaimed international artists, to a rank amateur. It's a stunning collection of photography from 1945 through 1962.
> Les photographes:
Milton Greene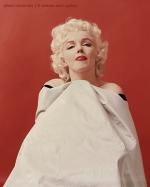 > photographies sur le blog Photo Iconix
Norma Jeane pour l'agence de mannequin Blue Book en 1946
Photographies de Richard Whiteman
Norma Jeane for the Blue Book Modelling agency in 1946
Photographs by Richard Whiteman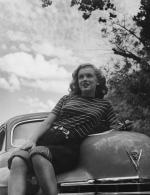 ---
© All images are copyright and protected by their respective owners, assignees or others.
copyright text by GinieLand.
Norma Jeane pour l'agence de mannequin Blue Book en 1946
dans la crique de Tujunga (à San Fernando, nord de Los Angeles)
Photographies de Richard Whiteman
Norma Jeane for the Blue Book Modelling agency in 1946
in the Tujunga Creek (San Fernando, north of Los Angeles)
Photographs by Richard Whiteman
---
© All images are copyright and protected by their respective owners, assignees or others.
copyright text by GinieLand.

03 juillet 2015
Les débuts de Marilyn Monroe sous l'objectif
Publié le jeudi 25 juin 2015
en ligne sur parismatch.com
Vendredi (26 juin 2015) sera vendue aux enchères une série de clichés de Marilyn Monroe, réalisée lorsqu'elle avait 19 ans. La future star y pose souriante et visiblement détendue, vêtue d'un jean et d'une chemise à carreaux ou d'un maillot de bain. Même si elle n'est pas encore la bombe blonde platine aux lèvres rouges, Marilyn est reconnaissable sur cette plage, tirant à l'arc, regardant à travers un télescope, ou gardant entre ses mains un appareil photo. Le photographe Joseph Jasgur ne s'y est pas trompé: il a expliqué avoir su, à l'instant où il l'a rencontrée, qu'elle aurait un succès fou. Plongé dans ses yeux bleus, il disait avoir eu l'impression de «regarder dans un kaléidoscope».
Les photographies et objets liés à Marilyn Monroe s'arrachent dans les ventes aux enchères. En juin 2011, la «subway dress» de la célébrissime scène de la bouche de métro dans «Sept ans de réflexion» avait été vendue pour 4,6 millions de dollars à Beverly Hills. Elle appartenait à une vente de 600 costumes qui appartenaient à l'actrice Debbie Reynolds, au cours de laquelle s'était également vendue la robe rouge à sequins de «Les hommes préfèrent les blondes». Cette tenue inoubliable s'était elle vendue 1,2 million de dollars, après avoir été évaluée à un prix entre 200.000 et 300.000 dollars.

© BNPS / VISUAL Press Agency
21 juin 2015
'There was no sultry sexiness about her. That came much later': The astonishing treasure trove of rare images show Marilyn Monroe as you've never seen her before
By Astrid And Ben Franse
Published: 21:01 GMT, 20 June 2015
online on dailymail.co.uk
They languished for decades in an old box, yet these extremely rare photographs, many never seen before, reveal the stunning transformation of a naive young model into the world's biggest movie star... but only after she reluctantly agreed to break open the peroxide.


A brunette Norma Jeane in 1946, the year she changed her name to Marilyn Monroe
Twenty years ago, Astrid and Ben Franse, owners of a Fifties memorabilia store, were in a vintage shop in Los Angeles when the shopkeeper came over with a box, telling them: 'It's press clippings and pictures of Marilyn Monroe. I only got a quick look. It was take it or leave it.'
The couple bought the box and took it home to the Netherlands, where it was stored under a desk and promptly forgotten – until 2012 when a dealer telephoned from the U.S. about a client who was a big Marilyn fan.
Ben remembered the box and went to check what it contained. He was stunned. It was the archive of Blue Book, the modelling agency that launched Marilyn's career.
There were negatives, letters, telegrams, photos and worksheets.
Using this treasure trove of unseen images, Astrid and Marilyn expert Michelle Morgan, author of 'Marilyn Monroe: Private And Undisclosed', have been able to tell the little-known story of Marilyn before she was famous...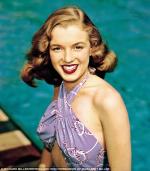 In 1946, the year Marilyn signed her first film contract, with 20th Century Fox
Emmeline Snively appraised the girl in front of her in the office of her model agency.
She was 'in a simple white dress and armed with her portfolio, which offered no more than a few snaps. You wouldn't necessarily wear a white dress on a modelling job, and it was as clean and white and ironed and shining as she was.'
Snively noted the 19-year-old's measurements on an agency card: 'Size 12, height 5.6, 36 bust, 24 waist, 34 hips. Blue eyes, perfect teeth and blonde, curly hair.'
But she would later recall: 'Actually her hair was dirty blonde. California blonde, which means that it is dark in the winter and light in the summer.
'It curled very close to her head, and was unmanageable. I knew it would have to be bleached and worked on.'
It was August 2, 1945 and this was the first meeting between Norma Jeane Dougherty – later known as Marilyn Monroe – and the mentor who launched her career.

This was taken approximately 1948. 'She did have a pleasant personality; an all-American girl personality – cute, wholesome and respectable,' said Blue Book Model Agency's Emmeline Snively
Norma Jeane (she was christened Jeane with an 'e', but this was often misspelt) had been raised in foster homes – her father was unknown, her mother mentally ill. At 15, she met James Dougherty. He was good-looking and sporty.
She was looking for a way to avoid another stint in an orphanage so, after prompting by her foster mother and future mother-in-law, she agreed to marry Dougherty in 1942, weeks after her 16th birthday.
Two years later, her husband joined the navy and Norma Jeane moved in with her in-laws and took a job in the Radio Plane munitions factory.
She hated the job and living with her husband's parents. So when a photographer organised a few modelling assignments for her, it seemed to offer a way out.
James initially approved of the work but made it clear that he would only tolerate it until he returned.
While she was at the factory the family trusted Norma Jeane completely, possibly because mother-in-law Ethel worked there too and could keep an eye on her.
But when she was crowned 'Queen of the Radio Plane Picnic' during a company outing, they saw that a normal life with a house and children was not on her mind.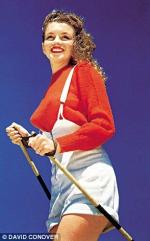 Marilyn posing with ski sticks in a 1944 photo shoot (FROM THE COLLECTION OF KIM GOODWIN USED WITH PERMISSION FROM DAVID CONOVER JNR); On a swimwear shoot in 1946
Things came to a head one evening when Norma Jeane, driving home from a modelling job and, by her admission, 'dreaming again', crashed into another vehicle and wrote off her husband's car.
That was the beginning of the end for Norma Jeane and the Doughertys. Soon after she moved in with former foster parent 'Aunt' Ana Lower.
The long-distance marriage limped on for another year – even surviving a fling Norma Jeane had with a photographer. But while modelling might have caused problems with her husband's family, she was determined it would be her key to a better future.
So, to put her nascent career on a serious footing she had come to Snively's Blue Book Model Agency, based in Los Angeles's opulent Ambassador Hotel.
Many in modelling believed Blue Book was essentially an escort agency, providing girls for lonely businessmen staying at the hotel to take to dinner.
'The LAPD kept a close watch,' said a source who knew the agency at the time.
Snively admitted: 'Many of my girls whose husbands were overseas dated on several nights of the week. But not Norma Jeane. She was interested only in legitimate assignments.'
The reception walls were covered in glossy photos of clients past and present, as was Snively's office. There was a statue of the ancient Eygptian princess Nefertiti on her desk – 'the most beautiful woman of her era,' Snively believed.
The boss spoke in an English accent, though she was American. And she was picky about who she took on.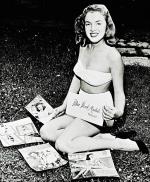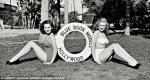 1/ Marilyn with her magazine covers in 1946
2/ As a Blue Book model in 1946
3/ Marilyn posing with a fellow Blue Book Model in 1946
'Do you sing ?' Snively asked.
'Just a little,' replied Norma Jeane.
'Dance ?'
'A little.'
'Ambitions of becoming an actress ?'
'No, none at all.'
'Do you have your own wardrobe ?'
'Not really,' said Norma Jeane. 'A few items but not many.'

Snively later recalled, 'She had a white dress which looked terrific on her, although models usually shy away from white. It accentuated her bust and called attention to her figure. It was extremely tight across the front.'
The only other things she seemed to own were a bathing suit and a blue suit 'that didn't do a thing for her', according to Snively.
'She had a girl next door look. All right, you never saw a girl next door who looked like Marilyn but that's how she looked the day she came in. For me that's how she always looked.'
Norma Jeane's looks, enthusiasm and naivity won over the agency owner. She signed her up and set about training her in grooming, presentation and coordination. There was 'good solid work on my part to analyse and develop her best points (no pun intended)'.

A 1946 press release from Blue Book, revealing Marilyn's vital statistics
She determined that Norma Jeane could do two types of modelling. She couldn't enter beauty contests – a useful way of raising a model's profile – because she was married, which disqualified her.
Nor could she do catwalk modelling. As Snively observed: 'She did have a pleasant personality; an all-American girl personality – cute, wholesome and respectable.
'There was no sultry sexiness about her. That came much later, although I did realise immediately that Marilyn would never do as a fashion model. Most fashion models are tall, sophisticated-looking and slim-chested. Marilyn was none of these.'
And there was another problem – her walk. Her famous 'wiggle walk' went against everything a catwalk model was ever trained to do.
It has been claimed that she used to cut part of the heel from one shoe, causing her bottom to rock from side to side. Another suggestion was she had suffered from an illness as a child, resulting in a slight limp. Snively had a different theory.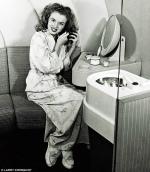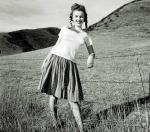 1/ In 1945, the year she signed with the Blue Book modelling agency
2/ Marilyn posing outdoors in 1945
'She's double-jointed in the knees, so she can't relax and that is why her hips seem to sway.
'She couldn't stand with a relaxed knee like most models, because her knees would lock in a stiff-legged position. Her walk is a result of that locking action... This she turned into an asset.'

Another 'problem' was her smile, which the agency felt made her nose look too long.
'She smiled too high, that's what was wrong, and it made deep lines around her nose,' Snively later recalled. 'We taught her how to bring her smile down, and show her lowers.'
This resulted in the famous lip quiver which lookalikes emulate to this day.

Finally, there was the hair. 'It was so curly, so frizzy.'
While Norma Jeane was eager to soak up any advice about her smile, she was less happy with what Snively suggested for her hair: bleach and straightening. There was no way the young model could afford the upkeep of such a style, and she had no wish to be made into a glamour girl.
'She was a believer in naturalness,' wrote Snively. 'Any suggestions about lightening her hair or even styling it met with defeat.'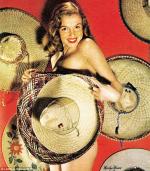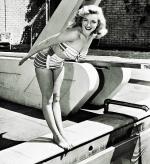 1/ During 1948-49, as she waited for her film career to take off, Marilyn continued to take modelling jobs, occasionally doing nude work
2/ Magazine covers led to items in gossip columns which in turn led to a screen test at Twentieth Century Fox.A studio executive chose the name Marilyn, and she picked her grandmother's surname, Monroe
3/ She won a contract and tiny roles in two minor films before being cast in the lead as a burlesque dancer in a film called Ladies Of The Chorus. It wasn't a hit but Marilyn's profile was raised
The agency boss tried desperately to change Norma Jeane's mind. She made a compromise by blow-drying it straighter occasionally, but bleaching and permanently straightening? No.
Her first assignment was a ten-day industry show at LA's Pan Pacific Auditorium. It wasn't glamorous but it paid $90. She found herself on the Holga Steel stand, talking to visitors, giving out leaflets and demonstrating one of the company's products – a filing cabinet. Holga sent Snively a glowing report.

Next she was in a series of photos for American Airlines – her first proper photo-modelling job.
The photographer was impressed by 'her healthy good looks' – there were photos of Norma Jeane applying make-up in the bathroom, in slippers and a robe.

Eventually, a job came up that required a model with blonde hair.
'Look darling,' Snively told her. 'If you intend to go places in this business, you've got to bleach and straighten your hair; your face is a little too round and a hair job will lengthen it. Don't worry about money, I'll keep you working.'
She was hired for a shampoo ad on the understanding that she would sort out her hair. When the photographer offered to pay for the process, Norma Jeane finally agreed to go to the Frank and Joseph salon in Hollywood.
Snively loved it. 'It was bleached to take it out of the obscurity of dishwater blonde,' she wrote.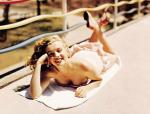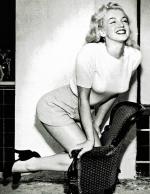 1/ In 1949, the year before her breakthrough role in The Asphalt Jungle
2/ A studio publicity shot from 1949
3/ In 1949, the year she appeared in the Marx Brothers film Love Happy. That paved the way for ever bigger parts and her iconic starring roles in the likes of Gentlemen Prefer Blondes and Some Like It Hot
'Marilyn emerged a truly golden girl... She went into her bathing-suit stage, and the demand for her was terrific.
'She averaged $150 a week, and men began talking to her about going into motion pictures.'
It was the beginning of Norma Jeane's transformation into Marilyn Monroe and from modelling to movies. Around this time Marilyn was walking down the street one day when a man pulled his Cadillac up next to her. He rolled down the window and told the young woman that she was so beautiful she should be in movies.
The man said he worked for the Goldwyn Studio and she should come for an audition.
Unfortunately, his studio turned out to be a rented suite, where the 'executive' persuaded her to pose in a variety of inappropriate positions, while reading a script.
'All the poses were reclining, although the words I was reading didn't seem to call for that position,' Marilyn recalled.
'Naive as I was, I soon figured this wasn't the way to get a job in the movies. I manoeuvred toward the door and made a hasty exit.'
But magazine covers led to items in gossip columns which in turn led to a screen test at Twentieth Century Fox.
A studio executive chose the name Marilyn, and she picked her grandmother's surname, Monroe. She won a contract and tiny roles in two minor films before being cast in the lead as a burlesque dancer in a film called Ladies Of The Chorus. It wasn't a hit but Marilyn's profile was raised.

Blue Book's Emmeline Snively with Marilyn's magazine covers in the late Fifties

Being measured by Snively in 1954
Her film career turned a corner when she was offered a part in the Marx Brothers movie Love Happy. That paved the way for ever bigger parts and her iconic starring roles in the likes of Gentlemen Prefer Blondes, The Seven Year Itch and Some Like It Hot.
Snively later recalled a chat with Marilyn, now married to baseball star Joe DiMaggio, the actress confessed that she felt inadequate in her career.

'Before Marilyn: The Blue Book Modelling Years' by Astrid Franse and Michelle Morgan is published by The History Press on July 14, priced £25.
Offer price £18.75 (25 per cent off), until July 12. Pre-order at mailbookshop.co.uk, with free p&p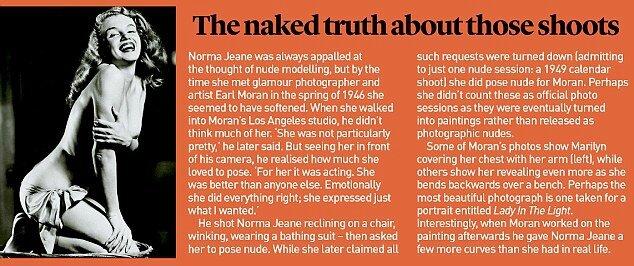 Before Marilyn: The Blue Book Modeling Years
Auteur: Astrid Franse, Michelle Morgan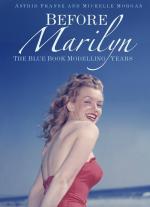 Date de sortie: 10 novembre 2015
Relié 240 pages
Langue: anglais
Éditeur: Thomas Dunne Books
Prix éditeur: 32,86 Euros
ISBN 10: 125008590X
ISBN 13: 978-1250085900
Ou le commander ? sur amazon.fr

---
Vous avez le livre ? Do you have the book ?
Apportez votre critique, votre avis ou votre note (/10)
Gives your opinion, review or note (/10)