01 septembre 2008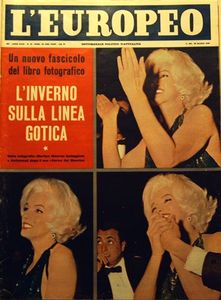 Le magazine italien L'Europeo de mars 1962 avait choisi de mettre Marilyn Monroe à sa Une, et de lui consacrer un long article (de 6 pages) qui dévoilait sa liaison avec le réalisateur mexicain Jose Bolanos, en publiant les photographies de la cérémonie des Golden Globes où Marilyn fut couronnée d'un prix remis par Rock Hudson le 5 mars 1962, et où elle était accompagnée -pour l'occasion- de Bolanos.
31 août 2008
Le 26 janvier 1952, se tient la cérémonie des "Henrietta Awards" à Santa Monica, qui prit place au Del Mar Club. Marilyn Monroe reçoit le prix Henrietta de la "Meilleure jeune personnalité du box office 1951". Au cours de cette soirée, Marilyn a été vue au côté de Charlie Chaplin Jr. (le fils de), avec qui elle eut une brève aventure (voir dernière photo). Parmi les autres invités figurent Tony Curtis, Dean Martin, Bob Hope, Alan Ladd, Jane Wyman, Gregory Peck, Mitzi Gaynor, Leslie Caron, Esther Williams, Errol Flynn, Janet Leigh...
Les 'Henrietta Awards' seront ensuite remplacés par les 's'Foreign Press Award puis par les 'Golden Globe Awards'.
On January, 26, 1952, helds the ceremony of "Henrietta Awards" in Santa Monica, which tooks place at Del Mar Club. Marilyn Monroe is awarded by an Henrietta for "The Best Young Box Office Personality in 1951." During this evening party, Marilyn is seen with Charlie Chaplin Jr. (son of Chaplin), with whom she had a brief affair. The other personalities are Tony Curtis, Dean Martin, Bob Hope, Alan Ladd, Jane Wyman, Gregory Peck, Mitzi Gaynor, Leslie Caron, Esther Williams, Errol Flynn, Janet Leigh...
> Marilyn avec le chroniqueur José Jasd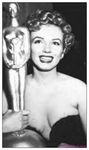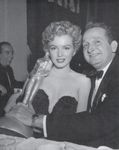 > > Marilyn avec Valentina Cortesa et son mari Richard Basehart

> Marilyn avec Lita Grey et Charlie Chaplin Jr.

> Marilyn avec le photographe Charlie See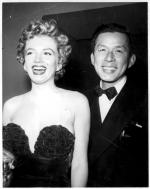 > Liz Taylor / Tony Curtis / Mitzi Gaynor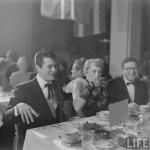 > Alan Ladd / Bob Hope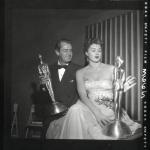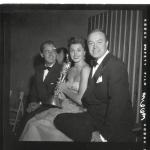 > Bob Hope / Dean Martin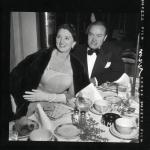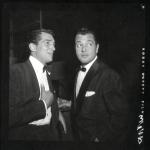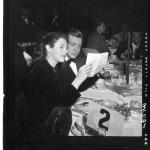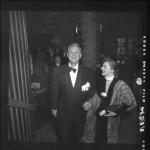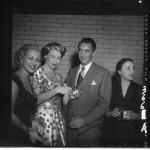 ---
---
---
---
Pour cette soirée, Marilyn portait une robe au décolleté vertigineux - elle réajustait sans cesse sa robe sans bretelles - si bien que la presse s'en offusqua, un journaliste présent à la soirée, allant jusqu'à écrire que Miss Monroe était "insignifiante et vulgaire dans cette robe" et que "même dans un sac à patates, elle aurait été plus élégante". Marilyn prit alors la brutale critique au mot, et posa vêtue d'un sac à pommes de terre le 6 octobre 1952 (>> voir les photos d'Earl Theisen )
For that evening, Marilyn wore a dress with a dizzy neckline - she constantly readjusted her strapless dress - so that the press took offense, and a journalist who was at the party, write that Miss Monroe was "insignificant and vulgar in that dress" and that "even in a potato sack, she would have been more elegant." Marilyn then took the sharp criticism at the word, and took photos wearing a potatoes sack in October 6, 1952 (see pictures of Earl Theisen)
>> Séance photos de la fameuse robe portée pour la cérémonie
(sur la photo de groupe "des jeunes premiers d'Hollywood',
se trouve Mitzi Gaynor, Leslie Caron, John Derek
et Tony Curtis, ce dernier vécut d'ailleurs une brève idylle
avec Marilyn durant cette époque, vers 1951/1952)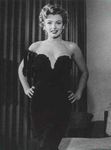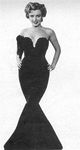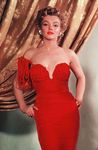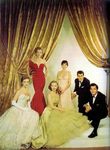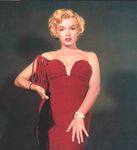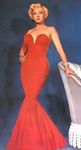 ---
---
© All images are copyright and protected by their respective owners, assignees or others.
copyright text by GinieLand.

Enregistrer
Le 29 mars 1951, se tient la cérémonie des Oscars (The Academy Awards) au Pantages Theatre, sur Hollywood Boulevard. Bien que Marilyn ne reçut jamais ce prix tant convoité, elle approcha de très près la fameuse statuette, où elle apparaît à la cérémonie pour la première et la dernière fois de sa vie. Marilyn Monroe était en effet chargée de remettre l'Oscar de "La meilleur prise de son" ("The Best Achievement in Sound"); le prix alla à Thomas Moulton pour le film "All About Eve" dans lequel Marilyn joua! D'ailleurs, "All about Eve" était nominé dans 14 catégories et remporta 6 Oscars. (>> pour plus d'infos, voir le film All About Eve ).
Fred Astaire est le maître de cérémonie. Peu avant son entrée en scène, Marilyn découvrit que la robe était déchirée. Prise d'une crise d'angoisse et de panique, les actrices Jane Greer, Debra Paget et Gloria DeHaven consolent Marilyn, pendant qu'une couturière répara précipitemment la déchirure.
On March 29, 1951, the Oscars Ceremony (The Academy Awards) holds at the Pantages Theatre on Hollywood Boulevard. Although Marilyn never received this coveted prize, she approached very near the famous statue, where she appears to the ceremony for the first and last time in her life. Marilyn Monroe was indeed responsible for handing the Oscar for "The Best Achievement in Sound"; the Price went to Thomas Moulton for the film "All About Eve" in which Marilyn played ! Besides, "All about Eve" was nominated in 14 categories and won six Oscars. (>> For more information, see the film 'All About Eve'). Fred Astaire is the master of the ceremony.
Shortly before going on stage, Marilyn discovered that her dress was torn. Taking by an anxiety attack and panic, the actresses Jane Greer, Debra Paget and Gloria DeHaven comfort Marilyn, while a dressmaker repairs rushly the tear.
---
> video

---
Pour cette prestigieuse soirée, Marilyn était vêtue d'une robe en mousseline décolletée, noire avec un voilage transparent bleu lavande, empruntée aux studio de cinéma. Pour Info: elle porta cette robe pour les photos publicitaires de Love Nest (>> voir les photos promotionelles de Love Nest).
Séance photos de John Florea.
For this prestigious event, Marilyn was wearing a low-cut chiffon dress, black with transparent lavender sheers, borrowed from the film studio. For information: she wore this dress for advertising photos of Love Nest (>> see promotional photos in the film 'Love Nest').
Photo Shoot by John Florea.
>> dans la presse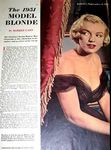 ---
© All images are copyright and protected by their respective owners, assignees or others.
copyright text by GinieLand.
30 août 2008
Le bal de promo des juniors de l'université d'UCLA (University of California Los Angeles) de l'année 1951, se tient le 2 février 1952. Marilyn Monroe est acceuillie par Dave Lund et Jerry Perenchio, président junior des festivités. On remet à Marilyn une orchidée. Puis Marilyn danse, enlacée dans les bras de Paul Cameron, un footballeur.
27 août 2008
Le Crépuscule d'une étoile
Une pièce fantastico-réaliste
sur la dernière journée de Marilyn Monroe.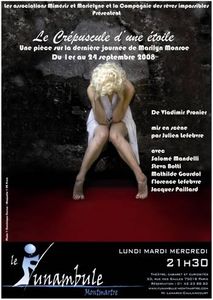 Pièce de Vladimir Pronier
Mise en scène par Julien Lefebvre
Avec Salomé Mandelli (dans le rôle de Marilyn Monroe), Steva Botti (la Mort), Mathilde Gourdol (Pat Newcomb), Florence Lefebvre (Eunice Murray), Jacques Paillard (Ralph Greenson).
Je vous en avez déjà parlé en mai 2008 (voir ici ), la pièce ayant été jouée en juin 2008 au Studio Théâtre de Montreuil. La pièce revient en septembre 2008 pour 12 représentations au théâtre du Funambule.
A Voir/Lire: le communiqué de presse (au format pdf): CPCr_pusculed_une_toile
Dates et Horaires:
lundi 1er, 8, 15 et 22 septembre 2008 à 21h30
mardi 2, 9, 16 et 23 septembre à 21h30
mercredi 3, 10, 17 et 24 septembre à 21h30
Lieu: au Théâtre du Funambule (Montmartre): 53 rue des Saules, 75018 Paris (plus d'info site web ThéâtreDuFunambule)
Sur le web: Le site Le crépuscule d'une étoile et La page myspace
>> Vidéo Bande-Annonce:

Le Crépuscule d'une étoile - Bande Annonce
envoyé par albertfan
Vous avez vu la pièce ?
Donnez votre avis en cliquant sur commentaires...
23 août 2008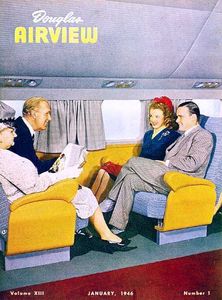 La toute première couverture de magazine de Marilyn Monroe est celle du Douglas Airview (une compagnie d'avion) datée de janvier 1946, publié par Douglas Aircraft, Volume 13, No.1. et contenant 24 pages.
Marilyn apparaît aussi à l'intérieur du magazine (où elle pose en combinaison de nuit pour promouvoir le nouvel avion DC-6 dans un article intitulé "Sky Luxury Showroom"), et d'autres clichés publicitaires seront publiés dans des numéros ultérieurs du magazine de la compagnie plus tard durant cette année là.
Les prises de vues de ces clichés eurent lieu à Santa Monica en décembre 1945 par Larry Kronquist.
The very first Marilyn Monroe magazine cover is that one of Douglas Airview (an aircraft company) dated in January 1946, published by Douglas Aircraft, Volume 13, No.1. and containing 24 pages.
Marilyn also appears inside the magazine (where she poses in a nightie to promote the new DC-6 aircraft in an article titled "Sky Luxury Showroom"), and other publicity shots will be published in subsequent issues of the company's magazine later during that year.
The shooting of these pictures took place in Santa Monica in December 1945 by Larry Kronquist.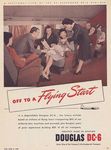 Certains clichés furent aussi publiés dans d'autres magazines,
comme cette page publicitaire provenant du Time Magazine du 8 avril 1946.
Et en moins d'un an, Norma Jean -future Marilyn Monroe- fera la couverture de 33 magazines nationaux américains.
Some pictures were also published in other magazines,
as this advertising page from Time Magazine in April, 8, 1946.
And in less than a year, Norma Jean - future Marilyn Monroe- will be on cover of 33 US national magazines.

D'après Clark Kidder, un collectionneur de Marilyn, qui publia le livre "Marilyn Memorabilia" - qui est une sorte de guide d'identification concernant tous les produits dérivés et autres objets de collection se rapportant à Marilyn Monroe avec leurs valeurs monétaires, publié chez Krause Publications, Iola, Wis.-:
"...le (magazine) Playboy est plutôt facile à trouver, mais le premier magazine où Marilyn en fit la couverture était le premier numéro du Douglas Airview de janvier 1946, un journal interne pour la company industrielle d'aviation Douglas. Ici, Marilyn et trois autres modèles posent par deux couples, vieux et jeune, savourant l'intérieur spacieux du nouvel avion DC-6. (...) Bien que la photo déserve le modèle (Marilyn étant vêtue d'une manière très conservatrice et à moitié cachée dans son siège à côté de son partenaire en premier plan), le magazine fut vendu à une enchère en ligne (ebay pour pas le citer) pour 2100 $."
According to Clark Kidder, a Marilyn's collector, who published the book "Marilyn Memorabilia" - which is a kind of a field guide on all derivatives and other collectibles related to Marilyn Monroe with their monetary values, published from Krause Publications, Iola, Wis.-:
"... the (magazine) Playboy is rather easy to find, but the first magazine where Marilyn was on the cover was the first number of Douglas Airview in 1946, January , an internal newspaper for the industrial company of Douglas aviation. Here, Marilyn and three other models pose by two couples, old and young, enjoying the spacious interior of the new aircraft DC-6. (...) Although the photo deserve the model (Marilyn is wearing a very conservative and half hidden in her seat next to her partner in the foreground), the magazine was sold in an online auction (ebay) for $ 2,100. "

> Douglas Airview, 1946, July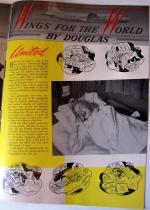 ---
>> Sources web:
article Marilyn Monroe Collectibles sur MountainStatesCollector
et article Marilyn First Cover
---
All photos are copyright and protected by their respective owners.
Copyright text by GinieLand.
04 août 2008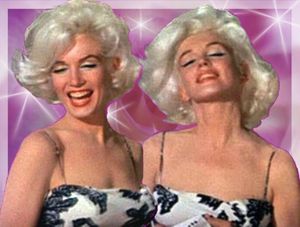 En ce 4 août 2008, ayons une pensée pour Marilyn Monroe qui nous a quitté dans la nuit du 4 au 5 août 1962 à l'âge de 36 ans seulement, emportant pour toujours le mystère de sa tragique disparition, entrant ainsi dans la légende des icônes éternelles qui ne vieilliront jamais. Déjà 46 ans qu'elle nous a quitté, et pourtant elle continue à vivre dans nos coeurs. Il nous reste sa grâce, sa beauté et son talent, qui encore aujoud'hui, continuent à émouvoir toutes les générations au delà des frontières.
Repose en paix, Norma Jeane.
But That's Another Story:
A Photographic Retrospective
of Milton H. Greene
Livre de photographies
Auteurs: Joshua Greene, Amy Greene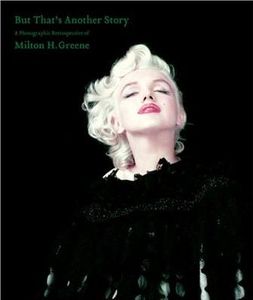 Prix éditeur: 50,61 Euros
Date de sortie: 4/12/2008
Relié 268 pages
220 photos couleur et
noir et blanc
Dimension 11,25cm x 14,25cm
Langue: anglais
Edition: PowerHouse Books
Auteurs et Editeurs: Joshua
et Amy Greene
Photos: Milton H. Greene
ISBN-10: 1576874540
ISBN-13: 978-1576874547
Ou le trouver ? sur amazon
et édition powerHouse Books

Description (traduction d'après le site de la maison d'édition powerHouse Books):
Témoin privilégié de l'esprit glamour des années 1950 et 60, Milton H. Greene photographia les plus grand artistes, acteurs et personnalités du 20ème siècle, dont Marilyn Monroe, Frank Sinatra, Grace Kelly, Marlene Dietrich, Sammy Davis Jr., Elizabeth Taylor, Cary Grant, Sophia Loren, Groucho Marx, Audrey Hepburn, Andy Warhol, Judy Garland, Alberto Giacometti, Lauren Hutton, Alfred Hitchcock, Sir Laurence Olivier, Ava Gardner, Steve McQueen, Claudia Cardinale, Paul Newman, Lauren Bacall, Dizzy Gillespie, et Catherine Deneuve, parmi tant d'autres. Renommé pour ses photographies de mode, Greene capta à la perfection la fantaisie, l'élégance et la beauté de ses modèles.
"But That's Another Story: A Photographic Retrospective of Milton H. Greene" reproduit, dans sa clareté et intégrité originelles, les images qui furent pour la plupart indisponibles depuis le décès de Greene en 1985. Organisé en thèmatiques, le livre montre autant les séries de célébrités et de la mode largement publiées, que des instantanés intimes pris en backstage. Un chapitre entier est dédié aux photos de Marilyn Monroe, avec certains de ses portraits les plus emblématiques mêlés à des moments intimes de sa vie privée.
en Bref... Un livre très attendu, où, vous l'aurez compris, figure plusieurs personnalités, mais avec tout de même un chapitre entier consacré à Marilyn, avec publication de clichés rares. A savoir: c'est Joshua Greene et Amy Greene, respectivement le fils et la veuve du photographe, qui en sont les auteurs. Il n'y a plus qu'à attendre le 4 décembre, date prévue de sortie du livre, apparemment disponible qu'en version anglaise. Petite astuce: livre en précommande sur amazon, au prix de 43 euros (frais de port gratuits).
Enregistrer
Enregistrer
Le 04 avril 1952, Marilyn Monroe se rend à la boutique Owl Drug Store de Los Angeles. Cette promotion a été lancée par le magazine Life, afin que Marilyn puisse signer le magazine dont elle fait la couverture pour l'édition du 7 avril.
In April, 04, 1952, Marilyn Monroe goes to the Owl Drug Store in Los Angeles. This publicity event was sponsored by Life magazine, in order to Marilyn could sign copies of the magazine on which she is on cover of the April, 7 issue.

> Marilyn avec le journaliste George Fisher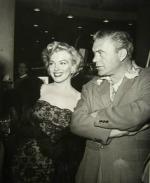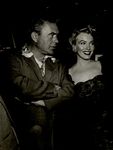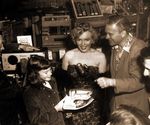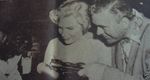 ---
© All images are copyright and protected by their respective owners, assignees or others.
copyright text by GinieLand.

Enregistrer
03 août 2008
Movie Icons - Marilyn Monroe
Livre de photographies
Edition: Taschen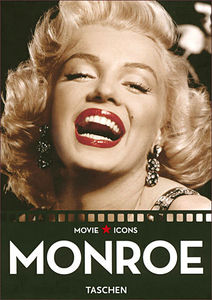 Prix éditeur: 6,99 Euros
Date de sortie: novembre 2006
Broché 192 pages
Dimension 14 cm x 19,5 cm
Langue: trilingue
français-anglais-allemand
Maison d'édition: Taschen
Éditeur: Paul Duncan
Texte: F.X. Feeney
Photos: The Kobal Collection
Collection : Movie Icons
ISBN: 978-3-8228-2117-6
Ou le trouver ? sur Taschen
et en commande sur fnac
Description de la collection Movie Icons
Cette collection est une série d'ouvrages de photos sur les plus célèbres figures du cinéma américain, une biographie visuelle, en quelque sorte. Chaque ouvrage contient environ 150 photos, complétées par l'introduction concise d'un réalisateur, une chronologie, une filmographie, une bibliographie et quelques anecdotes. Dans la série des "icônes du cinéma", figurent -entre autres- Ingrid Bergman, Marlon Brando, Charlie Chaplin, James Dean, Marlene Dietrich, Greta Garbo, Audrey Hepburn, Grace Kelly, Steeve McQueen, Elvis Presley, Frank Sinatra, Elizabeth Taylor etc...
Description du Movie Icon Monroe 'The Iconic Bombshell'
Sommaire: 1. Marilyn Monroe: L'enchanteresse (introduction) / 2. Filmographie en images: une silhouette blonde, les années studieuses, sex-symbol, vulnérable / 3. Chronologie / 4. Filmographie / Bibliographie
Extraits pages (du site taschen )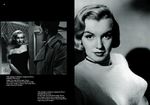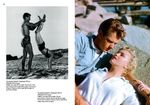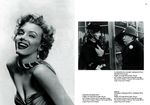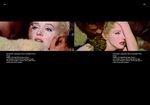 * Mon Avis en Bref... 9/10
Magnifique petit livre, comme toujours chez Taschen, qui a l'habitude d'éditer de splendides livres d'art. Les photographies sont d'une superbe qualité, la vie de Marilyn est ici illustrée par sa carrière cinématographique, chaque photo étant légendée. Il n'y a donc aucune photo concernant sa vie privée ou en publique, mais des images extraites de films, pendant les tournages ou encore des clichés publicitaires. C'est un excellent rapport qualité / prix, le texte en trois langues permettant par ailleurs un prix modéré (une seule impression sert tous les pays). J'ai hésité à mettre un 10/10 car le seul petit bémol: ce qu'il semble étrange, c'est la publication de captures d'écran (pour 'Bus Stop' et 'Something's got to give') alors qu'il existe des milliers de photos de ces deux films ! Par ailleurs, l'alternative d'un format plus grand aurait été préférable pour admirer pleinement les photos.
Vous avez le livre ?
Apportez votre critique, votre avis ou votre note (/10)
en cliquant sur commentaires...