01 juin 2008
Ce film amateur vient d'être dévoilé au public la semaine dernière. On y découvre de rares images filmées et en couleur de Marilyn Monroe sur le tournage du film The Misfits tourné l'été 1961 dans le Nevada, par Stanley Floyd Kilarr, un photographe amateur. A ses côtés, on distingue son maquilleur Withey Snyder, sa coach Paula Strasberg, ainsi que ses partenaires Thelma Ritter, Clark Gable et Montgomery Clift. L'intégralité de la vidéo (d'une durée approximative de 47 minutes) est mise en vente aux enchères par Julien's Auction, qui aura lieu le mois prochain (le 21 juin 2008) à Las Vegas avec une mise à prix estimée entre £5,075 et £10,153.
Gif - image animé- de Marilyn sortant d'un diamant
du film Les Hommes préfèrent les Blondes

(¯`v´¯)__(¯`v´¯)- -(¯`v´¯)
Née le 1er juin 1926,
Marilyn fêterai
cette année 2008
ses 82 ans !!
Mais le destin en a
décidé autrement...
(¯`v´¯)__(¯`v´¯)- -(¯`v´¯)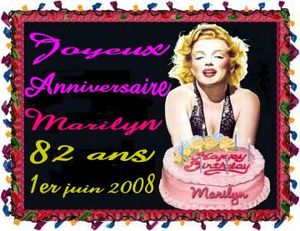 Marilyn est la plus grande star mythique d'Hollywood, et bien au-delà, elle continue à émouvoir toutes les générations de tous les continents. Je pense bien à toi, où que tu sois, et te souhaite un Joyeux Anniversaire.
J'ai découvert cette photo rare -que j'aime beaucoup- de Marilyn jouant du ukulélé (sans doute lors de sa période d'apprentissage de l'instrument pour le film Some Like it Hot).
Photo ajoutée dans le post du 8/08/1958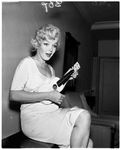 Extrait (original - en anglais) de Clash By Night
scène Peggy (Marilyn Monroe) et Joe (Keith Andes)
scènes de Clash By Night (Le Démon s'éveille la nuit),
où Peggy (Marilyn Monroe) porte un bikini noir.
31 mai 2008
Clash by night
Sur le tournage
Marilyn Monroe , Keith Andes et Fritz Lang
sur le plateau de Clash by night
dans les scènes où elle porte le bikini noir.
Marilyn et son habilleuse Rose Rockney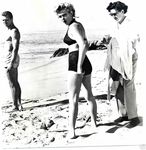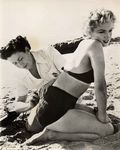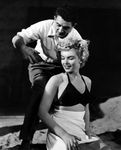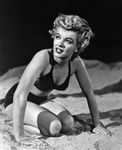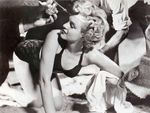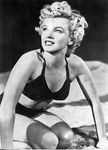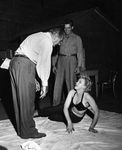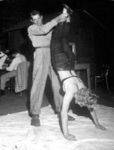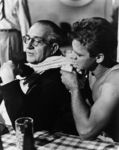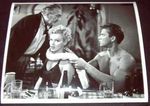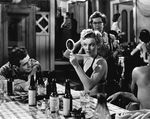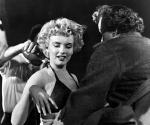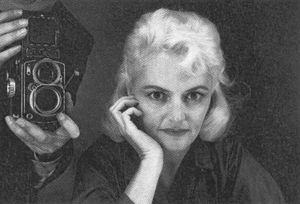 L'actrice américaine Evelyn Moriarty, plus connue pour avoir été la doublure de Marilyn Monroe, s'est éteinte mardi 20 mai 2008, dans une maison médicalisée à Los Angeles, souffrante depuis plusieurs années de la maladie de Parkinson, ce qu'a rapporté Greg Schreiner, le président du fan-club USA "Marilyn Remembered". Elle fut inhumée au cimetière Westwood Memorial Park de Los Angeles, près de la tombe de Marilyn Monroe. "Son âge était un secret, elle devait avoir entre 80 et 86 ans", selon Peter Schnug German, un historien spécialisé dans le cinéma et qui rencontra Moriarty par le passé.
Evelyn Moriarty fut repérée dans un night-club par le réaliateur Georges Cukor, qui l'engagea alors comme doublure de Marilyn sur son film Let's Make Love (Le Milliardaire) en 1960. Elle continua son rôle de doublure de la star pour les films suivants de Marilyn: The Misfits (Les Désaxés) en 1961 et Something's got to Give (Quelque chose va craquer) en 1962. Elle entretenait de très bon rapports avec Marilyn, qu'elle a toujours respectée. Généreuse, c'est d'ailleurs Evelyn qui organisa la fête d'anniversaire pour les 36 ans de Marilyn sur le tournage de Something's Got to Give, le 1er juin 1962, en organisant une collecte afin d'acheter un gâteau chez un grand patissier.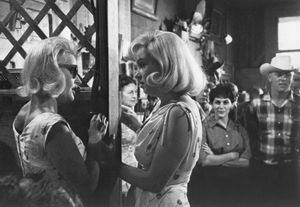 Evelyn Moriarty et Marilyn Monroe sur le tournage de The Misfits en 1961
Elle joua de petits rôles dans quelques films sans succés: dès 1944 dans Song of the Open Road (un tout petit rôle où son nom n'apparait pas au générique), dans Suspense en 1946 (mais dans lequel ses scènes furent coupées au montage), dans The Reckless Moment en 1949 (où là encore, elle ne tient qu'un rôle bref non crédité au générique), dans Around the World in Eighty Days en 1956 (non mentionnée au générique), puis dans Movie Movie en 1978.
Ses dernières apparitions à l'écran furent des entretiens accordés pour des documentaires télévisés consacrés à Marilyn Monroe, où elle s'est toujours exprimée avec beaucoup de gentillesse à l'égard de la star disparue: Marilyn Monroe: The Mortal Goddess en 1996, E! Mysteries & Scandals: Marilyn Monroe en 1998 et dans Marilyn Monroe: The Final Days en 2001.
>> Source article & bio:
info sur panamanewsblog (-en anglais)
carrière de Moriarty sur imdb (-en anglais)
petite bio sur cursumperficio (-en français)
... et Merci à Chris pour l'info :o)
ça faisait un ptit moment que je n'avais pas mis de wallpapers !
Voici 6 merveilles à tomber par terre créées par la talentueuse Chantal
A découvrir sans tarder sur son superbe blog Marilyn Monroe Wallpapers
scènes de Clash By Night (Le Démon s'éveille la nuit),
où Peggy (Marilyn Monroe) porte une robe noire (haut dentelles).