10 avril 2008
Action Caritative

Marilyn Monroe participe au show de mode annuel March of Dimes, qui se déroulait au Waldorf-Astoria de New York le 28 janvier 1958, accompagnant les jumelles de 6 ans Lindy et Sandy Sue Salomon. Les bénéfices de ce show sont reversés à la recherche de vaccination de la polio. Marilyn porte un ensemble veste et jupe longue de couleur champagne en soie et satin, et dont la veste fut conçue par John Moore pour Talmack. Les participants au show étaient composés des membres du groupe de haute-couture de l'institut New York Gress, ainsi que de designers new-yorkais, californiens et italiens.
(Pour en savoir plus sur les actions menées, visitez le site March of Dimes )
> photographie de Henri Dauman

---
---
>> Video

---
>> Campagne vaccins contre la polio (1957)
Photographies de Milton H. Greene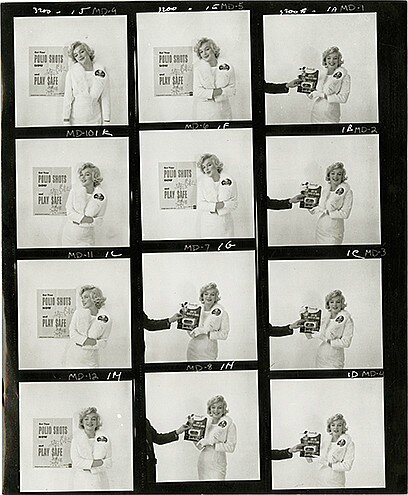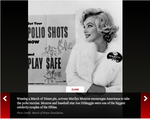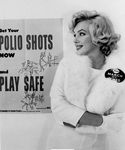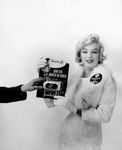 autour du film SOME LIKE IT HOT
Marilyn Monroe signe le 24 avril 1958 à New York le contrat pour tourner le film Some Like It Hot (Certains l'aiment chaud) en compagnie d' Harold Mirish, le Président de la société "the Mirischi Company Production" en collaboration avec "United Artists" qui produisent le film.
Marilyn Monroe who will return to the screen after an absence of almost two years in the Mirischi Company Production of Some Like It Hot for United Artists, is shown in (of all things), a sack dress, as she talks about the upcoming film with Harold Mirisch, President of the Company, after she signed her contract to star in the picture.
Marilyn Monroe signe des autographes au côté de son mari Arthur Miller avant de se rendre à la cérémonie annuelle des "American Academy and the National Institute of Arts and Letters" qui eurent lieu à l' Academy Auditorium (632 West 156th Street à New York) le 21 mai 1958, où Miller fut introduit en tant que membre du "National Institute of Arts and Letters" (l'Institut National des Arts et des Lettres) en recevant une médaille d'or.
09 avril 2008
Marilyn Monroe pose devant son piano blanc le 29 avril 1958 dans son appartement new-yorkais de la 57ème rue où Marilyn réside épisodiquement avec son mari Arthur Miller. Il s'agit sans doute du fameux piano blanc que sa mère lui acheta quand elle était enfant. Marilyn présente ici un modéle de la nouvelle "robe sac": "C'est une mode qui vous laisse libre de vos mouvements, et faire des mouvements... c'est très agréable".
Certaines sources créditent ces images au photographe Sam Shaw.
Marilyn Monroe poses in front of her white piano in April 29, 1958, in her New York apartment on 57th Street, where Marilyn lives occasionally with her husband Arthur Miller. This is probably the famous white piano that her mother bought her when she was a child. Marilyn presents here a model of the new "sack dress": "It is a fashion that leaves you free to move and making movement ... it's very nice."
Some sources crediting these images the photographer Sam Shaw.
---
(merci à Emma et Lacrymosa pour le descriptif des photos)
© All images are copyright and protected by their respective owners, assignees or others.
copyright text by GinieLand.
Marilyn Monroe pose avec la chroniqueuse Louella Parsons à une fête organisée chez le compositeur Jimmy McHugh le 9 juillet 1958.
Marilyn Monroe prend la pose sur un fauteuil le 8 août 1958, en attendant un coup de téléphone de son mari Arthur Miller qui lui annonce le verdict de son procés: la cour d'appel des Etats-Unis a annulé la sentence de la comission sénatoriale le condamnant; Miller ajouta qu'il éspérait que la décision "mettrait un terme aux excés commis par les comissions et particuliérement à la pratique revoltante qui consistait à utiliser comme témoins à charge les amis ou des connaissances du passé". Quand à Marilyn, elle déclara à la presse: "je suis heureuse pour mon mari mais je suis encore plus heureuse de constater que la vérité et la justice ne sont pas que des mots dans notre pays".

(*merci à Emma pour la précision des circonstances de ces photos)
Arthur Miller accompagne sa femme Marilyn Monroe à l'aéroport de New York le 8 juillet 1958; Marilyn s'envole pour Los Angeles afin de préparer le tournage de son prochain film Some Like It Hot, qui marque son grand retour au cinéma, et Arthur reste à Amagansett pour plancher sur le scénario de The Misfits qu'il commence à préparer. Paula Strasberg, sa coach, et May Reis, sa secrétaire, l'accompagnent. Sur le tarmac de l'aéroport de New York, quelques photographes sont présents, mais surtout des fans, photographes amateurs (tel que James Haspiel) et des employés de l'aéroport.

> Départ de Marilyn à New York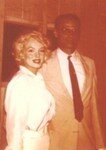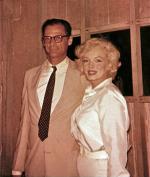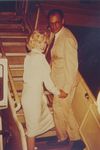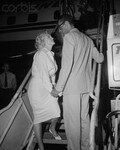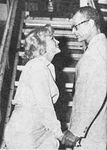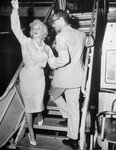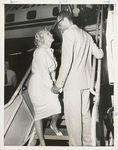 ---
> photographie de James Haspiel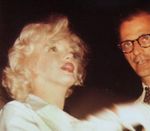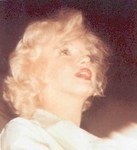 ---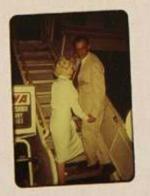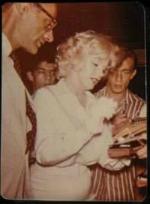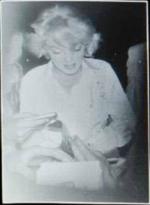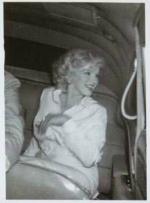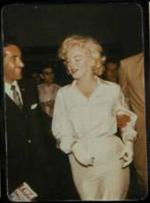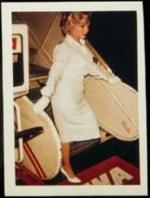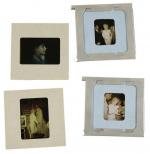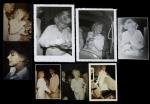 - de la collection de Frieda Hull, une fan des Monroe Six
-from the personal collection of Frieda Hull, one of the 'Monroe Six'
---
Comme Marilyn n'avait plus tourné depuis deux ans (depuis "Bus Stop") et se faisait rare à Hollywood, les journalistes se sont rendus en force à l'aéroport de Los Angeles. Une fois l'avion posé, les passagers descendent et c'est après 30 minutes que Marilyn fait son apparition en haut de la passerelle.
Un reporter du Los Angeles Times écrivit: "Une apparition blanche se matérialisa à la porte; cheveux blancs agités par le déplacement d'air que provoquait un autre avion; chemisier de soie blanc ouvert sur une gorge poudrée de blanc; jupe étroite de soie blanche; souliers blancs; gants blancs. Marilyn Monroe regarda le monde en cligant des yeux... puis elle se mit à descendre lentement, avec un air malicieux. 'Excusez-moi', dit-elle, 'je dormais.'"
Les journalistes ont remarqué qu'elle portait trois livres sous le bras:
- L'importance de vivre, de Lin Yutang.
- La vie parmi les sauvages, de Shirley Jackson.
- A l'acteur - de ichael Chekhov.
Elle monte dans une voiture qui l'emmène à son hôtel: le Bel Air Hotel, qui a été redécoré tout en blanc pour elle.
> Arrivée de Marilyn à Los Angeles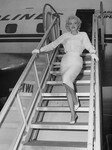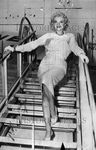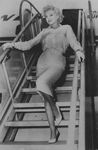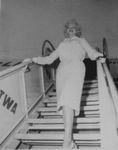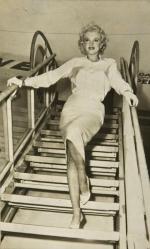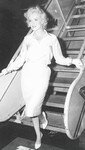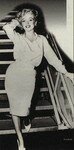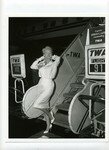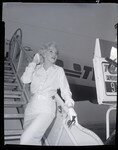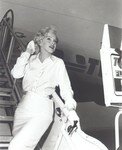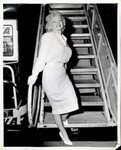 > Article du Los Angles Times, du 9 juillet 1958

> Article du TWA Skyliner employee publication, du 10 juillet 1958

---
> video


---
> source: Les vies secrètes de Marilyn Monroe, d'Anthony Summers.
---
© All images are copyright and protected by their respective owners, assignees or others.
copyright text by GinieLand.

Enregistrer
C'est accompagnée de son mari Arthur Miller que Marilyn Monroe, alors enceinte, rentre à New York le 7 novembre 1958 après avoir terminée le tournage de Some Like Hot. Elle fut hospitalisée au Cedars of Lebanon Hospital, après avoir frôlé la fausse couche, et une ambulance la raccompagna à l'aéroport. Les médecins lui recommandèrent de se reposer.
31 mars 2008
Marilyn Monroe devant le domicile de l'acteur Harold Lloyd, qui dispose d'une immense villa baptisée GreenAcres. Harold photographie ici Marilyn à son arrivée, le jour du tournage de la publicité pour Coca-Cola qui aura lieu près de la piscine de la villa.
---
© All images are copyright and protected by their respective owners, assignees or others.
copyright text by GinieLand.
Enregistrer