28 juillet 2007
Photographer Sam Shaw took some of the most famous pictures of the Hollywood icon
>> source: article sur Law.com
26 juillet 2007
Sam Shaw (1912 - 1999) photographia à de nombreuses reprises Marilyn Monroe, de 1954 à 1959. Ils étaient d'ailleurs devenus de bons amis, Shaw était aussi très apprécié par Arthur Miller, le troisième mari de Marilyn.
en 1954 sur le tournage de "Seven Years Itch"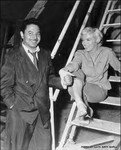 en 1959 sur le tournage de "Some like it Hot"

photo privée dans un taxi, date inconnue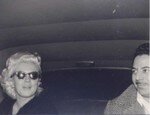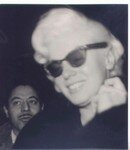 ClicK ici pour visiter son site officiel Shaw Family Archives version 1
ClicK ici pour visiter son site officiel Shaw Family Archives version 2
25 juillet 2007
Version de Jose Luis Arias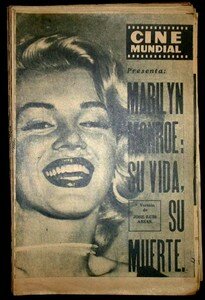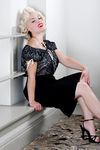 Jami Deadly, née brune en 1979, a grandi au Texas. A 19 ans, elle devient modèle au style néo-pinup et pendant 4 ans, elle mena sa carrière seule, à travers son site web et son fan-club, elle apparut ainsi dans plusieurs magazine rétro. Elle se décolora ensuite en blonde, et commenca une carrière de sosie de Marilyn, faisant des performances où elle chante comme Marilyn. Elle travaille actuellement en freelance à Las Vegas et offre ses prestations au look et chansons de Marilyn lors d'évènements.
>> son site officiel: Modern Marilyn
>> ses Myspace: jamiasmarilynmonroe et jamideadly
Enregistrer
24 juillet 2007
L'Affiche européenne de l'expo Marilyn & Friends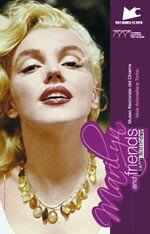 ---
Communiqué de presse de l'exposition des photographes Sam et Larry Shaw: Marilyn Monroe et ses amis, qui s'était tenue du 22 juin au 9 octobre 2004 à la Galerie Photo de Montpellier (France).
Cliquez ici: Sam_Shaw_2004_expo_Montpellier_Marilynetsesamis
ci-dessous, article paru dans Le Figaro 2004, sur l'expo de Montpellier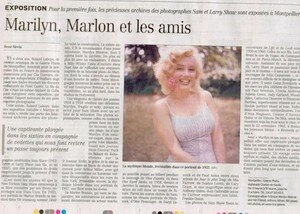 ---
Communiqué de presse de l'exposition des photographes Sam et Larry Shaw: Marilyn and Friends , qui s'était déroulée du 16 décembre 2005 au 18 février 2006 à la Young Gallery à Bruxelles (Belgique).
Cliquez ici: Sam_Shaw_2005_expo_Brussels_MarilynandFriends
/!/ Fichiers pdf, vous devez disposez du logiciel Acrobat Reader pour les ouvrir
23 juillet 2007
Deux séances de photographies représentant Marilyn Monroe au téléphone en 1957 dans sa maison de Long Island, où elle vivait avec son troisième mari Arthur Miller.
Marilyn adorait téléphoner, elle passait des heures entières accrochée au combiné; lors d'une entrevue, elle déclara même que "le téléphone est mon meilleur ami".
Ces instantanés de vie ont été capturés par le photographe et ami de Marilyn, Sam Shaw.
22 juillet 2007
/!/ --- SITE FERME --- /!/
Marilyn Monthly - en anglais
Tous les mois, 30 photos de Marilyn sont mises en ligne, parfois portant un thème (comme un photographe par exemple). Retournez visiter ce site tous les mois pour découvrir de nouvelles photos.
Marilyn est Elsie dans Le Prince et la danseuse
>> Source: freewebs.com/ilakid/

Le premier design du blog: Création de ma première bannière pour le blog, ainsi que de l'image d'identité du blog. Je ne suis pas une experte des montages, et ne suis pas très satisfaite de la résolution de l'image ! Mais ça permet quand même d'égayer et de personnaliser le blog, sans doute j'en créerai d'autres plus tard et changerai souvent de bannière de présentation du blog.
Les photos utilisées sont de Milton H. Greene.
21 juillet 2007
A vendre en ce moment sur ebay pour 600 dollars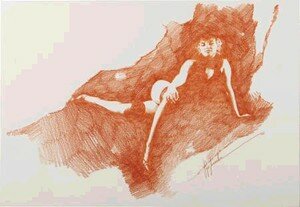 Jose Gonzalez - Marilyn Monroe Portrait Illustration Original Art (2002). Jose Gonzalez has drawn a supremely sensuous portrait of movie star Marilyn Monroe, as she appeared in the 1950s and 1960s. The mood of mystery in this work is captivating. Gonzalez even captured Marilyn's "come hither" look. This colored pencil portrait is the work of a top-notch draftsman. The overall size of this portrait measures approximately 19.5" x 14", and the art is in Excellent condition. A must-have piece for fans of Marilyn Monroe.