15 juillet 2007
Superbes montages de captures du documentaire Marilyn malgré elle, diffusé sur la chaîne Arte, Marilyn photographiée par Milton Greene

suite à une menace de poursuite judiciaire
par une personne inconnue
(que vous pouvez lire dans les commentaires ci-dessous)
les montages ont été retirées.
>> Source montages: aerocap.net
14 juillet 2007
Publicité USA pour les produits cosmétiques Max Factor
en 1999 de la "Diva Collection".
Photo utilisée: Marilyn photographiée par Milton Greene
13 juillet 2007
Splendide peinture de Marilyn en ange d'Hollywood, par Nicky , 2006
11 juillet 2007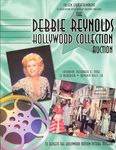 Vente aux enchères "Debbie Reynolds Hollywood Collection Auction" le 6 décembre 2003 par Julien's Auction à Beverly Hills aux Etats-Unis.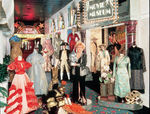 L'actrice Debbie Reynolds vendait ici une petite partie de sa collection (391 lots)de costumes d'acteurs et d'actrices et d'affiches de films. Les lots son en consultation sur le site liveauctioneers.com avec photos et descriptifs pour chacun. La collection comportait sept lots sur Marilyn Monroe: des costumes de films.
---
Lot n°80: costume de Don't Bother to Knock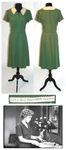 ---
Lot n°145: costume de Gentlemen Prefer Blondes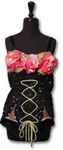 ---
Lot n°146: costume de Gentlemen Prefer Blondes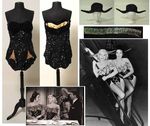 ---
Lot n°147: costume de Gentlemen Prefer Blondes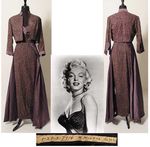 ---
Lot n°148: costume de Gentlemen Prefer Blondes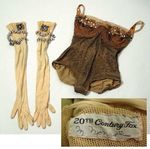 ---
Lot n°314: costume de The Seven Year Itch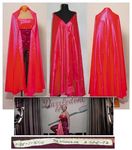 ---
10 juillet 2007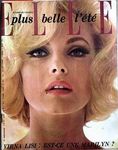 Virna Lisi ,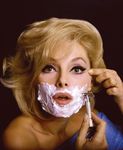 actrice italienne des années 1960 , ici photographiée par Douglas Kirkland , prenant une pose à la "Marilyn" : yeux mi-clos, bouche entre-ouverte, tête légèrement levée vers le haut, visage doux et pleine de sensualité, Virna a même copié la coiffure de la Marilyn de l'année 1962 : blond angélique, raie sur le côté et brushé... la 'Marilyn attitude' gagne l'Europe des années 1960 .
article publié le le 10 juillet 2007
>> source: article sur Telegraph.co.uk
By Philip Sherwell in New York
Her sultry pout and peroxide blonde hair helped make Marilyn Monroe one of the most famous faces in showbusiness. Now her instantly recognisable looks are at the centre of a bitter legal row over the control of dead celebrities' images, one that is pitting some of the biggest names in entertainment and sport against each other.
Yoko Ono, Al Pacino and the estates of the tennis champion Arthur Ashe and the baseball legend Babe Ruth are among those backing new legislation that would give the heirs of dead celebrities full control over commercial use of their names and images.
Opponents, who include the children of Ray Charles and Marlon Brando as well as the photographers who captured iconic images of Monroe, contend that new laws proposed in California and New York would restrict public access throughout the world to the pictures and work of hundreds of actors and artists.
The intensity of the confrontation reflects the highly lucrative business of marketing the famous names that keep filling the coffers even in death. According to the latest dead rich list compiled by Forbes magazine, the top 13 dead celebrities raked in $247?million (£125?million) for their estates last year from deals for their works, or rights to use their names and images for marketing and memorabilia.
Arnold Schwarzenegger, the actor-turned-politician, now has a pivotal role in the process. As the governor of California, he must decide whether to sign a bill passed last month by the state legislature that expands the control of heirs over how deceased celebrities are marketed.

The immediate controversy is over who has the right to control images such as the world famous pose of Monroe, with dress billowing over a subway grate, in a photo shoot taken by Sam Shaw for the film The Seven Year Itch.
The star's sole heir, Anna Strasberg, the Venezuelan-born widow of Monroe's acting coach Lee Strasberg, to whom she left her estate, is pitted against the children of four photographers who worked closely with the international sex symbol. It has turned into an ugly and unpleasant fight.
The enduring allure of Monroe, who died of a sleeping pill overdose aged 36 in 1962, earned $8 million for her estate for 2005-06 from perfumes, handbags and advertising campaigns for the likes of Dom Perignon and General Motors.
Those were all authorised by the Marilyn Monroe Limited Liability Company, established by Mrs Strasberg. But in 2005, she sued the picture archives that had been independently selling photographs for merchandising.
Although there was no dispute that the archives owned the copyrights, and indeed in some cases Monroe had also signed release forms, Mrs Strasberg argued that she should control marketing rights — and of course licensing fees.
The court hearings on the East and West coasts went against her in May, prompting Mrs Strasberg to launch her legislative push in June. The proposals stalled in New York but were fast-tracked in California, where lawmakers are historically more supportive of the entertainment industry.
Her battle has angered the descendants of the photographers who helped make Marilyn Monroe famous. "Sam Shaw owned the copyright to the photos and the billowing skirt concept was his. Now we are facing an attempt to enact retroactive legislation," said his grandson David Marcus.
Joshua Greene, whose photographer father Milton was a former business partner of Monroe and shot some 5,000 pictures of her, is equally indignant. "My father and Marilyn were partners, she happily signed away the rights to the photos, she lived in our house and she babysat for me, but now Marilyn Monroe LLC wants the right to control those images," he said.
The Monroe estate counters that it is pursuing its duty to protect the star's reputation from exploitation on inappropriate items such as condoms and knickers — items that have been found bearing her image.
Currently, a British T-shirt manufacturer who wants to feature a Milton Greene picture of Monroe must seek permission and pay a fee to the photographer's archive. If the new legislation is passed, he would also need authority from Mrs Strasberg and pay her charges too.
Anna Strasberg enlisted big?name allies for the legislative push. Yoko Ono gave support on behalf of her murdered husband John Lennon, the former Beatle, while Al Pacino said: "I feel one's likeness and image should be protected in some way and not abused or denigrated for the sake of profit."
Mrs Strasberg's son David said his family was determined to protect Monroe's legacy and had rejected proposals such as Marilyn cigarettes and condoms.
"The only people who are opposed to this legislation are those who want to make a quick buck out of Marilyn," he said. "You can still use photos of Marilyn in artworks and newspapers and books. But we are determined to prevent her exploitation."
However, the children of Ray Charles joined a campaign urging Mr Schwarzenegger not to sign the legislation, including a petition which suggests that Anna Strasberg only wants to change the law to make "millions of dollars from those wishing to use the name or likeness of Marilyn Monroe".
And Surjit Soni, a lawyer for two California-based picture archives, contended the law would cause "pandemonium" in the courts and reduce the availability worldwide of Monroe memorabilia.
"If this legislation is passed, the public throughout the world would be at the mercy of Anna Strasberg's taste and sensibilities," he said.
07 juillet 2007
Sur le tournage de 7 years Itch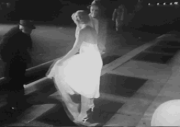 29 juin 2007
/ Avertissement / Mark Bellinghaus est un personnage très controversé au sein de la communauté des fans de Marilyn, qui cherche aussi à faire parler de lui. Ancien acteur allemand, aujourd'hui activiste et blogger, il s'est attaqué à plusieurs reprises envers des fans innocents de Marilyn, qui ont ainsi mené une pétition et engagé des poursuites (voir le site victims of MB). Ne connaissant pas la totalité des faits, je ne cherche pas à prendre parti; d'un côté je considère les actions de Bellinghaus envers les dénonciations de fraudes autour de Marilyn étant parfaitement louables; mais de l'autre côté, la férocité de son action dépasse parfois les limites, et je trouve dommage qu'il s'attaque injustement à de pauvres fans qui veulent simplement commémorer la mémoire de Marilyn !
---------
Mark Bellinghaus est un fan et collectionneur invétéré de Marilyn Monroe. Il est aussi très engagé dans la lutte des fraudes concernant la star et dénonce les sois disants objets et autres vêtements personnels de Marilyn revendus à des prix fous, ainsi que les fausses expositions etc... Il veut démontrer que désormais le seul nom de "Marilyn Monroe" est une véritable entreprise qui rapporte des millions à des personnes malveillantes voulant abuser des fans.
Saving the legacy of Marilyn Monroe - en anglais
* Son Site - pour sauver l'héritage de Marilyn, et dénoncer les expositions frauduleuses (dont celle organisée par Dolorés Hope Masi)


* Son Blog - plus de détails avec des articles et photos

* Son autre Blog - avec les actions qu'il mène et dénonce les personnes malveillantes qui veulent se faire de l'argent sur le nom de Marilyn
Blog Marilyn Monroe Monster
* A Lire aussi le combat des collectionneurs de Marilyn:
Article du L.A Weekly
28 juin 2007
Marilyn Monroe photographiée en 1950 par Ed Clark.
Marilyn Monroe phototographed in 1950 by Ed Clark.

---
© All images are copyright and protected by their respective owners, assignees or others.
copyright text by GinieLand.