21 avril 2014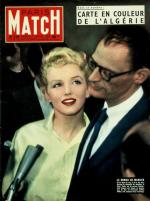 Le magazine Paris Match n°378, du 7 juillet 1956, consacrait sa couverture à Marilyn Monroe et Arthur Miller, avec un article de neuf pages sur l'annonce du mariage de Marilyn avec Miller, intitulé: "Marilyn se marie", reportage de leurs correspondants la journaliste Mara Sherbatoff et le photographe Paul Slade.
20 avril 2014
Quelque chose doit craquer
Captures

10ème partie des captures du film

19 avril 2014
18 avril 2014
Le prince et la danseuse
Sur le tournage
Marilyn Monroe et Arthur Miller lors d'une réception improvisée sur le plateau de tournage.
Photographies de Milton H. Greene
Marilyn Monroe and Arthur Miller during a reception organised on the set.
Photographs by Milton H. Greene
---
Marilyn Monroe et son mari Arthur Miller photographiés par Jack Cardiff.
Marilyn Monroe and her husband Arthur Miller photographied by Jack Cardiff.
---
Portraits du photographe Milton Greene

---
© All images are copyright and protected by their respective owners, assignees or others.
copyright text by GinieLand.

Enregistrer
14 avril 2014
Vidéo et Paroles
de la chanson Marilyn Monroe
interprétée par Pharrell Williams

>> Video

[Intro]
Different

This one goes out to all the lovers
What can we do? We're helpless romantics
We can not help who we're attracted to
So let's all dance, and elevate each other

[Refrain]
Dear diary, it's happenin' again
This energy, like I'm 'bout to win
I just close my eyes and visions appear
She's everything I want, and it's crystal clear
Not even Marilyn Monroe
Queen Cleopatra please
Not even Joan of Arc
That don't mean nothin' to me
I just want a different girl
Girl, girl, girl, girl
Girl, girl, can't another good boy keep it this thorough

Why, why do I have to lie?
Pretend, make believe or hide her?
When I love what I've described
But then again, I don't need no adjectives for this girl

[Refrain x2]

[Bridge]
What's wrong with that?
What's wrong with that? Yeah
What's wrong with that?

[Interlude: Kelly Osbourne]
In honor of the groove and all who's surrendered to it
We say thank you, and we take it back

We're so hard, I was so hard that they can't chew
Then my lucky star, I guess you came from behind the moon
I put my arms around her, and I promise not to abuse you
Since now I found you, why the hell would I want to lose you ?

---
>> Bonus Infos
La chanson est le deuxième single, sorti le 10 mars 2014, extraite du deuxième album studio de Pharrell Williams intitulé "Girl" et fait d'ailleurs l'ouverture de l'album. Elle contient la voix de Kelly Osbourne, fille de Ozzy Osbourne, connue en tant que vedette de la télé réalité pour avoir été filmée pendant son adolescence avec sa famille; mas Kelly, aussi chanteuse, porte une grande admiration envers Marilyn Monroe.
La chanson a été écrite par Pharrell, bien que l'orchestration en introduction ait été composée et écrite par la violoniste Ann Marie Calhoun.
Beyonce pose avec une perruque façon Marilyn Monroe pour le magazine américain 'Out' de mai 2014 (en kiosque le 8 avril); photographies de Santiago & Mauricio.
Beyonce with a Marilyn Monroe's wig for US magazine 'Out' May 2014 (available on April, 8), photographed by Santiago & Mauricio.
Marilyn Monroe en 1961 dans les jardins de la maison de Frank Sinatra, avec May Britt, la femme de Sammy Davis Jr, ici enceinte de leur fille Tracey Davis, qui va naître en juillet 1961.
Marilyn Monroe in 1961 in the garden of the Frank Sinatra's home, with May Britt, wife of Sammy Davis Jr, here pregnant of their daughter Tracey Davis, who will be born in July 1961.
Photographie publiée dans le livre "Sammy Davis Jr.: A Personal Journey with My Father" de Tracey Davis, Nina Bunche Pierce.
Extrait: Maman et Marilyn Monroe en tant qu'invités chez Frank Sinatra. Maman était alors enceinte de moi.
"Maman était devenue la sensation du jour au lendemain sur les affiches de film ou les couvertures des magazines à gogo après avoir remporté le rôle dans "L'Ange Bleu". Le remake du film de 1930 qui avait fait de Marlène Dietrich une star. Le rôle avait été initialement prévu pour une star telle que Marilyn Monroe. Maman disait qu'il n'y avait jamais eu tension entre elle et Marilyn. Elle disait "Quelques années après, nous avons été invitées chez Sinatra. Aucune de nous deux n'aimions les fêtes. Marilyn, comme moi, était timide. J'étais enceinte de toi à l'époque, et Marilyn et moi avons été photographiées ensemble. C'est devenue plus tard une photographie célèbre".
Photograph published in the book "Sammy Davis Jr.: A Personal Journey with My Father" by Tracey Davis, Nina Bunche Pierce
extract: Mom and Marilyn Monroe as houseguests of Frank Sinatra; mom was pregnant with me at the time.
"Mom became an overnight sensation on film posters and magazine covers galore after she won the part in The Blue Angel. The film was a remake of the 1930 classic of the same that had made Marlene Dietrich a star. The part had previously been slated for no less a star than Marilyn Monroe. Mom said there was never any tension between her and Marilyn. She said, 'Years later we were houseguests at Sinatra's place. Marilyn, like me, was shy. Neither of us were the life of the party. I was pregnant with you at the time, and Marilyn and I had our picture taken together. Later it became quite a famous shot.'"
---
> source forum EverlastingStar
Thanks to Joan Newman from the forum.

---
© All images are copyright and protected by their respective owners, assignees or others.
copyright text by GinieLand.
Arrêt d'Autobus
Bande Annonce américaine

>> Video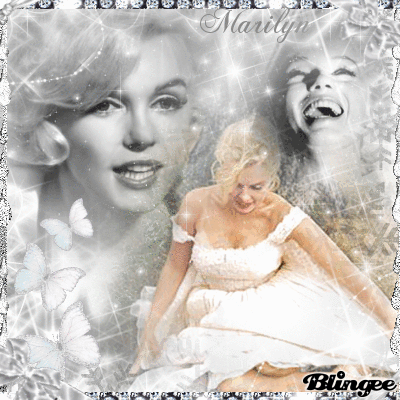 gif > source blingee.com
12 avril 2014
fan
Frédéric François
Le chanteur sicilo-belge porte une grande admiration à Marilyn Monroe, collectionnant tout ce qu'il trouve sur son idôle. A un entretien accordé à Paris Match en mars 2011, il explique que parmi ses passions, figurent Frank Sinatra et Marilyn Monroe, « la seule que sa fem­me Moni­que tolère ».