25 octobre 2007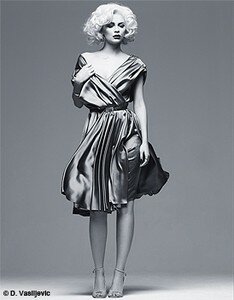 Dans le magazine Elle édition française du 21 mai 2007, (avec Monica Bellucci en couverture), la jeune actrice américaine Mischa Barton s'est mise dans la peau des plus grandes stars féminines le temps d'une séance photos, et s'est ainsi métamorphosée en Rita Hayworth, Marlene Dietrich, Greta Garbo, Marilyn Monroe et Louise Brooks; sous l'objectif du photographe David Vasiljevic.
Les scans des pages du magazine: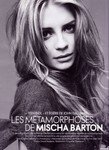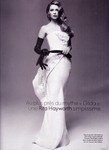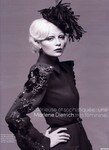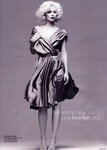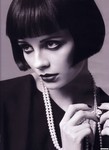 L'article (dispo en ligne sur le site Elle ):
Jusqu'à présent, elle n'était qu'une star pour ados, fan de mode et vedette de la presse people. En 2007, à l'affiche de trois films, elle gagne ses galons de comédienne. Séduit, John Galliano l'a choisie pour interpréter les mythes de Hollywood. En Dior, bien sûr ! Photos David Vasiljevic. Réalisation Friquette Thevenet.
Elle n'a pas touché aux carottes râpées du buffet, mais se jette sur le crumble aux pommes, qu'elle surmonte d'une énorme boule de glace vanille. « Ça manque de junk food chez vous ! » lance-t-elle d'un air presque sérieux. Ce n'est pas un caprice de diva, juste la remarque d'une fille comme nous. Mischa Barton, 21 ans, est une grande liane avec des cuisses, des vraies, qu'elle arbore sans complexes sous son microshort en jean. En arrivant le matin de la séance, son premier geste a été de brancher son iPod, bourré de gros rock, aux enceintes du studio. Pour son séjour à Paris, elle est accompagnée de son papa, un géant aux cheveux grisonnants qu'elle appelle « daddy » avec une moue boudeuse, et de son petit chien, Ziggy, qui la suit partout. Mischa Barton a tout de la « girl next door » américaine, nature et bien dans sa peau. Son allure de gamine en T-shirt de rock vintage contraste étrangement avec la perruque platine de Marilyn Monroe qu'elle a gardée pour la pause déjeuner. A l'occasion du 60e Festival de Cannes, John Galliano et la maison Christian Dior ont choisi la jeune actrice * pour cette séance photos exceptionnelle qui « met en scène » quelques-unes des plus grandes stars du cinéma : Rita Hayworth, Marlene Dietrich, Greta Garbo, Marilyn Monroe et Louise Brooks. Toutes font partie du panthéon personnel de Monsieur Galliano, elles peuplent ses fantasmes, elles l'inspirent et il leur rend hommage, régulièrement, au fil de ses collections.
L'affiche est surprenante : on n'avait jamais vu Mademoiselle Barton, « teen idol » parmi les « teen idols », aussi glamour. Entre elle et Dior, les liens se sont tissés depuis longtemps : « J'ai des rapports vraiment privilégiés avec Dior, je suis très proche de leur équipe parisienne et j'adore John Galliano ! Il a été le premier créateur à m'inviter à ses défilés, se souvient-elle. J'aime l'énergie et le côté théâtral de ses collections et j'ai eu la chance de porter sur tapis rouge plusieurs robes Dior haute couture. La première fois qu'ils m'en ont prêté une, je l'ai mise à l'envers ! Quand j'ai réalisé ma bourde, j'étais morte de honte, mais John a beaucoup ri. »
Mischa Barton appartient donc, comme Nicole Richie et Lindsay Lohan, à la galaxie des « teen idols » dont se délecte la presse people. Mais, contrairement à ses congénères, vous ne la verrez jamais danser pieds nus sur le bar d'une boîte de nuit ! Elle doit sa notoriété au rôle de Marissa Cooper qu'elle a incarné pendant trois ans dans « Newport Beach » (« The O.C. » en v.o.), série culte des ados américains et européens. « Pour incarner Marissa, une petite fille gâtée des quartiers chics de Los Angeles, je ne portais que des vêtements de créateurs, c'était génial ! Mais mon style à moi est bien plus éclectique. J'adore mélanger des accessoires griffés avec des petites robes de plage, et j'ajoute toujours quelques pièces vintage à mes tenues. » Née à Londres, élevée à New York et starifiée en Californie, Mischa emprunte aux codes de ces trois hauts lieux de la fashion. En passionnée de mode, elle adore se lancer sans retenue dans les tendances les plus ultimes : on l'a vue récemment dans une soirée new-yorkaise vêtue d'une robe vintage jaune poussin que peu de fashionistas auraient osée. Il y a quelques semaines, elle se baladait dans Londres avec le jean ultra taille haute que nous hésitons encore toutes à adopter. « J'adore le style "Hepburn" qu'il donne à une silhouette ! » se justifie-t-elle en riant.
La séance photos reprend. Grâce à une perruque et aux doigts agiles de la coiffeuse Odile Gilbert, Mischa se transforme en Louise Brooks. Devant l'objectif, l'adolescente californienne laisse soudain place à une tragédienne. Les épaules rentrées, le regard dans le vague, elle incarne l'actrice des années 20 avec une justesse bluffante. L'exercice amuse beaucoup Mischa qui regarde ces actrices mythiques avec respect et un brin d'envie. « L'industrie du cinéma a tellement changé. A l'époque, l'important, pour une actrice, c'était sa grâce et son style dans les rôles qu'elle incarnait. A travers leurs films, ces femmes inventaient le style de toute une génération. Les photographes ne les pourchassaient pas lorsqu'elles allaient acheter un café au coin de la rue, en mules et sans maquillage ! J'ai eu beaucoup de mal à m'habituer à la présence permanente des paparazzis. J'ai dû apprendre à travailler mon look même dans la vie quotidienne. Pour mes sorties sur tapis rouge, je fais appel à la styliste Rachel Zoe. Ce que je préfère chez elle ? Sa collection démente de sacs, de bijoux et de chaussures dans laquelle elle me laisse piocher ! »
La séance a pris fin. Mischa renfile son short et son T-shirt, chausse ses sandales Marc Jacobs et prend son chien sous le bras. Son planning pour la fin de la journée ? « Aller flâner dans Saint-Germain pour dégoter une ou deux fringues qui rendront les filles vertes de jalousie à Hollywood ! »
-Par Lauren Bastide (Le 21/05/2007) pour le magazine Elle
Enregistrer
Wallpaper Marilyn Monroe pinup pose
source inconnue: si vous en êtes le/la créateur/créatrice,
Merci de laisser un commentaire pour que je puisse accréditer ce wallpaper.
24 octobre 2007
Beyonce et le parfum Armani dévoilent "Diamonds"
cet automne 2007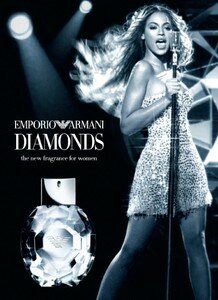 Beyonce, la diva du RnB, est l'égérie publicitaire de Giorgio Armani à l'occasion de la sortie de Diamonds, le nouveau parfum du styliste incontournable de Milan. Habituée aux rubriques people des tabloïds du monde entier, Beyonce n'en reste pas moins une star adulée qui répond selon Armani au glamour de cette fragrance (plus d'informations sur la page YouTube dediée ).
Dans ce spot, vous découvrirez la chanteuse, vêtue d'une mini-robe Giorgio Armani, rebrodée de cristaux Swarovski scintillants. Elle y interprète la célèbre chanson de Marilyn Monroe « Diamonds are a girl's best friend ». Au delà des goûts musicaux, Giorgio Armani brise les barrières du monde du luxe en choisissant une personnalité qui représente déjà L'Oréal, American Express, Mc Donald's ou encore Pepsi. Comme l'indique le créateur de mode, "La véritable élégance n'est pas celle que l'on remarque, mais celle dont on se souvient". Le spot publicitaire est en ce moment même diffusé à la télévision française: ne zappez pas pendant les pubs !
Vidéo - Le Spot Publicitaire:

Vidéo - Le Making-Of:

>> source article sur CultureBuzz
Enregistrer
Marilyn Monroe prend une pose de starlette pinup
devant la piscine du Beverly Hills Hotel vers 1952
Il semblerait que le photographe soit Larry Barbier...
22 octobre 2007
photo rare de Marilyn Monroe avec son maillot 1 pièce noir & blanc
Arrêt d'Autobus
Les interviews
Marilyn Monroe et George Axelrod, responsable du script du film Bus Stop, ici en plein tournage.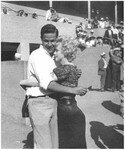 Entretien avec George Axelrod (co-script sur The Seven Year Itch et script sur Bus Stop)
extraits du livre Backstory 3 - Interviews with screenwriters of the 1960s - Pat McGilligan - University of California Press - 1997
[p.63] (...) Okay, self-serving. In the case of Bus Stop, I believe the movie of Bus Stop is a better movie than the play of Bus Stop is a play. Because Bus Stop is not a particularly good play of Bill Inge's, but it had two unforgettable characters—the chanteuse and the cowboy.
The play just plays in one set, at the bus stop, and I had to open it up. I had a brilliant scene in the screenplay for Bus Stop, which the Breen Office just murdered. In the play, the cowboy is bragging about how literate he is—that he can recite the Gettysburg Address. In the movie, I had him break into the girl's room in the morning, while she is asleep, just to prove how literate he is. As he's screwing her, he is reciting the Gettysburg Address. It went on and on: "We are met on a great battlefield . . . " The longer it went on, the funnier it was, but he has to be screwing her while he's doing it. Hilarious scene. But, of course, the Breen Office didn't allow them to screw. So it was a botch.
Whatever deluded you into writing it?
Perversity. I hoped Josh [Logan] would figure some way to make it work—film it on their faces, or something.
Were you hoping for a breakthrough in the Production Code?
The breakthroughs weren't anywhere near. Years later, with Lord Love a Duck, they still hadn't broken through. The last scene, where Roddy [McDowall] goes off triumphantly, screaming? I had him mouth "Fuck you!" and they cut it out.
Did these things drive you crazy?
Oh, mad. Not only did I have to cope with the Breen Office, but I had the Legion of Decency. Frank McCarthy, who was in charge of getting stuff through the Legion of Decency at 20th, used to say, "George, for Chrisake, why do you fight the system? Monsignor Biddle"—who was the movie guy for the Legion of Decency—"will be more than happy to sit down and write the scene with you . . . " (Laughs. Long pause.)
Irony?
Irony! The fact is that I would not sit down with Monsignor Biddle to write sex comedy scenes.
Then, unfortunately, after you wrote them, he went ahead and rewrote them.
Yeah, he just blue-penciled them out.
You told me that Itch was inspired by a real person. How often do you do that—take dialogue from real people?
I do listen to people. Almost all my original stuff is based on a real person; most, loosely. Almost everything starts with a person. Something about that person which gets me thinking—and, mostly, it's a woman.
[p.64/65] Why?
I don't know why. A lot of stuff was written for Marilyn. I had a big, professional, emotional hang-up with Marilyn.
When did you meet Marilyn?
When I first came out and started working with Billy in '53. She was rehearsing a musical at 20th—I remember she was doing a dance routine with [the choreographer] Jack Cole on a hot, sweaty soundstage in grungy rehearsal clothes, all covered with sweat, and she was just edible—glorious.
Poor Marilyn. I did two pictures with her and got to know her pretty well. She was a sad, sad, sad creature. She was sick. In a rightly ordered world, she would have been in a nuthouse. She was psychotic. Once you got to know her, one couldn't feel sexy about her. She was pathetic, sad. You just wanted to comfort her, cuddle her, father her, say, "It's going to be all right, child."
Did she ever involve herself, critically or otherwise, in the process of writing?
No.
Did she make script suggestions?
Not that I ever heard.
She would read the lines as written?
If she could remember them, and she couldn't.
If she couldn't, then she might do some interpolation?
No. She'd burst into tears and run off. The scene on the bus in Bus Stop, where she's pouring her heart out to Hope Lange, was a nightmare to shoot. "Rear projection" wasn't as good as it is now, so they kept running out of film. We had this rickety insert of a bus, and a rear projection screen, and Hope and Marilyn with a big, long speech, and Marilyn couldn't remember the words. Josh's dialogue director was propped up just outside of the screen, feeding her the lines, which she would parrot back. She had reached a point in her neurosis where if anybody said, "Cut!" she took it as an affront, burst into tears, and ran into her dressing room. So Josh never said cut. He'd run the whole nine hundred feet, keep running it and running it while he talked to her.
He was a huge man. Josh, so most of the time the screen was filled with Josh's behind and Marilyn's face, with this voice coming from the sky reading the lines that Marilyn would parrot. It took four days to shoot this scene, but it cut together like a dream, partly because Hope Lange is a professional actress and we'd cut to her. Little pieces of what Marilyn would do were inspired, magical, but interspersed with tears and "oh, shit!" and "what the fuck!" and getting her back together—all of it with the camera running because you couldn't say cut. God, the goings-on!
---
>> source web interview & photo:
livre en ligne sur backstory 3 descendre jusque page 45, page 64.
20 octobre 2007
Publicité américaine lors de la sortie du film Bus Stop en 1956
Affichage promotionnel du film sur le toit et côté transversal d'un bus
dans le quartier Spring Street de Los Angeles
et le boulevard de Chinese Theatre.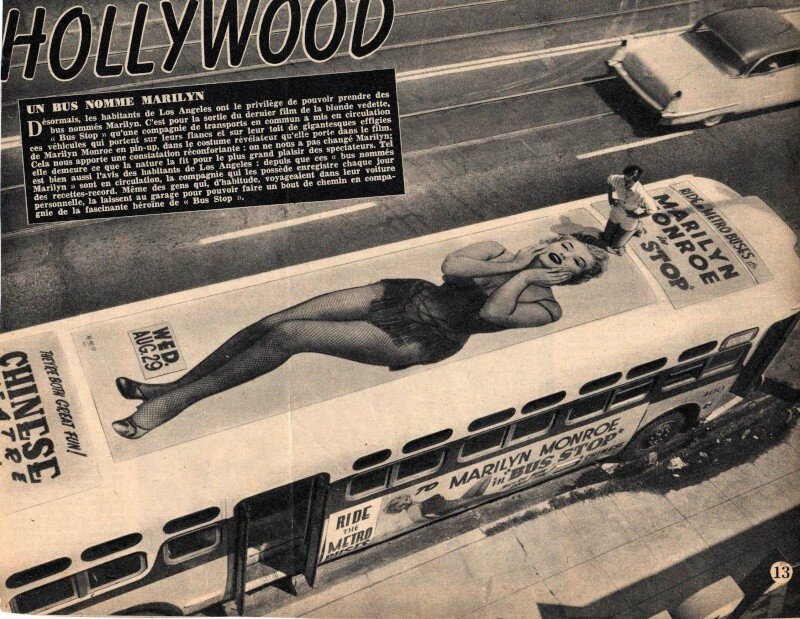 American advertisement for the release of the film Bus Stop in 1956
Promotional film display on the roof and transverse side of a bus
in the Spring Street area of Los Angeles
and Chinese Theater Boulevard.
---
© All images are copyright and protected by their respective owners, assignees or others.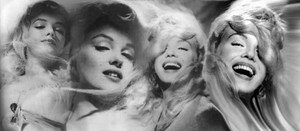 Photos promotionelles de Marilyn Monroe, qui porte ici des extensions, lui permettant de jouer avec sa longue chevelure blonde, pour le film The Prince and the Showgirl (Le Prince et la Danseuse) en 1956 par le photographe Jack Cardiff
Promotional photos of Marilyn Monroe, here wearing extensions' hair, allowing her to play with her long blonde hair, for the film The Prince and the Showgirl in 1956 by photographer Jack Cardiff.

---
> couverture de magazine / dans la presse: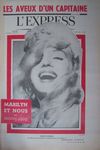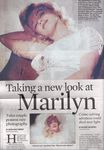 ---
> photos de Allan "Whitey" Snyder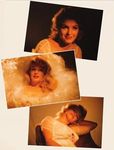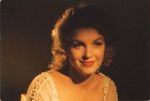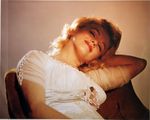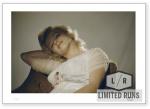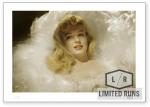 ---
© All images are copyright and protected by their respective owners, assignees or others.
copyright text by GinieLand.
Enregistrer
Enregistrer
Marilyn Monroe en compagnie de Lee Strasberg (qui dirige l'Actors Studio) et des amis de l'Actors Studio, dans un café à Broadway, New York, en 1955 juste après avoir assisté à la représentation de la pièce A Hatful of Rain.
Marilyn Monroe with Lee Strasberg (director of the Actors Studio) and friends from the Actors Studio, in a Broadway cafe in 1955 just after they attend the play A Hatful of Rain.
> de gauche à droite / from left to right:
Frank Corsaro, Michael Gazzo, Marilyn Monroe et Lee Strasberg.

---
© All images are copyright and protected by their respective owners, assignees or others.
copyright text by GinieLand.
Enregistrer
Enregistrer
Enregistrer
19 octobre 2007
Andy Warhol: Marilyn Monroe, 1967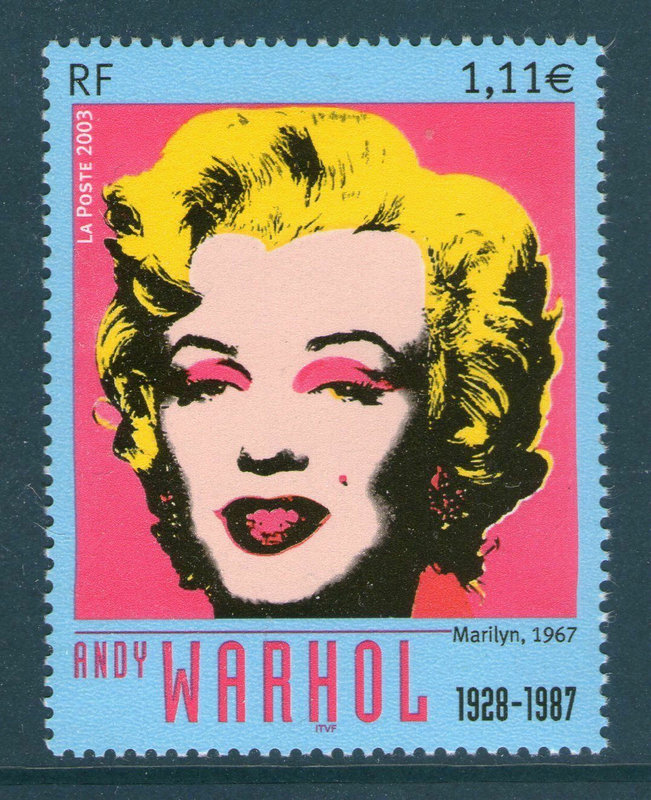 ---
© All images are copyright and protected by their respective owners, assignees or others.