19 avril 2014
18 avril 2014
Le prince et la danseuse
Sur le tournage
Marilyn Monroe et Arthur Miller lors d'une réception improvisée sur le plateau de tournage.
Photographies de Milton H. Greene
Marilyn Monroe and Arthur Miller during a reception organised on the set.
Photographs by Milton H. Greene
---
Marilyn Monroe et son mari Arthur Miller photographiés par Jack Cardiff.
Marilyn Monroe and her husband Arthur Miller photographied by Jack Cardiff.
---
Portraits du photographe Milton Greene

---
© All images are copyright and protected by their respective owners, assignees or others.
copyright text by GinieLand.

Enregistrer
14 avril 2014
Vidéo et Paroles
de la chanson Marilyn Monroe
interprétée par Pharrell Williams

>> Video

[Intro]
Different

This one goes out to all the lovers
What can we do? We're helpless romantics
We can not help who we're attracted to
So let's all dance, and elevate each other

[Refrain]
Dear diary, it's happenin' again
This energy, like I'm 'bout to win
I just close my eyes and visions appear
She's everything I want, and it's crystal clear
Not even Marilyn Monroe
Queen Cleopatra please
Not even Joan of Arc
That don't mean nothin' to me
I just want a different girl
Girl, girl, girl, girl
Girl, girl, can't another good boy keep it this thorough

Why, why do I have to lie?
Pretend, make believe or hide her?
When I love what I've described
But then again, I don't need no adjectives for this girl

[Refrain x2]

[Bridge]
What's wrong with that?
What's wrong with that? Yeah
What's wrong with that?

[Interlude: Kelly Osbourne]
In honor of the groove and all who's surrendered to it
We say thank you, and we take it back

We're so hard, I was so hard that they can't chew
Then my lucky star, I guess you came from behind the moon
I put my arms around her, and I promise not to abuse you
Since now I found you, why the hell would I want to lose you ?

---
>> Bonus Infos
La chanson est le deuxième single, sorti le 10 mars 2014, extraite du deuxième album studio de Pharrell Williams intitulé "Girl" et fait d'ailleurs l'ouverture de l'album. Elle contient la voix de Kelly Osbourne, fille de Ozzy Osbourne, connue en tant que vedette de la télé réalité pour avoir été filmée pendant son adolescence avec sa famille; mas Kelly, aussi chanteuse, porte une grande admiration envers Marilyn Monroe.
La chanson a été écrite par Pharrell, bien que l'orchestration en introduction ait été composée et écrite par la violoniste Ann Marie Calhoun.
Beyonce pose avec une perruque façon Marilyn Monroe pour le magazine américain 'Out' de mai 2014 (en kiosque le 8 avril); photographies de Santiago & Mauricio.
Beyonce with a Marilyn Monroe's wig for US magazine 'Out' May 2014 (available on April, 8), photographed by Santiago & Mauricio.
Enregistrer
Marilyn Monroe en 1961 dans les jardins de la maison de Frank Sinatra, avec May Britt, la femme de Sammy Davis Jr, ici enceinte de leur fille Tracey Davis, qui va naître en juillet 1961.
Marilyn Monroe in 1961 in the garden of the Frank Sinatra's home, with May Britt, wife of Sammy Davis Jr, here pregnant of their daughter Tracey Davis, who will be born in July 1961.
Photographie publiée dans le livre "Sammy Davis Jr.: A Personal Journey with My Father" de Tracey Davis, Nina Bunche Pierce.
Extrait: Maman et Marilyn Monroe en tant qu'invités chez Frank Sinatra. Maman était alors enceinte de moi.
"Maman était devenue la sensation du jour au lendemain sur les affiches de film ou les couvertures des magazines à gogo après avoir remporté le rôle dans "L'Ange Bleu". Le remake du film de 1930 qui avait fait de Marlène Dietrich une star. Le rôle avait été initialement prévu pour une star telle que Marilyn Monroe. Maman disait qu'il n'y avait jamais eu tension entre elle et Marilyn. Elle disait "Quelques années après, nous avons été invitées chez Sinatra. Aucune de nous deux n'aimions les fêtes. Marilyn, comme moi, était timide. J'étais enceinte de toi à l'époque, et Marilyn et moi avons été photographiées ensemble. C'est devenue plus tard une photographie célèbre".
Photograph published in the book "Sammy Davis Jr.: A Personal Journey with My Father" by Tracey Davis, Nina Bunche Pierce
extract: Mom and Marilyn Monroe as houseguests of Frank Sinatra; mom was pregnant with me at the time.
"Mom became an overnight sensation on film posters and magazine covers galore after she won the part in The Blue Angel. The film was a remake of the 1930 classic of the same that had made Marlene Dietrich a star. The part had previously been slated for no less a star than Marilyn Monroe. Mom said there was never any tension between her and Marilyn. She said, 'Years later we were houseguests at Sinatra's place. Marilyn, like me, was shy. Neither of us were the life of the party. I was pregnant with you at the time, and Marilyn and I had our picture taken together. Later it became quite a famous shot.'"
---
> source forum EverlastingStar
Thanks to Joan Newman from the forum.

---
© All images are copyright and protected by their respective owners, assignees or others.
copyright text by GinieLand.
Arrêt d'Autobus
Bande Annonce américaine

>> Video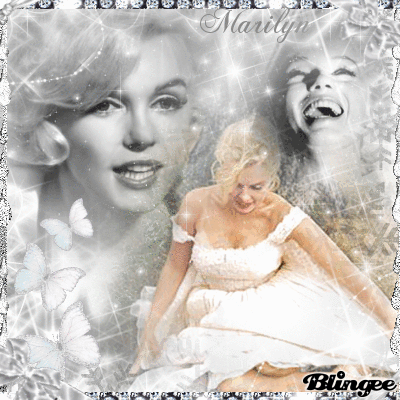 gif > source blingee.com
12 avril 2014
fan
Frédéric François
Le chanteur sicilo-belge porte une grande admiration à Marilyn Monroe, collectionnant tout ce qu'il trouve sur son idôle. A un entretien accordé à Paris Match en mars 2011, il explique que parmi ses passions, figurent Frank Sinatra et Marilyn Monroe, « la seule que sa fem­me Moni­que tolère ».
07 avril 2014

L'acteur américain Mickey Rooney est mort
Article publié le 7 avril 2014
par Thomas Sotinel - en ligne sur lemonde.fr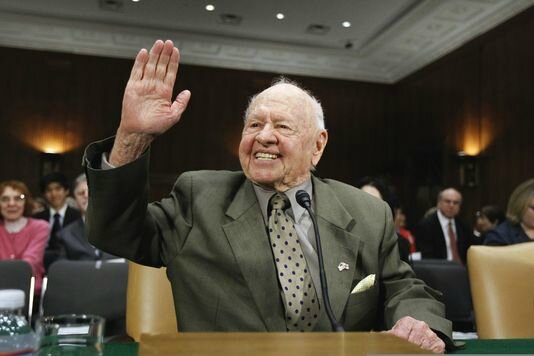 L'acteur Mickey Rooney à Washington, le 2 mars 2011. | AP/ALEX BRANDON
C'était un petit vieillard qui apparaissait dans des divertissements familiaux comme La Nuit au musée ou Les Muppets, le retour. Dans la salle, les enfants et la plupart de leurs parents ne savaient pas que cet espèce de lutin ridé avait été, trois quarts de siècle plus tôt, la plus grande star d'Hollywood. Partenaire privilégié de Judy Garland, époux d'Ava Gardner, personnage récurrent de la presse à scandale, Mickey Rooney rapportait plus d'argent à son studio, la MGM, que Clark Gable ou Spencer Tracy. C'était aussi la dernière star à avoir fait ses débuts à l'écran au temps du cinéma muet. Mickey Rooney est mort, dimanche 6 avril, à Westlake Village, en Californie. Il avait 93 ans.

Il est né Joseph Yule Jr. à New York dans le quartier de Brooklyn, le 23 septembre 1920. Ses deux parents étaient artistes de music-hall, de « vaudeville » pour reprendre le terme américain. A 5 ans, il est sur scène avec sa mère, une danseuse, qui a emmené cet enfant prometteur à Hollywood. En 1926, il décroche son premier rôle à l'écran dans un court-métrage muet, Mickey's Circus, que l'on a longtemps cru perdu jusqu'à ce qu'une copie soit découverte aux Pays-Bas en 2014. Ce film est le premier d'une série dans lequel il incarne Mickey McGuire, héros d'une bande dessinée à succès de l'époque.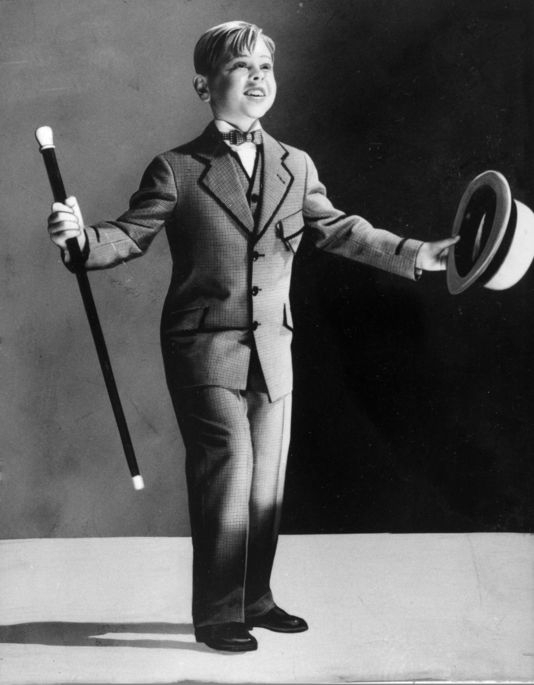 Mickey Rooney en enfant star, à l'age de 7 ans. | AP
UNE CARRIÈRE D'ENFANT STAR DANS LES ANNÉES 1930 ET 1940
En 1934, à 13 ans, il auditionne pour le grand metteur en scène de théâtre autrichien Max Reinhardt pour le rôle de Puck, dans Le Songe d'une nuit d'été. Il tient le rôle sur scène puis à l'écran, dans l'adaptation de William Dieterle. C'est Shakespeare qui fait de cet enfant du music-hall une vedette à part entière.
A l'adolescence, Mickey Rooney arrête de grandir, ce qui est à la fois une malédiction (il a souvent répété qu'il aurait donné dix ans de sa vie pour mesurer trente centimètres de plus que son mètre cinquante) et une bénédiction : en 1937, il décroche le rôle d'Andy Hardy, le fils gentiment rebelle d'un juge de campagne, personnage qu'il incarnera à treize reprises jusqu'en 1946. Cette série remporte un succès colossal aux Etats-Unis, faisant de Mickey Rooney la star la plus rentable de tout Hollywood entre 1939 et 1941. C'est dans cette série qu'il joue pour la première fois avec une jeune actrice, elle aussi enfant de la balle, elle aussi condamnée à des rôles de petites filles, Judy Garland, qui sera sa partenaire d'élection.
En même temps que la série des Andy Hardy, Mickey Rooney joue dans de grosses productions, comme Capitaines courageux (1937), de Victor Fleming, aux côtés de Spencer Tracy, ou Les Aventures de Huckleberry Finn (1939), de Richard Thorpe, dans lequel il tient le rôle titre.
En 1944, il incarne un vagabond expert en chevaux dans Le Grand National, de Clarence Brown, avec pour partenaire Elizabeth Taylor, l'un des innombrables rôles de jockey ou d'entraîneur que lui vaudra sa petite taille (on le verra en 1979 dans L'Etalon noir).
Fidèle à son héritage du « vaudeville », Mickey Rooney est aussi chanteur et danseur. La série de comédies musicales qu'il tourne avec Judy Garland sous la direction de Busby Berkeley, Place au rythme (1939), En avant la musique (1940), Girl Crazy (1943), connaît aussi un succès colossal, et le premier de ces films lui vaut une nomination à l'Oscar.

Mickey Rooney (21 ans) et Ava Gardner (19 ans)
lors de leur mariage à Santa Barbara (Californie), le 5 janvier 1942. | AP
UN PREMIER MARIAGE (SUR HUIT) AVEC AVA GARDNER
En 1942, il épouse une starlette d'une grande beauté, Ava Gardner. Le premier des huit mariages de Mickey Rooney durera moins d'un an, et le divorce est prononcé avant que la mariée ne soit devenue une star à part entière. En même temps, Mickey Rooney commence à dilapider les millions de dollars qu'il a gagnés à Hollywood. Joueur acharné et bientôt buveur invétéré, il devient une star des tabloïds.
Mickey Rooney quitte la MGM en 1946 dans l'espoir de prendre en main lui-même sa carrière grâce à sa propre société de production. Le résultat est catastrophique. L'ex-superstar accumule les petits rôles dans des navets et ne parvient pas, malgré de fréquentes tentatives, à s'imposer à la télévision. On le voit par exemple dans How to Stuff a Wild Bikini (« Comment empailler un bikini sauvage », 1965), de William Asher, un de ces films de plages destinés aux adolescents qui abritèrent d'autres étoiles déchues comme Buster Keaton.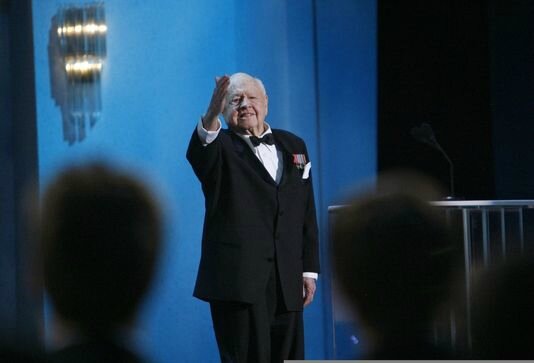 L'acteur, ici à Los Angeles en janvier 2008. | REUTERS/MARIO ANZUONI
Mais à la fin des années 1970, la carrière de Mickey Rooney rebondit. Désormais sobre et chrétien, l'acteur tient la vedette dans une revue de music-hall sur Broadway, Sugar Babies, qui se joue pendant trois ans.
Parallèlement, il tient des petits rôles dans de grosses productions. L'une des dernières a été le troisième épisode de La Nuit au musée, dont il avait tourné plusieurs séquences quelques semaines avant sa mort.
Mickey Rooney en quelques dates
23 septembre 1920: Naissance de Joseph Yule Jr. (son vrai nom) dans le quartier de Brooklyn à New York.
1926: Décroche son premier rôle à l'écran dans un court-métrage muet, Mickey's Circus.
1937: Décroche le rôle d'Andy Hardy qu'il incarne à treize reprises jusqu'en 1946.
1942: Premier mariage (sur huit) avec Ava Gardner.
1983: Reçoit un Oscar d'honneur pour l'ensemble de sa carrière.
6 avril 2014: Mort à Westlake Village (Californie).
---
>> Marilyn et Mickey Rooney <<
> Le 26 mai 1948, Mickey Rooney accompagne Marilyn Monroe à la première du film de Billy Wilder "The Emperor Waltz".
> En 1950, ils partagent ensemble l'affiche du film "The Fireball" ('Les rois de la piste') de Tay Garnett.
> Le 3 août 1952, Mickey Rooney fait parti des invités de la fête organisée pour Marilyn, la "Ray Anthony Party" à Los Angeles.
> Le 15 septembre 1952, ils assistent à un match de base-ball caricatif à Los Angeles.

>> Sur le blog: Marilyn et Mickey Rooney