19 février 2014
Le milliardaire
Captures

3ème partie des captures du film
A surveiller: bientôt une nouvelle et dernière enchère de la collection cinéma appartenant à l'actrice Debbie Reynolds sera organisée les 17 et 18 mai 2014 aux Etats-Unis; intitulée "Debbie Reynolds - The Auction Finale", ces enchères contiendront 800 lots, dont peut-être encore, certains se rapportant à la carrière de Marilyn Monroe. RDV sur le site Profiles In History pour précommander le catalogue.
Marilyn Monroe's Long Island Affair

By Spencer Rumsey
published on January 1, 2013
online longislandpress.com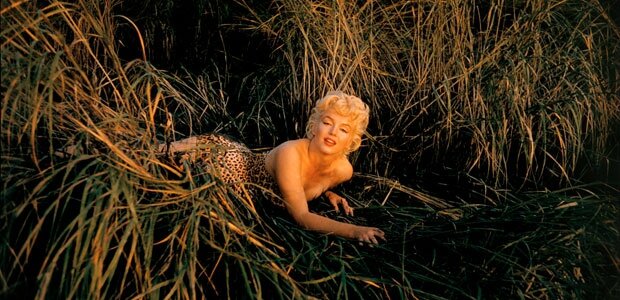 Marilyn Monroe was already one of the most famous women in America when she posed for Eve Arnold, herself a pioneering photographer, at a Mt. Sinai playground and in a nearby marsh in 1955. (Eve Arnold/Magnum Photos)
When Marilyn Monroe came out to Fire Island in 1955 to spend the weekend with Lee and Paula Strasberg, who were mentoring her at their famed Actors Studio in Manhattan, she famously remarked, "What a lovely place this is—it's got water all around it."

But that wasn't her first time on Long Island. In 1949 Monroe had visited the Town of Oyster Bay's Tobay Beach with Andre de Dienes, a photographer friend who'd once been her lover in California when she was still using her real name, Norma Jeane, and struggling to get her footing in Hollywood as a model.

Then she was a budding starlet and she'd come east to promote the Marx Brothers' forgettable last film, Love Happy, in which she tells Groucho that she needs his help because "some men are following me" and he lasciviously replies, "Really. I can't imagine why."

In de Dienes' pin-up photograph, Monroe was 23 and full of promise. Her troubled childhood in orphanages and foster homes were long behind her. A bright future lay still ahead.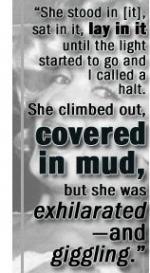 By the summer of 1955 Monroe had become one of the most famous women in America. Her marriage to Joe DiMaggio, the Yankee Clipper, was over, and she'd left Hollywood in a contract fight with 20th Century Fox. Her studio bosses had wanted her to do The Girl in Pink Tights. She balked and formed Marilyn Monroe Productions in New York.

The image of her skirt billowing in the breeze from the Lexington Avenue subway—a still from the 1954 movie The Seven Year Itch—had become "the shot seen 'round the world." Adding to the attraction was her 1953 appearance as the nude centerfold in the first issue of Playboy magazine, because the enterprising publisher Hugh Hefner had paid $500 for the rights to Tom Kelley's nude photos that he'd taken of her in 1949, paying her $50 to pose on a swath of crushed red velvet.

The news that the Hollywood star had been fully exposed broke in 1952 when Kelley's photos turned up in a calendar illustration. Monroe showed her genius for self-publicity—and earned even more money for 20th Century Fox—by owning up to it. In answer to reporters' breathless queries about what she'd been wearing during the shoot, she said she only had on "the radio."

At the Strasberg's place on Ocean Beach, Monroe was sharing a bedroom with their teenage daughter Susan, who was about to appear on Broadway in The Diary of Anne Frank. There were "a lot of theater people" at that part of the island, Susan Strasberg recalled. "They were sophisticates, which meant they stared at Marilyn Monroe from a distance instead of staring up close."
Over the Labor Day weekend in 1955 Monroe was on the North Shore, staying at Norman and Hedda Rosten's cottage in Port Jefferson. They were artistic college friends of Arthur Miller's, who'd Monroe had been seeing since she moved to Manhattan even though they were both still married at the time. Late that September afternoon she left to do a photo shoot with famed photographer Eve Arnold, the second woman to join Magnum Photos, the world-renowned agency founded by Robert Capa and Henri Cartier-Bresson.

Arnold, who was then living in Miller Place, took Monroe to a playground in Mt. Sinai. Monroe brought along three bathing suits and a copy of James Joyce's Ulysses, which she kept in her car.

"She said she loved the sound of it and would read it aloud to herself to try to make sense of it," Arnold recalled, "but she found it hard going."

Monroe had performed Molly Bloom's sensual soliloquy to much acclaim at a small workshop at the Actors Studio. While Arnold was changing film, Monroe got the book out to read.

"So, of course, I photographed her," Arnold explained. Soon it was 5 o' clock, the golden hour, photographers say. "The timing for the marshes was just right," Arnold wrote, "the light soft and shadowless and ranging from pale yellow through deep saffron."

Monroe changed into a one-piece bathing suit with a leopard-skin print and waded in.

"She was intrepid," Arnold enthused later. "She stood in [it], sat in it, lay in it until the light started to go and I called a halt. She climbed out, covered in mud, but she was exhilarated—and giggling." Later, Arnold would insist that Monroe told her "she had loved the day and kept repeating that these were the best circumstances under which she had ever worked."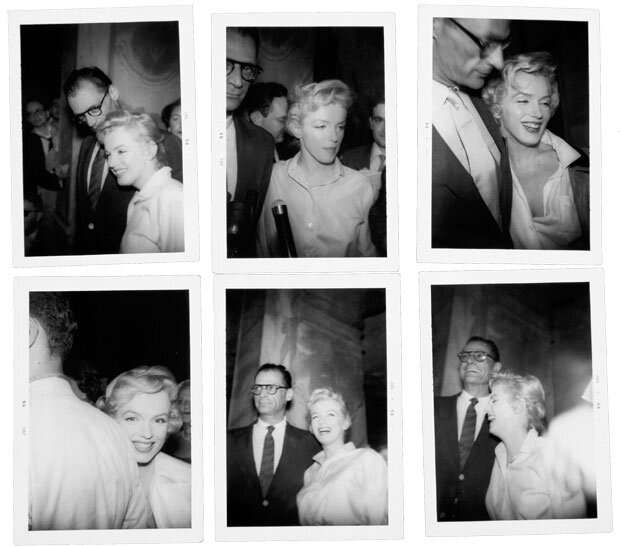 An effervescent Marilyn Monroe manages to get a laugh out of her serious husband, Arthur Miller,
in this series of candid black and white photographs taken in July 1956 when they were the most curious couple in the country. (AP Photo/Julien's Auctions)
Monroe's career was nearing its apogee. In the summer of 1957 Monroe was married to Miller, who'd won a 1949 Pulitzer for his tragic play Death of a Salesman. They were living in a weather-worn farmhouse in Amagansett near the Rostens, who were renting a cottage in Springs. Also nearby was the abstract expressionist painter Willem de Kooning, who painted Monroe for his series Women. The image, which Monroe biographer Lois Banner likened to "a cross between a grinning child and a screaming fury," did not appeal to Monroe's playwright husband but she didn't mind. The married couple was in a hopeful phase: He was writing in his studio near the main house and she was cooking and tending her garden. And she was pregnant.

But on Aug. 1, 1957 she cried out in pain. An ambulance rushed her to Manhattan where Monroe hoped that her own doctor could save her baby. He could not. Suffering from a painful uterine condition called endometriosis, she had an ectopic pregnancy, and it had to be terminated. She spent 10 days in the hospital, Miller by her side.

The loss was devastating. When the season was over, they moved back to Manhattan, he ensconced himself in a book-lined study at one end of the apartment struggling over a screenplay that would eventually become The Misfits while she was at the other end, strumming a ukulele and crooning, "I Wanna Be Loved By You."

The next year they moved to a new house they had built in Connecticut, but they never could recreate the idyllic summer they'd shared on the South Fork. And Monroe's happy times on Long Island faded into memory.
Photographies de George Barris revisitées par Dennis Mukai
> source InHollywoodLand
Les vies secrètes de Marilyn Monroe
Auteur: Anthony Summers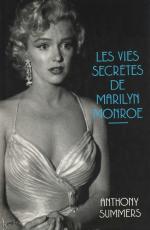 Date de sortie: 1986
Relié 522 pages
Langue: français
Éditeur: France-Loisirs
Prix éditeur: d'occasion dès 3,50 Euros
ISBN 10: 2724232240
ISBN 13: 978-2724232240
Dimensions du produit: 24,6 x 15,2 x 4,2 cm
Ou le commander ? sur amazon.fr
Description: Près de 25 ans après la mort de Marilyn Monroe (5 août 1962), voici le livre définitif sur le destin tragique d'une femme qui continue et continuera longtemps à fasciner le monde entier. Ce document de première main :
• dit toute la vérité sur la vie amoureuse de celle qui demeure toujours le « sex-symbol » du siècle;
• éclaire d'un jour nouveau la face cachée de ses mariages;
• révèle les fantasmes, les angoisses que l'actrice livrait à son psychiatre;
• fournit des témoignages de première main confirmant les liaisons de Marilyn avec les frères Kennedy;
• rompt la conspiration du silence à propos des complots de la Mafia et de ses alliés, visant à utiliser Marilyn dans la guerre contre les Kennedy qu'ils voulaient ainsi compromettre;
• lève le voile sur les mystères entourant la mort de la star;
• cite les rapports de police confidentiels, se réfère aux documents et enregistrements gardés par le FBI, recoupe les témoignages de six cents personnes.
Après des études à Oxford, Anthony Summers se consacre au journalisme. Il suivra les opérations de guerre au Yémen, au Vietnam, de 1966 à 1973, filmera l'armée égyptienne et sera reporter à Beyrouth.
Au départ de son enquête sur Marilyn Monroe,. une commande du Sunday Express très vite, il s'aperçoit que le mystère Monroe mérite plus qu'un article. Dès sa parution en Angleterre et aux États-Unis, le livre fait l'effet d'une bombe.
Summers est, par ailleurs, producteur à la BBC et l'auteur d'un autre ouvrage sensationnel consacré à l'assassinat du président Kennedy : « Conspiracy ».
---
Autres Editions françaises :
> Poche J'ai Lu, 1989, 568 pages
sur amazon.fr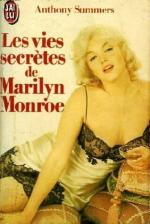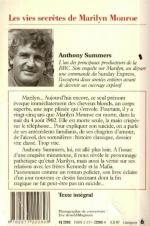 > Presses de la Renaissance, 1996, 523 pages
sur amazon.fr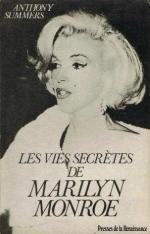 ---
Goddess: The Secret Lives of Marilyn Monroe
Author: Anthony Summers

Date de sortie: 1985
Broché ? pages
Langue: anglais
Éditeur: MacMillan Publishing Company
Prix éditeur: d'occasion dès $10
ASIN: B00507LBJM
Ou le commander ? sur amazon.com
Description: Marilyn Monroe. Her rollar-coaster life. Her deception - shrouded death. Her divided secret life. Her legion of lovers. Her intimacies with JFK and Bobby Kennedy. Her mafia connections. This is the one book that tells the whole naked, deeply moving truth about the all - too-beautiful talented, and tormented woman who played a role in public and in private that was too much for flesh and spirit to survive.
---
Autres Editions en Anglais / Other English Editions:
> USA : Penguin, 1986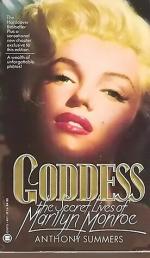 > USA : Warner Books, 1992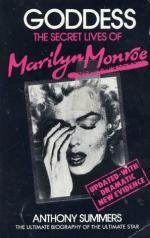 > USA : Orion, 2000, 688 pages
Language English, on amazon.fr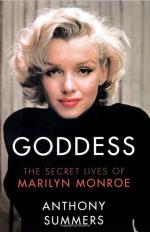 > USA : Open Road Media, 2013, 688 pages
Language English, on amazon.fr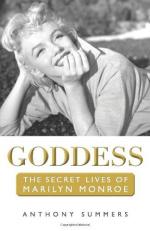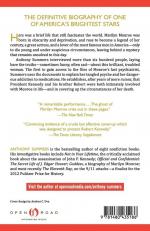 ---
Vous avez le livre ? Do you have the book ?
Apportez votre critique, votre avis ou votre note (/10)

Marilyn Monroe an Icon in Modern Art
Author: M. Suzanne Macon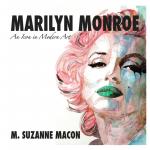 Date de publication Date: 2013, Août
Broché 338 pages
Language English
Editeur: Itoh Press
Prix éditeur: 17,94 Euros
ISBN-10: 193938351X
ISBN-13: 978-1939383518
Dimensions du produit: 21,6 x 21,6 x 1,8 cm
Ou le commander ? sur amazon.fr
> quelques illustrations

Description: Marilyn Monroe is perhaps the most recognizable figures in American history... She still lives on in history and our memories. This book contains a mere sampling of some of the ways Marilyn lives on through the eyes of each artist.
---
Vous avez le livre ? Do you have the book ?
Apportez votre critique, votre avis ou votre note
18 février 2014
artiste inconnu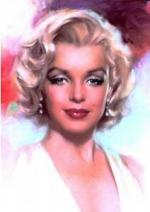 17 février 2014
Arrêt d'Autobus
Photos d'exploitation cinéma
---
- lobby cartes Argentine / Brésil -

---
- lobby cartes Italie -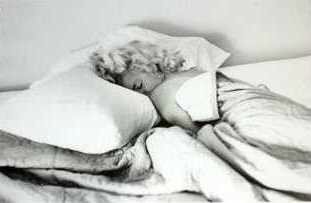 Cette photographie représentant une jeune femme blonde allongée sur le ventre, nue et recouverte d'un drap et d'une couverture dans un lit, la moitié du visage appuyé contre un oreiller est attribuée à tort à Marilyn Monroe sur de nombreux sites internet. Cette photographie est même souvent classée faisant partie d'une séance de Bob Beerman -Marilyn in Bed- où Marilyn pose allongée nue dans un lit, recouverte d'une couverture.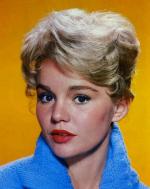 Il s'agit en fait de l'actrice américaine Tuesday Weld (née en 1943). Cette photographie la montrant allongée dans un lit est parue dans un article du magazine américain "Motion Picture" de juillet 1960, consacré à la jeune actrice qui n'avait alors que 17 ans. Elle a tourné son premier film à l'âge de 13 ans ("Rock, Rock, Rock" en 1956).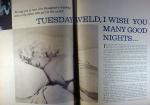 > source info: forum ES
Rapport d'autopsie
L'autopsie du corps de Marilyn Monroe est effectuée le 5 août 1962 à 10h30 par le médecin légiste Thomas Noguchi, assisté de Eddy Day à la County Morgue de Los Angeles, en présence de John Miner, observateur du District Attorney.
---
Composition de l'équipe de police judiciaire:
Theodore J. Curphey: Coroner Médecin Légiste du comté de Los-Angeles
Thomas Noguchi: Adjoint du coroner médecin légiste
Eddy Day: Assistant de Noguchi
Dr Robert Litman et Dr Norman Farberow: Unité de prévention du suicide
Lionel Grandison: Assistant du coroner
Numéro d'immatriculation à la morgue: 81128
Crypte n°33
---
Rapport
Examen externe: Le corps non embaumé est celui d'une femme de 36 ans de type caucasien, normalement développée, bien nourrie, pesant 53 kg et mesurant 1,66 m. Les cheveux sont blonds décolorés. Les yeux sont bleus. Le visage, le cou, la poitrine, la partie supérieure des bras et le côté droit de l'abdomen sont atteints de lividité cadavérique. La face postérieure des bras et des jambes est atteinte d'une discrète lividité cadavérique qui disparaît à la pression. On constate une légère ecchymose sur la fosse lombaire et la fesse gauche. Les seins ne présentent pas de lésion significative. Le quart supérieur droit de l'abdomen présente une cicatrice horizontale de 7 cm de long. On remarque une cicatrice chirurgicale suspubienne de 12cm de long. Les conjonctives sont manifestement congestives; mais on ne constate ni ecchymose ni pétéchies. Le nez n'a pas été fracturé. Les conduits auditifs externes sont normaux. Le cuir chevelu, le front, les joues, les lèvres et le menton ne présentent aucun signe de traumatisme. L'examen des mains et des ongles ne révèle aucune anomalie. Les membres inférieurs ne présentent aucun signe manifeste de traumatisme.
Examen interne: Une incision en Y est effectuée pour accéder aux parties internes du thorax et de l'abdomen. Les cavités pleurale et abdominale ne contiennent aucun excédent de liquide ou de sang. Le médiastin ne présente ni déplacement, ni modification. Le diaphragme est normal. La partie inférieure du foie se trouve à la limite des côtes. Les organes sont en situation normale les uns par rapport aux autres.
Appareil cardio-vasculaire: Le coeur pèse 300 g. La cavité péricardiale ne contient pas d'excédent de fluide ou de sang. L'épicarde et le péricarde sont lisses et brillants. La paroi ventriculaire gauche mesure 1,1 cm et la droite 0,2 cm. Les muscles papillaires ne sont pas hypertrophiés. Les cordages tendineux ne sont ni hypertrophiés ni atrophiés. Les valvules possèdent le nombres habituel de valves, qui sont minces et souples. La valvule tricuspide mesure 10 cm; la valvule pulmonaire, 6,5 cm; la valvule mitrale, 9,5 cm; la valve aortique, 7 cm de circonférence. Il n'y a pas d'anomalie septale. Le foramen oval est fermé.
Les artères coronaires naissent normalement et ont une distribution normale. Plusieurs coupes de la branche descendante de l'artère coronaire gauche à un intervalle de 5 mm révèlent une lumière normale. La branche circonflexe et l'artère coroner droite révèlent également d'une lumière normale. L'artère pulmonaire ne présente pas de thrombose. L'aorte a une paroi lisse, jaune et brillante.
Appareil respiratoire: Le poumon droit pèse 465 g, et le poumon gauche, 420 g. Les deux poumons présentent de légères traces d'oedème. Lasurface est rouge sombre et marbrée. La face postérieure des poumons porte d'importantes traces de congestion. La trachée artère ne contient ni corps étranger, ni sang. Des coupes des poumons révèlent une congestion, et un liquide oedémateux exsude de la surface incisée. Les poumons ne présentent ni calcification, ni suppuration. La muqueuse du larynx est gris clair.
Foie et système biliaire: Le foie pèse 1890 g. La surface est brun foncé et lisse. On constate des adhérences sur l'épiploon et la paroi abdominale, à la partie inférieure du foie, dues à l'ablation de la vésicule biliaire. On ne trouve ni calculs ni corps obstruants. Plusieurs coupes du foie présentent une accentuation du motif lobulaire, mais on ne constate ni hémorragie, ni tumeur.
Appareil lympho-vasculaire: La rate pèse 190 g. Sa surface est rouge foncé et lisse. La coupe présente une surface rouge foncé homogène et ferme. Les corpuscules de Malpighi ne sont pas clairement identifiables. Il n'y a aucune évidence d'adéno-lymphite. La moelle osseuse est rouge foncé.
Système endocrinien: Les glandes surrénales présentent une structure habituelle: une zone corticale et une zone médullaire. La glande thyroïde et les parathyroïdes sont de taille, couleur et consistance normales.
Appareil urinaire: Les deux reins pèsent 350 g. Leur capsule s'enlève facilement. La dissection met au jour une légère congestion du parenchyme. La surface du péritoine est lisse. Le pelvis et les uretères ne sont ni dilatés, ni sténosés. La vessie contient environ 150 cc d'un liquide jaune paille limpide. La muqueuse n'est pas altérée.
Appareil génital: L'appareil génital externe ne présente pas d'anomalies. L'implantation des poils pubiens est celle du femme. L'utérus est de taille normale. Les coupes de l'utérus font apparaître une épaisseur normale de la paroi utérine, sans présence de nodules d'allure tumorale. L'endomètre est gris-jaune et mesure jusqu'à 0,2 cm d'épaisseur. Il ne présente ni polype, ni tumeur. Le col de l'utérus est dégagé, on ne détecte pas la présence d'oeufs de Naboth. Les trompes sont intactes. L'ovaire droit présente un récent corps jaune hémorragique. L'ovaire gauche présente des corps jaunes et blancs. Un frottis est effectué.
Appareil digestif: L'oesophage présente une muqueuse longitudinale. L'estomac est pratiquement complètement vide. Il contient un liquide visqueux de couleur brunâtre. Son volume est estimé à envirion 20 cc. On ne retrouve aucun résidu médicamenteux. Une analyse du contenu gastrique examiné au miscroscope polarisant ne révèle pas de cristaux réfrigérants. La muqueuse présente une certaine congestion et suffusion pétéchiale sous muqueuse diffuse. Le duodénum ne présente pas d'ulcère. Le contenu du duodénum est examiné au miscoscope polarisant et ne révèle pas de cristaux réfrigérants. L'intestin grêle ne présente pas d'anomalies notoires. L'appendice est absent. Le côlon présente une congestion importante et une coloration violacée. Le pancréas a une configuration lobulaire. Les différentes coupes témoignent de la présence d'un conduit.
Système musculaire: Les clavicules, les côtes, les vertèbres et le bassin ne présentent aucune fracture. La palpation des os des membres ne révèle aucune fracture.
Tête et système nerveux central: Le cerveau pèse 1440 g. Après ablation du cuir chevelu, on ne constate ni contusions, ni hémorragie. Les muscles temporaux sont intacts. L'ablation de la dure-mère révèle un liquide cérébro-spinal clair. Les vaisseaux superficiels sont légèrement congestifs. Les circonvolutions du cerveau ne sont pas aplaties. Les contours du cerveau ne sont pas déformés. On ne trouve pas de traces de sang dans les espaces épiduraux, sous-duraux et sous-arachnoïdes. Les coupes du cerveau révèlent des ventricules symétriques et ganglions de base. L'examen du cervelet et du tronc cérébral ne montre pas d'anomalies notoires. L'ablation de la dure-mère à la base du crâne et de la calote crânienne ne révèle aucune fracture.
Prélèvements: Du sang non embaumé est prélevé en vue d'une analyse de la quantité d'alcool et de barbituriques qu'il contient. Les contenues du foie, des reins et de l'estomac, ainsi que l'urine et le contenu de l'estomac subiront une analyse toxicologique ultérieure. On effectue un frottis vaginal.
---
---
La photographie post-mortem du dossier de police montre un visage flasque, enflé, les cheveux plats et raides mais précisons que les muscles de son visage ont été sectionnés pendant l'ablation du cerveau et qu'après l'autopsie, sa dépouille a été lavée à grandes eaux.

(Avertissement: images choquantes de Marilyn morte)
> Avant l'autopsie: Photo post-mortem 1
> Après l'autopsie: Photo post-mortem 2
---
L'autopsie ne révéla aucun signe de violence sur le corps de Marilyn Monroe. Les tests sanguins décelèrent 8 mg d'hydrate de chloral et 4,5 mg de Nembutal. L'examen du foie décela une concentration de 13 mg de Nembutal.
Le Dr Litman, qui travaillait à la police judiciaire, déclara au biographe Donal Spoto: "Nous voulions en finir, parvenir à une décision, clore le dossier, délivrer un certificat de décès et aller de l'avant. Mais, bien sûr, nos espoirs se révélèrent vains et personne n'alla jamais de l'avant."
> Rapport d'Analyses Toxicologiques du 6/08/1962 et du 13/08/1962

---
> Rapport du Coroner du 7/08/1962 (Cronk et Noguchi)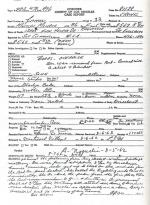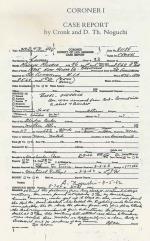 ---
sources:
Marilyn Monroe, encyclopédie d'Adam Victor

© All images are copyright and protected by their respective owners, assignees or others.
copyright text by GinieLand.