22 décembre 2013
Je vous souhaite à toutes et tous
de Joyeuses Fêtes de fin d'année
Joyeux Noël 2013
Merry Christmas 2013
Forever Marilyn
Author: Marie Cahill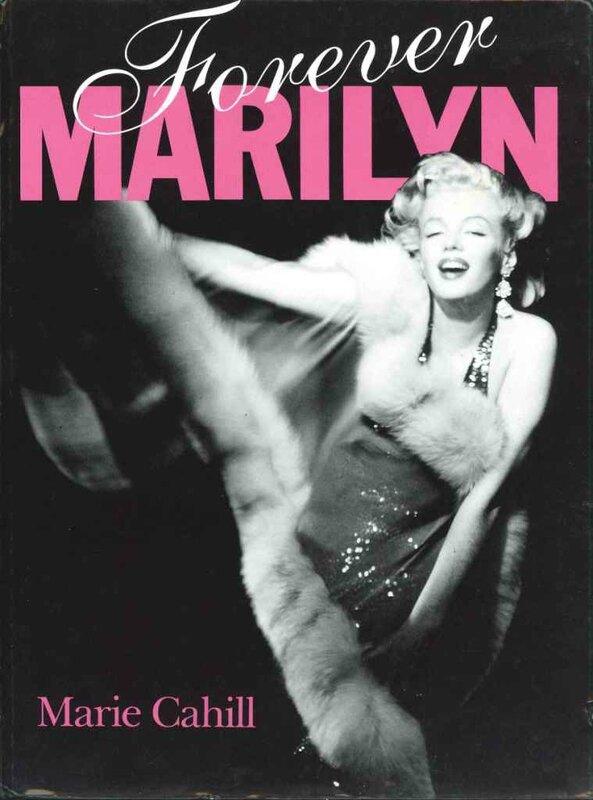 Publication Date: 1991
Number of pages 64 pages
Language English
Publisher: Bison
Price: 15 Dollars
Dimensions 31,2 x 23,2 x 1,4 cm
ISBN-10: 0861248198
ISBN-13: 978-0861248193
Ou le commander ? sur amazon.fr
Description: 40 years after her death, the legacy of Marilyn Munroe persists. Innocent yet sensuous, vulnerable yet strong. Marilyn Munroe had a unique magic that will live forever. 64 pages of less often seen pics.
---
Autres Editions / Other Editions:
> USA : Smithmark Pub, 1992, 64 pages
Language English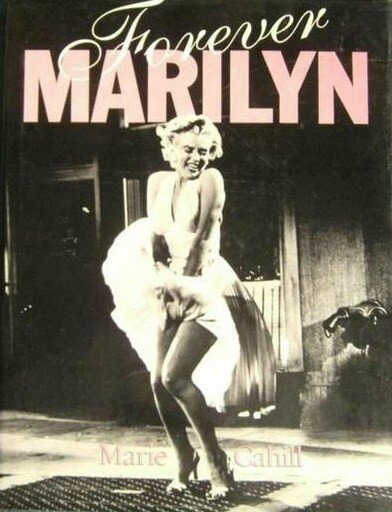 ---
Vous avez le livre ? Do you have the book ?
Apportez votre critique, votre avis ou votre note (/10)
Dans certaines compilations CD dédiées à Marilyn Monroe et sur des vidéos en ligne (tels youtube, dailymotion) on y retrouve parfois le titre "Santa Baby" faisant parti de la discographie de Marilyn. Or, ce n'est pas Marilyn qui chante !
Il s'agit de la chanteuse Eartha Kitt qui interprète ce titre enregistré en 1953.

Qui est Eartha Kitt ?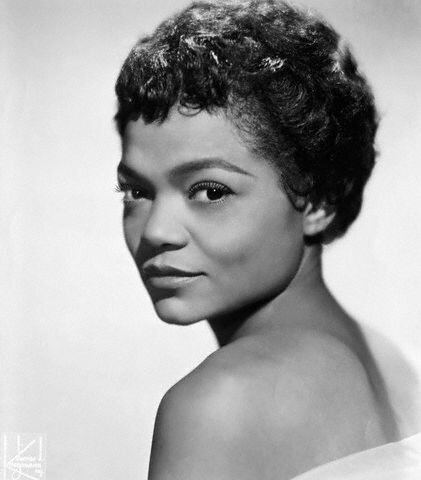 Eartha Mae Kitt, née le 17 janvier 1927, surnommée « Miss Kitt », était une danseuse, chanteuse de variétés - fortement influencée par le jazz - actrice et artiste de cabaret américaine. Elle est décédée le 25 décembre 2008.
Eartha Kitt est née dans une plantation de coton en Caroline du Sud; elle est le fruit d'un viol d'une mère noire et cherokee, et d'un père d'origine allemande ou néerlandaise. Elle est envoyée à l'âge de huit ans chez un oncle à Harlem. Elle travaille en 1943 avec la troupe de danse de Katherine Dunham et fait des tournées au Mexique, en Amérique du sud et en Europe. Elle quitte la troupe et s'installe à Paris pour être chanteuse de cabaret et commence à se faire un nom. La jeune créole, à l'enfance malheureuse, persévère et devient une vedette internationale d'élégance et de sensualité dès les années 1950. En 1950 elle est choisie par Orson Welles pour incarner Hélène de Troie dans une adaptation (Time runs) du Docteur Faustus de Christopher Marlowe: il la qualifie de «the most exciting woman in the world» (la femme la plus excitante du monde). L'accueil critique est excellent et Eartha tourne en Allemagne et en Turquie. De retour aux USA, elle accède à la popularité en jouant dans une revue à Broadway New faces of 1952 et en sortant ses premiers disques C'est si bon, I want to be evil.
Artiste polyvalente à la voix rauque et suave, Eartha Kitt a chanté dans dix langues différentes et s'est produite dans une centaine de pays. En 1954-55, elle est applaudie dans la comédie musicale « Mrs. Patterson » à Broadway puis en 1957 elle joue au cinéma avec Sidney Poitier dans The Mark of the hawk. En 1967, elle personnifie le personnage de Catwoman dans la populaire série télévisée Batman. En 1968, elle crée un malaise lors d'un déjeuner organisé à la Maison Blanche par la Première dame Lady Bird Johnson, en se prononçant contre la guerre du Viêt Nam: cet incident l'ayant mise à l'index aux États-Unis, elle est contrainte à poursuivre sa carrière à l'étranger jusqu'en 1974.
Dans les années 1980 ses tubes font le tour de la planète : « Where Is My Man » (1983), « I Love Men » (1984), « This Is My Life » (1986) et « I Don't Care » (1986).
En 1996, elle apparaît dans l'épisode « Escapade à Paris » (A Pup in Paris) de la sitcom « Une nounou d'enfer » (The Nanny). Sa dernière apparition sur les scènes de Broadway remonte à fin 2003. En 2007 et 2008, elle a remporté deux Emmy Award pour meilleure interprète dans un programme d'animation pour « The Emperor's New School ». Le jeudi 25 décembre 2008, elle s'éteint à l'âge de 81 ans, à Weston dans le Connecticut, des suites d'un cancer du côlon.
> Eartha Kitt a rencontré Marilyn Monroe le 13 juin 1957, lors de la soirée de la Première du Prince et la Danseuse suivie d'un gala de bienfaisance de la "Milk Fund" au Waldorf Astoria à Manhattan:
La chanson:
Eartha Kitt enregistre « Santa Baby » le 6 octobre 1953 à New York, avec Henri René et son orchestre, composée et écrite par Joan Javits et Philip Springer. La chanson rencontre de suite un immense succès et deviendra un classique de Noël. D'ailleurs, Eartha Kitt déclarera qu'elle faisait partie de ses chansons préférées parmi toutes celles qu'elle avait enregistré. Elle interprète à nouveau la chanson dans le film "New Faces" en 1954 et réenregistre une autre version en 1963 avec différents arrangements.
>> La première version originale de Eartha Kitt en 1953


>> Une autre version "live" par Eartha Kitt

De nombreuses personnalités vont reprendre la chanson (enregistrée en studio ou interprétée en live): Maria Muldaur, Everclear, RuPaul, Kate Ceberano, Homer & Jethro, Taylor Horn, Raini Rodriguez, Shakira, Jhene, Macy Gray, Natalie Merchant, Cynthia Basinet, Faith Evans, Gino Frisella, Boney James, Kylie Minogue, Girls' Generation, Ste van Holm, The Pussycat Dolls, LeAnn Rimes, VersaEmerge, Kellie Pickler, Lynn Anderson, Paloma Faith, Taylor Swift, Colbie Caillat, Chris Mitchell, The Swingle Singers, Ariana Grande, Halie Loren, Debby Ryan, Pink Martini, Michael Bublé et même Miss Piggy du 'Muppet Show' !
>> La version de Kylie Minogue (2007) est celle qui se rapproche le plus
de la version originale de 1953


L'une des versions ayant rencontré un succès, est la reprise par Madonna , en 1987, pour l'album de charité "A Very Special Christmas":

>> La version de Madonna (sur un montage video)

---
Paroles de la chanson Santa Baby:

Santa Baby, slip a sable under the tree, For me.
been an awful good girl, Santa baby,
so hurry down the chimney tonight.

Santa baby, a 54 convertible too,
Light blue.
I'll wait up for you dear,
Santa baby, so hurry down the chimney tonight.

Think of all the fun I've missed,
Think of all the fellas that I haven't kissed,
Next year I could be just as good,
If you'll check off my Christmas list,

Santa baby, I wanna yacht,
And really that's not a lot,
Been an angel all year,
Santa baby, so hurry down the chimney tonight.

Santa honey, there's one thing I really do need,
The deed
To a platinum mine,
Santa honey, so hurry down the chimney tonight.

Santa cutie, and fill my stocking with a duplex,
And checks.
Sign your 'X' on the line,
Santa cutie, and hurry down the chimney tonight.

Come and trim my Christmas tree,
With some decorations bought at Tiffany's,
I really do believe in you,
Let's see if you believe in me,

Santa baby, forgot to mention one little thing,
A ring.
I don't mean on the phone,
Santa baby, so hurry down the chimney tonight,
Hurry down the chimney tonight,
Hurry, tonight.

---
>> sources:
Site Officiel earthakitt.com
Biographie de Eartha Kitt sur wikipedia
L'histoire de la chanson sur wikipedia
21 décembre 2013
Arrêt d'Autobus
Scène coupée
Cette scène ne figure pas dans le film. Elle se déroule certainement lors de la séquence où Cherie (Marilyn Monroe) se trouve à la gare / station de bus afin d'échapper à Bo (Don Murray): elle se réfugie apparemment dans les toilettes et se retrouve nez à nez avec le petit garçon que l'on retrouvera plus tard dans le bus et dans le restaurant de Grace. D'ailleurs, on remarque qu'il y a ensuite un monsieur (sans doute le père des enfants) qui entre dans les toilettes avec une petite fille, qui est, là aussi, la fillette que l'on retrouvera plus tard dans le bus et dans le restaurant de Grace. Il semblerait qu'il s'agisse ici d'une situation comique où le petit garçon se serait introduit dans les toilettes pour dames. On peut déduire que Cherie s'était réfugiée dans les toilettes d'une part, pour échapper à Bo, et d'autre part, certainement pour se changer (on remarque sa valise ouverte). Mais Cherie est toujours habillée de la sorte lorsqu'elle attend devant le bus et que Bo parvient à l'attraper, sans doute parce qu'elle n'a pas eu le temps de se changer: on remarque, à travers les photographies, que les protagonistes lèvent la tête vers le haut et semblent concentrer à l'écoute: on en déduit qu'une annonce est certainement faite au micro pour informer le départ imminent du bus.
> Photographies de Milton Greene
Photographs of Milton Greene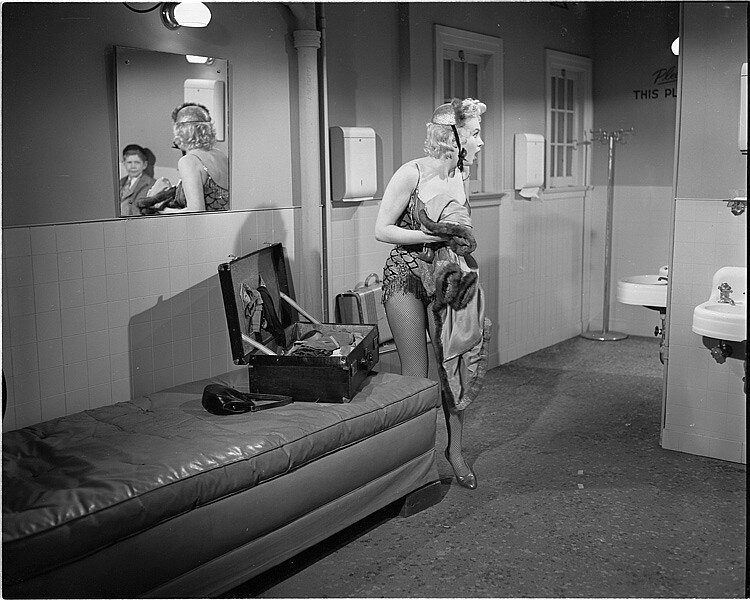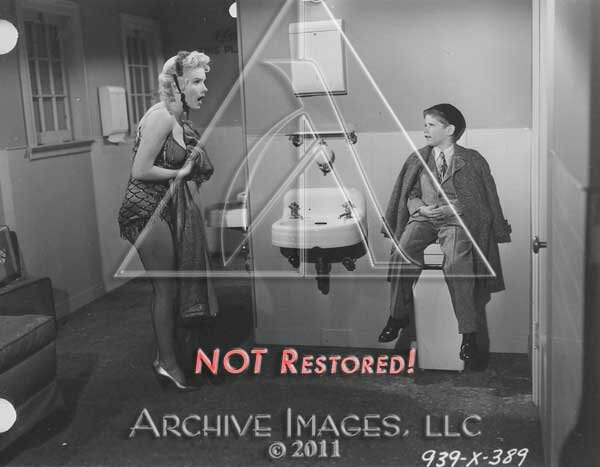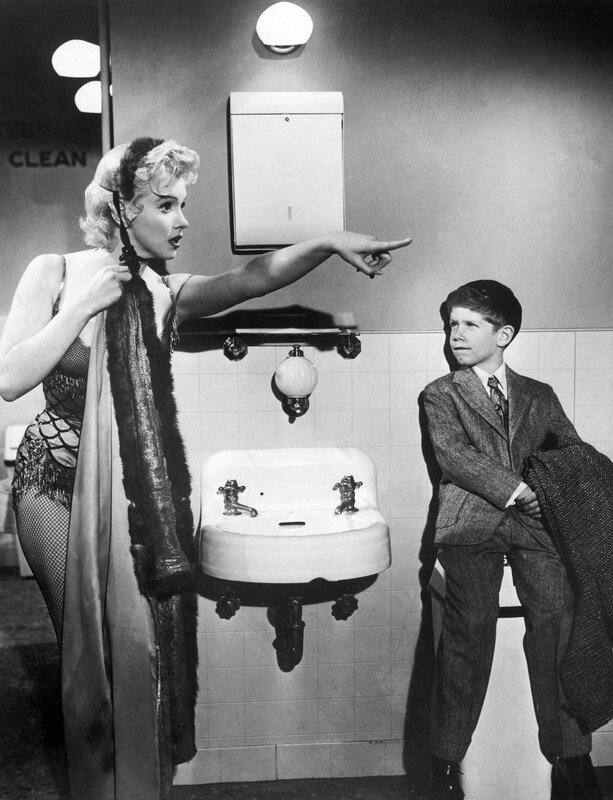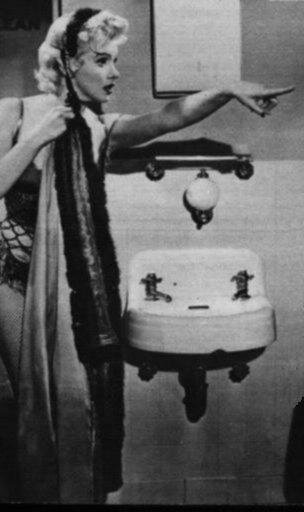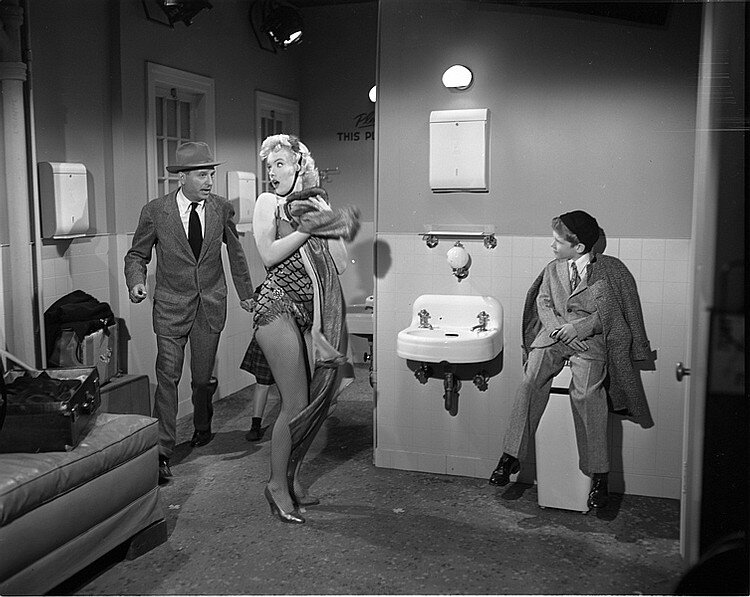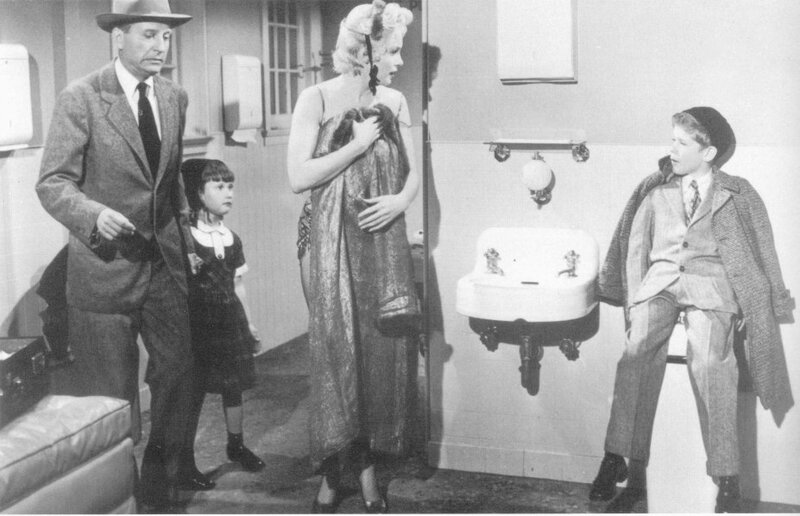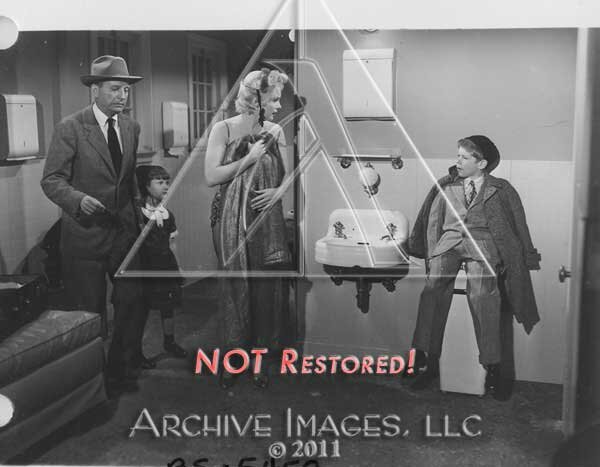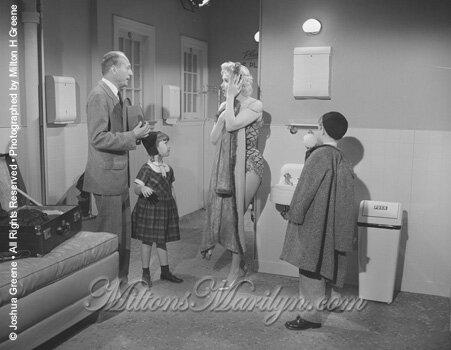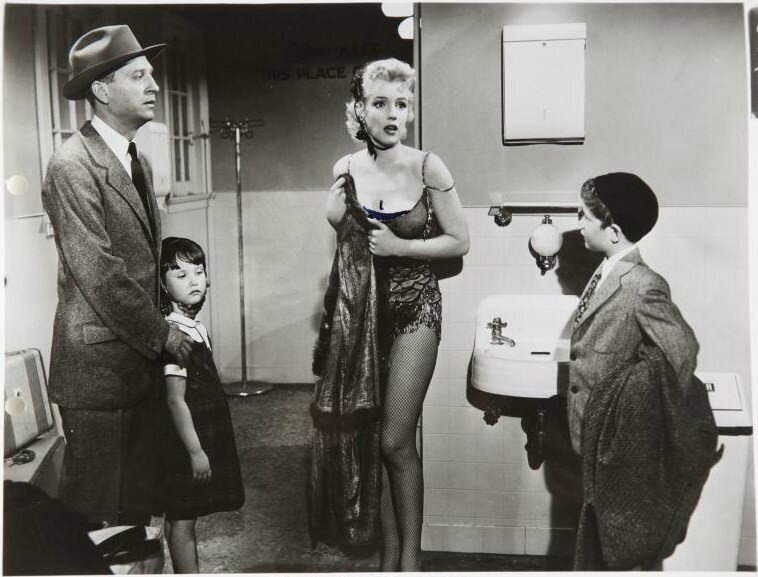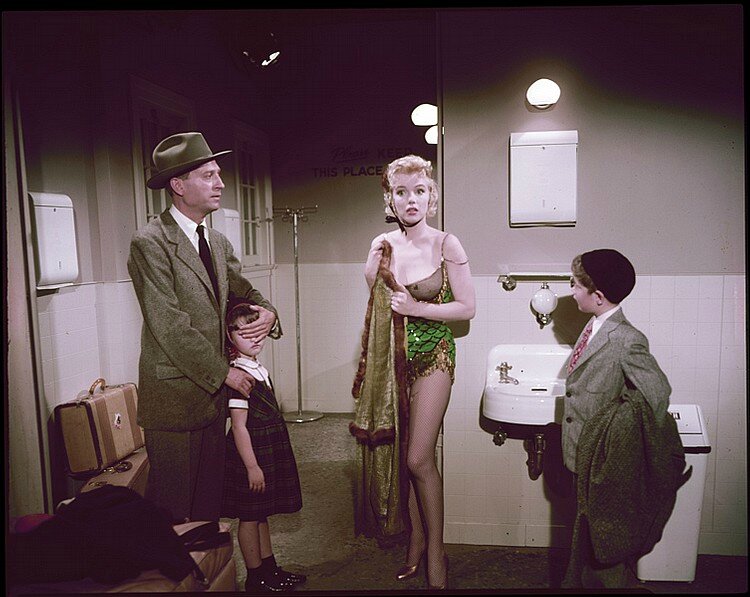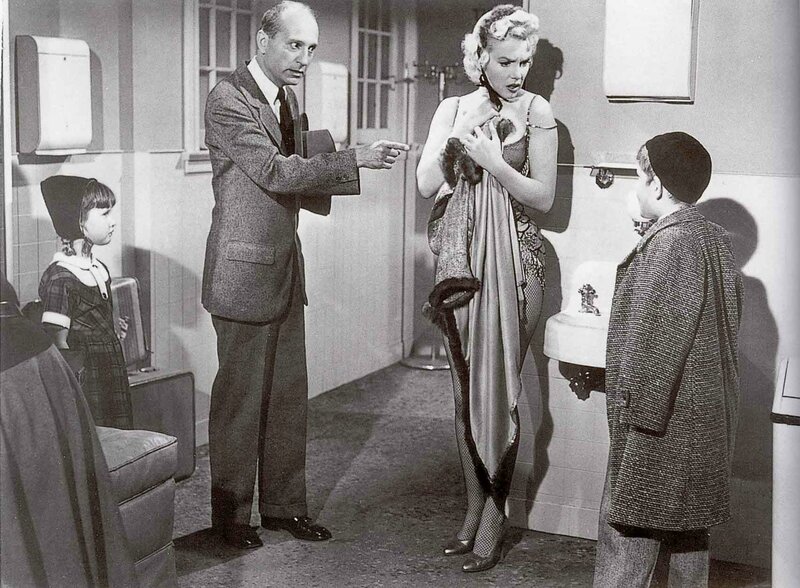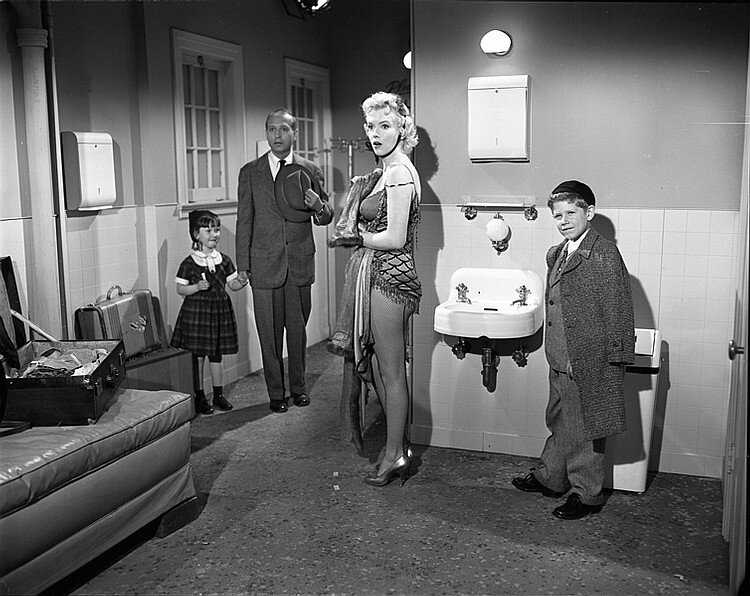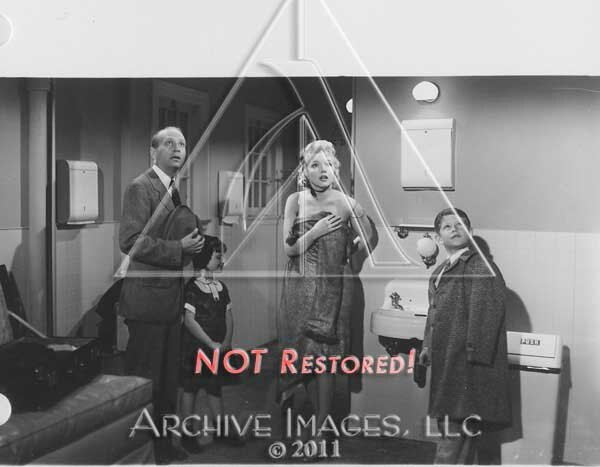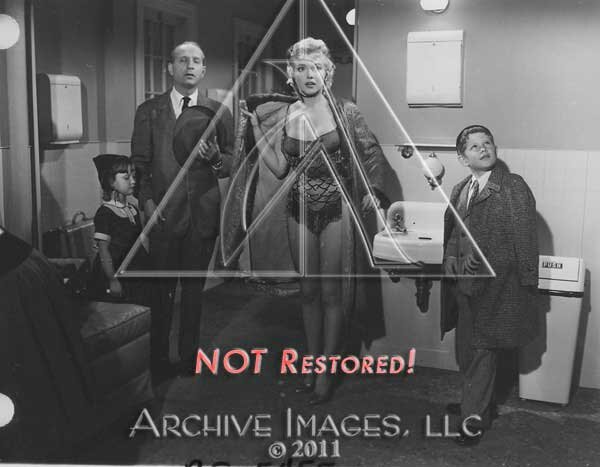 ---
© All images are copyright and protected by their respective owners, assignees or others.
copyright text by GinieLand.
20 décembre 2013
Quelques instantanés de Marilyn Monroe pris à New York vers 1955
Some candids shot of Marilyn Monroe taken in New York City circa 1955
---
---
> Marilyn avec John Reilly, un fan de la bande des "Monroe Six"
Marilyn with John Reilly from the "Monroe Six" group of fans.
---
> photographie de James Collins des Monroe Six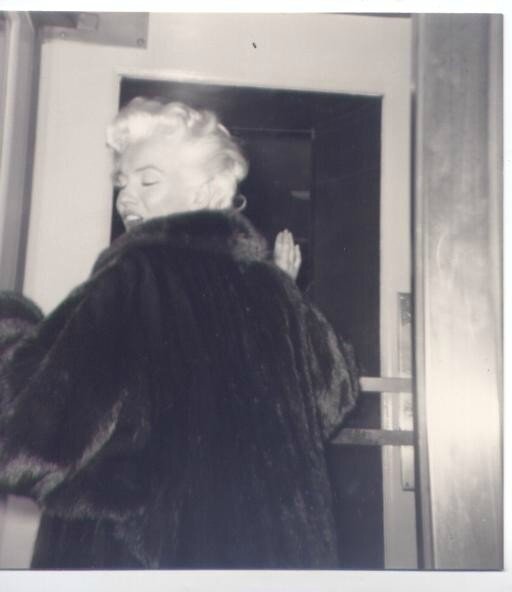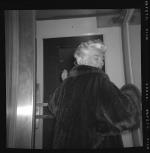 ---
> Marilyn avec -probablement- Susan Strasberg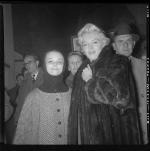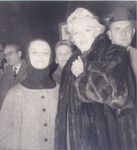 photographie collection Frieda Hull

---
---
---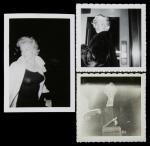 photographies collection Frieda Hull

---
© All images are copyright and protected by their respective owners, assignees or others.
copyright text by GinieLand.

Enregistrer
Enregistrer
Le 22 mars 1950, Marilyn Monroe signe son contrat pour son rôle de Iris Martin dans le film Hometown Story (sous le titre provisoire de "Between the lines") : il est stipulé qu'elle percevra un salaire de 350 Dollars par semaine; et que le tournage débutera le 24 mars 1950. Marilyn vivait au 1301 North Harper Avenue à Hollywood (Californie).
On 1950, March, 22, Marilyn Monroe signs her contract for her role of Iris Martin in the movie "Hometown Story" (under the temporary title "Between the Lines") : she earns a salary of 350 Dollars per week; the shooting of the movie begins some days later, on March, 24.
Marilyn lived in 1301 North Harper Avenue, West Hollywood, CA.

---
© All images and documents are copyright and protected by their respective owners, assignees or others.
copyright text by GinieLand.
Tailored Dress
from 'We're not married'
robe tailleur portée dans le film
"Cinq mariages à l'essai"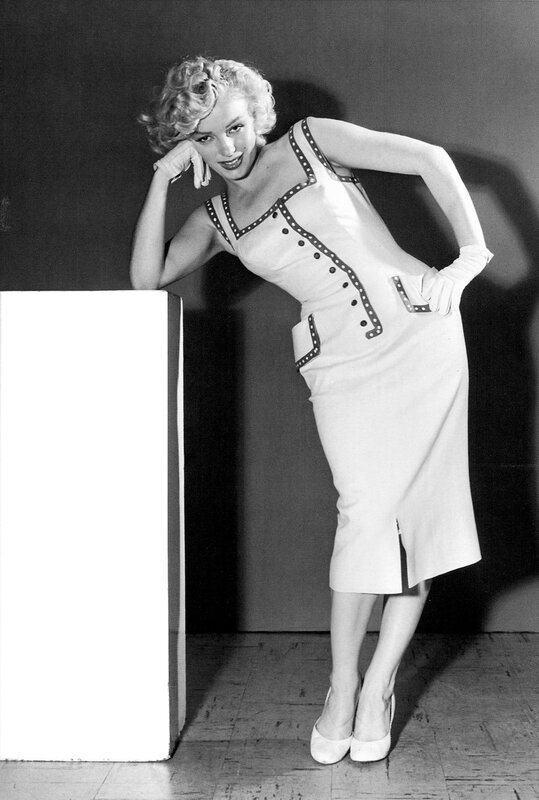 Cette robe tailleur a été conçue par la costumière de cinéma et de télévision Elois Jenssen pour le film We're not married tourné au début de l'année 1952. Cette longue robe de style tailleur est de couleur beige très clair, boutonnée au buste jusqu'au bassin par huits gros boutons foncés qui contrastent avec le tissu clair de la robe; ainsi que des larges bandes de garnitures en pointillées au niveau du décolleté et des poches; avec une jupe droite faussement fendue au milieu sur le devant, suivant une ligne de tissu replié.
La robe est accessoirisée par deux éléments: d'abord, la fine ceinture blanche nouée à la taille; puis le court boléro sans manche au col montant à la nuque, et du même design que la robe (même couleur, et avec une large bande de pointillés au niveau du col et des emmanchures). Marilyn Monroe fit des essais de test costumes avec cette tenue le 11 janvier 1952 , portant la robe tantôt sans le boléro, tantôt avec, mais accompagnée d'un petit chapeau blanc se portant à l'arrière de la tête et contenant une grande plume à l'horizontal. Cependant, la tenue restera dans les placards, car elle n'a finalement pas été retenue pour les costumes du film et Marilyn ne porte pas cette robe dans le film.
---
Le 12 février 1952, Marilyn se rend à UCLA , l'Université de Californie à Los Angeles, pour un reportage photographique qui paraîtra dans le magazine Movies Day à l'automne 1952. Et pour l'occasion, elle choisit de porter la robe tailleur avec la veste.
---
Entre

fin août et début septembre 1952

, Marilyn est à Atlantic City pour promouvoir la sortie du film Monkey Business. Durant son séjour, elle en profite pour visiter un
hôpital pour enfants

le

30 août 1952

. Et pour cette occasion, elle porte la robe tailleur qui a suivi quelques modifications: la longueur a été relevée (la robe est légèrement plus courte) et surtout, elle a été fendue sur le devant. Marilyn ne porte pas la ceinture, mais elle a accessoirisée sa tenue en portant de petits gants blancs afin d'accentuer le côté chic de la tenue.
Enregistrer
19 décembre 2013
As I grew older I knew I was different from the other girls because there were no kisses or promises in my life. I often felt lonely and wanted to die.
En grandissant, j'ai compris que j'étais différente des autres filles parce que j'avais connu ni baisers ni promesses au cours de ma vie. Souvent, je me sentais seule et je voulais mourir.
source: Marilyn Monroe, collection 'Movie Icons', Ed. Taschen.
18 décembre 2013
Fête chez Herman Hoover - Les invités sont Mala Powers, Craig Hill, Marilyn Monroe et Nick Savano.
Photographie de Bob Beerman.
Herman Hoover's home party. Guests are Mala Powers, Craig Hill, Marilyn Monroe et Nick Savano.
Photography by Bob Beerman.
---
© All images are copyright and protected by their respective owners, assignees or others.
copyright text by GinieLand.

Le milliardaire
Captures

10ème partie des captures du film