20 août 2013
Marilyn Monroe et l'acteur Johnny Ray (partenaire dans "La Joyeuse Parade")
à une soirée au Ciro's, vers 1953
Marilyn and the actor Johnny Ray (partner in "TNBLSB")
at a party to Ciro's, circa 1953

Marilyn avec l'actrice et chanteuse Ginny Simms
Marilyn Monroe and the actress and singer Ginny Simms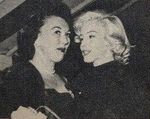 (photographie parue dans le magazine MovieSpotlight, octobre 1954.
photograph published in the magazine MovieSpotlight, October 1954.)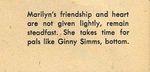 ---
© All images are copyright and protected by their respective owners, assignees or others.
copyright text by GinieLand.
Année: 2012
Produit/Marque: Chanel (Parfum n°5)
Pays: USA
Année: 2012
Produit/Marque: Chanel (Parfum n°5)
Pays: USA
Année: 1951
Produit/Marque: Clairol (teintures, shampoings)
Pays: Mexique
19 août 2013
A sex-symbol becomes a thing. I just hate being a thing. But if I'm going to be a symbol of something I'd rather have it sex than some other things we've got symbols of.

Un sex-symbol devient une chose. Je déteste être une chose. Mais si je dois vraiment être le symbole de quelque chose, j'aime autant que ce soit du sexe plutôt que d'autres choses pour lesquelles nous avons déjà des symboles.

Sept ans de réflexion
Photos scène 6

Richard Sherman (Tom Ewell) a invité sa voisine 'la fille' (Marilyn Monroe), à venir prendre un verre chez lui. Elle a apporté un paquet de chips, car elle adore les tremper dans du champagne. Elle improvise ensuite un air au piano: "Chopsticks" (un air composé par le musicien anglais Arthur de Lulli en 1877). Richard en profite alors pour tenter d'embrasser 'la fille'; mais surprise, ils tombent tous deux de leur chaise. Réalisant la méprise, Richard lui demande alors de partir.
Richard Sherman (Tom Ewell) has invited her neighbor 'the girl' (Marilyn Monroe) to take a drink at his apartment. She brought a bag of chips because she loves soaking it in champagne. She then improvised a tune on the piano: "Chopsticks" (a tune composed by English musician Arthur Lull in 1877). Richard then took the opportunity to try to kiss 'the girl', but she was surprised and they both fall in all of their chair. Realizing the mistake, Richard asked him to leave.
---
---
> extrait video

---
© All images are copyright and protected by their respective owners, assignees or others.
copyright text by GinieLand.
Marilyn Monroe et Moi
Auteur: Susan Strasberg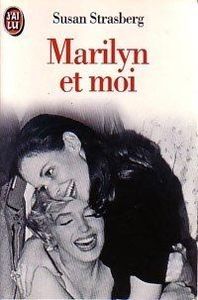 Date de sortie: janvier 1999
Relié 377 pages
Langue: français
Éditeur: J'ai Lu
Prix éditeur: 26 Euros
Dimensions: 11 x 17 x 2 cm
ISBN 10: 2277234443
ISBN 13: 978-2277234449
Ou le commander ? sur amazon.fr
Description: Susan Strasberg a quinze ans lorsque Marilyn débarque à New York... et chez elle. L'adolescente est à la fois fascinée et jalouse de cette grande soeur tombée du ciel, qui monopolise l'attention de son père, directeur de l'Actor's Studio.
Dès lors, les Strasberg vivent au rythme des crises de larmes ou de fou rire de la star, la suivent sur la crête ou dans le creux de la vague.
Marilyn joue, rit, aime, pleure. Susan savoure, heureuse de la complicité qui les unit, et fait ses débuts sur les planches. Elle rêve d'une chose : que son père soit fier d'elle. Mais celui-ci est bien trop occupé avec Marilyn...
Pas facile de rivaliser avec un mythe hollywoodien, même devant ses parents !
Non, tout n'a pas été déjà dit sur Marilyn. Loin du strass et des paillettes, voilà une femme généreuse, drôle, envahissante... et tellement attachante.
---
Marilyn and Me
Sisters, Rivals, Friends
Author: Susan Strasberg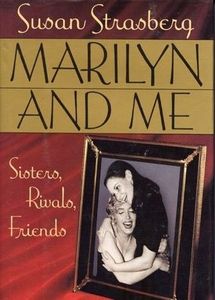 Publication Date: April 1992
Number of pages 282
Dimensions 8.2 x 5.4 x 0.8 inches
Publisher: Warner Books
Price: $30
ISBN-10: 0446515922
ISBN-13: 978-0446515924
Ou le commander ? sur amazon.com
Description: Marilyn Monroe was 29 when she became acting coach Lee Strasberg's favorite student and protegee in New York City. Over the next eight years the screen goddess was a sisterly friend and household rival of actress Susan Strasberg, just 17 when they met. Susan for a time shared her bedroom with this envied intruder, object of the paternal adulation of her famous father, who was impersonal and critical with his own children, by this account. The author swings between admiration and disillusionment with Monroe, who sketched, wrote poetry and sympathized with underdogs when she wasn't floundering in depressed insomnia or drug-induced paranoia. This wise, intimate, affecting portrait reveals hidden facets of Monroe's quicksilver personality. A convert to Judaism after her marriage to Arthur Miller, she peppered her conversation with Yiddishisms. The book includes two self-portraits drawn by Monroe plus 16 pages of photos. Strasberg candidly recreates a tense household in which everything revolved around her father's neuroses while her mother Paula, a vibrant actress, eavesdropped and threatened suicide. BOMC featured alternate; author tour.
Other Edition:
> USA : Bantam Books, July 1993, 320 pages
on amazon.fr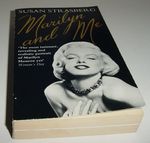 ---
Vous avez le livre ? Do you have the book ?
Apportez votre critique, votre avis ou votre note (/10)
Arrêt d'Autobus
Captures

9ème partie des captures du film
>> source captures sur forever-marilyn.com
18 août 2013
Sept ans de réflexion
Sur le tournage - scène 6

Marilyn Monroe , Tom Ewell et Billy Wilder sur le plateau de tournage.
Marilyn Monroe, Tom Ewell and Billy Wilder on the set.
---
---
All photos are copyright and protected by their respective owners.
copyright text by GinieLand.