29 mai 2016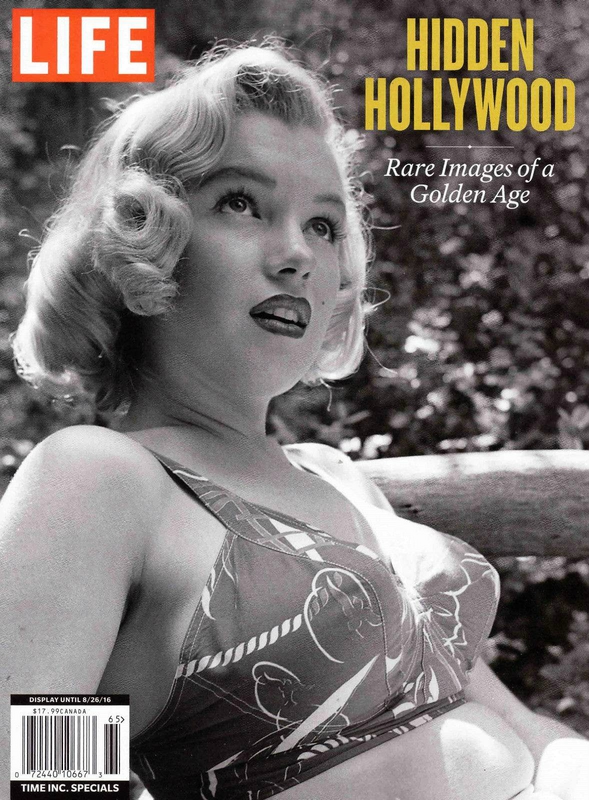 Le magazine américain Life édite en ce mois de mai 2016 un Hors Série Hidden Hollywood "Rare Images of a Golden Age" disponible dans les kiosques US / Canada jusqu'au 26 août 2016: il est entièrement consacré aux stars d'Hollywood des années 1950s [Marilyn Monroe, Sophia Loren, Marlon Brando, Natalie Wood, Jayne Mansfield, James Dean, Elizabeth Taylor, Julie Christie, Humphrey Bogart, Kim Novak, Alfred Hitchcock, Franck Sinatra, Lucille Ball et bien d'autres...); Marilyn Monroe figure en couverture.
Enregistrer
22 mai 2016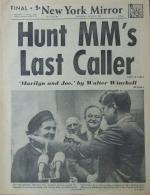 Le journal américain de New-York New York Mirror du mercredi 8 août 1962, titre en Une "Hunt MM's Last Caller".

Enregistrer
01 mai 2016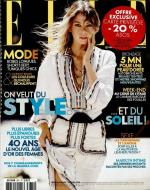 Le magazine français Elle, n°3671, paru le 29 avil 2016 contient un article sur Marilyn Monroe, annoncé en couverture "Marilyn intime: ses derniers instants racontés par ses proches".
prix: 2,20 €

Enregistrer
23 avril 2016
L'édition américaine Vanity Fair Icons, publie un Hors Série -dispo depuis le 21 avril et jusqu'au 18 juillet 2016 - entièrement consacré à Marilyn Monroe.
> cf article sur vanityfair.com
prix: 13.99 $ -> en commande (pour les USA) sur vanityfair.iconicmarilyn
En commande sur amazon.com pour 6.93 $


Enregistrer
13 avril 2016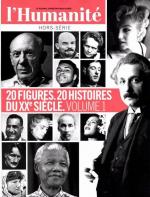 Le magazine français L'Humanité Hors Série n°3, paru le 6 avril 2016, est consacré à 20 personnages historiques du XXème siècle, dont Marilyn Monroe qui figure en petite photo sur la couverture.
prix: 10 €
Enregistrer
01 avril 2016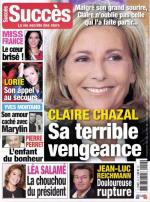 Le magazine français Succès n°29, paru le 30 mars 2016, contient un article de 2 pages sur Yves Montand et Marilyn Monroe: "Son amour caché avec Marylin".
prix: 2,90 €
Enregistrer
22 mars 2016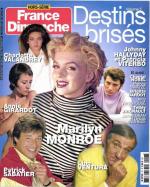 Le magazine France Dimanche Hors Série n°7, "Destins Brisés Volume 5", paru le 19 mars 2016, honore sa couverture à Marilyn Monroe (parmi d 'autres célébrités) et contient un article de 8 pages.
prix: 3,90 €
Enregistrer
12 mars 2016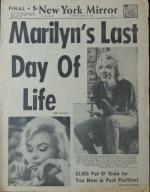 Le journal américain de New-York New York Mirror du mardi 7 août 1962, titre en Une "Marilyn's Last Day Of Life".
Enregistrer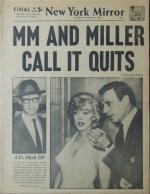 Le journal américain New York Mirror du 12 Novembre 1960, consacrait sa couverture à Marilyn Monroe et Yves Montand intitulé "MM and Miller Call it Quits" pet un article "Marilyn Monroe Admits It's Over" par Sheilah Graham.
---
AFTER 4 YEARS OF MARRIAGE
MARILYN MONROE Admits It's Over
By SHEILAH GRAHAM

The celebrated "perfect marriage" of sexy glamor girl Marilyn Monroe and eggheard, Lincolnesque playwroght Arthur Miller has broken up after four years.
Marilyn will file for a divorce, though she hasn't been to see her lawyer yet, she admitted yesterday.
Fighting her way out of her swank apartment building at 444 E. 57th St. at 4:30 p.m, trough a crush of newsmen, photographers, and celebrity-chasers, she looked pale and on the verge of tears. She had little makeup on. Her skin seemed blotchy rather than blooming. Her hai was hidden under a beige babushka and she kept her hands in the pockets of a double-breasted black seal sportcoat.
ASKED ABOUT THE impending divorce, she said in a tired, squeakly voice, "I'm very sorry, I have nothing to say about my personal life" but she confirmed the separation.
Where was she going ?
"I don't think I have to tell you that" she said, fighting her way through the crush to the curb where a hired limousine had been waiting. It took her five minutes to get across the lobby and sidewalk.
"I'll be in New York quite a while; those are my only plans right now", she breathed, looking as if she were ready to cry as the chauffeur, managed to get her into the car.
He drove her to the Central Park West apartment of Lee Strasberg, her drama coach and father of actress Susan Strasberg.
Friends of the couple cautiously blame "clashing careers" -but in thruth it's been apparent for a long time that they were bored to death with each other.
The marriage would have broken up anyhow, even if French movie star Yves Montand hadn't come into her life -but when he did, Marilyn was ripe for a romance.
Don't be surprised if she suddenly departs for Paris on a vacation. That's where Montand is, until he leaves for Japan to make a picture there.
Miller is camping out in a hotel -probably under another name, to keep himself elusive.
The were keeping up pretenses until now, sharing a hotel bungalow in Hollywood, but on Satursay they took separate planes East.
Miller went up to his Connecticut farm on Tuesday to vote, and the two have met twice in New York during the week, but only to discuss business matters.
"It is not an embittered estrangement; there is no bitterness on either side," claimed James Proctor, a friend of both. He explained it in these terms: "Marilyn is not just a star, she is an institution - and must constantly be in the center of excitement and activity. The nature of Miller requires ...
(...)
There are lots of reasons why. Mostly it's that Miller was intolerably bored, with this beautiful sex symbol, whom he found really a dull creature full of complexes. She tried to make him her father, her mother, her uncle. All his creative powers were stifled.

---
Friends Say Breakup Will Have No Effect on Montand
PARIS, Nov, 11 (UPI) - Marilyn Monroe's divorce plans will not change anything in the life of French singer and actor Yves Montand, friends of Montand said today.
The friends ventured the confident prediction in the absence from Paris of the handsome French movie star, who was rumored to have scored a romantic hit with Miss Monroe when they made the movie "Let's Make Love" together in Hollywood early this year.
Montand was spending the Armistice Day national holiday in the country with his wife, Oscar winning actress Simone Signoret.
THE RUMORS OF Montand's success with Marilyn created a stormy passage in the Frenchman's own married life at the time, friends reported. But now he and his wife are solidly re-united, the friends said.
"But Miss Monroe's divorce will change nothing in Montand's life".
Miss Signoret stayed in Hollywood with Montand during most of the shooting of "Let's Make Love". The two couples lived next door to each other and spent many evenings together. The couple is expected back in Paris tomorrow.

Enregistrer
26 janvier 2016
Le magazine France Dimanche Hors Série n°6, "Destins Brisés Volume 4", paru le 23 janvier 2016, contient un article de 10 pages sur Simone Signoret "Marilyn a brisé ma vie !" (dont 3 pages contenant 8 photos de Marilyn).
prix: 3,90 €
Enregistrer