13 septembre 2022
Une photographie rare et inédite de Marilyn Monroe au Stork Club de New York ?
A rare and unseen photograph of Marilyn Monroe at the Stork Club of New York ?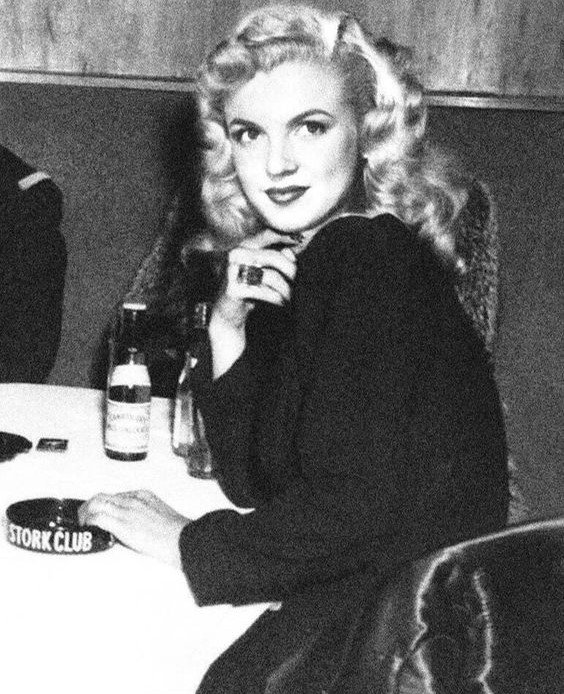 ---
C'est un montage:
Une photo de l'actrice Carole Landis (années 1940s)
avec la tête de Marilyn en 1949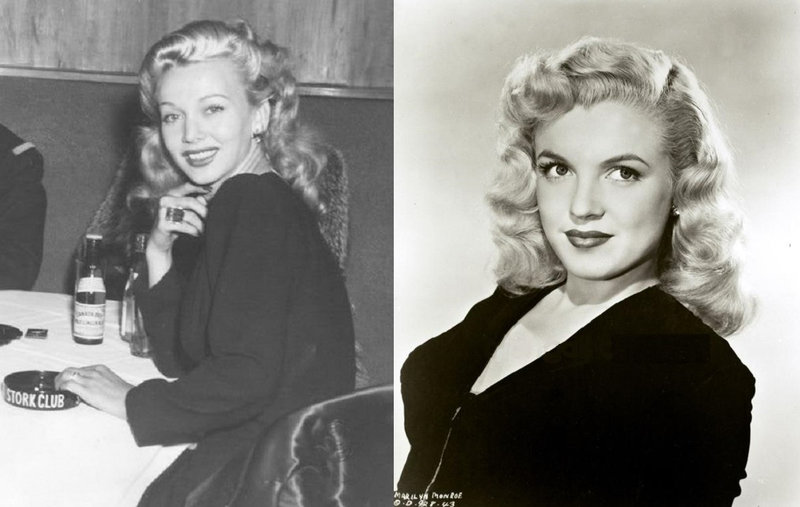 It's a fake:
A picture of actress Carole Landis (in the 1940's)
with the head of Marilyn Monroe in 1949
- Marilyn en 1949 - Blog: Ladies of the Chorus - scène 14 - Portraits Publicitaires
---
© All images are copyright and protected by their respective owners, assignees or others.
copyright text by GinieLand.
23 novembre 2021
Une photographie rare et inédite de Marilyn Monroe qui déguste une glace milkshake ?
A rare and unseen photograph of Marilyn Monroe enjoying a milkshake ice cream ?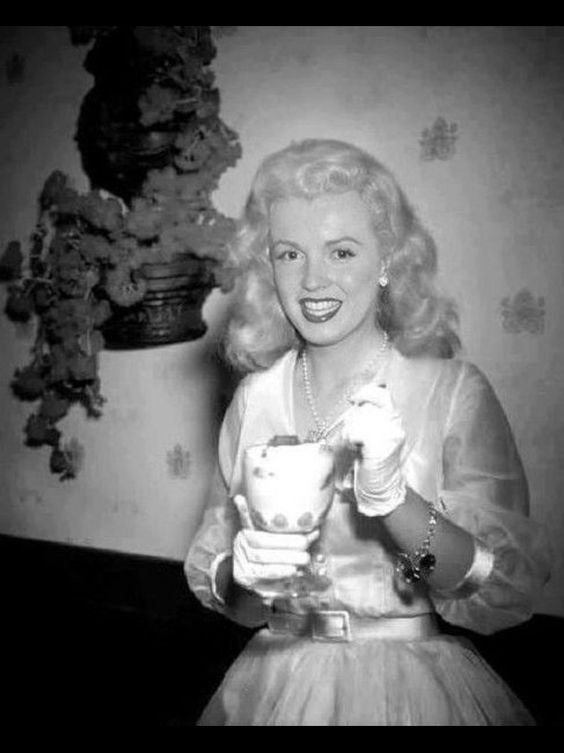 ---
C'est un montage:
Le corps de l'actrice Tuesday Weld (photo de 1965)
avec la tête de Marilyn en 1949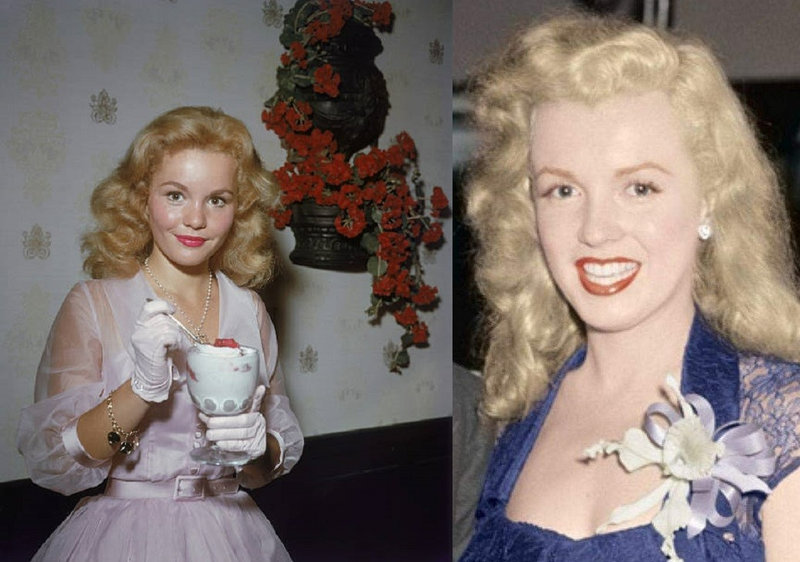 It's a fake:
The body of actress Tuesday Weld (photo in 1965)
with the head of Marilyn Monroe in 1949
- Marilyn en 1949 - Blog: 09/07/1949, Chicago - Tournée Promo "Love Happy"
---
© All images are copyright and protected by their respective owners, assignees or others.
copyright text by GinieLand.
12 septembre 2020
Cette photographie "mugshot" de Marilyn Monroe ("photo d'identité" en français dans le texte, qui représente des personnes arrêtés et photographiées par la police) se retrouve actuellement sur internet -
This "mugshot" photograph of Marilyn Monroe (which represents people arrested and photographed by the police) is currently on the web -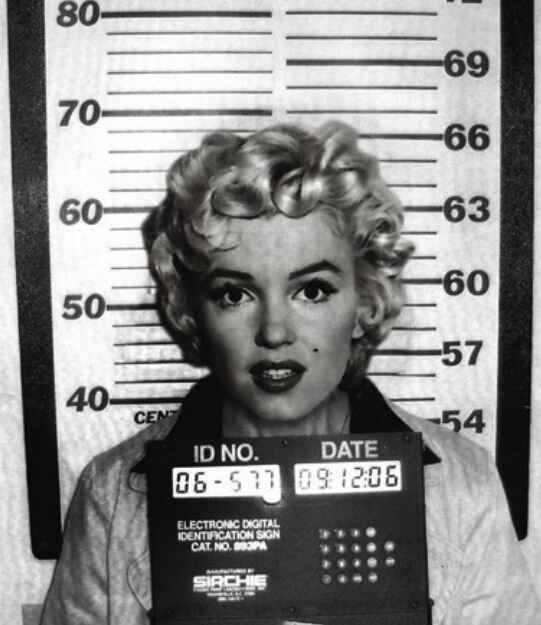 Il s'agit bien d'un montage, d'après notamment un indice flagrant figurant sur la photographie: regardez la date (09:12:06), l'année est donc "06", soit "2006". Le visage de Marilyn utilisé provient d'une photo de test coiffure et maquillage pour le film "Sept ans de réflexion" en 1954 -
It is indeed a montage, according in particular to a flagrant clue appearing on the photograph: look at the date (09:12:06), the year is "06", so "2006". The used face of Marilyn comes from a hairstyle and make-up test photo for the film "The Seven Year Itch" in 1954 -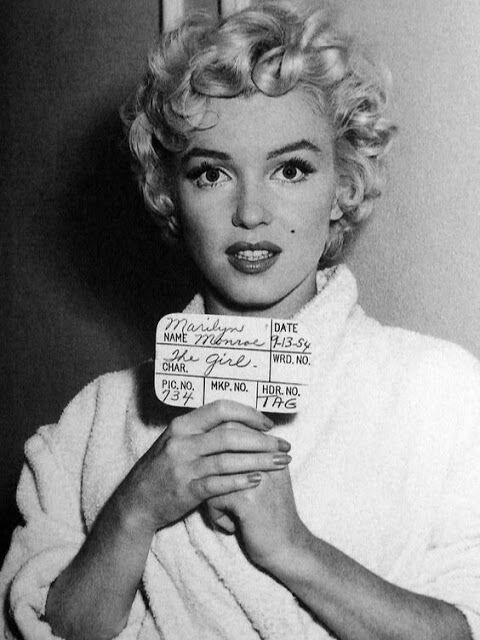 ---
© All images are copyright and protected by their respective owners, assignees or others.
copyright text by GinieLand.
11 juin 2017
I'm selfish, impatient and a little insecure.
I make mistakes, I am out of control
and at times hard to handle.
But if you can't handle me at my worst,
then you sure as hell don't deserve me at my best.

Je suis égoïste, impatiente et peu sûre de moi.
Je fais des erreurs, je suis hors de contrôle
et parfois difficile à gérer.
Mais si vous ne pouvez pas me supporter pour le pire,
nul doute que vous ne me méritez pas pour le meilleur.
---
Info ou Intox ?
Cette citation que l'on retrouve désormais partout sur internet, est discutable car il n'existe aucune source d'origine (interview et/ou article de presse d'époque) rapportant cette citation à Marilyn. Impossible de remonter à l'origine de cette phrase (qui l'aurait prononcé ?).

> Sur le web
- L'article publié sur le site elle reprend des "fausses" citations attribuées à tort à Marilyn. Pour notre phrase, l'auteur déclare qu'elle figurait dans une biographie pas très sérieuse (et non citée).
- L'article publié sur le site dédié à Marilyn - Immortal Marilyn - laisse planer le doute, en catégorisant la phrase dans "les citations questionnables". La mise en doute porte sur la phrase elle-même: s'il est avéré que Marilyn faisait part de ses troubles, de son manque de confiance, elle n'a jamais parlé d'elle-même comme étant égoïste, impatiente et hors de contrôle, ni rien de similaire. Mais n'ayant pas parvenu à remonter le fil d'origine de cette phrase, l'auteur de cet article ne se prononce pas de manière définitive.

> Conclusion
S'agit-il des propos tenus par une autre célébrité ? ou d'un hoax (canular) avancé sur le web et depuis, repris sur tous les sites ? S'agit-il vraiment de Marilyn qui aurait tenu ces propos: en interview ? en off, à un ami, une connaissance ?
La question reste donc en suspens tant que l'origine de cette phrase ne sera pas retrouvée.
16 juillet 2016
L'illustrateur de pin-up Billy Devorss a fait carrière à partir des années 1930s. Mais ici, qui a copié qui ? Serait-ce Devorrs qui se serait inspiré de la séance photos de Marilyn par Bruno Bernard en 1949 ou l'inverse ?
The pinup's illustrator Billy Devorss has made career from the 1930s. But here, who copied who ? Could it Devorrs would have been inspired by the shoot of Marilyn by Bruno Bernard in 1949 or the reverse?
De quelle année date la pin up de Devorrss ? Si vous avez plus d'information sur cette illustration, merci de laisser un commentaire.
In what year Devorss paint his pin up ? If you have more information about this illustration, thank you to leave a comment.
25 février 2014
Observez bien cette photographie prise le 5 août 1962, soit le lendemain de la mort de Marilyn Monroe, par le photographe Gene Anthony qui va photographier pratiquement toutes les pièces de la maison de Marilyn au Fifth Helena Drive, dans le quartier de Brentwood de Los Angeles, où Marilyn trouva la mort dans son lit.
Observe this photograph taken on August 5, 1962, the day after the death of Marilyn Monroe, by the photographer Gene Anthony who will photograph every room of the house of Marilyn at Fifth Helena Drive, at Brentwood, in Los Angeles, where Marilyn died in her bed.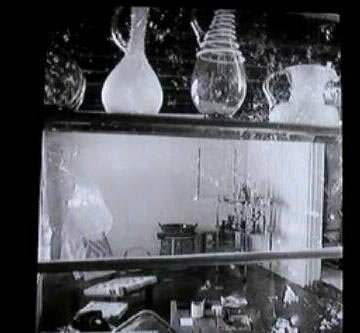 Il s'agit ici de la pièce appelée le "solarium" qui est en fait une pièce donnant sur le jardin, avec une grande baie vitrée laissant passer les rayons du soleil. Il est étrange de constater à gauche de la photo, une forme, peut être formée par les ombres, mais qui laisse fortement penser à Marilyn, qui se tiendrait debout, contre le mur. S'agit-il d'une photograhie truquée, obtenue d'un habile montage de superposition avec une photo de Marilyn, mais dans ce cas, quelle photographie de Marilyn a été utilisée ? Ou serait-ce le fantôme de Marilyn ?
This is the room called the "Sun Room" which is a room overlooking on the garden, with a large window letting the sun's rays. It is strange to see on the the left of the photo, a form, could be shaped by shadows, but strongly suggests Marilyn, who would stand against the wall. Is it a fake photograhy obtained with a clever montage overlay with a picture of Marilyn, but in this case, what Marilyn's photography was used ? Or is it the ghost of Marilyn?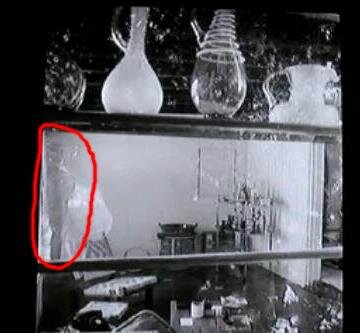 Et vous, que voyez-vous ? Qu'en pensez-vous ?
Your opinion: What do you see ? What do you think ?
17 février 2014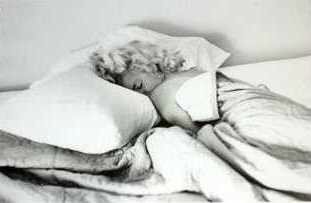 Cette photographie représentant une jeune femme blonde allongée sur le ventre, nue et recouverte d'un drap et d'une couverture dans un lit, la moitié du visage appuyé contre un oreiller est attribuée à tort à Marilyn Monroe sur de nombreux sites internet. Cette photographie est même souvent classée faisant partie d'une séance de Bob Beerman -Marilyn in Bed- où Marilyn pose allongée nue dans un lit, recouverte d'une couverture.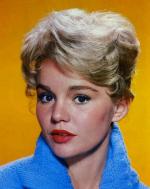 Il s'agit en fait de l'actrice américaine Tuesday Weld (née en 1943). Cette photographie la montrant allongée dans un lit est parue dans un article du magazine américain "Motion Picture" de juillet 1960, consacré à la jeune actrice qui n'avait alors que 17 ans. Elle a tourné son premier film à l'âge de 13 ans ("Rock, Rock, Rock" en 1956).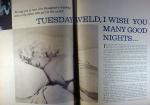 > source info: forum ES
22 décembre 2013
Dans certaines compilations CD dédiées à Marilyn Monroe et sur des vidéos en ligne (tels youtube, dailymotion) on y retrouve parfois le titre "Santa Baby" faisant parti de la discographie de Marilyn. Or, ce n'est pas Marilyn qui chante !
Il s'agit de la chanteuse Eartha Kitt qui interprète ce titre enregistré en 1953.

Qui est Eartha Kitt ?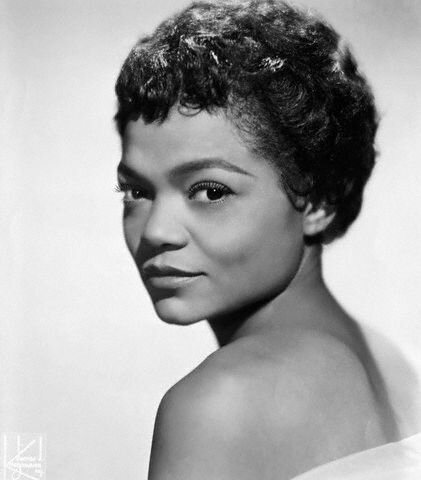 Eartha Mae Kitt, née le 17 janvier 1927, surnommée « Miss Kitt », était une danseuse, chanteuse de variétés - fortement influencée par le jazz - actrice et artiste de cabaret américaine. Elle est décédée le 25 décembre 2008.
Eartha Kitt est née dans une plantation de coton en Caroline du Sud; elle est le fruit d'un viol d'une mère noire et cherokee, et d'un père d'origine allemande ou néerlandaise. Elle est envoyée à l'âge de huit ans chez un oncle à Harlem. Elle travaille en 1943 avec la troupe de danse de Katherine Dunham et fait des tournées au Mexique, en Amérique du sud et en Europe. Elle quitte la troupe et s'installe à Paris pour être chanteuse de cabaret et commence à se faire un nom. La jeune créole, à l'enfance malheureuse, persévère et devient une vedette internationale d'élégance et de sensualité dès les années 1950. En 1950 elle est choisie par Orson Welles pour incarner Hélène de Troie dans une adaptation (Time runs) du Docteur Faustus de Christopher Marlowe: il la qualifie de «the most exciting woman in the world» (la femme la plus excitante du monde). L'accueil critique est excellent et Eartha tourne en Allemagne et en Turquie. De retour aux USA, elle accède à la popularité en jouant dans une revue à Broadway New faces of 1952 et en sortant ses premiers disques C'est si bon, I want to be evil.
Artiste polyvalente à la voix rauque et suave, Eartha Kitt a chanté dans dix langues différentes et s'est produite dans une centaine de pays. En 1954-55, elle est applaudie dans la comédie musicale « Mrs. Patterson » à Broadway puis en 1957 elle joue au cinéma avec Sidney Poitier dans The Mark of the hawk. En 1967, elle personnifie le personnage de Catwoman dans la populaire série télévisée Batman. En 1968, elle crée un malaise lors d'un déjeuner organisé à la Maison Blanche par la Première dame Lady Bird Johnson, en se prononçant contre la guerre du Viêt Nam: cet incident l'ayant mise à l'index aux États-Unis, elle est contrainte à poursuivre sa carrière à l'étranger jusqu'en 1974.
Dans les années 1980 ses tubes font le tour de la planète : « Where Is My Man » (1983), « I Love Men » (1984), « This Is My Life » (1986) et « I Don't Care » (1986).
En 1996, elle apparaît dans l'épisode « Escapade à Paris » (A Pup in Paris) de la sitcom « Une nounou d'enfer » (The Nanny). Sa dernière apparition sur les scènes de Broadway remonte à fin 2003. En 2007 et 2008, elle a remporté deux Emmy Award pour meilleure interprète dans un programme d'animation pour « The Emperor's New School ». Le jeudi 25 décembre 2008, elle s'éteint à l'âge de 81 ans, à Weston dans le Connecticut, des suites d'un cancer du côlon.
> Eartha Kitt a rencontré Marilyn Monroe le 13 juin 1957, lors de la soirée de la Première du Prince et la Danseuse suivie d'un gala de bienfaisance de la "Milk Fund" au Waldorf Astoria à Manhattan:
La chanson:
Eartha Kitt enregistre « Santa Baby » le 6 octobre 1953 à New York, avec Henri René et son orchestre, composée et écrite par Joan Javits et Philip Springer. La chanson rencontre de suite un immense succès et deviendra un classique de Noël. D'ailleurs, Eartha Kitt déclarera qu'elle faisait partie de ses chansons préférées parmi toutes celles qu'elle avait enregistré. Elle interprète à nouveau la chanson dans le film "New Faces" en 1954 et réenregistre une autre version en 1963 avec différents arrangements.
>> La première version originale de Eartha Kitt en 1953


>> Une autre version "live" par Eartha Kitt

De nombreuses personnalités vont reprendre la chanson (enregistrée en studio ou interprétée en live): Maria Muldaur, Everclear, RuPaul, Kate Ceberano, Homer & Jethro, Taylor Horn, Raini Rodriguez, Shakira, Jhene, Macy Gray, Natalie Merchant, Cynthia Basinet, Faith Evans, Gino Frisella, Boney James, Kylie Minogue, Girls' Generation, Ste van Holm, The Pussycat Dolls, LeAnn Rimes, VersaEmerge, Kellie Pickler, Lynn Anderson, Paloma Faith, Taylor Swift, Colbie Caillat, Chris Mitchell, The Swingle Singers, Ariana Grande, Halie Loren, Debby Ryan, Pink Martini, Michael Bublé et même Miss Piggy du 'Muppet Show' !
>> La version de Kylie Minogue (2007) est celle qui se rapproche le plus
de la version originale de 1953


L'une des versions ayant rencontré un succès, est la reprise par Madonna , en 1987, pour l'album de charité "A Very Special Christmas":

>> La version de Madonna (sur un montage video)

---
Paroles de la chanson Santa Baby:

Santa Baby, slip a sable under the tree, For me.
been an awful good girl, Santa baby,
so hurry down the chimney tonight.

Santa baby, a 54 convertible too,
Light blue.
I'll wait up for you dear,
Santa baby, so hurry down the chimney tonight.

Think of all the fun I've missed,
Think of all the fellas that I haven't kissed,
Next year I could be just as good,
If you'll check off my Christmas list,

Santa baby, I wanna yacht,
And really that's not a lot,
Been an angel all year,
Santa baby, so hurry down the chimney tonight.

Santa honey, there's one thing I really do need,
The deed
To a platinum mine,
Santa honey, so hurry down the chimney tonight.

Santa cutie, and fill my stocking with a duplex,
And checks.
Sign your 'X' on the line,
Santa cutie, and hurry down the chimney tonight.

Come and trim my Christmas tree,
With some decorations bought at Tiffany's,
I really do believe in you,
Let's see if you believe in me,

Santa baby, forgot to mention one little thing,
A ring.
I don't mean on the phone,
Santa baby, so hurry down the chimney tonight,
Hurry down the chimney tonight,
Hurry, tonight.

---
>> sources:
Site Officiel earthakitt.com
Biographie de Eartha Kitt sur wikipedia
L'histoire de la chanson sur wikipedia
28 octobre 2013
En ce moment, on trouve une photo montage de Marilyn Monroe jeune à la plage, assise dans le sable. Ce montage est tellement bien fait qu'on croirait une vraie photographie, mais quand on connait bien les séances photos de Marilyn, on se rend compte que son visage est identique à celui d'une photo prise par André DeDienes en 1949, où elle pose en peignoir à la plage. La photo a été inversée, et le visage collé à un autre corps.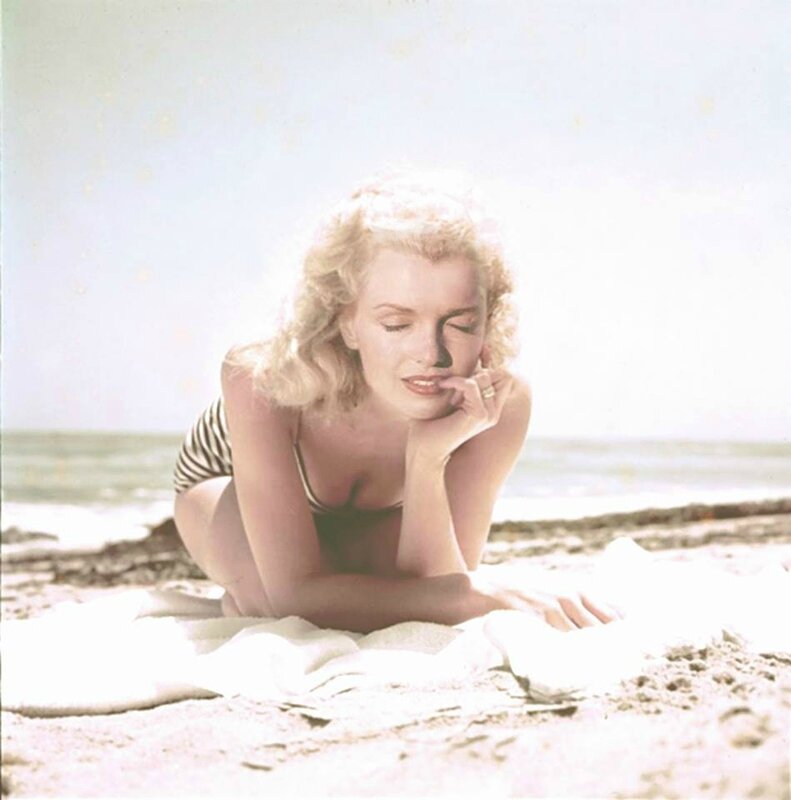 Il s'agit bien du même visage de Marilyn, voici la photo de Dedienes inversée, où on constate que la tête a été légèrement inclinée, et on distingue aussi la petite mèche de cheveux qui va sur la paupière; ce visage a été ajouté sur une photographie de Milton Greene qui représente l'actrice Janet Leigh en 1954 à la plage:
Enregistrer
Enregistrer
Enregistrer
Enregistrer
15 octobre 2013
Ces esquisses de costumes conçues par le couturier William Travilla n'étaient pas destinées à Marilyn Monroe pour le film "Something's Got To Give" en 1962 comme on peut le lire sur certains sites internet qui lui sont consacrés, mais ces "sketches" (terme anglais pour désigner les croquis établis au préalable par le couturier), ont été réalisés pour l'actrice Joanne Woodward (femme de Paul Newman de 1958 jusqu'à la mort de l'acteur en 2008), pour le film "The Stripper" ("Les Loups et l'Agneau") en 1963 de Franklin J. Schaffner.
La confusion vient du fait que d'une part, les esquisses représentent une silhouette très proche de Marilyn (le look, la coiffure, les poses) mais aussi car ils furent conçus par William Travilla, couturier qui travailla sur plusieurs films avec Marilyn; et d'autre part, car Marilyn fut liée plus ou moins au projet du film: en effet, la 20th Century Fox souhaitait que Marilyn Monroe joue dans le film. Et les aléas de tournage de "Something's got to give" et la mort prématurée de Marilyn le 4 août 1962, n'ont pas eu d'incidence sur le choix de l'actrice. En effet, il semblerait que Marilyn avait refusé le rôle. Le 28 avril 1962, le Los Angeles Times lista le film 'The Stripper' étant l'un des quatre films en tournage studio à la Fox, incluant 'Something's Got to Give'.
Joanne Woodward avait aussi déclaré au Los Angeles Herald-Examiner dans l'édition du 24 juin 1962: "Marilyn est totalement un produit de notre génération et ce serait un honneur pour n'importe quelle fille de l'imiter" ("Marilyn is quite a product of our generation and it would be an honor for any girl to emulate her").
Le couturier William Travilla fut nommé dans la catégorie "Meilleur Costume" aux Oscars de 1964 pour les tenues en noir et blanc du film; mais il n'emporta pas le prix.


Joanne Woodward poses avec Gypsy Rose Lee, portant une robe de Travilla,
portée par Marilyn dans "Gentlemen Prefer Blonds".

The Stripper -aussi appelé "Woman in summer"- (Les loups et l'agneau en français) est un film dramatique sorti en 1963, réalisé par Franklin J. Schaffner, sur un scénario de Meade Roberts, d'après la pièce de William Inge.
Les interprètes: Joanne Woodward (Lila Green), Richard Beymer (Kenny Baird), Claire Trevor (Helen Baird), Robert Webber (Ricky) etc...
L'histoire: Lila Green est une showgirl et travaille pour Madame Olga. Son petit ami, Ricky, vole l'argent du show et Madame Olga décide de laisser partir Lila. Elle reprend une vie normale et le couple trouve refuge chez d'anciens voisins, Helen et son fils Kenny, un jeune homme séduisant. Petit à petit, une attirance réciproque grandit entre Lila et l'adolescent...
>> sur le web:
Article 'The Stripper' Joanne Woodward sur travillastyle.blogspot.fr
Enchères Juliens Auction Travilla (lot 187) Icons & Idols: Fashion