21 novembre 2007
Scudda Hoo! Scudda Hay!
Secrets de tournage ... et anecdotes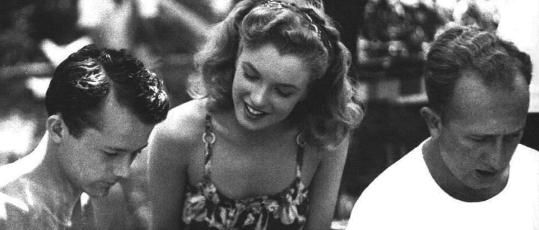 The Secrets of filming ... and anecdotes

---
"Scudda Hoo! Scudda Hay!" est le cri de ralliement du muletier à ses mulets.
Les deux mules du film, surnommées Crowder et Moonbeam (Fouleur et Rayon de lune, en français) viennent de Fort Worth, au Texas, et ont été selectionnées après un casting qui a duré cinq mois et la réception de 1 200 lettres d'éleveurs.
Il n'a pas été facile ni très amusant pour les acteurs de travailler avec des mules.

Walter Brennan

explique: "Pour la première fois de ma carrière à l'écran, j'improvise le dialogue. Nous ne pouvons pas écrire de dialogue car dans la scène, nous devons ajuster nos lignes aux mules." Quand à

Lon McCallister

, il rapporte que cela peut être dangereux: "L'une d'elles m'a marché deux fois sur le pied et croyez-moi, ça fait mal. Ca n'a pas fait si mal la première fois, mais la deuxième fois, cette mule a juste gardé son pied sur le mien." De même pour l'acteur

Tom Tully

, blessé par un coup de sabot à son épaule droite début avril 1947.
"Scudda Hoo! Scudda Hay!" is the rallying cry of the muleteer to his mules.


The two mules in the film, nicknamed Crowder and Moonbeam came from Fort Worth, in Texas, and were selected after a five-month casting and receiving 1,200 letters from breeders.

.




It was not easy nor very fun for the actors to work with mules.

Walter Brennan explains:

"For the first time in my screen career, I'm improvising the dialog. We can't write any dialogue because in th scene, we have to adjust our lines to the mules."

When to Lon McCallister, he reports that it can be dangerous:

"One of them has stepped on my foot twice and believe me, it hurts. it wasn't so bad the first time, but the second time that mule just kept his foot on mine."

The same goes for actor Tom Tully, injured by a hoof hit to his right shoulder early April 1947.


(-source articles de presse: Star Publications 18/03/1947, Tyrone Daily Herald 01/04/1947, San Antonio Light 12/04/1947)
Il s'agit de l'adaptation au cinéma d'un livre au même titre - de l'auteur

George Agnew Chamberlain

et publié en

1946

; livre préalablement publié sous forme de feuilleton en série dans la presse (dans le "Country Gentleman" de novembre 1945 à février 1946) puis résumé dans la revue du Reader's Digest.
Les studios de la Fox annonce en

février 1947

(dans le "Hollywood Reporter") que l'adaptation au cinéma se fera sous la direction du metteur en scène

Louis King

, et que le scénario est de

F. Hugh Herbert

. C'est finalement Herbert qui réalise le film (tel que l'annonce la journaliste Hedda Hooper dans le Salt Lake Tribune le 01er février 1947; le metteur en scène a alors une très grande carrière au cinéma, débutant en 1926, il a déjà travaillé sur plus de 70 films avant 1947).
Le duo stars du film -

Lon McCallister

&

June Haver

- reprennent leur rôle pour jouer une interprétation du film à la radio: le

24 octobre 1949

au Lux Radio Theatre. Lon McCallister réitère l'expérience le

24 mai 1951

pour un show radio de "The Hallmark Playhouse".


It is a film adaptation of a book with the same title - by the author George Agnew Chamberlain and published in 1946;

book previously published as a serial in the press (in the "Country Gentleman" from November 1945 to February 1946), then summarized in the review of Reader's Digest.
Fox studios announce in February 1947 (in the "Hollywood Reporter") that the film adaptation would be done with director Louis King, and that the screenplay was by F. Hugh Herbert. It is finally Herbert who directs the film (as reported by journalist Hedda Hooper in the Salt Lake Tribune on February 1, 1947; the director has then a very long career in cinema, starting in 1926, he has already worked on more than 70 films before 1947).


The celebs duet of the film - Lon McCallister & June Haver - reprise their roles to play a performance of the film on the radio: in October 24, 1949 at the Lux Radio Theater.

Lon McCallister repeats the experience on May 24, 1951 for a radio show from "The Hallmark Playhouse".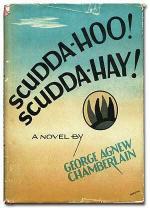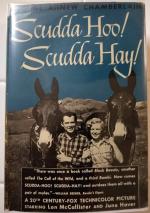 Le livre - roman de Chamberlain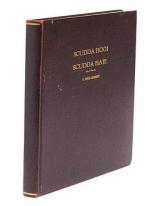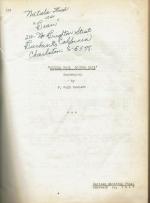 Le script du film de Natalie Wood daté du 19 février 1947
The Natalie Wood Screenplay dated from 1947, Februrary, 19
vendu aux enchères en 2015 par Bonhams
Il s'agit déjà du 7ème film de la jeune Natalie Wood, née le 20 juillet 1938 et donc âgée de 8 ans et demie lors du tournage. Enfant star, c'est la seule au casting du film (en plus de Marilyn) qui parviendra à devenir une grande actrice connue qui saura obtenir de nombreux rôles à l'âge adulte (parmi ses films emblématiques: La Fureur de Vivre en 1955, La Prisonnière du Désert en 1956, La Fièvre dans le Sang et l'apogée avec West Side Story en 1961 mais aussi Une Vierge sur canapé en 1964), alternant ainsi tous les genres du cinéma (comédie, romance, western, comédie musicale, science-fiction). Elle décède tragiquement noyée à l'âge de 43 ans, les circonstances de sa mort étant considérées encore aujourd'hui comme suspectes.
Pour le film "Scudda Hoo! Scudda Hay!" la jeune Natalie a du prendre des leçons de natations; lors de son deuxième cours en piscine, elle a failli se noyer et a dû être réanimée.
This is already the 7th film of a young Natalie Wood, born July 20, 1938 and therefore 8 and a half years old during the filming. Child star, it is the only one in the cast of the film (in addition to Marilyn) who will manage to become a great known actress who will know how to obtain a lot of roles in adulthood (among her emblematic films: Rebel without a cause in 1955, The Searchers in 1956, Splendor in the Grass and the climax with West Side Story in 1961 but also Sex and the Single Girl in 1964), thus alternating all genres of cinema (comedy, romance, western, musical, science

-fiction).

She tragically dies at the age of 43, the circumstances of her death still being considered suspicious today.
For the movie "Scudda Hoo! Scudda Hay!"

young Natalie has to take swimming lessons;

during her second pool lesson, she almost drowned and has to be rescued.
(-source article de presse: Star Publications 18/03/1947)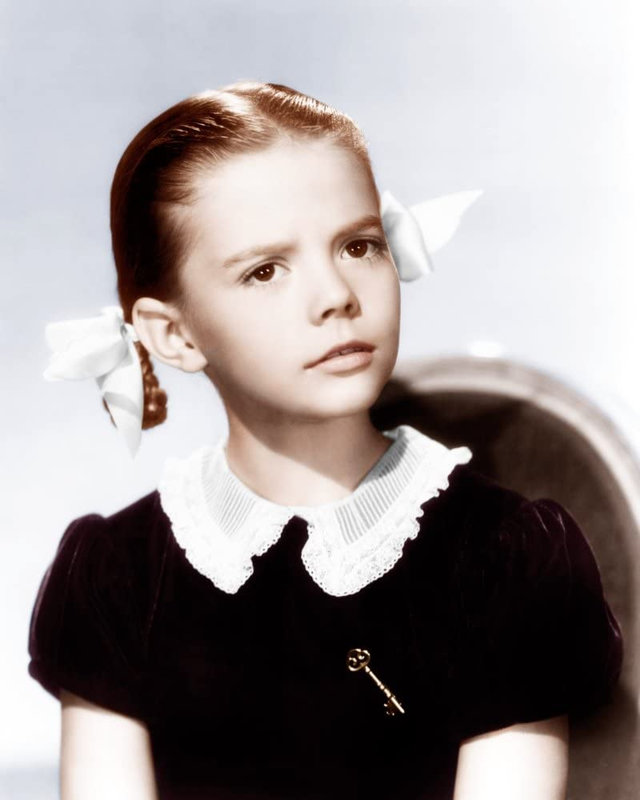 L'actrice

Jean Peters

, âgée alors de 21 ans (née la même année que Marilyn, elle sera sa partenaire dans "Rendez-moi ma femme" en 1951 et "Niagara" en 1952) a passé des essais pour obtenir un rôle dans le film mais ne sera pas retenue au casting. Comme Marilyn, elle débutait au cinéma et obtient, pour son premier rôle, la tête d'affiche de "Capitaine de Castille" avec Tyrone Power en 1947, l'année de tournage de "Scudda Hoo ! Scudda Hay !"
Actress Jean Peters, then 21 years old (born the same year as Marilyn, she will be her partner in "As young as you fell" in 1951 and "Niagara" in 1952) was tested to obtain a role in the film

but will not be selected for the casting.

Like Marilyn, she started out in the cinema and got, for her first role, the headliner of "Captain from Castile" with Tyrone Power in 1947, the year of filming of "Scudda Hoo! Scudda Hay!"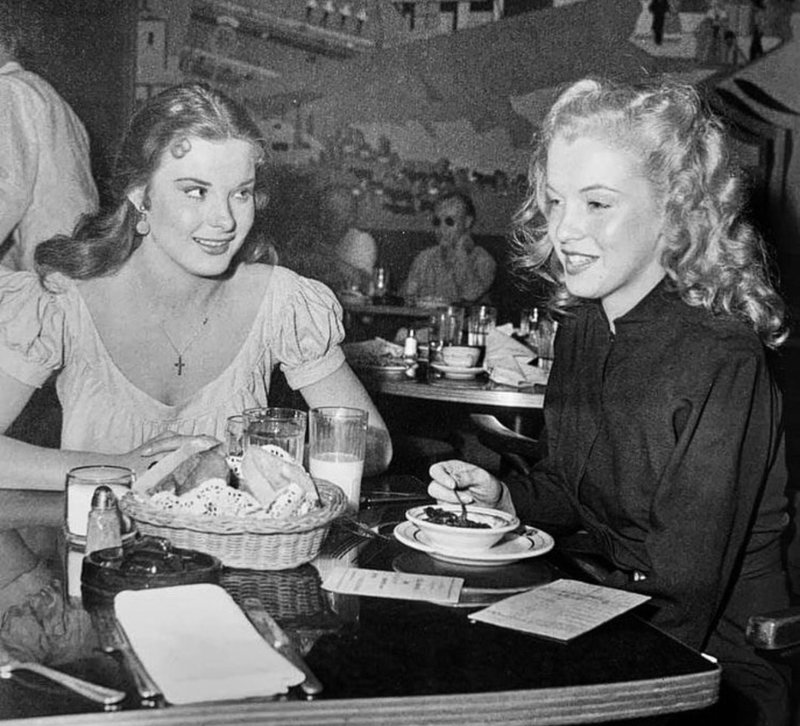 1947 - Jean Peters & Marilyn Monroe, à la cantine de la Fox
at the 20th Century Fox Commissary
Le film est référencé dans une scène du film "Miss Daisy et son chauffeur" (

1989

): l'histoire du film se passe en 1948 à Atlanta, en Georgie (USA); dans la scène où Daisy Werthan

(Jessica Tandy)

décide d'aller seule en tramway faire son marché, son nouveau chauffeur Hoke Colburn (Morgan Freeman) parvient à la convaincre de monter à bord de la toute neuve voiture Hudson. Après l'avoir déposée au Piggly-Viggly, il téléphone à Boolie Werthan (Dan Aykroyd), qui l'a engagé, pour l'informer de sa petite victoire. Près de la cabine téléphonique, un cinéma joue «Scudda Hoo! Scudda Hay!» et «Gentleman's Agreement».
The film is referenced in a scene of the movie "Driving Miss Daisy" (1989): the story of the film takes place in 1948 in Atlanta, Georgia (USA);

in the scene where Daisy Werthan (Jessica Tandy) decides to go alone on the streetcar to shop, her new driver Hoke Colburn (Morgan Freeman) manages to convince her to board the brand new Hudson car.

After dropping her off at Piggly-Viggly, he phones to Boolie Werthan (Dan Aykroyd), who hired him, to inform him of his small victory.

Near the phone booth, a movie theater plays "Scudda Hoo!

Scudda Hay! "

and "Gentleman's Agreement".


(- info du site

Cinéclap

)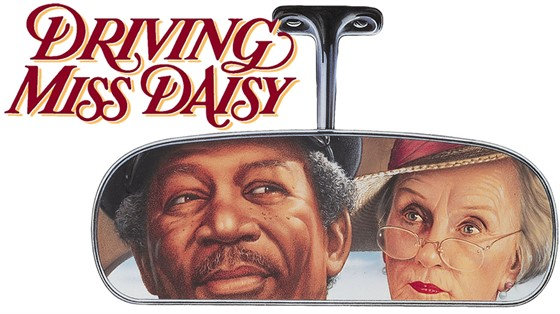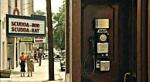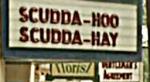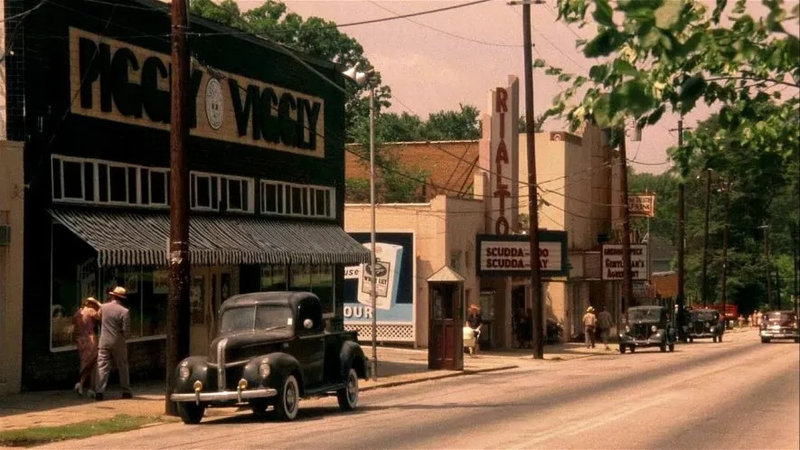 captures de "Driving Miss Daisy"
---
Itinéraire d'un film
Film itinerary

FEVRIER à JUILLET 1947

- Tournage en

Californie

:
à Sonora,
au Lac Malibu du Ranch Reuss,
et dans les studios du Ranch de la Fox (le Malibu Creek State Park).
Début du tournage le 24 février 1947;

Marilyn aurait tourné ses scènes en mars 1947

; le tournage est interrompu une semaine pour permettre à June Haver de convoler pour ses noces (elle s'est mariée le 9 mars 1947 avec le trompetiste James Zito) ; la durée du tournage prévue au départ est de 10 semaines ; il semble que le dernier jour de tournage soit début juillet 1947 (cf article de Louella Parsons de Photoplay d'août 1947: "le dernier jour de tournage de " Scudda Hoo ! Scudda Hay !" s'est tenu sur le plateau de la Twentieth Century-Fox et pendant que la mariée, June Haver, se faisait peigner les boucles pour la prise finale, Cal discuta avec elle dans sa loge caravane.")

FEBRUARY to JULY 1947 - Filming in California:
in Sonora,
at Reuss Ranch from Malibu Lake,
at the 20th Century Fox Ranch (the Malibu Creek State Park).
The start of filming in 1947, February, 24;

Marilyn would have filmed her scenes in March 1947

;

the filming is interrupted for a week to allow June Haver to marry for her nuptials (she married on March 9, 1947 with the trumpet player James Zito)

;

the duration of the filming is planned at the start for 10 weeks

; it seems that the last day of filming is beginning of July 1947 (from article of Louella Parsons of Photoplay of 1947, August: "the last day of shooting "Scudda Hoo! Scudda Hay!" set out on the back lot of Twentieth Century-Fox and while the bride, June Haver, had her curls combed out for the final take, Cal chatted with her in the portable dressing-room.")



10 MARS 1948

- Première du film dans la ville de

Sedalia

, dans le Missouri (aux USA) au

Fox Theatre

, sous la neige, avec la participation des acteurs du film

Lon Mc Callister

,

Colleen Townsend

(et sans la présence de Marilyn Monroe) mais aussi des actrices

Jeanne Crain

et

Betty Ann Lynn

ainsi que la chanteuse

Louanne Hogan

; précédé dans la journée par l'organisation d'une parade dans les rues de la ville (suivie par 10 000 personnes) et d'un concours de la "Reine des Jeans" (organisé par la marque Levi's): l'événement est très suivi par la presse locale. Le film sera ensuite joué dans près de 392 salles de cinéma dans l'Ouest américain.

MARCH 10, 1948 - Film premiere in the town of Sedalia, Missouri (USA) at the Fox Theater, under the snow, with the participation of the actors of the film Lon Mc Callister, Colleen Townsend (and without the presence of Marilyn Monroe) but also of the actresses Jeanne Crain and Betty Ann Lynn

as well as singer Louanne Hogan;

preceded during the day by the organization of a parade in the streets of the city (followed by 10,000 people) and a contest of the "Queen of the Jeans" (organized by the Levi's brand): t

he event is widely followed by the local press.

The film will then be shown in nearly 392 theaters pictures in the American Middle West.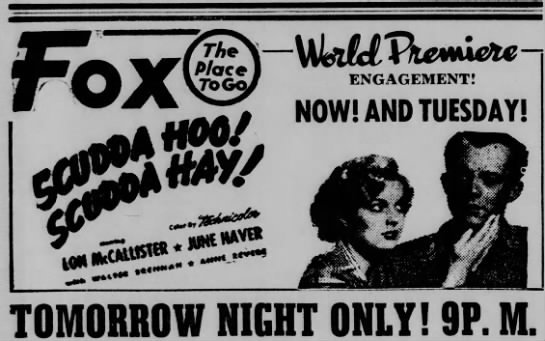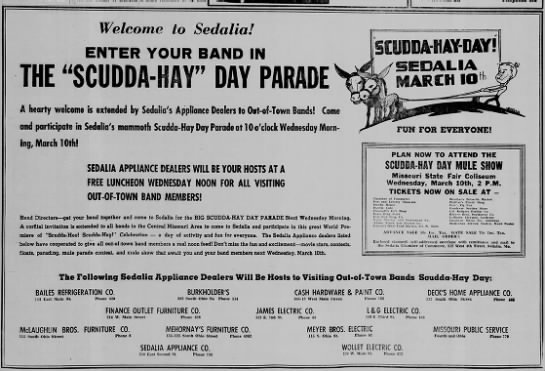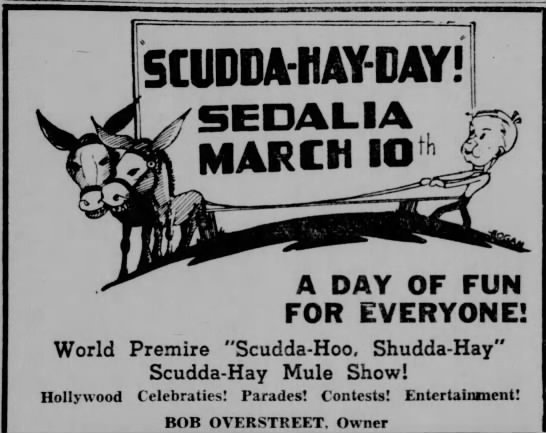 Encarts publicitaires pour la première à Sedalia

The Sedalia Democrat - 1948, March, 10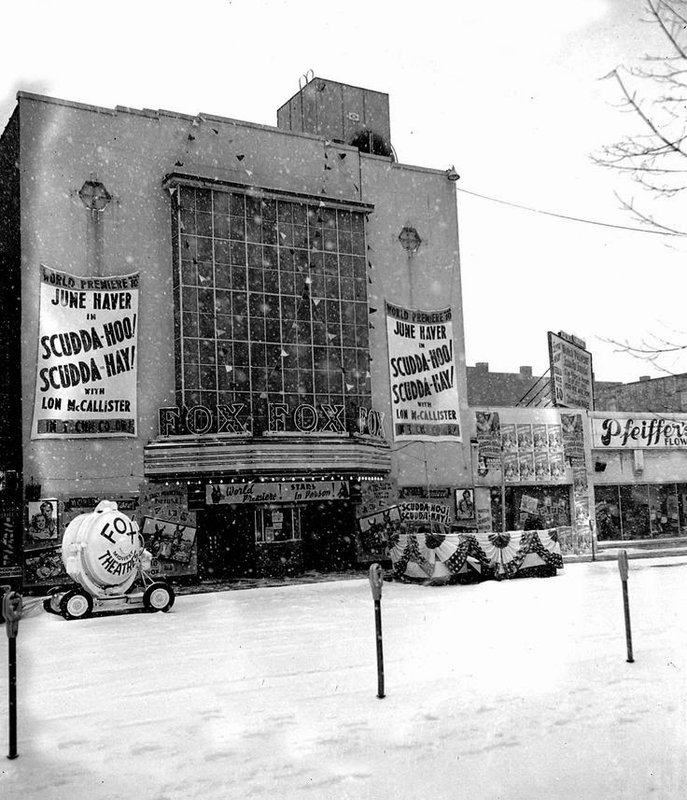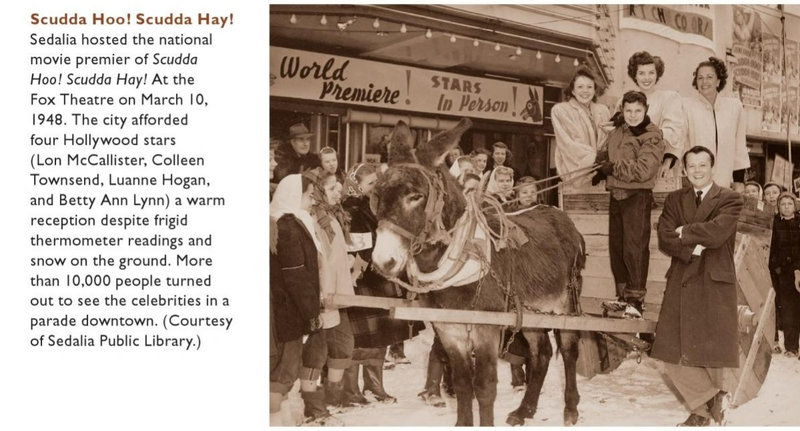 Le cinéma "Fox Theatre" le jour de la première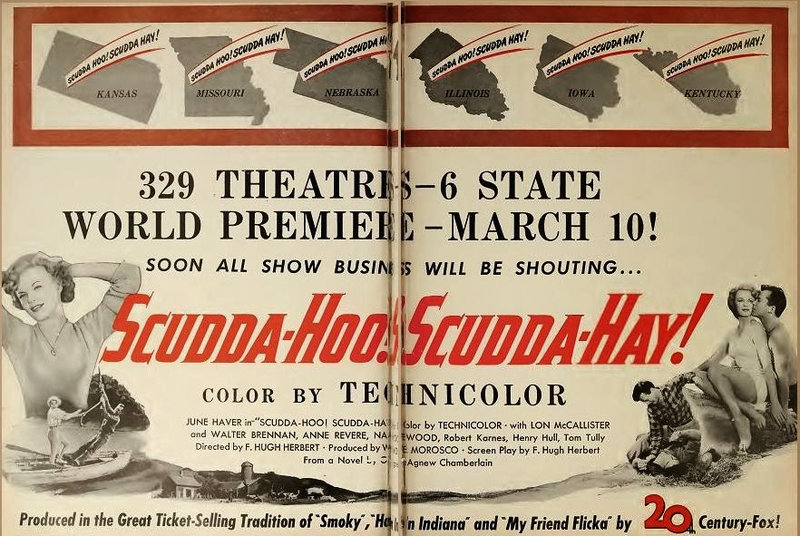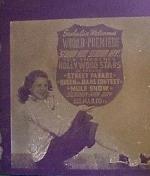 Publicités autour de la Première
---
Marilyn est Betty
Marilyn is Betty

Marilyn Monroe n'est pas mentionnée au générique de Scudda Hoo! Scudda Hay! qui doit être en fait considéré comme le tout premier film qu'elle ait tourné, même s'il est sorti après Dangerous Years (ce dernier est sorti sur les écrans le 7 décembre 1947).
Elle n'est aperçue que brièvement, descendant les marches d'un perron d'église, jouant une paysanne prénomée Betty qui adresse un "Hi Rad !" à l'actrice June Haver. On l'aperçoit à nouveau rapidement dans la scène qui suit, elle est dans un canoë avec une amie (l'actrice Colleen Towsend), mais vues seulement de loin sur le lac, s'apparentant plutôt à de la figuration, la scène de la barque comportant au départ des lignes de dialogues a été coupée au montage. Quand Marilyn deviendra une star, les studios de la Fox confirmeront que la scène parlée de Marilyn a fini coupée au montage, et tel que le racontera Marilyn elle-même notamment lors de son interview donnée à la télévision en 1955 au show d'Edward Murrow "Person to Person".
C'est donc le premier film où elle a un dialogue, et où on la distingue à l'écran (même si ce n'est que quelques secondes et en second plan): les débuts de Marilyn à la Fox en cette année 1947 se cantonnant à n'obtenir que de la figuration (notamment les films généralement cités dans les biographies: "The Shocking Miss Pilgrim", "You Were Meant for Me" et "Green Grass of Wyoming") où elle n'est même pas identifiable.
Marilyn Monroe is not mentioned in the credits of Scudda Hoo! Scudda Hay! which must in fact be considered as the very first film she ever made, even though it was released after Dangerous Years (the latter is on screens on December 7, 1947).
She is only seen briefly, descending the steps of a church porch, playing a peasant girl named Betty who says a "Hi Rad!" to actress June Haver. She appears her again quickly in the scene that follows, she is in a canoe with a friend (actress Colleen Towsend), but seen only from a distance on the lake, more akin to figuration, the scene of the boat initially comprising lines of dialogue was cut during the editing. When Marilyn will become a star, the Fox studios will confirm that the spoken word scene of Marilyn ended up being cut during the editing, and as Marilyn herself will tell it in particular during her interview given on television in 1955 at the Edward Murrow show "Person to Person".
It is therefore the first film where she has a dialogue, and where we distinguish her on the screen (even if it is only a few seconds and in the background): the debuts of Marilyn at the Fox in this year 1947 are confining to obtaining only figuration (in particular the films generally quoted in the biographies: "The Shocking Miss Pilgrim", "You Were Meant for Me" and "Green Grass of Wyoming") where she is not even identifiable.

Pendant le tournage, Marilyn prend ses repas à la cantine des studios de la Fox: à chaque fois, elle repartait avec les couverts en argenterie pour les rapporter chez elle, mais les ramenait le lendemain pour les réutiliser. Lorsque le patron de la cantine remarque le manège de Marilyn, il la soupçonne de vol et demande au serveur Robert Temple de lui reprendre ses couverts après son repas, et de l'avertir d'une éventuelle expulsion de la cantine si elle continue. Temple fait ce qu'on lui a demandé, mais ayant le béguin pour Marilyn, il finit par lui voler les couverts pour les conserver car c'était ceux qu'elle utilisait. Et il a ainsi conservé ses couverts (composé de six pièces de Dohrco Piémont, estampé par la 20th Century Fox, comprenant deux cuillères à dîner, une cuillère à soupe, une cuillère à soda / ou thé glacé, une fourchette et un couteau à dîner) pendant près de 62 ans avant de les revendre à une vente aux enchères.
During the filming, Marilyn takes her meals in the Fox studios commissary: each time, she left with the silverware to bring them home, but brought them back the next day to reuse them. When the boss of the canteen notices Marilyn's merry-go-round, he suspects her of theft and asks to the waiter Robert Temple to take back her cutlery after her meal, and to warn her of a possible expulsion from the canteen if she continues. Temple does what it asked him to do, but having a crush on Marilyn, he ends up stealing the cutlery to keep them because they were the ones she was using. And so he kept his cutlery (consisting of six pieces by Dohrco Piedmont, stamped by 20th Century Fox, including two dinner spoons, one soup spoon, one soda / or ice tea spoon, one dinner fork, and one dinner knife) for almost 62 years before reselling them at auction.
(- les couverts "MARILYN MONROE SILVERWARE FROM THE 20TH CENTURY FOX COMMISSARY" )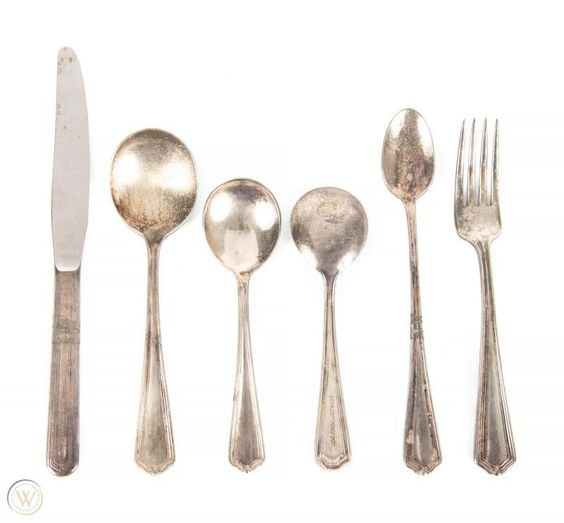 Temple travaillait aux studios de la Fox et s'est même produit sur scène avec Marilyn et d'autres employés le 16 mars 1948 dans la pièce "Strictly For Kicks" au petit théâtre de la Fox.
Temple worked at the Fox studios and even performed on stage with Marilyn and other employees on March 16, 1948 in the play "Strictly For Kicks" at the Fox theater.


Strictly For Kicks, 16/03/1948 - 20th Century Fox
---
Retrouvailles
Reunion
- Marilyn Monroe -
Marilyn Monroe retrouvera d'autres membres de l'équipe, à l'écran ou dans la vie:
Marilyn Monroe will meet other members of the cast, on screen or in life:
Elle donne la réplique à l'actrice June Haver dans Nid d'amour (en 1951)
She plays with actress June Haver in Love Nest (in 1951)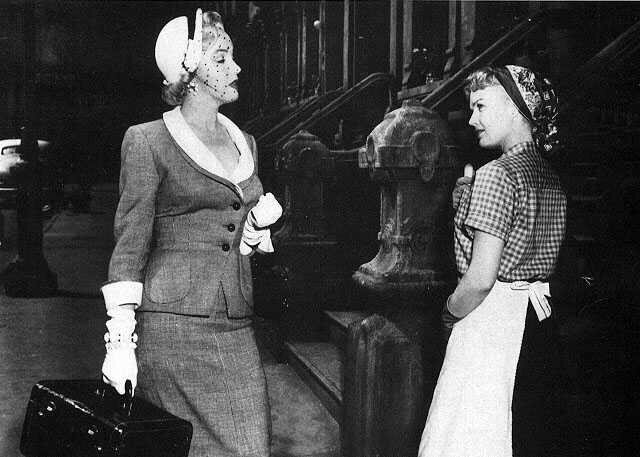 Elle est avec Walter Brennan à l'affiche du Petit train du Far-West (en 1950).
She is with Walter Brennan on the cast of A Ticket to Tomahawk (in 1950).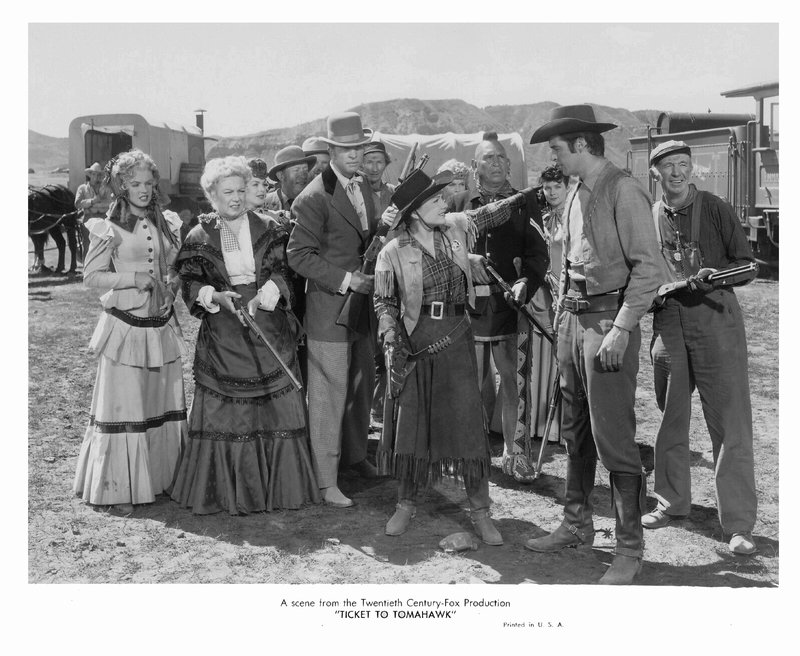 Le scénariste et réalisateur de Scudda Hoo ! F. Hugh Herbert
est à nouveau scénariste pour Chéri, divorçons (en 1951).
The writer and director of Scudda Hoo! F. Hugh Herbert
is again a screenwriter for Let's Make It Legal (in 1951).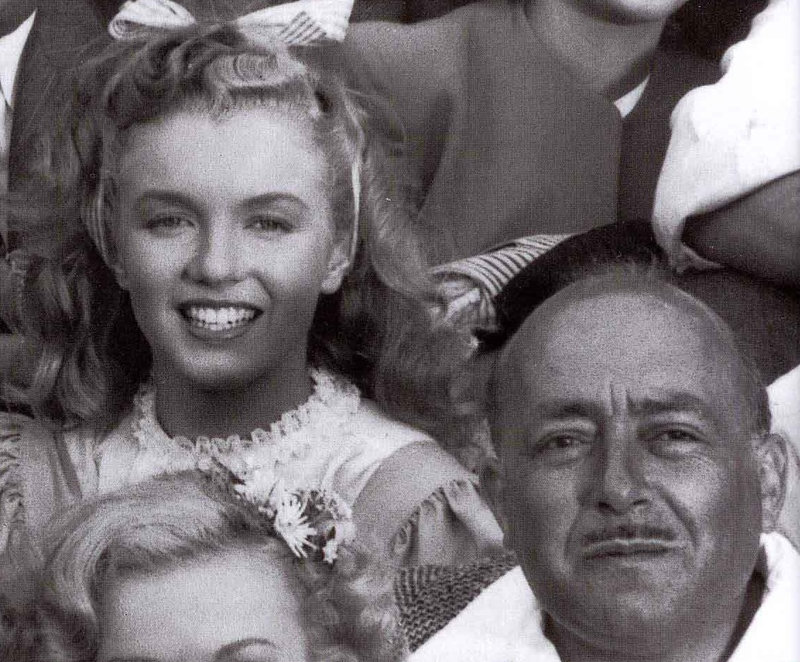 Elle est accompagnée d'autres acteurs, dont Lon McCallister,
le 21 juin 1949, quand elle participe à la remise d'un prix (une maison)
à une lectrice du magazine Photoplay à Warrensburg, Etat de New York.
She is accompanied by other actors, including Lon McCallister,
in June 21, 1949, when she participates to the price award (a house)
to a Photoplay magazine reader in Warrensburg, New York.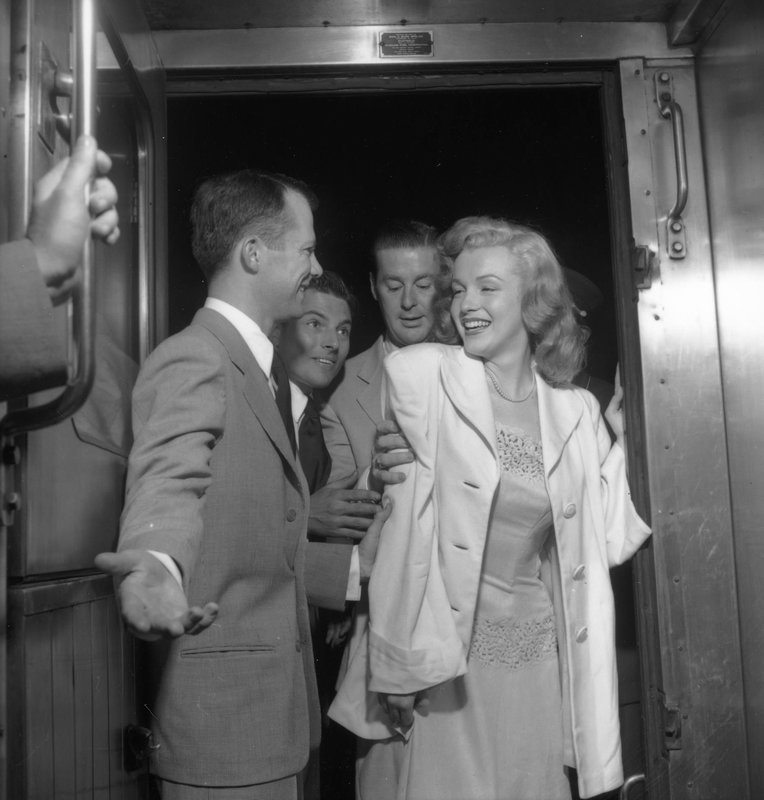 Elle dîne avec Natalie Wood et le compagnon de celle-ci, Warren Beatty,
chez les Lawford, quelques jours avant sa mort, début août 1962.
She dines with Natalie Wood and her companion, Warren Beatty,
at Lawford's, a few days before her death, in early August 1962.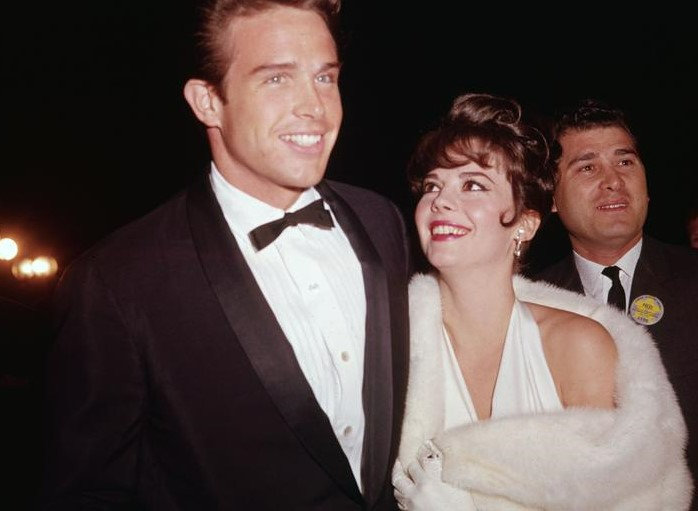 Warren Beatty & Natalie Wood, 19/04/1962 - Cérémonie des Oscars
---
Retrouvailles
Reunion
- Autres acteurs -

Lon McCallister

,

June Haver

et

Walter Brennan

ont déjà partagé l'affiche ensemble dans "Home in Indiana" en

1944

, film de la Fox qui avait rencontré un succès honorable et qui était aussi l'adaptation d'une histoire de

George Agnew Chamberlain

.
Lon McCallister, June Haver and Walter Brennan once co-starred in "Home in Indiana" in 1944, a Fox movie which has met with honorable success and which was also an adaptation of a story by George Agnew Chamberlain.
Lon McCallister

joue encore dans une adaptation d'un roman de

George Agnew Chamberlain

: dans le film "La Maison Rouge" qui sort au cinéma en

1947

(avec aussi

Rory Calhoun

qui tournera avec Marilyn dans "Comment épouser un millionnaire" en 1953 et dans "La rivière sans retour" en 1954).
Lon McCallister plays again in an adaptation of a novel by George Agnew Chamberlain: in the film "The Red House" which comes out on screen in 1947 (also with Rory Calhoun who will be the partner of Marilyn in "How to marry a millionaire" in 1953 and in "River of no return" in 1954).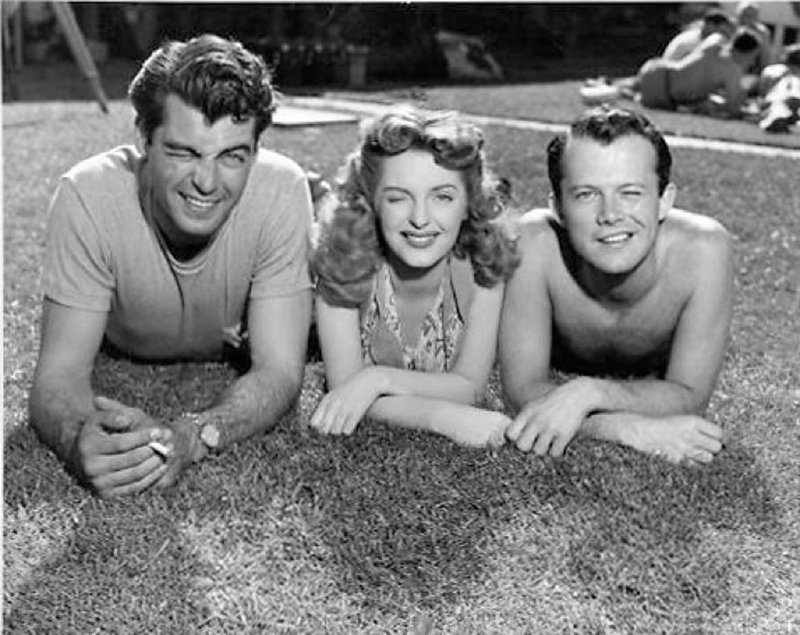 Rory Calhoun, Julie London, Lon McCallister
Lon McCallister

et

Colleen Towsend

ont posé plusieurs fois ensemble pour des photographies de promotion des films de la Fox.
Lon McCallister and Colleen Towsen

d have posed together several times for promotional photographs of the Fox films.

1947, Malibu - Colleen & Lon
---
Sources:
Marilyn Monroe, La Biographie, Donald Spoto
Première du film à Sedalia sur Show-Me the History
---
© All images are copyright and protected by their respective owners, assignees or others.
copyright text by GinieLand.
20 novembre 2007
Scudda Hoo! Scudda Hay!
Les Affiches
---
- USA -
---
Pressbook - USA
---
- Belgique -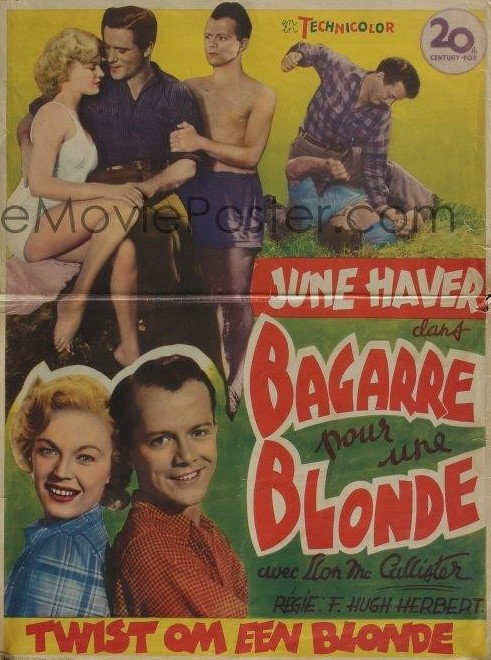 ---
- Grande-Bretagne -
---
- Australie -
---
- Japon -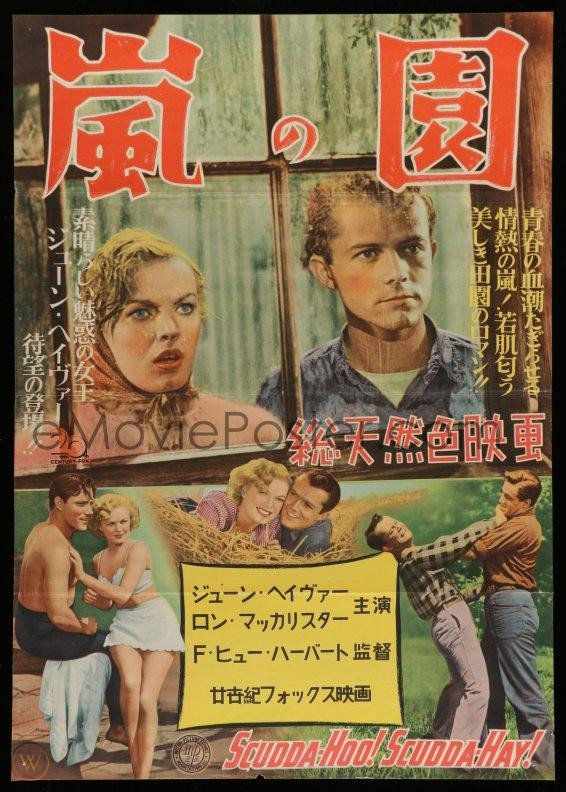 ---
© All images are copyright and protected by their respective owners, assignees or others.
Scudda Hoo! Scudda Hay!
Photos d'exploitation cinéma
Cinema Lobby Cards

---
- lobby cartes USA -
serie 1
---
- lobby cartes USA -
serie 2

---
- lobby cartes USA -
serie 3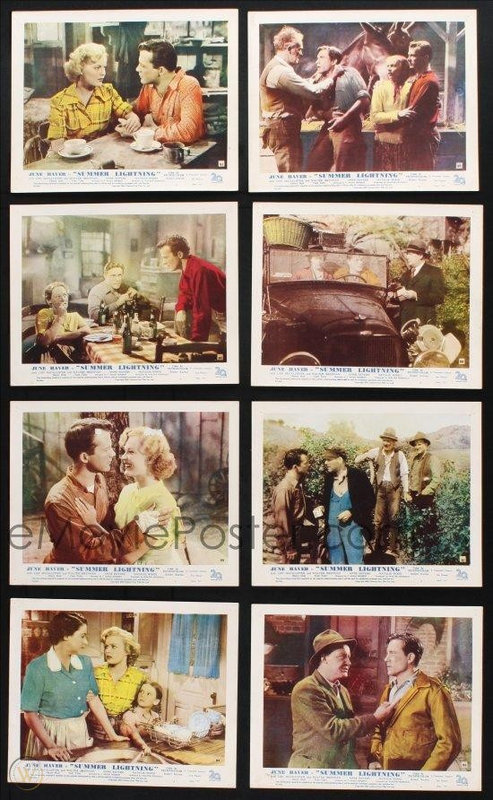 ---
- lobby cartes USA -
serie 4

---
- lobby carte Angleterre -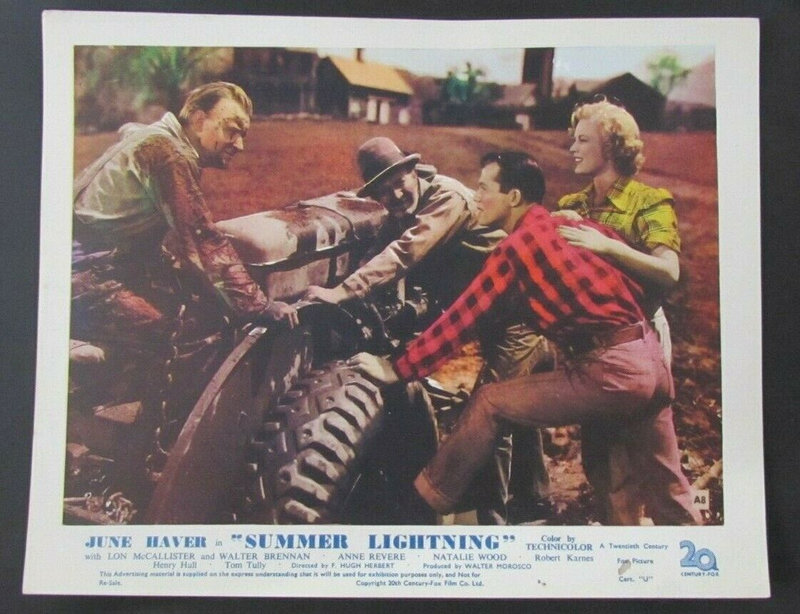 ---
- lobby cartes Brésil / Mexique / Venezuela -
---
© All images are copyright and protected by their respective owners, assignees or others.
13 novembre 2007
Dangerous Years



Les Dates de sorties dans le monde

USA: 7 décembre 1947
USA, Los Angeles: 16 janvier 1948
Angleterre: 15 novembre 1948
Mexique: 30 mars 1950



Le Titre du film dans le monde

USA: Dangerous Years
Argentine / Mexique: Juventud en peligro
Brésil: Idade Perigosa
France: Les années dangereuses
Roumanie: Ani periculoşi
Yougoslavie (Serbe): Opasne godine



Fiche technique

Réalisateur: Arthur Pierson
Assistant réalisateur: Paul Wurtzel
Scénariste: Arnold Belgard
Producteur: Sol M. Wurtzel
Producteur associé: Howard Sheehan
Directeur photographie: Benjamin H. Kline
Musique: Ralph Stanley
Son: Max M. Hutchinson
Montage: Frank Babridge, William F. Claxton
Chef décorateur: Al Greenwood
Maquillage: Jack Casey
Coiffures: Irene Beshon
Production Pays : Etats-Unis
Société de production: 20th Century Fox [us]
Genre : drame
Film en noir et blanc
Durée : 1h 02min



Distribution (créditée)

Billy Halop (sous le nom William Halop) : Danny Jones
Scotty Beckett: Willy Miller
Richard Gaines : Edgar Burns
Ann E. Todd : Doris Martin
Jerôme Cowan : Weston
Anabel Shaw : Connie Burns
Darryl Hickman : Leo Emerson
Dickie Moore : Gene Spooner
Harry Harvey Jr. : Phil Kenny
Gil Stratton (sous le nom de Gil Stratton Jr.) : Tammy McDonald
Harry Shannon : Judge Raymond
Donald Curtis : Jeff Carter
Joseph Vitale : August Miller
Marilyn Monroe : Evie
Nana Bryant : Miss Templeton
Tom Kennedy : Adamson

> reste de la distribution non mentionné dans le générique,
par ordre alphabétique:
Eddie Borden: spectateur à la cour
Eddie Coke: journaliste
Steve Darrell: policier
Mimi Doyle: journaliste
Fred Howard: employé de bureau
Charles Anthony Hughes: policier
Bill Hunter: policier
Charles Mash: porte-parole du comité des citoyens
George Meader: Dr. Oliver Hughes
Howard Negley: policier Sgt. Stanton
Fred Sherman: Freddie, journaliste
Geroge Sherwood: petit rôle
Lee Shumway: Alec, intendant
Brick Sullivan: policier
Eddy Waller: Jock Nealy
Claire Whitney: une femme


Synopsis

résumé: Danny est le chef d'une bande de délinquants qui accomplissent des méfaits des plus divers. Un soir, une de leurs tentatives de cambriolage tourne mal et se termine par le meurtre d'un professeur. Danny, accusé du meurtre, est alors arrêté et traîné en justice.
en détail: Les habitants de Middleton, qui craignent Dieu, craignent que le Gopher Hole, un nouveau restaurant routier à l'extérieur de la ville, ne fasse dériver leurs enfants adolescents. Jeff Carter, un enseignant local qui dirige également un club de jeunes pour les garçons, regarde de plus près l'endroit pour voir si les inquiétudes sont justifiées.
Jeff découvre qu'un groupe de garçons de la ville, dont Willy Miller, Gene Spooner et le dur à cuire Danny Jones, cambriolent un entrepôt en ville. Jeff essaie de les arrêter, mais pendant la lutte, il est abattu par Danny. Les garçons s'enfuient en utilisant le camion de livraison du père de Willy, mais le camion est reconnu par un témoin travaillant à l'entrepôt. Les garçons se cachent au Gopher Hole, rejoignent un jeu de cartes et agissent comme s'ils y avaient passé la nuit. La police arrive bientôt au Gopher Hole et arrête les garçons. Danny est le seul garçon qui n'est pas mineur et il est poursuivi pour meurtre au premier degré par le procureur de district Edgar Burns.
Au procès, Burns affirme que Danny avait prévu de tuer Jeff à cause de leurs précédents accrochages et parce que Danny détestait Jeff. Un autre garçon, Leo Emerson, raconte comment Danny a encouragé les garçons du club de jeunesse de Jeff à visiter le Gopher Hole, puis les a conduits à d'autres activités telles que le jeu et le vol de stations-service. Lorsque Jeff a essayé d'arrêter les activités de Danny et a même offert à Danny un emploi au club de jeunes, Danny a refusé et a menacé de frapper Jeff pour son ingérence. Leo a mis fin à sa propre relation avec Danny lorsque le père absent de Leo est revenu à la maison familiale. Willy admet avoir pris le camion de son père sans autorisation et servi de guetteur lors du vol de l'entrepôt, mais pendant le processus, il révèle que son père le maltraite physiquement. Doris, une adolescente solitaire qui est négligée par ses parents et amoureuse de Danny, essaie de s'allonger sur la barre pour le protéger, mais s'effondre sous la pression du procureur de district Burns.
Avant que l'accusation ne termine son dossier, la fille bien-aimée de Burns, Connie, a failli provoquer un scandale lorsqu'elle admet avoir été une amie proche de Danny il y a dix ans, alors qu'ils vivaient tous les deux dans un orphelinat. Burns explique qu'il a ignoré pendant de nombreuses années qu'il avait une fille, puisque son mariage a été annulé et que sa femme a disparu sans lui dire qu'elle était enceinte. Quelques années plus tard, Mlle Templeton, la propriétaire de l'orphelinat, l'a contacté et il a ramené Connie à la maison. Connie n'a pas pu dire au revoir à son ami Danny avant de quitter l'orphelinat et n'a plus eu de contact avec lui jusqu'au procès.
Mlle Templeton, désormais âgée et en mauvaise santé, vient pour voir Danny, après avoir lu l'affaire dans les journaux. Elle révèle à Danny que c'est lui, et non Connie, qui est l'enfant de Burns, et qu'elle a menti et falsifié des dossiers pour faire passer Connie comme l'enfant de Burns à sa place, parce que Connie était plus faible et allait mourir si elle n'était pas retirée du orphelinat. Mlle Templeton veut le dire à Burns, mais Danny lui fait promettre de ne pas révéler le secret, car il ne veut pas ruiner la belle vie de Connie avec l'homme qu'elle pense être son père. Néanmoins, Mlle Templeton essaie quand même de dire le secret au tribunal, mais est interrompue par Danny admettant publiquement avoir tiré sur Jeff, scellant ainsi son sort. Pendant que Danny parle, Mlle Templeton meurt à la barre avant de pouvoir témoigner.
Au final, Danny est reconnu coupable du meurtre de Jeff mais parvient à échapper à la peine de mort, obtenant à la place une peine de prison à vie. On lui rappelle que même avec une condamnation à perpétuité, il peut sortir pour bonne conduite, et Connie et Burns promettent de l'aider de toutes les manières possibles.

summary: Danny is the leader of a band of delinquents who carry out the most diverse misdeeds. One evening, one of their burglary attempts goes wrong and ends in the murder of a professor. Danny, accused of the murder, is then arrested and brought to justice.

in detail: The God-fearing residents of Middleton are worried that the Gopher Hole, a new roadhouse restaurant outside of town, will bring their teenage kids to ruin. Jeff Carter, a local teacher who also runs a youth club for the boys, takes a closer look at the place to see if the worries are justified.
Jeff discovers that a group of boys from town, including Willy Miller, Gene Spooner and the tough Danny Jones, are robbing a warehouse in town. Jeff tries to stop them, but in the struggle, he is shot and killed by Danny. The boys flee, using Willy's father's delivery truck, but the truck is recognized by a witness working at the warehouse. The boys hide out at the Gopher Hole, joining a game of cards and acting as if they have been there all night. The police soon arrive at the Gopher Hole and arrest the boys. Danny is the only boy who isn't under age, and he is prosecuted for first degree murder by district attorney Edgar Burns.
At the trial, Burns claims that Danny had planned to kill Jeff because of their previous encounters and the fact that Danny hated Jeff. Another boy, Leo Emerson, tells how Danny encouraged the boys at Jeff's youth club to visit the Gopher Hole, and then led them into other activities such as gambling and robbing gas stations. When Jeff tried to stop Danny's activities, and even offered Danny a job at the youth club, Danny refused and threatened to punch Jeff for interfering. Leo stopped his own involvement with Danny when Leo's absent father returned to the family home. Willy admits to taking his father's truck without permission and serving as lookout at the warehouse robbery, but in the process reveals that his father physically abuses him. Doris, a lonely teenage girl who is neglected by her parents and is in love with Danny, tries to lie on the stand to protect him, but breaks down when pressured by district attorney Burns.
Before the prosecution rests its case, Burns' beloved daughter Connie nearly causes a scandal when she admits to being close friends with Danny ten years ago, when they were both living at an orphanage. Burns explains that he was unaware for many years that he had a daughter, since his marriage was annulled and his wife disappeared without telling him she was pregnant. Some years later, Miss Templeton, the proprietor of the orphanage, contacted him, and he took Connie home. Connie was unable to say goodbye to her friend Danny before she left the orphanage, and had no further contact with him until the trial.
Miss Templeton, now elderly and in poor health, arrives to see Danny, having read about the case in the newspapers. She reveals to Danny that he, not Connie, is actually Burns' child, and that she lied and falsified records to pass Connie off as Burns' child instead, because Connie was weaker and was going to die if she wasn't removed from the orphanage. Miss Templeton wants to tell Burns, but Danny makes her promise not to reveal the secret, as he does not want to ruin Connie's good life with the man she thinks is her father. Nevertheless, Miss Templeton tries to tell the secret to the court anyway, but is interrupted by Danny publicly admitting to shooting Jeff, thus sealing his fate. While Danny is talking, Miss Templeton dies on the stand before she can testify.
In the end, Danny is convicted of Jeff's murder but manages to escape the death penalty, instead getting a sentence of life in prison. He is reminded that even a life sentence may be ended early for good behavior, and Connie and Burns promise to help him in every way they can.
Sur le web:
- le film sur imdb (en anglais)
- infos sur le film sur wikipedia (en anglais)

---
© All images are copyright and protected by their respective owners, assignees or others.
copyright text by GinieLand.

12 novembre 2007
Dangerous Years
Les Affiches
---
- USA -
- presse 1948 -
---
- Mexique / Argentine -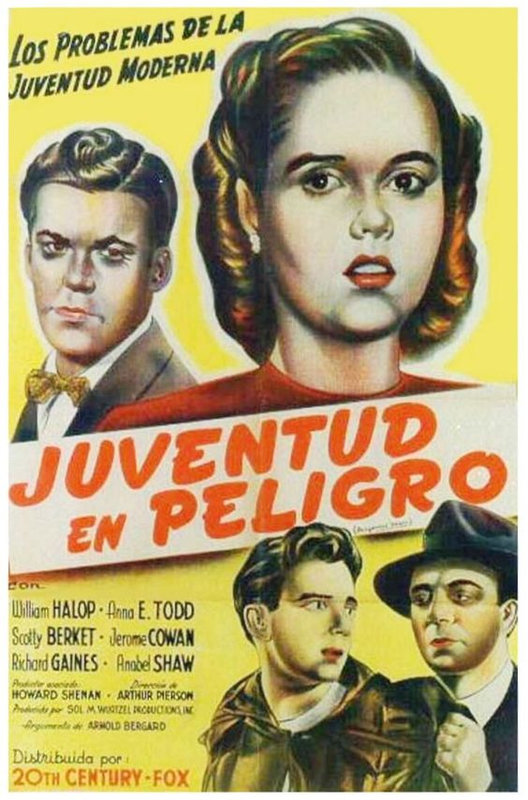 ---
© All images are copyright and protected by their respective owners, assignees or others.
11 novembre 2007
Scudda Hoo! Scudda Hay!
Les critiques
The reviews
---
The Alton Democrat - March, 04, 1948
(USA)
Palace Theatre To Have Premiere Of Midwest Picture
On Thursday March 28, 29, 30, The Palace Theatre will join with more than 200 cities in the four states, Iowa, Nebraska, Missouri and Kansas, for the world premiere showing of the motion picture, "Scudda Hoo! Scudda Hay!" the Technicolor picturization of George Agnew Chamberlain's heart warming story of farm folks and, of all things... mules, and condensed some months ago in the Reader's Digest.
Because it is so vividly a story of midwestern people, "Scudda Hoo! Scudda Hay!" slides right past New York, Hollywood, yes, even Chicago and Miami, to make its world premiere out here where tha tall corn grows and the prairies give a man beathing space. It stars Lon McAllister, June Haver and Walter Brennan, a trio so well remembered from that another Technicolor classic, "Home in Indiana" but even these lovable personalities step back for the real stars of the picture, "Moonbeam and Crowder" a pair of handsome bay mules.
Hollywood has given us Lassie, Rin Tin Tin and other dog stars: Flicka, Smoky, Black Beauty and the Red Stallion, handsome horses, and even an elephant star, but it took George Agnew Chamberlain to lift the mule out of the derogatory position into which Bing Crosby pushed him when he crooned "Swinging on a star"... in fact the writer admits it was Bing's opinion of mules that prompted him to write "Scudda Hoo! Scudda Hay!"
The farms on which June Haver and Lon McAllister live are as modern as the tractors, station wagons and New Look frocks and bathing suits you can find in any midwestern farmyard. The Technicolor camera's revealment of rolling hills and lush fields might have been photographed from the backporch of any Iowa land owner.
Its richly original story of how the span of the wise and stout hearted mules solved the youthful problems of June, Lon and their families will delight midwesterners when they see it ahead of Hollywood and Broadway folks who take such pride in their ability to see our movies first. March 11th we in the Midwest upset their applecart.
"Scudda Hoo! Scudda Hay!" will open Sunday March 28 at The Palace Theatre in Alton for a 3-day showing.
Le Palace Theatre aura la première d'un film de Midwest
Les jeudi 28, 29 et 30 mars, le Palace Theatre se joindra à plus de 200 villes des quatre États, l'Iowa, le Nebraska, le Missouri et le Kansas, pour la première mondiale du film "Scudda Hoo ! Scudda Hay !", le film en technicolor d'une histoire réconfortante de George Agnew Chamberlain sur les fermiers et, de toutes choses... les mules, et résumée il y a quelques mois dans le Reader's Digest.
Parce que c'est vraiment une histoire de gens du Midwest, "Scudda Hoo! Scudda Hay!" glisse juste devant New York, Hollywood, oui, même Chicago et Miami, pour faire sa première mondiale ici où pousse le maïs de grande taille et où les prairies donnent à un homme un espace de vie. Il met en vedette Lon McAllister, June Haver et Walter Brennan, un trio si bien connu de cet autre classique en technicolor, "Le jocker de l'amour", mais même ces personnalités adorables prennent du recul pour les vraies stars du film, "Moonbeam et Crowder", une paire de belles mules bai.
Hollywood nous a donné Lassie, Rintintin et d'autres chiens stars: Flicka, Smoky, Black Beauty et l'Etalon rouge, de beaux chevaux et même une star des éléphants, mais il a fallu George Agnew Chamberlain pour sortir la mule de la position péjorative en ce que Bing Crosby l'a poussé quand il a chantonné "Swinging on a star"... en fait, l'écrivain admet que c'est l'opinion de Bing sur les mules qui l'a incité à écrire "Scudda Hoo ! Scudda Hay !"
Les fermes dans lesquelles vivent June Haver et Lon McAllister sont aussi modernes que les tracteurs, les wagons de trains et les robes et maillots de bain d'un nouveau genre que vous pouvez trouver dans n'importe quelle basse-cour du Midwest. La révélation par la caméra technicolor des collines et des champs luxuriants aurait pu être photographiés depuis le porche de n'importe quel propriétaire foncier de l'Iowa. Son histoire richement originale sur la façon dont l'envergure des mules au cœur sage et robuste a résolu les problèmes de jeunesse de June, Lon et leurs familles, raviront les gens du Midwest lorsqu'ils verront face aux gens d'Hollywood et de Broadway, qui sont si fiers de leur capacité à voir nos films en premier. Le 11 mars, nous, dans le Midwest, avons bouleversé leur panier de pommes.
"Scudda Hoo ! Scudda Hay !" sera visible le dimanche 28 mars au Palace Theatre à Alton pour une projection de 3 jours.
---
Chillicothe Constitution Tribune, Missouri - March, 09, 1948
(USA) source coupures de presse sur Show-Me the History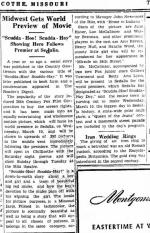 Midwest Gets World Preview of Movie "Scudda Hoo ! Scudda Hay!" Showing Here Follows Premier at Sedalia
A year or so ago a serial story was published in the Country Gentleman with the curious title of "Scudda-Hoo ! Scudda-Hay!". It was later published in book form and a condensation appeared in The Reader's Digest.
The popularity of the story introduced 20th Century Fox Film Corporation to buy the screen rights, and it has been made into an equally entertaining and wholesome motion picture, which will have its world premiere in Sedalia, on Wednesday, March 10, and will be shown in upwards of 392 pictures in the middle west immediately following the picture. The picture will open in Chillicothe with the Saturday night prevue and will show Sunday through Tuesday at The Riz Theatre.
"Scudda-Hoo ! Scudda-Hay!" is a down-to-earth story about a boy and a girl and a team of beautiful big red mules, and how the boy's devotion to the mules pays off with his winning the girl. The locale for pictures purpose, is a Missouri farm. Filmed in technicolor, the picture is scenically beautiful as well as being a story that will appeal to all classes of patrons. It belongs in the same category, according to Manager John Newcomer of the Ritz, with "Home of Indiana".
Stars of the picture are June Haver, Lon McCallister and Walter Brennan and other prominent players in the cast are Anne Revere, Henry Hull, and Natalie Wood, the snooty little girl who will be remembered for her appearance in the "Miracle of 34th Street."
Mr McCallister, accompanied by two new Fox junior stars Colleen Townsend and Betty Ann Lynn, will be present in Sedalia for the world premiere, which Sedalia has designated as "Scudda-Hoo ! Scudda-Hay! Day", and the entire town is turning out to make Wednesday, March 10, the biggest day in Sedalia history. A stade-wide prize mule show, a "Queen of the Jeans" contest and a mammoth street parade are included in the day's program.
Le Midwest obtient l'avant-première mondiale du film "Scudda Hoo ! Scudda Hay !" projeté ici en première à Sedalia
Il y a environ un an, un feuilleton a été publié dans le Country Gentleman avec le titre curieux de "Scudda-Hoo ! Scudda-Hay!". Il a ensuite été publié sous forme de livre et un résumé est apparu dans The Reader's Digest.
La popularité de l'histoire a amené les studios de la 20th Century Fox Film à acheter les droits cinématographique, et elle a été transformée en un film tout aussi divertissant et sain, qui aura sa première mondiale à Sedalia, le mercredi 10 mars, et sera projeté dans plus de 392 cinéma dans le centre-ouest immédiatement après la première. Le film sera projeté à Chillicothe le samedi soir et sera présenté du dimanche au mardi au Riz Theatre.
"Scudda-Hoo ! Scudda-Hay !" est une histoire de terre-à-terre, d'un garçon et d'une fille, d'une équipe de belles grandes mules rouges, et comment le dévouement du garçon envers les mules est récompensé par sa victoire sur la fille. Le lieu du film est une ferme du Missouri. Tourné en technicolor, l'image est d'une beauté scénique tout en étant une histoire qui plaira à toutes les catégories de clients. Il appartient à la même catégorie, selon le directeur John Newcomer du Ritz, avec "Home of Indiana".
Les stars du film sont June Haver, Lon McCallister et Walter Brennan et d'autres acteurs éminents de la distribution sont Anne Revere, Henry Hull et Natalie Wood, la petite fille arrogante dont on se souviendra pour son apparition dans le "Miracle de la 34e rue". M. McCallister, accompagné de deux nouvelles stars juniors de la Fox, Colleen Townsend et Betty Ann Lynn, seront présents à Sedalia pour la première mondiale, que Sedalia a désignée comme "Le Jour de Scudda-Hoo ! Scudda-Hay !", et toute la ville décide de faire du mercredi 10 mars le plus grand jour de l'histoire de Sedalia. Un spectacle de mulet à l'échelle du stade, un concours de la « Reine des jeans » et un défilé de rue gigantesque sont inclus dans le programme de la journée.
---
The New York Times - April, 15, 1948
(USA) sur The New York Times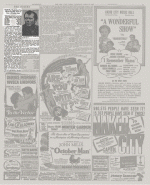 "Scudda Hoo ! Scudda Hay!" Fox Film on Farm Life, arrive chez Roxy -- McCallister Stars
By Bosley Crowther
SCUDDA-HOO! SCUDDA-HAY! screen play by F. Hugh Herbert, from a novel by George Agnew Chamberlain; directed by F. Hugh Herbert; produced by Walter Morosco for Twentieth Century-Fox Pictures. At the Roxy.
Rad McGill . . . . . June Haver
Snug Deminy . . . . . Lon McCallister
Tony Maule . . . . . Walter Brennan
Judith Dominy . . . . . Anne Revere
Bean McGill . . . . . Natalie Wood
Stretch Dominy . . . . . Robert Karnes
Milt Dominy . . . . . Henry Hull
Roarer McGill . . . . . Tom Tully
Ches . . . . . Lee MacGregor
Mrs. McGill . . . . . Geraldine Wall
Sheriff Bursom . . . . . Ken Christy
Judge Stilwell . . . . . Tom Moore

Having long since found the secret of how to make agriculture pay in a series of Technicolored pictures localized on assorted farms, Twentieth Century-Fox is now extending both its formula and its luck in a rather reckless venture entitled "Scudda-Hoo! Scudda Hay!" Not only is that title a bit disenchanting in itself but the objects of pastoral admiration in this film are, of all things, a pair of mules. At least, they're the major interest of Fox's perennial farm boy, Lon McCallister, in this rural romance now showing on the Roxy's screen.To the average patron, however, it is questionable whether these mules will have quite the same fascination as previous beasts seen on Fox's model farms. For, although they are very pretty creatures—sleek and shiny and full of oats—the best they can do in the way of action is pull a tractor out of the mud. And the most suspenseful element they can offer to the script is a not too exciting uncertainty as to whether they will "drive" for Lon.More likely as entertainment are the pungent and liquor-limbered spiels of that veteran farm hand, Walter Brennan, in praise of the qualities of mules. Also the toothsome appearance of June Haver as a farmer's nubile lass whom young Lon finds of secondary interest should be to the average audience taste. Less attractive and plainly artificial in this generally fakebucolic film are the fancy harangues and gyrations of the other actors in a conspicuously hammy plot.For the information of the curious, we might add that "Scudda-Hoo Scudda Hay!" is not, as the advertisements have it, "a cry that stirs young hearts to love." It is simply (according to this picture) what a driver says to mules when he wants them to "giddap." There is no evidence that it stirs anything to love.On the stage at the Roxy is Ed Wynn heading a show which includes Hollace Shaw, Dick and Dot Remy, the Three Rockets, Davis Cunningham and the Roxy Choral Ensemble and Roxyettes.

"Scudda Hoo ! Scudda Hay !" Film de la Fox sur la vie à la ferme, arrive chez Roxy -- McCallister Stars
Par Bosley Crowther
Ayant depuis longtemps trouvé le secret de la rentabilité de l'agriculture dans une série d'images en technicolore localisées dans des fermes assorties, la Twentieth Century-Fox étend maintenant à la fois sa formule et sa chance dans une entreprise plutôt téméraire intitulée "Scudda-Hoo ! Scudda Hay !". Non seulement ce titre est un peu désenchantant en soi, mais les objets d'admiration pastorale dans ce film sont, avant tout, une paire de mules. Au moins, elles sont l'intérêt majeur du garçon de ferme éternel de la Fox, Lon McCallister, dans cette romance rurale qui apparaît maintenant sur l'écran du Roxy. Pour le spectateur moyen, cependant, il est douteux que ces mules aient tout à fait la même fascination que les précédentes bêtes vues dans les fermes modèles de la Fox. Car, bien que ce soient de très jolies créatures, élégantes, brillantes et pleines d'avoine, le mieux qu'elles puissent faire pour agir est de sortir un tracteur de la boue. Et l'élément le plus suspensif qu'elles puissent offrir au scénario est une incertitude pas trop excitante quant à savoir si elles "conduiront" pour Lon. Le divertissement se trouve plutôt dans les baratins piquants et alcoolisés de ce vétéran de la ferme, Walter Brennan, louant les qualités des mules. De plus, l'apparence séduisante de June Haver en tant que jeune fille nubile d'agriculteur que le jeune Lon trouve d'intérêt secondaire devrait être au goût du spectateur moyen. Moins attrayantes et carrément artificielles dans ce film, généralement faux-bucolique, sont les sermons et les girations fantaisistes des autres acteurs dans une intrigue ostensiblement exagérée. Pour l'information des curieux, nous pourrions ajouter que "Scudda-Hoo Scudda Hay!" n'est pas, comme le disent les publicités, "un cri qui éveille les jeunes cœurs à l'amour". C'est simplement (selon cette photo) ce qu'un conducteur dit aux mulets lorsqu'il veut qu'ils « s'engourdissent ». Il n'y a aucune preuve que cela suscite quoi que ce soit à aimer. Sur la scène du Roxy, Ed Wynn dirige un spectacle qui comprend Hollace Shaw, Dick and Dot Remy, les Three Rockets, Davis Cunningham et l'ensemble Roxy Choral and Roxyettes.
---
Time - April, 26, 1948
(USA)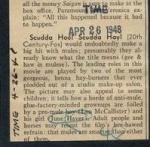 Scudda Hoo ! Scudda Hay! (20th Century fox) would undoubtedly make a big hit with mules; presumably they already know what the title means (gee and haw in mules). The leading roles in this movie are played by two of the most gorgeous, henna hay-burners that ever plodded out of a studio make-up salon. The picture may also appeal to some children; it tells how a horde of anti-mule, glue-factory-minded grownups are foiled by a pro-mule boy (Lou McCallister) and his girl (June Haver). Adult people and horses may resent the film's hee-hawed refrain; that mules are smarter than either of them.
Scudda Hoo ! Scudda Hay ! (20th Century Fox)) ferait sans aucun doute un grand succès auprès des mules; supposant qu'elles savent déjà ce que signifie le titre (allez hue en mules). Les rôles principaux dans ce film sont joués par deux des plus beaux brûleurs de foin au henné jamais sortis d'un salon de maquillage en studio. Le film peut également plaire à certains enfants; il raconte comment une horde d'adultes anti-mules et à l'esprit d'usine de colle sont déjoués par un garçon pro-mule (Lou McCallister) et sa fille (June Haver). Les personnes adultes et les chevaux peuvent en vouloir au refrain hilarant du film; que les mules sont plus intelligentes que l'un d'eux.
---
Modern Screen - May 1948
(USA) scan magazine sur Lantern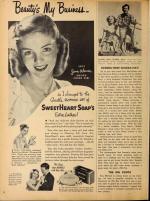 SCUDDA HOO! SCUDDA HAY!
All of you who loved LonMcCallister and June Haver in Home in Indiana will be thrilled to find them reunited in Scudda Hoo! Scudda Hay!, a truly beautiful Technicolor film with a heart-warming story to tell. Lon McCallister, as Snug Dominy, lives on a farm with his dad, Milt Dominy (Henry Hull), his impossible stepmother, Judith Dominy (Anne Revere), and an obnoxious stepbrother, Stretch (Robert Karnes), who has nothing in common with Snug but a tremendous yen for Rad McGill (June Haver). When -following a particularly heated set-to with Judith, Milt Dominy leaves home to go back to the sea - Snug get a job as hired hand for Rad's father, owner of a brand new mule team. Seems that McGill can't do a thing with the mules, and he sells them to Snug, who, whith a Scudda Hoo! and a Scudda Hay! (that's mule talk for giddy-yap and whoa) can pratically get them to jump through hoops. With the help of a kindly neighbor, Tony Maule (Walter Brennan), Snug trains the mules well, eventually is able to earn fifteen dollars a day hauling lops with them.
Unfortunately he dosesn't make as good time with Rad as he does with the mules, and there are moments when you'd like to give her a hot-foot or something to make her see the light. She sees it eventually, but we've not telling how.
For photography that honestly takes your breath away, for those priceless shots of June in a bathing suit, for that McCallister grin - you've got to see Scudda Hoo! Scudda Hay! And don't say we didn't warn you - your small fry will come away wanting a mule team for pets ! - 20th-Fox.
SCUDDA HOO ! SCUDDA HAY !
Tous ceux d'entre vous qui ont aimé LonMcCallister et June Haver dans Home in Indiana seront ravis de les retrouver réunis dans Scudda Hoo ! Scudda Hay !, un très beau film Technicolor avec une histoire touchante à raconter. Lon McCallister, qui est Snug Dominy, vit dans une ferme avec son père, Milt Dominy (Henry Hull), sa belle-mère impossible, Judith Dominy (Anne Revere), et un demi-frère odieux, Stretch (Robert Karnes), qui n'a rien en commun avec Snug mais un formidable coup de coeur pour Rad McGill (June Haver). Lorsque - à la suite d'une dispute particulièrement houleuse avec Judith, Milt Dominy quitte la maison pour retourner à la mer - Snug obtient un emploi de main d'œuvre pour le père de Rad, propriétaire d'une toute nouvelle équipe de mulets. Il semble que McGill ne peut rien faire avec les mules, et il les vend à Snug, qui, avec un Scudda Hoo ! et un Scudda Hay ! (c'est un discours de mule pour les dresser) peut pratiquement les amener à sauter à travers des cerceaux. Avec l'aide d'un voisin bienveillant, Tony Maule (Walter Brennan), Snug entraîne bien les mules et parvient finalement à gagner quinze dollars par jour en transportant des lopins avec eux.
Malheureusement, il ne passe pas autant de temps avec Rad qu'avec les mules, et il y a des moments où vous voudriez lui donner un coup de pied ou quelque chose pour lui faire voir la lumière. Elle le voit finalement, mais nous ne vous disons pas comment.
Pour les images qui vous coupent le souffle, pour ces clichés inestimables de June en maillot de bain, pour ce sourire de McCallister - vous devez voir Scudda Hoo ! Scudda Hay ! Et ne dites pas que nous ne vous avons pas prévenu - votre menu fretin repartira en voulant un attelage de mules pour animaux de compagnie ! - 20th-Fox.
---
Motion Picture Daily - June 1948
(USA)
Scudda-Hoo! Scudday Hay!
Technicolor
A boxoffice triumph in the tradition of "Flicka" and "Home in Indiana !"

Scudda-Hoo! Scudda-Hay !
Technicolore
Un triomphe du box-office dans la veine de "Flicka" [ndlr: "Mon amie Flicka ! de Harold D. Schuster sorti en 1943] et "Home in Indiana!" [ndlr: "Le Jockey de l'Amour" de Henry Hataway sorti en 1944, avec aussi Lon McCallister, June Haver et Walter Brennan].
---
New York World Telegram
(USA) sur Marilyn Remembered
Made for people who like good shots of honestly sweaty farm activity with sentimental tears dripping as heavily as the perspiration. The drips are honest and sincere in both directions.
Conçu pour les personnes qui aiment les bons plans d'activité agricole en sueur honnête avec des larmes sentimentales dégoulinant aussi fortement que la transpiration. Les gouttes sont honnêtes et sincères dans les deux sens.
---
TV Guide
(USA) sur TV Guide
This is a good movie about, of all things, training mules. The title refers to the yells trainers make while putting the beasts through their paces. McCallister is a young man who has just bought two mules from farmer Tully and now has to go to work for the man in order to pay off the purchase price. McCallister's stepmother, Revere, is a hard-bitten woman who has no sympathy for her stepson and showers her attentions on her natural son, Karnes. McCallister's father, Hull, is at a loss to control the relationship between him and Revere, which is rapidly disintegrating. Brennan is a veteran muler who befriends the youth and helps him stave off Tully's attempts to get the animals back. Tully's daughter is the attractive Haver, and it isn't long before she and McCallister are in love. She sides with him against her father and gives the old man a piece of her mind in one particularly good sequence. Tully's other daughter is Wood, who was appearing in her eighth movie at the age of 10. Marilyn Monroe had just signed a contract with the studio and her bit was snipped from the film, although there is a brief cut to her and Colleen Townsend as they row a canoe, but their faces cannot be discerned. The fun in the movie is in the good-natured way rural Americana is portrayed. Veteran scripter F. Hugh Herbert was directing his first movie in 15 years and did a fine job of keeping the action rolling, the love story sweet, and the villains menacing.

C'est un bon film sur, entre autres, l'entraînement des mules. Le titre fait référence aux cris que font les dresseurs tout en mettant les bêtes à l'épreuve. McCallister est un jeune homme qui vient d'acheter deux mules au fermier Tully et doit maintenant aller travailler pour l'homme afin de payer le prix d'achat. La belle-mère de McCallister, Revere, est une femme endurcie qui n'a aucune sympathie pour son beau-fils et accorde toute son attention à son fils naturel, Karnes. Le père de McCallister, Hull, est incapable de contrôler la relation entre lui et Revere, qui se désintègre rapidement. Brennan est un vétéran qui se lie d'amitié avec le jeune et l'aide à repousser les tentatives de Tully pour récupérer les animaux. La fille de Tully est la jolie Haver, et il ne faut pas longtemps avant qu'elle et McCallister soient amoureux. Elle se range de son côté contre son père et donne au vieil homme une partie de son esprit dans une séquence particulièrement bonne. L'autre fille de Tully est Wood, qui apparaissait dans son huitième film à l'âge de 10 ans. Marilyn Monroe venait de signer un contrat avec le studio et sa participation a été coupée au montage, bien qu'il y ait une brève scène d'elle avec Colleen Townsend qui rament dans un canot, mais leurs visages ne peuvent pas être discernés. Le plaisir dans le film réside dans la bonne humeur de l'Amérique rurale. Le scénariste vétéran F. Hugh Herbert réalisait son premier film en 15 ans et a fait un excellent travail pour maintenir l'action, l'histoire d'amour douce et les méchants menaçants.
---
Liste critiques et articles parus dans la presse d'époque
List of reviews and articles published in the period press
source liste sur AFI Catalog
Box Office - 6 March 1948
Daily Variety - 2 March 1948
Film Daily - 4 March 1948
Hollywood Reporter - dates:
4 March 1948
3, 13, 21, 25 February 1947
4, 10 April 1947
2 May 1947
4 August 1947
January 1948
March 1948
19 April 1948
Motion Picture Herald Product Digest - dates:
31 January 1948
6 March 1948
---
- Dans la presse -
page de The Cinema, 25/08/1948 - USA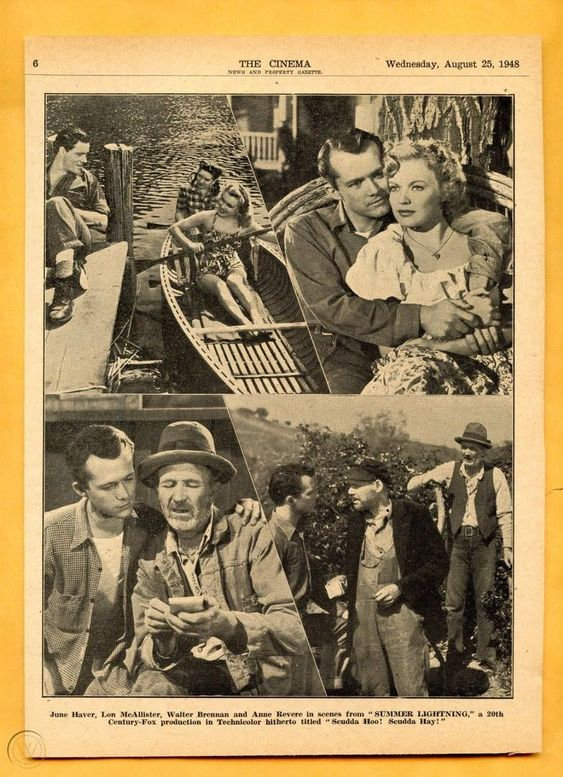 coupures de presse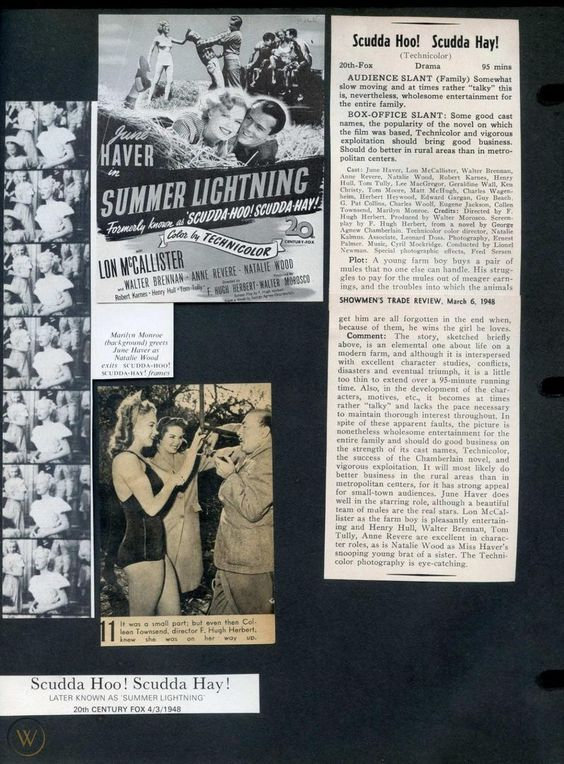 ---
© All images are copyright and protected by their respective owners, assignees or others.

09 novembre 2007
Marilyn Monroe et sa coach professeur Natasha Lytess en novembre 1948
en plein cours d'art dramatique - Photos de JR Eyerman
Reportage pour Life magazine

Marilyn Monroe and his coach Professor Natasha Lytess in November of 1948
in a drama class - Photos taken by JR Eyerman
---
© All images are copyright and protected by their respective owners, assignees or others.
copyright text by GinieLand.
Enregistrer
20 septembre 2007
Marilyn par J.R. Eyerman

J.R. Eyerman prit Marilyn Monroe en photographie de 1948 à 1953: un reportage photographique en novembre 1948 pour le magazine Life (séance en studio -pour "Love Happy"- et à ses cours de chant et d'art dramatique), au restaurant. L'année suivante, il la photographie en cours de danse. Puis en 1951, des prises de vues extérieures sur les collines d'Hollywood; enfin, sur le tournage de "La Rivière sans retour"-. Récapitulatif:

---
.1948, Novembre: Love Happy (La Pêche au Trésor) - portraits publicitaires en studio, Los Angeles.
.1948, November: Love Happy - studio publicity portraits, Los Angeles.
(> blog séance photos Novembre 1948 Love Happy par J.R Eyerman )
---

.1948, Novembre: Marilyn et Natasha Lytess , sa coach - en cours d'art dramatique, Los Angeles.
.1948, November: Marilyn with Natasha Lytes , her drama coach - studying class drama, Los Angeles.
(> blog séance photos Novembre 1948 Marilyn et Natasha Lytess )
---

.1948, Novembre: Cours de chant pour Ladies of the Chorus (Les Reinesdu Music-Hall) - au Mocambo Club avec Phil Moore, Hollywood.
.1948, November: Singing and Voice Lessons for Ladies of the Chorus - at the Mocambo Club with Phil Moore, Hollywood.
(> blog photos Novembre 1948 Pendant Ladies of the Chorus par Eyerman )

---

.1948: Au restaurant (non daté) - probablement au restaurant des studios de Los Angeles.
.1948: At the restaurant (undated) - probably at the studios' restaurant in Los Angeles.
(> blog photos 1948 Marilyn à une réception )
---
.1949, le 11 février: Cours de danse , avec le professeur Nico Charisse, Los Angeles.
.1949, February, 11: Danse Class , with teacher Nico Charisse, Los Angeles.
(> blog photos 11/02/1949 Marilyn au cours de danse par J.R Eyerman )
---

.1950: Sur les collines d'Hollywood - des poses sexy en mini short, Los Angeles.
.1950: On the Hollywood Hills - sexy poses in mini shorts, Los Angeles.
(> blog photos 1950 Marilyn sur la baie d'Hollywood 1 )
---
.1950: Sur les collines d'Hollywood - poses en chemisier , Los Angeles.
.1950, On the Hollywood Hills - blouse poses , Los Angeles.
(> blog photos 1950 Marilyn sur la baie d'Hollywood 2 )
---

.1953: River of no return (La Rivière sans retour)- photos de la scène où Marilyn (Kay) chante "River of no return" au saloon.
.1953: River of no return - photos of the scene where Marilyn (Kay) sings "River of no return" at the saloon.
(> blog photos Photos de River of no return 15 )
---
>> blog posts tag J.R Eyerman

---
J.R Eyerman
(1906 - 1985)
photographe américain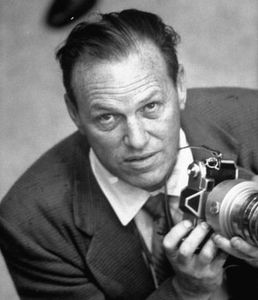 J.R Eyerman est né à Butte, dans le Montana (aux USA) le 9 octobre 1906. Ses parents étaient tous deux photographes. Il étudia l'ingénieurie à l'Université de Washington, faisant du design structurel et supervisa la construction de l'autoroute de Seattle avant d'établir sa propre firme d'ingénierie.
Il commenca à prendre des photos lors d'audiences à la cour de justice, puis enchaîna en s'occupant des architectures de théâtres, autant que de la photographie scènique que publicitaire.
En 1932, sa compagnie d'ingénieurie se changea en une compagnie de photographie illustrative. Sa première photo pour le magazine LIFE était pour une fête de 1938 du tramway de Tacoma. Dès lors, il rejoint l'équipe de photographes dans le bureau de la presse de San Fransisco en 1942, ses photos seront publiées dans une douzaine de publication du journal: ses sujets ont porté sur l'attribution de la côte Ouest incluant les plantations de guerre de Kaiser, puis publiées en Une ses photos sur l'aide des infirmiers et l'infanterie des Mountains. En 1943, Eyerman fut affecté sur la flotte atlantique, embarquant avec un convoi pour Casablanca, il couvra les opérations de la flotte pendant les campagnes de l'Afrique du Nord et de la Sicile, avec ses deux appareils photos. Il retourne rapidement au travail de reporter pendant le combat au Golf de Salerno. Après un bref retour aux USA, il repart en mars 1944 dans le Pacifique auprès de l'armée, couvrant la première attaque jamais alors photographiée, celle de Manille en novembre 1944. Puis il rejoigna la flotte d'Honolulu en mars 1945. Ses photographies de l'installation de Guam firent l'objet d'un reportage de 13 pages dans le LIFE du 2 juillet 1945.
Après la guerre, Eyerman travailla pour la presse de New York pendant deux ans, puis il rejoint le bureau de LIFE à Los Angeles en 1947.
Parallèlement, il photographiait les stars de cinéma sur leur lieux de tournage: James Stewart, Kim Novak, Gene Kelly, Walt Disney, Ava Gardner, Humphrey Bogart et Lauren Bacall...
Ses innovations techniques exceptionnelles ont été largement répandu dans les capacités photographiques. Pour photographier les tests de la bombe atomique dans le Nevada avant la guerre, il perfectionna un oeil mécanique électrique sur l'obturateur de neuf appareils pour capter l'instant où le crash du souffle se produit. Il fit lui même le design de ses appareils et équipements.
Il meurt le 7 décembre 1985 d'une insuffisance rénale et d'une insuffisance cardiaque chez lui à Santa Monica, en Californie.
---
>> sources:
Biographie sur Time
photos d'Eyerman sur Getty Images : recherche "j r eyerman"
---
© All images are copyright and protected by their respective owners, assignees or others.
copyright text by GinieLand.
Enregistrer
Enregistrer
Enregistrer
Enregistrer
Enregistrer
Enregistrer
Enregistrer
23 juillet 2007
---
Photographies personnelles

---
Lot n°138 : 4 petites photos de la maison d'enfance de Marilyn Monroe, "The Ranch House" , une de ses maisons d'acceuil. L'enveloppe comporte l'inscription: "The "Ranch House" showing our bedroom last window room from the left." Provenance de la collection d' Eleanor Goddard.
Enchère du 16/06/07 , Mise à prix: $600.00 (estimation: US $800.00 - US $1,200.00)


---
Lot n°139 : Photo de Famille comportant l'écriture de Marilyn Monroe, qui écrivit au dos de la photo: "Taken at Aunt Alice's + Uncle Arts [sic] wedding Aunt Ana, John, U. Art, A Alice, Opal". Provenance: de la collection d' Eleanor Goddard.
Enchère du 16/06/07 , Mise à prix: $800.00 (estimation: US $1,000.00 - US $2,000.00)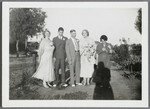 ---
Lot n°142 : Véritable photo de Gladys Baker. Au dos de la photo, l'inscription faite par Marilyn Monroe: "Mother, second from end on right with her girl friends". Provenance: de la collection d' Eleanor Goddard.
Enchère du 16/06/07 , Mise à prix: $800.00 (estimation: US $1,000.00 - US $2,000.00)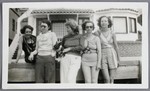 ---
Snapshots
---
Lot n°132 : 5 petites photographies originales noir et blanc représentant la jeune Marilyn Monroe. Ce sont des photos publicitaires de la Twentieth Century Fox.
Date estimée: vers 1948
Enchère du 16/06/07 , Mise à prix: $400.00 (estimation US $600.00 - US $800.00)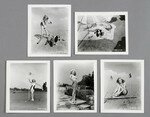 ---
Lot n°133 : 4 petites photographies originales noir et blanc représentant Norma Jeane Dougherty (futur Marilyn Monroe). Une photo la montre se tenant devant la résidence de l'adresse 4215, deux autres photos la montre jouant au golf , ( il était connu que Marilyn jouait souvent au golf avec des amis) puis la dernière photo la montre posant allongée dans l'herbe.
Date estimée: vers 1948
Enchère du 16/06/07 , Mise à prix: $400.00 (estimation: US $600.00 - US $800.00)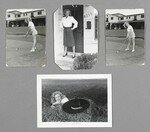 ---
Photos Tom Kelley

---
Lot n°112: Photographie de Marilyn Monroe par Tom Kelley (celle du fameux calendrier Golden Dreams). photo couleur en édition limitée (numérotée) et signée par Hugh Hefner, le patron du magazine Playboy.
Enchère du 16/06/07 , Mise à prix: $1,600.00 (estimation: US $2,000.00 - US $4,000.00)
---
Lot n°113: Photographie de Marilyn Monroe par Tom Kelley (celle du fameux calendrier Golden Dreams), photo couleur en édition limitée (numérotée) et signée par Tom Kelley, le photographe.
Enchère du 16/06/07 , Mise à prix: $1,600.00 (estimation: US $2,000.00 - US $4,000.00)
---
Lot n°114: Calendrier mural de 1954. Calendrier "Golden Dreams" de la pin-up Marilyn Monroe des fameuses séances photos de 1949 "red velvet" avec le photographe Tom Kelley.
Enchère du 16/06/07 , Mise à prix: $400.00 (estimation: US $600.00 - US $800.00)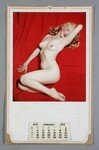 ---
Lot n°115 : Calendrier mural de 1955. Reprend la photo du Calendrier "Golden Dreams" de la pin-up Marilyn Monroe des fameuses séances photos de 1949 du "red velvet" avec le photographe Tom Kelley. Kelley paya le modèle Marilyn $50.
Enchère du 16/06/07 , Mise à prix: $400.00 (estimation: US $600.00 - US $800.00)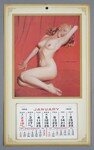 ---
Photos Sept ans de réflexion

---
Lot n°135 : Photo originale de Marilyn Monroe sur le tournage de "Seven Years Itch" en 1954.
Enchère du 16/06/07 , Mise à prix: US $100.00 (estimation: US $200.00 - US $300.00)
---
Lot n°116 : 2 photos de Marilyn Monroe sur le tournage de "Seven Years Itch" en 1954.
Enchère du 16/06/07 , Mise à prix: US $100.00 (estimation: US $200.00 - US $300.00)
---
Lot n°117 : véritable photo de Marilyn Monroe, prise par Charles G. Hagedorn, sur le tournage de "Seven Years Itch" en 1954.
Enchère du 16/06/07 , Mise à prix: US $800.00 (estimation: US $1,000.00 - US $2,000.00)
---
Photos Diverses
---
Lot n°90 : photo noir et blanc de Marilyn Monroe aux Golden Globes Awards , au Beverly Hilton en mars 1962. De gauche à droite: Charleton Heston, Marilyn Monroe et Rock Hudson. Enchère du 16/06/07 , Mise à prix: US $400.00 (estimation: US $600.00 - US $800.00)
---
Lot n°94 : photo noir et blanc de Marilyn Monroe prise par Milton Greene numérotée 129/300 , signée au stylo par Milton H. Greene. Milton Greene entra dans la vie de Marilyn après son diorce d'avec Joe Dimaggio. Ils devienrent des amis très proches où Marilyn fut la muse de Milton, puis ils devienrent partenaires dans les affaires. Marilyn vécu chez Milton et sa femme à New York avant son mariage avec Arthur Miller. Greene capta chez Marilyn sa plus belle et fragile personnalité.
Enchère du 16/06/07 , Mise à prix: US $1,600.00 (estimation: US $2,000.00 - US $3,000.00)
---
Lot n°96 : véritable photo noir et blanc de Marilyn Monroe à la gare avec Arthur Miller. Au verso, l'inscription: "Mr. Barall".
Enchère du 16/06/07 , Mise à prix: US $400.00 (estimation: US $600.00 - US $800.00)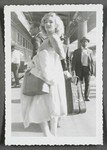 ---
Lot n°105 : photo noir et blanc de Marilyn Monroe provenant d'un magazine dédicacée à l'attention de Linda Bennett, une enfant star. L'inscription dit : "To Linda, I saw you in the Seven Little Foys - Great Marilyn Monroe" Provenance: des affaires de Linda Bennett.
Enchère du 16/06/07 , Mise à prix: US $3,000.00 (estimation: US $3,000.00 - US $5,000.00)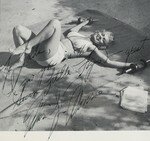 ---
Lot n°106 : photo couleur de Marilyn Monroe provenant d'un magazine dédicacée à l'attention de Linda Bennett, une enfant star. L'inscription dit : "To Linda, Love & Kisses Marilyn Monroe. Provenance: des affaires de Linda Bennett.
Enchère du 16/06/07 , Mise à prix: US $3,000.00 (estimation: US $3,000.00 - US $5,000.00)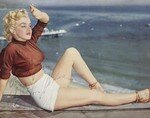 ---
Lot n°125 : 2 photos originales publicitaires début des années 1950.
Enchère du 16/06/07 , Mise à prix: US $600.00 (estimation: US $800.00 - US $1,200.00)
---
Lot n°126 : photo publicitaire Marilyn Monroe allongée sur le courrier de fans, début des années 1950. Au moment de son plus fort succés, Marilyn recevait plus de 5,000 lettres de fans par semaine. Provenance: de la collection Eleanor Goddard.
Enchère du 16/06/07 , Mise à prix: US $400.00 (estimation: US $800.00 - US $1,200.00)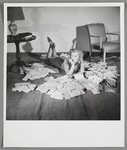 ---
Lot n°134 : photo originale publicitaire début des années 1950.
Sur le côté face de la photo se trouve l'inscription "Grace" écrite au stylo; et au verso est inscrit : "MARILYN MONROE...bright new star Marilyn Monroe discovered by Lester Cowan plays an important role in Producer Cowan's "Love Happy"....". Provenance de ce lot: de la collection d' Eleanor Goddard.
Enchère du 16/06/07 , Mise à prix: US $400.00 (estimation: US $600.00 - US $800.00)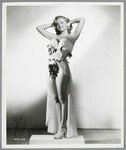 ---
Lot n°143 : photo noir et blanc de Marilyn Monroe prise par Bruno Bernard - vers 1940s - Connu sous le nom de Bernard of Hollywood, Bruno Bernard est celui qui présenta Marilyn à son futur agent, Johnny Hyde. Le photographe était un survivant de l' holocauste qui réusit à se faire à nom tout seul en photographiant les stars légendaires d' Hollywood. Tampon du photographe au dos de la photo. Provenance du lot: de la collection d' Eleanor Goddard.
Enchère du 16/06/07 , Mise à prix: US $600.00 (estimation: US $800.00 - US $1,200.00)
22 juillet 2007
Documents papiers - chèques & factures
Papers documents

---
Lot n° 88 : Une notice d'annulation d'assurance de Marilyn Monroe, daté du 27 novembre 1962 provenant du "Royal Globe Insurance for the property of Marilyn Monroe in Brentwood, CA". Cette notice fut envoyée trois mois après le décès de Marilyn et fut renvoyée à l'adresse de Inez Melson, le manager des affaires de Marilyn.
Enchère du 16/06/07 , Mise à prix: $400.00 (estimation: US $600.00 - US $800.00)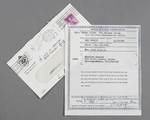 ---
Lot n° 91: une facture de PUBLIC RELATIONS EXPENSE INVOICE résumant les dépenses pour The Arthur P. Jacobs Company, Inc. montant de $79.46 et daté du 31 Mai 1962. Divers associés d' Arthur Jacobs travaillaient pour worked for Marilyn du temps où elle vivait à New York jusqu'à sa mort.
Enchère du 16/06/07 , Mise à prix: $400.00 (estimation: US $600.00 - US $800.00)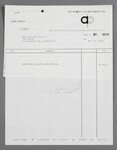 ---
Lot n° 92: Une facture de Marilyn Monroe provenant de The Hollywood Reporter à l'attention de Arthur P. Jacobs Company, datée du 7 mars 1962, dont le montant s'élève de $250.00 avec l'annotation "Thank You", faisant probblement référence à the Hollywood Foreign Press Association après la soirée des Golden Globes le 5 Mars 1962 où Marilyn reçu un prix.
Enchère du 16/06/07 , Mise à prix: $400.00 (estimation: US $800.00 - US $1,200.00)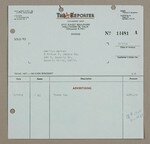 ---
Lot n° 93: une facture de Williams & Whibley, Inc. International & Domestic Travel Organization of New York, adressée à Miss Marilyn Monroe, pour un montant de $325.37 oour le vol de New York à Miami à Mexico et Los Angeles, daté du 16 février 1962.
Enchère du 16/06/07 , Mise à prix: $400.00 (estimation: US $800.00 - US $1,200.00)
---
Lot n° 95 : un reçu d'un salon Elizabeth Arden signé par Marilyn Monroe, faisant état des services rendus. Daté du 5 juin 1961, c'était l'époque où Marilyn logeait au Beverly Hills Hotel.
Enchère du 16/06/07 , Mise à prix: $800.00 (estimation: US $1,000.00 - US $2,000.00)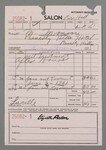 ---
Lot n° 97 : un reçu du magazin de fourrure Maximilian Fur Company Inc. adressé à "Miss Marilyn Monroe", du 27 Juillet 1961 jusque 31 Décembre 1961. Pour l'achat de trois étoles fourrure et trois accessoires (qui étaient offerts) pour un montant total de $30 (environ $200 aujourd'hui).
Enchère du 16/06/07 , Mise à prix: $400.00 (estimation: US $600.00 - US $800.00)
---
Lot n° 98 : L'inventaire des fourrures de Marilyn Monroe portant l'entête des Marilyn Monroe productions, intitulé "Furs From Maximilian - Received 9/28/61". (= Fourrures provenant de Maximiliam - Reçues le 28 septembre 1961). Liste de 4 manteaux de fourrure, 5 étoles et 5 objets accessoires.
Enchère du 16/06/07 , Mise à prix: $400.00 (estimation: US $600.00 - US $800.00)
---
Lot n° 99 : Une facture du Dr. Hyman Engelberg d'un montant de $407.00 pour des appels hôpital aux mois de Novembre et Décembre, facture datée du 26 décembre 1961, indiquant 'payé' au stylo. Hyman Engelberg était le médecin spécialiste (des maladies organiques) de Marilyn et il travaillait en étroite collaboration avec le psychiatre de Marilyn, le Dr. Ralph Greenson. Engelberg est suspecté d'avoir prescrit les pillules qui ont tué Marilyn, sans en avoir fait part à Greenson.
Enchère du 16/06/07 , Mise à prix: $400.00 (estimation: US $600.00 - US $800.00)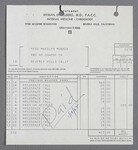 ---
Lot n° 101 : Carte de Banque originale de Marilyn Monroe de la Colonial Trust Company of New York, portant le nom Marilyn Monroe avec le numéro de compte 1-616-075 aux alentours de 1958.
Enchère du 16/06/07 , Mise à prix: $800.00 (estimation: US $1,000.00 - US $2,000.00)
---
Lot n° 108: Une facture du Dr. Hyman Engelberg d'un montant de $342.00 pour des examens médicaux du mois d'Octobre, facture datée du 16 novembre 1961, indiquant 'payé' au stylo. Hyman Engelberg était un docteur physicien de beaucoup de stars légendaires d' Hollywood mais il est surtout connu pour avoir annoncé la mort de Marilyn déclarant qu'il s'agissait d'un suicide.
Enchère du 16/06/07 , Mise à prix: $400.00 (estimation: US $600.00 - US $800.00)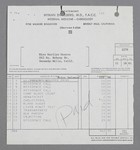 ---
Lot n° 118 : Un reçu d'une taxe datant de 1954 , de Marilyn Monroe par la Radio Corporation of America, pour un montant de $1035.93 (environ $7,000 aujourd'hui). Monroe était en contrat d'enregistrement pour la RCA. En 1954 elle enregistra en studio la B.O du film "River of No Return" pour la RCA qui apparaissa brièvement dans les charts des singles de juillet 1954.
Enchère du 16/06/07 , Mise à prix: $400.00 (estimation: US $800.00 - US $1,200.00)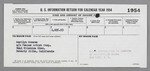 ---
Lot n° 119 : Une déclaration de Taxe datant du 14 mars 1953, faisant état d'une estimation de taxes de Marilyn Monroe de l'année 1952 dont le montant s'élevait à $18,838.37 (soit l'équivalent aujourd'hui de $141,279.64). Le document n'est pas signé, probablement par le fait que le numéro de sécurité sociale de Marilyn est incorrect.
Enchère du 16/06/07 , Mise à prix: $400.00 (estimation: US $600.00 - US $800.00)
---
Lot n° 120 : un chèque de banque signé par Marilyn Monroe.
Daté du 5 juillet 1953, pour un montant de $6.00, à l'ordre de "Russ Wynn's Service", signé à l'encre bleue.
Enchère du 16/06/07 , Mise à prix: $800.00 (estimation: US $1,000.00 - US $2,000.00)
---
Lot n° 121 : un pass de la compagnie d'aviation "Western Airlines" , comportant les informations suivantes: Norma Dougherty, vol de LAX à SFO du 23 Decembre 1953. Le prix du ticket était de $13.50. Le départ était à 11:45 pm. Marilyn paya $9.29 pour le poids de ses bagages (122 pounds). Une note au dos précise : "Marilyn 1953 Tax Free".
Enchère du 16/06/07 , Mise à prix: $400.00 (estimation: US $800.00 - US $1,200.00)
---
Lot n°129 : un reçu de la banque signé par Marilyn Monroe. Daté du 9-26-51 (26 septembre 1951), Titré "Service Charge For Special Handling of Checks", pour la somme de $2.00 pour un chèque non solvable
Enchère du 16/06/07 , Mise à prix: $800.00 (estimation: US $1,000.00 - US $2,000.00)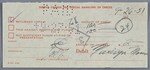 ---
Lot n°130 : un reçu de la banque signé par Marilyn Monroe.
Daté du 9-15-51 (15 septembre 1951), Titré "Service Charge For Special Handling of Checks", pour la somme de $2.00 pour un chèque non solvable
Enchère du 16/06/07 , Mise à prix: $800.00 (estimation: US $1,000.00 - US $2,000.00)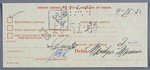 ---
Documents papiers - lettres & télégrammes
Papers documents - letters & telegrams
---
Lot n° 100 : Marilyn Monroe TELEGRAM envoyé par Tony Randall par la Western Union Telegram daté du 15 Janvier 1960. Il est écrit sur le Telegrame: "I'm afraid I cant [sic] be with you today because I am in New York in bed with adhesion. Remember her ? If there is any food or drink left over please save it till [sic] I get out there. Remember our date to watch Pillow Talk at any drive in you name= Tony Randall." En 1960 Monroe et Randall ont joué ensemble dans le film "Let's Make Love."
Enchère du 16/06/07 , Mise à prix: $800.00 (estimation: US $1,000.00 - US $2,000.00)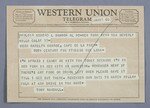 ---
Lot n°107 : Lettre de George Chasin , écrite à la MCA Artists LTD. stationary, adressée à Marilyn Monroe, datant du 25 septembre 1959. La lettre est adressée à "Mrs. Arthur Miller" et est simplement signée "George." Chasin representa Marilyn Monroe jusqu'à sa mort; il s'occupait aussi de Clark Gable, Montgomery Clift et Gregory Peck.
Enchère du 16/06/07 , Mise à prix: US $600.00 (estimation: US $800.00 - US $1,200.00)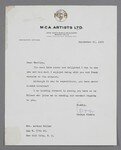 ---
Lot n°131 : Lettre de Jody Lawrence et photos adressées à Goddard. Lettre de 9 pages adressées à Grace Goddard de la part de Jody, la fille d' Edwin "Doc" Goddard, datée du 21 Août 1953. Jody Lawrance, dont le nom de jeune fille était Nona Josephine Goddard, joua dans 4 films entre 1951 et 1958. Dans la lettre, Jody explique pourquoi elle ne veut plus de contact avec la famille : "First of all, let me tell you that you'll will [sic] not like what I am about to say but here it is...Please don't say I am not appreciative because don't kid yourselves you have done so very little for me in comparison to what other families do for their children." Il y a aussi 3 photos de Jody qui accompagne la lettre. Provenance de ce lot: de la collection d' Eleanor Goddard.
Enchère du 16/06/07 , Mise à prix: US $200.00 (estimation: US $400.00 - US $600.00)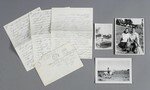 ---
Lot n°137 : Lettre de Marilyn Monroe à Edwin Goddard. Lettre adressée à E.S. Goddard of Van Nuys, California provenant d' Inez Melson, le manager des affaires de Marilyn Monroe.
Daté du 23 Novembre 1953 avec l'enveloppe originale. La lettre concerne un chèque qui accompagnait à l'origine la lettre. Provenance de ce lot: de la collection d' Eleanor Goddard.
Enchère du 16/06/07 , Mise à prix: US $150.00 (estimation: US $200.00 - US $400.00)
---
Lot n°140 : Lettre de Berniece Baker Miracle à Edwin "Doc" Goddard , datée du 8 septembre 1954. Bernice est la demie-soeur de Marilyn, elle se sont rencontrées pour la première fois lorsque Bernice avait 19 ans et Marilyn, 12. Berniece écrivit plus tard un livre "My Sister Marilyn". Le lot comprend aussi une photo d'Edwin "Doc" Goddard, l'enveloppe est timbrée "Boyan Hollywood."
Provenance de la collection d' Eleanor Goddard.
Enchère du 16/06/07 , Mise à prix: US $800.00 (estimation: US $1,000.00 - US $2,000.00)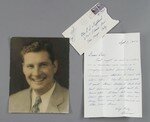 ---
Lot n°141 : Lettre de Gladys Baker , envoyée de San Fransisco, CA, en juin 1948, à Mrs Grace Goddard , à Van Nuys, CA. Dans la lettre, on peut lire: "Well dear will say by [sic] for this time & please for give [sic] my not keeping more in touch with you. Tell all hello & give my love. By the way how is Norma Jeane getting along..." Le lot comprend trois anciennes photos noir et blanc: une de Gladys à Reno, une autre d'elle à la plage avec un parasol et la dernière avec deux amis.
Provenance de la collection d' Eleanor Goddard.
Enchère du 16/06/07 , Mise à prix: US $400.00 (estimation: US $600.00 - US $800.00)
---
Documents papiers - Contrats
Papers documents- Contracts

---
Lot n°136 : Contrat de Marilyn Monroe pour le film "Dangerous Years" .
Contrat entre la Twentieth Century Fox et Sol M. Wurtzel Productions daté du 4 Août 1947 pour le prêt des services de Marilyn Monroe. Il s'agit du tout premier rôle de Marilyn, où elle n'apparaît que brièvement à l'écran.
Enchère du 16/06/07 , Mise à prix: US $1,600.00 (estimation: US $2,000.00 - US $4,000.00)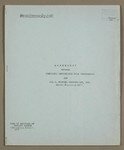 ---
Lot n°123 : Contrat MCA ARTISTS signé par Marilyn Monroe et Lew Wasserman : copie d'une lettre de The Screen Actor's Guild on MCA stationary, daté de Janvier 1953 .
The letter requests an acknowledgement of the change in representation for Monroe from the William Morris Agency to MCA under the supervision of Lew Wasserman. Wasserman later became the president of the Screen Actor's Guild. Johnny Hyde, executive vice president of William Morris and the man credited with discovering Marilyn had passed away in1950. The loss of Hyde may have precipitated the change.
Enchère du 16/06/07 , Mise à prix: US $1,600.00 (estimation: US $2,000.00 - US $4,000.00)
---
Lot n°127 : Contrat de Marilyn Monroe entre la Twentieth Century Fox et RCA pour la bande son du film There's No Business Like Show Business .
Daté du 14 octobre 1954.
Enchère du 16/06/07 , Mise à prix: US $1,600.00 (estimation: US $2,000.00 - US $4,000.00)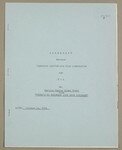 ---
Esquisse

---
Lot n°124 : Petite peinture (watercolor) originale faite par Marilyn Monroe.
En dessous du dessin représentant un chat, est annoté: "a cat watching its own tail move".
Provient des affaires personnelles de Lotte Goslar, une amie de Marilyn et son professeur. Lotte Goslar était directrice du Pantomime Circus Dance troupe et enseigna à Marilyn au milieu des années 1950. in the mid-fifties. Elle fut l'une des invités au funérailles de Marilyn.
Enchère du 16/06/07 , Mise à prix: $20,000.00 (estimation: US $20,000.00 - US $40,000.00)