09 février 2018
Photographies
(diverses)

---
Lot 151: Marilyn Monroe (3) photographs
with secretarial autographs
and (1) unsigned vintage swimsuit still. (ca. 1950s)
Collection of (3) vintage original gelatin silver double-weight matte 8 x 10 in. photographs all secretarially inscribed and signed in red ink on the image and in the borders, "Marilyn Monroe". Also includes (1) vintage gelatin silver single-weight 8 x 10 in. cheesecake photograph of Monroe in a black lace swimsuit. 3-exhibiting even toning, minor edge wear and remain in very good to fine condition. 1-exhibits a repaired 1 in. tear to lower central border as well as edge creasing. In good condition.
Estimate: $300 - $500 / Winning bid: $1,400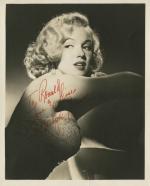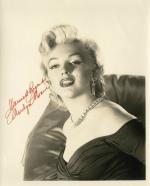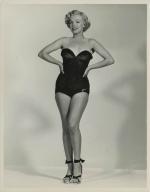 ---
Lot 152: Marilyn Monroe rare signed photograph. (TCF, 1952)
Vintage original gelatin silver 8 x 10 in. double-weight matte photograph by Frank Powolny depicting Marilyn in repose. From the publicity campaign for Monkey Business. Inscribed and signed in blue ink in lower left of image to a crewmember, "To Jack, It's a pleasure to know you, Marilyn Monroe". Exhibiting light even toning, and minor handling. In fine condition.
Estimate: $4,000 - $6,000 / Winning bid: $12,500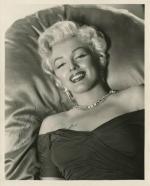 ---
Lot 415: Marilyn Monroe (45+) photographs by Avedon, Greene, Florea, Willoughby, and others. (1940s-1960s/printed later)
Collection of (45+) gelatin silver and RC color double-weight and single weight glossy and matte production photographs and portraits ranging in size from 8 x 8 in. to 16 x 20 in. Including images with Cary Grant, William Holden, Montgomery Clift and others,glamour portraits, candid shots of cast and crew, scene stills and character portraits. Some retaining photographer inkstamps and notation on the verso. Exhibiting age, minor wear, some toning, minor soiling and handling. In overall vintage very good to fine condition.
Estimate: $400 - $600 / Winning bid: $4,250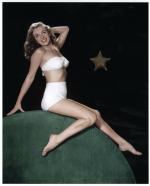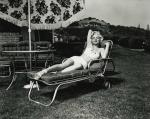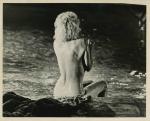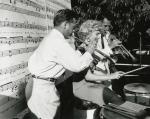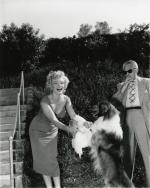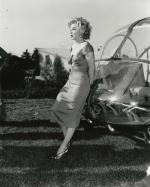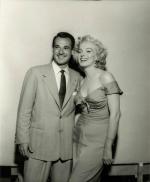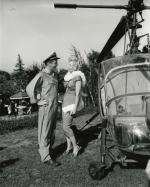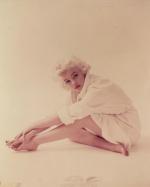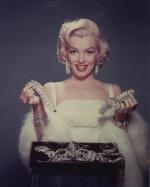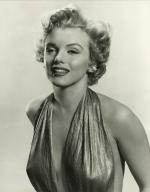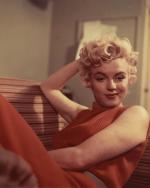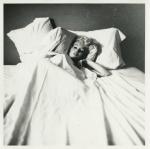 ---
Lot 444: Movie Star News archive (1 million++) Hollywood and entertainment photographs.
Massive archive of (1 million++) primarily gelatin silver 8 x 10 in. single- and double-weight glossy and matte photographs, as well as RC prints, color photos, color glos stills, and color mini lobby cards. A New York City institution for over 70 years, Movie Star News began life in 1938 as a used bookstore owned by siblings Irving and Paula Klaw. The business struggled until one day Irving noticed customers surreptitiously tearing pictures out of movie magazines. Sensing an opportunity, the Klaws began selling used film publicity photos. Demand was so high that Irving reached out to studio publicity departments directly for additional stock, and discovered that promotional materials were routinely discarded after the run of a film. He was able to acquire as many original photos as he wanted for next to nothing, and often, studio negatives, from which he started producing his own prints. The Klaws stopped selling books and started a mail order photo business in addition to the storefront operation, effectively establishing Hollywood and entertainment photography as a field of collecting. Comprising Movie Star News store stock as well as vintage source material, the breadth and scope of this resulting archive is likely unparalleled anywhere, featuring material on nearly every important star and movie in the history of American film production, from pre-Hollywood silent film period through the Golden Age, New Hollywood, the blockbuster era, and beyond. Every category, genre, and subgenre is represented, including drama, comedy, action, adventure, romance, pre-code, crime, film noir, sci-fi, horror (Universal, Hammer, and more), war, western, pin-up, cheesecake, beefcake, exploitation, sexploitation, Blaxploitation, etc. Additionally featuring television, music, stage, and adult subjects, the archive contains a near-complete narrative of American pop culture throughout the 20th century. Today, it would be virtually impossible to build a collection of entertainment material this comprehensive from scratch and prohibitively expensive to create at this level of quality—the cost of photo paper alone would run well over $1,000,000. The archive consists of roughly 40% vintage original material, the remainder primarily composed of high quality Movie Star News gelatin silver dark room prints, many made from the original negatives that Klaw acquired directly from the studios. Including actresses and female entertainers: Paula Abdul, Julie Adams, Rene Adoree, Gracie Allen, June Allyson, Judith Anderson, Mary Andrewson, The Andrews Sisters, Ursula Andress, Julie Andrews, Even Arden, Jean Arthur, Mary Astor, Lauren Bacall, Carrol Baker, Josephine Baker, Lucille Ball, Anne Bancroft, Talullah Bankhead, Vilma Banky, Brigette Bardot, Theda Bara, Lynne Bari, Ethel Barrymore, Anne Baxter, Constance Bennett, Joan Bennett, Ingrid Bergman, Linda Blair, Joan Blondell, Ann Blythe, Jacqueline Bisset, Clara Bow, Alice Brady, Mary Brian, Fannie Brice, Louise Brooks, Virginia Bruce, Carol Burnett, Mary Carlisle, Madeleine Carroll, Irene Castle, Joan Caulfield, Helen Chandler, Carol Channing, Marguerite Chapman, Cyd Cherise, Claudette Colbert, Jeanne Crane, Joan Crawford, Fifi D'Orsay, Arlene Dahl, Lili Damita, Dorothy Dandridge, Bebe Daniels, Linda Darnell, Marion Davies, Bette Davis, Doris Day, Yvonne DeCarlo, Francis Dee, Sandra Dee, Gloria DeHaven, Olivia DeHavilland, Dolores Del Rio, Myrna Dell, Catherine Deneuve, Sandy Dennis, Bo Derek, Marlene Dietrch, Faith Domergue, Carol Donell, Billie Dove, Betsy Drake, Faye Dunaway, Irene Dunne, Deanna Durbin, Ann Dvorak, Jeanne Eagles, Barbara Eden, Anita Ekberg, Dale Evans, Francis Farmer, Alice Faye, Rhonda Fleming, Bridget Fonda, Jane Fonda, Joan Fontaine, Anne Francis, Kay Francis, Mona Freeman, Anette Funicello, Eva Gabor, Zsa Zsa Gabor, Greta Garbo, Ava Gardner, Judy Garland, Terri Garr, Greer Garson, Janet Gaynor, Lillian Gish, Paulette Goddard, Betty Grable, Gloria Grahame, Katharyn Grayson, Jane Greer, Virginia Grey Corinne Griffith, Melanie Griffith, Daryl Hannah, Ann Harding, Jean Harlow, June Havoc, Goldie Hawn, Helen Hayes, Susan Hayward, Rita Hayworth, Audrey Hepburn, Katharine Hepburn, Billie Holliday, Miriam Hopkins, Lena Horne, Ruth Hussey, Angelica Huston, Betty Hutton, Janet Jackson, Gloria Jean, Zita Johann, Olivia Newton John, Grace Jones, Jennifer Jones, Shirley Jones, Janis Joplin, Ruby Keeler, Grace Kelly, Deborah Kerr, Phyllis Kirk, Eartha Kitt, Laura La Plante, Veronica Lake, Hedy Lamarr, Dorothy Lamour, Elsa Lancaster, Carol Landis, Priscilla Lane, Francis Langford, Angela Lansbury, Piper Laurie, Lila Lee, Peggy Lee, Janet Leigh, Vivien Leigh, Joan Leslie, Gina Lollabrigida, Carole Lombard, Bessie Love, Myrna Loy, Ida Lupino, Jeanette MacDonald, Ali MacGraw, Shirley MacLane, Anna Magnani, Jayne Mansfield, Ann Margret, Marilyn Maxwell, Virginia Mayo, Dorothy McGuire, Fay McKenzie, Una Merkel, Ethel Merman, Vera Miles, Ann Miller, Liza Minnelli, Mary Miles Minter, Carmen Miranda, Marilyn Monroe, Maria Montez, Coleen Moore, Mae Murray, Pola Negri, Kim Novak, Maureen O'Hara, Maureen O'Sullivan, Merle Oberon, Anita Page, Gail Patrick, Mary Pickford, Eleanor Powell, Luise Rainer, Sally Rand, Vanessa Redgrave, Donna Reed, Lee Remick, Debbie Reynolds, Ann Richards, Ginger Rogers, Diana Ross, Lillian Roth, Gail Russell, Jane Russell, Rosalind Russell, Ann Rutherford, Winona Ryder, Lizabeth Scott, Norma Shearer, Ann Sheridan, Dinah Shore, Sylvia Sidney, Jean Simmons, Alexis Smith, Barbara Stanwyck, Meryl Streep, Barbra Streisand, Gloria Swanson, Elizabeth Taylor, Shirley Temple, Emma Thompson, Gene Tierney, Thelma Todd, Claire Trevor, Kathleen Turner, Lana Turner, Twiggy, Mamie Van Doren, Lupe Velez, Martha Vickers, Rachel Ward, Tuesday Weld, Mae West, Marie Windsor, Debra Winger, Shelley Winters, Jane Withers, Anna May Wong, Natalie Wood, Fay Wray, Teresa Wright, Jane Wyman, Loretta Young, and many, many more. Actors and male entertainers: Amos & Andy, Dana Andrews, Roscoe "Fatty" Arbuckle, Louis Armstrong, Desi Arnaz, Fred Astaire, Lex Barker, John Barrymore, Lionel Barrymore, The Beatles, Warren Beatty, Wallace Beery, Harry Belafonte, John Belushi, Jack Benny, Edgar Bergen, Charles Bickford, Humphrey Bogart, David Bowie, Charles Boyer, Marlon Brando, Charles Bronson, Mel Brooks, Yul Brynner, James Cagney, Eddie Cantor, Johnny Cash, John Cassavettes, Lon Chaney, Sr., Charlie Chaplin, Montgomery Clift, Nat King Cole, Ronald Colman, Sean Connery, Gary Cooper, Jackie Cooper, Ricardo Cortez, Joseph Cotten, Bing Crosby, Tony Curtis, Sammy Davis, Jr., The Dead End Kids, James Dean, Robert DeNiro, Walt Disney, Kirk Douglas, Clint Eastwood, Duke Ellington, Douglas Fairbanks, Sr. & Jr., Jose Ferrer, W.C. Fields, Errol Flynn, Henry Fonda, Glenn Ford, Harrison Ford, Clark Gable, John Garfield, James Garner, Richard Gere, Mel Gibson, Benny Goodman, Cary Grant, Alec Guinness, Gene Hackman, Tom Hanks, Rondo Hatton, Sterling Hayden, Charlton Heston, Alfred Hitchcock, Dustin Hoffman, William Holden, Bob Hope, Rock Hudson, Tab Hunter, William Hurt, The "James Bond" franchise, Van Johnson, Al Jolson, Boris Karloff, Buster Keaton, Gene Kelly, Alan Ladd, Burt Lancaster, Harry Langdon, Charles Laughton, Laurel & Hardy, Bruce Lee, Christopher Lee, Jack Lemon, Jerry Lewis, Harold Lloyd, Peter Lorre, Dean Martin, Lee Marvin, the Marx Brothers, James Mason, Victor Mature, Joel McCrea, Roddy McDowell, Steve McQueen, Ray Milland, Sal Mineo, Robert Mitchum, Robert Montgomery, Eddie Murphy, Bill Murray, Ricky Nelson, Paul Newman, Jack Nicholson, David Niven, Chuck Norris, Peter O'Toole, Warner Oland, Laurence Olivier, Al Pacino, Jack Palance, Gregory Peck, Tyrone Power, Elvis Presely, Vincent Price, John Wayne, Johnny Weissmuller, Orson Welles, Bruce Willis, and many, many more. Movies: The African Queen, All Quiet on the Western Front, American Graffiti, Anatomy of a Murder, Animal House, the Back to the Future franchise, Beau Geste, Bell, Book and Candle, The Big Heat, The Birds, The Blue Dahlia, Blue Velvet, Bonnie and Clyde, Born Yesterday, Brigadoon, Cabin in the Sky, Captain's Courageous, Casablanca, the "James Bond" franchise, Cat People, the "Charlie Chan" franchise, Citizen Kane, Cover Girl, Dance, Fools, Dance, Dark Victory, Dead End, Dial M for Murder, Doctor Strangelove, Dracula, Duel in the Sun, Easy Rider, El Dorado, For Whom the Bell Tolls, Foreign Correspondent, Forsaking All Others, Frankenstein, From Here to Eternity, Full Metal Jacket, Funny Girl, Ghostbusters, Gigi, Gone With the Wind, Grand Illusion, The Grapes of Wrath, The Great Escape, Halloween, High Society, His Girl Friday, Holiday, The Horror of Dracula, Human Desire, Humoresque, I Wanted Wings, Imitation of Life, Inside Daisy Clover, Invasion of the Body Snatchers, Jaws, Jezebel, The Killers, The King and I, The Lady Eve, The Lady Vanishes, Lifeboat, Macao, Marked Woman, The Most Dangerous Game, Mr. Smith Goes to Washington, Mrs. Miniver, Murder, My Sweet, My Darling Clementine, My Man Godfrey, Night of the Hunter, North by Northwest, Notorious, Passage to Marseilles, Paths of Glory, Persona, Picnic, Planet of the Apes, Porgy and Bess, The Postman Always Rings Twice, Prisoner of Zenda, Psycho, Quo Vadis, Random Harvest, Rear Window, Rebecca, Rio Bravo, Robocop, Rope, Sabotage, The Set-Up, Seven Samurai, She!, Showboat, Spellbound, Stagecoach, The Stranger, Sullivan's Travels, Suspicion, the "Tarzan" franchise, Test Pilot, That Certain Woman, The Three Musketeers, To Catch a Thief, To Have and Have Not, Today We Live, Too Hot to Handle, The Untouchables, Valley of the Dolls, Vertigo, Vivacious Lady, Westside Story, White Christmas, Woman of the Year, The Women, Wuthering Heights, Young Mr. Lincoln, Zoo in Budapest, and many, many more. Includes duplicate images.Condition ranges widely, with the majority ranging from very good to very fine. The archive is housed in approx. (140) 4- and 5-drawer metal filing cabinets, measuring on average 22 x 28 x 53 in. This is a historic opportunity to own one of the most legendary and consequential collections of Hollywood and entertainment photographic material ever assembled. Interested bidders are strongly encouraged to preview the lot in person by appointment.
Estimate: $220,000 - $350,000 / Winning bid: ?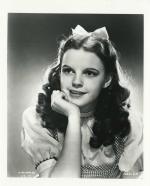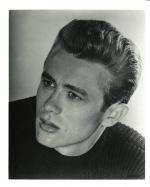 ---
Lot 868: Marilyn Monroe (3) nude calendar first-release variation collection. (ca. 1940s)
Vintage original (3) iconic Tom Kelly's legendary Golden Dreams nude calendar print, shot in 1949 when Marilyn was between studio contracts, and not published until at least 1952 for the following year. Including (1) 9 x 13 in. stapled print with advertising headboard present and 4-other prints of various models beneath Marilyn's, (1) 8 x 9.5 in. print (presumed removed from a complete calendar) and (1) 12 x 16.5 in. print with creased headboard section. All in vintage very good to fine condition.
Estimate: $300 - $500 / Winning bid: $850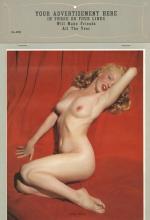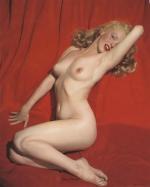 ---
Lot 872: Marilyn Monroe door panel poster. (ca. 1950s)
Vintage original rolled 62 x 21.5 in. panel door poster of Marilyn Monroe in a candy-striped bathing suit. Linen backed. Exhibiting light even fading and a slice to the upper 2 in. of the blank border, not affecting image. In vintage very good to fine condition.
Estimate: $600 - $800 / Winning bid: $3,250


---
Lot 878: Marilyn Monroe unpublished behind the scenes color camera transparency from Niagara by Frank Worth.
(TCF, 1953) Vintage original 2.5 x 2.5 in. camera color transparency of Marilyn Monroe in costume as "Rose Loomis" in an unpublished image of the Hollywood icon posing in front of a helicopter behind the scenes of Niagara. Photographed by Frank Worth. In vintage fine condition.
Estimate: $200 - $300 / Winning bid: $350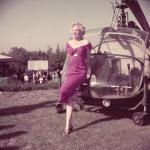 ---
Lot 879: Marilyn Monroe (3) contact sheet strips with 9-portraits by Milton Greene from his personal collection.
(ca. 1950s) Vintage original (9) gelatin silver single-weight glossy 2.5 x 2.25 in. photographs on 3-contact sheet prints measuring approx. 2.25 x 8 in. and with 3-frames per strip. Featuring outdoor portraits of Marilyn Monroe taken by her close friend and legendary photographer Milton Greene. Unevenly trimmed at top and bottom of strips. Exhibiting age, minor wear and some handling. From the personal collection of Milton Greene. In overall very good to fine condition.
Estimate: $300 - $500 / Winning bid: $600



---
Lot 885: Marilyn Monroe (3) candid photographs with Tony Curtis, Milton Greene and others.
(ca. 1960s) Vintage original (3) gelatin silver single-weight photos including (1) 8 x 10 in. Marilyn with DJ Fred Robbins and Joe Bynes, (1) 8 x 10 in. Marilyn with Milton Greene and others at Jess Rand's 1954 birthday party and (1) 4.5 x 6.5 in. Marilyn with Tony Curtis and others. Exhibiting some edge chipping, age, handling. With some mounting residue, inkstamps and writing to verso. In vintage very good to fine condition.
Estimate: $300 - $500 / Winning bid: $300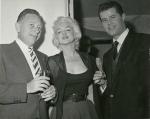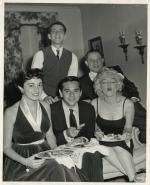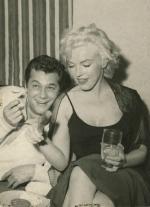 ---
Lot 886: Marilyn Monroe (3) candid photographs with Sammy Davis Jr., Tony Curtis, Milton Greene and more.
(ca. 1960s) Vintage original (3) gelatin silver single-weight photos including (1) 4.5 x 6.5 in. Marilyn with Tony Curtis and Milton Greene wearing eye patches in solidarity with Sammy Davis Jr. who'd lost his eye in a car accident, (1) 8 x 10 in. Marilyn with Milton Greene and Sammy Davis Jr. at Jess Rand's 1954 birthday party and (1) 8 x 10 in. photo card of Marilyn with Sammy Davis Jr. and Eddie Fisher. Exhibiting some edge chipping, age, handling. With some mounting residue, inkstamps and writing to verso. In vintage good to fine condition.
Estimate: $300 - $500 / Winning bid: $300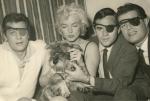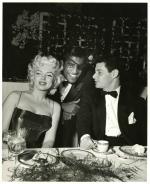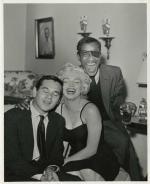 ---
Lot 888: Marilyn Monroe (10) mammoth prints signed by George Barris.
(ca. 1950s-1960s) Collection of (10) contemporary oversize posed and candid photographs of Monroe ranging in size from 17 x 22.25 in. to 21 x 28 in. Including (2) color images 1-of Monroe wearing a robe at the beach and 1-head shot and (8) black and white prints including 7-in and around a home and 1-at the beach. All signed in lower right of images, "George Barris" (Barris first signed in ballpoint over which he later signed in marking pen). Exhibiting minor wrinkling from handling. In generally fine condition.
Estimate: $1,000 - $1,500 / Winning bid: $1,900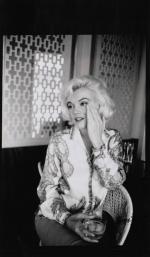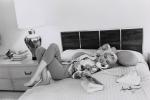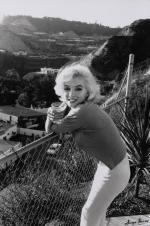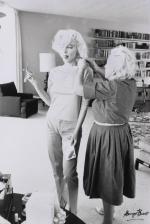 ---
Lot 889: Bert Stern signed Marilyn Monroe limited edition foil print.
(1962) Vintage original blue ink silkscreen on 40 x 40 in. silver foil limited edition print. The image is from Marilyn Monroe's last photographic sitting in 1962. Signed by the photographer, "Bert Stern" in the lower right border and numbered, "99/100" in the lower left. Presented in the original fame. In vintage fine condition.
Estimate: $2,000 - $3,000 / Winning bid: $2,000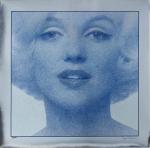 ---
Films
---
Lot 876: Marilyn Monroe (2) window cards from How to Marry a Millionaire and Niagara. (TCF, 1953)
Vintage original (2) window cards for the Marilyn Monroe titles including (1) 14 x 22 in. card for How to Marry a Millionaire featuring Marilyn in swimsuit with Betty Hutton and Lauren Bacall. With playdate field filled in and some toning to edges and including (1) 14 x 22 in. card for Niagara featuring a sultry Monroe reclining and a photo image of she and Joseph Cotten. With blank playdate field, some clean pinholes to corners, and even toning. In generally very good to fine condition.
Estimate: $400 - $600 / Winning bid: $500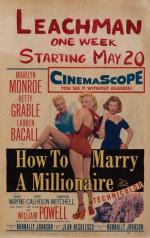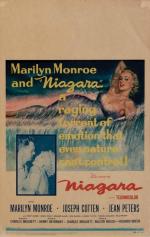 ---
Lot 877: Marilyn Monroe (41) negatives from Bus Stop. (TCF, 1956)
Vintage original (41) 5 x 4 in. black and white negatives with matching contact prints, including images from production with Monroe, Don Murray, Arthur O'Connell, Eileen Heckart and cast, behind the scenes shots, crowd scenes, and images of Monroe in her iconic green costume performing. Contained in original sleeves. Some contact prints with editorial grease pencil cropping for publication. In generally fine vintage condition.
Estimate: $600 - $800 / Winning bid: $7,000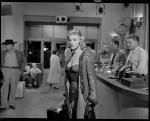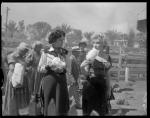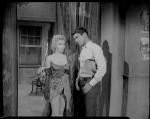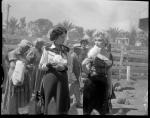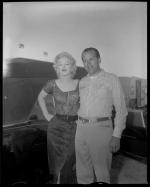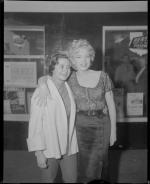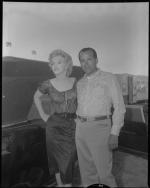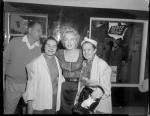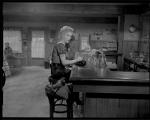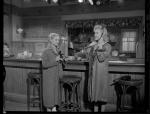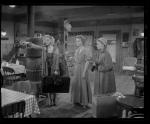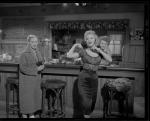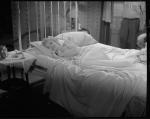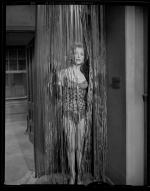 ---
Lot 880: Marilyn Monroe rolled German A0 large size format poster for The Seven-Year Itch.
Marilyn Monroe rolled German A0 large size format poster for The Seven-Year Itch. (TCF, 1955/R-1960) Vintage original German A0 46 x 33 in. large size format poster by graphic artist, stamp illustrator and art educator Dorothea Fischer-Nosbisch for the re-release of the Billy Wilder, Marilyn Monroe comedy. Rolled. With vibrant color. In vintage fine condition.
Estimate: $300 - $500 / Winning bid: $750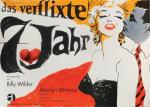 ---
Lot 881: Marilyn Monroe (11) production photographs from The Seven Year Itch and How to Marry a Millionaire.
(MGM, 1953/1955) Vintage original (11) gelatin silver single-weight glossy 8 x 10 in. production photographs featuring Marilyn Monroe and cast including (5) How to Marry a Millionaire and (6) The Seven Year Itch. All with studio slugs in lower borders. Exhibiting age, minor wear, some toning, creasing and handling. In overall vintage good to very good condition.
Estimate: $300 - $500 / Winning bid: $600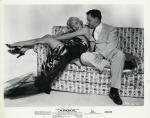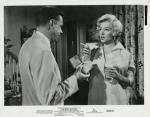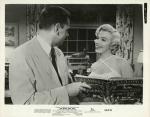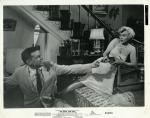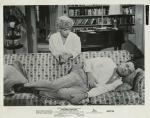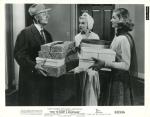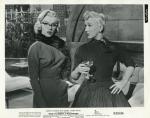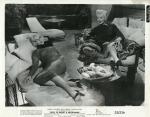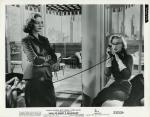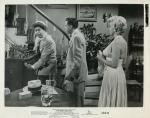 ---
Lot 882: Marilyn Monroe (5) photographs from The Seven-Year Itch and others.
(TCF, 1955) Vintage original gelatin silver single-weight production photographs ranging in size from 7.25 x 8 in. to 8 x 10 in. including (3) Seven-Year Itch with Marilyn and Tom Ewell mugging on a couch (1-with two-hole punches at the top border), (1) full-body swimsuit pose and (1) portrait in a jeweled satin gown near a car. All exhibit minor age and handling. In vintage fine condition.
Estimate: $200 - $300 / Winning bid: $650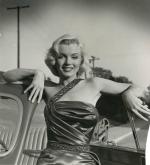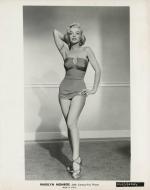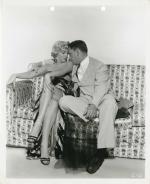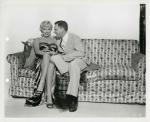 ---
Lot 883: Marilyn Monroe lobby card for Dangerous Years, her first appearance in film publicity material.
(TCF, 1948) Vintage original color 11 x 14 in. lobby card for the first film in which Marilyn appeared in publicity material. Exhibiting pinholes, border restoration, and retouching to a vertical crease through the center of the card and a crease in the lower right image. Presents in vintage good to very good condition.
Estimate: $300 - $500 / Winning bid: $300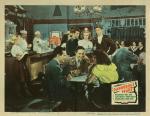 ---
Lot 884. Marilyn Monroe and Anne Baxter photograph behind the scenes on All About Eve by Frank Powolny.
(TCF, 1950) Vintage original gelatin silver 8 x 10 in. double-weight matte photograph. Retaining photographer's inkstamp on the verso. Exceedingly rare early candid moment for Marilyn. In vintage very fine condition.
Estimate: $400 - $600 / Winning bid: $650

---
Lot 890: Warner Bros. commemorative brass key to the studio. (ca. 1960s)
Consisting of a cast brass 11 x 4 in. presentation key to Warner Bros. Studios. The shield-shaped bow of the key features raised iconic "WB" letters synonymous with the studio. The key blade reads, in raised letters, "The Largest in the World" on one side and "Welcome to the Warner Bros Studio", on the other. Keys like this one were presented to special guests, celebrities, and dignitaries visiting the studio. Exhibiting expected age, wear and patina. In vintage fine condition.
Estimate: $600 - $800 / Winning bid: $1,900

---
Documents papiers

---
lot 869: Marilyn Monroe's (Norma Jeane Dougherty) first signed studio contract with Twentieth Century-Fox with original screen test request signed by Ben Lyon.
The contract is 17 pages (8.5 x 11 in.), entitled "Agreement Between Twentieth Century-Fox Film Corporation And Norma Jeane Dougherty – Artist August 24, 1946" typed on the heavy stock contract folder bound with two brass brads. The document is an agreement, "That the producer employs the artist, and the artist enters the employ of the producer, to render his services exclusively to the producer, in the capacities and for the purposes herein described, for a term of Six (6) Months, commencing on the 26th day of August, 1946… the producer shall pay to the artist, as his entire compensation hereunder, the sum of One Hundred and Twenty-Five Dollars ($125.00) per week during the term of said employment…" On page 16, the future Marilyn Monroe signed in black ink, "Norma Jeane Dougherty" and was co-signed by a studio executive an a notary public. The final page was signed by Norma Jeane's foster mother, Grace McKee, granting approval of the agreement for the 20-year-old minor. Accompanying the contract is the 1-page inter-office document, dated July 25, 1946, signed by Twentieth Century Fox executive (and former actor) Ben Lyon, written to Mr. George Wasson, stating in part: "Will you please draw up an optional contract on Norma Jeane Dougherty. We agree to make a test of her and then within ten (10) days after she completes the test, we agree to advise her whether or not we intend to exercise the option: 6 months – 20 out of 26 weeks -- $150.00." Ben Lyon was a successful actor starring in the 1930 film Hell's Angels, the film that brought Jean Harlow to prominence. After having met the young Norma Jeane on July 17, 1946, Lyon stated that she was "Jean Harlow all over again!" With this document, he arranged for Norma Jeane's screen test and her subsequent contract with the studio. Lyon later advised the starlet to change her screen name to "Marilyn Monroe". Also included is a carbon copy studio memo to Ben Lyon from George Wasson, dated October 25, 1946, stating that "Today is the last day for us to notify Norma Jeane Dougherty in the event we desire her to have any dental work done." Contract is in fine condition; both the Lyon and dental memos have paper loss from the two-hole binder. An historic assemblage marking the genesis of the silver screen's greatest star.
Estimate: $8,000 - $12,000 / Winning bid: $35,500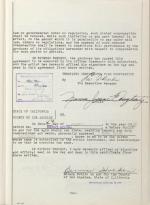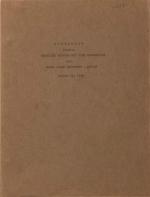 ---
lot 870: Marilyn Monroe personally hand annotated script from Gentlemen Prefer Blondes. (TCF, 1953)
Marilyn Monroe's personally-used and annotated script from Gentlemen Prefer Blondes. An incomplete script, being a block of revisions delivered by the production to Marilyn Monroe comprising 69 pages total (numbered 48 through 117, missing page 93) plus a pink title cover-sheet printed "26 November 1952, 'Gentlemen Prefer Blondes' (Revised Final Script…13 Nov. 1952)," plus "TO ALL SECRETARIES: Please place these ADDITIONAL PAGES at the back of your script of the above date. THIS IS IMPORTANT! Majority of the prompts for Marilyn's character "Lorelei Lee" are circled variously in graphite and non-repro blue pencil, with approximately 22-pages annotated in various inks and pencil in Monroe's hand with amendments and additions to the script and notes on how she proposes to deliver lines and portray Lorelei's character, with several other pages showing line deletions and other demarcations. Highlights of notes include: pg. 56, when Lord Beekman finds Lorelei stuck in Malone's porthole, next to Lorelei's line "Oh yes--Tea with Lady Beekman. Why, she must of forgot. She didn't show up," with Monroe adding an alternative line, "Well, I just wanted to see the view. It's better from here"; pg. 58, Monroe changes the line "Piggie, will you run down to my cabin and get my purse?" to "Maybe I should have that Sherry - will you get me some"; pg. 79, Monroe has written a note to herself in the margin "Feeling that feeds the words, know the lines, go over it inteligently [sic]"; pg. 92, also to herself, "sense the feeling with the body" plus several dialogue changes; pg. 94, again to herself, "grit my teeth and forget it must have my," "all of feeling in my words," and "build pull back, don't stop mutual conflict between partners." Also, the following page (95) although bearing no notations, features the scene for Monroe's classic musical number "Diamonds Are a Girl's Best Friend." In generally very good condition, with expected handling wear, soiling, and creasing, and some small edge tears and damp-staining to cover page and a few internal margins throughout. Marilyn's unique, revealing personal notations in this script reveal her private thought processes and fleeting self confidence. On set, she was haunted by her controlling acting coach Natasha Lytess, constantly striving for her approval and insisting on retakes even when director Howard Hawks had already approved. Co-star Jane Russell looked after Marilyn on set and was often one of the only people able to coax her out of her trailer during her bouts of self doubt. Despite her anxieties, it was the role of Lorelei Lee that first fabricated her 'dumb blonde' persona—a genius mixture of comedy and sexiness which Marilyn personified on screen, all the while taking her acting very seriously, as evidenced by her occasional heartfelt self-motivational notes in the margins. Monroe biographer Donald Spoto once said: "She put a twist on sexiness. It was not something wicked and shameful...it was something which was terribly funny. And Marilyn enjoyed it." A remarkable and deeply personal artifact both from Marilyn's aura imbued within it, and of Hollywood history in general.
Provenance: Christies, New York, June 22, 2006, Lot 160.
Estimate: $20,000 - $30,000 / Winning bid: $20,000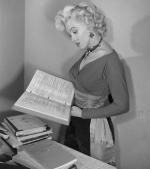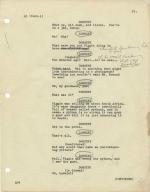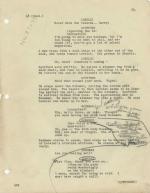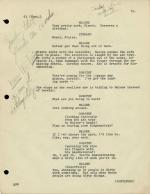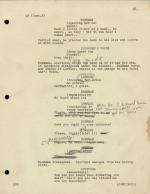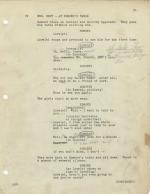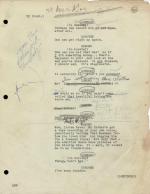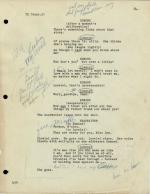 ---
Lot 871: Marilyn Monroe signed document relating to The Seven Year Itch. (TCF, 1955)
The 1-page document (8.5 x 11 in.), dated and notarized from the State of New York on December 31, 1955, states in part: "I, Marilyn Monroe of New York, New York… for valuable consideration to me in hand paid and the receipt whereof I hereby acknowledge, have and do hereby and herewith release and forever discharge Twentieth Century-Fox Film Corporation… of and from all manner of action and actions, cause and causes of action, claims, demands… that I have ever had… pertaining to the production, distribution, exploitation or other matters or things relating to a certain motion picture photoplay entitled THE SEVEN YEAR ITCH." Signed "Marilyn Monroe" in black ink. Minor staple holes on left margin. Overall, in fine condition.
Estimate: $3,000 - $5,000 / Winning bid: $3,750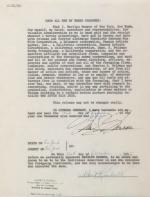 ---
Lot 873: (2) Marilyn Monroe signed documents and a block of (3) blank Marilyn Monroe checks.
A 1-page document (8.5 x 11 in.), undated, but retains "Received" stamp dated February 6, 1947. Sent by Marilyn to 20th Century-Fox Film Corporation to the attention of the legal department. In part: "This is to notify you that I am no longer being represented by the National Concert & Artists Corporation… I am now being represented by the Elsie Cukor Lipton Agency…[signed] Marilyn Monroe". Contains clerical notes in both pencil and ink. Toning at lower half with tearing by two binder holes.
The second document is the second page of a two-page document (page one is missing), dated January 16, 1952 involving Twentieth Century-Fox Film Corporation and RKO Radio Pictures, Inc., pertaining to advertisement release for Marilyn Monroe in promoting "Jantzen Play Suites, Play Clothes and Swim Suits". Signed "Marilyn Monroe" in blue ink, and co-signed by a Twentieth Century-Fox representative. Staple holes at top, pronounced wrinkling and a 3.75 x 1.25 in. portion clipped from the document.
Included with the documents is a block of (3) unused "Marilyn Monroe" printed checks from her City National Bank, Beverly Hills branch (checks numbered 1950 – 1952). Checks and attached stubs are in fine condition.
Estimate: $1,500 - $2,500 / Winning bid: $3,750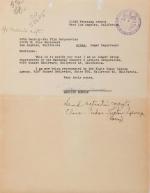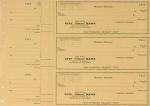 ---
Lot 874: Marilyn Monroe signed advertising release for House of Westmore Cosmetics.
The 1-page document (8.5 x 13.5 in.), dated July 3, 1952 from Los Angeles, California, states in part: "The undersigned, Twentieth Century-Fox Film Corporation, a New York corporation, hereby gives and grants to House of Westmore, the non-exclusive right to utilize the name and likeness of Marilyn Monroe… Said name and/or likeness shall be used only by House of Westmore in connection with its product Cosmetics in the following manner: Newspapers, magazines, window and counter displays, point of sale material." Signed "Marilyn Monroe" in black ink, and co-signed by representatives of Twentieth Century-Fox and House of Westmore. Minor paper loss from the binder at upper edge; minor chip at bottom edge not affecting signature.
Estimate: $2,000 - $3,000 / Winning bid: $4,250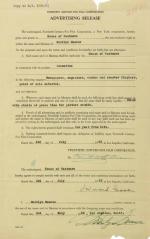 ---
Lot 875: Studio letter warning Marilyn Monroe of her breach of contract for taking off shooting days to participate in President Kennedy's Birthday Celebration. (1962)
Vintage original 2-page letter on Twentieth Century-Fox Film Corporation letterhead, dated May 16, 1962, addressed to Marilyn Monroe Productions, Inc. In part: "…the services of Miss Marilyn Monroe in the now current employment period commenced on March 6, 1962 in the motion picture tentatively entitled 'Something's Gotta Give'… Whereas said motion picture is now in the process of principal photography and is uncompleted… Miss Monroe has advised the executives of the undersigned corporation… that she intends to absent herself from Producer's studio and from Los Angeles, California, at twelve noon, May 17, 1962, for the purpose of attending a social function being held outside of the State of California, and to continue said absence for the reminder of the said calendar week… Now, therefore, please be advised that said announced action on the part of Miss Monroe constitutes a refusal by her to render services… said action of Miss Monroe will result in serious loss and material damage to the undersigned corporation… [the studio may] be relieved of any of its obligations in respect to the photoplay in which Miss Monroe is now rendering…" Signed "Twentieth Century-Fox Film Corporation" by Frank H. Ferguson, its Assistant Secretary. Included with original registered mail transmittal envelope, postmarked May 16, 1962, with attached studio slip with stamp indicating return date of May 17, 1962 with notation that the letter was refused and returned. Before shooting had begun, Monroe received approval from producer Henry Weinstein for her to perform on May 19th for President Kennedy's birthday celebration at Madison Square Garden. Despite the agreement, Marilyn's protracted health issues had delayed production and studio brass ultimately decided to release her from the picture on June 8th.
Estimate: $400 - $600 / Winning bid: $3,750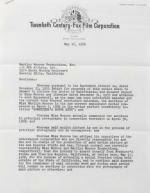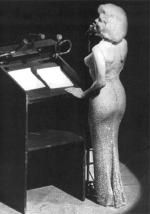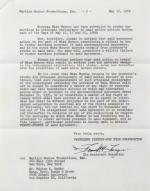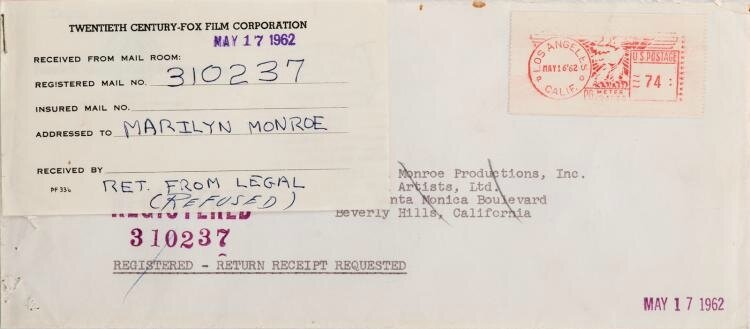 ---
Lot 887: Let's Make Love 22-pages of original sheet music for the LP record release.
(TCF, 1960) Vintage original (22) pages of musical charts including (1) 5-page printed 9.5 x 13 in. Conductor score for, "Let's Make Love" designated for "Marilyn Monroe and Frankie Vaughan", (1) 4-page handwritten 10.75 x 13.25 in. score for, "Let's Make Love", (1) 6-page printed 9.5 x 13 in. Conductor score for, "You With the Crazy Eyes" designated for "Frankie Vaughan (Vocal)" and (1) 7-page handwritten 10.75 x 13.25 in. score for "You With the Crazy Eyes" score. All exhibit edge toning, handling, minor soiling and staining. In vintage very good condition.
Estimate: $300 - $500 / Winning bid: $325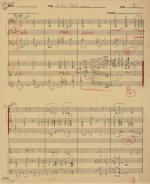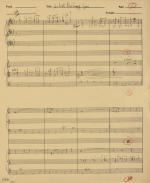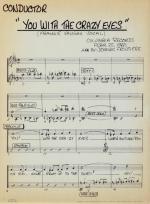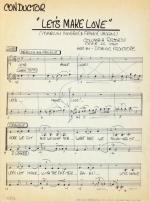 ---
Accessoires
---
Lot 1942: Loni Anderson vintage "MM" evening gloves gifted to her by Burt Reynolds as the personal property of Marilyn Monroe.
(ca. 1950s) Vintage original pair of elegant midnight blue synthetic silk evening gloves with stitched braid detail at back and stitched monogram, "MM" on underside of flared, slit cuffs. Retaining internal Hansen maker's label, printed size 6. Gifted to Loni Anderson by Burt Reynolds who attributed them to Marilyn Monroe, an idol of Anderson's. In vintage fine condition.
Estimate: $1,000 - $1,500 / Winning bid: $9,500

03 février 2018
Le 26 août 1954, Marilyn Monroe pose pour les 'tests' costumes et maquillage pour le film Sept ans de réflexion. Le costumier est William Travilla.
On August, 26, 1954, Marilyn Monroe poses for the costumes and makeup 'tests' for the movie The Seven Year Itch. The designer is William Travilla.
---
© All images are copyright and protected by their respective owners, assignees or others.
copyright text by GinieLand.

Le 28 août 1954, Marilyn Monroe pose pour les 'tests' costumes et maquillage pour le film Sept ans de réflexion. Le costumier est William Travilla.
On August, 28, 1954, Marilyn Monroe poses for the costumes and makeup 'tests' for the movie The Seven Year Itch. The designer is William Travilla.
---
© All images are copyright and protected by their respective owners, assignees or others.
copyright text by GinieLand.
Le 13 septembre 1954, sur le tournage de Sept ans de réflexion, Marilyn Monroe pose pour un test maquillage.
On September, 13, 1954, on the set of The Seven Year Itch, Marilyn Monroe poses for a makeup test.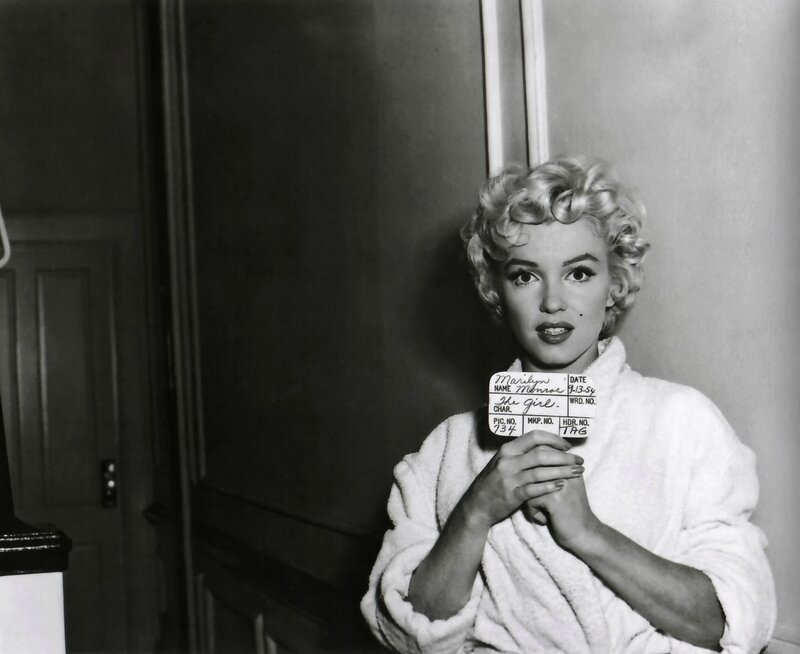 ---
© All images are copyright and protected by their respective owners, assignees or others.
copyright text by GinieLand.

02 février 2018
Le 21 octobre 1954, sur le tournage de Sept ans de réflexion, Marilyn Monroe pose pour un test maquillage.
On October, 21, 1954, on the set of The Seven Year Itch, Marilyn Monroe poses for a makeup test.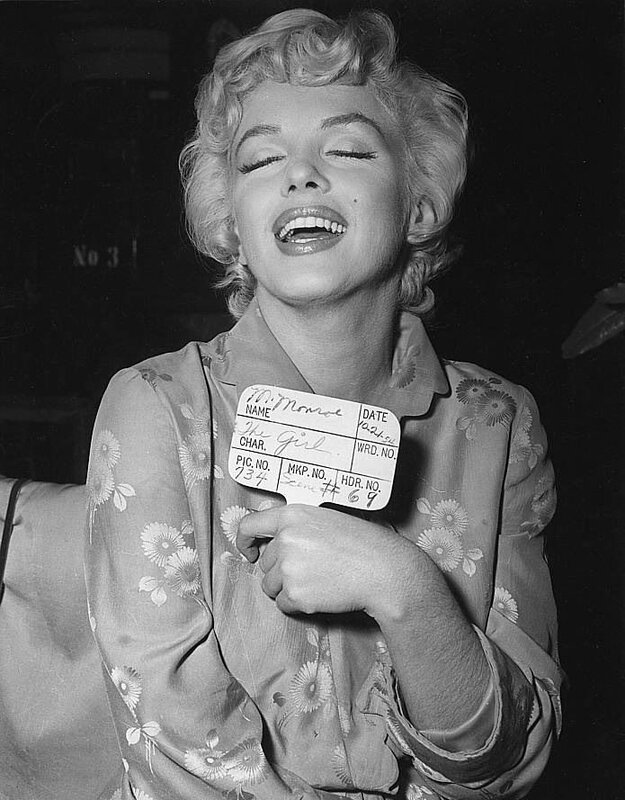 ---
© All images are copyright and protected by their respective owners, assignees or others.
copyright text by GinieLand.

Le 26 octobre 1954, sur le tournage de Sept ans de réflexion, Marilyn Monroe pose pour un test costume (en nuisette en coton) pour l'une des scènes du film. Le costumier est William Travilla.
On October, 26, 1954, on the set of The Seven Year Itch, Marilyn Monroe poses for a costume test (in a coton nightie) for the movie's scene. The designer is William Travilla.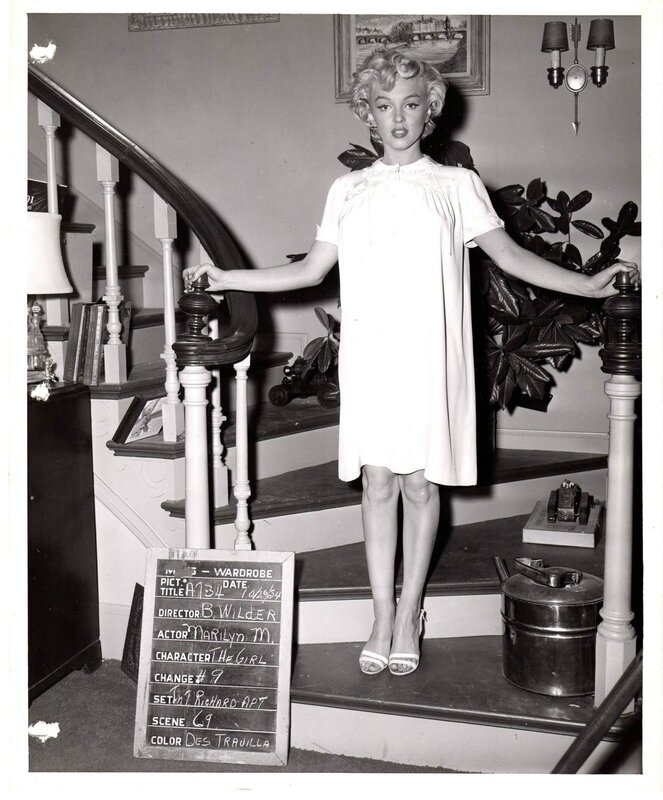 ---
© All images are copyright and protected by their respective owners, assignees or others.
copyright text by GinieLand.

05 février 2017
Dorothy Dandridge
(1922 - 1965)
actrice américaine
amie avec Marilyn de 1948 à 1955s
surnommée "The Black Marilyn Monroe"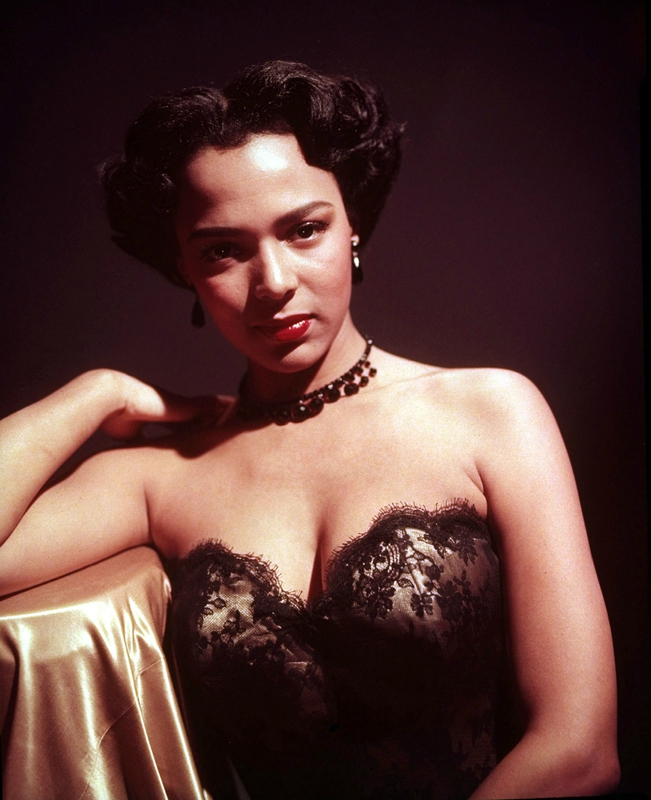 Dorothy Jean Dandridge naît le 29 novembre 1922 à Cleveland (dans l'Ohio, USA). Deuxième fille d'un pasteur et ébéniste (Cyril Dandridge) et d'une apprentie comédienne (Ruby Dandridge), sa soeur aîné s'appelle Vivian. Ses parents se séparent peu avant sa naissance. Leur mère lance ses deux petits filles très vite sur scène: Dorothy et Vivian se produisent sous le nom des Wonder Children, dans des spectacles religieux au sein des églises à travers le territoire des États-Unis pendant cinq ans, avec leur manager Geneva Williams, pendant que leur mère reste travailler à Cleveland, se produisant aussi sur scène.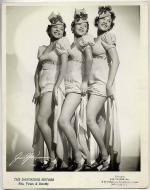 Avec la Grande Dépression, le travail se fait plus rare et en 1930 Ruby déménage avec ses filles pour s'installer à Hollywood (en Californie), où elle trouve du travail dans des stations de radio et joue des rôles de servantes au cinéma.
En 1934, le duo Dorothy - Vivian se rebaptise The Dandridge Sisters et s'associent avec la danseuse et chanteuse Etta Jones (voir photo ci-contre). Elles se produisent sur scène dans de nombreux clubs à travers le pays, dont le Cotton Club et l'Apollo Theater à New York.
Dorothy obtient un petit rôle au cinéma en 1935, dans la comédie Teacher's Beau (de la série des films Our Gang). Et le trio parvient à être au casting des films The Big Broadcast of 1936, A Day at the Races avec les Marx Brothers et It Can't Last Forever avec les Jackson Brothers en 1937.
Puis Dorothy parvient à enchaîner divers rôles au cinéma; dans Four Shall Die (1940), une production de films faits pour les noirs avec des acteurs noirs, puis l'année suivante dans Lady from Louisiana avec John Wayne et Sundown avec Gene Tierney. En 1941, elle joue dans une comédie musicale de la 20th Century Fox: Sun Valley Serenade, où elle chante avec les Nicholas Brothers. En plus du cinéma, Dorothy prête sa voix à plusieurs courts métrages d'animation.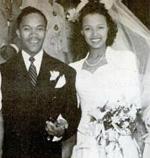 Le 6 septembre 1942, Dorothy se marie avec le danseur de claquettes Harold Nicholas (l'un des frères Nicholas des 'Nicholas Brothers' - voir photo ci-contre). Ils ont ensemble une fille, Harolyn Suzanne Nicholas qui naît le 2 septembre 1943 avec un handicap mental (autisme profond). Sa belle-soeur Geraldine Branton racontera: «Dottie ne devait plus jamais se débarrasser d'un sentiment de culpabilité; personne n'est parvenu ensuite à la raisonner.» Dorothy et Harold finissent par divorcer en octobre 1951. Les échecs de sa vie privée et son enfance chaotique où elle s'est toujours sentie exploitée, vont la conduire à une dépression chronique jusqu'à la fin de sa vie.
Contrainte de subvenir aux besoins de sa fille, elle se produit dans les night-clubs qu'elle abhorre, paralysée par le trac et la timidité, malgré un grand succès car elle est plébiscitée par le public masculin séduit par sa beauté et elle triomphe au Mocambo de Los Angeles. Elle devient la première chanteuse noire à se produire dans des endroits aussi huppés que l'Empire Room du Waldorf Astoria de New York (elle voyagera ensuite à Londres, Toronto, La Havane, São Paulo).

L'Amérique des années 1950 est ségrégationniste et Dorothy va souffrir du racisme, comme toute personne de couleur aux Etats-Unis. Les lois raciales vont notamment lui imposer de ne pas 'se mélanger' avec les blancs. Dorothy racontera qu'un hôtel du Nevada lui avait ordonné de rester enfermer dans sa chambre quand elle n'était pas sur scène en train de chanter dans la salle de spectacle de l'hôtel et de ne pas fréquenter ni le bar ni la piscine de l'hôtel, réservés à la clientèle blanche. Le costumier William Travilla lui dessine des robes pour ses performances dans les nights-clubs; ils deviennent amis et Travilla sera témoin du traitement de racisme que subit Dorothy: un soir, au début des années 1950, il va la voir avec un ami à Las Vegas où Dorothy se produit. Le trio souhaite sortir ensemble dans les bars, casinos et night clubs mais il est interdit à Dorothy d'aller dans les lieux publics. Donc ils se retrouvent dans la cuisine de l'appartement d'hôtel de Dorothy et les hommes sont écoeurés de voir qu'il est acceptable pour Dorothy de se produire sur scène pour la clientèle blanche, mais pas assez pour se mêler à eux avant ou après. Ce qui aménera à Dorothy de dire "Si j'étais blanche, je pourrais capturer le monde."
A la même époque, elle a une aventure avec le comédien Peter Lawford, futur gendre du président Kennedy, qui, au dernier moment, refuse de l'épouser par crainte de saborder sa carrière.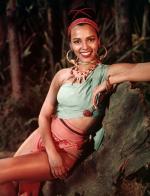 En 1951, son apparition dans Tarzan's Peril fait parler d'elle: c'est surtout sa tenue qui est jugée provocante (voir photo ci-contre) et elle surfe sur le phénomène en posant en tenue sexy pour la couverture du magazine Ebony.
En décembre 1952, un agent des studios de la MGM la voit sur scène au club Mocambo à Los Angeles et la recommande au casting de Bright Road, qui sera son premier vrai grand rôle, où elle y donne pour la première fois la réplique à l'acteur Harry Belafonte, qu'elle retrouvera plus tard dans bien d'autres films et qui restera un fidèle ami.
Elle poursuit en parallèle sa carrière sur scène, se produisant dans de nombreux nightclubs et multipliant les apparitions dans des émissions de télé, comme le célèbre Ed Sullivan.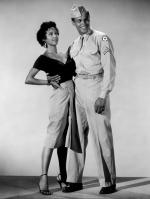 En 1953, un casting national est organisé par la 20th Century Fox pour l'adaptation de la comédie musicale jouée à Broadway en 1943 Carmen Jones, basée sur l'opéra Carmen, et adapté dans le contexte de la seconde guerre mondiale, mettant en scène les afro-américains. A la recherche d'acteurs et d'actrices noirs, le réalisateur Otto Preminger ne veut pas au départ de Dorothy dans le rôle de Carmen, pensant que son look est trop sophistiqué et mieux adapté au rôle de Cindy Lou. Pour obtenir le rôle, Dorothy se fait aider des maquilleurs de la marque Max-Factor, pour obtenir l'apparence et la personnalité du rôle titre Carmen, et se rend dans le bureau de Preminger qui se laisse convaincre. Dorothy retrouve Harry Belafonte pour former le couple star du film. Malgré le statut de chanteuse reconnu de Dorothy, le studio voulait une voix d'opéra, les chansons sont donc doublées par la chanteuse d'opéra Marilyn Horne.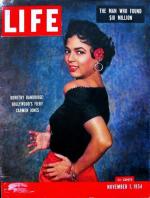 A sa sortie, le film rencontre un succès considérable tant au niveau de la critique (le chroniqueur Walter Winchell dit que sa performance est "enchanteresse") que des recettes engendrées, et impose Dorothy comme la première sex-symbol noire américaine. Elle devient la première femme noire à faire la couverture du très populaire magazine Life (le 1er novembre 1954 - voir photo ci-contre), en posant dans son rôle de Carmen par une photographie publicitaire du film. Le succés international du film (qui a rapporté 10 millions $ au box office qui en fait l'un des films ayant rapporté le plus de bénéfices) mène Dorothy, la première actrice afro-américaine, aux Oscars (elle est nommée meilleure actrice aux Oscars de 1955 et fait sensation à la cérémonie, mais c'est Grace Kelly qui remporte le prix. Ce soir là, Marlon Brando, très attiré par Dorothy, va embrasser Dorothy sur la bouche pour la consoler et l'anecdote va choquer les bonnes moeurs américaines).
Dorothy va se rendre au Festival de Cannes en mai 1955 pour présenter le film en hors compétition: elle y est présentée comme "la bombe du festival"; dans un reportage pour la télévision française, le journaliste François Chalais dit qu' "elle explose sous les traits de l'étourdissante actrice café au lait. (...) elle n'a qu'à paraître pour que tout ait l'air de disparaître autour d'elle. Elle n'a qu'à bouger pour que tout, à part elle, ait l'air d'être soudain immobile, comme figé de stupeur devant autant d'inconsciente audace, devant autant d'hormones en liberté pas surveillée".
Le film lui a aussi permis de rencontrer l'amour: Dorothy devient la maîtresse d'Otto Preminger qui, de son côté, est marié. Leur relation va durer quatre ans, au bout desquels Dorothy mettra fin, réalisant que les promesses de Preminger de quitter sa femme ne seront jamais réelles et après que Preminger l'ait obligé à avorter par peur du scandale.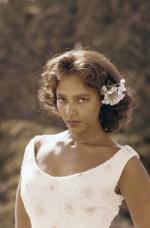 Le 15 février 1955, Dorothy signe un contrat de trois films avec la Fox, avec l'appui du grand patron des studios Darryl F. Zanuck, lui permettant de gagner 75 000 $ par film. Zanuck veut faire d'elle la première icone afro-américaine du cinéma. Dorothy est en lice pour de grands rôles: le remake du film The Blue Angel, reprenant le rôle de la chanteuse Lola, tenu jadis par Marlene Dietrich, ainsi que dans le remake de Under Two Flags, dans des adaptations entièrement afro-américaine. Elle accepte le rôle de Tuptim dans The King and I, et un rôle dans The Lieutenant Wore Skirts. Mais, suivant les conseils de Preminger lui indiquant que ces films sont indignes d'elle, elle décline donc les offres, ce qu'elle regrettera plus tard.
Elle fait son retour au cinéma en 1957, dans le film Island in the Sun, donnant la réplique à James Mason, Joan Fontaine, Joan Collins, et retrouvant encore Harry Belafonte. L'histoire controverse raconte l'amour entre une indienne (jouée par Dorothy) et un homme blanc (joué par John Austin) et le script a été remanié plusieurs fois afin de respecter les codes imposés par les studios concernant les relations inter-raciales. Côté coulisses, Dorothy et John Austin vont entamer une liaison. Malgré la controverse et les critiques négatives, le film rencontre un très grand succès.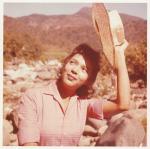 Elle joue ensuite dans une production italienne, Tamango, face à l'acteur allemand Curd Jürgens avec qui elle vit une romance sur le tournage. En 1958, elle redonne la réplique à James Mason dans The Deck Ran Red, puis joue dans la super production hollywoodienne Porgy and Bess réalisée par Preminger avec Sidney Poitier et Sammy Davis Jr.
En 1959, elle joue dans un thriller britannique à petit budget, Malaga. La publicité autour du film annonce que c'est la première fois qu'une actrice noire embrasse un acteur blanc (ce qui est erroné, car c'est le film Tamango qui montre pour la première fois un baiser entre une noire et un blanc, entre Dorothy et Curd Jürgens); mais Dorothy et son partenaire Trevor Howard créent une tension sexuelle sous-jacente sous la direction de Laszlo Benedek et le film sera interdit dans les salles américaines jusqu'en 1962.
Elle joue avec James Coburn dans The Murder Men (1961 - qui sera ensuite intégré en épisode de la série télévisée Les Barons de la Pègre). En 1962, Christian-Jaque l'engage avec Alain Delon pour tourner un Marco Polo qui reste inachevé.
Le 22 juin 1959, Dorothy épouse en secondes noces le restaurateur Jack Denison (voir photo ci-contre). Une relation décevante: il la dépouille de sa fortune et ils divorcent en 1962 après des accusations de violences domestiques.
À cette époque, elle découvre que les personnes chargées de gérer ses finances l'ont déjouée de 150 000 $ et qu'elle avait 139 000 $ de dettes pour les arriérés d'impôts. Elle vend alors sa maison d'Hollywood et place sa fille dans un établissement psychiatrique d'état à Camarillo, en Californie, et emménage dans un petit appartement au 8495 Fountain Avenue à West Hollywood, en Californie.
Rencontrant de multiples déboires, tant sur le plan professionnel que personnel, elle décide de reprendre en main sa carrière de chanteuse. Le 9 septembre 1965, il est prévu qu'elle prenne l'avion pour New York, où elle doit faire son retour sur scène au Basin Street East.
Le 8 septembre 1965, elle discute au téléphone avec sa belle-soeur et amie Geraldine "Geri" Branton qui racontera que Dorothy évitait d'exprimer son espoir pour l'avenir de chanter People dans son intégralité (chanson de 1964 de Barbra Streisand) et de faire cette remarque énigmatique avant de raccrocher: «Quoi qu'il arrive, je sais que vous comprendrez.»
Plusieurs heures après cet appel, Dorothy est retrouvée morte, allongée nue au sol de sa salle de bain avec un turban bleu sur la tête, par son manager Earl Mills qui a forcé la porte pour rentrer. L'institut de pathologie de Los Angeles conclut que la cause de son décès est un accident vasculaire cérébral à la suite d'une overdose de médicaments (des antidépresseurs), alors que le coroner de Los Angeles parvient à une conclusion différente: décès du à une rare embolie d'obstruction du flux sanguin aux poumons et au cerveau, par de minuscules morceaux de graisse s'écaillant de la moelle osseuse dans le pied droit qu'elle s'était fracturée cinq jours avant sa mort.
Earl Mills déclarera que «La vie de Dorothy n'a été qu'une suite d'épreuves plus douloureuses les unes que les autres. Chaque fois elle perdait un peu plus pied. Il n'y avait pas d'issue, elle le savait.»
Dorothy avait 42 ans. Incinérée, ses cendres sont dispersées dans le Freedom Mausoleum du cimetière Forest Lawn Memorial Park à Glendale (en Californie).

---
Dorothy Dandridge est une référence dans la culture américaine, et bon nombre des personnalités noires américaines lui rendent désormais hommage: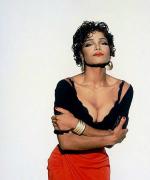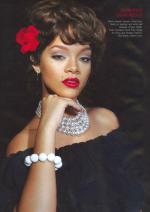 Beyoncé / Janet Jackson / Rihanna
En 1999, un biopic est réalisé pour la télévision "Introducing Dorothy Dandridge" ("Dorothy Dandridge, le destin d'une diva") avec Halle Berry dans le rôle titre, et récompensé par des Emmy Awards et Golden Globes:
---
Marilyn et Dorothy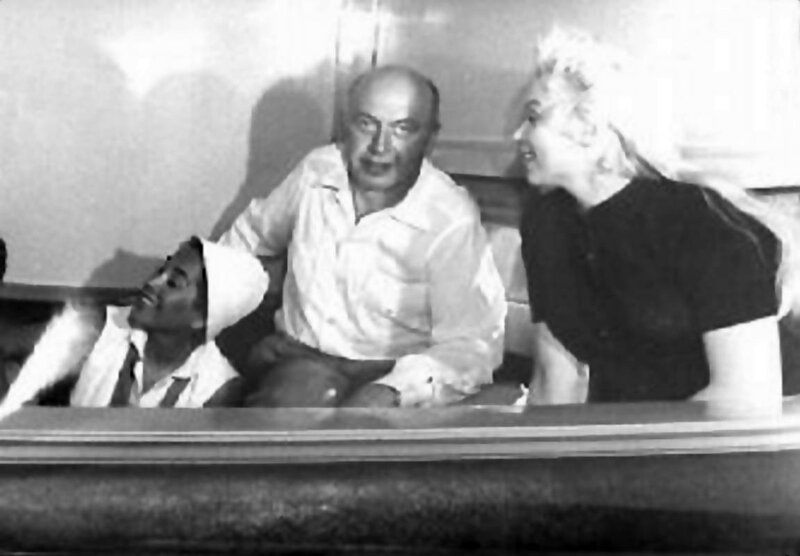 Dorothy Dandridge, Otto Preminger, Marilyn Monroe
L'amitié entre Marilyn Monroe et Dorothy Dandridge reste un fait peu connu. Non relaté dans la presse d'époque, du à la ségrégation et au racisme -où les blancs étaient séparés des noirs- le lien entre les deux actrices est aussi peu décrit dans les biographies consacrées à Marilyn; tandis que l'on trouve plus d'information dans les livres consacrés à Dorothy.
Dorothy est surnommée la "Black Marilyn" (la "Marilyn noire") par les médias et la communauté noire de l'époque, de par leur sex-appeal et leur vie au destin tragique.
Marilyn Monroe rencontre Dorothy Dandridge à la fin de l'année 1948 pendant les cours d'art dramatique de l'"Actor's Lab" à Hollywood, que Marilyn a commencé à suivre en 1947. Elles se soutiennent lors des auditions (Dorothy, anxieuse et impatiente, apprécie la patience et la gaité de Marilyn) et s'appellent souvent au téléphone, discutant de leur carrière, des hommes et du racisme à Hollywood. Elles vont souvent ensemble à des fêtes privées à Los Angeles, parfois accompagnées d'Ava Gardner, une autre amie de Dorothy.

Ava Gardner et Dorothy (1953)
En 1952, quand Marilyn emménage à Hilldale Avenue, dans le West Hollywood, Dorothy est en quelque sorte une voisine de Marilyn, car elle habitait plus bas dans la même rue, dans un duplex qu'elle partegeait avec son petit-ami Phil Moore, un musicien de jazz, compositeur et professeur de chant pour les actrices, qui travaillait aussi en répétition avec Marilyn (en 1948 pour 'Ladies of the Chrorus' ). Marilyn se rendait ainsi souvent chez Dorothy, pour prendre des cours avec Phil Moore, où son piano est installé à l'étage: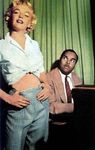 Phil Moore avec Dorothy Dandridge (1951) / Marilyn Monroe (1948 et 1951)

Le 3 août 1952, Marilyn se rend chez Dorothy pour se préparer à la fête de Ray Anthony, en la présence du photographe Phil Stern, qui prendra des photos à la fête.
Eté 1953, sur le tournage de River of no return (La rivière sans retour) à Jasper au Canada,, Dorothy qui accompagne 'officieusement' son amant Otto Preminger, retrouve Marilyn. Les acteurs, Preminger et Dorothy sont photographiés dans les coulisses (les seules photographies montrant Dorothy en compagnie de Marilyn):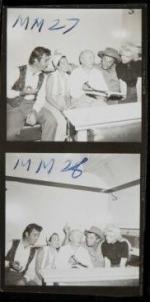 Rory Calhoun, Dorothy Dandridge,
Otto Preminger, Robert Mitchum et Marilyn
Le 15 septembre 1954, pendant que Marilyn tourne la scène de la robe de The Seven Year Itch (Sept ans de réflexion) à New York, Joe DiMaggio, entraîné par le chroniqueur Walter Winchell, va découvrir sa femme affoler le public majoritairement masculin lorsque sa robe blanche se soulève faisant découvrir ses jambes et sa culotte. Le soir à l'hôtel, le couple se dispute violemment. Quand la décision du divorce est prise, Marilyn téléphone aussitôt à Dorothy et les deux femmes vont pleurer ensemble. Dorothy va même proposer à Marilyn de venir à New York pour lui apporter son soutien.
En 1956, Dorothy souhaite obtenir le rôle de Cherie dans Bus Stop (Arrêt d'autobus) et supplie Darryl Zanuck de le lui donner. C'est Marilyn qui aura la rôle.

Quand Dorothy apprend le décès de Marilyn, elle en est dévastée.
Dorothy meurt dans l'appartement D2 de l'immeuble "El Palacio Apartments", au 8495 Fountain Avenue, qui est l'immeuble où a vécu Marilyn pendant quelques mois en 1947.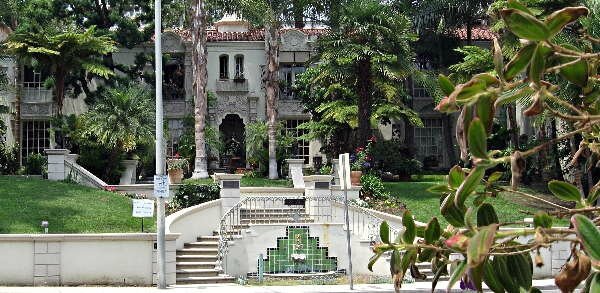 El Palacio Apartments
Dorothy a confié à son manager Earl Mills que
- "Marilyn était un sex-symbol mondial mais je pense qu'elle n'aimait pas être ça. En plus, elle pensait ne pas être un bon coup au lit. Elle avait toujours de la peine pour toute sorte, donc faire l'amour pour Marilyn était souvent douloureux. Vous ne pouvez pas apprécier le sexe de cette manière."
- "Ce qu'elle voulait chez un homme n'existe pas. Elle avait le sentiment qu'un homme bien pourrait guérir tous ses maux, ses insécurités, ses doutes. Il pourrait la protéger de tous les troubles du monde. A chaque fois qu'elle rencontrait un homme dont elle pouvait tomber amoureuse, elle pensait que c'était cet homme qui pouvait faire toutes ces choses. Donc elle se mariait ou engageait une relation emplie de grands espoirs. Là, l'homme n'avait pas la possibilité de répondre à ces attentes. De plus, il ne savait pas ce qu'elle attendait de lui. Si il l'aurait su, peut être que ça aurait fonctionné. Mais si il finissait par lui demander, Marilyn ne savait pas dire ce qu'il fallait faire pour combler ce vide."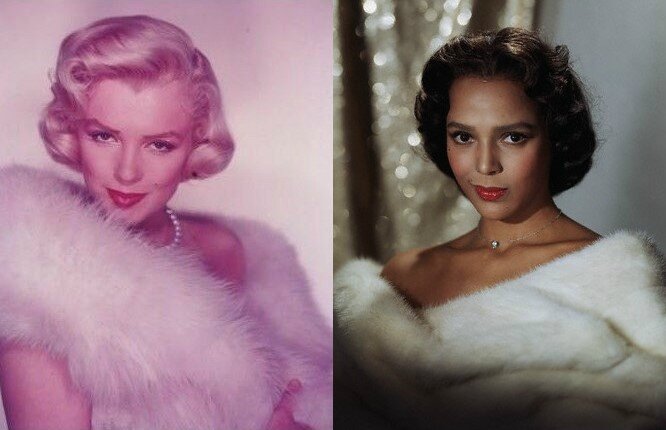 ---
>> sources:
biographie en anglais sur wikipedia
biographie en français sur wikipedia
blog Dorothy Dandridge, Angel Face sur coppercoloredgal
photographies sur The Red List / LIFE / Doctor Macro
livre "Dorothy Dandridge: An intimate Biography" de Earl Mills (extrait sur Google Books)
forum EverlastingStar
article "The frienship of Marilyn and Dorothy" sur le blog thegentlemensfoundation
article "Encounters with Racism - Travilla, Marilyn and Dorothy" sur le blog travillastyle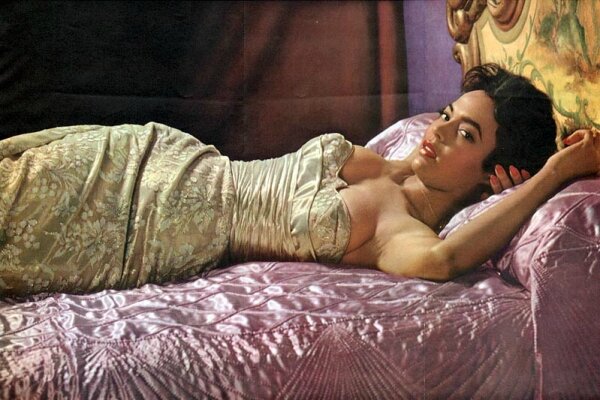 - video documentaire / biographie en anglais -

---
© All images are copyright and protected by their respective owners, assignees or others.
copyright text by GinieLand.
Enregistrer
Enregistrer
Enregistrer
15 janvier 2017
The Lost Footage of Marilyn Monroe
That film image of Ms. Monroe's skirt rising high in a gust of air? It's a reshoot of a discarded and more risqué scene seldom seen until now.

published in January 13, 2017
by HELENE STAPINSKIJAN
en ligne sur nytimes.com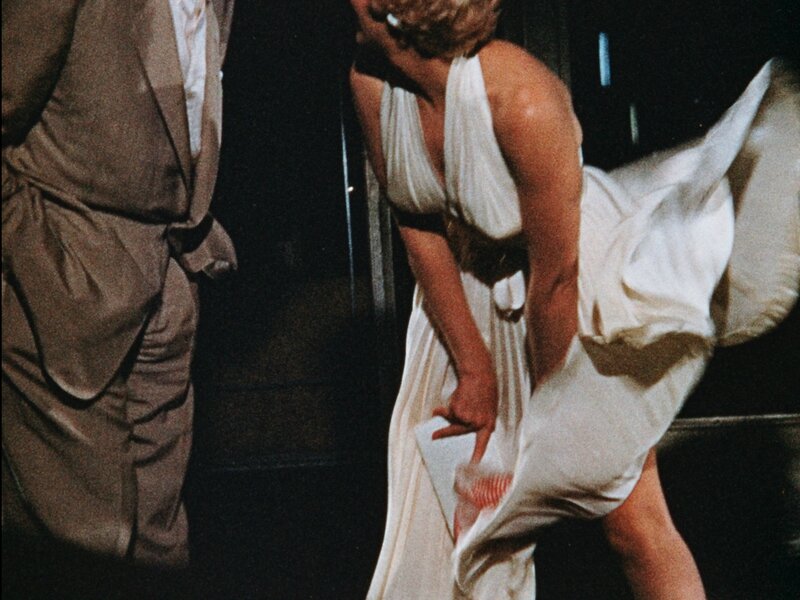 A still of Marilyn Monroe filming "The Seven Year Itch" on the Upper East Side from the found footage of Jules Schulback, a furrier and avid taker of home movies.
Credit Jules Schulback, via Bonnie Siegler
It happened one night in the late summer of 1954.
Jules Schulback, a New York furrier and taker of home movies, heard that Marilyn Monroe would be on the Upper East Side of Manhattan filming scenes again for her new picture, "The Seven Year Itch." Two days earlier, Mr. Schulback had taken footage of her with his 16-millimeter Bolex movie camera around the corner from his townhouse apartment.
So he grabbed the camera — the one usually used for family picnics and parades and the stuff of everyday life — and headed over to the subway grate in front of Wright's Food shop, just down the street from the Trans-Lux movie theater on Lexington Avenue and 52nd Street.
Though it was around 1 a.m., a large crowd had already gathered, mostly newspaper photographers and curious men waiting to see Marilyn. The movie studio and the director, Billy Wilder, had counted on this, inviting the press and the public to drum up buzz for the new movie, which starred Ms. Monroe as "the Girl Upstairs," who entices a middle-aged executive, played by Tom Ewell, while his wife is away with the kids for the summer.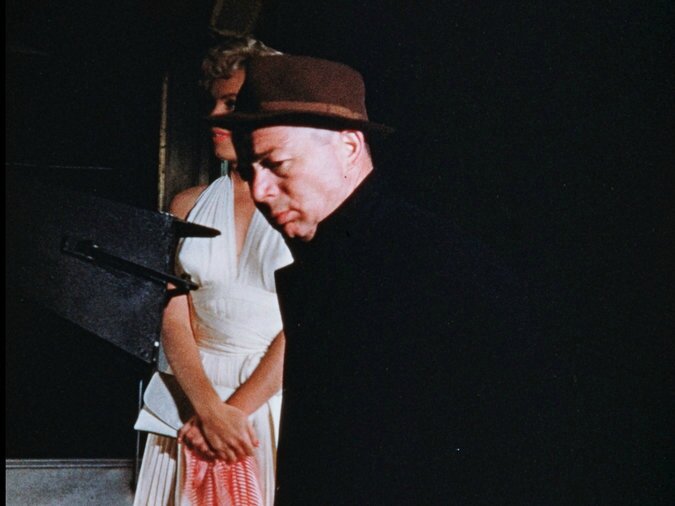 Mr. Schulback captured Billy Wilder, the director of "The Seven Year Itch,"
with Ms. Monroe in the background in her famous dress,
accessorized by a white clutch and a red-and-white scarf.
Credit Jules Schulback, via Bonnie Siegler
In the famous street scene, the two are leaving the movies as Ms. Monroe pauses over a grate to enjoy the breeze from the subway as it blows up her dress on a hot summer night. "Isn't it delicious ?" she purrs. The breeze came from a large fan under the grate operated by the film's special effects chief. The night — Sept. 15 — was actually quite chilly. But the stunt worked. It became known as "the shot seen around the world."

But there was a dark subtext to the comedy. Gathered at that late hour were hundreds of gawkers, almost all men, who catcalled and yelled things like, "Higher! Higher !" as Ms. Monroe's dress blew up over her head. For two hours, the men watched from surrounding buildings and from the street.
"Unfortunately, one of them was her husband, Joe DiMaggio," Mr. Wilder is quoted as saying in his biography, "Nobody's Perfect." "And he didn't like what he saw, or what everyone else was seeing."
Mr. DiMaggio hadn't planned on visiting the set that night, and was waiting for his wife at the St. Regis Hotel, where the couple were staying. But the columnist Walter Winchell had persuaded him to come along. Ms. Monroe was not happy her husband had shown up. But he was even more unhappy and angrily stormed off. Later that night the couple had a screaming fight in their room. The next morning, her hairdresser covered up Ms. Monroe's bruises with makeup. Three weeks later, Ms. Monroe filed for divorce.

Mr. Wilder never used the Lexington Avenue footage and reshot the scene on a closed lot in Hollywood, though photographs of that night appeared everywhere. Except for some brief, grainy shots from a newsreel covering the divorce, footage from that night was never screened.
"The footage immediately disappeared," Mr. Wilder said in the biography. "But one day I'm sure some film scholar will dig it up."

A filmstrip discovered in a shopping bag filled with home movies offers a rare glimpse of
Marilyn Monroe in color in New York.
By JULES SCHULBACK, VIA BONNIE SIEGLER
The story of the night Marilyn Monroe's white halter-top dress blew up was well known among Jules Schulback's children, and even among his grandchildren. His granddaughter Bonnie Siegler said he bragged from time to time about his personal film shoot with Marilyn.
"He was a real raconteur," said Ms. Siegler, a graphic designer who runs her own company, Eight and a Half. "I didn't know if the story was real." But even though she had never seen it, she often told people that her grandfather had footage of Marilyn Monroe on the subway grate.

Ms. Siegler's older sister, Rayna Dineen, said her grandfather, whom they called Opi (a German term of endearment), was rarely without his camera. "He would be filming everywhere, all the time." There were reels of vacations, family picnics, birthday parties and bar mitzvahs. He had even filmed a 12-minute day in the life of his daughters, depicting them waking up, brushing their teeth and going to school.
"But the Marilyn story was one of his favorite stories to tell," Ms. Dineen said.
It was just one of dozens of amazing tales. Mr. Schulback had a long, technicolorful life, one so filled with drama that his Monroe story sometimes seemed like a footnote.

In 1938, Mr. Schulback had argued with his family in Germany that Adolf Hitler was much more dangerous than anyone thought. According to Ms. Siegler, his family believed that Hitler's hate speech was simply rhetoric, and that he wouldn't act on anything he was saying. Mr. Schulback, 25 at the time, urged them to pack their bags and leave Berlin with him. But they resisted, opting to wait and see how things developed, never imagining the horror that awaited them and millions of other European Jews.
Mr. Schulback was not taking any chances.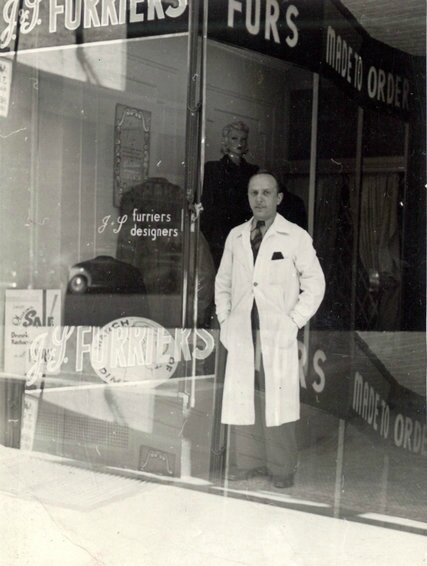 Mr. Schulback was a furrier by trade. He chronicled his family and the odd serendipitous moment in his neighborhood — such as Marilyn Monroe on location — with his 16-millimeter Bolex movie camera.
In 1938, Jews immigrating to the United States needed a sponsor, someone to take financial responsibility for them. Mr. Schulback sold everything he had, bought an expensive suit, booked passage on the Queen Mary, reserved a room at the Plaza and headed to America to find a sponsor for him and his wife, Edith, and their daughter Helen, who was then a toddler.

"He was like: 'I'm your lost, rich relative. I won't be a burden.' But he had no money. He played it," Ms. Siegler said. He secured a signature, then returned to collect his family, but was stopped trying to enter Nazi Germany by a suspicious border guard. Knowing the Germans were big fans of the 1934 Clark Gable hit, "It Happened One Night," Mr. Schulback told the guard he was the distributor for Mr. Gable's new movie. He claimed that if he couldn't enter the country, neither would the film. "The guy was like, 'Oh, we love Clark Gable,' and waved him through," Ms. Siegler said.

Mr. Schulback grabbed Edith and Helen, again imploring his other relatives to leave, and escaped back to the United States with a few suitcases, claiming to the Nazi immigration officers that his family was going on vacation. The date was Nov. 8, the day before Kristallnacht.

In Berlin, he had been a furrier, and his shop was destroyed that night. His remaining family — four sisters, parents and in-laws — would all perish in the Holocaust.
The United States was good to Mr. Schulback. He and his family lived a happy, successful life in New York, much of it preserved in his home movies.

As a child, Ms. Siegler loved going to her grandfather's Upper East Side apartment not just because of his great stories and sense of humor, but also because he lived opposite the New York Doll Hospital. From his apartment window, she could see the buckets of doll eyes and doll arms. "It was really intense," she said.

When Edith had a stroke in the 1970s, she was given only a few weeks to live. But Mr. Schulback, always a man of action, refused to let his wife die in the hospital and took her home. The couple moved into the ground-floor apartment of a building around the corner, and Mr. Schulback became her nurse. "Half her body was paralyzed, she couldn't speak," Ms. Siegler said. "But he loved her and took care of her for 26 years until she finally died."

After 35 years in that same apartment, Mr. Schulback — who had been president of the 61st Street Block Association — was forced to leave. The Andrew W. Mellon Foundation had bought the townhouse where he lived and the one behind it and wanted to reconfigure the property. So Ms. Siegler and her husband, Jeff Scher, helped move her 92-year-old grandfather to a new place on the other side of Central Park.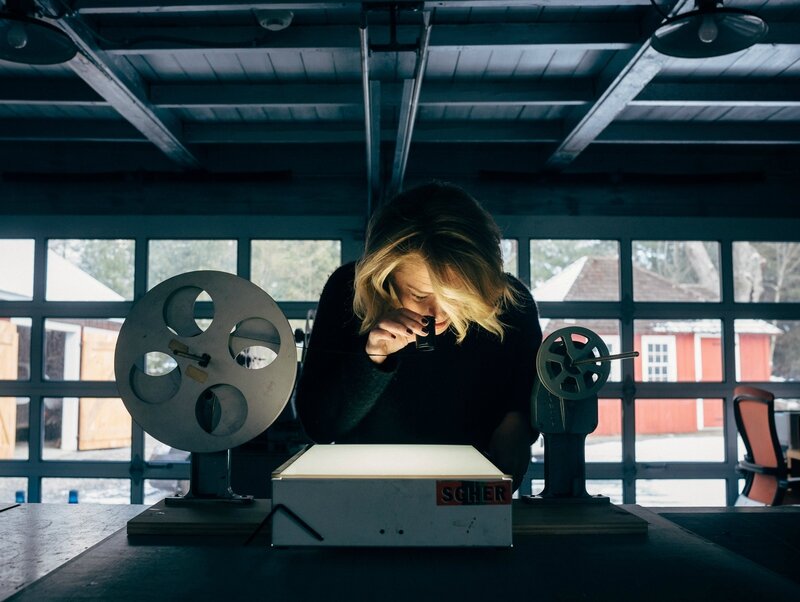 Bonnie Siegler examines film of Ms. Monroe taken by Mr. Schulback,
who was her grandfather, over a light box in her studio.
Credit Ryan Christopher Jones for The New York Times
In 2004, in the arduous packing up of Mr. Schulback's home, the couple came across a big stash of film. It was stored in a back room that the family called "Opi's fur room," where Mr. Schulback had once assembled garments from animal pelts for his business. "No one ever wanted to go back there," Ms. Siegler said. "But when we went in, we found this plastic bag filled with just tons of film, home movies, bought movies and everything mixed together."

Ms. Siegler's husband, an experimental filmmaker, couldn't wait to screen the films. He was particularly interested in seeing whether Marilyn and the subway grate footage actually existed. "It was like this family myth," Mr. Scher said. "So long rumored and never confirmed."

The same was true for its source material. For decades, innuendo swirled around the Lexington Avenue shoot for "The Seven Year Itch." Ms. Monroe and Mr. DiMaggio had married that January and had already had a bumpy ride, the Yankee Clipper enraged by her exhibitionism and by rumors of infidelity, according to Lois W. Banner, the author of the 2012 biography "Marilyn: The Passion and the Paradox."
"She was having an affair with her musical director at the time, and everyone knew about it in the business," said Dr. Banner, a professor emeritus of history and gender studies at the University of Southern California. So before he even arrived on set, there was tension. "DiMaggio," Dr. Banner said, "was not happy with Marilyn."

There are several theories as to why the footage from that night was never used. Some believe the Manhattan shoot was done purely as a publicity stunt, which was made even more sensational when Mr. DiMaggio showed up. Some biographers say the enthusiastic crowd was just too noisy, making the film unusable.
A third theory was that the footage was too risqué and Ms. Monroe wanted to shoot a more demure version, so as not to further infuriate her husband. There was even talk at the time that she wasn't wearing any underwear. Mr. Wilder tried to put those rumors to rest in his biography. She had put on not just one, but two sets of underwear, he said.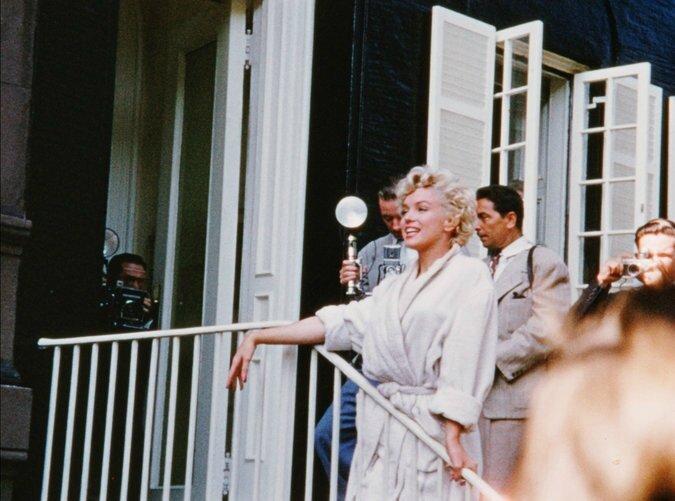 Before the billowing-skirt scene, Mr. Schulback filmed Ms. Monroe in a terry robe
greeting fans and members of the press on the stoop of 164 East 61st Street.
Credit Jules Schulback, via Bonnie Siegler
Dr. Banner said all three reasons quite likely played into the final decision to reshoot. "But the photographs of that night had gone viral by the time the film was being put together," she said, "and played a great role in her fame." The skirt-blowing scene used in the finished film is incredibly brief and tame. The image many people have of that moment comes from the press shots and publicity stills in New York, and not from the finished movie.

Back in the pelt room of Mr. Schulback's apartment, Mr. Scher excitedly gathered up the old metal film canisters. None were labeled, Mr. Scher recalled. Some of the film was off the reel and sitting there like big balls of spaghetti, as if there had been a projector mishap years ago.
Later that night in his studio in the couple's apartment on West 16th Street, Mr. Scher slowly and carefully wound the film, since some of it was very brittle and in danger of breaking. He did a few repairs and then began looking at it using a light box, spooling it from reel to reel by hand. There were about 50 rolls of 16-millimeter film and around 75 rolls of 8 millimeter.
There were the family outings and parades. The birthdays and bar mitzvahs.
And there, amid the mundane scenes of precious everyday life, was Marilyn Monroe, in crisp, colorful Kodachrome. "This stuff just popped out," Mr. Scher said. "It was real! Preserved like the home movies are, too. Just these moments in time."
Mr. Scher could clearly see the actress's dress billowing up. "Like a parachute with a pair of legs attached," he said. "It was startling. Like seeing a myth materialize."
It was a shadow version of lost footage amid home movies of a family that almost certainly wouldn't have existed had the Schulbacks stayed in Germany.

Ms. Siegler zeroing in to Ms. Monroe by using a photographer's loupe.
The Schulback footage has been seldom seen since it was taken in 1954.
Credit Ryan Christopher Jones for The New York Times
Mr. Scher called out to his wife: "It's really here!" They watched all 3 minutes 17 seconds in amazement.
"There was something so magical about it," Ms. Siegler said. "For years I didn't know if it was real. I certainly didn't believe it wholeheartedly. And there it was. It was like the end of the story."
The film starts with a spliced-in intertitle that reads "World Premiere," Mr. Schulback's little inside joke.
And then there is Marilyn Monroe, in a white terry robe, coming down the stoop of a white-shuttered building at 164 East 61st Street, between Lexington and Third Avenues. It was the earlier scene — before the subway grate footage — that Mr. Schulback had shot. Cameramen and press photographers are gathered outside as the actress smiles and waves.

Cut to Ms. Monroe in a second-floor window wearing a slip and blow-drying her hair. Mr. Ewell walks down the street and into the building. The film cuts inexplicably to 30 seconds of what must be a Shriners parade in Manhattan, then jumps to another intertitle, which reads "Our Baby."

And suddenly, there is Ms. Monroe again, this time on the subway grate in that famously fluttering white dress, holding a matching white clutch in her right hand and a red-and-white-striped scarf in her left.

Mr. Schulback was incredibly close, filming right behind Mr. Wilder's shoulder, stopping to wind his hand-held camera every 25 seconds. Now and then, a silhouette of the director's arm intrudes into Mr. Schulback's crystal-clear shot. At one point Mr. Wilder, in a fedora, passes across the frame. Ms. Monroe gets into position and yawns, while the cinematographer sets up the camera. Through a gap in the film crew, Mr. Schulback captures just her face, looking off to the left, serious and unsmiling.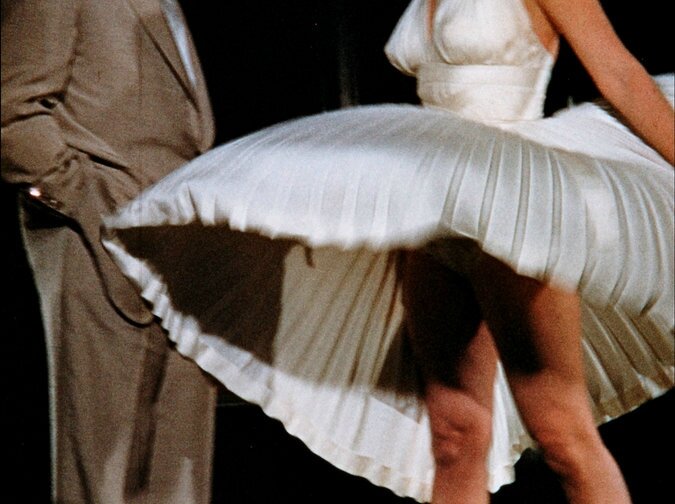 Another skirt-goes-wild still from the Schulback footage.
Credit Jules Schulback, via Bonnie Siegler
Then Mr. Ewell is there, chatting with Ms. Monroe, who pushes him into position. The dress flutters again, Ms. Monroe holds it down, bending slightly, smiling and talking to Mr. Ewell, but it flutters up some more and she laughs, her head thrown back. It blows up again, but she doesn't push it down this time, and it flies up over her head, clearly revealing two pairs of underwear that, because of the bright lights, do not protect Ms. Monroe's modesty quite as much as she might have liked.

Then, as suddenly as she appeared, Marilyn is gone, and the film reverts to home-movie mode: Edith Schulback walking on the grass at a family outing in the country. It's like being shaken from some crazy dream, back to reality.
Interest in that moment in film history from more than 50 years ago endures. The new movie musical starring Ryan Gosling and Emma Stone, "La La Land," makes brief filmic reference to it in the opening number, with a young dancer's yellow dress blowing up. And a Snickers commercial from the Super Bowl last year stars Willem Dafoe, Eugene Levy and a computer-generated Monroe on the famous set. "It's that iconic image," said Dr. Banner, the Monroe biographer. "People are still fascinated by the context in which it all happened."

After screening the film with her husband, Ms. Siegler immediately told her grandfather that she had found the footage. "I was so excited about it — more for the reason that his story was true." She shrugged. "But he never had any doubts." Mr. Schulback moved in 2005 and died six months later.
Ms. Siegler and Mr. Scher made a print and screened it for about 100 people in 2004 at the upstate home of their friends Kurt Andersen and his wife, Anne Kreamer. The two couples had started a small film festival for neighbors and friends, hanging a sheet on the side of a barn and serving popcorn, ice pops and beer.
The people in the audience that summer night had no idea what they were in for.
"That scene is one of the most iconic scenes in American cinema," said Mr. Andersen, an author, radio host and a founder of Spy magazine. "So to have film of it actually being shot, it's like watching the Zapruder film. It's just extraordinary."
The crowd that evening sat in silence as Marilyn Monroe's dress blew up on the side of the barn. "People were gob-smacked," Mr. Andersen said. "They were like, 'What did I just see ?'"

That was the only time anyone outside the family had seen the film. Until now.
Correction: January 13, 2017
An earlier version of this article misspelled the surname of the writer who screened the Marilyn Monroe home movie in his backyard. He is Kurt Andersen, not Anderson
---
> video 1

> video 2 (plans en rapproché)

captures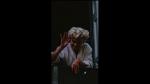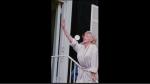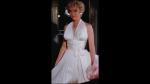 > captures dans les articles du blog:
screen caps on the articles in the blog:
13/09/1954 Sur le tournage de The Seven Year Itch 15 - partie 2
13/09/1954 Sur le tournage de The Seven Year Itch 15 - partie 1
15/09/1954 NYC - Sur le tournage de The Seven Year Itch scène 11
01 novembre 2016
---
Documents papiers - MM Prod.
Papers documents - MM Prod.

---
Lot 312: MARILYN MONROE SIGNED CHECK TO THE IRS
A check signed by Monroe in blue ink, with bank stamp dated November 16, 1959, paid to the "District Director of Internal Revenue" in the amount of $10,947.60. The check is drawn on her Marilyn Monroe Productions, Inc. account with Colonial Trust Company. Calculating for inflation, this amount would be in excess of $90,000 in 2016.
3 by 8 1/2 inches
Estimate: $3,000 - $5,000

---
Lot 416: MARILYN MONROE 1958 SIGNED CHECK WITH CORRESPONDING INVOICES
A Marilyn Monroe Productions canceled bank check dated August 22, 1958, in the amount of $42.88, written to Dave Bernstein, signed by Monroe, together with a statement from Dave Bernstein Catering and 10 receipts for food Monroe ordered ranging in date from August 19 through September 4, 1958. Monroe started filming Some Like It Hot on August 4, 1958. This lot is significant in that Monroe and then husband Arthur Miller discovered she was pregnant in October. These receipts possibly detail Monroe's diet at the onset of what would be her final pregnancy. Sadly, she miscarried on December 16.
Estimate: $2,000 - $3,000

---
Lot 474: MARILYN MONROE 1960 SIGNED CHECK WITH CORRESPONDING INVOICES
A Marilyn Monroe Productions canceled bank check dated May 14, 1960, in the amount of $6.20, written to Century Messenger Service, signed by Monroe, together with two carbon copy invoices and an original month-end statement from Century Messenger Service. Both invoices are addressed to Marilyn Monroe Productions, 444 E. 57th Street, #13E, one of which is signed by May Reis, Monroe's secretary.
Estimate: $1,500 - $2,500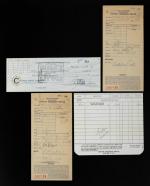 ---
Lot 537: MARILYN MONROE FAN MAIL EXPENSES
An expense report for Marilyn Monroe Productions prepared by Hedda Rosten, with itemized listing of fan mail expenses for June 1962 totaling $66.46. The expenses show that they were reimbursed July 26, 1962.
9 by 6 inches
Estimate: $200 - $300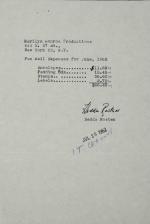 ---
Lot 897: MARILYN MONROE PRODUCTIONS CHECKS AND RECEIPTS
Two checks from Marilyn Monroe Productions Inc. to A.J. Bauer & Co Apothecaries for $8.15 and $17.25, both signed by Milton Greene and dated June 22, 1955, and June 20, 1955; and two related receipts from A.J. Bauer & Co Apothecaries showing the breakdown and balance due.
Checks, 3 by 8 1/2 inches
Estimate: $800 - $1,200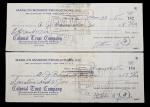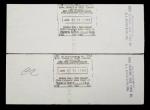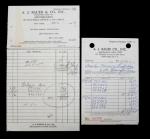 ---
Lot 898: MARILYN MONROE PRODUCTIONS BANK STATEMENT
A Colonial Trust Company bank statement for Marilyn Monroe Productions Inc. for January 1957, showing a series of withdrawals throughout the month with a balance of $47,768.62 on January 1 and $27,671.40 on January 31. There are handwritten calculations are in pencil on verso in an unknown hand. Together with a credit receipt from the same bank dated February 1, 1957, that states that $54.64 was credited back to the account.
10 by 7 inches
Estimate: $600 - $800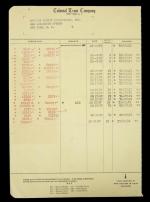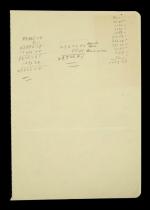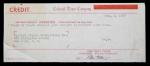 ---
Lot 899: MARILYN MONROE PRODUCTIONS INVOICE
An invoice from Luria's Wine & Spirits in New York City billed to Marilyn Monroe Productions and sent to "Mr and Mrs Paula Lee Strasberg [sic]." The invoice is for 12 bottles of Piper-Heidsieck champagnes totaling $73.08. Together with a statement from Luria's showing $3.55 credit for Marilyn Monroe Productions. Dates unknown.
Larger, 9 by 5 3/4 inches
Estimate: $400 - $600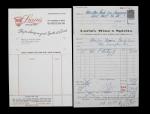 ---
Lot 974: MARILYN MONROE BANK STATEMENT, MARCH 1961
A Marilyn Monroe Productions Inc. bank statement from Bankers Trust Company of New York showing credits and debits for the month of March 1961.
11 by 9 inches
Estimate: $400 - $600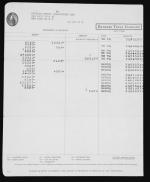 ---
Lot 975: ENVELOPE ADDRESSED TO MARILYN MONROE
An envelope addressed to Marilyn Monroe Productions Inc. The envelope is postmarked January 5, 1961, and is from Magnum Photos Inc. Two "Fragile Handle with Care" stickers are affixed to the envelope. Many of Monroe's most famous photographs were taken by Magnum photographers, including Eve Arnold, Philippe Halsman, and Inge Morath. This item came from the estate of May Reis, Monroe's assistant and private secretary from 1958 to 1961.
12 by 15 1/2 inches
PROVENANCE Partial Lot 120, "Julien's Autumn Sale," Julien's, Las Vegas, October 29, 2005
Estimate: $50 - $100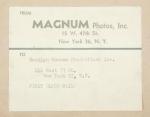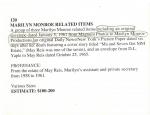 ---
Documents papiers - Carrière
Papers documents - Career

---
Lot 70: MARILYN MONROE PROGRAM FROM PRESIDENT KENNEDY'S 1962 BIRTHDAY CELEBRATION
A program from the fundraising gala titled "Happy Birthday Mr. President" that took place at Madison Square Garden in New York City on May 19, 1962. The event featured Marilyn Monroe's now legendary performance of the song "Happy Birthday" to the president in her form-fitting Jean Louis gown. The program lists the other performers that night and is being sold together with Frieda Hull's ticket from the performance. The ticket cost $10, is numbered 827, and is listed as General Admission and additionally stamped "Standing Room" with right side of ticket torn off.
Program, 10 1/2 by 8 1/4 inches
PROVENANCE From the Estate of Frieda Hull
Estimate: $1,000 - $2,000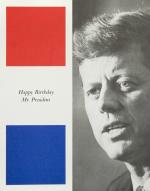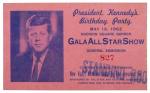 ---
Lot 74: MARILYN MONROE CORRESPONDENCE WITH LESTER MARKEL
A series of letters including five unsigned file copies of Marilyn Monroe's letters to Pulitzer Prize-winning journalist Lester Markel of the New York Times together with five typed, signed letters from Markel on New York Times letterhead. The two had a friendship and an interesting series of communications dated between August 6, 1959, and June 30, 1960, including the now famous letter in which Monroe demonstrates her humor and comprehensive understanding of the politics of their time. On the subject of Fidel Castro, Monroe writes, "Now, Lester, on Castro. You see, Lester, I was brought up to believe in democracy, and when the Cubans finally threw out Battista [sic] with so much bloodshed, the United States doesn't stand behind them and give them help or support even to develop democracy." She also discusses possible presidential candidates and offers slogans for their campaigns in the post script: "Nix on Nixon" and "Back to Boston by Xmas - Kennedy." Two of the five pages of Monroe's file copies contain three drafts of the same letter that is left unfinished.
8 1/2 by 11 inches
PROVENANCE From the Estate of Lee Strasberg
Estimate: $600 - $800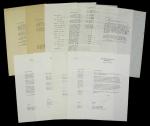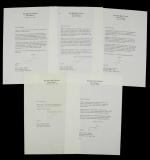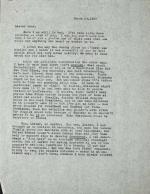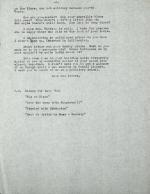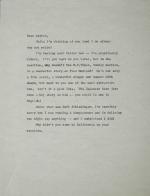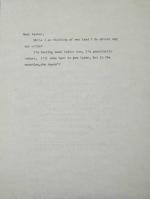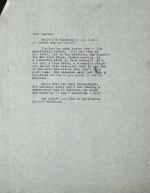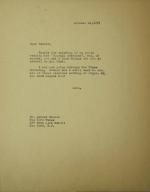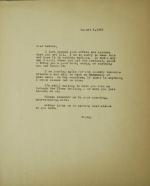 ---
Lot 75: MARILYN MONROE SIGNED TILE FROM PRESIDENT KENNEDY'S 1962 BIRTHDAY CELEBRATION
A pair of celebrity signed ceramic tile displays with inscriptions to event producer Clive David. Each framed display consists of 16 tiles. The top six decorative tiles of each frame combine to read "1962." The remaining 10 tiles of each display are covered with signatures and inscriptions to David, including an inscription from Marilyn Monroe. Monroe's inscription reads "To Clive Love & Kisses Marilyn Monroe" and was obtained by David at the Madison Square Garden birthday celebration of John F. Kennedy held on May 19, 1962. Other performers who signed the tiles at this event include Maria Callas, Jack Benny, Jimmy Durante, Henry Fonda, Bobby Darin, Ella Fitzgerald, Shirley MacLaine, Sally Ann Howes and Dick Adler. Other celebrity signatures include Gloria Swanson; Paulette Goddard; Ray Bolger; Tab Hunter; Hedda Hopper; Una Merkel; Audrey Meadows; Earl Wilson; Ginger Rogers; Olivia de Havilland; Anita Loos; Lucille Ball; Carol Bruce; and Tallulah Bankhead; among others.
Each, 39 by 14 1/2 inches, framed
Estimate: $8,000 - $10,000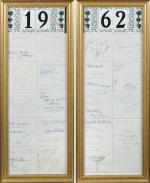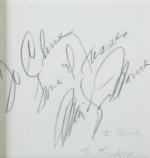 ---
Lot 83: MARILYN MONROE JOHN F. KENNEDY 1962 BIRTHDAY GALA TICKET
A ticket to the May 19, 1962 Birthday Party Gala held for President John F. Kennedy at Madison Square Garden. The ticket is marked for section 112, with a suggested contribution of $25.
3 3/4 by 8 inches
Estimate: $3,000 - $5,000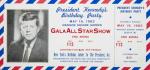 ---
Lot 96: MARILYN MONROE DOUBLE SIGNED 1947 DOCUMENT
A single-page mimeographed letter dated June 11, 1947. The letter was drafted by Twentieth Century Fox Film Corporation for Monroe to sign and reads in part, "Whereas, I did heretofore enter into a personal services contract with you, dated August 24, 1946, and, whereas at that time I was a minor, and whereas I did, on June 1, 1947, become twenty-one (21) years of age, please be advised that I do hereby ratify and confirm all of the terms." The letter is then signed by Monroe in blue ink, both "Marilyn Monroe" and "Norma Jeane Dougherty." Together with a plain associated envelope.
8 1/2 by 11 inches
Estimate: $5,000 - $7,000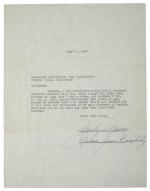 ---
Lot 132: MARILYN MONROE SIGNED 1949 CONTRACT
A standard contract dated March 2, 1949, with the William Morris Agency Inc. for a period of six years with 10% terms. The contract is signed on verso in green ink "Marilyn Monroe." Accompanied by original letter from the agency that accompanied the contract dated March 10, 1949, addressed to Monroe at 1215 Lodi Place in Hollywood, California, reading "Dear Marilyn:/ Enclosed please find executed copies of your authorization with our office. Best regards" and signed Norman Brokaw.
8 1/2 by 11 inches
Estimate: $3,000 - $5,000


---
Lot 156: MARILYN MONROE NOTES WRITTEN ON BACK OF 1952 MENUS
Two menus dated March 26, 1952, featuring notes on verso in blue ink in Monroe's hand that appear to have been taken during a meeting with someone advising her about her career. The menus are dated just 10 days after Monroe's nude modeling shots were made public by the media. Monroe had recently appeared in a number of films in small parts and had received positive mentions from critics. Monroe had just started dating Joe DiMaggio, and she was to appear on the cover of LIFE magazine the following month. This was clearly an important and pivotal period in her career, and it appears as though she was meeting with someone in the industry who gave her counsel. One of the warnings appears to come from Johnny Arnez; Monroe put's his warning in quotations: "you'll have to protect yourself or your throat will be cut/ watch out for Jerry Webb." It continues, "you'll prepare the test & Webb shoots it and if something is wrong it will [be] your fault." A great deal of the notes reference Webb and things he has said behind her back. Berniece Miracle mentions seeing Webb, the test director, in the Fox commissary in the late 1940s when she snuck onto the lot with Monroe to spend the day with her half-sister. The notes also contain thoughts from Monroe reading in part, "I need a great deal of work - and will always/ its the right kind of work/ -the more I will be able to stand on my feet." and "think with your body/ let go physically to ick up emotionally" and "you want me to be a star/ and I can be one of your greatest stars/ when I'm doing the right/ work and know I'm doing." Just over two months after these notes were written, Monroe learned that she had gotten the part of Lorelei Lee in Gentlemen Prefer Blondes.
10 1/2 by 5 inches
Estimate: $4,000 - $6,000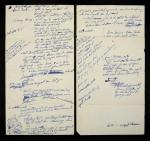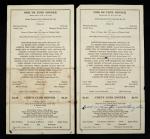 ---
Lot 173: MARILYN MONROE HANDWRITTEN ACTORS STUDIO CLASS NOTES
A single sheet of hotel stationery from the Waldorf Astoria, New York, where Monroe stayed between April and September 1955, with the opening salutation and start of a letter "Dear Art" that has been scratched out. The page is covered on recto and verso with notes, recounting the goings-on in one of Monroe's acting classes with Lee Strasberg. The notes begin with Monroe quoting something said by Strasberg: "I want you all to know that this exercise went on for/ 1/2 hour and her concentration did not/ give way or slip once-and Marilyn there/ will be very few times ever on the/ stage where it will be/ necessary to keep/ such a concentration/ for one half hour/ straight." Monroe then asks herself, "Why did it/ mean so much to me." On the back she continues to ruminate about class, writing, "Strasberg/ it makes me (him he said) feel badly (and sadly) for you that you do/ things out of fear/ You must start to do things out of strength-/ (my question: where do I get the strength)-he said-by not looking for strength/ but only looking & seeking tecnical [sic] ways and means." This presents a fascinating demonstration of how seriously Monroe took her formal acting training in New York.
LITERATURE Monroe, Marilyn, and Bernard Comment. Fragments: Poems, Intimate Notes, Letters. Pages 78-81. New York: Farrar, Straus and Giroux, 2010. 1-237. Print.
10 1/2 by 7 1/4 inches
Estimate: $10,000 - $15,000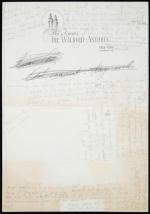 ---
Lot 174: MARILYN MONROE HANDWRITTEN SONG LIST
A single sheet of hotel stationery from the Waldorf Astoria, New York, where Monroe stayed between April and September 1955. The verso of page contains a long list of song titles in pencil with some numeric references to a song standard book. It is presumed these were possibly songs that Monroe wanted to perform.
LITERATURE Monroe, Marilyn, and Bernard Comment. Fragments: Poems, Intimate Notes, Letters. Pages 82-83. New York: Farrar, Straus and Giroux, 2010. 1-237. Print.
10 1/2 by 7 1/4 inches
Estimate: $3,000 - $5,000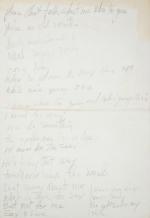 ---
Lot 192: MARILYN MONROE HANDWRITTEN NOTE
A single sheet of unlined paper with serrated left edge and faint coffee mug stain. The page contains pencil notations, including the numbers "262" and "263," which are believed to be references to a collection of song standards, [see Lot 256] and would correspond to "While We're Young" and "Wonderful Guy." The body of the text reads "Dec 11/ See in older journal-/ always admired men who had many women./ It must be that to a child of a dissatisfied woman/ the idea of monogamy is hollow."
LITERATURE Monroe, Marilyn, and Bernard Comment. Fragments: Poems, Intimate Notes, Letters. Pages 164-165. New York: Farrar, Straus and Giroux, 2010. 1-237. Print.
8 by 4 7/8 inches
Estimate: $4,000 - $6,000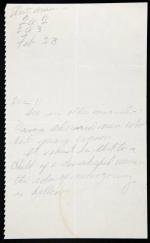 ---
Lot 193: MARILYN MONROE HANDWRITTEN NOTE
A single page torn from a lined spiral-bound notebook, stained in red ink. Presumably torn from the same notebook as the similarly stained pages also included in this sale that also date to 1956. The page contains dialogue from Monroe's film, Bus Stop as she portrays Cherie, who asks Elma for help: "Pardon me I'm sorry to wake you/ But I wonder if you could help/ me/ I'm being abducted/ you know-kidnapped-by-him/ I thought maybe as soon as/ we got some place I'd ask the/ driver to stop and let me off/ But we been driving for hours/ and we still don't seem to be/ nowhere at all-not only that/ but I'm freezing to death-I/ ain't got much on under/ my coat."
LITERATURE Monroe, Marilyn, and Bernard Comment. Fragments: Poems, Intimate Notes, Letters. Pages 166-167. New York: Farrar, Straus and Giroux, 2010. 1-237. Print.
8 1/2 by 11 inches
Estimate: $6,000 - $8,000

---
Lot 194: MARILYN MONROE NOTEBOOK PAGES
Two pages torn from a lined spiral-bound notebook, both stained in red ink. The first page was published in the book Fragments and contains references to "The Sleeping Prince," an early production title for Monroe's film The Prince and the Showgirl, dating these writings to 1956. The notes show Monroe becoming her own task master, reminding herself "don't stop myself," "learn - lines logically," "I can't do more than/ one thing at a time/ make map tonight," and "take my time to think." She instructs herself to make a list of tasks and work on exercises, which perhaps explains the cryptic writings on the second page that did not appear in Fragments, reading in full, "From Ridding partly/ T Nautiousness [sic]/ Place/ personalization (A)/ weariness/ (J)/ (Ar).""
LITERATURE Monroe, Marilyn, and Bernard Comment. Fragments: Poems, Intimate Notes, Letters. Pages 168-169. New York: Farrar, Straus and Giroux, 2010. 1-237. Print.
8 1/2 by 11 inches
Estimate: $3,000 - $5,000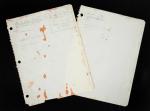 ---
Lot 195: MARILYN MONROE HANDWRITTEN NOTE
A single lined page torn from a Steno notebook with ragged spiral tab top edge. The note in pencil appears to be Monroe jotting down notes regarding the reasons Elia Kazan did not want to cast her In the title role of his 1956 film Baby Doll, written by Tennessee Williams. One of the notes reads "He said that I've become so deified as a sex symbol that public never except [sic] me as a virgin and as a nineteen/twenty year old."
LITERATURE Monroe, Marilyn, and Bernard Comment. Fragments: Poems, Intimate Notes, Letters. Pages 170-171. New York: Farrar, Straus and Giroux, 2010. 1-237. Print.
8 3/4 by 6 inches
Estimate: $3,000 - $5,000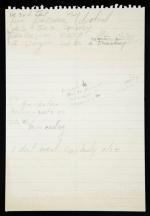 ---
Lot 196: MARILYN MONROE 1960 NOTE FROM THE SET OF THE MISFITS
A single-page letter written in pencil outlining Monroe's thoughts regarding how the film should be shot to convey the presence of Clark Gable's character in the film The Misfits Gay Langland. The note reads in part, "I feel the camera has got/ to look through Gay's/ eyes whenever he is in a/ scene and even when he is/ not there still has to be a sense of/ him/ He is the center and the/ rest move around him."
LITERATURE Monroe, Marilyn, and Bernard Comment. Fragments: Poems, Intimate Notes, Letters. Pages 172-173. New York: Farrar, Straus and Giroux, 2010. 1-237. Print.
8 by 5 inches
Estimate: $4,000 - $6,000

---
Lot 200: MARILYN MONROE HANDWRITTEN NOTE TO LEE STRASBERG
A single page of lined paper from a Steno notebook with doodles of faces in pencil below a quick note about punctuality references Monroe's role as the routinely tardy Miss Lois Laurel in her 1952 film Monkey Business. Below this note is a note in Lee Strasberg's hand reading "Don't be nervous Marilyn/ you are doing swell &/ you look wonderful."
LITERATURE Monroe, Marilyn, and Bernard Comment. Fragments: Poems, Intimate Notes, Letters. Pages 186-187. New York: Farrar, Straus and Giroux, 2010. 1-237. Print.
8 3/4 by 6 inches
Estimate: $4,000 - $6,000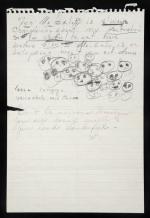 ---
Lot 201: MARILYN MONROE HANDWRITTEN NOTE TO LEE STRASBERG
An undated handwritten note by Monroe to mentor Lee Strasberg, on a single sheet of lined notebook paper torn from a spiral-bound Steno book, reading "Dear Lee/ One of the most personally helpful things I've heard so far in my life was what you said in class Friday afternoon – it was helpful in that I feel as though I'm a little bit freer – also more – I can't think of any I mean by that more relaxed 2 and 2 don't necessarily make 4."
LITERATURE Monroe, Marilyn, and Bernard Comment. Fragments: Poems, Intimate Notes, Letters. Pages 188-189. New York: Farrar, Straus and Giroux, 2010. 1-237. Print.
9 by 6 inches
Estimate: $10,000 - $20,000

---
Lot 203: MARILYN MONROE LETTER TO LEE STRASBERG
A two-page typed letter, signed, to mentor Lee Strasberg, dated December 19, 1961, with original transmittal envelope addressed to Strasberg's Central Park West address, postmarked Beverly Hills Calif. December 21, 1961. The letter, addressed "Dear Lee," asks Strasberg's wife Paula and children Susan and Johnny to consider relocating to California to be part of a new production company Monroe was developing in partnership with fellow Actors Studio alumnus Marlon Brando. The letter is signed in blue ink in Monroe's hand simply "Marilyn."
LITERATURE Monroe, Marilyn, and Bernard Comment. Fragments: Poems, Intimate Notes, Letters. Pages 196-197. New York: Farrar, Straus and Giroux, 2010. 1-237. Print.
Estimate: $7,000 - $9,000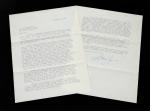 ---
Lot 211: MARILYN MONROE NOTE FROM ROBERT MITCHUM
A typed, signed letter from Darryl F. Zanuck dated December 10, 1953, addressed "Dear Bob:" for Robert Mitchum. The letter thanks Mitchum for his cooperation in connection with shooting retakes for the film River of No Return and in turn apologizes: "I am also very sorry about the delay with Marilyn. We could not possibly anticipate such action." Mitchum has written in quite large letters in blue ink "Dig!!!" above the note, and on verso he has written "Marilyn/ Your girl is my/ girl and my girl is/ you - Ever Bob." The note documents Mitchum's loyalty to Monroe, having first met her when she was married to Jim Dougherty, revealing Zanuck's speaking ill of her.
10 1/2 by 7 1/4 inches
Estimate: $500 - $700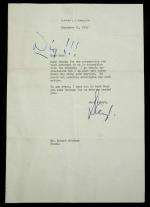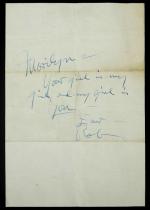 ---
Lot 249: MARILYN MONROE PHOTOGRAPHS AND LETTER FROM REPORTER
A typed letter signed by St . Petersburg Times photographer George Sweers dated March 23, 1961. The letter thanks Monroe for allowing him to ask a few questions and take a few pictures the previous day and goes on to reminisce about spending time with her when she entertained the troops in Korea. He writes, "This, as you probably remember, was the shot we had made on the Eastern Front after the last show." He included two copies of the photograph, requesting that Monroe sign one and send it back to him. Together with both copies of the photos that accompanied the letter.
8 1/2 by 11 inches
Estimate: $400 - $600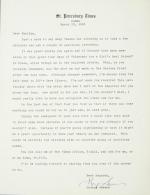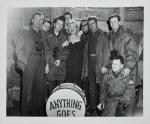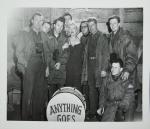 ---
Lot 250: MARILYN MONROE CARD FROM ELLA FITZGERALD
A vintage Hallmark Christmas card, undated, wishing a "Merry Christmas To Someone Nice," signed in blue ink "Ella Fitzgerald." While it is often reported that Monroe helped to get Fitzgerald a booking at the Mocambo club in Hollywood, due in large part to Fitzgerald's own recollections, documentary evidence supports the fact that Monroe actually attended Fitzgerald's performances at The Tiffany Club in 1954.
7 by 6 inches
Estimate: $500 - $700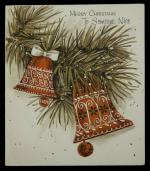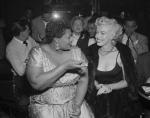 ---
Lot 251: MARILYN MONROE SECRETARIAL MEMO REGARDING ELLA FITZGERALD
A typed memo dated February 15, 1955, on the letterhead of business manager Inez Melson, titled "Memo of conversation with Jo Brooks." Brooks was the husband of Julies Fox, who handled publicity for Ella Fitzgerald, and the memo says that, "A few months back, Miss Monroe visited the Tiffany Club on West 8th Street where Ella Fitzgerald was playing. Miss Fitzgerald talked of a possible future date at the Mocambo and Miss Monroe said when this happened, she would like to give a party for Miss Fitzgerald./ Miss Fitzgerald will open at the Mocambo on March 15 and Miss Brooks wanted to know if Miss Monroe was serious about giving a party." This memo further explains the sequence of events and the fact that Monroe did not in fact play a part in getting Fitzgerald booked at the Mocambo as she stated to the press at one time.
6 1/4 by 7 1/4 inches
Estimate: $100 - $150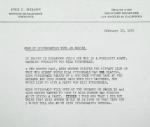 ---
Lot 252: MARILYN MONROE NOTE TO LEE STRASBERG
A small note in pencil in Monroe's hand on the back of a piece of paper taken from a visitor's log. The note appears to be a draft written to accompany a book Monroe was giving to Lee Strasberg as a gift, reading in part, "For Lee/ I wanted to give you something for your library - you are giving me a way in which to work and the hope to be human -/ Love Marilyn." Multiple additions and strikethroughs with changing of wording.
6 by 3 1/4 inches
Estimate: $1,500 - $2,000

---
Lot 253: MARILYN MONROE GIFT NOTE TO PAULA STRASBERG
A small piece of plain white paper folded into a card reading "Dear Paula,/ I'm glad you were born because you are needed./ Your warmth is both astonishing and welcomed./ Love & Happy Birthday/ Marilyn."
6 by 4 inches
Estimate: $3,000 - $4,000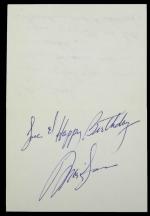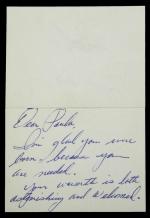 ---
Lot 254: MARILYN MONROE ACTORS STUDIO NOTES
Two sheets of paper from a small spiral-bound planner dated April 3 and 4 as well as a sheet dated April 7 and 8. The pages contain notes in pencil in Monroe's hand reading, for April 3, "Remember - the actors concentration is the only thing between him and suiside [sic]/ try not to come to the scene too late - (exploration - sensory process Home work - after on stage - carry it on (on stage)"; April 4, "Everybody want to be happy (to be good actors) to make money (in my case) and look how miserable we make one another"; April 7, "Nothing can get through tension - what ever you might want to do/ the effort is the only thing the human being (the actor) has between himself and God knows what!"; and April 8, "Just do tecnical [sic] exercises as fully as I can."
3 1/2 by 2 1/2 inches
Estimate: $4,000 - $6,000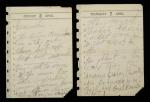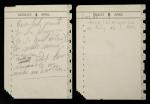 ---
Lot 255: MARILYN MONROE NOTEBOOK WITH NOTES FROM ACTING CLASS
A black board notebook with red spine containing lined notebook paper with notes in Monroe's hand. A very large letter "M" is drawn inside the front and back covers. There are multiple notes written in another hand on the first page of the book, but the next page contains notes in Monroe's hand in pencil with ideas for a "Street Car Scene" reading in part, "begin with ? (1st grade happening Mexican boy accuses me of hurting him - having to stay after school it was nite [sic] outside - have place - concern because of Stan K. accusations plus - getting dress for Mitch trying to look nice especially since what Stan K. has said." The note also suggests she hum "Whispering while you hover near me," which is a song standard found in her notebook of standards in the following lot, only the lyric is "Whispering while you cuddle near me." The front and back of the last page of the book contain notes from acting class, including "during exercise - lee said let the body hang"; "2 exercises at one time/ cold & Touch/ one might not be enough for what's needed"; and "sense of oneself/ first thing a child (human being) is aware of (making a circle) touching ones foot knowing himself is separate from the rest of the world," among others.
8 by 6 1/4 inches
Estimate: $4,000 - $6,000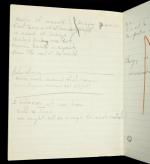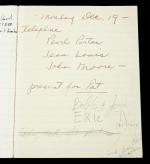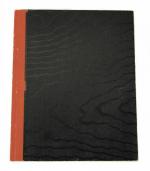 ---
Lot 256: MARILYN MONROE SONGBOOK
A three-ring binder, in black laminated board, both front and back covers detached but present. The binder contains more than 369 indexed pages of song standards with front table of contents page dividing them into broad categories: "Standard Foxtrots and Show Tunes," "Latin American Tunes" and "Foreign Songs." One page has a pencil notation beneath the song "You Do Something To Me" by Cole Porter; the writing is quite small and difficult to identify the hand. It is from this book that certain three-digit numbers mentioned in some of Monroe's notebooks were thought to have originated, like the numbers 262 and 263 in Lot 192.
11 1/4 by 10 inches
Estimate: $400 - $600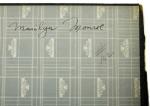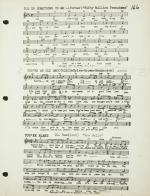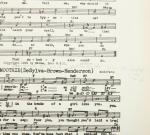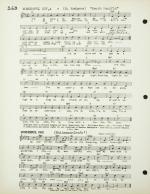 ---
Lot 258: MARILYN MONROE LETTER FROM EDWARD R. MURROW
A single-page typed, signed letter dated November 7, 1955, on Edward R. Murrow's personal stationery addressed to Marilyn Monroe in care of Mr. Green in Weston, Connecticut. The letter was sent in advance of Monroe receiving a complimentary copy of Columbia Records album compilation excerpts from some of Sir Winston Churchill's speeches. The letter is signed "As ever yours, Ed/ Hope you like it!" Together with original transmittal envelope with CBS Radio stamp, postmarked November 7, 1955.
10 1/2 by 7 1/4 inches
Estimate: $300 - $500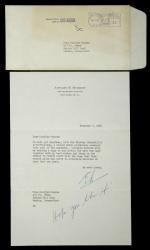 ---
Lot 260: MARILYN MONROE HANDWRITTEN LINES FROM A SCENE
Two lined notebook pages with block letter "MMM" printed to left margin. The pages contain most of the dialogue from Act I, Scene 4, delivered by the character Lorna in Clifford Odets' 1937 play Golden Boy. The second page contains the same lines written out twice and traced over multiple times, likely part of Monroe's process of trying to memorize the lines for a scene performed in one of her Actors Studio classes.
12 3/8 by 8 inches
Estimate: $2,000 - $3,000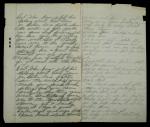 ---
Lot 263: MARILYN MONROE BUS STOP SIDES AND NOTES
A group of 16 pages containing some of Monroe's lines from the film Bus Stop. Five of these pages have the lead in to Monroe's lines added in red ink in another hand, likely Paula Strasberg. Together with a single half page entirely filled with notes in Monroe's hand in pencil and red ink. The notes read in part, "Waking up - scene/ Headache/ tiredness - headache / go to sleep/ I don't want to be here" and "first scene with Vera/ I tell it as a/ told as a fairy tale/ Once upon a time."
5 1/2 by 8 1/2 inches
Estimate: $10,000 - $20,000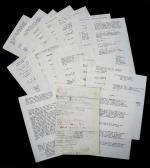 ---
Lot 264: MARILYN MONROE ANNOTATED BUS STOP SCRIPT SIDES
A small bound group of 31 mimeographed half pages containing Monroe's dialogue for the film Bus Stop. Ten of the pages contain notes in Monroe's hand in pencil. Additional notes in the hand of Paula Strasberg and an administrative hand. A note in Monroe's hand on the first page next to lines about her character Cherie wanting to be respected and tired of being "pawed at and pinched at" reads "Fight with manager/ A.M. H. Cohn middle of dinner party" clearly references incidents Monroe wished to draw upon from her life in the scene. Another note in Monroe's hand written beneath the line "Oh - it's you!" reads "(Good God it's you)."
5 1/2 by 9 1/2 inches
Estimate: $10,000 - $20,000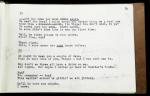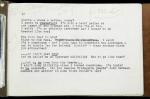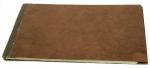 ---
Lot 265: MARILYN MONROE ANNOTATED BUS STOP SCRIPT SIDES
A group of seven half sheets of paper, held together with a straight pin, containing some of Monroe's lines from the film Bus Stop. Six of the seven pages contain notes in Monroe's hand. This is the first film Monroe made after beginning to study at the Actors Studio in New York City with Lee Strasberg, and the notations in these script sides demonstrate her method. Some of the notes are sense memories, like the following notation written after the line "I can't look": "Effective memory (use Lester - hurt on lawn)," most likely referencing Monroe's childhood playmate Lester Bolender, who was in the same foster home with Monroe. Another note adds "(almost to myself)" before a line to inform her delivery or "Scarfe [sic] around my arms) Embarrassed."
5 1/2 by 8 1/2 inches
Estimate: $10,000 - $20,000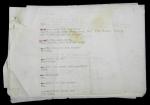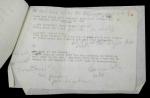 ---
Lot 300: MARILYN MONROE LIST OF APPROVED DIRECTORS
A single piece of hotel stationery paper from The Towers of the Waldorf Astoria in New York City containing a list of directors' names titled "OK List" in another hand with pencil notations in Monroe's hand throughout. Monroe's comments are simple, in some cases listing other works by the director, like "(Bus Stop)" next to Josh Logan's name and "(Musical)" next to "Vincent Minnelli." Jean Renoir is crossed out with a bubble reading "subject to material." A note at the bottom of the page reads "submit other names/ open for suggestions other than these."
10 1/2 by 7 1/4 inches
Estimate: $3,000 - $5,000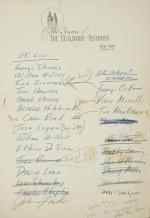 ---
Lot 301: MARILYN MONROE SAG CARD AND RECEIPT
A Screen Actors Guild membership card for the period beginning May 1, 1959, and ending November 1, 1959. "Marilyn Monroe" is typed onto front of card as well as her membership number. Together with Monroe's carbon copy receipt for payment of $80 on May 11, 1959, listing her home address as 444 East 57th Street, New York City.
Card, 2 1/2 by 3 1/2 inches
Estimate: $3,000 - $5,000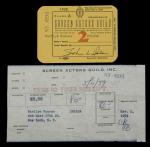 ---
Lot 302: MARILYN MONROE AFTRA CARD AND RECEIPT
An American Federation of Television and Radio Artists membership card for the period ending November 1, 1958, with typed "Marilyn Monroe" on front, unsigned on back. Together with the receipt dated May 23, 1958, for payment of the dues for period ending November 1, 1958, in the amount of $38, which included overdue payment and penalty. Monroe's address is listed as 444 East 57th St. New York on the receipt for payment.
Card, 2 1/2 by 3 1/2 inches
Estimate: $2,500 - $3,500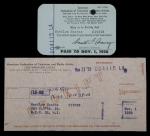 ---
Lot 308: MARILYN MONROE NOTES ON ACTING
A single sheet of lined yellow paper with notes in blue ink, in Monroe's hand, reading in part, "keeping all of the changes of pantomime & grimaces etc inside, then it forces the eyes - it all comes through the eyes" and "Constantly practicing that letting go/ in which you don't do in life which isn't necessary or something/ feeling how it feels and practicing that/ your spirit speaks."
12 1/2 by 8 inches
Estimate: $3,000 - $5,000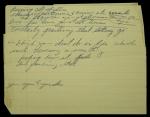 ---
Lot 313: MARILYN MONROE MOTION PICTURE ACADEMY CARD AND CORRESPONDENCE
A series of letters, the first on Academy of Motion Picture Arts and Sciences (AMPAS) letterhead signed by then president George Stevens, dated October 28, 1958, inviting Monroe to become a member of the Academy. The second letter is an unsigned file copy of Monroe's response dated January 12, 1959, reading in part, "I have been indisposed and away and did not see your letter until now." She asks for further details regarding the by-laws. The next letter on AMPAS letterhead is signed by then executive director Margaret Herrick, dated January 19, 1959, accompanied a copy of the Academy by-laws. The last letter, on AMPAS letterhead, signed by Stevens, dated March 5, 1959, welcomes Monroe to the Academy and is accompanied by Monroe's Academy membership card for the year 1959 on the original card, still in the holder in which it was sent.
Largest, 8 1/2 by 11 inches
Estimate: $8,000 - $12,000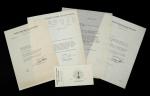 ---
Lot 368: LAURENCE OLIVIER LETTER TO MARILYN MONROE
A seven-page autograph letter on four leaves of paper in the hand of Sir Laurence Olivier on blue stationery with Olivier's Lowndes Cottage address and original envelope addressed "For Miss Marilyn Monroe from L.O." in Olivier's hand. There are numbered notations throughout the letter in red wax pencil, underlining words that were difficult to make out. The letter is together with a three-page typed transcription of the letter with corresponding numbered blanks for each of the difficult words, which have been filled in by hand. The letter is dated simply June 9, and it accompanied the latest version of the script for The Prince and the Showgirl. Olivier discusses Monroe's dialogue and that he has "written some extra dialogue and a direction or two." He reports on where they are in the script writing process and that they have cut the script down from "well over 3 hours" to 2 1/2, to 2 hours 10 minutes. He continues about the scenes that were and were not cut, including "The Duke of Strelitz is, I think essential, as otherwise they will be saying 'what's the matter with them - why the heck can't they get married' particularly in view of Grace Kelly and all that, and our only answer to that question must be 'Yes but Look at the poor Windsors' do you see?"
On an amusing note, Olivier mentions, "By the way Lady Maidenhead has degenerated to Lady Swingdale because I am assured the Hayes Office will not believe there is also a place in England of that name." He closes "I just called up Vivien at the theatre ... and she said to be sure to give you her love. So here it is and mine too. Longing to welcome you here. Ever, Larry."
Largest, 8 1/2 by 11 inches
Estimate: $1,800 - $2,200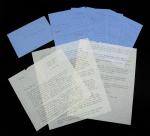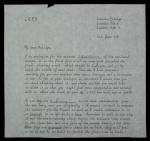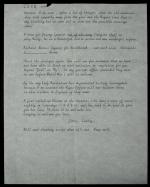 ---
Lot 369: ARTHUR MILLER LETTER TO MARILYN MONROE
A single piece of lined yellow paper, torn in half, with an autograph letter in Miller's hand addressed "Dear Poke." The letter outlines Miller's thoughts about the script for The Prince and the Showgirl as well as his feelings about Monroe taking on the project, reading in part, "Some of your dialogue is stiff. Also some expressions are too British. If you want me to, I can go through the script and make the changes - - in New York./ I think the part - on one reading, is really the Best one ... especially with you playing it. You are the one who makes everything change, you are the driving force ... The basic problem is to define for yourself the degree of the girl's naivete. (It could become too cute, or simply too designing.) It seems to me, at least, that they have not balanced things in Olivier's favor. ... It ought to be fun to do after Bus Stop. From your - (and my) - viewpoint, it will help in a small but important way to establish your ability to play characters of intelligence and cultivation. ... Your loving Papa - (who has to rush now to make the plane - see you soon! - free!) - Art." The back of the page has the name Sydney Guilaroff, famed MGM hairdresser, and his phone number written large in red wax pencil.
8 1/2 by 11 inches
Estimate: $2,000 - $3,000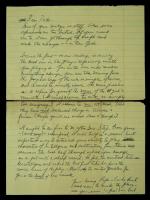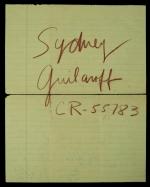 ---
Lot 370: LAURENCE OLIVIER LETTER TO MARILYN MONROE
A single-page autograph letter on personal stationery, undated, from Laurence Olivier to Monroe reading in part, "Dear Marilyn/ It was so sweet of you to send the enchanting wires. … I am extremely excited at our prospects - You were so angelic in New York. Thank you for all your sweetness/ I think with great joy of our future meeting./ Ever, Larry."
6 7/8 by 5 1/8 inches
Estimate: $800 - $1,200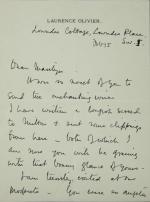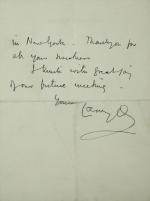 ---
Lot 371: LAURENCE OLIVIER FLORAL ARRANGEMENT CARD TO MARILYN MONROE
A simple plain white card with autograph message to Monroe in the hand of Sir Laurence Olivier reading "Marilyn, It has been so lovely meeting you, knowing you and now knowing that such exciting things and such fun are ahead. Love and Thank You, Larry."
2 1/4 by 3 1/4 inches
Estimate: $300 - $500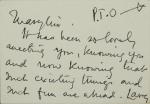 ---
Lot 378: MARILYN MONROE ROYAL FILM PERFORMANCE LETTERS
A group of documents regarding Monroe's attendance to the Royal Film Performance at the Empire Theatre held October 29, 1956. This is where Monroe was formally presented to Her Majesty, Queen Elizabeth II. The first document, two pages, is dated October 2, 1956, and contains general information about the proceedings and rehearsals for the evening with time schedules. The second document is addressed to Monroe at Parkside House in Surrey, England, and advises Monroe that she is to be included in the presentation to Her Majesty, The Queen. This single-page letter has a small slip of paper stapled to the upper left reading "Dress/ Full Evening Dress/ No decorations/ No gloves for Gentlemen/ White gloves for Ladies." Together with Monroe's presentation card.
Largest, 8 1/2 by 11 inches
Estimate: $400 - $600
---
Lot 381: MINUTES FROM A MEETING WITH MARILYN MONROE
Two small unlined pages from a six-ring binder, with typed notes from a meeting held April 3, 1958, at 2:30 pm at Monroe's 444 East 57th Street apartment. The notes list attendees as Lew Wasserman, Mort Viner, Marilyn Monroe and Arthur Miller. Among the topics discussed were how to handle Monroe's stalling of Billy Wilder regarding accepting the assignment for Some Like It Hot, one note reading "MCA on the Coast has told Wilder that there are 'legal technicalities holding up her decision' so as not to offend Wilder. Actually, she is waiting for Sinatra to enter the picture. She still doesn't like Curtis but Wasserman doesn't know anybody else."
6 by 3 1/2 inches
Estimate: $300 - $500

---
Lot 412: MARILYN MONROE ANNOTATED SOME LIKE IT HOT SCRIPT SIDES
Two half sheets of paper with green and black typed text containing some of Monroe's lines from the film with notations in Monroe's hand. One notation above the line mentioning the most wonderful dream reads "100 Cary Grants." Above the line of dialogue reading "He was the first nice guy I ever met in my life and the only one who ever gave me anything," Monroe has written simply "Jake."
5 1/2 by 8 1/2 inches
Estimate: $3,500 - $4,500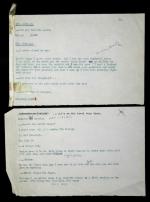 ---
Lot 413: MARILYN MONROE SOME LIKE IT HOT SCRIPT PAGES
A red paperbound folio containing seven typed pages for Monroe's scene with Tony Curtis in Some Like It Hot on the yacht. The pages are clean with the exception of two pencil lines drawn next to two of Monroe's lines.
9 by 11 1/2 inches
Estimate: $2,000 - $3,000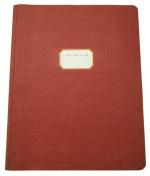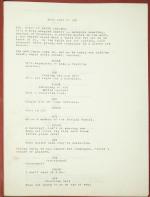 ---
Lot 414: MARILYN MONROE SOME LIKE IT HOT PRODUCTION PAPERS
A group of production documents including a call sheet for the film Some like It Hot dated November 7, 1958, with additional "Last Day" written in red pencil indicating that it was the last day of shooting. Together with a two-page yellow staff sheet for the film and a three-page cast sheet listing contact information for the entire cast, including Marilyn Monroe's secretary May Reis.
8 1/2 by 11 inches
Estimate: $400 - $600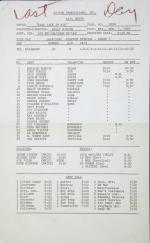 ---
Lot 415: MARILYN MONROE SOME LIKE IT HOT MEAL RECEIPTS
A large group of 32 meal receipts from the MGM Studios cafe dated between September 5 November 10, 1958, with itemized listings of the food and beverages Monroe ordered while filming Some Like It Hot at the studio. Some receipts have delivery notations "to Stage 3" and "to dressing room." On one receipt dated September 25, 1958, the order includes two hamburger steaks, "1 well done/ 1 rare/ 2 cottage and fruit salads/ 1 ice coffee/ 1 milk/ well done lunch send on stage 3/ rare lunch send to dressing room." Some of the receipts indicate that meals were for others, including "Lunch for Miss Reis - Lunch for Maid." All but one receipt is dated, and frequently ordered items include ice cream, double sirloin, ham and cheese, pot of coffee, lox and cream cheese, donuts, pie a la mode, meatloaf, pastrami, Danish, and many other items.
Largest, 7 3/4 by 4 1/4 inches
Estimate: $500 - $700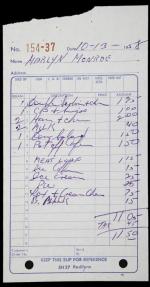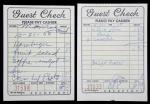 ---
Lot 417: MARILYN MONROE SOME LIKE IT HOT PRESS RELEASES
A group of three press releases, five pages total, from United Artists Corp. dated March 24, April 6, and June 16, 1959, announcing record box office numbers as well as an extended run in theaters. Together with a five-page cast list and synopsis with cover page sent out for press purposes.
8 1/2 by 11 inches
Estimate: $200 - $300

---
Lot 418: MARILYN MONROE RESPONSE TO TONY CURTIS QUOTATION
A small piece of paper with note in pencil in Monroe's hand reading "There is only one way he could comment on my sexuality, and I'm afraid he has never had the opportunity!" This comment has been reported to be in response to the now famous glib remark made by Tony Curtis in a screening room during production of Some Like It Hot , where he famously said that kissing Monroe was "like kissing Hitler." Curtis said this in a private setting to crew and other people present during production, including Paula Strasberg. Despite the fact that he denied the comment when it got back to Monroe, later in his life he did reportedly admit to saying it.
5 by 8 inches
Estimate: $2,000 - $3,000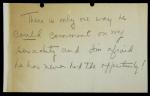 ---
Lot 426: MARILYN MONROE TRADE ADS
Two pages torn from the March 9, 1960, issues of The Hollywood Reporter and Variety featuring an appreciative "Love and Kisses/ Marilyn Monroe" message from Monroe in appreciation of winning the Best Actress in a Comedy or Musical Golden Globe award.
12 1/4 by 9 1/4 inches
Estimate: $200 - $300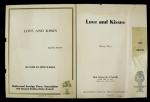 ---
Lot 432: MARILYN MONROE AFTRA CARD AND RECEIPTS
An American Federation of Television and Radio Artists membership card for the period ending November 1, 1959, still attached to the larger receipt for payment card. The card is unsigned, and Monroe's address is listed as 444 East 57th St. New York. The receipt portion of the card is for a payment in the amount of $23 dated June 15, 1959. Together with a receipt dated December 1, 1958, for payment of dues in the amount of $16.
Largest, 4 by 9 inches
Estimate: $3,000 - $5,000

---
Lot 435: MARILYN MONROE RECEIPT FOR CECIL BEATON PHOTOGRAPH
A shop receipt from Peter A. July & Son photographers of fine arts in New York City in the amount of $165.44. The receipt is dated January 19, 1960, and is written in the name of Mrs. Marilyn Monroe of The Beverly Hills Hotel for 24 matte copies of "Beaton Photos" plus United Parcel Air Service delivery. It has been widely reported that Cecil Beaton's portrait of Monroe was her favorite portrait of herself and that she kept copies on hand to sign for people.
8 1/2 by 5 3/4 inches
Estimate: $200 - $300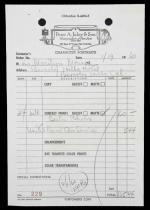 ---
Lot 436: MARILYN MONROE INVOICE FROM CECIL BEATON
A "Copy Invoice" in the amount of 37.16 British pounds dated August 2, 1957, on a single sheet of Cecil Beaton's stationery. The receipt is written in the name of Marilyn Monroe Productions Inc. and is billing work that occurred in November 1956 listed as, "Photographs supplied for Miss Marilyn Monroe:- 12 prints No. 109 8" X 10" mounted." It has been widely reported that Beaton's portrait of Monroe was her favorite portrait of herself and that she kept copies on hand to give to people.
8 by 6 inches
Estimate: $300 - $500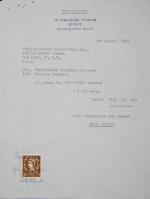 ---
Lot 437: MARILYN MONROE LETTERS FROM FAMOUS PHOTOGRAPHERS
Two letters and two telegrams from photographers with whom Monroe had famous collaborations: a single-page autograph letter on personalized stationery dated October 28, 1959, from Philippe Halsman commenting on the famous LIFE magazine cover, saying "It could have been printed better, you could have been better centered - but nevertheless it is the most charming and unusual cover LIFE has had in years. Everybody loves it."; a two-page typed, signed letter from Cecil Beaton dated May 9, 1956 regarding a shoot and other catching up; a telegram from Richard Avedon dated July 9, 1958, regarding the photos from one of their recent shoots needing to be re-shot; and a telegram from Avedon dated simply July 10 regarding working on a television show.
Largest, 10 by 8 inches
Estimate: $400 - $600

---
Lot 439: MARILYN MONROE CORRESPONDENCE WITH PORTRAIT ARTIST
Two typed and signed letters from artist Jon Whitcomb to Monroe regarding his original painting of Monroe used for the March of 1959, cover of Cosmopolitan magazine, the first dated June 22, 1959, reading in part, " Cosmopolitan has returned the painting of your cover which was on the March issue. I haven't forgotten that I promised it to you; so if you still want it, how do I make delivery?" The second dated October 6, 1959, proposes a plan to drop off the painting at Monroe's building. Together with a typed, unsigned file copy of a response from Monroe dated September 24, 1959, reading in part, "Please forgive the long delay in answering, but I have been up to my derriere in preparations for two movies for the near future; public-relations, home-relations -- please understand./ I would love to have the picture from you and I repeat 'at last to be a Whitcomb girl!"
8 1/2 by 11 inches
Estimate: $300 - $500

---
Lot 440: MARILYN MONROE ACTING EXERCISE AND NOTES
A single sheet of lined yellow paper with dialogue written out in pencil in Monroe's hand: "Where did he go? He told you I know he did/ If you'd only have given me a little longer - He was in love with me - we'd have been married you didn't want me to have him from the beginning/ you wouldn't let me wear those pretty things/ Even when I told you about the doll - you/ sent those people around/ He died! But he said/ he came back - Tell/ Me - tell me -." The front and back of the page is then covered with small performance notes, including "The thought focus on partner not on word then let go of word"; "don't do with words & voice"; "Let go everything elastic keep the pick up lay on the horse"; and "to be as relaxed let go of mouth speech thought," among many others.
12 1/2 by 8 inches
Estimate: $6,000 - $8,000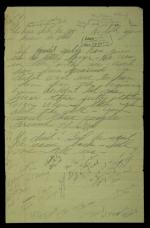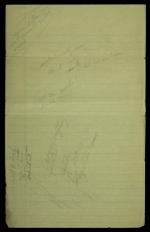 ---
Lot 441: MARILYN MONROE BREAKFAST AT TIFFANY'S SCRIPT AND REPORT
A clean copy of the screenplay for Breakfast at Tiffany's written by George Axelrod and dated July 9, 1959. Monroe was considering the part, and she sought the opinions of her professional team including the Strasbergs, her husband, and management team. The script is accompanied by a single-page, typed "report" dated September 23, 1959, which also has the name "Parone" typed to the left of the date. Literary luminary Edward Parone was at the time running Monroe's production company and most likely is the one who wrote this single-page, scathing review of the script, leading with the simple sentence, "I think not." It goes on to criticize the screenplay, determining, "I can see Marilyn playing a part like Holly and even giving this present one all the elan it badly needs, but I don't feel she should play it: it lacks insight and warmth and reality and importance." It has been long reported that Monroe declined the part upon the advice of Lee Strasberg, but this document provides further evidence that other people in her inner circle advised her not to take the role. Together with a four-page shooting schedule for November 4, 1960, for the film.
Largest, 14 by 8 1/2 inches
Estimate: $1,500 - $2,500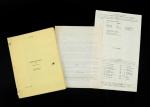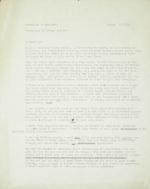 ---
Lot 442: MARILYN MONROE ACTORS STUDIO NOTEBOOK
A small six-ring binder containing lined notebook pages in a black and red vinyl case by National. The small notebook contains 10 pages of notes in Monroe's hand, in pencil, on eight leaves of paper. The notes were taken during a class with Lee Strasberg and record bits and pieces of things that "Lee said," as is repeated on many pages, which include "For yourself not for us - or one doesn't use own sensitivity/ girl crying continuously Lee said - There should be a certain pleasure in This, in acting - we don't stop these things - she stoped [sic] crying only at those times"; "problems-all the more to be solved got to keep swimming/ criticism can be taken - to incite the will not self criticism"; "the actor has to do what the character has to do - let the author worry about his words"; "Life of - reality of champagne (you don't open every bottle the same) actor in scene took for granted (girl is going to be good (New). Boy - said lines no effort - like crossing street - Lee said he wants - Behavior - When someone is trying to make someone (love etc.) how does one go about it/ Lee said - girl simplicity good honesty, to begin (New) with - but..." The last notes are taken on two sides of one leaf of paper and read "My heart Belongs To Daddy Number/ Remember always left -" and "While tearing off/ caddy-move head a little/ Daddy R. shoulder up/ call dog in closer"; clearly, these notes are for Monroe's musical number in Let's Make Love (20th Century Fox, 1960). The notes correlate with the lyrics of the song, and indeed Monroe does move her head a little during the first verse that mentions the caddy, and she does raise her right shoulder up the first time she says "Daddy" in the chorus.
5 1/4 by 4 inches
Estimate: $20,000 - $30,000

---
Lot 445: MARILYN MONROE RECEIPTS FOR 34TH BIRTHDAY CELEBRATION
A receipt from Gill's Old Fashioned Ice Cream, dated June 1, 1960, for 100 ice cream treats, together with a receipt from Paper Unlimited, Inc. for forks, spoons, napkins, plates and a tablecloth, dated May 24, 1960. Both receipts are addressed to Hazel Washington, Monroe's studio maid at Twentieth Century Fox. Monroe celebrated her 34th birthday on the set during filming of Let's Make Love .
Estimate: $400 - $600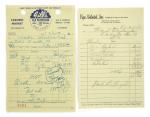 ---
Lot 446: MARILYN MONROE TAXI RECEIPT
A receipt from the Yellow Cab Company dated February 4, 1960, in the amount of $1.50. The cab lists a trip from simply "904" to "20th Century," presumably 20th Century Fox, where Monroe had already begun filming the 1960 release Let's Make Love .
Estimate: $150 - $250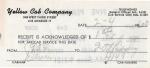 ---
Lot 447: MARILYN MONROE PAYMENT MEMOS
A group of five pages of documents concerning the deduction of money from one of Monroe's payments from Fox Studios for her work on Let's Make Love . The first letter, dated February 16, 1960, from Mort Viner at MCA is addressed to Monroe's secretary, May Reis, explaining that Sydney Guilaroff wanted more money than Fox was willing to pay him for his services in styling Monroe's hair in Let's Make Love and that "Marilyn had asked me to have Fox pay it by deducting it from her checks as she didn't want Sidney [sic] to know. " Accompanied by a two-page letter from Monroe's law firm concerning the deduction, a check stub, and an invoice explaining the payment and deductions.
Largest, 8 1/2 by 11 inches
Estimate: $200 - $300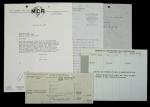 ---
Lot 451: MARILYN MONROE ACTING NOTES ON ENVELOPE
An unpostmarked envelope addressed to Monroe at 2 Sutton Place South in New York City from the Radio and Television Executives Society Inc. The back of the envelope has a linear thought written in Monroe's hand in pencil reading "I somehow am seeing with my body also and when I am truly listening/ What is the matter with my voice - Maybe just let the voice come out of my body however it does under certain circumstances." The thought continues on the front of the envelope "… and in - what ever the given situation." The remainder of the notes are more frenetic, reading in part, "Strassberg [sic] says we remember with our senses - Not brain or mind (remember with Body" and "Tell Hohenberg about the period during when I stopped secreatly [sic] play acting so fully/ it was the time I got my first job acting at 20." The notes covering the envelope, overlapping and intertwining, were likely taken during an acting class and demonstrate the unbridled energy Monroe felt toward her study of acting.
4 by 9 1/2 inches
Estimate: $4,000 - $6,000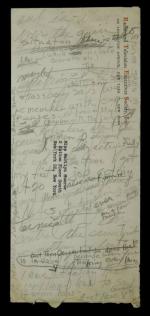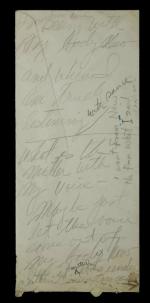 ---
Lot 483: MARILYN MONROE RECEIVED LETTERS FROM DESIGNERS
Two unsolicited letters from designers who wished to work with Monroe. The first, dated February 26, 1958, from Tony Savini, gives his background and qualifications and explains that he has completed a number of original gowns and dresses expressly for Monroe and would like to offer them to her free of charge. The letter is accompanied by an original watercolor and ink on paper design sketch. Together with a letter dated February 4, 1962, from Paul Zastupnevich, a designer who had credits to his name with Fox Studios. He expresses his interest in designing for Monroe and includes a clipping of Rhonda Fleming wearing one of his gowns.
Largest, 8 1/2 by 11 inches
Estimate: $100 - $150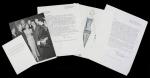 ---
Lot 508: MARILYN MONROE ANNOTATED THE MISFITS SCRIPT SIDES
Two half sheets of paper containing some of Monroe's lines from the film The Misfits with notations in pencil, in Monroe's hand. One of the half pages is dated October 6, 1960, and it has lines from the climax of the film when Rosalyn, played by Monroe, pleads with Gay, played by Clark Gable, not to kill the horses. The notes include "almost in wonder to myself/ you liar all of you liars/ to perce/ Christ/ whisper" in reference to parts of her line reading "You're only living when you can watch something die Kill everything that's all you want why don't you just kill yourselves and be happy (to Gay) you with your God's country freedom." Another notation has the word "shiver" inserted before the line "I pity you all." Another emotional line written in the script as "How much do you want for them I'll pay you I'll give you two hundred dollars Is that enough" has a number of alternatives written in Monroe's hand, including "I'll give you money" or I'll give "you anything anything" or "you want my blood I don't need it anymore take my blood." The pages are accompanied by eight additional full script pages featuring the dialogue that leads up to Rosalyn's pleading with Gay not to kill the horses, beginning with the close shot of the mare stepping into the noose with her forefeet. These notes are a window into Monroe's process in creating one of the most emotionally painful and poignant scenes of her career.
Half sheets, 5 1/2 by 8 1/2 inches
Estimate: $6,000 - $8,000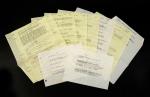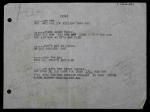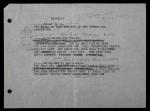 ---
Lot 511: MARILYN MONROE NOTES ON HER MISFITS CHARACTER
A piece of plain paper with holes punched along left edge with notes in red ink in Paula Strasberg's hand reading "searching and yearning/ standing alone/ mood - I'm free - but freedom leaves emptiness./ Rosylin [sic] - flower opens bees buzz around/ R is quiet - the others buzz around." This provides an insightful look at how Strasberg helped Monroe to build her character in The Misfits.
9 1/2 by 6 inches
Estimate: $200 - $300

---
Lot 512: MARILYN MONROE RECEIVED LETTER FROM DOROTHY JEAKINS
A typed letter signed by costume designer Dorothy Jeakins dated May 3, 1960, and addressed, "Dear Marilyn," and reading in part, "Although I really feel I should be replaced--I will continue with your clothes for "The Misfits" because they are under way and nearly ready to fit./ If you like them, I will see them through to completion. If you are disappointed, someone else can then take over./ I am sorry I have displeased you. I feel quite defeated--like a misfit, in fact. But I must, above everything, continue to work (and live) in terms of my own honesty, pride and good taste." The letter is accompanied by an unsigned file copy of a letter from Jeakins to Mr. C.O. Erickson stating, " ... [C]ircumstances make it clear to me that I am unsuitable for this assignment and perhaps should be replaced. ... [U]nder these circumstances, I intend to accept no remuneration for my work and prefer to be omitted from the credits also. ... "
8 1/2 by 11 inches
Estimate: $500 - $700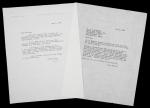 ---
Lot 517: MARILYN MONROE FAMOUS ARTISTS SCHOOL CORRESPONDENCE
A group of documents regarding Monroe's enrollment in the Famous Artists School of Westport, Connecticut, a distance learning program designed to further students' fine art skills. The first letter, dated October 24, 1958, from the school's director, acknowledges Monroe's communication with "Jon Whitcomb who tells me you are quite interested in painting. He also tells me that you would like too [sic] take the Famous Artists Painting Course. At Jon's request we are making you a scholarship student but I am at a loss as to where to forward the textbooks since, as I understand it, you will be in Hollywood for sometime before returning to New York City." The next letter is an unsigned file copy of Monroe's response requesting the books be sent to 444 East 57th Street. Also included are a series of follow-up letters, six pages total, welcoming Monroe to the program, explaining the logistics of how the program works with critiques conducted via mail, and a full list of instructors. Also included are a blank Student Information Record and "Rate Yourself Progress Chart" forms with accompanying letters and a postage-paid envelope. The documents clearly demonstrate Monroe's interest in painting and the fact that she sought formal instruction.
Largest, 8 1/2 by 11 inches
Estimate: $600 - $800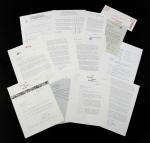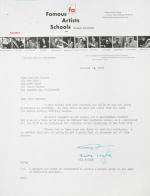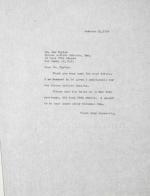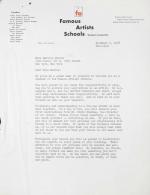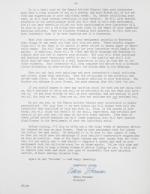 ---
Lot 575: MARILYN MONROE AFTRA CARD
An American Federation of Television and Radio Artists membership card for the period ending November 1, 1962, with handwritten "Marilyn Monroe" on front, unsigned on back. Because the membership to AFTRA was renewed bi-annually this is Monroe's last membership card for the organization.
2 1/2 by 3 1/2 inches
Estimate: $4,000 - $6,000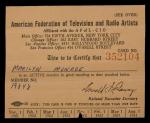 ---
Lot 576: MARILYN MONROE'S LAST SAG CARD AND RECEIPT
A Screen Actors Guild membership card for the period beginning May 1, 1962, and ending November 1, 1962. "Marilyn Monroe" is typed onto front of card as well as her membership number. Together with Monroe's carbon copy receipt for payment of $125 on May 22, 1962, listing her address as "P.O. Box 64721, Los Angeles 64, Calif."
Card, 2 1/2 by 3 1/2 inches
Estimate: $4,000 - $6,000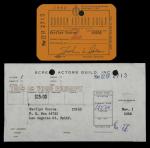 ---
Lot 577: MARILYN MONROE NOTATIONS ON TELEGRAM
A Western Union telegram from Nunnally Johnson dated April 16, 1962, a week before production was to begin on Something's Got To Give. Johnson was one of the screenwriters on that film and sent the telegram care of producer Henry Weinstein, misspelled "Wernstein." The telegram from Johnson reads "In Revised script you are child of nature so you can misbehave as much as you please love - Nunnally." Monroe has quickly written a note in pencil for reply reading "Where is that script - is the child of nature due on the set - Hurry Love & Kisses M.M." "Love and Kisses" is repeated, and additional illegible notations have been crossed out. The lighthearted response foreshadowed what was to come with Monroe frequently not reporting to the set as she was scheduled to appear, leading Fox Studios to fire her from the production.
5 1/2 by 8 inches
Estimate: $1,500 - $2,500

---
Lot 578: MARILYN MONROE SOMETHING'S GOT TO GIVE SCRIPT AND PAGES USED ON SET
20th Century Fox, 1962, mimeographed screenplay by Nunnally Johnson, 149 pages, blue cover dated March 29, 1962 reading "Final Confidential For Planning Purposes Only." The script contains two paper-clipped inserts, memos from the production addressed "To All Secretaries," the first dated April 23 and the second dated April 27, 1962, each accompanying blue revised pages 91 and 92 for the script. The script, marked final, also dated March 29, 1962, contains notations in Monroe's hand throughout in pencil and green ink on 18 pages. Some of the notations are from Monroe's work with a Swedish dialect coach.
In addition to these notations, two typed pages of Monroe's dialogue are bound between pages 107 and 108 of the mimeographed script. These two pages contain Monroe's dialogue from one of the few scenes captured on film, with her extensive pencil notations. Raw footage of Monroe performing with Tippy the cocker spaniel and the children in this scene exists, and Monroe's notations are evident in the footage. The top of the page reads "Real Thought/ Mental Relaxation/ substitute children - B & J if necessary/ feeling - place the pain where it is not in the brow." B & J likely refers to Arthur Miller's children Bobby and Jane. Another notation next to one of Monroe's lines of dialogue reads simply "Mona Lisa," which does in fact mirror the expression she uses when delivering this line. Even the exaggerated "Ahhhhh---" that Monroe does at the beginning of each take in the raw footage is written on the page in her hand, reading in full, "Ahhh--Look for the light."
The notations throughout the script also include notes in an unidentified hand criticizing certain points of the story, including "Too Harsh," "Naggy," "Dull" and many other comments. Overall, the notations in both the script and on the dialogue pages used by Monroe to film the scene with the children and Tippy the dog tell the story of a tedious script writing and editing process. Her dialogue notations are a revealing window into her process in performing some of the last scenes she ever recorded on film.
Estimate: $15,000 - $20,000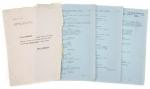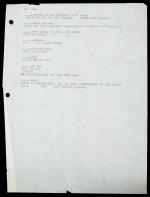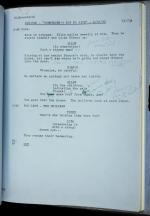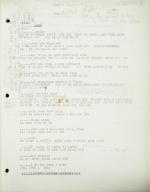 ---
Lot 580: MARILYN MONROE NOTES ON SOMETHING'S GOT TO GIVE SCRIPT
A Millers Falls EZERASE pad of typewriter paper with prepunched three-ring binder holes. The cover is detached but present, and the pad contains four pages of notes, two now detached, in Monroe's hand in pencil outlining her issues with the script for the film. The notes and criticisms include "logical drama but doesn't move on the screen/ leads him on than [sic] said not until"; "instead using the talents/ he's stuck/ imagine being married to MM and she comes back and he is stuck/ he'd dying to go Bed with her but can't because"; "more entertaining/ keep it on an edge/ if it isn't that kind of picture it won't go -/ only if script is acceptable." Then come Monroe's suggestions for a scene with check marks next to the ideas: "When Dean first see's Ellen -me- in nurses uniform - (as nurse) he could say - upon arrival - slouching 'I don't feel so good nurse (weakening in the knees how could she do this to me/ I am telling her/ Beanka kind of stiffening up to hold him & the situation (the nite [sic] before) together he then pulls up but Dean will do this superbly/ He sings little song when drunk & frustrated." She also lists specific passages: "Page 73 (yes? - No? you understand Dean!)/ Page 76 children scene (in comparison to rewrite)." A small note on the last page of notes reads "Funny line writers Herb Gardner / Mel Brook [sic]."
These notes present a very astute Monroe who clearly had serious concerns with the quality of the script, demonstrating that her refusal to appear on set was grounded in these concerns and not simply the actions of a petulant star.
8 1/2 by 11 inches
Estimate: $5,000 - $7,000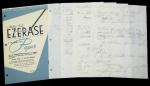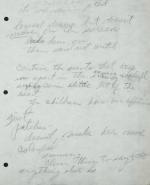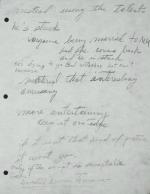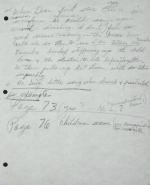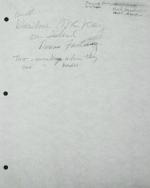 ---
Lot 581: MARILYN MONROE WORKING SCRIPT FOR SOMETHING'S GOT TO GIVE
A 149-page screenplay for Something's Got To Give by Nunnally Johnson dated March 29, 1962, in blue paper wrappers, marked final. There are notations in Monroe's hand in pencil on approximately 42 pages in the script, some simple dialogue corrections and other more in-depth sense memory notes for her to remember when doing the scene to evoke the right emotional frame of mind. A simple note on the back of the last page of the script reads "Joke writers/ Mel Brooks/ Herb Gardner/ Need spice/ raisins/ Need some funny lines." In a notation next to the stage direction for her character's anticipation and excitement about calling home after she has been rescued, she writes of Arthur Miller's children, "Bobby M./ and early Janie/ except their [sic] mine." In the scene where she is kissing her husband again and excuses herself to "get fixed up a little," she writes, "[L]et me get into something more comfortable/ leading him on -" and "[I]n other room throwing out piece of clothing" and below she writes "[L]ike F.S. when ingaged [sic]." Over an entire passage of dialogue she makes a stage direction note to herself that reads "Ellen looking speculative champain [sic] glass/ finger going around rim." In another scene she writes, "Have the Mask - face relaxed" and "shaking head when he leaves room sly smile/ fat on the fire/ he's on the grittle [sic]." She continues with the fat sizzling on the griddle metaphor, later writing next to a line that jabs at Nick, "Nicely/ He frys on grittle [sic]/ butter melting/ then it sputter/ him."
Notes on the last page of the screenplay read "Act only in beginning/ Then tempting him/ then act when nurse/ on balcony at hotel/ speculative looks/ always tempting him/ always saying yes/ but N/ I've only been away 5 min./ her point of view." Together with a small card with call times and scenes to be shot and a small scrap of paper with quickly written note in Monroe's hand wondering why they are jumping to shoot indoors when they could shoot in sequence as well as notes about using Miss vs. Mrs.
11 1/2 by 9 1/2 inches
Estimate: $15,000 - $20,000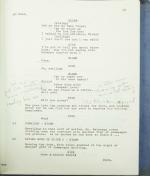 ---
Lot 820: MARILYN MONROE TWENTIETH CENTURY EMPLOYEE STARTING CARD
A Marilyn Monroe Twentieth Century Fox Employee starting card dated May 11, 1950. The card rate line lists Monroe's weekly salary as $500 a week but notes that she was laid off after working 40 out of 52 weeks. This marked the end of Monroe's work on the film All About Eve (20th Century, 1950) and her return to stock pool for the studio.
4 by 6 inches
Estimate: $600 - $800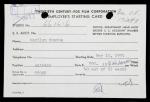 ---
Lot 823: MARILYN MONROE SIGNED ADVERTISING RELEASE
A Marilyn Monroe signed advertising release with Twentieth Century Fox and The House of Westmore for cosmetic advertising. The contract is dated July 3, 1952. Monroe was featured in a number of Westmore ads in the mid-1950s that also advertised her Twentieth Century Fox films.
13 1/2 by 8 1/2 inches
Estimate: $4,000 - $6,000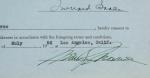 ---
Lot 875: MARILYN MONROE MISCELLANEOUS PAPER ARCHIVE ITEMS
A collection of Marilyn Monroe envelopes, messages and notes, including a florist's enclosure card with envelope addressed to Monroe and a message that reads "To make up for the ones you didn't recall receiving at the hospital. Please stay well so we won't go through this again" and signed by Arthur O'Connell - Virgil Blessing." Virgil Blessing is the name of O'Connell's character in the film Bus Stop (20th Century, 1956). Also included are five handwritten notes in an unknown hand that reference Clifton Webb, Lew Wasserman and "Paula"; two hotel phone messages for "Monroe"; four envelopes, two addressed to Monroe; and one blank Colonial Trust Company check.
Sizes vary
PROVENANCE Partial Lots 748, 794 and 968, "Icons & Idols: Hollywood," Julien's, Beverly Hills, December 6, 2014
From the lost archive of Marilyn Monroe
Estimate: $400 - $600

---
Lot 836: MARILYN MONROE ANNOTATED GENTLEMEN PREFER BLONDES SCRIPT
A script for Gentlemen Prefer Blondes (20th Century, 1953) used and annotated by Marilyn Monroe. The incomplete script totals 68 pages and has notations from Monroe on approximately 22 pages. The first page, dated November 26, 1952, reads "Gentlemen Prefer Blondes"/ (Revised Final Script……13 Nov. 1952)/ To all Secretaries:/ Please place these/ Additional Pages at the back of your script of the above date./ This Is Important!" Film production began on November 17, 1952. Monroe's notations include revisions to the text, in pencil, "Oh he wasn't barking that was Swahili," and direction, in blue ink, "sense the feeling with the body." The name of Monroe's character, Lorelei, has been circled in pencil on a number of the pages. The script is contained in a black plastic folder.
9 1/2 by 11 1/2 inches
PROVENANCE Lot 160, "Film and Entertainment," Christie's New York, Sale number 1681, June 22, 2006
Estimate: $50,000 - $60,000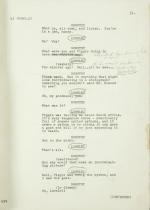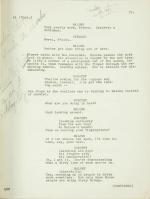 ---
Lot 915: MARILYN MONROE LETTER FROM PERSON TO PERSON
A typed, signed letter written to Marilyn Monroe by Jesse Zousmer of the television program Person to Person (CBS, 1953-1961). The letter, dated June 25, 1959, is written on Person to Person stationery. In the letter, Zousmer thanks Monroe for her appearance on the television program and announces his departure from the show. A check mark has been written across the letter in an unknown hand. The letter is accompanied by a page from Variety. The headline of the page reads "Thank You from 'Person to Person' " with a list of the program's guests from 1953 to 1959.
10 1/2 by 7 1/2 inches
Estimate: $300 - $500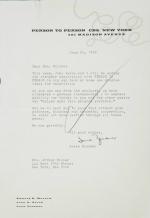 ---
Lot 918: MARILYN MONROE INTERVIEW TRANSCRIPT
A 32-page transcript of an interview with Marilyn Monroe by Georges Belmont. Accompanied by nine pages of thoughts about Marilyn Monroe written by Arthur Miller. The information was sent to Jack Hamilton at LOOK magazine by Lois Weber, with cover letter from Weber and an undated memo response from Hamilton returning the information to Weber. Accompanied by two newspaper clippings, one from 1956 and one from after Monroe's death in 1962.
11 by 8 1/2 inches
PROVENANCE From the Estate of Lois Weber
Estimate: $800 - $1,200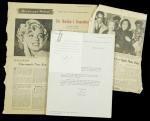 ---
Lot 858: MARILYN MONROE THERE'S NO BUSINESS LIKE SHOW BUSINESS PROP PROGRAM
A prop program from There's No Business Like Show Business (20th Century, 1954). The front of the blue, white and red program reads "Actors Benefit Fund/ Greatest Stars of Stage & Screen/ Hippodrome/ Sixth Avenue 43rd – 44th" in gold metallic ink. An extra holds the program in a scene backstage just before Ethel Merman and Marilyn Monroe have a heart to heart in their dressing room. The program contains repeating nonsense ads in black and white.
11 by 8 1/2 inches
Estimate: $2,000 - $3,000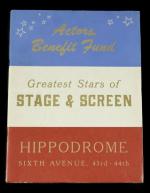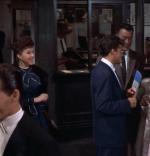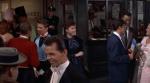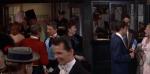 ---
Lot 970: MARILYN MONROE SIGNED GIFT TO WILFRID HYDE-WHITE
An original artwork given to Wilfrid Hyde-White on the set of Let's Make Love (20th Century, 1960) and signed by the film's cast and crew including Marilyn Monroe, Yves Montand, Arthur Miller, George Cukor, Tony Randall, Allan "Whitey" Snyder, Marjorie Plecher, Paula Strasberg, David Bretherton, David Burns, and Ray Foster, among many others. The ink on paper artwork was created by the art department for the film and given to Hyde-White as a going-away present. The image shows Hyde-White waiting at a cab stand. A billboard in the background reads "Let's Make Love/ Cukor Co." and titled at the top "Happy Show/ From the Kids." Housed in a frame; not examined outside of frame.
15 by 15 inches, framed
PROVENANCE From the Collection of Alex Hyde-White
Estimate: $20,000 - $30,000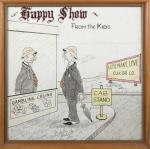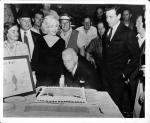 ---
Lot 979: MARILYN MONROE LETTER FROM HENRY WEINSTEIN
A typed, signed letter from producer Henry Weinstein on Twentieth Century Fox Film Corporation letterhead, addressed to Marilyn Monroe and dated February 5, 1962. The letter discusses preparations before the shooting of Something's Gotta Give, a film that was never finished due to Monroe's illnesses and untimely death.
10 1/2 by 7 1/4 inches
Estimate: $600 - $800

---
Documents papiers - Autographes / Fans
Papers documents - Autographs / Fans

---
Lot 212: MARILYN MONROE JACK DEMPSEY LETTER REQUESTING MARILYN MONROE'S AUTOGRAPH
A single-page autograph letter on recto and verso dated October 14, 1954, addressed "Dear Jerry," possibly Joe DiMaggio's Yankee teammate Jerry Coleman. The letter reads in part, "Have been reading a lot about Marilyn, Joe and yourself, here in the east. Best of luck to you and your family, and send Marilyn's autograph along." Signed "Sincerely Jack Dempsey."
8 by 6 inches
Estimate: $150 - $200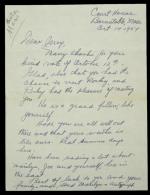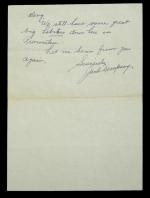 ---
Lot 259: MARILYN MONROE LETTER FROM JOHN STEINBECK
A secretarial typed and signed letter dated April 28, 1955, addressed to Monroe at the Waldorf Towers in New York. The letter is a charming and bashful request for an autograph, reading in part, "In my whole experience I have never known anyone to ask for an autograph for himself. It is always for a child or an ancient aunt, which gets very tiresome as you know better than I. It is therefore, with a certain nausea that I tell you that I have a nephew-in-law ... he has a foot in the door of puberty, but that is only one of his problems. You are the other. ... I know that you are not made of ether, but he doesn't. ... Would you send him, in my care, a picture of yourself, perhaps in pensive, girlish mood, inscribed to him by name and indicating that you are aware of his existence. He is already your slave. This would make him mine. If you will do this, I will send you a guest key to the ladies' entrance of Fort Knox."
8 1/2 by 11 inches
Estimate: $300 - $500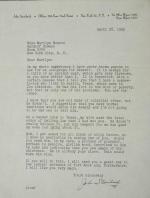 ---
Lot 708: MARILYN MONROE AND ARTHUR MILLER SIGNED MENU
A menu from the Gladstone Hotel where Marilyn Monroe lived briefly during the 1950s. The menu is signed on the cover in pencil "Marilyn Monroe" and "Arthur Miller." The inside back cover of the menu also contains a fashion design sketch of a woman in a form-fitting gown with vermicelli beading, in pencil in an unknown hand.
13 by 10 inches
PROVENANCE From the Estate of Frieda Hull
Estimate: $2,000 - $3,000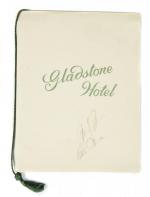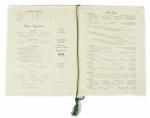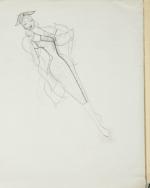 ---
Lot 775: SECRETARIAL LETTER ON MARILYN MONROE STATIONERY
A typed letter signed by one of Marilyn Monroe's secretaries dated July 1, 1959, with original transmittal envelope. Both letter and envelope are Monroe's custom stationery. Transmittal envelope is addressed to Miss Edith Pitts of Richmond Hill, New York, and is postmarked July 2, 1959. The letter thanks Pitts and Frieda Hull for their card and good wishes during Monroe's illness.
Letter, 9 by 6 inches
PROVENANCE From the Estate of Frieda Hull
Estimate: $200 - $300

---
Lot 816: MARILYN MONROE SIGNED INDEX CARD
A Marilyn Monroe signed and inscribed index card that reads "To Emily/ Best Wishes/ Marilyn Monroe." The message was written in green ballpoint ink, and a small magazine image of Monroe has been affixed to the index card. Housed in a frame with a black and white image of Monroe.
19 1/2 by 13 inches, framed
Estimate: $2,000 - $3,000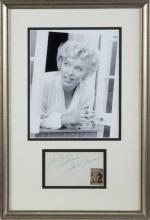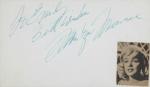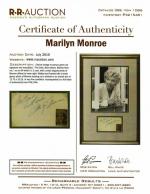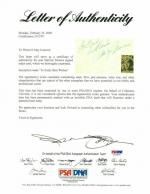 ---
Lot 829: MARILYN MONROE AND OTHERS FAN MAIL ENVELOPES
A group of five envelopes, addressed to Marilyn Monroe, Jane Simmons, Cornel Wilde, Edmond O'Brien, and Jeffrey Hunter. Mailed to each actor, at their respective studio by fans in Africa, Argentina and the Philippines. The legible postmarks date from 1954.
Largest, 5 by 6 inches
Estimate: $200 - $400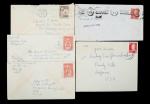 ---
Lot 830: MARILYN MONROE AND OTHERS FAN MAIL ENVELOPES
A group of four envelopes, addressed to Marilyn Monroe, Audrey Hepburn, Donna Reed, and Pat Crowley. Mailed to each actress at her respective studio by fans in Argentina and the Philippines. The legible postmarks date from 1954.
Largest, 3 1/2 by 6 1/2 inches
Estimate: $200 - $400

---
Lot 854: MARILYN MONROE, FRANK SINATRA AND OTHERS SIGNED ALBUM
An autograph album signed by Marilyn Monroe; Frank Sinatra; Bing Crosby; Ray Bolger; Maurice Chevalier; Hedda Hopper; Louella Parsons Herbert Hoover; Harry Truman; and Edward, Duke of Windsor, among others. The bound brown leather album belonged to Henry Tekkel, a maître d' at the Waldorf Astoria New York. Monroe, who lived at the hotel in the mid-1950s, has inscribed the book "Warmest Regards, Marilyn Monroe."
5 by 6 1/2 inches
Estimate: $1,000 - $2,000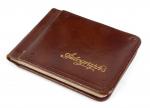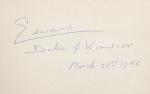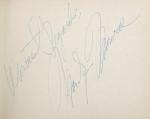 ---
Lot 864: MARILYN MONROE SIGNED BOOK
A copy of the Bement Centennial souvenir book titled "The Bement Story" and signed on the cover by Marilyn Monroe. Monroe visited Bement, Illinois, in August 1955 to celebrate the city's centennial.
11 by 8 1/2 inches
Estimate: $2,000 - $3,000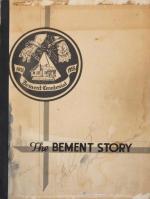 ---
Lot 906: MARILYN MONROE SIGNED METROPOLITAN OPERA PLAYBILL
A Marilyn Monroe signed Metropolitan Opera playbill from the 1958-1959 season. The 44-page playbill is signed on the cover in blue ink and is accompanied by a black and white image of Monroe signing a playbill. This is believed to have been signed on February 10, 1959, when Monroe and her husband Arthur Miller attended a performance of Macbeth.
6 1/2 by 9 inches
Estimate: $4,000 - $6,000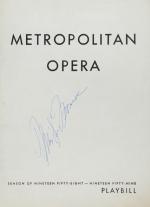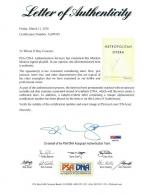 Enregistrer
Enregistrer
Enregistrer
Enregistrer
Enregistrer
---
Documents papiers - Santé
Papers documents - Health
---
Lot 134: MARILYN MONROE HANDWRITTEN AND SIGNED CHECK
A check written entirely in Monroe's hand, in blue ink, dated January 18, 1951, and paid to Dr. A. Gottesman, in the amount of $100. The check is drawn on Monroe's Bank of America account. Monroe lists her address as the Beverly Carlton Hotel.
3 by 8 inches
Estimate: $2,500 - $3,500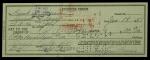 ---
Lot 176: MARILYN MONROE FREE ASSOCIATION NOTES
Four pages torn from an Italian agenda, dating between 1955 and 1956. It is believed that the pages correspond to Monroe's work with Dr. Hohenberg in which she began practicing self-analysis and working on her repressed memories. The notations in pencil jump from one topic to the next, wandering around the physical pages themselves and even passing from one page to the next and then back again. It is difficult to follow, but the topics include examining her childhood need to lie to her teacher, her physical insecurities, self-conscious thoughts of what others think of her drinking, speculation that "Peter" is capable of violence and possibly gay as well as a touching passage about Arthur Miller: "I am so concerned/ about protecting Arthur/ I love him-and he is the/ only person-human being I have/ ever known that I could love not only/ as a man to which I am attracted to practically/ out of my senses about-but he is the only/ person-as another human being that I trust as/ much as myself-because when I do trust my-/ self (about certain things) I do fully, and I/ do about him also." Another revealing passage reads in part, "… fear to touch my own body/ after Buddy (I started to write Bad instead of Buddy-/ slip in writing?)/ because A.I. punished me/ with fear and whipped me-/ 'The bad part of my body' she said-/ must never touch myself/ there or let anyone." It is believed that "A.I." refers to Aunt Ida Martin, a foster mother who punished Monroe as a child, possibly after a sexual abuse incident, with the "Buddy" mentioned here.
LITERATURE Monroe, Marilyn, and Bernard Comment. Fragments: Poems, Intimate Notes, Letters. Pages 89-101. New York: Farrar, Straus and Giroux, 2010. 1-237. Print.
6 1/2 by 4 1/8 inches
Estimate: $20,000 - $30,000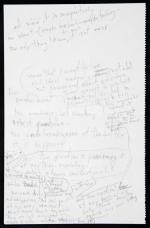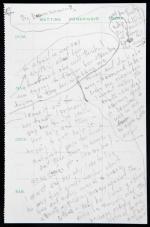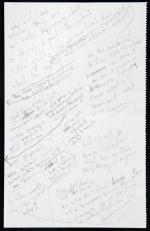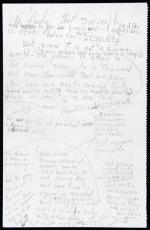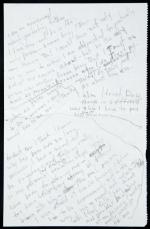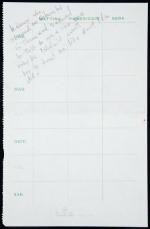 ---
Lot 189: MARILYN MONROE HANDWRITTEN NOTE
A handwritten note on unlined paper, annotated "for Kris," dated September 9, most likely used as a reminder for Monroe to discuss the noted issue with her psychoanalyst, Dr. Marianne Kris. The note reads "Remember, somehow, how Mother always tried to get me to 'go out' as though she felt I were too unadventurous. She wanted me even to show a cruelty toward woman [sic]. This in my teens. In return, I showed her that I was faithful to her. Also written on the note is the passage "Jane's 10th Birthday on 7th same year," obviously regarding Jane Miller, Arthur Miller's daughter, who was born on September 7."
LITERATURE Monroe, Marilyn, and Bernard Comment. Fragments: Poems, Intimate Notes, Letters. Pages 156-157. New York: Farrar, Straus and Giroux, 2010. 1-237. Print.
8 by 5 inches
Estimate: $10,000 - $20,000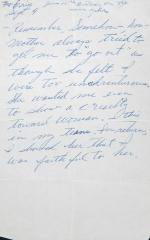 ---
Lot 204: MARILYN MONROE HANDWRITTEN LETTER TO DR. HOHENBERG
A single sheet of lined paper from a six-ring agenda, with a draft of a letter written, on two sides, to Monroe's psychoanalyst, Dr. Hohenberg, 1956. The letter skips through many topics and references Monroe's difficulties in breaking ties with her former acting coach, Natasha Lytess, and her optimism in beginning to work with Paula Strasberg. She is also buoyant in her mention of Arthur Miller, stating, "Arthur writes me every day-at/ least it gives me air to/ breathe-I can't get used to the fact/ that he loves me and I keep waiting/ for him to stop loving me-though I/ hope he never will-but I keep telling/ myself-who knows?"
LITERATURE Monroe, Marilyn, and Bernard Comment. Fragments: Poems, Intimate Notes, Letters. Pages 202-203. New York: Farrar, Straus and Giroux, 2010. 1-237. Print.
6 3/4 by 3 3/4 inches
Estimate: $8,000 - $12,000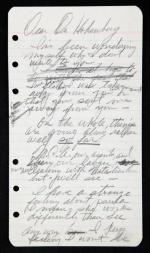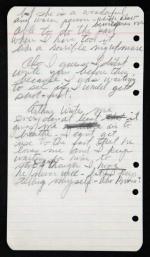 ---
Lot 205: MARILYN MONROE TYPED LETTER TO DR. RALPH GREENSON
A vintage file copy of a six-page typed letter from Monroe to Dr. Ralph Greenson, the California-based psychiatrist who treated Monroe in the period leading up to her death. This deeply emotional letter, dated March 2, 1961, was written while Monroe was staying at Columbia Presbyterian Medical Center for three weeks of recuperation following her stay at New York's Payne Whitney Psychiatric Clinic. The letter is done as a stream of conscious recollection of Payne Whitney.
Passages in the letter include:
"There was no empathy at Payne-Whitney — it had a very bad effect — they asked me after putting me in a 'cell' (I mean cement blocks and all) for very disturbed depressed patients (except I felt I was in some kind of prison for a crime I hadn't committed. The inhumanity there I found archaic. They asked me why I wasn't happy there (everything was under lock and key; things like electric lights, dresser drawers, bathrooms, closets, bars concealed on the windows — the doors have windows so patients can be visible all the time, also, the violence and markings still remain on the walls from former patients). I answered: 'Well, I'd have to be nuts if I like it here.'"
"I sat on the bed trying to figure if I was given this situation in an acting improvisation what would I do. So I figured, it's a squeaky wheel that gets the grease. I admit it was a loud squeak but I got the idea from a movie I made once called Don't Bother to Knock. I picked up a light-weight chair and slammed it, and it was hard to do because I had never broken anything in my life — against the glass intentionally. It took a lot of banging to get even a small piece of glass – so I went over with the glass concealed in my hand and sat quietly on the bed waiting for them to come in. They did, and I said to them 'If you are going to treat me like a nut I'll act like a nut.' I admit the next thing is corny but I really did it in the movie except it was with a razor blade. I indicated if they didn't let me out I would harm myself — the furthest thing from my mind at that moment since you know Dr. Greenson I'm an actress and would never intentionally mark or mar myself. I'm just that vain."
The letter also takes several sentimental turns with Monroe fondly referencing Joe DiMaggio and Yves Montand. Monroe closed the letter with "I think I had better stop because you have other things to do but thanks for listening for a while. Marilyn M."
LITERATURE Monroe, Marilyn, and Bernard Comment. Fragments: Poems, Intimate Notes, Letters. Pages 207-213. New York: Farrar, Straus and Giroux, 2010. 1-237. Print.
8 1/2 by 11 inches
Estimate: $8,000 - $10,000

---
Lot 206: MARILYN MONROE HANDWRITTEN INTERVIEW NOTES
Three unlined oversize pages containing answers to a reporter's interview questions in preparation for a press interview. She writes her numbered responses in blue ink and pencil. Answer number 11 explains her stay at the Payne Whitney clinic, writing, "Payne Whitney gives me a pain/ It was obviously an error of judgment to place me in Payne Whit. and the doctor/ who recommended realized it and tried to rectify it. What my condition warranted/ was the rest and care I got [at] Presbyterian Hospital." Number 19 states, "[M]y sleep depends on my state of satisfaction and that varies with my life-my dreams/ are too intimate to be revealed in public/ My nightmare is the H Bomb."
LITERATURE Monroe, Marilyn, and Bernard Comment. Fragments : Poems, Intimate Notes, Letters. Pages 217-223. New York: Farrar, Straus and Giroux, 2010. 1-237. Print.
15 3/4 by 11 inches
Estimate: $8,000 - $12,000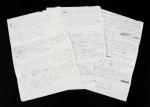 ---
Lot 346: MARILYN MONROE HANDWRITTEN AND SIGNED SCHWAB'S CHEECK
A check written entirely in Monroe's hand, in blue ink, dated April 10, 1952, and paid to Schwab's Pharmacy, in the amount of $10. The check is drawn on Monroe's Bank of America account. Monroe lists her address as the Beverly Carlton Hotel.
2 5/8 by 5 7/8 inches
Estimate: $2,500 - $3,500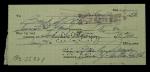 ---
Lot 347: MARILYN MONROE HEALTH CARD
A Blue Cross insurance card for Monroe provided through the S.A.G. Welfare Plan. The effective date of the plan is January 1, 1961, for Monroe.
3 1/4 by 7 1/4 inches
Estimate: $300 - $500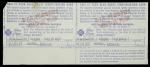 ---
Lot 350: MARILYN MONROE PHARMACY STATEMENT AND INVOICE
A handwritten itemized listing of goods sold to "Mrs. Arthur Miller" by Pollock-Bailey Pharmacists in New York City between October 1-30, 1959, totaling $220.58. Together with a follow-up statement in the same amount dated December 1, 1959. The items purchased include Revlon lotion, ACE bandage, vitamin B1 tablets, styptic pencils, bedpan, Revlon eyeliner, Revlon eye shadow, nasal jelly, and shadow stick, among other items.
11 by 5 3/4 inches
Estimate: $300 - $500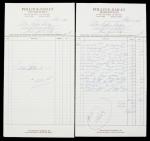 ---
Lot 916: MARILYN MONROE PRESCRIPTION RECEIPT
A pink carbon receipt for Mrs. Arthur Miller from the Fairfax Drug Company, dated "10/15/1958" in the amount of $17.68. The receipt lists Marilyn Monroe's address as the Bel Air Hotel.
4 by 6 inches
Estimate: $200 - $400

---
Lot 988: MARILYN MONROE PHARMACY RECEIPT
A receipt from Vicente Pharmacy to Marilyn Monroe for RX 19329 totaling $7.75, dated "6-8-62." Receipt number 12542.
7 by 5 1/2 inches
Estimate: $400 - $600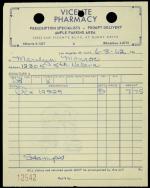 ---
Lot 992: MARILYN MONROE RECEIPT AND LETTERS
A Marilyn Monroe receipt from Vicente Pharmacy dated June 18, 1962, in the amount of $9.40 for two prescriptions. Accompanied by a letter addressed to Milton Greene dated October 10, 1955, in an unknown hand, regarding expenses for a Marilyn Monroe dress; and a letter typed on hotel stationery by May Reis regarding a check for Paula Strasberg dated September 23, 1960.
Largest, 10 1/2 by 7 1/4 inches
Estimate: $800 - $1,200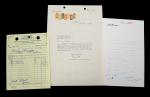 ---
Lot 993: MARILYN MONROE PHARMACY RECEIPT
A receipt from Vicente Pharmacy for "M. Monroe" from April 16, 1962, for two medications including a sleep aid. The amount totals $4.01.
7 by 5 1/2 inches
Estimate: $400 - $600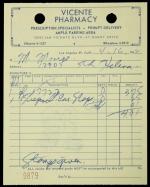 ---
Documents papiers - Finances, Dépenses diverses
Papers documents - Finances, Various Spendings

---
Lot 71: MARILYN MONROE FINAL CHECKBOOK 1962
Dated February 2, 1962, this vinyl covered; wire bound checkbook was for Marilyn Monroe's personal account at Irving Trust Company in New York City, labeled "MM Personal" on the cover. The checkbook covers Monroe's New York expenses from February 2 through August 31, 1962, check numbers 2102 through 2251, and offers a fascinating look at her expenses during the final year of her life.
Recipients of payments from Monroe's personal account during her final six months include Saks Fifth Avenue in Beverly Hills, the Mexican Government Tourist Bureau, Flatiron Window Cleaning Company, Hedda Rosten, New York Telephone Company, J. Ricky - for "face treatments," Lena Pepitone, Hattie Stephenson, Empire State Drycleaners and Hand Launderers, Century Furniture Repairs, Exec-U-Car Service, Globe-Star Travel Service, Pollock-Bailey Pharmacists, Marie Irvine - make-up for special appearance at Madison Square Garden, Sutton Wines & Liquors, Madison Avenue Florist, New York State Income Tax Bureau, Department of Labor, and State Unemployment Insurance Fund, among others.
The final check from this checkbook written while Monroe was alive was to Hattie Stephenson, Monroe's East Coast housekeeper, on August 3, 1962. Checkbook activity resumed on August 10, through August 31, 1962, with payments made to Stephenson and Hedda Rosten.
Several Marilyn Monroe signed checks are included, some actually written in Monroe's own hand, with her signature having been ripped from the check so it could not be cashed. However, in some cases the remnants of Monroe's signature are still present, as the complete signature was not torn away from the check.
7 1/2 by 8 3/4 inches
PROVENANCE From the Estate of Lee Strasberg
Estimate: $8,000 - $10,000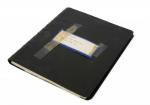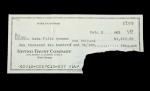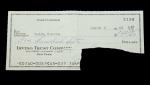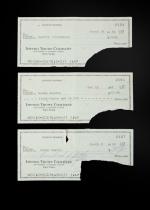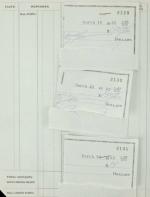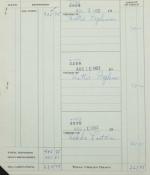 ---
Lot 72: MARILYN MONROE COMPLETE 1962 FINANCIAL STATEMENTS
An extraordinarily detailed record of Monroe's financial transactions via prepared report statements reflecting the activities in Monroe's bank accounts at City National Bank and Irving Trust Company from January 1, 1962, to August 3, 1962, 99 pages total. The monthly statement reports include all "withholds," receipts, and disbursements broken down by type of expense for each account. Of particular interest is the state of Monroe's accounts at the time of her death, including a balance of $1,337.53 in her City National Bank account on August 1, 1962, with an overdraft of $4,208.34 in the same account on August 3, 1962. The Irving Trust Account shows a balance of $1,472.41 on August 1, 1962, and a balance of $111.71 on August 3, 1962.
The January 1962 statement includes a charge for "Household-Miscellaneous/ Jan. 30 Southdown Kennel - N.Y./ "Maf" board - 8/3 to 12/17 $330.00" and income from Some Like It Hot reported as $100,000.00 and from The Misfits as $150,000.00 against which Monroe paid a total of $45,000.00 in federal taxes. The March 1962 statement lists a total of $2,459.43 in beauty expenses, including hairdressing, cosmeticians, skin treatments, hair coloring, manicures and supplies. The May 1962 statement has a separate expense category titled "New York Birthday Salute to the President" with expenses listed as "May 18 New York's Birthday Salute to the President $5,000.00/ May 16 Hazel Washington - come to NY for above - business maid, plane fare, expenses, salary $1,000.00." The same statement lists a $300 deposit with Western Costume Company and the June 1962 statement lists a payment of $1,140.33 to Western Costume Company as "balance on gown." Payments made to Dr. Ralph Greenson during the period of these statements total $8,450. The statements also show a great number of meals coded as "Entertainment" at Chip's Steak House and La Scala.
The statements are accompanied by a file copy of a typed, unsigned letter, dated September 6, 1962, from Monroe's secretary, Cherie Redmond, who prepared the statements, to secretary Inez Melson, who requested the statements. Together with five additional pages prepared by Redmond listing all outstanding checks drawn on both accounts as well as those not honored by the bank as of August 15, 1962. The lot includes another file copy of a typed, unsigned letter from Melson to attorney Aaron R. Frosch dated September 11, 1962, that accompanied the same monthly statements sent by Melson for purposes of preparing Monroe's final tax filings and for probate purposes. This two-page letter discusses measures taken to maintain the security of Monroe's Brentwood, California, property on Helena Drive and is accompanied by a seven-page report prepared by Melson giving greater detail regarding all of the outstanding checks and bills due with explanations of each payment, including what it was for and to whom it was made.
8 1/2 by 11 inches
PROVENANCE From the Estate of Lee Strasberg
Estimate: $3,000 - $5,000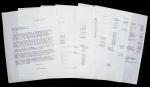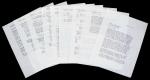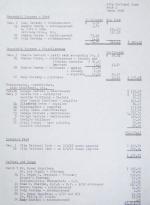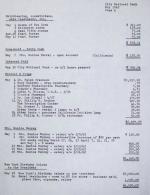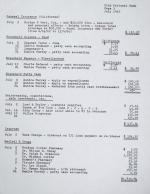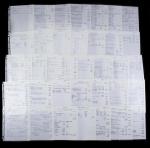 ---
Lot 99: MARILYN MONROE 1952 SIGNED CHECK TO HER MOTHER
An oversized counter check dated July 25, 1952, completed fully in Monroe's own hand, written to Mrs. Gladys P. Eley in the amount of $150.00. The check has been endorsed by Monroe's mother and is signed "Mrs. Gladys P. Eley." Monroe has given her address at the time this check was written as "Hotel Bel Air, L.A. Calif." This is an exceptionally rare document containing both Monroe's signature as well as her mother's. The check also documents the fact that Monroe began to help her mother financially at the earliest stages of her career.
Estimate: $3,000 - $5,000

---
Lot 104: MARILYN MONROE 1952 SIGNED CHECK TO GRACE GODDARD
An oversized counter check dated April 26, 1952, completed fully in Monroe's hand, written to Grace Goddard in the amount of $50.00 and signed by Goddard on the reverse with a handwritten address of 6707 Odessa Avenue, Van Nuys, Calif. Goddard was significant in Monroe's early life and formative years and even became her legal guardian. Monroe lived with the Goddard family off and on over the years, and it was Goddard who arranged her marriage to James Dougherty in 1942 when she was just 16 years old.
Estimate: $1,500 - $2,500


---
Lot 133: MARILYN MONROE AUTOMOBILE INVOICE
A customer copy of an invoice from Beverly Motor Co. of Beverly Hills dated July 1, 1950. The invoice is for a new 1950 Pontiac Chieftain Deluxe sedan coupe sold to "Miss Marilyn Monroe," address "1301 N. Harper Ave. Los Angeles, 46, Calif." The car had some optional equipment and accessories and totaled $2,729.69 including delivery and tax charges. This is most likely Monroe's first new car.
8 by 9 1/2 inches
Estimate: $400 - $600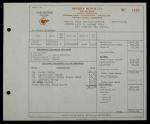 ---
Lot 157: MARILYN MONROE FINANCIAL LEDGER 1953-1955
A comprehensive financial ledger documenting presumably every Marilyn Monroe financial transaction from January 1953 through March 1955. The hardbound ledger contains handwritten entries, all of which are presumed to have been made by Monroe's business manager, Inez Melson, covering in great detail Monroe's cash received and disbursed, assets and liabilities, capital, income, expenses, and general financial transactions for the years in which Monroe completed Niagara, Gentlemen Prefer Blondes, How to Marry a Millionaire, River of No Return, and There's No Business Like Show Business. This is an incredible look at Monroe's finances during the years she was propelled to stardom as she completed some of her most famous films.
7 3/4 by 11 3/4 inches
Estimate: $8,000 - $10,000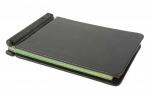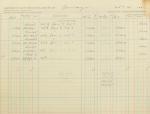 ---
Lot 158: MARILYN MONROE HANDWRITTEN AND SIGNED CHECK TO ANN KARGER
A check written entirely in Monroe's hand, in blue pen, dated May 12, 1952, and paid to Anne Karger, in the amount of $16. The check is drawn on Monroe's Bank of America account, with normal cancellation stamps and also endorsed on verso by Karger. Karger was the mother of Fred Karger, one of Monroe's early vocal coaches and also one of her first loves. Monroe remained quite close to Anne Karger and, according to reports, valued her as a mother figure.
2 5/8 by 5 7/8 inches
Estimate: $2,000 - $3,000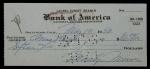 ---
Lot 167: MARILYN MONROE BILL FOR THE BEVERLY HILLS HOTEL
A two-page itemized invoice for Monroe's stay during her 35th birthday, May 30 through June 5, 1961, at Bungalow B1 A/B at The Beverly Hills Hotel, together with envelope addressed to "Miss Monroe." The balance owed as of June 5, 1961, totals $3,734.93 and includes charges for not only the room but television rental, tips, limo drivers and other fees. The invoice does list a charge noted as "limo driver" in the amount of $55 on her birthday.
6 3/4 by 6 1/8 inches
Estimate: $400 - $600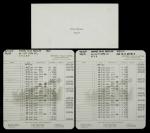 ---
Lot 168: MARILYN MONROE SIGNED CHECK
A Marilyn Monroe Productions canceled bank check dated May 6, 1960, in the amount of $1,423.20, written to The Beverly Hills Hotel, signed by Marilyn Monroe. The check is additionally annotated "Bungalow 16, (Room 204 W.E. 5/1/60)."
3 by 8 1/2 inches
Estimate: $2,500 - $3,500


---
Lot 213: MARILYN MONROE HANDWRITTEN AND SIGNED CHECK IN GREEN INK
A check written entirely in Monroe's hand, in green ink, dated July 2, 1952, and paid to Vic Massy [sic], in the amount of $50. The check is drawn on Monroe's Bank of America account. Vic Masi was a friend of Joe DiMaggio's. Monroe and DiMaggio were friendly with the Masis during their relationship.
2 5/8 by 5 7/8 inches
Estimate: $2,000 - $3,000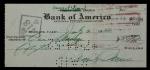 ---
Lot 217: MARILYN MONROE RECEIPTS AND DISBURSEMENT DOCUMENTS
A typed statement of receipts and disbursements for Monroe for the period January 1, 1955, through March 17, 1955. Monroe's starting bank balance was $1,800.55, and her ending balance was $3,530.55. The document clarifies deposits, disbursements, and accounts payable. Payees of note include Schwab's Pharmacy, the IRS, Screen Actors Guild, Saks Fifth Avenue, Rockhaven Sanitarium, Twentieth Century Fox "Old Cafe," and Rosalee Conover for "Partial payment on settlement of damage at 508 N. Palm Drive, Beverly Hills," which was the address of the home Marilyn shared with Joe DiMaggio following their January 1954 marriage.
Estimate: $800 - $1,000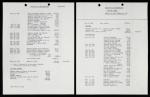 ---
Lot 311: MARILYN MONROE AND ARTHUR MILLER 1959 FEDERAL INCOME TAX RETURN
A 1959 federal income tax return for Marilyn Monroe and Arthur Miller, including Form 1040, Schedule C, and Form 1116, together with five typed pages documenting income for Monroe and Miller, along with business expenses and deductions, contributions, taxes paid, medical expenses, and other items. These documents show that the combined income for Monroe and Miller for 1959 was $323,453.00, of which $103,362.50 was income from royalties for Miller's plays, including Death Of A Salesman, The Crucible, and A View from the Bridge, among others. The Millers were required to write a check to the Internal Revenue Service for $30,338.55, the balance due for taxes on their income. Monroe's marriage to Miller ended in 1961.
Estimate: $1,500 - $2,500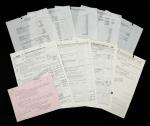 ---
Lot 327: MARILYN MONROE UNUSED CHECKBOOK
An unused vinyl covered spiral-bound checkbook for Monroe's personal East Coast account at Irving Trust Company in New York City.
7 1/2 by 8 3/4 inches
Estimate: $1,000 - $2,000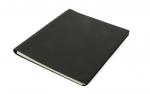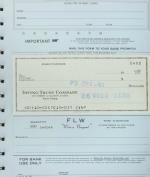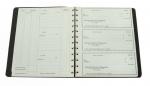 ---
Lot 351: MARILYN MONROE LIQUOR RECEIPTS
Two carbon copy receipts, the first from the Jurgensen's grocery liquor department for a bottle of Cutty Sark dated January 27, 1960, sold to Marilyn Monroe at The Beverly Hills Hotel, the second from Mac's Liquors in Beverly Hills listing caviar as well as three bottles of hard alcohol signed by Monroe's housekeeper, Hazel Washington, dated February 5, 1960. Together with a handwritten invoice for the month of June 1958 from Sutton Wines and Liquors in New York City.
Largest, 8 1/2 by 5 1/2 inches
Estimate: $200 - $300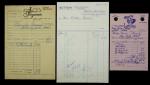 ---
Lot 353: MARILYN MONROE CHAMPAGNE RECEIPT
A carbon copy receipt from the Jurgensen's grocery liquor department, Beverly Hills, listing an order for 12 splits of Piper Heidsieck Champagne, for a total of $26.21. The receipt, dated December 2, 1959, lists a delivery date of "Thurs AM" to Marilyn Monroe at The Beverly Hills Hotel, Bungalow 21.
8 by 5 1/2 inches
Estimate: $200 - $300

---
Lot 358: MARILYN MONROE HANDWRITTEN AND SIGNED LIQUOR LOCKER CHECK
A check written entirely in Monroe's hand, in blue pen, dated September 29, 1955, and paid to the "Liquor Locker" in the amount of $14.20. The check is drawn on Monroe's Bank of America account, Sunset & Laurel branch, and has normal cancellation stamps. A small notation in the lower left of the check reads simply "Gift," and Monroe has written her address as "508 N. Palm Drive."
2 3/4 by 6 1/4 inches
Estimate: $3,000 - $5,000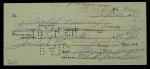 ---
Lot 429: MARILYN MONROE COFFEE RECEIPT
A simple restaurant receipt with secretarial writing recording the items as coffee, tea and milk for a total of $2.03 and Monroe's name recorded at the bottom for accounting purposes. The undated receipt is a small record of one moment in Monroe's life.
3 by 2 1/4 inches
Estimate: $80 - $120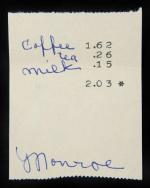 ---
Lot 438: MARILYN MONROE UNUSED CHECKBOOK
A hardcover wire bound checkbook for Monroe's account at City National Bank in Beverly Hills, California. While there are no handwritten annotations in the checkbook, several checks are missing. One hundred and ninety-seven personalized checks remain in the book, with "Marilyn Monroe" printed twice on each check.
9 1/2 by 14 inches
Estimate: $1,000 - $2,000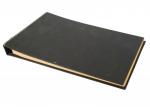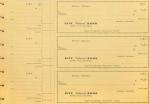 ---
Lot 473: MARILYN MONROE CHECKBOOK AUGUST 8,1960 – JANUARY 27, 1961
A cardboard covered wire bound checkbook for Monroe's account at Irving Trust Company in New York City. The cover is incorrectly labeled as being from the "Colonial Trust Company," 4/30/58 – 7/31/59. The checkbook covers Monroe's expenses from August 8, 1960, to January 27, 1961, with check numbers 1253 through 1483, offering a fascinating look at Monroe's expenses in 1960 and 1961.
Recipients of payments from Monroe's personal account during this period include The Mapes Hotel in the Nevada hotel (where Monroe and Arthur Miller stayed while filming The Misfits ), Erno Laszlo Institute, Paula Strasberg, Ralph Roberts, I. Magnin + Co., Dorr Optical Co., Beverly Pets, Arthur P. Jacobs Co., Beverly Hills Hotel, West Side Hospital, Ferragamo, Jurgensen's Grocery, Hollywood Reporter, AvisRent-A-Car System, Bergdorf Goodman, Carey Cadillac Rending Co., Yankee Traders, Variety, Riverside Flower Shop, Marilyn Monroe Productions, Hattie Stephenson, Ralph Greenson, M.D., Modern Auto Rental, T. Anthony - luggage, La Scala Restaurant, Schwab's Pharmacy, New York Telephone Company, J. Ricky, Screen Actors Guild, Lee Siegel, M.D., Leonard H. Schuyler, M.D., Bloomingdale's, Flatiron Window Cleaning Co., Jax Beverly Hills, Inc., Martindale's Bookstore, Plaza Hotel, Louis Finger, M.D., Rexford Kennamer, M.D., Berkley Square Cleaners, Sutton Wines and Liquors, Beverly Hills Music Co., MCA Artists Ltd., Marianne Kris, M.D., Actors Studio Inc. - contribution, Agnes M. Flanagan, Mrs. Michael Chekhov, Rudolph J. Kautsky, Evelyn Moriarty, Allan Snyder, Hazel Washington, Gucci, Patricia Newcomb, Maximilian Fur Company, Academy of Motion Picture Arts and Sciences, Norman Norell Inc., and Western Costume Co., among others.
9 3/4 by 6 inches
Estimate: $6,000 - $8,000

---
Lot 475: MARILYN MONROE SIGNED TAX FORM
A Form 1096 tax form from the U.S. Treasury Department Internal Revenue Service dated 1960 and addressed to Marilyn Monroe Productions in New York, signed in black ink "Marilyn Monroe."
3 1/2 by 7 3/4 inches
Estimate: $1,500 - $2,000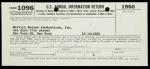 ---
Lot 513: MARILYN MONROE CHECKBOOK SEPTEMBER 9, 1960 – FEBRUARY 20, 1961
A cardboard covered black plastic comb bound checkbook for an unspecified Marilyn Monroe account, presumably Irving Trust Company in New York City based on similar payees named in other checkbooks.
Recipients of payments from this Monroe checking account include May Reis, Hedda Rosten, The Mapes Hotel in Nevada (where Marilyn and then husband Arthur Miller stayed while filming The Misfits), New York Telephone Company, La Scala Restaurant, Holiday Hotel, New York State Income Tax Bureau and Department of Labor, California Department of Employment, Beverly Hills Hotel, Ralph Roberts, MCA Artists Ltd., Internal Revenue Service, and Marilyn Monroe Productions. Christmas bonuses for Rosten and Reis are also annotated in this checkbook.
9 1/2 14 1/2 inches
Estimate: $6,000 - $8,000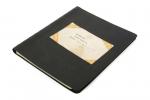 ---
Lot 532: MARILYN MONROE RECORD RECEIPT
A receipt from Raf's Record Bar on South Beverly Drive, dated February 25, 1960. The receipt is in the name of Miss Marilyn Monroe at The Beverly Hills Hotel and is signed by Monroe's assistant, Hazel Washington. The records purchased are noted as Frank Sinatra's "Come Back to Sorrento," "Swing Lovers" and "Swing Affair."
8 by 5 1/2 inches
Estimate: $100 - $150

---
Lot 533: MARILYN MONROE RECORD ALBUM MEMO
A pink credit memo from Sam Goody music store at 250 W. 49th St. in New York City. The memo is dated April 9, 1962, and has an accompanying note addressed to Cherie Redmond, one of Monroe's secretaries, stating that Monroe was charged twice when she bought only one copy of the record. The item that she was double charged for is listed as SWBO 1569, which is the Capitol Records catalog number for the double LP set Judy At Carnegie Hall - Judy in Person. This Judy Garland performance took place April 23, 1961, and the album spent 13 weeks at the top of the Billboard charts and won four GRAMMY Awards.
8 1/2 by 5 1/2 inches
Estimate: $200 - $300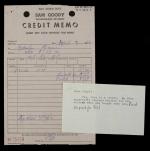 ---
Lot 601: MARILYN MONROE CHECKBOOK SEPTEMBER 25, 1961 – FEBRUARY 23, 1962
A vinyl covered wire bound checkbook for Monroe's personal account at Irving Trust Company in New York City, annotated "MM Personal" on the cover. The checkbook covers Monroe's New York expenses from September 25, 1961 through February 23, 1962, with check numbers 1802 through 1951, offering a fascinating look at Monroe's expenses as she entered the final year of her life.
Recipients of payments from her personal account during this period include Taft Garage - RR car storage, Bloomingdale's, Hammacher Schlemmer, Hattie Stephenson, Arthur P. Jacobs, Lena Pepitone, RCA Services - for 1 year contract, Ralph Roberts, Elizabeth Arden Beverly Hills, Mrs. Jane Zigler - rent-Calif. Apt, Schwab's Pharmacy, Maximilian Fur Company - fur storage, Anna's Housewares, I. Magnin + Co., Beverly Hills Call Board - answering serv., A. Fitz + Sons, Berkley Sq. Cleaners, Saks Fifth Avenue Beverly Hills, Ralph Greenson, Harold Tribune Fresh Air Fund, Internal Revenue Service, Cedars of Lebanon Hospital, Jax - Manhattan, Jurgensen's Grocery, New York Telephone Company, Malone Studio Service, Erno Laszlo Institute, Beverly Hills Flowers, Abercrombie + Fitch, Bedford Prescription Pharmacy, Hyman Engelberg, M.D., Pioneer Hardware, Screen Actors Guild, Philip R. Reuben, M.D., and Edward J. Simons, M.D. among others.
Interestingly, a typed reconciliation of Monroe's account, stapled to the inside of the checkbook, indicates that she was overdrawn by $991.41 on December 31, 1961. Several Marilyn Monroe signed checks are included with her signature having been ripped from the check so it couldn't be cashed. However, in one case, the remnants of Monroe's signature are still present.
7 1/2 by 8 3/4 inches
Estimate: $7,000 - $9,000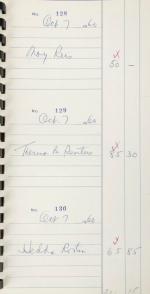 ---
Lot 824: MARILYN MONROE SIGNED CHECK
A Marilyn Monroe handwritten and signed check. The check is written from an account with Bank of America, Laurel/Sunset branch, in the amount of $15.00, dated October 29, 1951, and paid to J.J. Haggarty Stores, Inc. The information is handwritten aside from the establishment's name, which is stamped. The check is endorsed by the store on verso with an additional note that reads "Reg Patron."
3 1/4 by 8 inches
Estimate: $2,000 - $3,000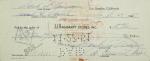 ---
Lot 841: MARILYN MONROE SIGNED 1953 CHECK
A Marilyn Monroe handwritten and signed check from a Bank of America Los Angeles account, dated March 21, 1953, in the amount of $50.00 paid to Mr. John R. Tilley. The check is housed in a frame with an image of Monroe taken by Cecil Beaton, said to be her favorite photograph of herself.
14 3/4 by 22 inches, framed
Estimate: $4,000 - $6,000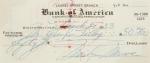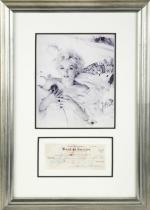 ---
Lot 900: MARILYN MONROE PRODUCTIONS BANK STATEMENT
A Colonial Trust Company bank statement for Marilyn Monroe Productions Inc. for December 1959 showing the balances throughout the month. The account had $56,503.35 on December 1st and $65,838.55 on December 31.
10 by 6 1/4 inches
Estimate: $600 - $800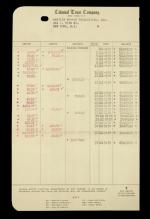 ---
Lot 904: MARILYN MONROE AND ARTHUR MILLER CHECK
An unwritten check from Marilyn Monroe and Arthur Miller's joint account at The First National City Bank of New York. The check is numbered 44 on the top right and still has the attached ledger on the left.
2 3/4 by 8 inches
PROVENANCE Partial Lot 142, "Property from the Estate of Marilyn Monroe and Other Collections," Julien's Auctions, Los Angeles, California, June 4, 2005
Estimate: $150 - $300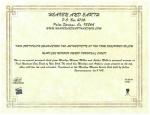 ---
Lot 907: MARILYN MONROE RECEIPT FOR STATIONERY
A receipt from A. Webster & Company in London, England, addressed to Mrs. Arthur Miller and dated August 8, 1956. The receipt is for note paper and envelopes totaling £6.76. Together with a receipt for the check dated September 12, 1956, to Mrs. Arthur Miller. Marilyn Monroe was in London at the time shooting Prince and the Showgirl (Warner Bros., 1957).
6 3/4 by 8 1/4 inches
Estimate: $1,000 - $2,000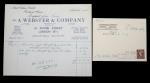 ---
Lot 987: MARILYN MONROE FINANCIAL DOCUMENTS
A group of four documents relating to Marilyn Monroe's finances: a memo from Monroe's attorney Mickey Rudin typed on Gang, Tyre, Rudin & Brown memo stationery dated July 9, 1962, regarding a deposit slip from City National Bank in the amount of $4,000, accompanied by a carbon duplicate of the deposit slip dated July 6, 1962; a carbon copy of a letter written by Monroe's secretary to City National Bank; and a carbon of a deposit slip from City National Bank for a mail deposit made on May 8, 1962, in the amount of $23.47. Also present is a blank City National Bank change of address card.
Largest, 11 by 8 1/2 inches
PROVENANCE Partial Lot 977, "Icons & Idols: Hollywood," Julien's, Beverly Hills, December 5, 2014
Ex-Collection Lois Banner
Estimate: $300 - $500

---
Lot 990: MARILYN MONROE DELIVERY RECEIPT
A delivery receipt from Abbey Rents for a lamp delivered to "Miss M. Monroe" on May 17, 1962. The total amount including tax is $71.92.
8 1/2 by 8 1/2 inches
Estimate: $200 - $400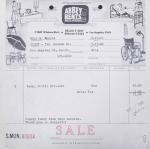 ---
Lot 991: MARILYN MONROE HANDWRITTEN NOTE
A Marilyn Monroe handwritten note to her secretary. A typed message from her secretary reads "Is this to be held or check issued?" Monroe responded in green ballpoint ink, "I have to check something about it." The note is signed either "M" or a quick partial "Marilyn." Housed in a frame with a color image of Monroe.
23 1/2 by 16 1/2 inches, framed
Estimate: $1,000 - $2,000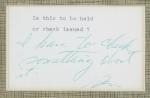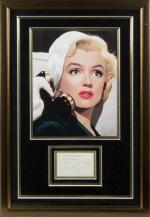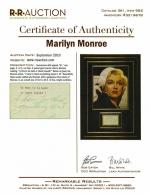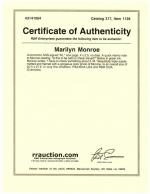 ---
Documents papiers - Maison
Papers documents - Home
---
Lot 109: MARILYN MONROE SIGNED HAMMACHER SCHLEMMER RECEIPT
An original Hammacher Schlemmer receipt, addressed to Mrs. Arthur Miller, 444 E. 57 St., NYC, dated July 9, 1959, for the purchase of "Herbs and Spices" and "The Gold Cook Book," hand signed "Mrs. A Miller." During this period, Marilyn's husband, Arthur Miller, was finalizing his screenplay for The Misfits.
Estimate: $1,000 - $1,500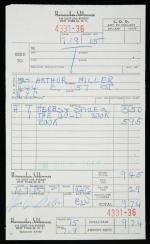 ---
Lot 282: MARILYN MONROE SIGNED RECEIPT
A receipt from Bloomingdales for a black leather and Rosewood lounge chair and matching ottoman on March 31 (no year listed) to be delivered to Marilyn Monroe at 444 East 57th Street with notation reading "Please Rush." Receipt is signed in blue ink "Marilyn Miller."
7 by 5 1/2 inches
Estimate: $2,000 - $3,000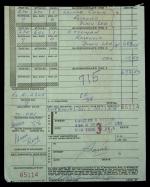 ---
Lot 283: MARILYN MONROE JAPANESE SCREEN PAPERWORK
An invoice from Parke-Bernet Galleries Inc., New York, for lot 409 from sale number 1861, December 4-5, 1958, for a "6 fold screen" in the amount of $1081.50. The invoice is addressed to Monroe's secretary "Miss Mary [sic] Reis for Mrs. Arthur Miller" at 444 East 57th Street." Together with a letter addressed to May Reis concerning the sale of the screen in October 1959 to Marsden J. Perry for $750. Perry was the son of a prominent Rhode Island collector.
Largest, 8 1/2 by 11 inches
Estimate: $200 - $300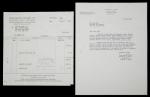 ---
Lot 284: MARILYN MONROE INTERIOR DESIGN DRAWING
A pencil on paper rendering of an elaborately carved headboard, together with accompanying letter from Daniel Lavezzo of Lavezzo Inc. Antiques of New York City dated March 4, 1958. The letter is addressed to Mrs. A. Miller of 444 East 57th Street and describes the proposed custom piece as "... carved wood frame. Finished with sterling silver antiqued, upholstered back." The quote for the job is $1,200.
10 1/4 by 7 1/4 inches
Estimate: $300 - $500

---
Lot 285: MARILYN MONROE FABRIC SAMPLES AND PAPERWORK
A large group of documents, including four customs and import forms, one in duplicate, from Eagle Star and American Express Company regarding the import and customs clearance of 70 meters of Italian silk satin. Together with four letters from Filippo Haas & Figli of Italy regarding the purchase of the material, two small fabric samples attached to cards of the fabric purchased, and four file copies of messages from Monroe's secretary regarding payment and purchase of the fabric.
Largest, 8 1/2 by 11 inches
Estimate: $400 - $600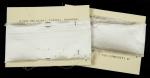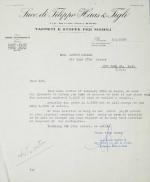 ---
Lot 286: MARILYN MONROE INTERIOR DESIGN DOCUMENTS
A proposal sent to Normal Norell from Thomas DeAngelis Inc. for Mrs. A. Miller's bedroom. The proposal gives estimates to custom upholster a settee, headboard, bedspread, pillows and box spring drop using the fabric ordered by Norell from Italy, samples of which are included in the previous lot. The estimate is accompanied by six invoices from De Angelis, an invoice from Scalamandré Silks, and an invoice with Scalamandré silk fabric sample.
Largest, 8 1/2 by 11 inches
Estimate: $300 - $500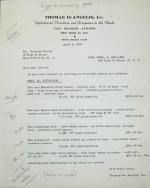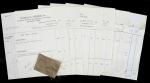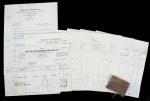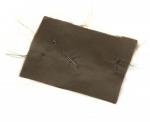 ---
Lot 287: MARILYN MONROE INTERIOR DESIGN DRAWING
A letter from Amelia Wilcox of Earnshaw Inc. that accompanied photographs and sketches of potential pieces of furniture for Monroe's review. The letter, dated September 12, 1961, is addressed to Mr. John Moore, the fashion designer who at one time worked with Norman Norell and Mattie Talmack. Other documents show that Norell was also assisting Monroe with the interior decoration of her New York apartment. The letter is accompanied by an original pencil and gouache on card painting of a coffee table with attached information sheet.
Painting, 5 by 7 inches
Estimate: $400 - $600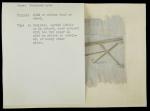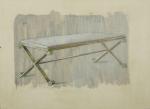 ---
Lot 288: MARILYN MONROE NEW YORK APARTMENT DECORATING DOCUMENTS
A group of three invoices dating from February and March 1958 from Oskar Barshak Interiors, New York, for a variety of improvements made to Monroe's 444 East 57th Street apartment. Together with four account statements listing a total of $7,262.07 in charges for the work.
8 1/2 by 11 inches
Estimate: $200 - $300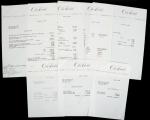 ---
Lot 289: MARILYN MONROE CARPET CARE DOCUMENTS
A group of five invoices dating from June 6, 1958, to November 14, 1958, from Renofab, Colonial Carpet Corporation and Chambers-Eaton Co. of New York for various carpet cleanings and treatments, including reburling of cigarette burn, steel combing, shearing of stained areas, and application of Karpet Kare with moth proofing. Together with Karpet Kare proposal form for dining room, living room, bedrooms and hallway of the apartment Monroe shared with Arthur Miller at 444 East 57th Street.
Largest, 8 1/2 by 11 inches
Estimate: $200 - $300

---
Lot 290: MARILYN MONROE NEW YORK APARTMENT PAINTING DOCUMENTS
An unsigned file copy of a letter from Monroe dated November 1961 to the management company of 444 East 57th Street regarding the painting of her apartment, with a response from the management company. Together with three detailed invoices from Roth Painting Co. and Don Adame painting, each with a detailed accounting of painting work performed in the apartment in March 1958 together with two handwritten documents listing additional painting work.
Largest, 8 1/2 by 11 inches
Estimate: $200 - $300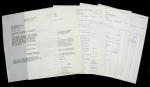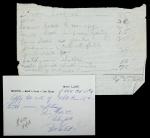 ---
Lot 291: MARILYN MONROE INTERIOR DESIGN DRAWING AND PHOTOGRAPHS
An original pencil on paper sketch of a steel finish table prepared by Earnshaw Incorporated of Madison Avenue. The drawing is accompanied by four additional photographs of potential coffee table options with attached information cards also sent by Earnshaw.
Largest, 8 by 10 inches
Estimate: $300 - $500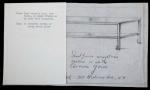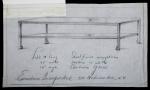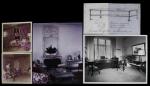 ---
Lot 292: MARILYN MONROE CUSTOM FRENCH FURNITURE PAPERWORK
A series of documents including eight pages of customs and import forms from foreign freight company Inter-Maritime Forwarding Co. Inc. and customs agent A. & G. Valcke & Co. regarding the import of a custom set of three lacquered nesting tables from French designer Leleu. The forms are accompanied by three letters from Leleu addressed to Mrs. Arthur Miller at 444 East 57th Street regarding the order and expressing his pleasure at knowing one of his pieces will be in her home and offering further design services. The group also includes two invoices for the tables from Leleu, one in triplicate, in the amount of $300, two file copies of communications sent to Leleu regarding the order, and a brochure from Leleu showcasing his work.
8 1/2 by 11 inches
Estimate: $300 - $500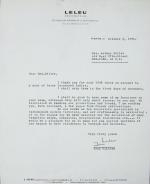 ---
Lot 293: MARILYN MONROE INTERIOR DESIGN INVOICES
A large group of documents detailing custom beveled mirror wall panels installed in Monroe's 444 E. 57th Street apartment in New York City. The documents include two diagrams of wall installations with accompanying job quote dated March 28, 1958; a file copy of a letter dated April 1, 1958, from Monroe's secretary giving approval to begin work on the job quoted at $669.50; an invoice in this amount dated "4/10/58"; an additional invoice in triplicate for a 22 by 72 1/2-inch mirror dated March 18, 1958 in the amount of $49.44; a handwritten invoice in the same amount; and a letter from a competing contractor who quoted $826 for the same mirrored wall panel job.
Largest, 8 1/2 by 11 inches
Estimate: $400 - $600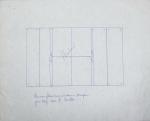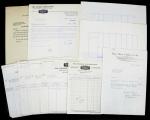 ---
Lot 515: MARILYN MONROE INVOICE FOR OIL PAINTINGS
An original invoice dated February 24, 1962, from the Galeria Bryna in Mexico listing three paintings purchased by Monroe for her home on Fifth Helena Drive. The paintings are listed as a Nude oil on Masonite by Rogelio Hermosilla Rembrud, "Window" oil on canvas by Olga Mendez, and "Thistles" oil on canvas by Nova Taylor for a total of $850. The invoice is accompanied by an original shipping form from the gallery. All three of these paintings were hanging in Monroe's home at the time of her death.
8 1/2 by 11 inches
Estimate: $200 - $300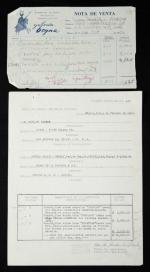 ---
Lot 516: MARILYN MONROE ART COLLECTION PAPERWORK
A group of documents regarding works of fine art purchased by Monroe. The papers include the original certificate issued by the Musee Rodin in Paris, November 17, 1960, for a bronze work titled "L' Emprise," inventory number 236 A. The certificate is issued to the Edgardo Acosta Gallery in Beverly Hills, California, which staged an exhibition of Rodin's work in March 1962, when Monroe purchased the sculpture. Together with a letter from Edgardo Acosta, a gallery receipt listing the sculpture as well as an oil painting by Poucette titled "Le Taureau," and a handwritten payment receipt dated May 5, 1962, in the amount of $962 for both works.
Largest, 8 1/2 by 11 inches
Estimate: $400 - $600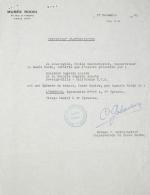 ---
Lot 518: MARILYN MONROE POTENTIAL HOME LISTING
An original letter from John E. Holland of the Charles F. Noyes Real Estate Company dated October 18, 1961, addressed to Miss Marilyn Monroe, 444 East 57th Street, New York, "Attention: Miss Marjorie Stengel" (Monroe's secretary). The letter reads in part, "[L]ast summer Mr. Ballard of our office, and I showed you the house at the corner of 57th Street and Sutton Place and Mr. Arthur Krim's house on Riverview Terrace. I spoke to Miss Stengel yesterday and told her of a house which we have just gotten listed for sale at 241 East 61st Street. She asked me to send you the particulars on this house as she thought you might be interested in it. I am enclosing our setup. ... The garden duplex apartment is now occupied by the owner and would be available to a purchaser for occupancy. You may possibly have been in this apartment as Miss Kim Novak ... just moved out in September. Before that it was occupied by Prince Aly Khan." The letter is accompanied by the setup sheet listing the details of the property as well as the price of $200,000.
8 1/2 by 11 inches
Estimate: $200 - $300

---
Lot 519: MARILYN MONROE ARCHITECTURAL DRAWINGS FOR 61st STREET MANHATTAN PROPERTY
An original letter from John E. Holland of the Charles F. Noyes Real Estate Company dated November 15, 1961, addressed to Miss Marjorie Stengel, Monroe's secretary, at Marilyn Monroe Productions, Incorporated, 444 East 57th Street, New York, stating, "I am enclosing herewith Photostats which I had made of the drawings adding a stairway which would include all or half of the third floor with the duplex garden apartments. These sketches may be somewhat confusing, but I could easily explain them if you would like to have me do so," together with six Photostat copies of original architectural drawings for the redesign of an apartment located at 241 East 61st Street in New York. The drawings go into great detail as to the redesign of the apartment, with space for an art studio and specific notes stating, "This could be another bedroom or boudoir, or health studio with 'massage' table, 'chaise lounge,' private living room…or…with numerous 'closets.'"
Interestingly, these architectural drawings from November 1961 imply that Monroe was considering relocating from the home she shared with husband Arthur Miller on East 57th Street to a three-story apartment on East 61st Street. Monroe and Miller divorced earlier in 1961. Even more interesting is the fact that, as Monroe considered a new apartment in New York City near the end of 1961, she made an offer on January 12, 1962, on a house in Brentwood, California. She moved into 12305 Fifth Helena Drive in Brentwood in March 1962.
Estimate: $700 - $900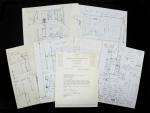 ---
Documents papiers - Divers
Papers documents - Various

---
Lot 120: MARILYN MONROE JURGENSEN'S GROCERIES RECEIPT
A receipt from Jurgensen's Groceries for food delivered to Monroe at The Beverly Hills Hotel, Bungalow 51. Dated March 2, 1960, the receipt was for a container of lard and a package of bacon. Monroe was filming Let's Make Love at this time.
Estimate: $300 - $500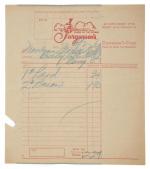 ---
Lot 188: MARILYN MONROE HANDWRITTEN TO-DO LIST
A single page of lined paper from a Steno notebook with notes in pencil on recto and pen on verso. The notes reference a wide range of people in Marilyn Monroe's life including dress designer Ceil Chapman, Paula and Lee Strasberg, designer John Moore, publicist Arthur Jacobs, business partner Milton Greene, analyst Dr. Hohenberg, and press agent Lois Weber.
LITERATURE Monroe, Marilyn, and Bernard Comment. Fragments: Poems, Intimate Notes, Letters. Pages 154-155. New York: Farrar, Straus and Giroux, 2010. 1-237. Print.
8 3/4 by 6 inches
Estimate: $4,000 - $6,000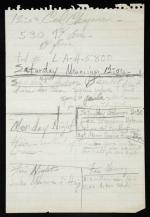 ---
Lot 198: MARILYN MONROE HANDWRITTEN TO-DO LIST AND MENU
A single page of lined paper from a Steno notebook with extensive notes in pencil on both sides, heavily creased in multiple places. The front contains a long list of things Monroe needed to buy for a household as well as household things to do: "dry clean comforter/ have wash-bathroom rugs/ send out laundry" among other things. The other side has a proposed menu and guest list for a dinner party most likely dating to 1955 or 1956. The dinner menu even included items needed for the bar, including "buy - champagne? at least some kind of wine with dinner, liquor-scotch-gin-vermouth."
LITERATURE Monroe, Marilyn, and Bernard Comment. Fragments: Poems, Intimate Notes, Letters. Pages 176-179. New York: Farrar, Straus and Giroux, 2010. 1-237. Print.
8 3/4 by 6 inches
Estimate: $8,000 - $12,000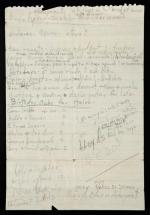 ---
Lot 199: MARILYN MONROE HANDWRITTEN STUFFING RECIPE
A single page torn from a notepad from the City Title Insurance Company of San Francisco with a recipe for stuffing, written entirely in Monroe's hand. The recipe calls for a loaf of French bread with a note above reading "sourdough." The verso of page offers instructions for roasting a chicken or turkey with reminder that poultry cooks "30 min to 1 lbs."
LITERATURE Monroe, Marilyn, and Bernard Comment. Fragments: Poems, Intimate Notes, Letters. Pages 180-183. New York: Farrar, Straus and Giroux, 2010. 1-237. Print.
6 1/4 by 4 inches
Estimate: $10,000 - $20,000

---
Lot 269: MARILYN MONROE ARTHUR MILLER HANDWRITTEN BOOK DEDICATION TO MARILYN MONROE
A single piece of lined paper torn from a spiral-bound notebook, heavily stained, containing a notation in Miller's hand reading "This book is being written out of the courage, the widened view of life, the awareness of love and beauty, given to me by my love, my wife-to-be, my Marilyn. I bless her for this gift, and I write it so that she may have from me the only unique thing I know how to make. I bless her, I owe her the discovery of my soul." Although the note is undated, Miller refers to Marilyn Monroe as his wife to be, indicating that it was written prior to their marriage on June 29, 1956. Although this dedication did not appear in any of Miller's books it was possibly intended to be used in A View from the Bridge, which Miller was rewriting as a two-act play during his courtship with Monroe. Because Miller was not officially divorced until June 1956 it is possible that the dedication was not used due to timing.
8 1/2 by 11 inches
Estimate: $1,500 - $2,500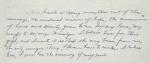 ---
Lot 270: MARILYN MONROE CORRESPONDENCE WITH XENIA CHEKHOV
A single-page typed, unsigned file copy of a letter dated December 19, 1958, to "Mrs. Chekhov" reading "My husband and I were so happy with the pictures you sent us of Mr. Chekhov. We will treasure them forever./ I am not able to shop for Christmas, as you may already know I have lost the baby, so I would like you to use this check as my Christmas greetings with all my most affectionate good wishes./ My husband sends you his warmest regards." The letter is accompanied by Xenia Chekhov's response written on a notecard dated January 10, 1959, reading in part, "[Y]our personal sad news affected me very much and I could not find the courage to write you sooner. All my warmest feelings of sympathy go out to you and Mr. Miller." This is a deeply personal note with an acknowledgement of a miscarriage in Monroe's own words.
Largest, 8 1/2 by 11 inches
Estimate: $600 - $800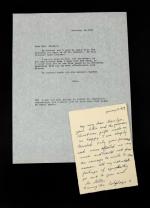 ---
Lot 272: MARILYN MONROE HANDWRITTEN SIGNED CHECK TO BOOKSTORE
A check written entirely in Monroe's hand, in blue ink, dated August 20, 1955, and paid to Martindale Books, in the amount of $2. Monroe has filled out the blank counter check listing her address as "508 N. Palm Dr."
2 5/8 by 5 7/8 inches
Estimate: $2,000 - $3,000

---
Lot 273: MARILYN MONROE BOOKSTORE RECEIPTS
An assortment of receipts from seven different bookstores: including: Doubleday Book Shop, Beekman Place Bookshop, and E. Weyhe Inc., all of New York City, and Wepplo's Book Store, Lee Freeson, Martindale's Book Stores and Hunter's Books, all of Los Angeles. Titles include The Great Gatsby; Van Gogh's Great Period; I , Rachel; An Encyclopedia of Gardening; Hi - Lo's - Love Nest; a book listed simply as "Yves Montand," among others. The receipts are dated 1958 and 1960, and the receipt from Hunter's Books includes a pink carbon copy.
Largest, 10 1/2 by 7 1/4 inches
Estimate: $400 - $600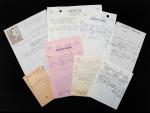 ---
Lot 275: MARILYN MONROE ARTHUR MILLER TYPEWRITER RENTAL RECEIPT
A receipt from the Beverly Hills Typewriter Shop dated September 1, 1960, addressed to Mr. Arthur Miller, Room 356, Beverly Hills Hotel, for rental of an Olympia typewriter. Marilyn Monroe was admitted to Westside Hospital in Los Angeles on August 29, needing a break from filming The Misfits in Nevada as she was suffering from exhaustion. Interesting to note that Miller attempted to write in his room at The Beverly Hills Hotel while his wife convalesced in a Los Angeles hospital.
Estimate: $150 - $250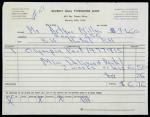 ---
Lot 309: MARILYN MONROE HANDWRITTEN NOTATION
A single page of typed lines comprising "City Ballad" with "(preferably with music)" written below. The lines are arranged in five stanzas. A note in pencil in Monroe's hand in the upper left corner of the page reads "I must stop staring out of the library window!"
8 1/2 by 11 inches
Estimate: $1,000 - $1,500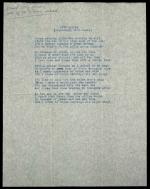 ---
Lot 500: MARILYN MONROE PERSONAL STATIONERY
A large group of 50 sheets of stationery paper and 250 matching ivory envelopes in original packaging. The envelopes are contained in their original Strathmore box listing the paper as "Strathmore Bond 25% Cotton Fiber Ivory Laid" made by the Old Colony Envelope Company. The box originally contained 500 envelopes and now contains 250 "Marilyn Monroe" blind embossed envelopes. Together with 50 sheets of matching stationery paper still in the original brown paper bag, each sheet with "Marilyn Monroe" blind embossed in the now iconic font. Together with a file copy of a letter dated April 18, 1962, addressed to Hedda (Rosten) from Cherie (Redmond), Monroe's friend and secretary in New York City and Monroe's secretary in Los Angeles, respectively. The letter instructs Hedda to order more stationery for Monroe from the Chase Press at 247 Park Avenue in New York, "... if the information under 'Stationery' in the telephone book is right." Redmond continues, "I would think about 250 sheets and envelopes would suffice for sometime, but usually it costs very little more to get 500 of each... (I just has a call from Pat Newcomb for 50 sheets of each and that doesn't leave much more on hand in case she again asks me for that amount." The box of envelopes included in this lot is half full and indeed was a box of 500, quite possibly the very order mentioned in this letter written less than four months before Monroe's death.
9 by 6 inches
Estimate: $8,000 - $12,000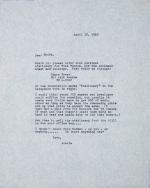 ---
Lot 501: MARILYN MONROE PERSONAL STATIONERY
Five sheets of custom ivory stationery with five matching envelopes, each personalized with a simple "Marilyn Monroe" blind stamp.
9 by 6 inches
Estimate: $1,000 - $1,500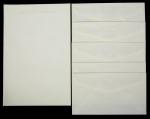 ---
Lot 502: MARILYN MONROE PERSONAL STATIONERY
A single sheet of custom ivory stationery with a matching envelope, each blind embossed simply "Marilyn Monroe."
9 by 6 inches
Estimate: $500 - $700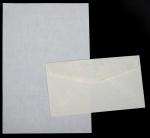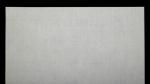 ---
Lot 503: MARILYN MONROE INVOICE FOR STATIONERY
An invoice from Chase Press Inc. printers, engravers and stationers on Park Avenue in New York City dated March 31, 1958. The invoice lists "500 pieces of note size letter heads 6 x 9 engr. Blank" and "500 6 3/4 engr. Envelopes flap," each at a cost of $12.50 for a total of $25.75 with tax. Together with a statement of account as of the same date in the same amount and a past due notice dated April 30, 1958, for the same bill.
Largest, 6 1/2 by 8 1/2 inches
Estimate: $200 - $300

---
Lot 504: MARILYN MONROE STATIONERY
A single sheet of custom stationery with personalized embossed name at top reading "Mrs. Arthur Miller" in black. Together with four sheets of Arthur Miller's stationery paper reading "Arthur Miller" at the top of each page.
Smaller, 8 by 6 inches
Estimate: $500 - $700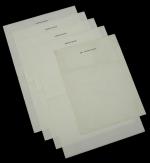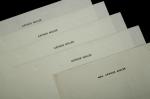 ---
Lot 506: MARILYN MONROE NOTEPAD
A blank notepad from Parkside House, Englefield Green, in Surrey, England, with 29 pages and loose paper cover. Parkside House is where Monroe and then husband Arthur Miller stayed while Monroe was filming The Prince and the Showgirl . Some of the notes included in the book Fragments were written on pages from this pad.
7 by 5 1/4 inches
Estimate: $150 - $250

---
Lot 845: MARILYN MONROE IDENTIFICATION CARD SIGNED "NORMA JEANE DiMAGGIO"
A Marilyn Monroe signed United States Department of Defense Noncombatant's Certificate of Identity. The card is signed "Norma Jeane DiMaggio" and countersigned by the issuing officer. It is additionally marked "Void." Monroe's fingerprints are stamped on the back of the card, but no other information has been entered. It is well known that Monroe was issued an official Department of Defense identification card dated February 8, 1954, with a card serial number of 129278. This card's serial number is 129279. The same issuing officer signed this card as well as Monroe's official ID card. Monroe visited Korea to entertain the troops while on her honeymoon with Joe DiMaggio in February 1954.
2 1/2 by 3 3/4 inches
Estimate: $15,000 - $30,000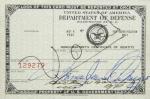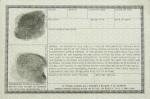 ---
Lot 848: MARILYN MONROE DEPARTMENT OF DEFENSE PERFORMER ID CARD
A Marilyn Monroe signed United States Department of Defense Identification Card used in 1954 while in Korea. The card is issued to Norma Jeane DiMaggio, her position listed as "USO Entertainer," and the card is dated February 8, 1954, serial number 129278, with a black and white photograph of Monroe in the upper left corner. Monroe signed the card in blue ink "Norma Jeane DiMaggio." It is additionally signed by the issuing officer. Monroe's fingerprints have been stamped on the back of the card and her descriptive information typed. In 2008, an almost identical card was sold at auction; however, that card did not list Monroe's position. Both that card and this have the same serial number. Novelty cards replicating this card have been produced but entirely in black and white.
2 1/2 by 4 inches
Estimate: $10,000 - $20,000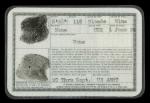 ---
Lot 849: MARILYN MONROE HOTEL RECEIPT
A receipt from the Beverly Hills Hotel for "Dimaggio Mrs JP" for $576.59 accrued between March 15 and March 17, 1954. Marilyn Monroe had married Joe DiMaggio two months earlier, on January 14, 1954.
7 by 6 1/4 inches
Estimate: $800 - $1,200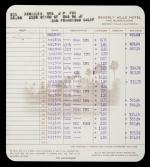 ---
Lot 908: MARILYN MONROE PERSONAL STATIONERY
A sheet of Marilyn Monroe personal stationery with envelope. Both are unused and blind embossed "Marilyn Monroe."
9 by 6 inches
Estimate: $200 - $300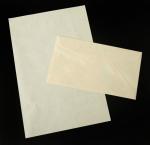 ---
Lot 994: MARILYN MONROE LIMOUSINE RECEIPT
A carbon copy of a receipt from Carey Cadillac Renting Co. of California to "M. Monroe" on "3/4/62" for $100. The charge was for a 14 1/2 hour use of a limousine. Ticket number 21076.
8 1/2 by 6 1/4 inches
Estimate: $400 - $600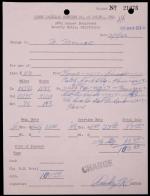 ---
Lot 995: MARILYN MONROE AIRLINE TICKET RECEIPT
A Rand-Fields ticket service receipt addressed to Marilyn Monroe for a one-way first-class ticket from Los Angeles to New York purchased for "Mrs Lee Strasbourg" [sic] for $205.59, on July 30, 1962. The receipt was issued less than a week before Monroe's death.
6 3/4 by 6 inches
Estimate: $400 - $600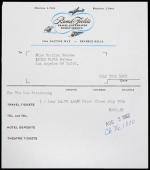 ---
Lot 1004: MARILYN MONROE FUNERAL CARD
An original card from the funeral of Marilyn Monroe, held on Wednesday, August 8, 1962, at the Westwood Village Mortuary in Los Angeles. The front of the card bears an image of the Bok Singing Tower. The inside reads in part, "In Memory of/ Marilyn Monroe/ Born June 1st, 1926/ Passed Away/ August 5th, 1962," and includes the details of her funeral service. Facing page is printed with Psalm 23. Accompanied by an information packet about the services for Monroe that includes the eulogy given by Lee Strasberg, a list of invited guests, and a letter to those not invited to the service. Inez Melson gave funeral card and accompanying packet to a friend, and it has remained with that family until this time.
Card, 5 1/2 by 3 1/4 inches
Estimate: $1,000 - $2,000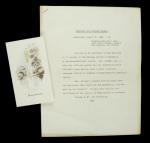 Enregistrer
Enregistrer