01 novembre 2016
---
Documents papiers - Vie Privée
Papers documents - Private Life

---
Lot 1: MARILYN MONROE HANDWRITTEN POSTCARD
A Beverly Hills Hotel postcard in Marilyn Monroe's handwriting, sent to Ralph Roberts in May 1961. Monroe wrote, "Dear Raffe, See I did write! I have a surprise for you and I'm not pregnant either. XOXO Love, M." Accompanied by a copy of a letter from Roberts.
3½ by 5½ inches
PROVENANCE: Partial Lot 334, "Film and Television Memorabilia," Christie's East, New York, Sale number 7821, December 18, 1995
Estimate: $1,000 - $2,000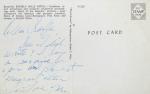 ---
Lot 17: MARILYN MONROE ARTHUR MILLER SIGNED MOCK-UP TITLE PAGE
A mock-up title page from Arthur Miller's collected plays, The Viking Press, New York, 1957, with printed dedication reading "For Marilyn" and signed by Arthur Miller.
8 1/2 by 11 1/2 inches
PROVENANCE: Lot 358, "Film and Entertainment," Christie's, South Kensington, Sale number 6343, December 17, 1993
Estimate: $250 - $350

---
Lot 33: MARILYN MONROE LEE STRASBERG EULOGY, FUNERAL GUEST LIST, AND REMBERENCE CARD
Five typescript pages bound by a staple relating to the funeral service of Marilyn Monroe. The first page is titled "Service for Marilyn Monroe Wednesday, August 8, 1962, 1PM." The second and third pages detail Lee Strasberg's eulogy for Monroe. The fourth page is a list titled "Those invited to Attend." The last page has a paragraph with a statement to Monroe's uninvited friends explaining the desire to keep the service private, credited to Berniece Miracle, Inez Melson and Joe DiMaggio. Together with an In Memory of Marilyn Monroe remembrance card from her funeral service at Westwood Memorial Park, dated "August 8th, 1962," and containing the 23rd Psalm and service details.
Largest, 11 by 8 1/2 inches
PROVENANCE Lot 69, "Popular Culture: Film and Entertainment," Christie's, London, South Kensington, Sale Number 5579, November 25, 2010
Estimate: $1,000 - $2,000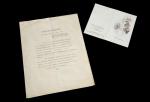 ---
Lot 78: MARILYN MONROE LETTER TO BOBBY MILLER MENTIONING ROBERT KENNEDY
A typed, unsigned file copy of a four-page letter on two leaves, letter dated "Noon February 2" (1961), addressed to Arthur Miller's son, "Dear Bobbybones." She writes in response to Bobby's letter, "That pool table you told me about in that Danish hotel sounds great. Did I ever tell you that I can really play pool. I learned when I was about sixteen and it is something that you never forget." She also comments, "I am going to get that book you recommended; is it "Lord of the Flies" or "The Fleas"? I would love to read something really terrifying."
Most poignantly, Monroe tells Bobby about her new home, "Bobby, I have the best news: I have just completely bought my new house. ...It is an authentic little Mexican house, but it's got a gigantic swimming pool, and it looks just like Mexico. You would just love it. I have two guest rooms plus a large playroom, plus lots of patios, and a big Mexican wall goes all around the place with big high Mexican gates (that's to keep intruders out, in case anybody gets intrusive.) ...Anyway, I would love - for whichever vacation it can be arranged - if you and Janie wanted to - at least for part of vacation, even if it is just for a few days, or a week - you are welcome to stay as long as you wanted to. I will take care of your plane tickets and meet you at the airport. ..."
Monroe is also excited to share other news, "Oh, Bobby, guess what: I had dinner last night with the Attorney-General of the United States, Robert Kennedy, and I asked him what his department was going to do about Civil Rights and some other issues. He's very intelligent, and besides all that, he's got a terrific sense of humor. I think you would like him. Anyway, I had to go to this dinner last night as he was the guest of honor and when they asked him who he wanted to meet, he wanted to meet me. So, I went to the dinner and I sat next to him, and he isn't a bad dancer either." She continues telling Bobby about her conversation and pressing Kennedy to find out what he planned to do about civil rights and that he answered her questions and told her he would send her a letter with all of his plans. He asked her if she had been attending "some kind of meetings" she writes to Bobby, "I laughed and said 'no, but these are the kind of questions that the youth of America want answers to and want things done about.' Not that I'm so youthful, but I feel youthful. But he's an old 36 himself which astounded me because I'm 35. It was a pleasant evening, all in all."
She begins to close, "I haven't heard from her [Janie] since Christmas. I guess we are all a little sloppy about writing. However, I think we all know what we mean to each other, don't we. At least I know I love you kids and I want to be your friend and stay in touch. ...I love you and miss you, and, give my love to Janie."
8 1/2 by 11 inches
PROVENANCE From the Estate of Lee Strasberg
Estimate: $1,500 - $2,000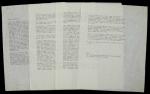 ---
Lot 79: MARILYN MONROE RECEIVED LETTER FROM JEAN KENNEDY SMITH
A single sheet of stationery listing an address in Palm Beach, Florida, with autograph notation in blue ink on recto and version reading in full, "Dear Marilyn - Mother asked me to write and thank you for your sweet note to Daddy - He really enjoyed it and you were very cute to send it. / Understand that you and Bobby are the new item! We all think you should come with him when he comes back east! Again thanks for the note. / Love, Jean Smith." Jean Smith is one of nine children to Rose and Joseph Kennedy and sister to John F. Kennedy, Robert F. Kennedy, Ted Kennedy, Eunice Kennedy Shriver and four other siblings.
7 3/4 by 5 3/4 inches
PROVENANCE From the Estate of Lee Strasberg
Estimate: $3,000 - $5,000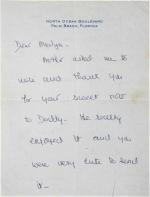 ---
Lot 90: MARILYN MONROE RECEIVED LETTER FROM ANA LOWER
A single-page letter written by Ana Lower to Monroe on recto and verso, dated October 10, 1944. Lower, "Aunt Ana," as Monroe called her, was actually Grace Goddard's aunt but was a mother figure for Monroe and by all accounts one of the most important figures in her life until Lower's death in 1948. This early letter reads in part, "My precious Girl, You are outward bound on a happy journey. May each moment of its joyous expectations be filled to the brim./ New places, faces and experiences await you. You will meet them all with your usual sweetness and loving courtesy./ When you see your sister you will truly both receive a blessing." The letter was written by Lower as a send-off to Monroe as she left Los Angeles, headed to Detroit to meet her half-sister, Berniece Miracle, for the first time face-to-face in 1944.
7 1/4 by 6 inches
Estimate: $1,000 - $1,500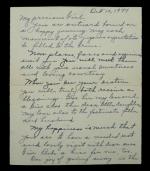 ---
Lot 91: MARILYN MONROE STAMP COLLECTION BOOK
A three-hole stamp collection book with vinyl covers from Grimes-Stassforth Stationery Company in Los Angeles, consisting of 30 pages, 10 of which have stamps glued to them. Interestingly, many of the stamps in the book are used, accompanied by new and unused identical stamps. Stamps in the book range in years from 1935 to 1936, suggesting that Marilyn Monroe collected the stamps when she was between 9 and 10 years old. The final stamp entry in the booklet contains a handwritten annotation, "#1319 AP8," presumably in Monroe's hand.
11 1/4 by 9 inches
Estimate: $1,000 - $1,500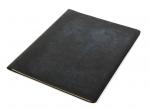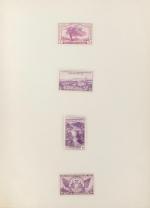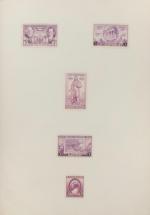 ---
Lot 93: MARILYN MONROE RECEIVED LETTER FROM ANA LOWER
A four-page letter on two leaves, written by Ana Lower to Monroe, dated "Monday 6:45 pm Oct 23, 1944." This early letter was written to Monroe while she was on her trip to Detroit to meet her half-sister for the first time in person. The letter reads in part, "How nice for you to have found such a lovely sister and family. I hope they will be out here too later on./ Love arranged this trip for you dear, and Love will bring Jimmie home at the right time. Now stop this nonesense [sic] about car sickness. God does not cease to be because you board a train, nor do you cease to be his perfect child because you take a car ride or a ship ride. You just forget to put your armour [sic] on."
6 3/4 by 5 1/2 inches
Estimate: $1,000 - $1,500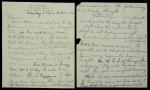 ---
Lot 97: MARILYN MONROE GRACE GODDARD NOTES ON BEHAVIOR OF MARILYN MONROE'S MOTHER
An undated single page of stationery from B & H Waterproofing Mfg. Co. letterhead containing notes in pencil, in Grace Goddard's hand. A parenthetical note at the bottom of the first page reads "(I wrote these things down as Gladys said them while she was staying with me) Grace Goddard." The notes were then presumably sent to Monroe as they were among her belongings at the time of her death. The list, numbered from 1 to 15, is essentially a portrait of someone suffering mental illness, including paranoid delusions: "2. She thinks she was sent to State Hospital because years ago she voted on a Socialist ballot at Hawthorne and was being punished for doing so."; "6. She is being punished because years ago she took a drink of liquor (during prohibition) and should have been sent to jail."; "7. Sleeps with her head at the foot of bed so as not to look at Marilyn's picture - they disturb her."; "10. After listening to a political speech, said she was needed in Russia to help them."; "11. Wishes she never had had a sexual experience so she could be more Christ like."; "15. Misplaces or losing her glasses, watch, gloves, or other possessions and either accuses someone of stealing them, or are to blame for her losing them." She also expresses sudden aversion to meat and fish, fear of Catholics, belief that she was a nurse working for the government while at "Agnew" mental hospital, and belief that nobody should listen to the radio because the people are drunk when they go on the air, among many other observances. This is a fascinating firsthand account of Monroe's mother directly from someone witnessing and documenting her behavior.
8 1/2 by 11 inches
Estimate: $2,000 - $3,000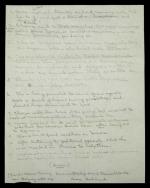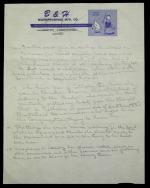 ---
Lot 98: MARILYN MONROE CARD FROM HER MOTHER
A small greeting card featuring a charming representation of a lady wearing a feather hat and veil, constructed using a button. The autograph note in pencil reads in full, "Dear One; I am very grateful for all the kindness you've shown me and as a Loving Christian Scientist (my pencil broke) I hope our God will let me return some goodness to you with out doing myself any harm. For I know good is reflected in goodness, the same as Love is reflected in Love./ As a Christian Scientist I remain very truly your Mother." The undated note is in an unpostmarked envelope addressed to "Miss Norma Jeane Dougherty 6707 Odessa Ave., Van Nuy's Cal." with return address for her mother listed as "From - G. P. Eley 2713 Honolulu Ave. Verdugo City, Cal."
5 by 4 inches
Estimate: $3,000 - $5,000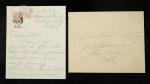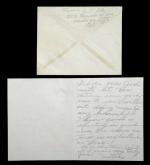 ---
Lot 103: MARILYN MONROE RECEIVED LETTER ABOUT SECRETLY CARING FOR HER MOTHER
A four-page autograph letter with postscript continuing onto the verso of first page, in pencil, in the hand of Grace Goddard, Monroe's one-time legal guardian. The letter dated August 25, 1953, reads in part, "I have been having a wild time over that bill for G - I phoned the secretary as you said ... I could tell by her answers that you had not confided in her about G - She said she didn't have $600 left to pay that amount and wouldn't anyway without specific instructions from you. I had to let the whole matter drop as I didn't want to say anything. I just hoped and prayed you would get home. Sunday morning Miss O'Brien phoned and I was too sick to talk to her … I phoned her today ... and she said if they didn't receive $600 within the next week they would be forced to turn G - over to the county, which would mean I would have to appear again and this time we couldn't keep it from becoming public. Another $300 is due by or before the 11th of Sept. I'm so sorry you didn't send me a check before you left and Doc could have handled it as we did before. The only reason I asked you to have some one else handle that account was because I expected to be in Texas for several months and Doc might be out of town. Now that I don't need that operation and expect to be here I think it is best not to confide in any more people than you have to. I wish you would send me a check for $600 quick like and I'll tend to it immediately. Such a burden for a delicate little girl like you to hear. If we had anywhere near that amount in the bank Doc would have sent the check anyway..."
The letter is accompanied by the original transmittal envelope and a pink carbon receipt for a $600 money transfer through the Canadian Pacific Railway Company addressed to Mrs. E.S. Goddard anddated August 27, 1953, with facsimile signature of Marilyn Monroe and a note in her hand saying "sorry difficulty hope you feel better." The form states Monroe's "Place" as the Banff Springs Hotel, where she and Joe DiMaggio stayed while she was filming River of No Return (20th Century Fox 1953) in Canada. The letter clearly shows that even Monroe's secretary was not told about Monroe's mother Gladys being re-admitted to a psychiatric care facility at this time and demonstrates that Monroe was able to keep it a secret with the help of close contacts like the Goddards. Grace Goddard passed away on September 28, 1953, just over a month after this letter was written.
8 by 5 inches
Estimate: $1,500 - $2,500

---
Lot 105: MARILYN MONROE ROCKHAVEN SANITARIUM RECEIPTS FOR THE CARE OF MARILYN MONROE'S MOTHER
A grouping of 42 receipts, ranging in date from October 1962 through April 1966, addressed to Inez C. Melson, for the care of Monroe's mother, Gladys P. Eley, while she was staying at Rockhaven Sanitarium in Verdugo City, California. Included with the Rockhaven Sanitarium receipts are other invoices for products and services provided to Eley, including prescription medications, toothbrushes and toothpaste, repairs to her dentures, cash advances, and package deliveries sent to Gainsborough, Florida, for Eley's other daughter, Berniece Miracle. The April 27, 1966, invoice indicates that Eley's account at Rockhaven was $7,355.90 in arrears.
Estimate: $5,000 - $7,000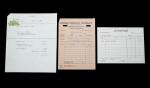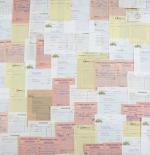 ---
Lot 159: MARILYN MONROE TYPED 1943 NOTES
Six pages of typed thoughts and feelings from a very young Norma Jeane Dougherty expressing her thoughts on her marriage to James Dougherty as she confronts her fear that her husband has been unfaithful with his former girlfriend, Doris Ingram. She writes the letter after a night apart from Dougherty and examines her feelings with great depth of understanding and maturity, "[I]n the beginning I would/ never have stayed with him but for his love of classical/ music his intellect which made a pretense at being more/ then [sic] it was." She continues, "I was greatly/ attracted to him as one of the few young men I had no sexual repulsion for." She comments that despite steady modeling, "... to an outsider it might/ not be conceivable that I had taken my small insecurities/ and built them up into a nervous tension which although it/ had outlets was always present." After discovering that Dougherty "had spent the evening & most of the morning hours with the other woman ..." she says she "... now would/ like a chance at a third act - the unsuspecting male and/ the vengful [sic] female, but now I'm only fooling my-/ self if I do get my last act I will portray the heroine/ who bravely suffers tucking it all away to use as barage [sic]/ some now unknown man." Pages have been stored folded together and are brittle with some separation along crease lines of first page.
LITERATURE Monroe, Marilyn, and Bernard Comment. Fragments: Poems, Intimate Notes, Letters. Pages 5-11. New York: Farrar, Straus and Giroux, 2010. 1-237. Print.
10 1/4 by 7 1/4
Estimate: $8,000 - $10,000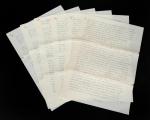 ---
Lot 160: MARILYN MONROE HANDWRITTEN POEM
A single sheet of unlined paper with handwritten poem in pencil reading "Life -/ I am both of your directions/ Somehow remaining hanging downward/ the most/ but strong as a cobweb in the/ wind-I exist more with the cold glistening frost./ But my beaded rays have the colors I've/ seen in a painting-ah life they/ have cheated you."
LITERATURE Monroe, Marilyn, and Bernard Comment. Fragments: Poems, Intimate Notes, Letters. Pages 16-17. New York: Farrar, Straus and Giroux, 2010. 1-237. Print.
7 1/4 by 10 1/2 inches
Estimate: $10,000 - $15,000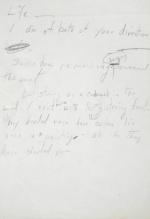 ---
Lot 161: MARILYN MONROE HANDWRITTEN NOTE
A single page of lined paper from a Steno notebook with writing, in pencil, and with a fatalistic tone, reading in full, "Oh damn I wish that I were/ dead-absolutely nonexistent-/ gone away from here-from/ everywhere but how would I/ There is always bridges-the Brooklyn/ bridge/ But I love that bridge (everything is beautiful from there/ and the air is so clean) walking it seems/ peaceful even with all those/ cars going crazy underneath. So/ it would have to be some other bridge/ an ugly one and with no view-except/ I like in particular all bridges-there's some-/ thing about them and besides I've / never seen an ugly bridge."
LITERATURE Monroe, Marilyn, and Bernard Comment. Fragments: Poems, Intimate Notes, Letters. Pages 18-19. New York: Farrar, Straus and Giroux, 2010. 1-237. Print.
8 3/4 by 6 inches
Estimate: $10,000 - $15,000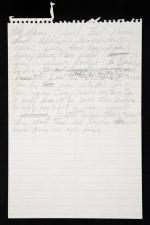 ---
Lot 162: MARILYN MONROE HANDWRITTEN POEM
A single sheet of lined paper, folded at center. The page contains a verse in pencil reading "Stones on the walk/ every color there is/ I stare down at you/ like a horizon-/ the space-air is between us beckoning/ and I am many stories up/ my feet frightened/ as I grasp towards you."
LITERATURE Monroe, Marilyn, and Bernard Comment. Fragments: Poems, Intimate Notes, Letters. Pages 20-21. New York: Farrar, Straus and Giroux, 2010. 1-237. Print.
12 3/8 by 8 inches
Estimate: $8,000 - $12,000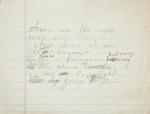 ---
Lot 163: MARILYN MONROE HANDWRITTEN POEM
A single sheet of lined paper with unevenly torn top edge and minor paper loss along bottom edge. The recto of page contains a poem written in pencil reading "Only parts of us will ever/ touch parts of others-/ one's own truth is just/ that really-one's own truth./ We can only share the/ part that is within another's knowing acceptable/ so one/ is for most part alone./ As it is meant to be in/ evidently in nature-at best perhaps it could make/ our understanding seek/ another's loneliness out."
LITERATURE Monroe, Marilyn, and Bernard Comment. Fragments: Poems, Intimate Notes, Letters. Pages 22-23. New York: Farrar, Straus and Giroux, 2010. 1-237. Print.
8 3/4 by 6 inches
Estimate: $6,000 - $8,000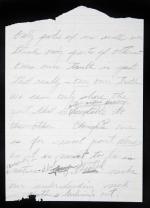 ---
Lot 164: MARILYN MONROE HANDWRITTEN NOTE
A single piece of lined notebook paper with notation in pencil showing Monroe's frustration with what must have been a relentless demand for her time and attention, reading in full, "I can't really stand Human/ Beings sometimes-I know/ they all have their problems/ as I have mine-but I'm really/ too tired for it. Trying to understand,/ making allowances, seeing certain things/ that just weary me."
LITERATURE Monroe, Marilyn, and Bernard Comment. Fragments: Poems, Intimate Notes, Letters. Pages 24-25. New York: Farrar, Straus and Giroux, 2010. 1-237. Print.
12 3/8 by 8 inches
Estimate: $6,000 - $8,000

---
Lot 165: MARILYN MONROE HANDWRITTEN POEM
An envelope with rhyming poem written by Monroe in pencil on back making light of the fact that hospital gowns do not cover her "derriere." The envelope also contains a list of composers and musicians: "Beethoven/ Last 6-quartets/ Ravel-the Waltz/ Bartok-quartets of his."
LITERATURE Monroe, Marilyn, and Bernard Comment. Fragments: Poems, Intimate Notes, Letters. Pages 26-27. New York: Farrar, Straus and Giroux, 2010. 1-237. Print.
4 1/8 by 9 1/2 inches
Estimate: $4,000 - $6,000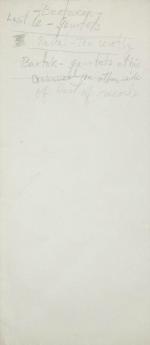 ---
Lot 166: MARILYN MONROE NOTE ON BEVERLY HILLS HOTEL STATIONERY
A single page of hotel stationery note paper, folded down the center of the page. There are multiple marginal notes, but the main body of text reads like a poem and appears to be a mantra-like acting relaxation exercise reading in part, "Keep the balloon, and/ Dare not to worry/ Dare to/ let go - so loose/ They you pick up/ Stretch into your tone" and "Let go of my/ eyes -/ so relaxed/ only let/ my thought/ come through/ them without/ doing any/ thing to/ them."
LITERATURE Monroe, Marilyn, and Bernard Comment. Fragments: Poems, Intimate Notes, Letters. Pages 28-29. New York: Farrar, Straus and Giroux, 2010. 1-237. Print.
5 1/2 by 4 inches
Estimate: $8,000 - $12,000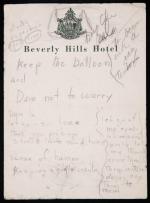 ---
Lot 169: MARILYN MONROE EARLY CAREER PERSONAL JOURNAL
A black "Record" book with 150 numbered and lined pages, dating to the late 1940s to early 1950s, with approximately 12 pages containing entries in Monroe's hand, including notes about Monroe's 1948 trip to Salinas and Castroville in northern California and also a line referencing her 1951 film Love Nest. Monroe wrote on the first pages of the book, "Alone!!!!! I am alone – I am always alone no matter what." The writings include class notes as well as deeply personal writings of her deepest insecurities, reading in part, "Fear of giving me the lines new, maybe won't be able to learn them, maybe I'll make mistakes, people will either think I'm no good, or laugh or belittle me or think I can't act."
LITERATURE Monroe, Marilyn, and Bernard Comment. Fragments: Poems, Intimate Notes, Letters. Pages 32-47. New York: Farrar, Straus and Giroux, 2010. 1-237. Print.
7 3/4 by 5 inches
Estimate: $10,000 - $20,000

---
Lot 170: MARILYN MONROE PERSONAL JOURNAL
A black "Record" book with 150 numbered and lined pages, the first page dated "Feb 18, 1953" with approximately 14 pages containing entries in Monroe's hand. The notes are very personal with Monroe ruminating about her life and experiences in her past that continue to affect her life, including these notes about the childhood influence of Ida Bolender that lingers into her adult life, reading in part, "Ida - I have still been obeying her - it's not only harmful for me to do so but unrealality [sic] because in my work - I don't want to obey her any longer."
LITERATURE Monroe, Marilyn, and Bernard Comment. Fragments: Poems, Intimate Notes, Letters. Pages 50-65. New York: Farrar, Straus and Giroux, 2010. 1-237. Print.
7 1/4 by 4 3/4 inches
Estimate: $12,000 - $18,000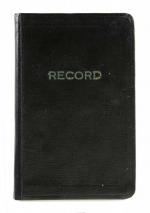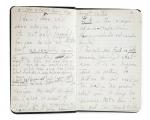 ---
Lot 171: MARILYN MONROE HANDWRITTEN PROSE
A single sheet of hotel stationery from the Waldorf Astoria, New York, where Monroe stayed between April and September 1955, with multiple verses in pencil and ink on front and back of page. The primary verse on recto was written as Monroe observed Manhattan from her suite at the hotel, reading in part, "Sooooo many lights in the darkness/ making skeletons of buildings/ and life in the streets." A poem about trees that appears to begin in the upper left margin of recto and continues onto the lower right of verso reads in full, "Sad, sweet trees-/ I wish for you-rest/ but you must be wakeful/ You must suffer-/ to loose [sic] your dark golden/ when your covering of/ even dead leaves leave you/ strong and naked/ you must be-/ alive-when looking dead/ straight though bend/ with wind/ And bear the pain & the joy/ of newness on your limbs."
LITERATURE Monroe, Marilyn, and Bernard Comment. Fragments: Poems, Intimate Notes, Letters. Pages 70-73. New York: Farrar, Straus and Giroux, 2010. 1-237. Print.
10 1/2 by 7 1/4 inches
Estimate: $10,000 - $15,000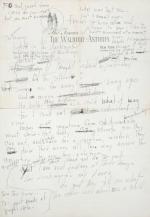 ---
Lot 172: MARILYN MONROE HANDWRITTEN DREAM NARRATIVE
Two sheets of hotel stationery from the Waldorf Astoria, New York, where Monroe stayed between April and September 1955. The pages contain notes in pencil recounting a dream in which Lee Strasberg acts as surgeon and her analyst, Dr. Hohenberg, administers anesthesia, but they are disappointed when they "cut her open" to find nothing there. She concludes, "Strasberg's dreams & hopes for theater are fallen./ Dr. H's dreams and hopes for a permant phicatrcic [sic] cure/ is given up-Arthur is disappointed-let down +." Another note in the margin mentions a dream about a "horrible repulsive man" in an elevator that she wants to discuss with Dr. Hohenberg.
LITERATURE Monroe, Marilyn, and Bernard Comment. Fragments: Poems, Intimate Notes, Letters. Pages 74-77. New York: Farrar, Straus and Giroux, 2010. 1-237. Print.
10 1/2 by 7 1/4 inches
Estimate: $10,000 - $15,000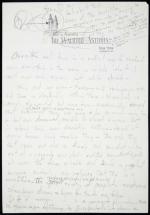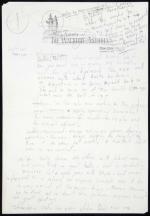 ---
Lot 175: MARILYN MONROE HANDWRITTEN LETTER TO NORMAN ROSTEN
A single sheet of hotel stationery from the Waldorf Astoria, New York, where Monroe stayed between April and September 1955. The page contains a letter written in multiple passes, first in pencil with added thoughts in ink, addressed to the Rostens' Brooklyn address. The cryptic letter contains a multitude of inside references and is quite difficult to follow but also sends her regards to Norman Rosten's wife Hedda, their daughter Patty and their pets Bam-Moo and Candy. Monroe also muses about the "Mr. Johnson Club," a reference to Rosten's play Mister Johnson.
LITERATURE Monroe, Marilyn, and Bernard Comment. Fragments: Poems, Intimate Notes, Letters. Pages 84-85. New York: Farrar, Straus and Giroux, 2010. 1-237. Print.
10 1/2 by 7 1/4 inches
Estimate: $4,000 - $6,000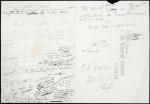 ---
Lot 177: MARILYN MONROE HANDWRITTEN POEM
A single sheet of stationery from Parkside House, the English manor where Monroe and Arthur Miller stayed in Surrey while she filmed The Prince and the Showgirl in London in 1956. The page contains a poem in pencil on front of sheet, likely written about Miller while staying at Parkside, reading in part, "my love sleeps beside me-/ in the faint light-I see his manly jaw/ give way-and the mouth of his/ boyhood returns." The back of the sheet contains two mournful verses reading, "the pain of his longing when he looks/ at another=/ like an unfulfillment of the day/ he was born" as well as the line "And I in merciless pain/ and with his pain of Longing-/ when he looks at and loves another/ like an unfulfillment of the day/ he was born-/ we must endure/ I more sadly because I can feel no joy."
LITERATURE Monroe, Marilyn, and Bernard Comment. Fragments: Poems, Intimate Notes, Letters. Pages 106-109. New York: Farrar, Straus and Giroux, 2010. 1-237. Print.
7 by 5 1/4 inches
Estimate: $15,000 - $20,000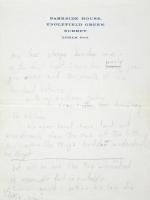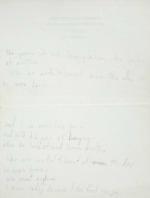 ---
Lot 178: MARILYN MONROE HANDWRITTEN POEM
A single sheet of stationery from Parkside House, the English manor where Monroe and Arthur Miller stayed in Surrey while she filmed The Prince and the Showgirl in London in 1956. The page contains a poem in pencil on front of sheet with multiple strikethroughs and edits, reading in part, "oh silence/ you stillness hurt my head -and / piece ears/ jars my head with the stillness/ of sounds unbearable -durable/ on the screen of pitch blackness."
LITERATURE Monroe, Marilyn, and Bernard Comment. Fragments: Poems, Intimate Notes, Letters. Pages 110-111. New York: Farrar, Straus and Giroux, 2010. 1-237. Print.
7 by 5 1/4 inches
Estimate: $10,000 - $15,000

---
Lot 179: MARILYN MONROE HANDWRITTEN POEM
A single sheet of stationery from Parkside House, the English manor where Monroe and Arthur Miller stayed in Surrey while she filmed The Prince and the Showgirl in London in 1956. The page contains a poem in red and blue ink on front of sheet reading "To have your heart is/ the only completely happy proud thing (that ever belonged/ to me) I've ever possessed so" with alternate language suggestion in blue ink reading "thing that ever completely happen to me."
LITERATURE Monroe, Marilyn, and Bernard Comment. Fragments: Poems, Intimate Notes, Letters. Pages 112-113. New York: Farrar, Straus and Giroux, 2010. 1-237. Print.
7 by 5 1/4 inches
Estimate: $6,000 - $8,000

---
Lot 180: MARILYN MONROE HANDWRITTEN NOTE
A single sheet of stationery from Parkside House, the English manor where Monroe and Arthur Miller stayed in Surrey while she filmed The Prince and The Showgirl in London in 1956. The note reads "I guess I have always been deeply terrified to really be someone's wife since I know from life one cannot love another, ever, really." Monroe had just entered her third marriage and was on location with her new husband, Arthur Miller.
LITERATURE Monroe, Marilyn, and Bernard Comment. Fragments: Poems, Intimate Notes, Letters. Pages 114-115. New York: Farrar, Straus and Giroux, 2010. 1-237. Print.
7 by 5 1/4 inches
Estimate: $10,000 - $20,000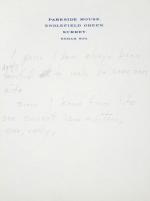 ---
Lot 181: MARILYN MONROE HANDWRITTEN POEM
A single sheet of stationery from Parkside House, the English manor where Monroe and Arthur Miller stayed in Surrey while she filmed The Prince and the Showgirl in London in 1956. The page contains a poem in pencil on front of sheet with multiple strikethroughs and edits, reading in part, "It is not to be for granted/ the old woman hides-/ from her glass-the one she polishes so it won't be dusty-/ daring sometimes/ to see her toothless gasp and if she perhaps very gently smiles/ she remembers-/ her pain."
LITERATURE Monroe, Marilyn, and Bernard Comment. Fragments: Poems, Intimate Notes, Letters. Pages 116-117. New York: Farrar, Straus and Giroux, 2010. 1-237. Print.
7 by 5 1/4 inches
Estimate: $10,000 - $15,000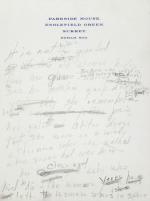 ---
Lot 182: MARILYN MONROE HANDWRITTEN POEM
A single sheet of stationery from Parkside House, the English manor where Monroe and Arthur Miller stayed in Surrey while she filmed The Prince and the Showgirl in London in 1956. The page contains a mournful poem in pencil on front of sheet with multiple strikethroughs and edits, reading in full, "where his eyes rest with pleasure-I/ want to still be-but time has changed/ the hold of that glance./ Alas how will I cope when I am/ even less youthful-/ I seek joy but it is clothed/ with pain-/ take heart as in my youth/ sleep and rest my heavy head/ on his breast for still my love/ sleeps beside me."
LITERATURE Monroe, Marilyn, and Bernard Comment. Fragments: Poems, Intimate Notes, Letters. Pages 118-119. New York: Farrar, Straus and Giroux, 2010. 1-237. Print.
7 by 5 1/4 inches
Estimate: $12,000 - $15,000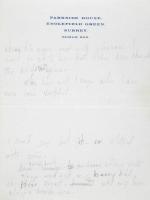 ---
Lot 184: MARILYN MONROE HANDWRITTEN "ROXBURY NOTES"
Three sheets of lined notebook paper torn from a spiral-bound book, each containing thoughts in pencil on recto. The notes portray a tired Monroe who has endured more than she could bear. Monroe was living in Roxbury, Connecticut, with husband Arthur Miller and was clearly disenchanted with domestic life in the country. She writes, "I've tried to imagine spring all winter-it's/ here and I still feel hopeless. I think I hate it here because there is no love here/ anymore. I regret the effort I desperately made here." She poetically writes of the mature trees on the property and then turns to self-deprecation, examining her appearance: "I see myself in the mirror now, brow furrowed-/ If I lean close I'll see-what I don't want to know-tension, sadness, disappointment, my eyes dulled, cheeks flushed with capillaries that look/ like rivers on a map -hair lying like snakes. The mouth makes me the saddes [sic]."
LITERATURE Monroe, Marilyn, and Bernard Comment. Fragments: Poems, Intimate Notes, Letters. Pages 125-131. New York: Farrar, Straus and Giroux, 2010. 1-237. Print.
12 1/4 by 7 1/2 inches
Estimate: $15,000 - $20,000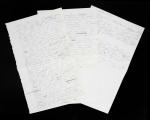 ---
Lot 185: MARILYN MONROE 1958 NOTEBOOK
A red Livewire wide-ruled spiral-bound notebook, most likely dating to 1958. The notebook contains five meaningful pages of writing in both pen and pencil, all of which were published in the book Fragments . One additional page not shown in the book contains pencil notations of calorie counts for foods like "Wheat germ 1/2 c" and 1 cup of orange juice, eggs and skim milk. Two of the pages written in ink reference lines from Some Like It Hot while other pages reveal deeply personal thoughts and poems, including this page that reads in part, "Help Help/ Help/ I feel life coming closer/ when all I want/ is to die."
LITERATURE Monroe, Marilyn, and Bernard Comment. Fragments: Poems, Intimate Notes, Letters. Pages 134-145. New York: Farrar, Straus and Giroux, 2010. 1-237. Print.
11 1/8 by 8 1/2 inches
Estimate: $12,000 - $15,000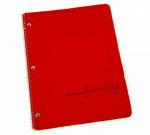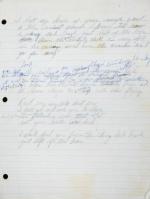 ---
Lot 186: MARILYN MONROE NOTES OF FRUSTRATION
Two pages of lined note paper torn from a notebook containing agonizing notes written by Monroe on the set of a film, likely in the privacy of her dressing room, dated simply "Aug 27." The two small pages reveal the tortured nature of Monroe's process and the enormous amount of pressure she felt, reading in part, "I almost threw up my whole lunch. I'm tired. I'm searching for a way to play this part I am depressed with my whole life since I first remember - How can I be such a gay young hopeful girl ... my concentration wavers most of the time ... I must try to work and work on my concentration."
LITERATURE Monroe, Marilyn, and Bernard Comment. Fragments: Poems, Intimate Notes, Letters. Pages 150-151. New York: Farrar, Straus and Giroux, 2010. 1-237. Print.
8 by 4 3/4 inches
Estimate: $15,000 - $20,000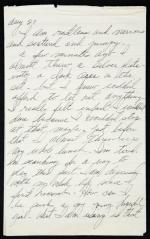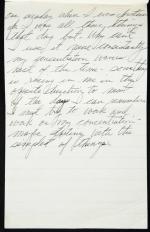 ---
Lot 187: MARILYN MONROE 1955 GUCCI ADDRESS BOOK
A personalized brown leather, six-ring Gucci address book with custom stamped "M.M." on the front cover, belonging to Monroe circa 1955, with handwritten entries, many in Monroe's hand. Contacts include Marlon Brando, "Mother Miller," Lee Strasberg, Maurine Stapleton, and Harold Clurman, among others. The book includes various handwritten entries and notes throughout. Of particular note is Monroe's handwritten list of very personal things she must make an effort to do, including "as often as possible to observe Strassberg's [sic.] other private classes"; "never miss my actors studio sessions"; "must make strong effort to work on current problems and phobias that out of my past has arisen," among other entries.
LITERATURE Monroe, Marilyn, and Bernard Comment. Fragments: Poems, Intimate Notes, Letters. Pages 152-153. New York: Farrar, Straus and Giroux, 2010. 1-237. Print.
7 1/2 by 6 inches
Estimate: $40,000 - $60,000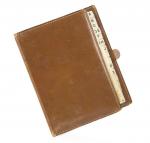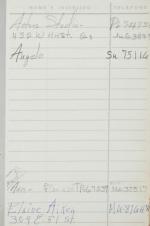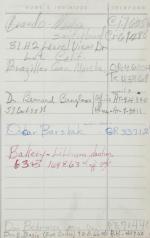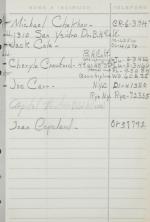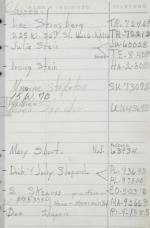 ---
Lot 190: MARILYN MONROE HANDWRITTEN NOTE
An undated note on a single sheet of unlined paper, entirely in Monroe's hand, reading "For life/ It is rather a determination not to be overwhelmed./ For work/ The truth can only be recalled, never invented."
LITERATURE Monroe, Marilyn, and Bernard Comment. Fragments: Poems, Intimate Notes, Letters. Pages 158-159. New York: Farrar, Straus and Giroux, 2010. 1-237. Print.
8 by 5 inches
Estimate: $10,000 - $20,000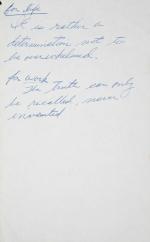 ---
Lot 191: MARILYN MONROE HANDWRITTEN NOTES
Two sheets of lined notebook paper with drafts of a birthday message, likely the same message referenced by Norman Rosten in his book Marilyn Among Friends . In the book, Rosten explains that Monroe often gave herself nicknames, and "One day, she signed a note with Noodle, Sam, Max, Clump, Sugar Finny, Pussy, and so on." Both pages contain a nearly verbatim list of names reading "Happy birthday and love (we all love you)/ Noodle/ Sam/ Max/ Clump/ Sugar Finny/ Pussy/ and all the rest of us-" The draft note also reads in part "[F]orgive me for being sentimental/ I'm so glad you were born/ and that I'm living at the/ same time as you."
LITERATURE Monroe, Marilyn, and Bernard Comment. Fragments: Poems, Intimate Notes, Letters. Pages 160-163. New York: Farrar, Straus and Giroux, 2010. 1-237. Print.
8 3/4 by 6 inches
Estimate: $6,000 - $8,000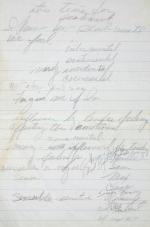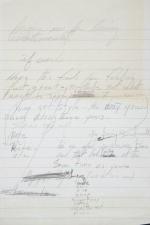 ---
Lot 202: MARILYN MONROE DEEPLY PERSONAL LETTER TO PAULA STRASBERG
A single page of lined yellow notebook paper, folded multiple times and addressed on the exterior of the folded page "To Paula/ Personal MM." The letter reads "Paula Dear,/ You asked me yesterday why-/ I felt somehow (I'm only conceiving of it this morning) that if I didn't have the control or the will to make myself do anything simple & do it right I would never be able to act or do anything - I know it sounds crazy - maybe it was even superstitious - I don't know - I don't know anything./ Something has happened I think to make me lose my confidence. I don't know what it is. All I know is I want to work./ Oh Paula I wish I knew why I am so anguished. I think maybe I'm crazy like all the other members of my family were, when I was sick I was sure I was. I'm so glad you are with me here!"
LITERATURE Monroe, Marilyn, and Bernard Comment. Fragments: Poems, Intimate Notes, Letters. Photocopy of this original letter on Page 190-191. New York: Farrar, Straus and Giroux, 2010. 1-237. Print.
12 1/4 by 8 inches
Estimate: $6,000 - $8,000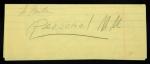 ---
Lot 261: MARILYN MONROE NOTES IN STENO BOOK
A spiral-bound stenographer notebook by Chase Press Stationers & Printers, who supplied Monroe with her custom stationery, containing four pages with notes in Monroe's hand. The first page reads "Tonight/ be there at 7:15 - Strassbergs [sic]" then "Later - Norman & Hedda - drums?" and "Tomorrow be ready at 12:30 (for lunch) John Houston [sic]/ 4:00 Norman's play reading." The second page has a list of phone calls to make. The other two pages contain single words: "Ruby" and "My."
9 1/4 by 6 inches
Estimate: $2,000 - $3,000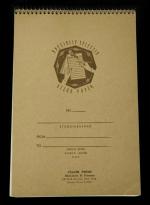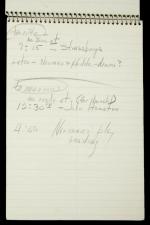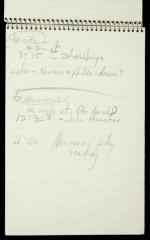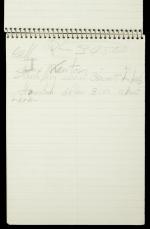 ---
Lot 266: ARTHUR MILLER HANDWRITTEN NOTE TO MARILYN MONROE
A single piece of lined paper torn from a spiral-bound notebook, heavily stained, containing a note in Miller's hand for Monroe. The note reads "I am sitting here, Dearheart, and my heart is bursting with love. I try to figure when is the best date for a wedding, who should be there, where it should be. I want us to marry on my 41st birthday - October 17, 1956." The note was written early in their relationship before Monroe knew she would be in London for the filming of The Prince and the Showgirl, and before Miller knew he would be in London for the premiere of A View from the Bridge in October 1956. Despite Miller's wish to be married on his birthday, he would marry Monroe June 29, 1956, very soon after his Reno divorce from his first wife was finalized. Miller announced his intentions to marry Monroe during his testimony before The House Un-American Activities Committee, June 21, 1956, and they perhaps moved the date forward in an effort to help Miller obtain his passport to accompany his new wife to London.
8 1/2 by 11 inches
Estimate: $1,500 - $2,500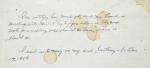 ---
Lot 314: MARILYN MONROE LETTER TO ROBERT MILLER AS HUGO THE DOG WITH PHOTOGRAPHS
An unsigned file copy of a letter written by Monroe to "Bobby" Miller dated August 22, 1957. Monroe writes the letter entirely in the voice of Hugo, their pet Basset Hound. The letter opens, "It sure is lonesome around here! But first of all I will tell you I made a mistake and I am sorry, but I chewed up one of your baseballs. I didn't mean to. I thought it was a tennis ball and that it wouldn't make any difference but Daddy and Marilyn said that they would get you another one." It continues "Oh, I did something else that I should tell you about. I jumped up very high and knocked down the badminton set. Then I proceeded to chew up the net but I didn't wreck the rackets or the birds. I am sorry I did this Bob, but what is a dog going to do?" The letter is accompanied by three small black and white snapshots of Bobby with Hugo the dog.
Photos, 2 1/2 by 2 1/2 inches
Estimate: $500 - $700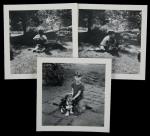 ---
Lot 316: MARILYN MONROE LETTER TO JANE MILLER AS HUGO THE DOG WITH PHOTOGRAPHS
An unsigned file copy of a letter written by Monroe to "Janie" Miller dated August 22, 1957. Monroe writes the letter entirely in the voice of Hugo, their pet Basset Hound. The letter opens, "How is my Mommie? Boy, was I glad to get your letter written only to me! Of course Daddy and Marilyn have been telling me things from your other letters and Bob's too, about what you have been doing at Camp and how much you are enjoying it and I don't want you to feel badly, but I have to tell you that I have missed you something awful." The letter continues with a confession: "I have been sleeping on your bed. It's because it is your bed. So far I don't think Daddy or Marilyn knows about it but every night after they close their door and they go to sleep I wait a little while and then I tiptoe upstairs and I sleep right on your bed. I think they are getting suspicious though because I heard Berniece (that's the new maid and you will like her) say, 'I found the strangest footprints up on this bedspread.' Of course, between you and me, they were mine." This charming letter is accompanied by two small black and white snapshots of Jane and Robert Miller with Hugo the dog.
Photos, 2 1/2 by 2 1/2 inches
Estimate: $600 - $800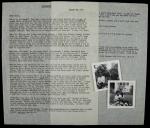 ---
Lot 318: MARILYN MONROE LETTER TO HER STEPCHILDREN FROM THE CAT
An unsigned file copy of a letter composed by Monroe in the voice of the family cat Sugar Finney, clumsily typed with misspellings reading in part, "I'm having fun driving old Rocky and that old grumpy maid of yours nuts. …Thers never a dull moment in this shack. ... Love, Sugar Feeny."
7 3/4 by 5 3/4 inches
Estimate: $200 - $300

---
Lot 319: MARILYN MONROE PHOTOGRAPH OF HUGO WITH INVOICES
A group of four invoices from the Southdown Kennel in Roxbury, Connecticut addressed to Mr. Arthur Miller at 444 East 57th Street for boarding and care of Hugo the Basset Hound. Together with a small black and white snapshot of the dog.
Photo, 2 1/2 by 2 1/2 inches
Estimate: $200 - $300

---
Lot 320: MARILYN MONROE LETTERS TO BOBBY MILLER AT SUMMER CAMP
Two single-page typed, unsigned file copies of letters dated July 16, 1958, and August 9, 1957, relating a number of amusing stories. The 1958 letter is typed on the back of a piece of stationery from the Hotel Bel-Air. In the first letter, Monroe tells Bobby Miller about Hugo the dog's escapades, taking things from the neighbors, and asks him to help her figure out what his sister Janie would like for her birthday. The 1958 letter tells him, "I haven't seen Jack Lemmon yet because he is still working on another picture. He has a very funny part in this picture. Also, he plays a friend of mine. I started to take ukulele lessons because I'm supposed to know how in the picture. I've got an idea: Maybe we can learn something together--you on the guitar and me on the ukulele--you know, charge people admission to hear us."
Monroe also tells him about her brief ownership of a Cocker Spaniel: "About two days ago someone gave me a Cocker Spaniel puppy 10 months old, completely house-broken. So I was going to call your Dad and ask him if it was okay to keep him--then I found out quite by accident that he bites--he didn't bite me but he bit a woman on the throat the day before, so I said 'thanks a lot but no thanks.' His name was 'Walter' and he was a golden-haired spaniel and just beautiful but he seemed just too 'schizo' --short for schizophrenic --you remember you explained what that meant."
Largest, 8 1/2 by 11 inches
Estimate: $800 - $1,200

---
Lot 321: MARILYN MONROE LETTERS TO JANE MILLER
Two single-page typed, unsigned file copies of letters dated July 16, 1958, and August 9, 1957, relating a number of amusing stories. The 1958 letter is typed on the back of a piece of stationery from the Hotel Bel-Air and is addressed, "Dear Janie-bean." The letter, written as Monroe is preparing for Some Like It Hot , reads in part, "... [T]hanks for helping me into my white skirt. I almost didn't make it --but now that I'm busier I'll start losing weight -- you know where./ Along with ukulele lessons I have to take I'm learning three songs from the 1920 period. ... I don't know how my costumes in the picture will be yet. I'll let you know."
The second letter is written to Janie at summer camp and recounts a number of amusing stories about Hugo the Bassett Hound reading in part, "He got kicked by that donkey. Remember him? His nose swelled up with a big lump on top and it really wrecked his profile. I put an ice pack on it and it took several days for it to go down but the last time I saw him it was pretty well healed. Bernice is taking care of him and the house while I am at the hospital./ We are going home tomorrow and then I will write you by hand./ Listen, I had better stop now because I want to get off a note to Bobby today. Don't worry about me in the hospital. I am feeling much better now and I have the funniest Scotch nurse."
8 1/2 by 11 inches
Estimate: $600 - $800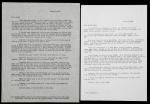 ---
Lot 322: MARILYN MONROE FORD THUNDERBIRD DOCUMENTS
A Declaration of Ownership of Motor Vehicle card listing Marilyn Monroe Productions, Inc., address 444 East 57th Street, New York City, as the owner of a 1956 black Ford Thunderbird, engine #P6FH151382. The vehicle was purchased from Westport Motor Co. Inc. of Westport, Connecticut, on December 20, 1955. Together with a blank "Seller's Report of Sale of Unregistered Motor Vehicle" card and a letter dated January 7, 1960, regarding renewal of insurance for the vehicle with secretarial note regarding deadlines and the amount of payment.
Cards, 3 1/2 by 6 inches
Estimate: $300 - $500


---
Lot 323: MARILYN MONROE RECEIVED LETTER RELATED TO HER 1956 FORD THUNDERBIRD
A letter from the City of New York Department of Finance, dated October 1, 1959, to Marilyn Monroe Productions, Inc., indicating the following: "[I]t appears that the 3% New York City Sales or Compensating Use Tax was due and payable on 6/20/57. If the tax due on this transaction has been paid by you, please submit evidence thereof. If it has not been paid, kindly remit the tax plus interest of 14%, with the enclosed form on or before 10/8/59." Monroe, husband Arthur Miller, and business partner and friend Milton Greene were photographed riding in this Thunderbird on July 2, 1956, driving from New York City to Roxbury, Connecticut.
Estimate: $500 - $700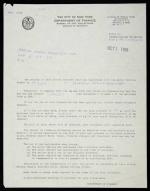 ---
Lot 324: MARILYN MONROE DRIVER'S MANUAL
An official Driver's Manual booklet from the State of Connecticut Department of Motor Vehicles with interior date of August 1955, although it may have been issued anytime after this date until an updated manual was released. Together with a blank postcard addressed to the department meant to be filled out by applicant to request an appointment for a Connecticut driver test.
Booklet, 6 by 4 1/2 inches
Estimate: $200 - $300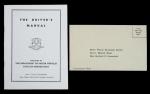 ---
Lot 325: MARILYN MONROE SIGNED DRIVER'S LICENSE
A State of Connecticut Motor Vehicles Operator's License dated October 24, 1957, and expiring June 30, 1958, listing "MM Miller of Tophet Road, Roxbury Connecticut, operator number 181034533. The license also lists Monroe's height as five feet and five inches with a date of birth of June 1, 1926, and is signed in blue pen "Marilyn Monroe Miller."
3 1/4 by 2 1/2 inches
Estimate: $10,000 - $15,000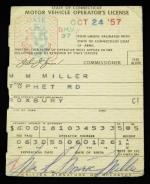 ---
Lot 326: MARILYN MONROE SIGNED DRIVER'S LICENSE
A State of Connecticut Motor Vehicles Operator's License dated July 8, 1958, and expiring June 30, 1960, listing "MM Miller of Tophet Road, Roxbury Connecticut, operator number 181034533. The license also lists Monroe's height as five feet and five inches with a date of birth of June 1, 1926, and is signed in blue pen "Marilyn Monroe Miller."
3 1/4 by 2 1/2 inches
Estimate: $10,000 - $15,000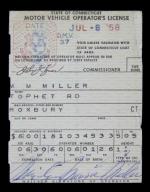 ---
Lot 373: MARILYN MONROE TO-DO LIST
A small piece of lined notebook paper with notes in Monroe's hand, reading in part, "Call - Lee on Monday/ about private class" and "Monday - Luchon [sic.] interview 12:00 / Sleeping prince/ Elsa Maxwell" as well as a phone number for Dr. Kris. Lee is clearly a reference to acting coach Lee Strasberg.
3 1/2 by 5 inches
Estimate: $2,000 - $3,000

---
Lot 380: MARILYN MONROE GLADSTONE HOTEL STATEMENT
A statement in the name of Mr. and Mrs. A Miller, dated January 13, 1958, from Gladstone Hotel on East 52nd Street at Park Avenue with charges for a room January 13-17, 1958, as well as restaurant charges. Notations on the bill read "[F]or meeting held at suite with De Laurentis and MCA officials from time to time."
9 by 6 1/2 inches
Estimate: $200 - $300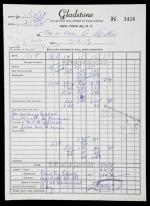 ---
Lot 411: MARILYN MONROE PERSONAL JOURNAL
A black "Record" book with 150 numbered and lined pages, the first page dated "Feb 18, 1953" with approximately 14 pages containing entries in Monroe's hand. The notes are very personal with Monroe ruminating about her life and experiences in her past that continue to affect her life, including these notes about the childhood influence of Ida Bolender that lingers into her adult life, reading in part, "Ida - I have still been obeying her - it's not only harmful for me to do so but unrealality [sic] because in my work - I don't want to obey her any longer."
LITERATURE Monroe, Marilyn, and Bernard Comment. Fragments : Poems , Intimate Notes , Letters . Pages 50-65. New York: Farrar, Straus and Giroux, 2010. 1-237. Print.
7 1/4 by 4 3/4 inches
Estimate: $12,000 - $18,000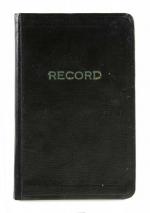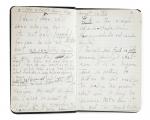 ---
Lot 431: MARILYN MONROE INSCRIBED RECORD FROM TRUMAN CAPOTE
A copy of the LP Truman Capote Reading his A Christmas Memory from Breakfast at Tiffany's. "The United Artists album (1959), is inscribed in black ink on the cover in fine print "for Marilyn, with love from Truman, 1959."
12 1/4 by 12 1/4 inches
Estimate: $2,000 - $3,000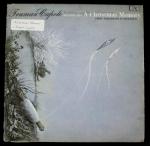 ---
Lot 433: LEE STRASBERG ADDRESS BOOK
A cream leather six-ring binder of alphabetically indexed lined notebook pages containing hundreds of names, addresses and telephone numbers written in multiple hands. The book contains strikethroughs and check marks throughout, as the information was likely being transferred and updated into a new book by a secretary. The book dates to circa 1960 and contains the names of celebrities such as Shelley Winters, Marlon Brando, Eli Wallach, and Maureen Stapleton, among others. Of note is a page listing multiple numbers for "MM" as well as Marilyn Monroe's New York City address. The book also has more administrative contacts.
9 1/8 by 8 1/4 inches
Estimate: $2,000 - $3,000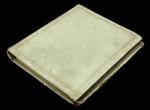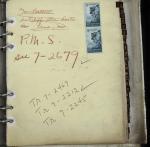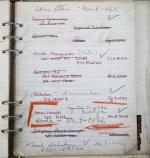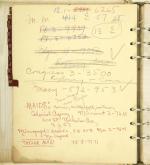 ---
Lot 478: MARILYN MONROE NOTEBOOKS
A small six-ring binder containing blank lined notebook pages in black covers by Vernon. Together with an Italian daily planner with a quantity of blank pages intact. Both books were used by Monroe, and some of the pages included in the book Fragments were removed from these notebooks.
Largest, 7 by 4 3/4 inches
Estimate: $300 - $500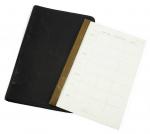 ---
Lot 484: DON FELD DRAWING FOR MARILYN MONROE
A piece of heavy brown card stock with ink and acrylic picture of a girl holding flowers with greeting reading "The World's Happiest Birthday to you from Don Feld." Together with a small note that reads "M-/ I hope this finds you well and happy - My thoughts are with you now - love, Feld."
Largest, 8 1/2 by 6 1/4 inches
Estimate: $300 - $500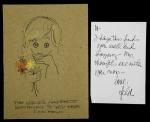 ---
Lot 497: MARILYN MONROE AKC FORMS FOR MAF
A single-page typed letter on Marilyn Monroe Productions Inc. letterhead from Pearl Moskowitz to Monroe with original postmarked transmittal envelope addressed to Monroe at The Beverly Hills Hotel. The letter accompanied forms for Monroe's dog Maf to be registered under Monroe's name with the American Kennel Club signed on verso with a secretarial signature. Together with a postcard to have the dog licensed with the ASPCA in New York City. The AKC forms list Maf's breeder as Maria S. Gurdin of Van Nuys, California a whelping date of Jan. 16, 1961; and the Sire and Dam of the dog.
Largest, 10 1/2 by 7 1/4 inches
Estimate: $400 - $600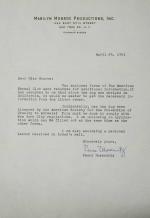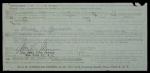 ---
Lot 499: MARILYN MONROE INVOICE FOR BOARDING MAF
A single-page invoice from the Southdown Kennel in Roxbury, Connecticut, dated December 18, 1961, for "Miss M. Munroe" [sic] for boarding and housebreaking of Maf, Monroe's poodle. The charges include boarding between August 3 and December 14, 1961, at a rate of $75 per month for a total of $330, as well as brushings, shampoos, wormings, and transportation to airport for a total of $43 in additional charges.
7 1/2 by 7 1/4 inches
Estimate: $200 - $300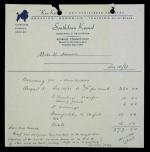 ---
Lot 507: MARILYN MONROE HOTEL NOTEPADS
Three notepads, one with a note in Monroe's hand from the Continental Hilton in Mexico with a phone number for Wally Cox and the Bel Air Sands. Together with a blank notepad from The Beverly Hills Hotel and the Beverly Wilshire Hotel.
Largest, 5 1/2 by 4 inches
Estimate: $1,000 - $1,500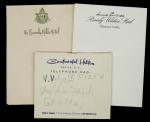 ---
Lot 534: MARILYN MONROE CORRESPONDENCE WITH GERMAN DIPLOMAT
A single-page typed, unsigned file copy of a letter dated February 12, 1962, addressed to Mr. Volkmar von Fuehlsdorff in response to a gift card that accompanied Champagne. The note card reads "Dear Miss Monroe: It was such a pleasure to have you at the party the other day - since you liked the German Champagne, May I send you this with my kind personal regards/ Sincerely V. von F." Monroe's response reads "Dear Mr. von Fuehlsdorff: Thank you for your champagne. It arrived, I drank it, and I was gayer./ Thanks again./ My best,/ Marilyn Monroe."
Largest, 8 1/2 by 11 inches
Estimate: $300 - $500

---
Lot 535: MARILYN MONROE LETTER FROM MAY REIS
An autograph two-page letter on stationery from the Shelbourne Hotel, Dublin, dated April 22, 1961. The letter is accompanied by the original transmittal envelope postmarked April 22, 1961. The letter, written in red ink by Monroe's one- time secretary and assistant, May Reis, is a light travel note updating Monroe on her travels and stop in Dublin before heading to Paris.
8 by 5 inches
Estimate: $300 - $500

---
Lot 538: EXTRAORDINARILY AMUSING LETTER FROM ERNIE KOVACS TO MARILYN MONROE
A single sheet of paper with blind embossed address at bottom of page containing typed, signed letter from Ernie Kovacs, undated in original transmittal envelope postmarked May 29, 1961. The envelope is addressed to Monroe at her Beverly Hills Hotel bungalow. The letter, addressed to "Marilyneleh," invites Monroe to a get together at his home on June 15, giving the dress code as "... slacks or if you want to be chic, just spray yourself with aluminum paint or something." He continues, "I'll try to find someone more mature than Carl Sandburg for you. ... if Frank is in town, will be asking him. ... don't be a miserable shit and say you can't come. ... Look as ugly as possible cause the neighbors talk if attractive women come into my study." He signs the letter in black pen "Ernie" and adds a note at the bottom: "If you don't have any aluminum paint, you could back into a mud pack and come as an adobe hut. ... we'll make it a costume party. … Kovacs." The letter is a perfect portrait of the iconic, quick-thinking, zany comedian who died tragically in an auto accident in January 1962.
8 1/2 by 7 1/2 inches
Estimate: $400 - $600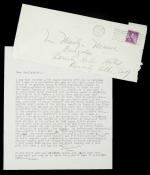 ---
Lot 573: MARILYN MONROE PERSONAL NOTES
Three pieces of paper torn from a telephone message pad with deeply personal musing in Monroe's hand in pencil reading in part, "In a way I feel better when I feel terrible because at leaast I'm feeling something" and "[D]epression - it starts to depress me when I feel that I have exposed my truest feelings to people - I am afraid that they see through me - my faults and the fact that I am really a phoney who needs and wants admiration and love (I do not want to be like this - to depend on this need - its almost" the thought continues onto another page "a form of being an ego maniack [sic] - I don't really like my self [sic]. ..." One of the pages has "Oct. 15" written, but no year is indicated.
5 1/4 by 4 inches
Estimate: $3,000 - $5,000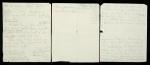 ---
Lot 574: MARILYN MONROE 1962 ADDRESS BOOK
A red cardboard covered six-ring address book, front and back covers detached but present, belonging to Monroe circa 1962, with typed entries, including photographer Richard Avedon, Actors Studio, Henry Weinstein-the producer of Monroe's final film Something's Got To Give), Rupert Allan (Monroe's publicist), Montgomery Clift, Henry Fonda, and Frank Sinatra, among many others. The book includes numerous entries and notes in Monroe's hand throughout.
6 1/2 by 6 inches
Estimate: $30,000 - $50,000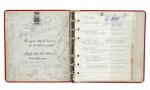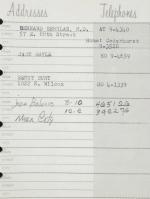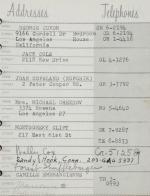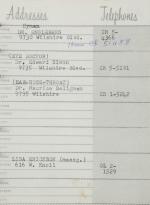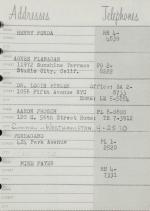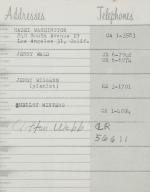 ---
Lot 600: MARILYN MONROE TYPED LETTER TO LEE AND PAULA STRASBERG
A typed file copy letter dated June 1, 1962, beneath "5th Helena" addressed "Dear Lee and Paula:" and reading in part, "The most important thing in my life is my work, my work with you. The Actors Studio is my home. … I wonder if you realize what the work has meant to me. ... The studio is for the theatre and for life. Marlon and I are having talks and we hope to persuade you to come to California for awhile to do work with us. Thank you Lee for being my friend and my teacher. Thank you Paula, for being with me and really truly directing the good and right moments on film. ... When I think of home it is New York and the Actors Studio. That is where I can exist in the human race. Love, Marilyn."
8 1/2 by 11 inches
Estimate: $500 - $700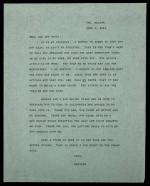 ---
Lot 602: MARILYN MONROE PERSONAL PROPERTY APPRAISAL
A formal written appraisal of the contents of Monroe's home at 12305 Fifth Helena in Brentwood, California, prepared for Monroe's executor by John J. Donahue & Associates of Los Angeles. The 14-page typed report includes 12 pages of itemized listings in a room-by-room format assigning value to Monroe's personal property in the home totaling $3,176. The report gives a listing of the contents of the Living Room, Hall, Front Bedroom, Middle Bedroom, Study, Dining Room, Sun Room, Kitchen, Playroom, Exterior and Garage, and Clothing in addition to miscellaneous items.
8 1/2 by 11 inches
Estimate: $800 - $1,200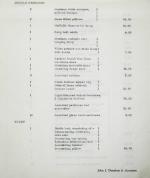 ---
Lot 603: MARILYN MONROE DOCUMENTS RELATED TO THE 1963 PURCHASE OF HER BRENTWOOD HOME
A group of documents related to the 1963 purchase of Monroe's Brentwood, California, home, located at 12305 Fifth Helena Drive. Included are the original "Bid for Purchase of Real and Personal Property as a Unit" signed by Gilbert M. Nunez and Betty J. Nunez, dated March 14, 1963, specifying a sale price of $87,500.00 and a deposit of $8,750.00, the original deposit receipt, and a typed memo to Mrs. Inez Melson, Monroe's business manager, from Lavon Fitzgerald, who represented the Nunez family in the transaction, with a business card for Fitzgerald stapled to the memo.
Estimate: $1,000 - $1,500

---
Lot 604: MARILYN MONROE 1963 NOTICE OF PROPERTY SALE FOR BRENTWOOD HOME
A group of documents related to the 1963 sale of Monroe's Brentwood, California, home, located at 12305 Fifth Helena Drive, including a letter to Inez Melson, Monroe's business manager, stating that the petition for confirmation of the sale of Monroe's home was set for 9:15 a.m. on May 7, 1963, together with the actual court documents and the actual notice of sale of real and personal property as a unit at private sale, likely used to publicize the sale in newspapers. The legal documents specified that Monroe's Hotpoint freezer-refrigerator, built-in dinette set, and all tacked-down carpeting and drapes presently on premises would be included in the transaction.
Estimate: $1,000 - $1,500

---
Lot 789: MARILYN MONROE JUNIOR HIGH SCHOOL DIPLOMA
A diploma issued to Norma Jean Baker from Ralph Waldo Emerson Junior High in Los Angeles, California, on June 27, 1941. The future Marilyn Monroe turned 15 in June 1941. The following June, Monroe married her first husband, Jim Dougherty.
6 by 8 inches
PROVENANCE Lot 324, "Books Auction," Sotheby Parke Bernet, Sale number 94, October 21, 1973
Estimate: $40,000 - $60,000

---
Documents papiers - Mode & Beauté
Papers documents - Mode & Beauty

---
Lot 149 : MARILYN MONROE HAT RECEIPTS
Two invoices from Rex Inc. of Beverly Hills, the first dated January 5, 1960, lists a Black Velour Cloche and a White Velour Cloche each priced at $55. The second invoice is dated January 20, 1960, and lists a White Feather Toque priced at $85. Both invoices indicate that Miss Dorothy Blass purchased the hats in person and charged them to "Mrs. A. Miller" of The Beverly Hills Hotel.
7 by 8 1/2 inches
Estimate: $150 - $250

---
Lot 154: MARILYN MONROE DIET PLAN
A two-page, typed plan titled "Calorie Restricted Diet/ 1000 Calories/ 100 Grams Protein" prepared for Monroe by Dr. Leon Krohn. The pages are undated, but some of the approved foods and meal plans are in line with the notations found in Monroe's hand in the back of Lot 185, one of Monroe's notebooks from 1958. The diet put forth presents sound health advice even by today's standards, recommending the restriction of sugar, fats and carbohydrates to whole wheat and "one small white potato boiled baked or riced" as a substitution for one slice of bread.
8 1/2 by 11 inches
Estimate: $400 - $600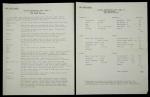 ---
Lot 219: MARILYN MONROE FUR STORAGE AND SERVICE RECEIPT AND AGREEMENT
A storage and service receipt and agreement from Maximilian Fur Company, Inc., addressed to Mrs. A. Miller, 444 East 57th Street, New York City, Apt. 13E, dated July 3, 1958, listing a ranch mink coat, a white ermine coat, and a black fox stole trimmed with silk, together with a typed note to Mrs. A. Miller on Maximilian letterhead recommending a clean and glaze for the ranch mink coat and a glaze for the black fox stole. Original business reply envelope from Maximilian Fur Company included. The ranch mink coat referenced is very likely the coat Joe DiMaggio gave to Monroe.
Estimate: $500 - $700

---
Lot 220: MARILYN MONROE FUR APPRAISAL
An appraisal document dated February 4, 1954, signed by Al Teitelbaum of Teitelbaum Furs for "Marilyn Monroe DiMaggio" listing a black mist mink coat valued at $10,000. This is the well-known mink coat gifted to Monroe by DiMaggio.
7 1/4 by 7 inches
Estimate: $300 - $500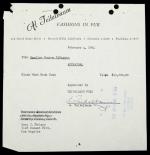 ---
Lot 225: MARILYN MONROE FUR STORAGE RECEIPTS
Four pages of storage receipts from Maximilian Furs of New York City dated July 19, 1960, itemizing 17 items in storage, together with two corresponding "Temporary fur storage record" tickets and a letter detailing work to be done to repair two of the furs on the storage receipts.
Largest, 8 1/2 by 9 1/2 inches
Estimate: $400 - $600

---
Lot 226: MARILYN MONROE TEITELBAUM FUR DOCUMENTS
A carbon copy of an invoice from Teitelbaum Furs for an oyster white beaver coat of Canadian origin, dated November 22, 1958, sold for $1,375 with facsimile customer signature of Arthur Miller. Together with an invitation to fashion show and letter from Al Teitelbaum to Mrs. Arthur Miller dated January 5, 1959.
Largest, 8 1/2 by 11 inches
Estimate: $200 - $300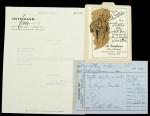 ---
Lot 271: MARILYN MONROE ARTHUR MILLER SAKS FIFTH AVENUE RECEIPTS
A group of five receipts from Saks Fifth Avenue in New York City, addressed to Arthur Miller, together with a corresponding Saks Fifth Avenue invoice. All receipts are dated March 23, 1960, and specify Miller purchased trousers and an overcoat among other items. The invoice is dated April 17, 1960.
Estimate: $150 - $250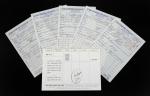 ---
Lot 297: MARILYN MONROE HANDWRITTEN AND SIGNED CHECK
A blank counter check written entirely in Monroe's hand, in black ink, dated August 14, 1954, paid to Jax in the amount of $800. Monroe has listed her address as "508 N. Palm Dr." and her phone number as "CR62211."
3 3/8 by 8 1/4 inches
Estimate: $2,000 - $3,000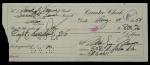 ---
Lot 298: MARILYN MONROE JAX STORE RECEIPT
A four-page itemized carbon copy receipt for $1,858.30 worth of clothing from Jax boutique with facsimile signature of Monroe. The receipt is dated simply "8-5" with no year given. Monroe's address is listed as "444 E. 57th St. NYC," but there are instructions on the last page to mail the items to "Mrs. Arthur Miller" at her Roxbury, Connecticut, residence.
6 by 4 inches
Estimate: $300 - $500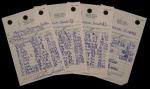 ---
Lot 305: MARILYN MONROE EVENING GLOVE ORDER
A group of documents dated February 19, 1958, regarding the purchase of evening gloves from the John E. Fuchs Corporation in New York City. The documents include a typed signed letter from Kay Fuchs addressed to Mrs. Miller reading in part, "Kenneth Lane of Delman's asked us to send you the enclosed gloves. ... Enclosed find also a sample pair with our compliments of white satin glove." Together with a packing slip for the order listing a pair of 20-button white kid gloves for $165 and a pair of 10-button white kid gloves for $105, an invoice for the gloves, and a statement of account.
Largest, 8 1/2 by 5 1/2 inches
Estimate: $200 - $300

---
Lot 328: MARILYN MONROE SIGNED CHECK WITH CORRESPONDING INVOICE
A check signed by Monroe in blue ink, dated February 14, 1958, Valentine's Day, paid to the Profile Symmetry Salon in New York City in the amount of $58.50. The check is drawn on Monroe's Colonial Trust Company account. Together with the original invoice from the salon sent to Monroe at her 444 East 57th Street residence in New York City dated February 3rd for "9 Treatments (Jan. 7th - Jan. 30th, inc.)" in the amount of $58.50.
Invoice, 7 1/4 by 7 1/4 inches
Estimate: $3,500 - $4,500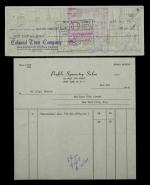 ---
Lot 332: MARILYN MONROE STATEMENT AND INVOICES FROM ERNO LASZLO
A statement, dated July 8, 1958, addressed to Monroe's secretary "Miss Mary [sic] Reis" presenting the total amount due for goods and services provided between June 1and July, 1958, $1,211.22. Together with 18 corresponding invoices detailing the products and services provided between these dates. The statement has a secretarial notation indicating that these charges were paid with check number 206 on July 31, 1958.
Largest, 8 1/2 by 11 inches
Estimate: $400 - $600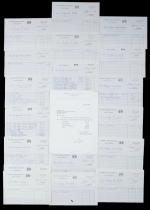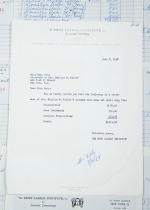 ---
Lot 334: MARILYN MONROE SKINCARE REGIME
Five sets of instructions, eight pages, from the Erno Laszlo Institute written out for Marilyn Monroe Miller, dated June 5, 6, 11, and 12, 1958, and July 3, 1958, outlining her constantly changing skincare regime in great detail. The instructions not only divide skincare into "Morning," "Evening 'if' dressing," and "Evening before retiring," but also there are instructions on what not to eat: "Not one piece of any kind of nuts, olives, chocolate, clams and oysters." There are also separate instructions for California and "Instructions for Makeup While Making Films."
8 1/2 by 11 inches
Estimate: $600 - $800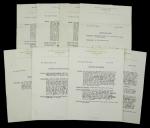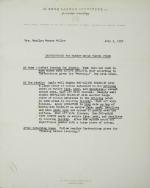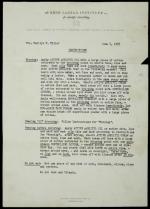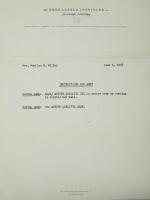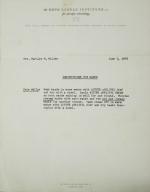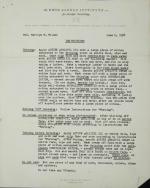 ---
Lot 337: MARILYN MONROE CHANEL No. 5 PERFUME RECEIPT
A receipt from I. Magnin & Co. of Beverly Hills for a bottle of Chanel No. 5 perfume totaling $73.15 including tax and delivery through "Red Arrow Spec. Delivery" service. The perfume was billed to Marilyn Monroe Miller and signed for by "(D. Blass)" to be sent to Agnes Flannigan [sic], likely a Christmas present as the receipt is dated December 24, 1959. Flanagan was one of Monroe's hairdressers for many years, including for Bus Stop in 1956 and The Misfits in 1961, among many other occasions.
6 1/4 by 4 1/4 inches
Estimate: $400 - $600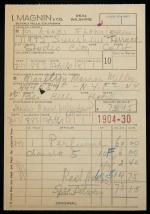 ---
Lot 338: MARILYN MONROE BEVERLY HILTON SALON RECEIPT
A single piece of stationery from the Beverly Hilton Hotel in Beverly Hills with handwritten receipt for five hair treatments signed by "Miss Porter - Beauty Salon/ Beverly Hilton Salon."
10 1/2 by 7 1/4 inches
Estimate: $100 - $150

---
Lot 339: MARILYN MONROE INVOICE FOR SPECIAL EVENT MAKEUP
A single page of stationery from Marie Irvine of Long Island dated September 29, 1959, addressed to Marilyn Monroe at 444 East 57th Street for "Special make-up for photography" on September 22 and 27, 1958, for a total of $100. Monroe attended the premiere of An Evening with Ives Montand at the Henry Miller's Theatre in New York with Montgomery Clift on September 22, and she attended an American Friends of the Hebrew University award ceremony with her husband on September 27.
7 by 6 inches
Estimate: $100 - $150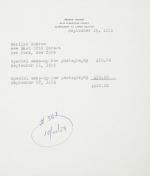 ---
Lot 340: MARILYN MONROE ELIZABETH ARDEN RECEIPT
A receipt dated July 1958 from the Arden Salon for eight pairs of black false lashes signed for by "Irvine," likely makeup artist Marie Irvine, for a total of $20.60.
8 by 5 1/2 inches
Estimate: $200 - $300

---
Lot 374: DESIGN SKETCH FOR MARILYN MONROE GOWN
An unsigned pencil on paper sketch of a form-fitting mermaid gown. The sketch perfectly matches the silhouette and seam construction of the gown worn by Marilyn Monroe to the June 13, 1957, premier of The Prince and the Showgirl at Radio City Music Hall in New York City. The gown was made for Monroe by John Moore, who presented Monroe with options for the color of the dress including burgundy and Kelly Green, but Monroe chose beige silk satin.
14 by 11 inches
Estimate: $2,000 - $3,000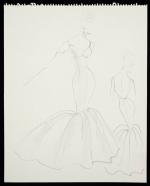 ---
Lot 375: DESIGN SKETCH FOR MARILYN MONROE GOWN
An unsigned pencil on paper sketch of a form-fitting mermaid gown. The sketch perfectly matches the silhouette of the gown worn by Monroe to the June 13, 1957, premier of The Prince and the Showgirl at Radio City Music Hall in New York City. This sketch, most likely by designer John Moore, however introduces a much more elaborate set of swirled seam lines around the body. This is likely a variation presented to Monroe, who opted for the more simple and streamlined design that she wore to the premiere.
14 by 11 inches
Estimate: $1,000 - $1,500

---
Lot 379: MARILYN MONROE ROYAL COMMAND PERFORMANCE GLOVE DOCUMENTS
A typed letter, dated July 14, 1957, signed by Kenneth C. Rouse of London and reading in part, "I am enclosing herewith a statement … for your information, regarding the making of a pair of gloves in gold lame for Miss Marilyn Monroe, to match her dress for the Royal Command show late last year." The letter elucidates the color and fabric of this dress captured almost exclusively on black and white film. Together with three account statements and four additional administrative letters regarding settlement of the account.
Largest, 8 1/2 by 11 inches
Estimate: $200 - $300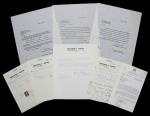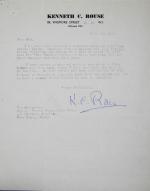 ---
Lot 383: MARILYN MONROE BERGDORF GOODMAN RECEIPT
A receipt from Bergdorf Goodman dated June 28, 1960, addressed to Mrs. Arthur Miller, 444 E. 57th Street, New York. Items purchased were signed for by May Reis, Monroe's secretary.
Estimate: $500 - $700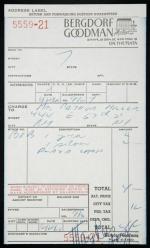 ---
Lot 384: MARILYN MONROE FASHION INVOICE
Two invoice pages from Polly's at 480 Park Avenue in New York City listing a "Black wool dinner dress" for $290 and a "Natural baby lama [sic] wool coat" for $350. The salesperson has written extensive notes for "Mrs. Arthur Miller" reading in part, "This Christian Dior coat ought to be very good for you both here and in California" and "the shirred bottom can be cut off at a later period and you can have a regular hem put in and have a charming free flowing dress."
6 3/4 by 8 3/4 inches
Estimate: $100 - $150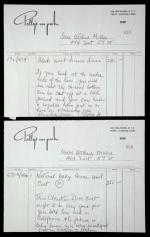 ---
Lot 385: MARILYN MONROE COMMUNICATIONS FROM CHRISTIAN DIOR
A series of messages from Simone Noir of Christian Dior in Paris to "Mrs. Miller," the first a letter dated March 7, 1958, reading in part, "I am very pleased to know that you will come to Paris in a few days. I certainly hope that we will have the pleasure of your visit at Christian Dior's, in spite of the heavy schedule. ... Naturally, we can show you models at your hotel. ..." The second is a telegram dated March 8, 1958, from Simone Noir saying that they are sending sketches and wish Monroe a pleasant stay in Paris. The third is a price list of the latest Dior designs, and the last is a telegram dated April 2, 1959, stating that they are happy Monroe is coming to Festival Cannes and they could make dresses for her arrival.
Largest, 8 1/2 by 11 inches
Estimate: $200 - $300

---
Lot 386: MARILYN MONROE HANDWRITTEN AND SIGNED CHECK
A check written entirely in Marilyn Monroe's hand, in black ink, dated July 14, 1952, and paid to Saks & Company, in the amount of $257.51. The check is drawn on Monroe's Bank of America account. Monroe lists her address as "Bel Air Hotel."
3 1/2 by 8 1/4 inches
Estimate: $2,000 - $3,000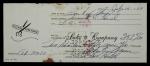 ---
Lot 387: CORRESPONDENCE REGARDING LOST MARILYN MONROE GARMENTS
A letter from fashion designer John Moore to May Reis dated February 3, 1960, saying he will find out what happened to two "beige and black broadcloth shirtwaist sheaths" that were according to Moore "made by two of my best girls here in my workroom. … " Moore promised to trace the shipment to find the outcome of where they went. Subsequent documents, including claim to insurance company, reveal that the garments were in fact destroyed when TWA flight 595, a cargo flight, crashed after takeoff from Chicago Midway Airport on November 24, 1959, killing three people on board and eight people on the ground. The documents valued the lost garments at $750.
8 1/2 by 11 inches
Estimate: $200 - $300

---
Lot 389: MARILYN MONROE FERRAGAMO RECEIPT
A handwritten receipt from the Ferragamo Shoe Salon at 424 Park Avenue in New York City dated July 3, 1958. The receipt lists Marilyn Monroe Miller at 444 East 57th Street with note that the shoes were sold "c/o Miss Reis," Monroe's secretary. Additional note at top of the page reads "Address where to send red shoes." The receipt lists six pairs of shoes, including the Felitia in white, black, beige, and red calf leather, as well as shoe trees, polish, and a pair of hose.
6 by 4 1/4 inches
Estimate: $300 - $500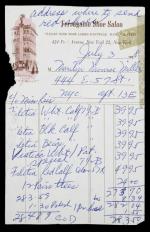 ---
Lot 392: MARILYN MONROE FERRAGAMO STATEMENT
A handwritten balance statement on a page torn from a Beverly Hills Ferragamo Shoe Salon invoice pad dated April 1, 1960. The statement is in the name of Mrs. Arthur Miller at The Beverly Hills Hotel and has secretarial notation that the balance was paid on April 29, 1960.
6 by 4 1/4 inches
Estimate: $200 - $300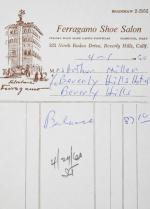 ---
Lot 394: MARILYN MONROE FERRAGAMO CLIPPING AND LETTER
A clipping from a 1959 issue of the New York Herald Tribune featuring an article titled, "Shoes by Ferragamo Designed for Comfort." Monroe, already a fan of the shoes, is not mentioned specifically in the article, although it does note that Ferragamo makes shoes for "innumerable top movie stars." Together with a letter from J. Hoffner of the Park Avenue Ferragamo Shoe Salon in New York City addressed "Dear Miss Monroe," dated September 3, 1958. The letter reads in part, "Since I know you like our spike heel opera pump very much; and since we have a great many more pair here than in our Beverly Hills store, I am writing to tell you the colors and materials I have in your size at the present time."
Largest, 8 1/2 by 11 inches
Estimate: $300 - $500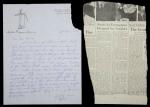 ---
Lot 401: MARILYN MONROE ALIATA STATEMENT OF ACCOUNT
A typed statement dated December 1, 1959, listing outstanding charges for purchases made on October 24 and November 25, 1959, including a pair of purple suede shoes, silver kid shoes, and a pair of beige calf shoes totaling $151.74. The statement has a secretarial notation indicating that the charges were paid with check number 209 on December 8, 1959.
5 1/2 by 8 1/2 inches
Estimate: $200 - $300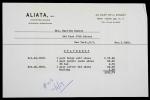 ---
Lot 402: MARILYN MONROE ALIATA SHOE RECEIPT
A typed receipt, undated, listing a pair of "Multicolor Shoes" sold to Miss Marilyn Monroe at the Bel Air Hotel for a total of $51.50. Secretarial notation on the invoice indicates that the charges were paid with check number 306 on September 5, 1958.
5 1/2 by 8 1/2 inches
Estimate: $200 - $300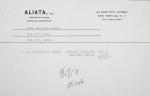 ---
Lot 403: MARILYN MONROE ALIATA SHOE RECEIPT
A handwritten receipt from Aliata Inc. imported shoes in 43 East 57th Street New York dated January 22, 1959, sold to Mrs. Marilyn Monroe of 444 East 57th Street in New York. The receipt lists 10 pairs of designer shoes by the Italian maker, including beige calf shoes, red suede, black suede, ivory - multicolor among others for a total of $392.43 including tax. Additional note at bottom of receipt lists "Bag - Helena Arpels" for an additional $64.59.
10 1/2 by 7 1/4 inches
Estimate: $400 - $600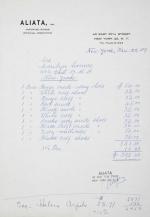 ---
Lot 409: MARILYN MONROE DELMAN DOCUMENTS
A typed letter, signed and dated June 23, 1959, from Rube Adler of Delman Inc. an exclusive New York boutique that carried Christian Dior shoes. The letter apologizes for charging Monroe for a pair of black calf pumps that were sent at the request of Kenneth Lane. Together with corresponding credit memo to correct the error, a credit invoice dated June 18, 1958, for a pair of shoes listed as "Debonair" for $18.75, and a statement dated March 25, 1958, for outstanding balance of $106.
Largest, 10 1/2 by 7 1/4 inches
Estimate: $300 - $500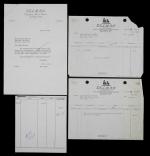 ---
Lot 443: MARILYN MONROE DANCE SHOES RECEIPT
A receipt dated November 16, 1959, from Capezio shoes in Los Angeles listing four pairs of "#32 Black Medium" at a cost of $5 per pair, sold to "20 Century Fox" with additional notations and secretarial Marilyn Monroe signature. The receipt is for the shoes worn by Monroe as she began dance rehearsals for her film Let's Make Love that began filming in January 1960.
5 1/2 by 8 inches
Estimate: $300 - $500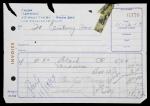 ---
Lot 455: MARILYN MONROE HANDBAG RECEIPT
A store receipt from I. Magnin & Co. of Beverly Hills. The receipt is dated June 24, 1956, and is in the name of Mrs. Arthur Miller and Marilyn Monroe of 444 East 57th Street and signed by assistant Hazel Washington. The receipt lists two items bags on sale for $30 and $46.
6 1/4 by 4 1/4 inches
Estimate: $200 - $300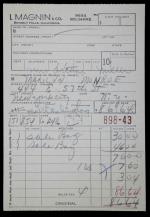 ---
Lot 464: MARILYN MONROE JEWELRY INVOICE
An invoice dated February 19, 1958, from Talmack, New York sold to Mrs. Arthur Miller. The invoice lists one pair of rhinestone earrings, $14.00.
8 1/2 by 8 1/4 inches
Estimate: $200 - $300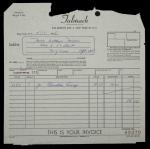 ---
Lot 472: MARILYN MONROE JEWELRY INVOICE
An invoice dated June 15, 1960, from Porflex Co. of Beverly Hills listing Monroe's housekeeper, Hazel Washington. The invoice is for a pair of 14k white gold earrings with diamonds, 14k bracelet, and 14k charm totaling $406.98.
6 1/2 by 8 1/4 inches
Estimate: $200 - $300

---
Lot 481: MARILYN MONROE I. MAGNIN & CO. STATEMENTS
One complete and one partial original statement from I. Magnin & Company addressed to Mrs. Arthur Miller, 444 E. 57th Street, New York City. The partial statement indicates a payment of $28.97 was paid on May 2, 1960. The complete statement documents receipt of the May 2 payment, and indicates a total balance still due of $10.40.
Estimate: $500 - $700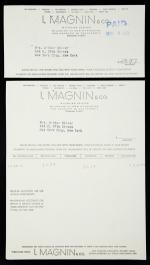 ---
Lot 482: MARILYN MONROE CEIL CHAPMAN INVOICE
A two-page invoice, in triplicate, listing 11 items purchased from Ceil Chapman February 10, 1958, totaling $817.75 plus $3.00 for messenger charges.
8 1/2 by 8 1/2 inches
Estimate: $200 - $300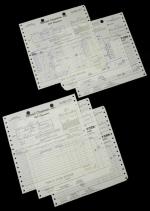 ---
Lot 485: MARILYN MONROE CUSTOM BRA RELATED DOCUMENTS
A handwritten note dated September 23, 1960, from Augusta Bouvier of Hollywood, California, addressed "Dear Miss Monroe:" and reading "I completed these bras on my own time, it took me four days to alter them, so I am giving you a special price of seventy five dollars." Together with an unsigned file copy of a letter dated October 31, 1957, to Fifth Avenue Fashions, reading in part, "Will you kindly send me three bras the same make as I got from you before - I believe it was Carnival - size 38-C."
Largest, 8 1/2 by 11 inches
Estimate: $300 - $500

---
Lot 495: MARILYN MONROE FERRAGAMO RECEIPTS
A handwritten note and invoice on the back of a page and partial page torn from a Ferragamo Shoe Salon invoice pad, undated. The note reads "Dear Miss Reis, I have all 5 pairs and am sending them to you Air Mail. Enclosed is your bill. Thank you./ Sincerely yours, J. Hoffner/ P.S. We have shoe trees priced at $2.00 a pair such as I sold Miss Monroe previously. Would she like to have some?" The note is accompanied by an informally written invoice listing five pairs of Felitia shoes in beige and black calf, size 7 1/2 B, for a total of $199.75, and a more formal invoice for the same shoes dated February 3, 1960, with additional postage and packaging charges added for a new total of $203.50 billed to Monroe at The Beverly Hills Hotel.
Largest, 6 by 4 1/4 inches
Estimate: $300 - $500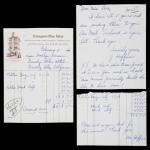 ---
Lot 556: MARILYN MONROE PERFUME RECEIPT
An invoice from Floris of Jermyn Street in London dated December 14, 1959, listing Marilyn Monroe Miller of The Beverly Hills Hotel as the purchaser of six bottles of rose geranium toilet water for a total of $28.25.
8 by 8 1/2 inches
Estimate: $100 - $150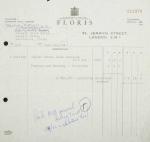 ---
Lot 960: MARILYN MONROE SIGNED RECEIPT
A Marilyn Monroe signed Elizabeth Arden receipt. Monroe has signed the receipt in blue ballpoint ink over the salon's handwritten itemization of services.
8 by 5 1/2 inches
Estimate: $2,000 - $3,000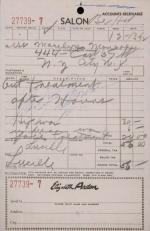 ---
Lot 964: MARILYN MONROE SAKS FIFTH AVENUE RECEIPT
A handwritten Saks Fifth Avenue receipt for Marilyn Monroe for six articles of clothing totaling $215.23. The receipt is dated "3-20."
6 1/4 by 4 1/2 inches
Estimate: $600 - $800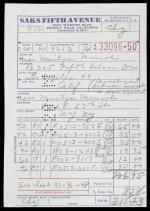 ---
Lot 989: MARILYN MONROE SAKS FIFTH AVENUE RECEIPTS
Two handwritten Saks Fifth Avenue receipts charged to Marilyn Monroe: the first is for two lashes totaling $8.32, signed by makeup artist and hairstylist George Masters; the second is for four pieces of clothing totaling $159.12 with a carbon copy of the receipt. Together with a payment stub from February 15, 1962, showing a balance due of $1,140.88.
Largest, 7 1/2 by 6 1/2 inches
Estimate: $600 - $800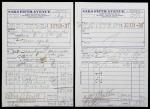 Enregistrer
Enregistrer
Enregistrer
Enregistrer
Enregistrer
Enregistrer
Enregistrer
Enregistrer
Enregistrer
Enregistrer
Enregistrer
Enregistrer
Enregistrer
Enregistrer
Enregistrer
03 juillet 2012
Marilyn
Année: 1963
Réalisation: Harold Medford
Naration: Rock Hudson
Production: Twentieth Century Fox
Pays: USA
Durée: 83 min
---
---
Il s'agit du premier documentaire réalisé en hommage à Marilyn après sa mort, sorti sur les écrans américains le 18 avril 1963.
Rock Hudson commenca les prises de vues le 9 février 1963 (voir son contrat ci-dessous).
Le film n'a jamais été édité ni en vidéo VHS ni en DVD.
Résumé: Rock Hudson présente une compilation d'extraits de films de la 20th Century-Fox avec Marilyn Monroe: de "A Ticket to Tomahawk" à des scènes de son dernier film inachevé "Something's Got to Give." L'émission se termine par la chanson "Diamonds are a girl's best friend" diffusée en entier.
>> Fiche du documentaire sur imdb
>> Article du film sur wikipedia
>> Site The Rock Hudson Project
---
---
> le contrat de Rock Hudson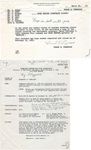 ---
> Bande-Annonce


> Vidéo -Docu en 10 parties- partie 1


Enregistrer
02 février 2008
Le remake de Something's Got to Give
En 1940, Leo McCarey devait tourner "My Favorite Wife" ("Mon épouse favorite" en français) avec Cary Grant, Irene Dunne et Gail Patrick. Malade, le réalisateur dut laisser la direction à Garson Kanin. Sur le même scénario, plus de vingt ans plus tard, George Cukor commence en 1962 le tournage de "Something got to give" avec Marilyn Monroe, Dean Martin et Cyd Charisse. Le tournage est interrompu en raison de l'état psychologique de Marilyn, qui, en accord avec la Fox, devait reprendre le tournage avec un autre réalisateur et le scénario remanié. Marilyn meurt le 5 août 1962, la Fox prévoit de refaire tourner les scènes de Marilyn avec Lee Remick, mais Dean Martin s'y oppose et le film est abandonné. Le projet aboutira finalement l'année suivante, en 1963, avec Doris Day, James Garner et Polly Bergen sous la direction de Michael Gordon. C'est "Move Over, Darling" ("Pousse-toi chérie" en français). L'histoire de ce scénario se révèle aussi mouvementée que celle de la lune de miel qu'il raconte !

MOVE OVER , DARLING !
Pousse-toi Chérie !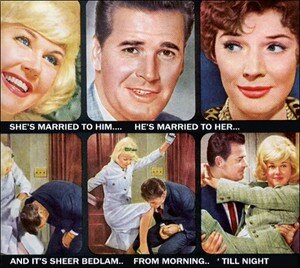 Fiche technique
Réalisateur: Michael Gordon
Producteurs: Martin Melcher, Aaron Rosenberg
Production: 20th Century Fox
Scénaristes: Bella Spewack, Sam Spewack, Leo McCarey, Hal Kanter et Jack Sher
Année: 1963
Genre: Comédie
Pays: Etats-Unis
Durée: 1h43min
Format: couleur
Distribution (créditée)
Doris Day: Ellen Wagstaff Arden
James Garner: Nicholas Arden
Polly Bergen: Bianca Steele
Thelma Ritter: Grace Arden
Fred Clark: Mr. Codd (hotel manager)
Don Knotts: Shoe clerk
Elliott Reid: Dr. Herman Schlick
Edgar Buchanan: Judge Bryson
John Astin: Clyde Prokey
Pat Harrington Jr.: District Attorney
Eddie Quillan: Bellboy
Max Showalter: Hotel desk clerk
Alvy Moore: Room service waiter
Pami Lee: Jenny Arden
Leslie Farrell: Didi Arden
Synopsis
Nick Arden, veuf depuis cinq ans, se remarie. A peine vient-il de partir en lune de miel que sa mère reçoit la visite inattendue de sa première femme, Ellen. Celle-ci avait été considérée comme morte après la disparition de l'avion dans lequel elle voyageait. En réalité, elle a passé les cinq dernières années coincée sur une île en plein Pacifique. Quand elle apprend que son mari est en voyage de noces, elle fonce rejoindre le couple.
Bande Annonce

---
>> Sur le web:
- tout sur le film sur imdb (en anglais)
- le film sur le wikipedia anglais
- fiche film sur allocine (en français)
- infos film sur le site dorisday (en anglais)
- des photos sur premiere.fr (en français)
---
! Mon Avis !
Pousse-toi Chérie est la copie conforme des scènes tournées de Something's Got To Give. Le générique de début (un dessin-animé) est identique; de même que les scènes tournées par Marilyn Monroe, dont le rôle est repris par Doris Day. N'ayant malheureusement pas vu le début du film, je ne sais pas si il y a la fameuse scène de la piscine avec Doris Day ?! Cependant, concernant le jeu des acteurs, Marilyn est plus éblouissante et surtout, propose un jeu beaucoup plus basé sur l'émotion que Doris Day (notamment si on compare les scènes avec les enfants.) Néanmoins, Doris nous offre un personnage très drôle, en faisant pas mal de mimiques, parfois même dans l'exagération, ce qui était propre au jeu d'acteur dans les comédies hollywoodiennes des années 1950. Une petite différence à noter concerne les deux enfants: dans Something's got to give, ce sont un garçon et une fille; tandis que dans Pousse toi Chéri, ce sont deux filles. A noter aussi, un nouveau personnage: la mère de Nicolas Arden, incarné par Thelma Ritter, qui joua d'ailleurs avec Marilyn dans The Misfits. Dans l'ensemble je dirai qu'il s'agit d'une petite comédie à l'américaine, qui se regarde facilement, bien qu'il y ait quelques faiblesses dans le scénario (la scène du tribunal à la fin est d'un grand gignolesque !), mais certaines scènes demeurent très drôles (du style du vaudeville théâtrale, notamment la scène à l'hôtel avec les allers et retours de Nicolas dans les deux suites côtes à côtes; ainsi que la rencontre entre le mari et le vendeur engagé par Ellen). Ayant évidemment vu le montage de Something's got to give, je préfère la version avec Marilyn même si elle demeure incomplète; car comparer les deux versions est aussi un bon moyen de se rendre compte que Marilyn offre une interprétation beaucoup plus humaine de son personnage et moins grandguignolesque... en bref, Marilyn était une sacré actrice, toujours juste que ce soit dans des situations comiques (comme la scène de la rencontre entre Wally Cox et Dean Martin) que dramatiques (quand elle retrouve ses enfants) et qui illuminait l'écran en toutes circonstances.