04 août 2013
Les clins d'oeils à Marilyn au Cinéma
- The China Syndrome -

Dans le film "The China Syndrome" ("Le syndrome Chinois"), de James Bridges, sorti en 1979, on découvre un cadre de Marilyn dans la maison de Kimberley Wells (interpétée par Jane Fonda).
---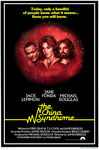 Film: The China Syndrome
Année: 1979
Pays: USA
Réalisateur: James Bridges
Scénario: Mike Gray, T. S. Cook et James Bridges
Genre: drame
Distribution: Jane Fonda (Kimberly Wells, journaliste à KXLA), Jack Lemmon (Jack Godell, chef d'équipe à la centrale nucléaire), Michael Douglas (Richard Adams, cameraman à KXLA), Scott Brady (Herman De Young), James Hampton (Bill Gibson), Peter Donat (Don Jacovich), Wilford Brimley (Ted Spindler), Richard Herd (Evan McCormack), Daniel Valdez (Hector Salas)...
L'histoire: Kimberley Wells, journaliste à la télévision, filme au cours d'un documentaire un incident à la centrale nucléaire de Ventana. Son cameraman le montre à un ingénieur nucléaire qui confirme la réalité de l'accident et son caractère potentiellement dangereux. C'est à ce moment qu'est évoquée la notion de « syndrome chinois ».
> Sur le web: le film sur imdb (en anglais)
Merci à Lolie pour les captures
---
© All images are copyright and protected by their respective owners, assignees or others.
copyright text by GinieLand.
Enregistrer
21 février 2011
The Joy of Marilyn
In the Camera Eye
Auteur: Sam Shaw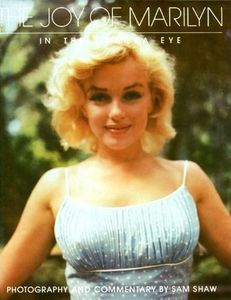 Date de sortie: 1979
Relié 160 pages
Langue: anglais
Éditeur: Exeter Books
ISBN-10: 0896730301
ISBN-13: 978-0896730304
Prix éditeur: livre épuisé, non reédité: 26 Euros d'occasion
Ou le commander ? sur amazon.fr

Présentation:
Première publication de photographies de Marilyn Monroe prises par le photographe Sam Shaw.
---
-extraits -

---
Vous avez le livre ?
Apportez votre critique, votre avis ou votre note (/10)