12 mars 2021
Marilyn: A Very Personal Story
Author: Norman Rosten
Prix d'occasion : environ 25 Euros
Date de sortie : 18 février 1974
128 pages
Langue : anglais
Pays: Grande-Bretagne (UK)
Éditeur : Millington Books
ISBN 10 : 086000001X
ISBN 13: 978-0860000013
Ou le trouver ? d'occasion sur amazon, ebay etc
Edition en Angleterre du livre Marilyn, An Untold Story sorti en 1973
Description - par l'éditeur: "It scares me. All those people I don't know, sometimes they're so emotional. I mean if they love you that much without knowing you, they can also hate you the same way."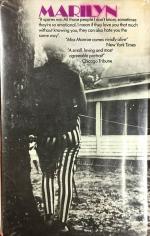 ---
Autre couverture
Edition de 1980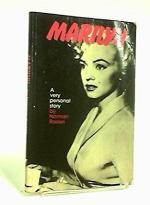 ---
Vous avez le livre ? Do you have the book ?
Apportez votre critique, votre avis ou votre note
Give your opinion, and a note (/10)
11 mai 2014
Of Women and Their Elegance
Author: Norman Mailer
Photographer: Milton Greene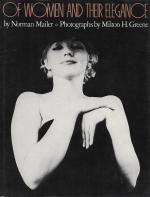 Date de sortie: 1980
Relié 288 pages
Langue: anglais
Éditeur: New York: Simon And Schuster
Prix éditeur: (6 Euros d'occasion)
Dimensions: 28,4 x 21,8 x 2,3 cm
ISBN 10: 067124020X
ISBN 13: 978-0671240202
Ou le commander ? sur amazon.fr
Description -sur goodreads.com - A fictitious memoir of Marilyn Monroe based on actual events in her life as well as the reminiscences of Milton and Amy Greene. Novel interspersed with numerous photographs of predominately of Marilyn but including other stars and socialites of the era by Milton H. Greene.
"This book, while based on episodes in Marilyn Monroe's life, and on the reminiscences of Amy and Milton Greene, does not pretend that these are the actual thoughts of Miss Monroe… This magnificent and stunning new book is at once a fictional autobiography and a work of art."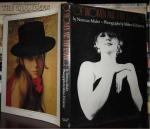 Critique -sur marilynmonroe.ca - by David Marshall, extract: In addition to some of the best photos ever taken of Monroe, the book is filled with other major players of the day-- everyone from Marlene Dietrich to Anna Magnani, from Garland to Sophia Loren and Jane Fonda. But of course, the main focus is on Marilyn and even if you've seen the images before, what a wonderful treasure to see so many here that had not appeared in Mailer's "Marilyn". (...)
Mailer uses the premise of getting inside Marilyn's head and coming to an understanding of her by writing as if he were her-- thus the fictional autobiography. Does he succeed? Not in my opinion but again, by this point in his life, Mailer had become nearly a man possessed-- he may never have met her and may not have a clue as to what she was thinking, but he tries. And how can anyone condemn a man for doing basically the same thing all of us do-- try and get a feel of what she was "really" like.
---
Vous avez le livre ? Do you have the book ?
Apportez votre critique, votre avis ou votre note (/10)
Gives your opinion, review or note (/10)