12 mars 2021
Marilyn Monroe, un autre regard.
Et Marilyn Monroe par elle-même
Auteur: Norman Rosten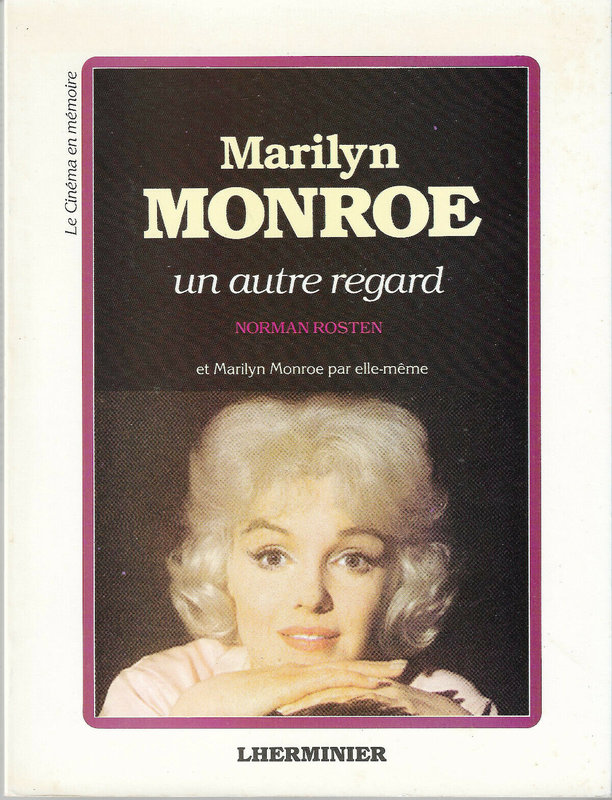 Prix d'occasion : environ 30 Euros
Date de sortie : 1984
189 pages
Langue : français
Pays: France
Éditeur : Lherminier
ISBN : 978-2-86244-029-3
Ou le trouver ? d'occasion sur amazon, ebay, livres-cinema.info etc
Edition en France du livre Marilyn, An Untold Story (USA, 1973) + Marilyn: A Very Personal Story (GB, 1974)
Description: Le témoignage de Norman Rosten est l'un des plus précieux qui nous aient été donnés sur la plus inoubliable star de l'histoire du cinéma. C'est peut être aussi le plus authentique. Écrivain et scénariste américain, Norman Rosten a bien connu Marilyn Monroe, dans sa vie professionnelle comme dans sa vie privée, et il a été l'un de ses amis les plus proches. De cette situation privilégiée, il a tiré un portrait qui s'impose par sa sincérité, son émotion; et aussi par sa délicatesse, et la qualité de son regard. Il nous raconte Marilyn avec un respect dénué d'hypocrisie, une affection sans complaisance, qui font revivre sous nos yeux bien mieux qu'une star: une femme - et une personnalité parmi les plus attachantes que le monde du cinéma ait révélées.

Un document exceptionnel complète l'ouvrage : le texte intégral d'un entretien exclusif, accordé par Marilyn Monroe à Georges Belmont, à Hollywood en 1960. C 'est Marilyn par elle-même, dans sa vérité la plus profonde. Ce livre constitue ainsi un ensemble unique, de première main, que celle qui, une nuit d'août 1962, prit sa place définitive dans la mythologie de notre temps.
- quatrième de couverture -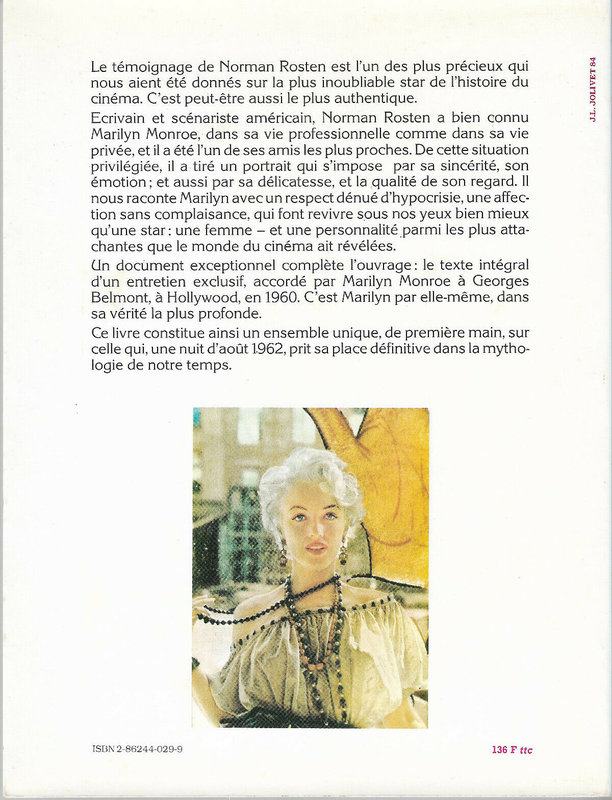 ---
Vous avez le livre ? Do you have the book ?
Apportez votre critique, votre avis ou votre note
Give your opinion, and a note (/10)
17 avril 2011
Kelly LeBrock (née le 24 mars 1960) est une mannequin et actrice américaine populaire aux Etats-Unis dans les années 1980, connue pour avoir joué dans deux films qui ont rencontré un joli succès: The Woman in Red (La Fille en rouge) en 1984 et Weird Science (Une créature de rêve) en 1985.
C'est dans le film The Woman in red, réalisé par Gene Wilder qui tient aussi le rôle principal, que Kelly LeBrock apparaît dans une scène directement inspirée de celle de The Seven Year Itch avec Marilyn Monroe: quand sa robe virevolte au-dessus de la bouche d'aération.
Kelly LeBrock (born March 24, 1960) is a popular American model and actress in the United States in the 1980s, known for having appeared in two movies which have had a great success: The Woman in Red in 1984 and Weird Science in 1985.
It is in the film The Woman in red, directed by Gene Wilder who also holds the main role, that Kelly LeBrock appears in a scene directly inspired by that of The Seven Year Itch with Marilyn Monroe: when her dress flutters above the air.

> Extrait Video


---
Le film est en fait le remake américain du film français Un éléphant ça trompe énormément réalisé par Yves Robert en 1976, dans lequel Annie Duperey offrait déjà une version parodiée de celle de The Seven Year Itch, avec sa robe rouge qui virevoltait dans un parking souterrain.
The film is in fact the American remake of the French film Pardon Mon Affaire directed by Yves Robert in 1976, in which Annie Duperey already offered a parodied version of that of The Seven Year Itch, with her red dress twirling in an underground parking lot.
---
© All images are copyright and protected by their respective owners, assignees or others.
copyright text by GinieLand.
Enregistrer
Enregistrer