28 janvier 2017
Marilyn at Twentieth Century Fox
Author: Lawrence Crown

Date de sortie: septembre 1987
Relié 216 pages
Dimensions: 28,7 x 23,9 x 2,5 cm
Langue: anglais
Éditeur: W.H. Allen / Virgin Books
ISBN-10: 185227025X
ISBN-13: 978-1852270254
Prix éditeur: ? Euros
Ou le commander ? sur amazon

Description: Packed with photographs and memorabilia, many rarely seen before, this book is a unique panorama of Marilyn's years at Twentieth Century Fox.

Content (sommaire): Marilyn Monroe's Fox Films / Introduction / Stock Kid - Starlet / All About Eve - All About Marilyn / The Fireball - Early Stardom / A Niagara of Monkey Business / Gentlemen Prefer Blondes / How To Marry A Millionaire / River Of No Return / There's No Business Like Show Business / The Seven Year Itch / Bus Stop / Let's Make Love - Something's Got To Give / Afterword
---
Mon Avis en Bref... 10/10
Tel qu'il est intitulé, ce livre se concentre uniquement sur les années de Marilyn à la Fox: des informations (sur ses contrats et ses films) et des photos rarement publiées (d'excellentes qualités, noir et blanc et couleur). N'hésitez pas à l'acheter (on le trouve pour quelques euros sur internet), car bien qu'il commence à dater (édité en 1987) et n'existe qu'en anglais, vous serez surpris de son contenu, car le livre vaut surtout pour son contenu photographique axé sur les films tournés par Marilyn pour la Fox (d'où l'absence de "The Prince and The Showgirl", "Some Like It Hot" et "The Misfits"): les photos officielles de promo, en studio, en coulisses et des tests costumes.

---
Vous avez le livre ? Do you have the book ?
Apportez votre critique, votre avis ou votre note (/10)
Gives your opinion, review or note (/10)
Enregistrer
Enregistrer
02 août 2013
Les clins d'oeils à Marilyn au Cinéma
- L'été en pente douce -

Dans le film "L'été en pente douce", de Gérard Krawczyk en 1987, Pauline Lafont interprète Lilas, une jeune femme sexy, blonde à la peau blanche, qui est fan de Marilyn Monroe. L'actrice adopte pour ce rôle quelques attitudes et comportements qui font allusion à Marilyn: dans sa démarche, dans son côté d'une sexualité affirmée, dans sa voix enfantine et son côté femme-enfant.
On découvre Marilyn Monroe dans deux scènes:
> Dans l'une, Lilas montre à Mo -Jacques Villeret-, des magazines Ciné Revue avec Marilyn en couverture. Et Lilas demande à Mo "Regardez, à qui elle ressemble, vous la connaissez ?". Mo, qui est handicapé mental, répond fermement "non" et Lilas de lui répondre "Ben, c'est Marilyn Monroe! Une grande actrice américaine! Elle a fait des tas et des tas de films!". Mais Mo d'expliquer qu'il n'y a pas la télé dans la maison. Et Lilas continue d'insister, en lui montrant un autre magazine: "Bon, et là, à qui elle ressemble?" et Mo de répondre, comme un enfant puni "Je ne sais pas...". Déçue, Lilas rétorque "Forcément, je ne suis pas maquillée, ni coiffée".
---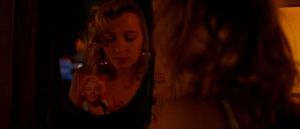 > Dans l'autre scène, Lilas se refait une beauté devant le miroir, en s'appuyant sur une photo de Marilyn, épinglée devant le miroir. Lilas observe la photo et se remet du rouge à lèvre.
---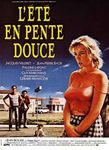 Film: L'été en pente douce
Année: 1987
Pays: France
Réalisateur: Gérard Krawczyk
Scénario: Gérard Krawczyk, Jean-Paul Lilienfeld d'après le roman de Pierre Pelot
Musique: Roland Vincent
Genre: comédie dramatique
Distribution: Jacques Villeret (Maurice Leheurt, surnom "Mo"), Jean-Pierre Bacri (Stéphane Leheurt, surnom "Fane"), Pauline Lafont (Lilas), Jean Bouise (Olivier Voke), Guy Marchand (André Voke), Jean-Paul Lilienfeld (Shawenhick, l'ex de Lilas), Jacques Mathou (Jeannot), Claude Chabrol (le prêtre), Patrick Braoudé (le gendarme), Georges Vaur (le banquier du Crédit agricole), Dominique Besnehard (le notaire) ...
L'histoire: À la suite de la mort de sa mère, Fane accompagné de Lilas, rejoint son frère handicapé mental, Mo, dans la maison de sa mère. Voke, le garagiste voisin, a des vues sur la maison et sur Lilas.

> Sur le blog: l'article sur Pauline Lafont
> Sur le web: le film sur imdb (en anglais)
---
© All images are copyright and protected by their respective owners, assignees or others.
copyright text by GinieLand.
Enregistrer
21 février 2011
Marilyn among friends
Auteurs: Sam Shaw, Norman Rosten

Date de sortie: mai 1987
Relié 224 pages
Langue: anglais
Éditeur: Bloomsbury Publishing
ISBN-10: 0747500126
ISBN-13: 978-0747500124
Prix éditeur: livre épuisé, non reédité: jusqu'à 60 Euros d'occasion
Ou le commander ? sur amazon.fr

Livre reédité en 1992
chez l'éditeur Outlet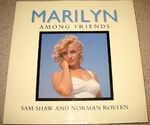 Présentation:
Le photographe Sam Shaw, ami de Marilyn Monroe, a pris de nombreuses photos d'elle, dont les plus célèbres de la scène de la robe dans le film Sept ans de réflexion. Deux cents photographies sont publiées dans ce livre: Marilyn se maquillant, à la plage, au téléphone, sur les tournages, dans la rue, avec Bogart, avec Gable, avec DiMaggio, avec Miller, avec leur chien le basset Hugo. Le texte qui accompagne les clichés est rédigé par les descriptions de Norman Rosten (poète/dramaturge/auteur de romans) au temps où il fréquentait par amitié Marilyn, racontant des souvenirs de ses amis, de ses marris et fans, et imaginant une conversation avec Marilyn.
Vous avez le livre ?
Apportez votre critique, votre avis ou votre note (/10)