30 mai 2020
Jerry Hall tenait le rôle de Cherie, jouée par Marilyn Monroe au cinéma, dans une version théâtrale de Bus Stop pour laquelle elle avait fait une tournée à travers les Etats-Unis (à Montclair dans le New Jersey, puis à New York - fin 1988 et début 1989) et en Angleterre (à Londres au Lyric Theatre, à Watford au Palace Theatre - fin 1989 et début 1990). Jerry Hall avait alors 33 ans et était une mannequin très demandée, reconnaissable par sa longue chevelure blonde et sa taille (1,82m) et connue internationalement pour être aussi la compagne de Mick Jagger, leader des Rolling Stones, depuis 1977 et avec qui elle avait eu à l'époque deux enfants (ils auront en tout quatre enfants: Elizabeth née en 1984, James né en 1985, Georgia May née en 1992 et Gabriel né en 1997).
Jerry Hall held the role of Cherie, played by Marilyn Monroe at the cinema, in a theatrical version of Bus Stop for which she would tour across the United States (in Montclair in New Jersey, then in New York - in late 1988 and early 1989) and in England (in London at the Lyric Theater, at Watford at the Palace Theater - late 1989 and early 1990). Jerry Hall was then 33 and was a very popular model, recognizable by his long blond hair and his height (around 6 feet) and known internationally to be also the girlfriend of Mick Jagger, leader of the Rolling Stones, since 1977 and with whom she had two children at the time (they will have four children: Elizabeth born in 1984, James born in 1985, Georgia May born in 1992 and Gabriel born in 1997).
Jerry Hall avait reçu de très bonnes critiques. Elle campait une Cherie en étant vêtue d'un costume de showgirl, mettant ainsi en valeur ses longues jambes, prenant des airs de vamp accentués par sa longue chevelure blonde la presse la faisant beaucoup comparer à l'actrice des années 1940s Veronica Lake, et débitant son texte avec son accent texan. Jerry Hall avait même ressenti des affinités proches avec le personnage qu'elle avait campé à l'époque: "Je venais de son milieu d'origine - une petite ville, une grande famille, pas beaucoup d'argent. J'ai eu tous ces grands rêves de réussite."
Jerry Hall received very good reviews. She played a Cherie wearing a showgirl costume, thus highlighting her long legs, taking vamp attitude accentuated by her long blonde hair that the press making her compare a lot to the 1940s actress Veronica Lake, and delivering his text with his Texan accent. Jerry Hall had even felt a close affinity with the character she had portrayed at the time: "I came from her kind of background--small town, big family, not a lot of money. I had all these big dreams about making it."

- Jerry Hall en Cherie, photographie promotionelle -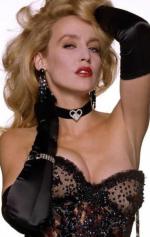 - Jerry Hall, photocall, 1989 -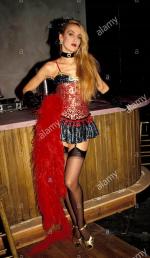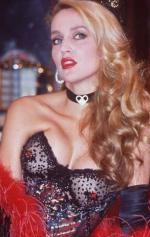 Elle faisait ici ses débuts au théâtre (elle enchaînera ensuite avec un rôle au cinéma dans le Batman de Tim Burton en 1989). La presse a eu tendance à comparer sa prestation à celle de Marilyn Monroe, ce à quoi répliqua Jerry Hall dans une interview: "J'aurais l'air idiote si j'essayais de copier Marilyn Monroe. Je n'avais pas vu le film depuis un moment. Je l'ai aimé, mais je ne voulais pas le regarder et essayer de piquer quoi que ce soit qu'elle avait fait. Je pense que beaucoup de critiques s'attendaient au film, qui est complètement différent de la pièce. C'est une pièce délicate. Il ne se passe pas grand-chose. Il s'agit de personnes seules en quête d'amour."
Car ce qui différencie le film de la pièce est que dans le film, un personnage crucial est absent: celui d'un pédophile d'âge moyen, le Dr Lyman; et le film a tendance à minimiser l'aspect sexuel de la relation de Cherie avec son amoureux de cow-boy effronté, interprété par Shaun Cassidy.
She made here her theater debut (she then will play a film role in Tim Burton's Batman in 1989). The press has tended to compare his performance to that of Marilyn Monroe, to which Jerry Hall replied in an interview: "I'd look silly if I tried to copy Marilyn Monroe. I hadn't seen the movie for a while. I liked it, but I didn't want to watch it and try to pick up any of the things she had done. I think a lot of the critics were expecting the movie, which is completely different from the play. It's a delicate play. Not a lot happens. It's about lonely people looking for love."
Because what differentiates the film from the play is that in the film, a crucial character is absent: that of a middle-aged pedophile, Dr. Lyman; and the film tends to downplay the sexual aspect of Cherie's relationship with her cheeky cowboy lover, played by Shaun Cassidy.

- Photocall -
- Jerry Hall, Palace Theatre de Watford, Angleterre, 24/01/1990 -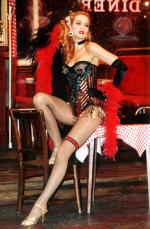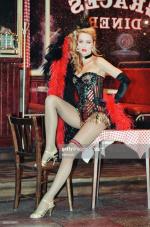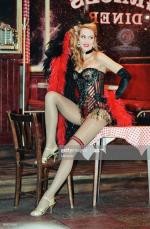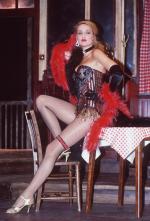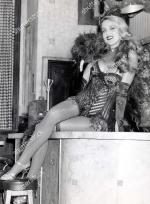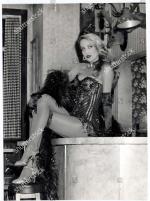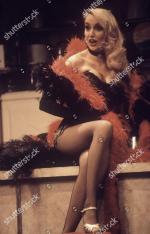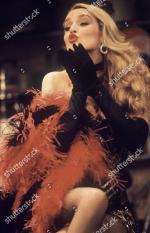 - Jerry Hall & Shaun Cassidy -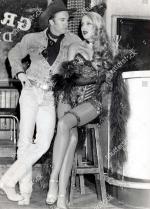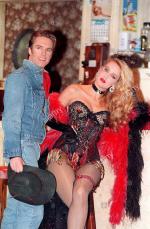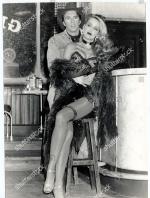 - Dans la loge -
- Jerry Hall, Lyric Theatre, Londres, 01/02/1990 -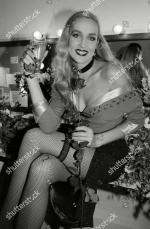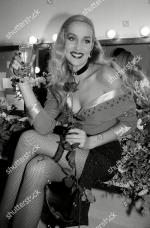 - Jerry Hall & Shaun Cassidy -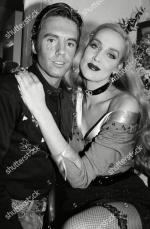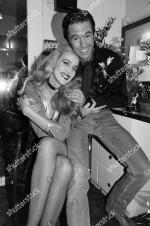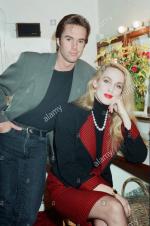 Lors de sa tournée en Angleterre où Jerry Hall s'était établie avec Mick Jagger et leurs enfants à Londres, bon nombre de photographes suivaient alors les sorties de la "mannequin actrice". Après les représentations sur scène, il arrivait souvent à Jerry Hall de sortir dans les endroits branchés de la capitale anglaise en compagnie du reste de la troupe, et parfois Mick Jagger les rejoignait: "Il est très fier de moi et il est tellement adorable", racontait alors Jerry Hall, précisant que Mick Jagger était alors venue la voir jouer sur scène 5 fois.
During his tour in England where Jerry Hall had settled with Mick Jagger and their children in a London house, numbers of photographers followed the "model actress". After the performances on stage, Jerry Hall often went out to the hip places of the English capital with the rest of the troupe, and sometimes Mick Jagger joined them: "He is very proud of me and he is so adorable" , said Jerry Hall, adding that Mick Jagger had come to see her play on stage 5 times.

- Jerry Hall & Shaun Cassidy -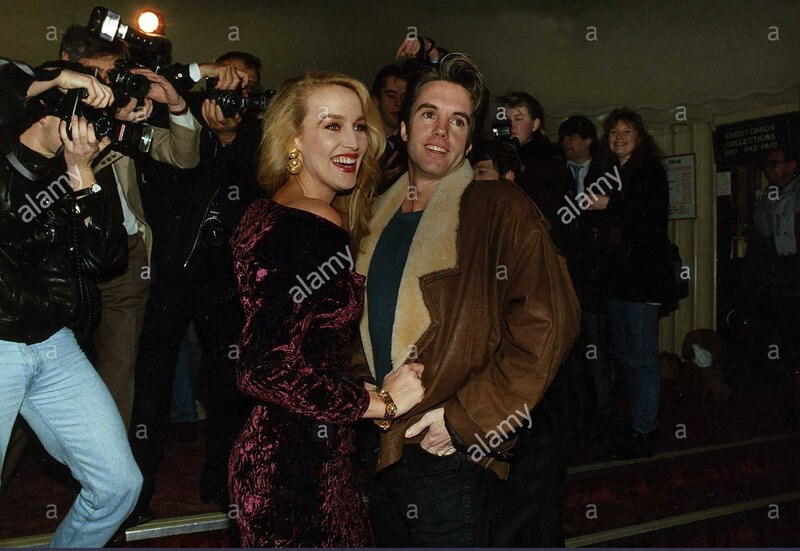 - Jerry Hall & Mick Jagger, 26/01/1990, Watford -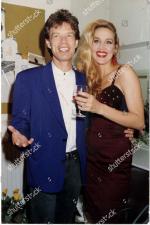 ---
- Fiche technique -
Auteur: William Inge
Mise en scène: Phil Oesterman
Designer: Tim Goodchild
- Acteurs par ordre d'apparence -
Pippa Hinchley: Elma Duckworth
Carolyn Jones: Grace Hoylard
Bill Bailey: Will Masters
Jerry Hall: Cherie
David Healy: Dr Gerald Lyman
Mel Cobb: Carl
Stuart Milligan: Virgil Blessing
Shaun Cassidy: Bo Decker

- Programme du théâtre Palace de Watford -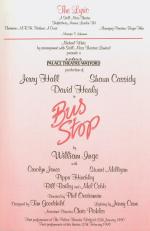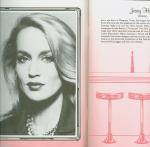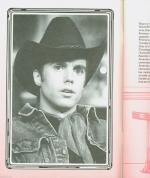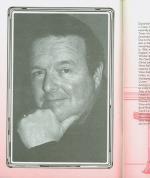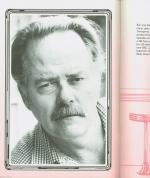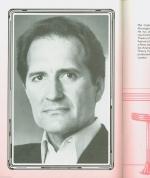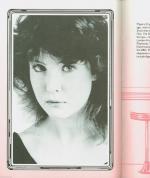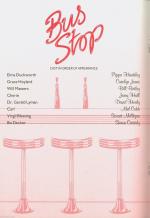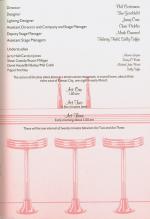 - Programme du théâtre Palace de Watford -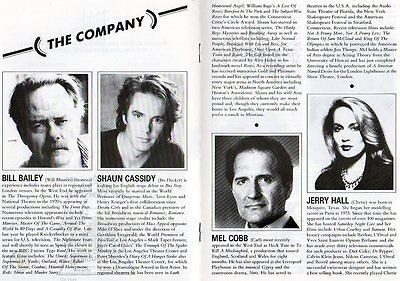 ---
- Sur Scène -
- Palace Theatre de Watford, 24/01/1990 -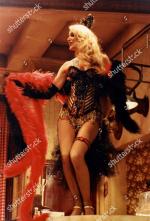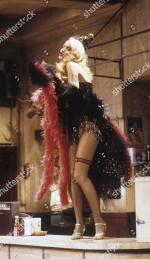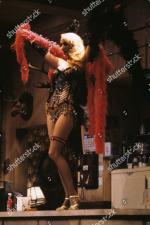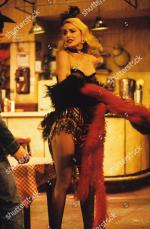 - Lyric Theatre de Londres, 01/02/1990 -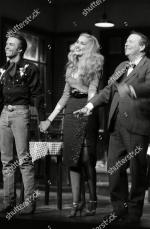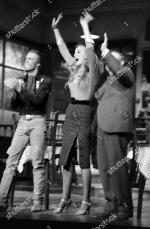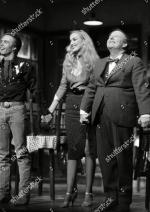 ---
- Scan perso -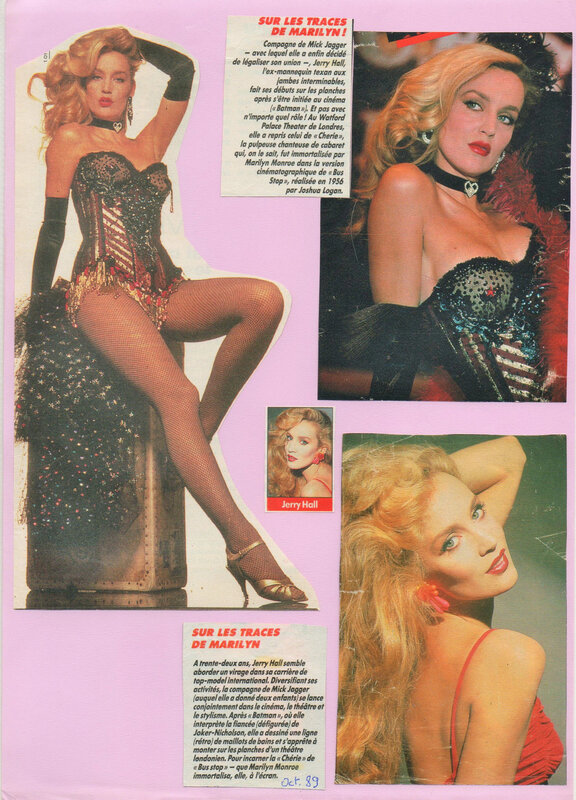 ---
© All images are copyright 

and protected by their respective owners

, assignees or others. 


copyright text by GinieLand.

 

15 février 2020
La mannequin Stephanie Seymour en blonde platine façon Marilyn - photographiée par Herb Ritts à Los Angeles en 1990 - pour le magazine italien Vogue (octobre 1990). En couverture de ce Vogue: Liza Minnelli, elle aussi grimée en Marilyn (ci-contre).
Model Stephanie Seymour in platinum blonde as a Marilyn style - photographed by Herb Ritts in Los Angeles in 1990 - for the Italian magazine Vogue (1990, October). On the cover of this Vogue: Liza Minnelli, also made up in Marilyn (opposite).
---
© All images are copyright and protected by their respective owners, assignees or others.
copyright text by GinieLand.
12 octobre 2015
Les clins d'oeils à Marilyn au Cinéma
- Un week-end sur deux -

Dans le film "Un week-end sur deux", Gaëlle (Felice Pasotti) s'approche du chauffeur de bus. Elle lui montre du doigt les photos de vedettes collées au-dessus du pare-soleil. Parmi les photos, on distingue -entre autres- Kim Basinger, Miou-Miou, Robert Redford, le groupe "Simple Minds", Isabelle Adjani, Marilyn Monroe, Errol Flynn, Greta Garbo et Madonna.
---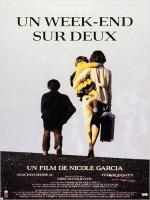 Film: Un week-end sur deux
Année: 1990
Pays: France
Réalisateur: Nicole Garcia
Scénario: Nicole Garcia, Jacques Fieschi, Philippe Le Guay, Anne-Marie Étienne
Genre: comédie
Distribution: Nathalie Baye (Camille Valmont), Felice Pasotti (Gaëlle, la fille de Camille), Joachim Serreau (Vincent, le fis de Camille), Miki Manojlovic (Adrian), Henri Garcin (l'agent de Camille), Marie Daëms (Graziella Jacquet), Jacques Boudet (Jacquet), Sacha Briquet (Albert, le maître d'hôtel), Paul Beauvais (douanier), Sylvie Blotnikas (la femme de chambre), Martine Buffet (l'employée Hertz),
Susan Carlson (Martha), Bruno Crovi (douanier), Lucette Filiu (la gérante de l'hôtel), Michelle Goddet (Marie-Ange)...
L'histoire: Camille est actrice et a connu des jours meilleurs. Après son divorce, son mari a obtenu la garde de leurs deux enfants. Elle ne les voit qu'un week-end sur deux. Mais il se trouve que, ce week-end-ci, alors qu'elle a la garde de ses enfants, elle a un engagement impératif pour un gala au Rotary Club de Vichy. Elle ne voit pas d'autre solution que d'emmene ses enfnats avec elle. Son ancien mari l'apprend, il est furieux et va venir les rechercher. Camille s'enfuit vers le sud avec les enfants, tentant de nouer une relation plus intime avec eux, en particulier avec le précoce et lointain Vincent, amateur d'astronomie. Camille apprend qu'une rare pluie de météorites est prévue quelques jours plus tard, en Espagne. Elle propose à Vincent d'y aller...

> Sur le web: le film sur wikipedia
article sur cineclap
Enregistrer
11 février 2012
Marilyn: Something's Got to Give
Marilyn, son dernier tournage
Année: 1990
Ecrit et produit par Henry Schipper
Producteur exécutif: William Knoedelseder
Co-producteur: Ken Turner
Pays: USA
Durée: 45 min
Diffusé en France le 4 août 1992 sur A2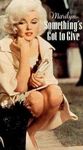 Documentaire sur le dernier film de Marilyn qui restera inachevé. C'est le premier documentaire qui diffusera des rushes retrouvés du film Something's Got to Give.
Avec les interviews de: Joan Greenson (la fille du Dr Greenson), Henry Weinstein (producteur), Genes Allen (producteur associé), Evelyn Moriarty (doublure de Marilyn), Christopher Morley (joue le fils), Alexandra Heilweil (joue la fille), David Bretherton (éditeur), Marjorie Plecher Snyder (costumière), Walter Bernstein (scénariste), Allan Whitey Snyder (maquilleur)
>> Fiche du documentaire sur imdb
>> Le documentaire français existe en VHS (allez sur amazon).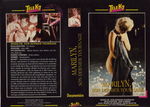 > Vidéo -Docu en 5 parties- partie 1


Enregistrer
18 février 2010
Marilyn,
une vie d'Hollywood
Biographie Photos
Auteur: Ann LLoyd
Prix éditeur: 18,29 Euros
Date de sortie: 1990
Relié 118 pages
Langue: français
Éditeur: Minerva
ISBN: 2-8307-0079-1
Ou le trouver ? d'occasion sur priceminister

Description: Le meilleur ami de Marilyn, c'était vraisemblablement l'objectif de la caméra ou de l'appareil photo, devant lequel elle se mettait à vivre et à vibrer. Ce livre retrace à travers 100 photos le parcours de Marilyn: ses débuts comme mannequin, ses films, sa vie familiale et intime, et bien sûr les images de la Marilyn mythique qui enthousiasmait la foule de ses admirateurs.
Chapitres:
1/ De Norma Jeane à Marilyn
2/ Les hommes préfèrent les blondes
3/ Une nouvelle Marilyn
4/ Un film inachevé
5/ L'horoscope de Marilyn
6/ Citations de Marilyn et d'autres
7/ Index et remerciements
---
* Mon Avis en Bref... 9/10
Mon tout premier livre de Marilyn que j'avais eu en cadeau (je devais avoir 10 ans !); Il s'agit d'un beau livre: biographie illustrée avec de superbes photos, toutes légendées. Les petits plus: son horoscope (Marilyn était gémaux) et le poster dépliant d'une superbe photo de Richard Avedon.
---
Vous avez le livre ?
Apportez votre critique, votre avis ou votre note (/10)
en cliquant sur commentaires...