12 octobre 2015
Les clins d'oeils à Marilyn au Cinéma
- Un week-end sur deux -

Dans le film "Un week-end sur deux", Gaëlle (Felice Pasotti) s'approche du chauffeur de bus. Elle lui montre du doigt les photos de vedettes collées au-dessus du pare-soleil. Parmi les photos, on distingue -entre autres- Kim Basinger, Miou-Miou, Robert Redford, le groupe "Simple Minds", Isabelle Adjani, Marilyn Monroe, Errol Flynn, Greta Garbo et Madonna.
---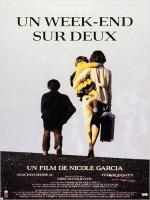 Film: Un week-end sur deux
Année: 1990
Pays: France
Réalisateur: Nicole Garcia
Scénario: Nicole Garcia, Jacques Fieschi, Philippe Le Guay, Anne-Marie Étienne
Genre: comédie
Distribution: Nathalie Baye (Camille Valmont), Felice Pasotti (Gaëlle, la fille de Camille), Joachim Serreau (Vincent, le fis de Camille), Miki Manojlovic (Adrian), Henri Garcin (l'agent de Camille), Marie Daëms (Graziella Jacquet), Jacques Boudet (Jacquet), Sacha Briquet (Albert, le maître d'hôtel), Paul Beauvais (douanier), Sylvie Blotnikas (la femme de chambre), Martine Buffet (l'employée Hertz),
Susan Carlson (Martha), Bruno Crovi (douanier), Lucette Filiu (la gérante de l'hôtel), Michelle Goddet (Marie-Ange)...
L'histoire: Camille est actrice et a connu des jours meilleurs. Après son divorce, son mari a obtenu la garde de leurs deux enfants. Elle ne les voit qu'un week-end sur deux. Mais il se trouve que, ce week-end-ci, alors qu'elle a la garde de ses enfants, elle a un engagement impératif pour un gala au Rotary Club de Vichy. Elle ne voit pas d'autre solution que d'emmene ses enfnats avec elle. Son ancien mari l'apprend, il est furieux et va venir les rechercher. Camille s'enfuit vers le sud avec les enfants, tentant de nouer une relation plus intime avec eux, en particulier avec le précoce et lointain Vincent, amateur d'astronomie. Camille apprend qu'une rare pluie de météorites est prévue quelques jours plus tard, en Espagne. Elle propose à Vincent d'y aller...

> Sur le web: le film sur wikipedia
article sur cineclap
Enregistrer
11 février 2012
Marilyn: Something's Got to Give
Marilyn, son dernier tournage
Année: 1990
Ecrit et produit par Henry Schipper
Producteur exécutif: William Knoedelseder
Co-producteur: Ken Turner
Pays: USA
Durée: 45 min
Diffusé en France le 4 août 1992 sur A2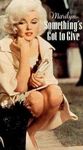 Documentaire sur le dernier film de Marilyn qui restera inachevé. C'est le premier documentaire qui diffusera des rushes retrouvés du film Something's Got to Give.
Avec les interviews de: Joan Greenson (la fille du Dr Greenson), Henry Weinstein (producteur), Genes Allen (producteur associé), Evelyn Moriarty (doublure de Marilyn), Christopher Morley (joue le fils), Alexandra Heilweil (joue la fille), David Bretherton (éditeur), Marjorie Plecher Snyder (costumière), Walter Bernstein (scénariste), Allan Whitey Snyder (maquilleur)
>> Fiche du documentaire sur imdb
>> Le documentaire français existe en VHS (allez sur amazon).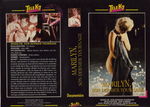 > Vidéo -Docu en 5 parties- partie 1


Enregistrer
18 février 2010
Marilyn,
une vie d'Hollywood
Biographie Photos
Auteur: Ann LLoyd
Prix éditeur: 18,29 Euros
Date de sortie: 1990
Relié 118 pages
Langue: français
Éditeur: Minerva
ISBN: 2-8307-0079-1
Ou le trouver ? d'occasion sur priceminister

Description: Le meilleur ami de Marilyn, c'était vraisemblablement l'objectif de la caméra ou de l'appareil photo, devant lequel elle se mettait à vivre et à vibrer. Ce livre retrace à travers 100 photos le parcours de Marilyn: ses débuts comme mannequin, ses films, sa vie familiale et intime, et bien sûr les images de la Marilyn mythique qui enthousiasmait la foule de ses admirateurs.
Chapitres:
1/ De Norma Jeane à Marilyn
2/ Les hommes préfèrent les blondes
3/ Une nouvelle Marilyn
4/ Un film inachevé
5/ L'horoscope de Marilyn
6/ Citations de Marilyn et d'autres
7/ Index et remerciements
---
* Mon Avis en Bref... 9/10
Mon tout premier livre de Marilyn que j'avais eu en cadeau (je devais avoir 10 ans !); Il s'agit d'un beau livre: biographie illustrée avec de superbes photos, toutes légendées. Les petits plus: son horoscope (Marilyn était gémaux) et le poster dépliant d'une superbe photo de Richard Avedon.
---
Vous avez le livre ?
Apportez votre critique, votre avis ou votre note (/10)
en cliquant sur commentaires...