06 août 2013
Marilyn Monroe aurait appelé Jackie Kennedy pour lui avouer sa relation avec JFK
Article publié le 6/08/2013
en ligne sur 20minutes.fr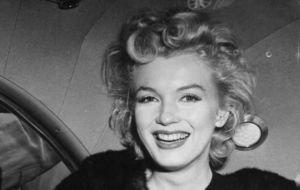 LIVRE – C'est ce qu'indique une biographie inédite du mythique couple présidentiel, qui sort ce mardi aux Etats-Unis...
Le livre du journaliste Christopher Andersen promet d'être explosif. Intitulée These Few Precious Days: The Final Year of Jack with Jackie [Ces quelques jours précieux: la dernière année de Jack et Jackie], la biographie du mythique couple présidentiel John Fitzgerald Kennedy et Jackie Kennedy explore des aspects inédits de leurs relations. L'auteur revient également sur la liaison du président des Etats-Unis avec Marilyn Monroe.
Selon les premiers extraits publiés ce week-end par le New York Daily News, Jackie Kennedy était parfaitement au courant des infidélités de son mari, et fermait les yeux. La relation de JFK avec la star hollywoodienne était toutefois celle qui «semblait déranger le plus» la First Lady. Elle voulait éviter un «scandale qui aurait anéanti la réputation de son époux, détruit son mariage et l'aurait tournée enridicule aux yeux du public».
«Est-ce que tu me vois en Première dame?»
Par ailleurs, Marilyn Monroe était convaincue que le président allait quitter sa femme pour elle, rapporte son amie Jeanne Carmen. «Est-ce que tu me vois Première dame?» lui aurait-elle demandé. D'après le journaliste Christopher Andersen, qui a réalisé son long travail d'enquête dans les cercles intimes de la famille Kennedy, Marilyn Monroe aurait même téléphoné à Jackie Kennedy pour lui avouer sa liaison avec son mari. Ce à quoi la First Lady lui aurait répondu: «Marilyn, vous allez épouser Jack, c'est formidable. Vous allez déménager à la Maison Blanche et vous devrez assumer les responsabilités de First Lady. Moi, je m'en irai et c'est vous qui aurez tous les problèmes.»
Le livre, qui sort ce mardi aux Etats-Unis, révèle également les problèmes d'addiction du couple présidentiel. Selon Christopher Andersen, le médecin de confiance du président, connu sous le nom de «Dr Feelgood», lui administrait à lui, mais aussi à sa femme, d'importantes doses d'amphétamines.
A.G.
12 mai 2012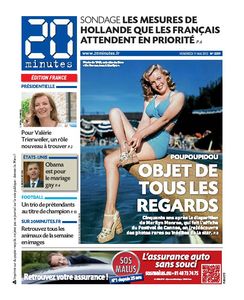 Le journal quotidien gratuit 20 minutes du 11 mai 2012 offre sa Une à Marilyn Monroe et un article "Ces images inédites déjà vues".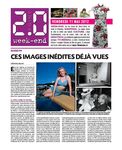 10 octobre 2010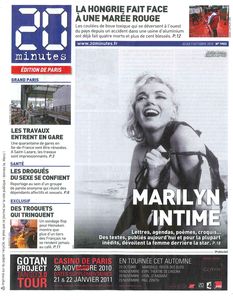 Le journal gratuit 20 minutes du jeudi 7 octobre 2010 consacre sa couverture à Marilyn Monroe et un article d'une page pour la sortie du livre Fragments.
(scans d'Eric).