10 novembre 2020
GENTLEMEN PREFER BLONDES

- Date: 2015 -
Figurine de collection - Edition Limitée
Echelle 1/4
Hauteur: 45 cm
Poids: 5,5 kg (avec emballage)
Prix officiel: 361 Dollars
---
MARILYN MONROE

- Date: 2020 -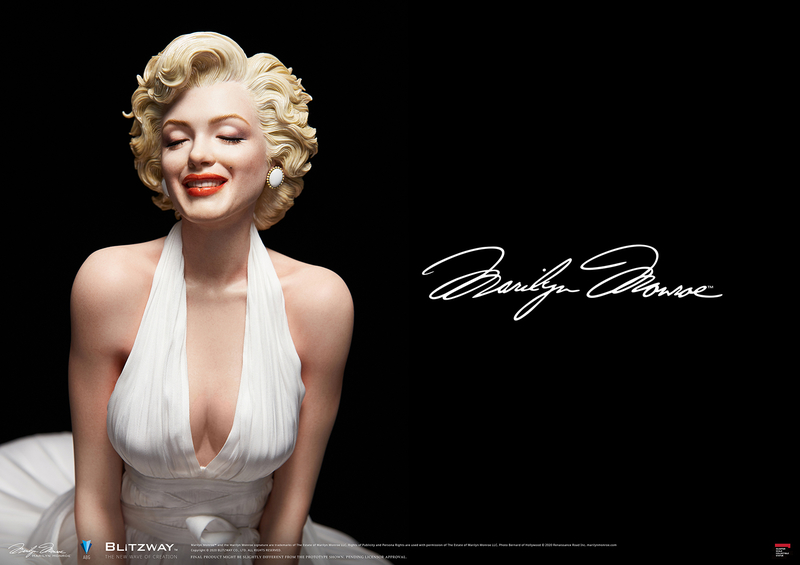 Figurine de collection - Edition Limitée
Echelle 1/4
Hauteur: 46 cm
Poids: 7 kg (avec emballage)
Prix officiel: 459 Dollars
---
Site officiel Blitzway
---
Dans la même collection:
Audrey Hepburn dans "Vacances Romaines",
Marlon Brando dans "Le Parrain",
Al Pacino dans "Scarface",
Anthony Hopkins dans "Le silence des agneaux",
Antonio Banderas dans "Zorro",
Geena Davies dans "L'île aux pirates",
Sharon Stone dans "Basic Instinct",
Brad Pitt dans "Fight Club",
Les acteurs de "Ghosbusters",
Elvis Presley, Bruce Lee, Jimi Hendrix, Joker..
---
© All images are copyright and protected by their respective owners, assignees or others.
23 septembre 2017

Dimanche 24 septembre 2017 - 22h30 - Arte
à revoir en replay pendant 7 jours

Documentaire: Lauren Bacall,
ombre et lumière
Durée : 53 min
Année et origine : 2015, France
Réalisation: Pierre-Henry Salfati
Son histoire d'amour mythique avec Humphrey Bogart a imprimé à jamais la pellicule de chefs-d'œuvre du film noir. À son image, un classieux portrait intime de Lauren Bacall, surnommée "The Look".
Son regard, magnétique, qui lui vaudra son surnom, "The Look", sa classe et son timbre de voix éraillé l'ont propulsé, dès son premier film, "Le port de l'angoisse", dans la mythologie hollywoodienne. Lauren Bacall, née Joan Betty Perske, a 19 ans, et la passion naissante entre la débutante et son partenaire adulé, Humphrey Bogart, 44 ans, irradie l'écran. La petite fille du Bronx, élevée par sa mère après l'abandon paternel, courait jusque-là les cachets à Broadway entre deux séances de mannequinat, quand Nancy Hawks, l'épouse du cinéaste, la repère à la une de "Harper's Bazaar". Avec son sens de l'autodérision, celle qui se décrit comme "une grande perche plate avec de grands pieds" s'étonne de cette gloire précoce. Mais plus encore que son talent, c'est son histoire d'amour fou avec "Bogie" qui fonde sa légende, la condamnant du même coup au rôle d'épouse de l'icône. Le couple le plus glamour de l'histoire du cinéma tourne trois joyaux noirs encore, "Le grand sommeil", "Les passagers du vent" et "Key Largo". Après la mort de Bogart, douze ans plus tard, Lauren Bacall change de registre, basculant dans la comédie, avant d'être délaissée par les studios. Mais son triomphe tardif sur les planches de Broadway sonnera comme une revanche.
Betty
"J'ai passé une grande partie de ma vie à essayer de trouver ma propre identité. Et ça n'a pas été facile." Au travers d'extraits cultes de sa filmographie, d'archives et d'entretiens délicieux, entre insolence et humilité, ce film part en quête de Betty derrière Bacall. Laquelle, timide et vulnérable, ne se reconnaissait pas dans cette image de femme fatale aux nerfs d'acier composée par les studios. Celle qui disait avoir vécu sa vie à l'envers – star à 19 ans, presque oubliée à 32 – regrettait aussi de ne pas avoir davantage affiché ses origines juives. Le portrait intime d'une "lady" new-yorkaise disparue en 2014, qui avait prédit avec un humour lucide : "Ma nécrologie sera pleine de Bogart."
31 mai 2017

Mercredi 31 mai 2017 - 23h20 - Arte
à revoir en replay pendant 7 jours

Documentaire: Le cinéma dans l'oeil de Magnum
Durée : 54min
Année et origine : 2015, France
Réalisateur: Sophie Bassaler


À l'occasion des 70 ans de Magnum, retour sur le lien noué entre les photographes de l'agence mythique et le monde du cinéma. Une plongée unique dans le regard des créateurs, parmi lesquels Robert Capa, Cartier-Bresson, ou Josef Koudelka.
L'agence Magnum, créée en 1947 par Robert Capa, est intimement liée au cinéma depuis soixante-dix ans. Ses photographes iconiques, Capa lui-même, Cartier-Bresson, ou plus tard Josef Koudelka ont accompagné des tournages, leurs réalisateurs et leurs vedettes. Ils ont ainsi documenté des scènes de vie quotidienne, de travail, ou choisi de s'écarter du cadre pour immortaliser leur propre vision artistique. Venant du reportage de guerre ou du documentaire, ces photographes du réel ont appliqué leurs méthodes de travail à ce monde d'illusions : appareil léger, lumière naturelle, photo sur le vif et sans retouches. Marilyn Monroe, James Dean, Kate Winslet, Michelangelo Antonioni ou Theo Angelopoulos sont passés sous l'œil de l'agence, instaurant un lien unique qui ne s'est pas défait en soixante-dix ans.
Fiction et réel
C'est par amour pour l'actrice Ingrid Bergman que Robert Capa prend la toute première photo de cinéma de Magnum sur le tournage des Enchaînés d'Alfred Hitchcock, inaugurant cette histoire entre l'agence et le cinéma. À partir de nombreux récits inédits, le documentaire retrace toute une vie d'histoires croisées entre deux mondes qu'a priori tout oppose : la fiction et le réel, comme cette rencontre en 1994 entre le réalisateur Theo Angelopoulos et le jeune photographe Josef Koudelka. Ils puiseront dans les Balkans, lieu de tournage du film Le regard d'Ulysse, des clichés et plans extraordinaires, tout en gardant chacun leur signature unique. Un témoignage passionnant sur le regard des créateurs, artistes de l'image, qu'ils soient derrière une caméra ou un appareil photo.
Enregistrer
20 janvier 2017
Yves Montand,
L'ombre au tableau
Année: 2015
Réalisation: Karl Zero, Daisy d'Errata
Pays: France
Durée: 59 min
Vingt-cinq ans après sa mort, Karl Zéro et Daisy d'Errata offrent un portrait fouillé et touchant d'Yves Montand, interrogeant les multiples facettes, glorieuses ou pathétiques, et les fêlures de la star.
Le timbre profond des "Feuilles mortes", l'air d'enfant vieilli de César et Rosalie, le cabotin sublime du Milliardaire… : dans la chanson comme au cinéma, Yves Montand a été immensément populaire, dépassant son statut de saltimbanque pour devenir, au côté de sa femme Simone Signoret, l'icône de toute une génération. Pourtant, rien n'aura été facile pour l'acteur, né Ivo Livi, disparu le 9 novembre 1991 à l'âge de 70 ans. Celui qui a débuté au cabaret, avant d'être repéré par Édith Piaf, aura passé sa vie à frôler le scandale amoureux tout en fonçant tête baissée dans tous les combats de son temps, quitte à se fourvoyer, du communisme encore stalinien au libéralisme bon teint.
Lignes de fuite
Pour ce deuxième numéro de leur collection après Charles Trenet, l'ombre au tableau, Karl Zéro et Daisy d'Errata interrogent les multiples facettes, glorieuses ou pathétiques, et les fêlures de la star Yves Montand. Le couple de réalisateurs met en évidence les lignes de fuite d'une existence et d'une personnalité complexes, que la célébrité a longtemps dérobées aux regards, à travers de nombreuses archives, pour certaines inédites ou oubliées, mais aussi des entretiens approfondis avec ses proches : Jean-Louis Livi, son neveu, le cinéaste Costa-Gavras, qui lui a donné ses rôles politiques les plus marquants, de L'aveu à Z, Bernard Kouchner, qui fut à la fois un compagnon politique et un ami, et l'animateur Benjamin Castaldi, fils de Catherine Allégret. Il évoque les attouchements dont cette dernière, fille de Simone Signoret, a dit avoir été victime, toute petite, de la part de son beau-père. Entre ombre et lumière, un portrait sans concession et pourtant émouvant.
>> Diffusé en France sur arte le 15 janvier 2017
---
Retranscription du passage lié à Marilyn Monroe:
(à 22min 20sec) (extrait d'une interview) journaliste: "On dit que vous allez partir prochainement pour les Etats-Unis, qu'est-ce que vous allez leur chanter ?"
Yves Montand: "La même chose que j'ai chanté à Moscou, la même chose qu'à Paris, pourquoi changer ?"
Evidemment, quand Montant part pour les Etats-Unis chanter à New York puis donner la réplique à Marilyn Monroe, on tremble pour Simone, car avec Yves, c'est toujours un peu: "n'importe où, n'importe comment, mon amour, jpeux pas faire autrement" (extrait d'une chanson de Montand).
(extrait d'une interview) journaliste: "Simone Signoret, expliquez-moi ce qui est arrivé à Yves Montand ?"
Simone Signoret: "Il est venu à New York, puis il a chanté, puis ça a marché. Et c'est de là que tout est parti."
C'est dans la plus célèbre émission de variétés de la télévision américaine, la Dinah Shore Show, que Yves Montand a emporté ce triomphe qui commenca par un dialogue. (extrait du sketch de Montand sur la prononciation du "h" en anglais dans l'émission "The Dinah Shore Chevy Show, 1959).
(extrait de l'émission The David Letterman Show, 19 mai 1987) David Letterman: "Quand vous avez fait vos débuts dans le cinéma américain, vous ne parliez pas anglais, n'est-ce pas ?"
Yves Montand: "J'étais comme ça, comme maintenant je veux dire."
David Letterman: "Vous avez travaillé avec Marilyn Monroe. Il y avait... Je ne sais même pas comment aborder ce thème. Mais... parfois, un homme et une femme, tournant un film ensemble, en tant que co-stars... Vous voyez... ce que je veux dire. Vous n'aviez pas besoin de traducteur pour ça ?"
Yves Montand: "Très juste... très juste, très juste... Non... c'était un film agréable."
En vérité, Marilyn fut plus une foucade, une aventure digne du guiness-book dont il se vanterait plus tard auprès de ses amis, qu'un véritable amour. Aux Etats-Unis, il oublie donc un temps la cause du peuple et les masses laborieuses. Le grand soir a bien lieu, mais dans les bras de Marilyn Monroe, sous l'oeil impavide de Simone.
Benjamin Castaldi (petit-fils de Simone Signoret): "Il m'a fait des confidences sur beaucoup de choses. Marilyn n'est pas un secret, mais c'est vrai que quand il vous raconte Marilyn, on a l'impression que ce n'était pas de sa faute. Elle est arrivée, elle a vraiment insisté, et il s'est dévoué". (sur un ton moqueur).
voix d' Yves Montand: "C'est à dire que si j'avais pu l'éviter, je l'aurai évitée, j'ai pas pu l'éviter, ben bon, jme demande d'ailleurs, si un homme normalement constitué et sain d'esprit et de corps aurait pu résister à rester trois mois seul dans -puisqu'on en parle- dans les bras de mademoiselle Marilyn Monroe. Je ne crois pas, hein. Je crois que c'est difficile."
Benjamin Castaldi : "Je pense c'était un séducteur, c'est à dire qu'il ne pouvait pas s'empêcher quand il croisait une femme de ne pas rentrer dans un processus de séduction. Mais toutes les femmes, c'est à dire n'importe quelle femme. Jpense qu'il avait ce besoin, animal peut être, de provoquer, de déclencher, la séduction, et plus si affinités."
(extrait interview) voix de Patrick Poivre d'Arvor: "Yves Montand, est-ce qu'il vous est arrivé de faire de la peine à Simone Signoret ?"
Yves Montand: "Oui, beaucoup. Oui... beaucoup. Elle a été parfaite, je ne voudrais pas revenir là-dessus, parce que ça me gêne mais... elle a été très très bien."
(extrait d'une interview) Yves Montand: "Je crois que les plus belles pages que j'ai pu lire sur Marilyn, c'est finalement Simone qui les a écrites. Parce qu'elle dit exactement ce qu'était Marilyn, d'une façon formidable, avec grande tendresse et d'une grande agilité, ce qui est très bien."
Benjamin Castaldi : "Avoir été cocufiée aux yeux et à la vue de la terre entière, pas aux yeux de tous, mais de la terre entière, je ne sais pas ce qui s'est passé après entre eux, je ne sais pas comment ça s'est réglé. Ma grand-mère a balayé tout ça de façon très intelligente en disant 'Vous connaissez beaucoup d'hommes qui n'auraient pas succombé à Marilyn'".
(extrait d'une interview) journaliste: "C'est vrai dans le fond, on est tellement habitué de vous voir ensemble, c'est à en oublier à quel point vous étiez unique. C'est assez rare."
Simone Signoret: "C'est gentil ce que vous dîtes."
journaliste: "Est-ce que par hasard, vous vous aimeriez ?"
Simone Signoret: "On s'aime et on s'aime bien. On s'aime bien et on s'aime."
Montand fait montre d'un sixième sens fascinant pour noyer le poisson.
(extrait d'une interview) Yves Montand: "Simone est contente, à la minute où elle se réveille, où elle se couche. Elle lit un bouquin, elle est ravie, elle va faire une course, elle est ravie, elle rencontre quelqu'un, elle est ravie, elle boit un scotch, elle est ravie. Elle est contente, tandis que moi, je ne joue pas l'enthousiasme, elle est enthouasiaste".
---
© All images are copyright and protected by their respective owners, assignees or others.

Enregistrer
Enregistrer
21 février 2016
Les 10 artistes morts les plus rentables
publié le 06/02/2015
en ligne sur vanityfair.fr
Même outre-tombe, ces personnalités continuent de faire tourner une machine de plusieurs millions de dollars. Découvrez le classement Forbes des célébrités mortes les plus rentables de l'année 2014.

01/ Michael Jackson avec 140 millions de Dollars
02/ Elvis Presley avec 55 millions de Dollars
03/ Charles Schulz, avec 40 millions de dollars
04/ Elizabeth Taylor, avec 25 millions de dollars
05/ Bob Marley, avec 20 millions de dollars
06/ Marilyn Monroe, avec 17 millions de dollars
< Marilyn Monroe chez elle, dans sa maison en Californie, en 1953.
Photo Alfred Eisenstaedt/Pix Inc./The LIFE Picture Collection/Getty Images

Marilyn est morte dans d'étranges circonstances le 5 août 1962, ne laissant à 36 ans que peu de choses derrière elle. Pourtant, depuis, Authentic Brand Group (qui possède aussi les droits de Elvis Presley et Mohamed Ali, pour n'en citer que deux), a racheté les droits de Monroe et la décline en marque déposée bien juteuse ; dernièrement, on a pu voir apparaître une ligne de lingerie Marilyn Monroe, en plus de sa ligne de vêtements pour ados qui se vend comme des petits pains chez Macy's.
07/ John Lennon, avec 12 millions de dollars
08/ Albert Einstein, avec 11 millions de dollars
09 a/ Theodor Geisel, avec 9 millions de dollars
09 b/ Bruce Lee, avec 9 millions de dollars
09 c/ Steve McQueen, avec 9 millions de dollars
09 d/ Bettie Page, avec 9 millions de dollars
10/ James Dean, avec 7 millions de dollars
18 décembre 2015
serie "Marilyn Monroe"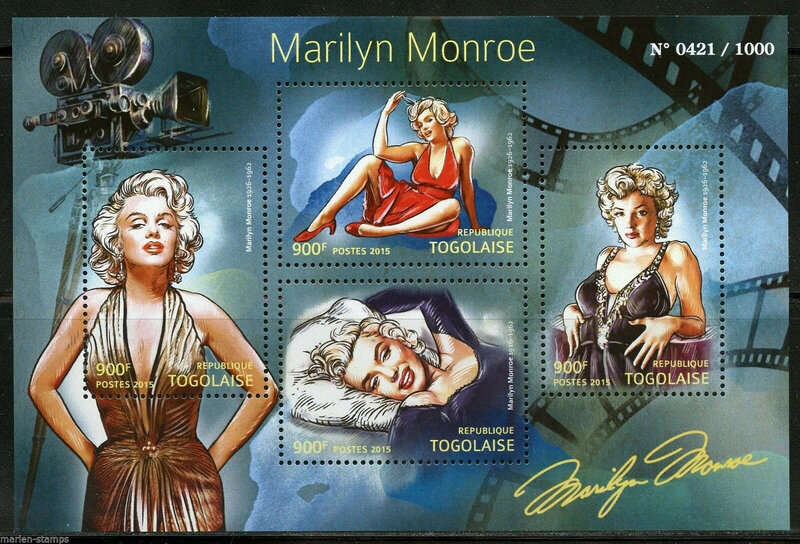 ---
serie "80è anniversaire d'Elvis Presley"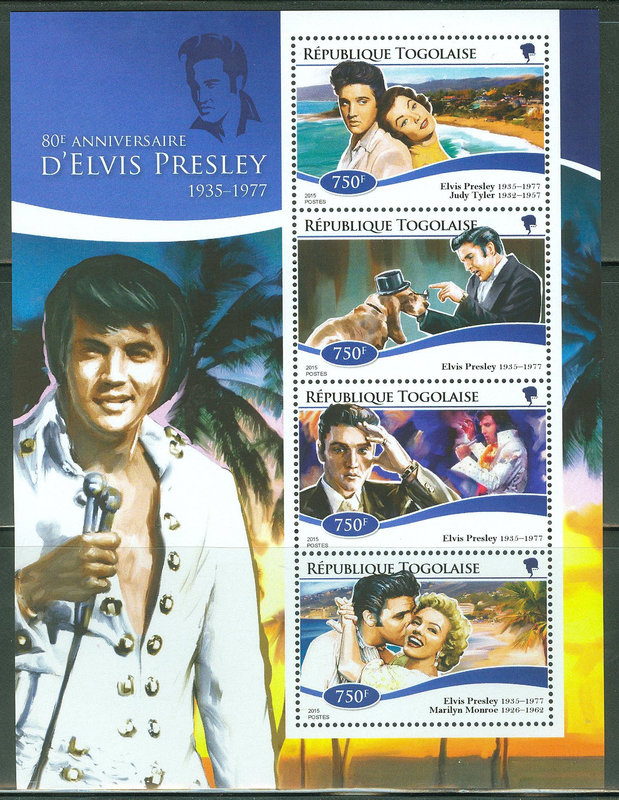 ---
© All images are copyright and protected by their respective owners, assignees or others.
22 novembre 2015
How Norma Jeane, filing cabinet model, became Marilyn Monroe
Published on November, 21, 2015
By Michelle Morgan and Astrid Franse
online nypost.com

Marilyn Monroe is seen in an airline advertisement through Blue Book Models.
One day, while shopping for vintage items for their shop, Bennies Fifties in the Netherlands, Astrid and Ben Franse bought a box of old Marilyn Monroe memorabilia from a dealer in Los Angeles. They didn't know what they really had: a treasure trove. In the box were letters and never-before-seen photos from Miss Emmeline Snively, who had run the Blue Book Modeling Agency — the agent who had signed a young Norma Jeane Dougherty. In the new book "Before Marilyn," Astrid Franse and co-author Michelle Morgan reveal for the first time this archive and how Snively helped turn Norma Jeane into Marilyn Monroe.

In early August 1945, a photographer friend took Norma Jeane Dougherty from her home in West Los Angeles to be introduced to Miss Emmeline Snively, owner of the Blue Book Modeling Agency.
Norma Jeane was married, bored — and beautiful. Raised an orphan, she wed at 16 to escape a series of foster homes. But her husband shipped off with the Merchant Marines, and she worked an exhausting shift at the local defense plant.

Her face was her escape. She was noticed by propaganda photographers in the factory and after the war went looking for a job at Blue Book.

Snively, who had seen every kind of girl the profession had to offer, did not think there was anything too out-of-the-ordinary about the girl standing in her office at the Ambassador Hotel. She noted in her file: "Norma Jeane had been brought to the hotel by photographer Potter Hueth, wearing a simple white dress and armed with her modeling portfolio, which offered no more than a few choice snaps . . . You wouldn't necessarily wear a white dress to a modeling job, and it was as clean and white and ironed and shining as she was."
Norma Jean, then 19, was staring at the magazine covers and publicity photos gracing the walls.

"Those are the prettiest girls I've ever seen," she muttered, almost to herself, before turning to Miss Snively. "Do you think I could ever get my picture on a magazine cover ?"
Snively looked her up and down. "Of course," she smiled. "You're a natural."

Wiggle and quiver

Marilyn poses alongside another Blue Books Models girl.
Snively noted her statistics on an agency card: "Size 12, height 5.6, 36 bust, 24 waist, 34 hips. Blue eyes, perfect teeth and blonde, curly hair." "Actually," she later wrote, "her hair was dirty blonde. California blonde which means that it's dark in the winter and light in the summer. I recall that it curled very close to her head, which was quite unmanageable. I knew at once it would have to be bleached and worked on."
It cost $100 for a three-month modeling course, to teach her presentation, grooming and coordination — or how to sell yourself to the public. Snively noted that Norma Jeane was wonderful when it came to learning techniques such as makeup, hand positions and body posture, but she had concerns over other aspects. One problem was the way she walked, which went against everything a fashion model was trained to do. In short, she wiggled.

"When Marilyn walks, her knees lock," Snively wrote. "She's double-jointed in the knees, so she can't relax and that is why her hips seem to sway when she walks into a room. Her walk is a result of that locking action every time she takes a step. This she turned into an asset."
As Marilyn would later explain: "When you walk, always think UP in front and DOWN in back."

Another "problem" was her smile, which the agency (and several magazine editors) felt made her nose look too long. This was easily rectified, as Snively later recalled. "She smiled too high, that's what was wrong, and it made deep lines around her nose. We taught her how to bring her smile down and show her lowers."

This resulted in the famous lip quiver that would often be seen in Marilyn's film roles.

Conventional model
Norma Jeane's first official assignment was as a hostess at an industry show being held at the Pan Pacific Auditorium. Described as "America's annual tribute to the working man," the Industry on Parade exhibition began on Labor Day weekend, 1945, with a motorcade traveling through downtown Los Angeles.

She found herself on a stand taken by Holga Steel Company, talking to visitors, giving out leaflets and showcasing one of the company's items — a steel filing cabinet.

Described as "absolutely terrified" by Snively, Norma Jean traveled to the Pan Pacific Auditorium day after day. When she returned to the agency, Norma Jeane handed over all her earnings. "She gave me the whole $90," Snively wrote. "Took nothing out for car fare or meals or clothes or anything. 'This,' she said, 'will take care of most of my tuition.' I knew at once she was a fair and honest and very fine girl, and I decided to get her as much work as I possibly could."

Norma Jeane appeared in ads for Douglas Airlines and some magazine shoots. But when photographer Raphael Wolff hired her for a shampoo advertisement, it let Snively do what Norma Jeane had always resisted — change her hair.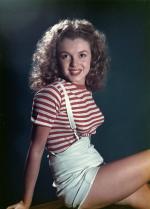 "Look darling," Snively told her, "if you really intend to go places in this business, you've just got to bleach and straighten your hair because now your face is a little too round and a hair job will lengthen it."
Norma Jeane acquiesced, and Snively was thrilled with the results.

"She emerged a truly golden girl . . . From this point she went into her bathing-suit stage, and the demand for her was simply terrific. She averaged, I should say, $150 a week, and men began talking about getting her into the motion-picture game."

One photographer paid to fix one bad front tooth. Another suggested Norma Jeane "eat more hamburgers." But they didn't need to teach her how to look sexy; she was a natural.

Later, Marilyn Monroe would reminisce about how most of the photos used of her were for "men's" magazines.
"I was in See four or five months in a row," she said. "Each time they changed my name. One month I was Norma Jeane Dougherty; the second month I was Jean Norman."

Snively hustled to promote her. When Howard Hughes, who was recovering from a plane crash, called to ask who the girl was on the cover of Laff magazine, Snively promptly called columnist Hedda Hopper, who picked up the item and gave Norma Jeane her first coast-to-coast publicity.

The nude bomb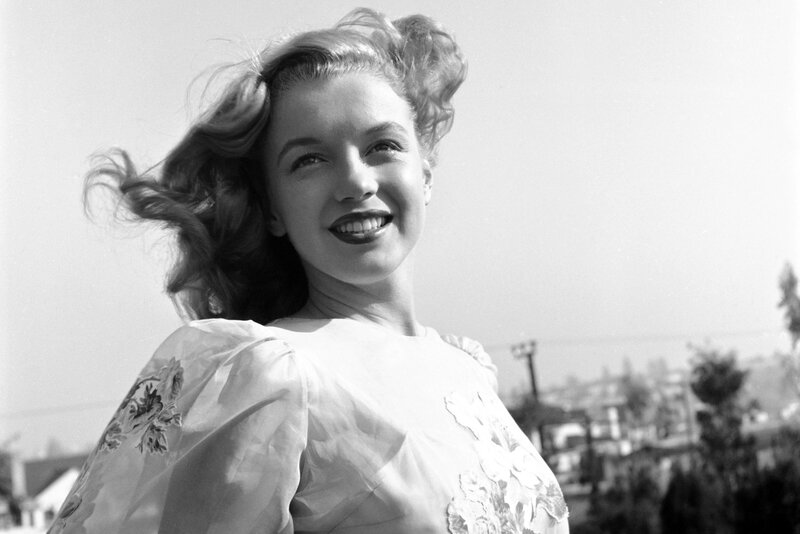 Marilyn in 1947, as a newly signed 20th Century-Fox contract
girl–though the studio eventually dropped her.
In July 1946, Norma Jeane got a screen test at 20th Century Fox, where she was signed to a starlet's contract for a salary and training in the studio workshops.

Executive Ben Lyon took an interest, choosing the name Marilyn for her. "When he asked her if there was a last name she particularly liked, she said yes — her grandmother's name had been Monroe," the studio's archives read.
"Mmmmarilyn Mmmmonroe, yes I like the way that sounds," Marilyn said.

But Fox eventually dropped her, as did Columbia, after only a few background roles. By May 1949, she had returned to convention modeling, showing off antiques at the Pan Pacific Auditorium.

Marilyn was broke. One day, a man called to offer money and other luxuries in exchange for certain favors.
"For a dizzy moment, I had visions of being able to pay my rent," she later recalled, "but as he went on giving the details of what I would be expected to do, my visions vanished. He was brutally frank, and all I could think of to say was that he shouldn't talk that way over a public telephone. I didn't realize how silly that sounded until I hung up, and then I started to laugh."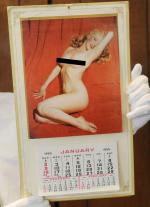 At the time of the call, she was late with her rent at the Hollywood Studio Club and threatened with eviction. Something had to be done.
She called photographer Tom Kelley, who had used her in the past for a beer ad. He had asked her several times to pose nude and she always refused, but this time her home was on the line and she felt she may not have much choice. Marilyn did have a particular requirement — she would only take her clothes off for him if accompanied by his wife, Natalie.

In May 1949, she posed nude on a blanket of red velvet. "I decided I'd be safer with [Kelley] than with some rich old guy who might catch me in a weak moment when I was hungry and didn't have enough to buy a square meal," Marilyn explained. "Kelley told me he'd camouflage my face, but it turned out everybody recognized me."

When later asked what it felt like to be photographed in such a way, she answered, "It was drafty."

Kelley later told biographer Maurice Zolotow that he paid Marilyn $50 for her services and then sold the rights to a calendar maker for $500. It would be years before the calendar maker's secretary realized who the girl was. "He made a fortune on it," Kelley said. "Sold close to 8,000,000 calendars."

Marilyn got some promising film roles in a Marx Brothers movie ("Love Happy") and "The Asphalt Jungle." But like the Kim Kardashian of her day, it was the nude photographs surfacing in 1952 that made her a star. Instead of destroying her career, as the studio thought it would, the scandal won the actress much sympathy after she announced that the reason she had posed in the first place was because without the money she would have been evicted.

In the next year, she would make "Gentlemen Prefer Blondes" and "How to Marry a Millionaire." The transformation from Norma Jeane to Marilyn was complete.

How to make it…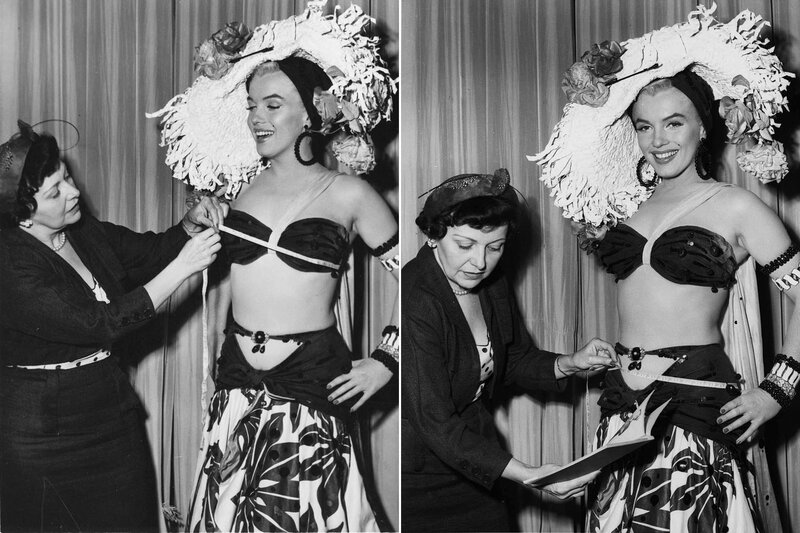 Marilyn with Miss Emmeline Snively
on the set of "There's No Business Like Show Business" in 1954.
Marilyn was famous, but her insecurity never went away. In 1954, Snively learned Marilyn was making "There's No Business Like Show Business." She called the studio to see if Marilyn would pose for some publicity photos for Blue Book Models. Marilyn quickly agreed.
The pictures taken on the set that day show Marilyn in costume to perform a song and dance number called "Heat Wave." The actress wasn't a huge fan of the song, and her new husband, baseball star Joe DiMaggio, wasn't an admirer of the outfit, considering it too revealing for his wife to wear. However, neither seemed to bother Snively, and photos show there is no doubt that Marilyn enjoyed meeting up with her old mentor once again.

Snively later recalled having a private word with Marilyn off set.
"She didn't feel she was a qualified actress, [but] how could she have felt any different ?" Snively later wrote. "She'd signed her first contract before she had her first acting lesson.
"God I wanted to cry for her then. This can be the loneliest town in the world, and it's even lonelier for you if you're on top of the heap."

Excerpted from "Before Marilyn: The Blue Book Modeling Years" by Astrid Franse and Michelle Morgan. Out now from St. Martin's Press.
14 novembre 2015

Samedi 14 novembre 2015 à 17h50 - TF1
Rediffusion: Dimanche 15 novembre 2015 à 03h55
Magazine - 50 mn inside
Présentation: Sandrine Quétier, Nikos Aliagas
Infos: "Une Star, Une Histoire": un sujet consacré à la relation "Marilyn Monroe - Yves Montand: liaison interdite"
voir l'émission >> vidéo dispo sur videos.tf1.fr

12 novembre 2015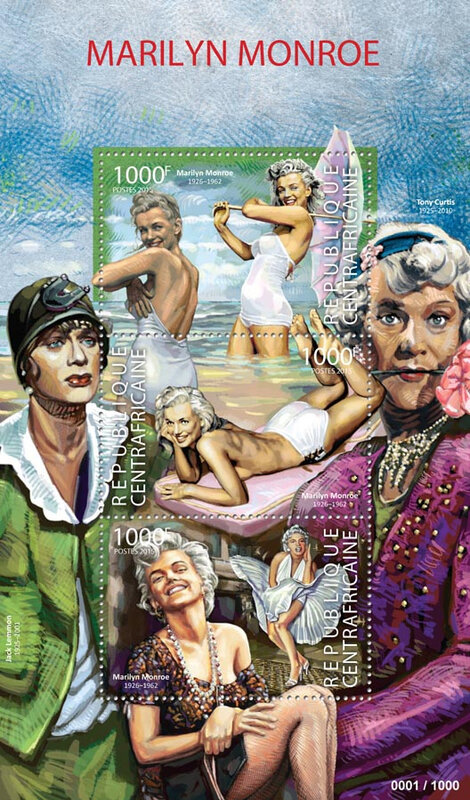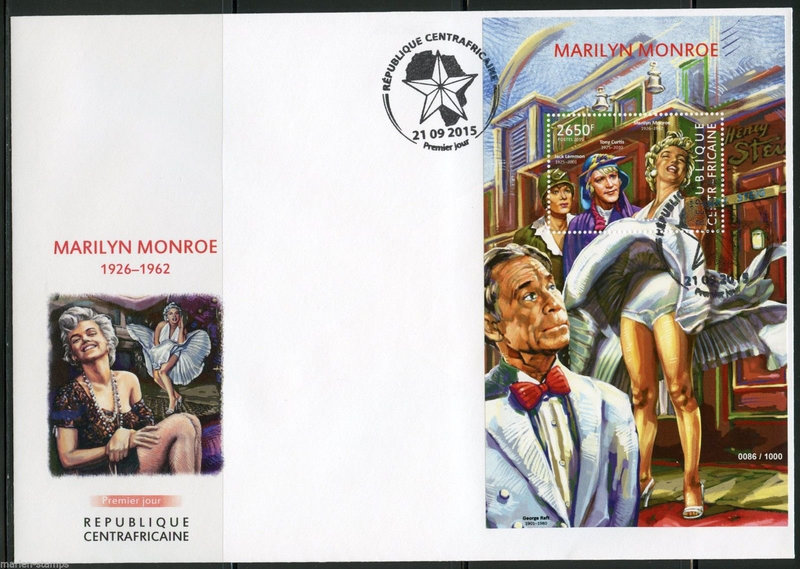 ---
© All images are copyright and protected by their respective owners, assignees or others.
29 octobre 2015
Marilyn: In The Flash
Book of photographs
Author: David Wills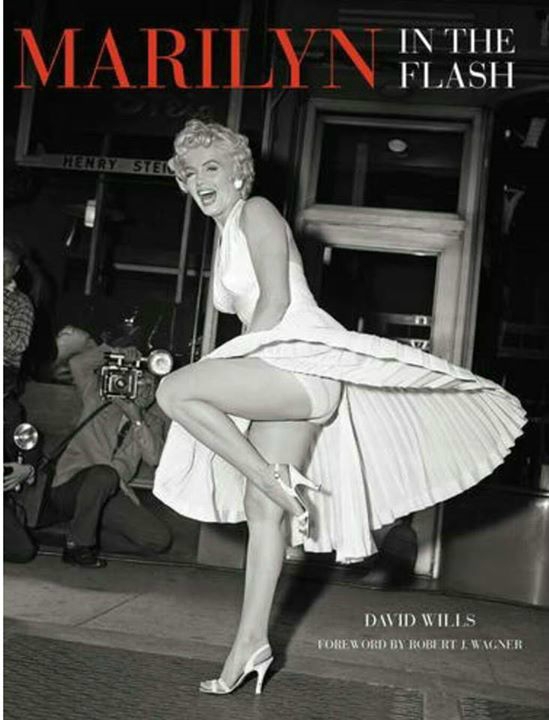 Date de sortie: 27 october 2015
Relié 256 pages
Dimensions: 22,9 x 2,4 x 29,2 cm
Langue: anglais
Éditeur: Dey Street Books
ISBN-10: 006238970X
ISBN-13: 978-0062389701
Prix éditeur: 33,44 Euros
Ou le commander ? sur amazon
Plus d'infos sur le site marilynintheflash.com

Description: A stunning collection of hundreds of rare and unseen photographs, behind-the-scenes notes, and interviews chronicling the media's lifelong love affair with Marilyn, created by the acclaimed curator and author of Marilyn Monroe: Metamorphosis.
Though Hollywood goddess Marilyn Monroe was married three times, her longest lasting relationship was with the press—the photographers, reporters, and press agents who followed her every move for nearly two decades, and made her into the greatest icon in Hollywood history. One of the most publicized actresses of her time, Marilyn actively sought out the press, carefully crafting her public image and using events from her private life to further her career. Her romances with baseball legend Joe DiMaggio, playwright Arthur Miller, and others made her a daily feature for newspapers, magazines, and wire services; new images of the star were guaranteed to boost sales.
Drawing on unseen troves from dozens of photographers, archives, and collectors, acclaimed photography expert David Wills brings together an unprecedented array of press photos from throughout Marilyn's career—including hundreds of unpublished and rare photographs that have been beautifully restored; uncropped and unretouched outtakes; handwritten notations; period captions; clippings; and more. With a foreword by Robert J. Wagner and interviews from key press agents and others, this portfolio of images offers a fresh, indelible portrait of one of the most enduring icons in history and illuminates the special alliance she shared with the press as never before.
Back Cover: Marilyn Monroe had a unique relationship with the press—the photographers, journalists, and columnists who followed her every move, helped carefully craft her public image, and made her one of the greatest stars in Hollywood history.
Photographically, Marilyn was at her most electrifying at public events. She was as spectacular in the posed candids of press photographers as in studio portraits or on the movie screen. She made any news photo a work of art simply by being in it, and more than any other star lived up to the promise of her screen image.
One of the most publicized actresses of her time, Marilyn actively sought out the press—which included the famous journalists and columnists Walter Winchell, Edward R. Murrow, Hedda Hopper, Louella Parsons, Earl Wilson, Pete Martin, Sidney Skolsky, Elsa Maxwell, and Dorothy Kilgallen. It was a mutually beneficial relationship that lasted her entire career.
In Marilyn: In The Flash, acclaimed photographic preservationist David Wills brings together an unprecedented trove highlighting the work of some of the great press photographers and photojournalists of the twentieth century. This stunning collection includes many unpublished images (most beautifully restored from original prints, negatives, or transparencies), vintage magazine articles, original press clippings and press photo captions, behind-the-scenes notes, and photographic ephemera chronicling the media's lifelong love affair with Marilyn.
Featuring a foreword by Marilyn's friend and costar Robert J. Wagner, original interviews and recollections, retrospective quotes from key journalists, columnists, press agents, photographers, and others, this portfolio of images offers a fresh, indelible portrait of one of the most enduring icons in history and illuminates the special alliance she shared with the press as never before.
Pour le moment, pas d'édition française prévue
---
Vous avez le livre ?
Apportez votre critique, votre avis ou votre note (/10)