27 février 2017
Warren Beatty took a 'soulful' walk with Marilyn Monroe the night before she died
October, 7, 2016
en ligne sur nydailynews.com
It could have been Warren Beatty's affair to remember.
The Hollywood legend was one of the last people to see Marilyn Monroe alive, he recalled in a new interview with Vanity Fair.
Beatty and Monroe met Aug. 4, 1962, at Peter Lawford's house in Santa Monica, California.
Lawford, also an actor, invited Beatty over for a night of tacos and poker, and Monroe, a longtime friend of Lawford, was there.
"I hadn't seen anything that beautiful," he said in the interview.
The blonde buxom asked a then 25-year-old Beatty if he wanted to walk along the beach.
"It was more soulful than romantic," the 79-year-old recounted of their telling stroll.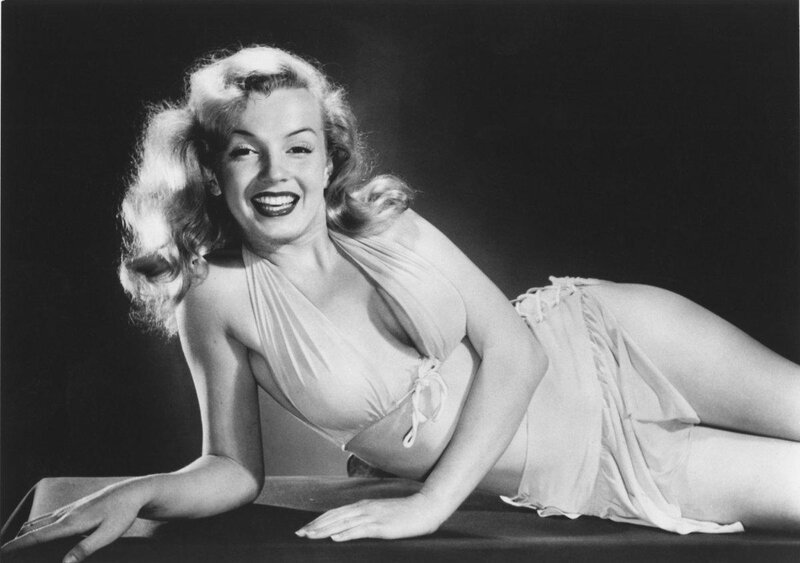 (L. J. Willinger/Getty Images)
Later, he played the piano for her and Marilyn was "wearing something so clingy that he could tell she wasn't wearing underwear."
Beatty also noticed that she was "already tipsy from the champagne" even "before the sun had set."
The next day, Beatty got a phone call from Harold Mirisch, brother of Hollywood producer Walter Marisch, who told him Marilyn had died from an overdose at age 36.
---
Six Decades In, Warren Beatty Is Still Seducing Hollywood
October, 6, 2016
en ligne sur vanityfair.com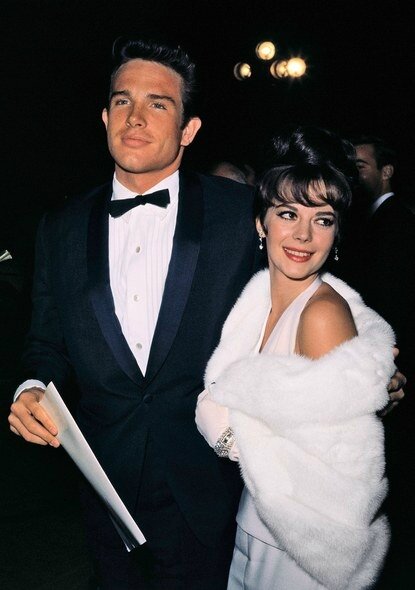 Warren & Natalie Wood, 1962, Academy Awards
[...]
He also briefly encountered Marilyn Monroe. Peter Lawford had invited him out to his house in Malibu for a night of tacos and poker, and Monroe was there. "I hadn't seen anything that beautiful," Beatty recalls. She invited him to take a walk along the beach, which he did. "It was more soulful than romantic." Back in the house, he played the piano. (He's a good pianist, by the way, enamored of jazz greats such as Erroll Garner.) Marilyn sat on the edge of the piano in something so clingy that Beatty could tell she wasn't wearing underwear.
"How old are you ?" she asked.
"Twenty-five," he answered. "And how old are you ?" he asked cheekily.
"Three. Six," she said, as if not wanting to bring the two numbers together. By then, the tacos had arrived, and no one really played poker that night. Warren noticed that Marilyn was already a bit tipsy from champagne, even before the sun had set.
The next day, the producer Walter Mirisch's brother Harold called. "Did you hear ?" he asked. "Marilyn Monroe is dead." Warren was one of the last people to see Marilyn alive—a story that Beatty tells only reluctantly. He really is one of Hollywood's most discreet people, in a town and an industry marinated in its own gossip.
15 janvier 2017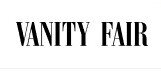 See Marilyn Monroe Giggle Through Her Wedding Reception, Movie Rehearsals, and More in Long-Lost Film
Watch photographer Milton H. Greene's lost footage of his most famous muse.
published in July 12, 2016
by Julie Miller
en ligne sur vanityfair.com
Fine-art fashion photographer Milton H. Greene captured some of the greatest stars of the 1950s and 1960s in his enduring portraits, including Grace Kelly, Elizabeth Taylor, Cary Grant, Sophia Loren, Audrey Hepburn, and Paul Newman. But it was Greene's portraits of Marilyn Monroe—his muse, friend, onetime roommate, and professional collaborator—for which he is most famous.
The two met in 1953—the same year Monroe appeared on-screen in Gentlemen Prefer Blondes—when Greene photographed the bombshell for Look magazine. Photographer and subject bonded, and their relationship over the next few years yielded one production company (Marilyn Monroe Productions, whose titles include The Prince and the Showgirl), a memoir, and over 50 photo sessions.
Beginning July 16, the Morrison Hotel Gallery at the Sunset Marquis Hotel will display some of Greene's never-before-seen photos from these sessions in its "Some Like It Hot" exhibit. The presentation will also feature 16-mm-film footage (previewed above), showing Monroe in rare and relaxed form—mostly out of the spotlight. Among the moments Greene captured: a cheerful Monroe kissing her third husband, Arthur Miller, and greeting guests at the couple's 1956 wedding reception; Monroe performing a musical number in the 1956 romantic comedy Bus Stop; and the beauty preening between the sheets for an intimate photo shoot.
In a statement to Vanity Fair, Joshua Greene said of his father's work, "There was an elegance to the simplicity of the sessions. Milton was not afraid to be vulnerable with his subjects, which created confidence and trust between them."
Photographer and Morrison Hotel Gallery co-owner Timothy White added of Greene and Monroe, "They spent a lot of time together and she often ran to Milton and his family for an escape from the pressures of Hollywood. With that trust came the access and opportunity for Milton to be with her and to photograph her freely. He became a trusted confidant who always had his still and movie camera with him as he documented her life."
"Seeing this film footage for the first time gives you the chills," continues White. "They're like home movies, yet one of the biggest stars of our time has obviously let her guard down and allows Milton to film her most playful, private, and important moments in her life. . . . It's a window into something we've never before seen . . . but always wanted to."
The "Some Like It Hot" exhibit will continue through July 24 (2016).
---
> extrait d'un JT américain - interview de Timothy White
et images des séquences tournées par Greene avec
des images inédites du mariage de Marilyn avec Miller
extract of US news - interview of Timothy White
and footages of Greene's home movies with unseen images
of Marilyn Monroe and Arthur Miller's wedding

captures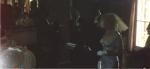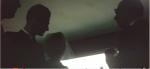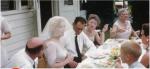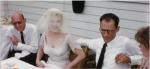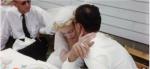 > retrouvez les captures dans l'article consacré au mariage:
find all the screen caps on the article dedicated to the wedding:
1/07/1956 Cérémonie Juive Mariage Marilyn et Arthur
---
Enregistrer
All photos are copyright and protected by their respective owners.
copyright text by GinieLand.
02 janvier 2017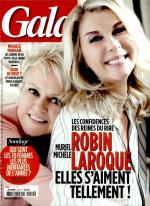 Gala
n°1229
pays: France
paru le 28 décembre 2016
prix: 2,70 Euros.
article de deux pages sur Marilyn Monroe, signé Sebastien Cauchon: "Marilyn, ces photos prises par une fan valent de l'or".

Enregistrer
Enregistrer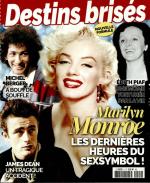 Destins Brisés
n°2
pays: France
paru le 21 décembre 2016
prix: 2,99 Euros.

> scans article Jayne Mansfield / Anna Nicole Smith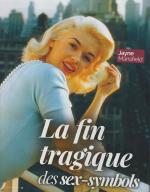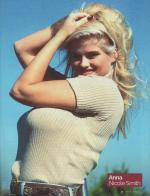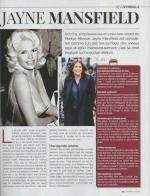 Enregistrer
Enregistrer
30 décembre 2016
Vente aux enchères 'December 2016 Auction' par Nate D. Sanders Auctions du 15 décembre 2016 aux Etats-Unis
La vente aux enchères contient 3 lots consacrés à Marilyn Monroe:

Lot #12: Marilyn Monroe's Grave Marker
Marker for the grave of Marilyn Monroe, from the Westwood Village Memorial Park Cemetery in Los Angeles, California. Marilyn Monroe's grave is visited by thousands of fans each year who often touch the marker, causing oxidation of the bronze. As a result, the marker is changed periodically, with this marker dating to the early 1990s. All of the markers originate from the Gasser-Olds Company, a bronze foundry, as this one does. Upon the marker's back reads, ''Make Two Patterns for Marge''; Marge is the supervisor who set the lettering on the marker. Bronze marker reads ''Marilyn Monroe / 1926 - 1962'', bordered by the original scroll design. Measures 15.25'' x 4.75''. Some rubbing and oxidation to bronze, overall in very good condition. In 2015, another marker from Marilyn Monroe's site sold for over $200,000 at Julien's Auctions.
Estimation: $35,000 - No Sold



---
Lot #13: Marilyn Monroe Heavily Hand-Annotated Script for Her Last Role, ''Something's Got to Give'' -- Marilyn Makes Copious Notes to Herself About Her Character, ''easy/very intimate/very real''
A fascinating peek inside Hollywood legend Marilyn Monroe's creative process. Heavily annotated in her own hand, this 149-page screenplay from Monroe's last and unfinished film, 1962's ''Something's Got To Give'', reveals Monroe as an actor who took deep care in finding the meaning behind each line of dialogue and her character's motivations throughout the script. Monroe's handwritten pencil notes begin with her character's (Ellen Wagstaff Arden) introduction in the script on page 12 and carry through to the end on page 149, even including notes on the verso of the last page and back cover, such as a note reading, ''Joke writers Mel Brooks / Herb Gardner / Need spice / raisins / Need some funny lines''. There are notes in Monroe's hand on approximately 42 pages in the script, ranging from simple dialogue corrections and changes to in-depth sense memory notes when doing a scene that required a deeper emotional connection and understanding. Regarding her character's introduction, as she interacts with naval personnel who saved her after being marooned on an island for five years, Monroe writes, ''1 - Gayity [sic] 2 - Excitement 3 - Then Dazed''. In one scene, Monroe references Arthur Miller's children to better help her relate to her character's children, ''Bobby M. / and early Janie / except their [sic] mine.'' Throughout the script, Monroe writes succinct dialogue and character notes: ''Stunned / Dazed - sky high with adventure'', ''dead pan/I really don't know'', ''anticipating the joys'', ''Trying to think or remember'', ''start to wonder what's from now on'', ''I don't know he knows'', ''easy/very intimate/very real'', ''[L]et me get into something more comfortable / leading him on -''. Included is a small card with call times and scenes to be shot, and a small scrap of paper with a note in Monroe's hand wondering why they are shooting out of sequence, as well as notes about using Miss vs. Mrs. Script measures 9.5'' x 11.5''. Worn from use by Monroe, but with pages present and intact. Overall very good condition.
Estimation: $20,000 - Sold: $25,000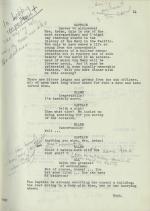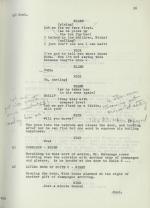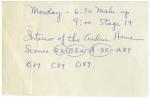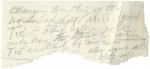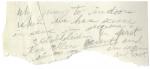 ---
Lot #14: Marilyn Monroe's Very Own Hand-Annotated Script From Her Last Movie, ''Something's Got to Give'' -- Marilyn Writes Notes to Herself, ''...almost a whisper / I just want to tell you...''
An enthralling glimpse into screen legend Marilyn Monroe's creative process from her personal 149-page screenplay for her last and unfinished film, 1962's ''Something's Got To Give''. The script contains notes in Monroe's own hand in pencil and green ink on approximately 18 pages, serving as intimate snapshots about how she viewed the film and her character. Some of the highlights include notes Monroe made for Scene 168, in which she interacts with her children in the movie, who don't recognize her as they were too young when she became stranded on an island for five years and presumed dead. These hand-annotated typewritten pages were inserted into the script for this particular scene - one of the few that Monroe completed before her untimely death. Within these pages, Monroe writes a series of notes regarding her preparation: ''Real thought'', ''Mental Relaxation'', ''Look for the light'', ''Place the pain/feeling where it is not in the brow'', as well as specific sense memories to help find the emotional truth with her character's feelings toward her on-screen children, ''Substitute children - B & J if necessary'', perhaps referring to Arthur Miller's children Bobby and Jane. There are also some notes from Monroe regarding her work with a Swedish dialect coach. Peppered throughout the script are further dialogue notes, changes and line strikes. Interestingly, the script also includes notes in an unknown hand giving blunt, critical assessments and insights of the script's scene descriptions, direction and dialogue. These notes start on the script's first page, ''Note for Marilyn/He has to woo her not the way it is / new blue pages'' and continue in blue pen, ''Dull'', ''Naggy'', ''Make it funny!'' and ''Smugly''. Interestingly, Monroe reacts to some of these notes, either changing dialogue and scene direction or, in some cases, striking the note itself if she doesn't agree with it. The script also contains two paper-clipped inserts, memos from the production addressed ''To All Secretaries'', the first dated 23 April 1962 and the second 27 April 1962, each accompanying blue revised pages 91 and 92 for the script. Script measures 9.5'' x 11.5''. In worn condition by Monroe, but with pages present and intact. Script cover, marked ''FINAL / CONFIDENTIAL'', is torn slightly on spine. Overall in very good condition, a rare keepsake from Hollywood's most beloved movie star.
Estimation: $20,000 - No Sold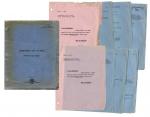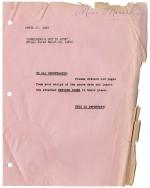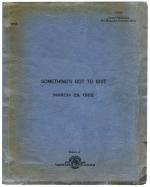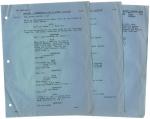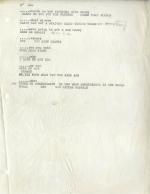 12 décembre 2016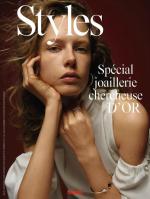 Styles
n°3411
pays: France
date du 16 au 22 novembre 2016
Supplément du magazine L'Express
Contient une page sur Marilyn Monroe