14 septembre 2013
Depuis que cette photographie est parue dans un livre consacré à Marilyn Monroe en 1985 ("Marilyn, un rêve sans fin" -en anglais, "Marilyn Monroe: a Never-Ending Dream"- de l'auteur Guus Luijters), de nombreuses discussions sont débattues entre fans de Marilyn: est-ce vraiment Marilyn sur cette photographie ?!
Car d'une part, ce cliché n'est jamais paru dans aucun autre livre ni magazines d'époque; et d'autre part, des doutes subsistent sur l'identité du modèle dont la poitrine est assez importante, de plus, le grain de beauté, ici en haut de la joue, n'est pas placé au même endroit que celui de Marilyn. Certains fans pensent qu'il s'agisse de Sybil Saulnier, une actrice française des années 60s cultivant sa ressemblance avec Marilyn, ou encore de Mamie Van Doren, une actrice des années 50s au look de Marilyn.
> Sybil Saulnier / Mamie Van Doren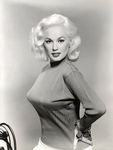 ---
Et vous, qu'en pensez-vous ?!
Donnez votre avis en cliquant sur "commentaires".
---
La jeune femme a finalement été identifiée: il s'agit de Eva Six, une actrice d'origine hongroise, née en 1937, qui, après avoir gagné un prix à un concours de beauté en Hongrie, s'est installée à Hollywood avec son mari en 1960 en tentant de faire carrière en tant qu'actrice. Avec ses faux airs à Zsa Zsa Gabor, elle ne joua que dans de petites productions.
---
Enregistrer
Enregistrer
Marilyn, un rêve sans fin
Auteur: Guus Luijters

Date de sortie: 1985
Broché 170 pages
Langue: français
Éditeur: Artefact
Prix éditeur: 20 Euros
Dimensions: 21 x 30 cm
ISBN 10: 2866970829
ISBN 13: 978-2866970826
Ou le commander ? sur amazon.fr
Description: Plus de vingt ans après sa mort, Marilyn Monroe occupe une place à part dans le cœur du grand public. Son prénom seul suffit à faire rêver des millions de fans de tous les âges, captivés par son charme vulnérable, mélange unique d'érotisme, d'innocence, d'humour et de désarroi. Son image est reproduite sur des posters, des cartes, des tee-shirts etc; sa vie a été disséquée, commentée, on a parlé d'elle, sur elle, pour elle. Dans cet ouvrage c'est Marilyn qui s'exprime.Toutes ses déclarations les plus drôles, les plus émouvantes, les plus inattendues ont été classées alphabétiquement.
Voici donc Marilyn de A à Z, dans un livre richement illustré, contenant 600 photos, une filmographie et une discographie complètes.
---
Marilyn Monroe: a Never-Ending Dream
Author: Guus Luijters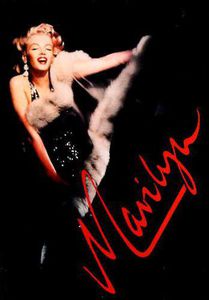 Publication Date: 1986
Number of pages 171
Dimensions 29,6 x 21,4 x 1,8 cm
Publisher: Plexus
Price: $30
ISBN-10: 0859651703
ISBN-13: 978-0859651707
Ou le commander ? sur amazon.com
Description: This lush, beautiful volume presents the most dazzling, comprehensive collection of Marilyn Monroe photographs ever assembled in one book. In a symphony of stunning images--more than 450 in all, many of them rare and surprising. But the photographs are only half the magic of this book. Each photo spread is accompanied by Marilyn's own commentary on the events and people portrayed.
---
Vous avez le livre ? Do you have the book ?
Apportez votre critique, votre avis ou votre note (/10)