03 septembre 2023
Début septembre marque la grande rentrée:
reprise de l'école et du boulot pour beaucoup d'entre nous.
Voici une nouvelle bannière, pour attaquer en douceur cette reprise.
- photographie de 1956 par Cecil Beaton -
The beginning of September marks the start of the school year:
return to school and work for many of us.
Here is a new banner, to gently attack this back-to-work.
- 1956 photograph by Cecil Beaton -
---
Image de fond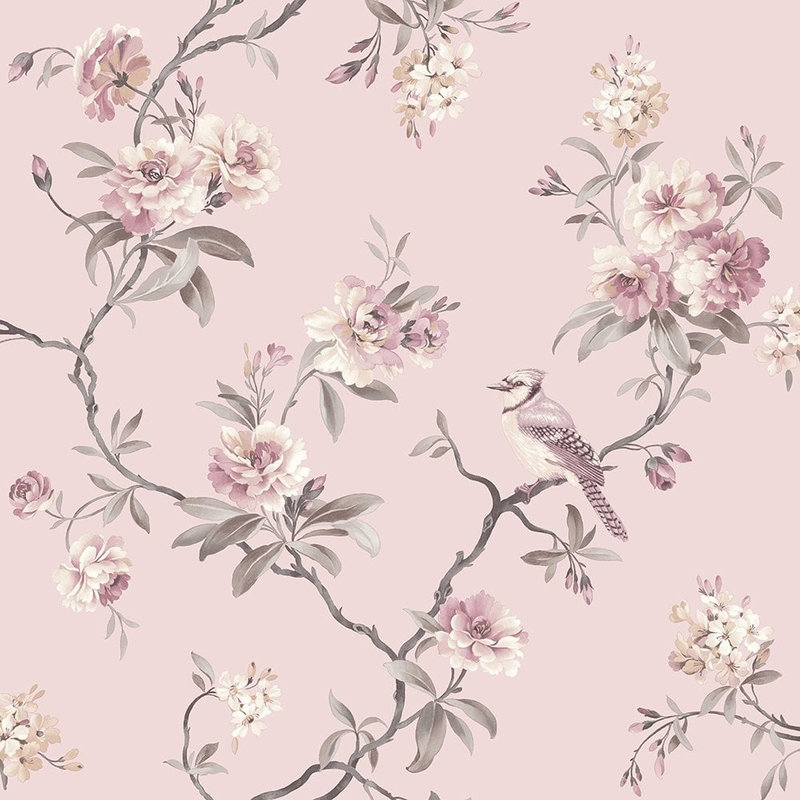 "Chinoiserie Floral Wallpaper Pink"
Papier Peint en vente sur ilovewallpaper.com
---
© All images are copyright 

and protected by their respective owners

, assignees or others. 
15 mai 2022
L'humoriste et actrice française Florence Foresti est de retour sur scène, 4 ans après son dernier spectacle (Epilogue, dont la tournée a été écourtée en raison de la crise Covid). Son nouveau spectacle s'intitulé Boys, Boys, Boys, en référence au tube de la chanteuse italienne Sabrina sorti en 1987. Sa tournée passe par le Théâtre Marigny (Paris) du 28 septembre au 31 décembre 2022, avant de partir en tournée dans toute la France dès le mois de mars 2023 et se prolongera jusqu'au mois de décembre 2023.
French humorist and actress Florence Foresti is back on stage, 4 years after her last show (Epilogue, whose tour was cut short due to the Covid crisis). Her new show is called Boys, Boys, Boys, in reference to the hit by Italian singer Sabrina released in 1987. Her tour passes through the Théâtre Marigny (Paris) from September 28 to December 31, 2022, before going on tour throughout France from March 2023 and will continue until December 2023.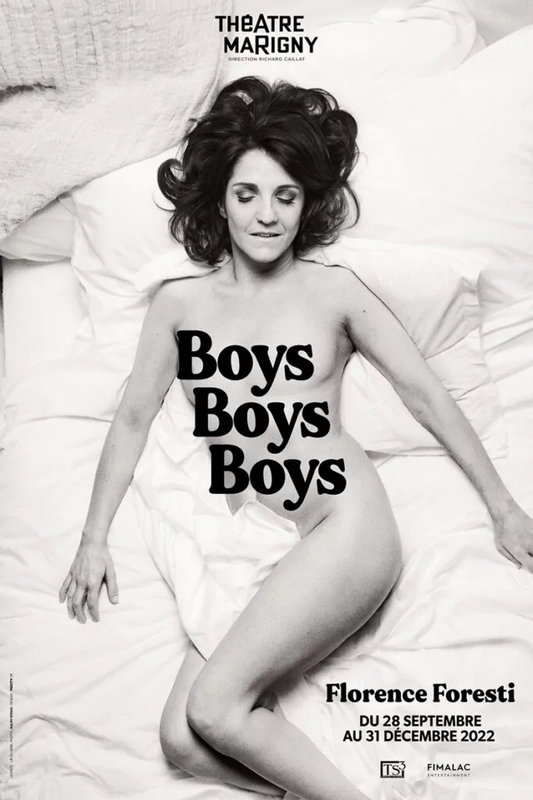 Pour l'affiche promotionnelle, Florence Foresti pose entièrement nue, allongée sur un lit de draps blancs: une référence à Madonna -dont Foresti est fan- qui a posé pour Steven Meisel en 1990 (et un portfolio des séances avec Meisel sera publié dans le "Vogue" italie de février 1991, présentant "Madonna comme Marilyn").
For the promotional poster, Florence Foresti poses entirely naked, lying on a bed of white sheets: a reference to Madonna - of whom Foresti is a fan - who posed for Steven Meisel in 1990 (and a portfolio of the sessions with Meisel will be published in the "Vogue" italy from February 1991, featuring "Madonna as Marilyn").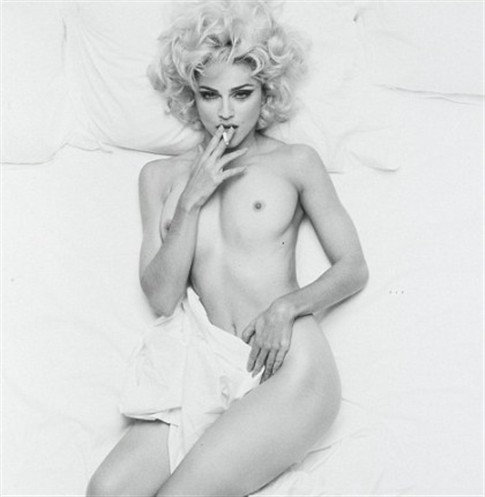 Pour sa séance avec Steven Meisel, Madonna s'inspirait bien de Marilyn Monroe; et cette photo d'elle nue dans un lit de draps blancs était un clin d'oeil à Marilyn Monroe et les séances de Tom Kelley, Eve Arnold et Douglas Kirkland.
For her session with Steven Meisel, Madonna was inspired by Marilyn Monroe; and this photo of her naked in a bed of white sheets was a nod to Marilyn Monroe and the seances of Tom Kelley, Eve Arnold and Douglas Kirkland.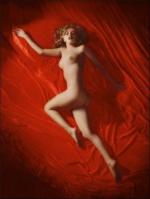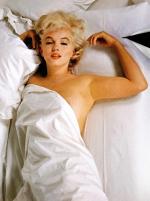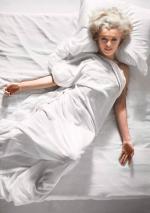 27/05/1949 - Red Velvet Sitting - Marilyn Monroe par Tom Kelley
11/1960 - Bed Sitting - Marilyn Monroe par Eve Arnold
17/11/1961 - Bed Sitting - Marilyn Monroe par Douglas Kirkland
---
© All images are copyright and protected by their respective owners, assignees or others.
copyright text by GinieLand.
14 août 2021
C'est pour un reportage photographique commandé par la presse que le photographe Mel Traxel va suivre Marilyn Monroe pour décrire à quoi ressemble son quotidien. Il semblerait que les prises de vues datent du 12 février 1952 (c'est la date qui figure tamponnée au dos des photographies).
Les photos servent aussi de support promotionnel pour l'université d'UCLA (Université de Californie à Los Angeles), que Marilyn fréquente en suivant des cours de littérature et d'histoire de l'art.
On la découvre aussi dans son appartement au Beverly Carlton Hotel.
Le reportage paraît dans les magazines américains Movies (en août 1952) et Movie Stars Parade (de mai 1953).

This is for a photographic report commissioned by the press that the photographer Mel Traxel follow Marilyn Monroe to describe what her daily life looks like. It seems that the shots date from February 12, 1952 (this is the date stamped on the back of the photographs).
The photos are also used as promotional support for the University of UCLA (University of California at Los Angeles), that Marilyn attends by following courses in literature and art history.
We also discover her in her apartment at the Beverly Carlton Hotel.
The report appears in the American magazines Movies (in August 1952) and Movie Stars Parade (in May 1953).
---
Beverly Carlton Hotel
---
- Séance de Gym -
Gym Sitting
C'est en général le matin que Marilyn Monroe s'adonne à quelques exercices physiques; pendant 15 minutes, elle soulève des haltères et des rouleaux. Son appartement est aménagé avec l'équipement nécessaire: table pour s'allonger, différents poids pour ajuster les haltères à soulever.
This is usually in the morning that Marilyn Monroe makes some physical exercises; for 15 minutes, she lifts dumbbells and rollers. Her apartment is equipped with the necessary equipment: table to lie down, different weights to adjust the dumbbells to be lifted.
- informations au dos des photographies -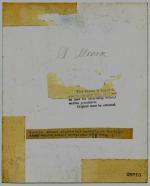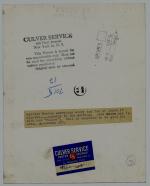 ---
- Séance de mise en beauté -
Beauty Sitting
Elle se met du vernis à ongles (une teinte rose claire) sur les ongles de mains et de pieds; elle utilise la marque Revlon.
Elle se met aussi des rouleaux dans les cheveux et fait fixer les boucles sous la chaleur d'un casque.
She puts nail polish (a light pink shade) on her fingernails and toenails; she uses the Revlon brand.
She also puts rollers in her hair and sets the curls in the heat of a helmet.

- information au dos des photographies -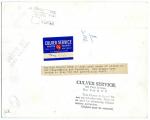 ---
- La vie quotidienne -
The Daily Life

Ranger ses vêtements, téléphoner, lire son courrier... simplement la vie quotidienne de n'importe quelle personne.
Tidying up clothes, making phone calls, reading mails ... just the everyday life of any person.

Elle pose fièrement avec la statuette Henrietta, qu'elle a reçu le 26 janvier 1952 , pour la catégorie de la "Meilleure jeune personnalité du box office 1951".
She is proudly to pose with her Henrietta Award received in January, 26, 1952, for the "The Best Young Box Office Personality in 1951".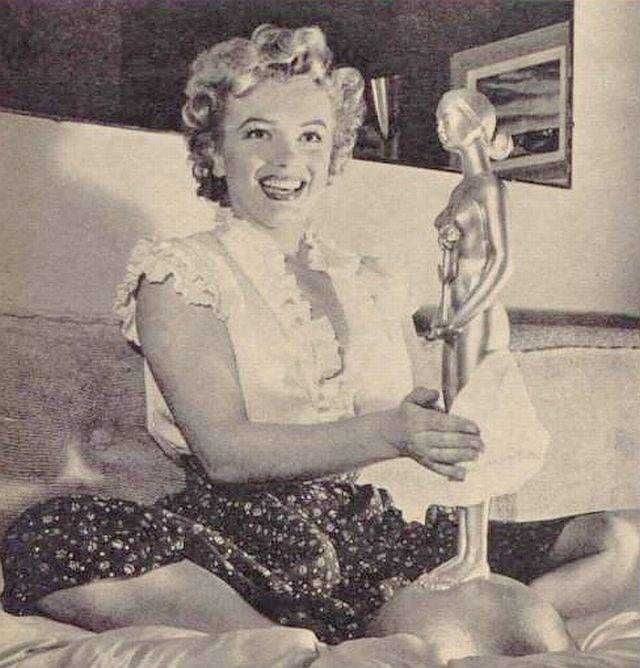 ---
L'heure de se lever ou de se coucher ? Marilyn règle l'heure sur son petit réveil.
Car Marilyn a un emploi du temps bien rempli: en plus de son travail au studio, elle prend des cours sur l'interprétation de la danse deux soirs par semaine, prend des cours de théâtre un soir par semaine et se rend à l'université d'UCLA tous les jeudis soirs.
Time to get up or go to bed ? Marilyn sets the time on her little alarm clock. Because Marilyn has a busy schedule: in addition to her work at the studio, she studies interpretative dancing two evenings a week and, attends acting class one evening a week and goes to UCLA university every Thursday evening.
- information au dos des photographies -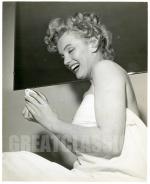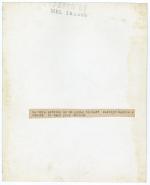 ---
UCLA
---
Tous les jeudis soirs, Marilyn prend des cours de littérature d'une durée de deux heures, dans le bâtiment annexe pour les formations en littérature à l'université d'UCLA de Los Angeles. Puis elle passe des heures à la bibliothèque de l'université pour faire de plus amples recherches sur ses sujets d'études.
Every Thursday evening, Marilyn takes literature classes for two hours session, in the extension building for backgrounds in literature at UCLA University in Los Angeles. Then she goes for hours to the university library to do further research on her subjects of study.
- A la boutique de l'université, Marilyn fait des achats
Elle écoute les conseils de l'étudiante vendeuse Vera Roush -
To the UCLA's bookstore, Marilyn is shopping
She listens the advices of student-salesgirl Vera Roush -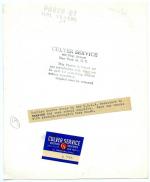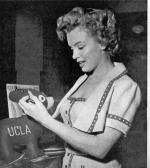 - En cours de littérature -
At the the literature course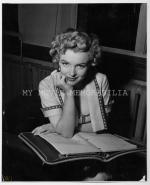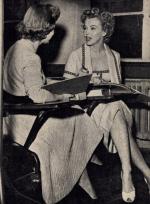 - Etude à la bibliothèque de l'UCLA -
Studying at the UCLA library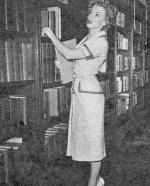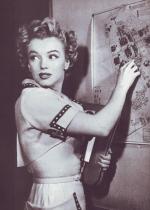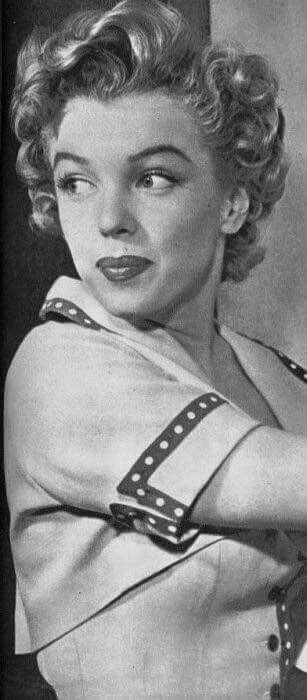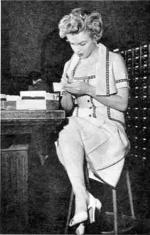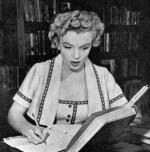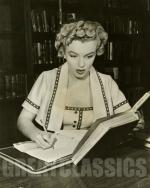 - A la cafétéria du Kerckhoff Hall de l'université d'UCLA
Elle discute avec l'équipe de basketball de la fac:
At the UCLA commissary of Kerckhoff Hall
She talks to the basketball team of the University:
Ronnie Livingston, Mark Costello, Don Bragg & Don Johnson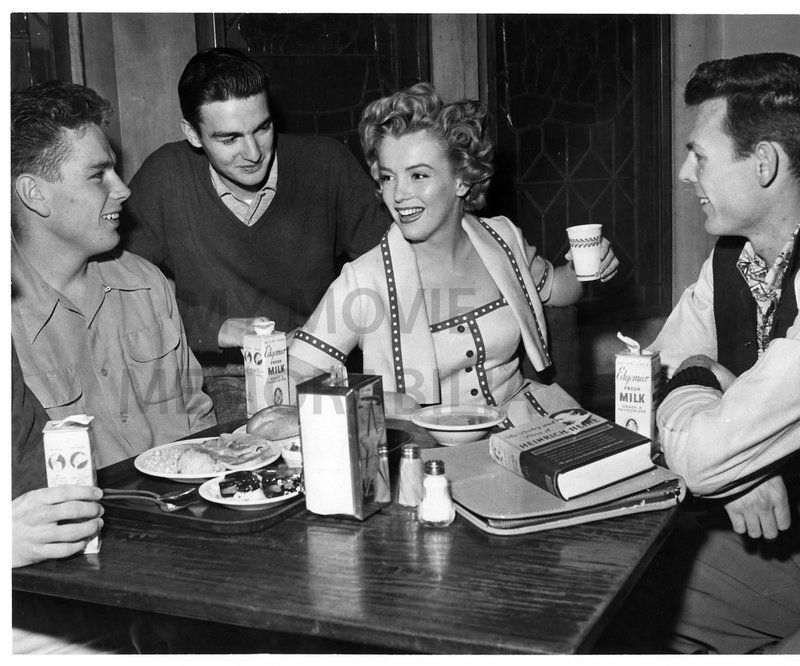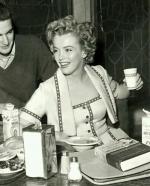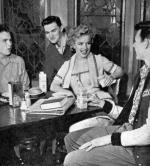 ---
Chez le dentiste Louis Armann
To the dentist's Louis Armann
---
Wil Wright's

---
Elle adore déguster des sundae chauds chez Wil Wright, qui était une chaîne de brasserie spécialisée dans les glaces aux Etats-Unis jusque dans les années 1970s.
Ils avaient plusieurs établissements, dont un à Beverly Hills (au croisement de Beverly Drive et Charleville) et aussi un dans le quartier de Westwood à Los Angeles.
She loves to eat hot sundae at Wil Wright, which was a chaine of ice cream parlor in the United States until the 1970s. They had several establishments, including one in Beverly Hills (at the corner of Beverly Drive and Charleville) and also one in the Westwood district of Los Angeles.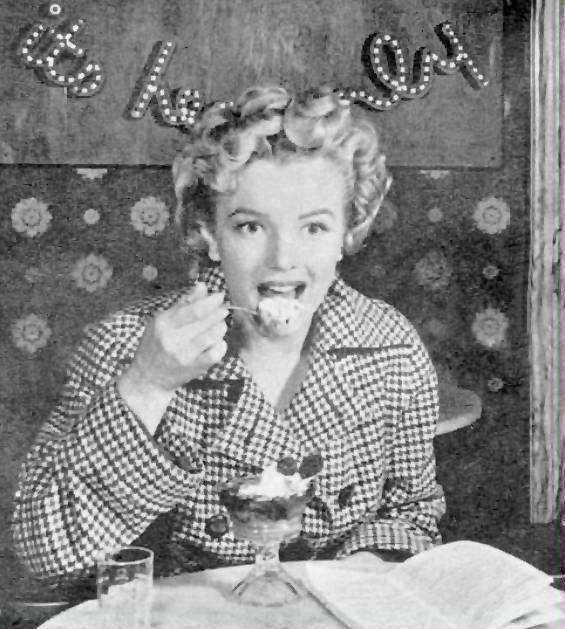 > Informations Wil Wright: Old Los Angeles Restaurants

---
- Dans la presse -
MOVIE STAR PARADE, 05/1953 - USA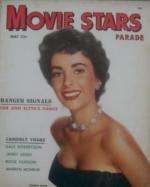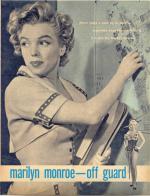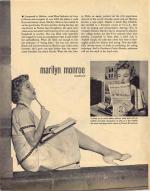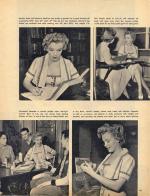 ---
© All images are copyright and protected by their respective owners, assignees or others.
copyright text by GinieLand.
29 mars 2021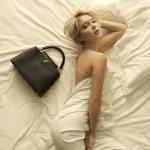 L'actrice française Léa Seydoux nous remet le couvert en se prenant (encore) pour Marilyn Monroe: après avoir pris des poses très "Marilynesques" dans l'édition française du magazine Vogue décembre 2020, c'est cette fois-ci pour la nouvelle campagne de la marque de luxe Louis Vuitton (dont elle est l'égérie depuis plusieurs années) qu'elle prend des poses inspirées de Marilyn, nue dans un drap blanc (avec les sacs Vuitton). Cette campagne du Vuitton maroquinerie présentant les sacs Capucines a été dévoilée le 22 mars 2021. Sous la direction artistique de Nicolas Ghésquière, l'actrice est photographiée par le célèbre photographe de mannequins Steven Meisel.
> voir le site de Louis Vuitton
The French actress Léa Seydoux gives us the cover by taking (again) for Marilyn Monroe: after having taken very "Marilynesque" poses in the French edition of Vogue magazine December 2020, it is this time for the new campaign from the luxury brand Louis Vuitton (for which she is the muse for several years) that she takes poses inspired by Marilyn, naked in a white sheet (with the Vuitton bags). This Vuitton leather goods campaign featuring Capucines bags is unveiled on March 22, 2021. Under the artistic direction of Nicolas Ghesquière, the actress is photographed by famous photographer of models Steven Meisel.
---
Pour rappel, Marilyn Monroe a posé de nombreuses fois dans un lit, nue, recouverte d'un drap blanc. Outre les séances de Bob Beerman (en 1952), d'André De Dienes (en 1953), de Milton Greene (en octobre 1953), d'Eve Arnold (en novembre 1960), ou encore sa dernière séance d'avec Bert Stern (en juillet 1962); ces photographies prises en contre plongée sont un échos à la séance de Marilyn du 17 novembre 1961 par le photographe Douglas Kirkland.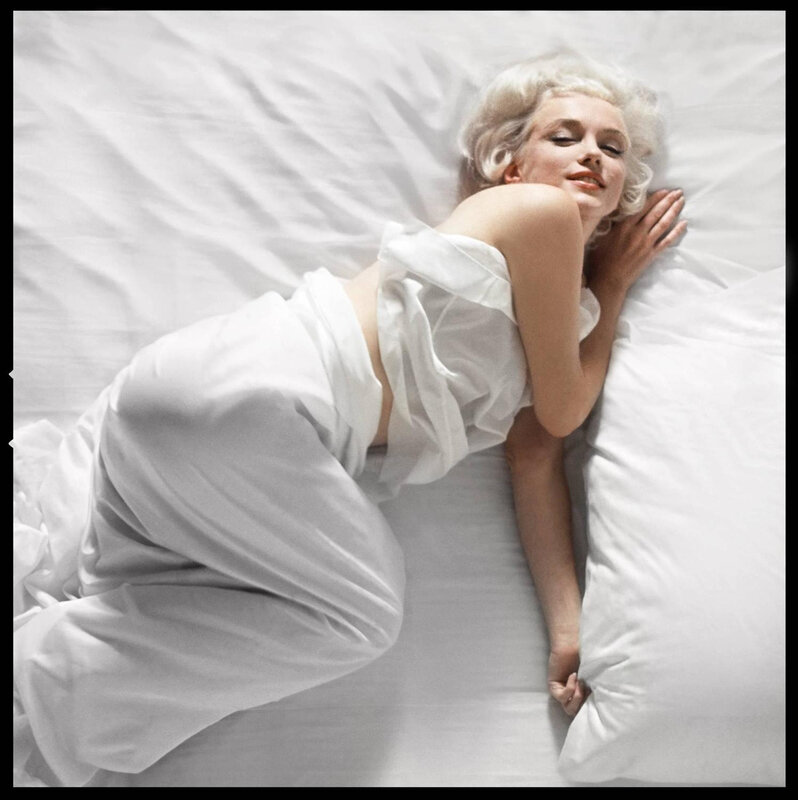 As a reminder, Marilyn Monroe posed many times in a bed, naked, covered with a white sheet. In addition to the sessions of Bob Beerman (in 1952), André De Dienes (in 1953), Milton Greene (in October 1953), Eve Arnold (in November 1960), or her last sitting with Bert Stern (in July 1962); these photographs taken in low angle are an echo to the session of Marilyn of November 17, 1961 by the photographer Douglas Kirkland.
---
All photos are copyright and protected by their respective owners.
copyright text by GinieLand.
27 octobre 2020
As for my mouth being open all the time,
I even sleep with it open.
I know, because it's open when I wake up.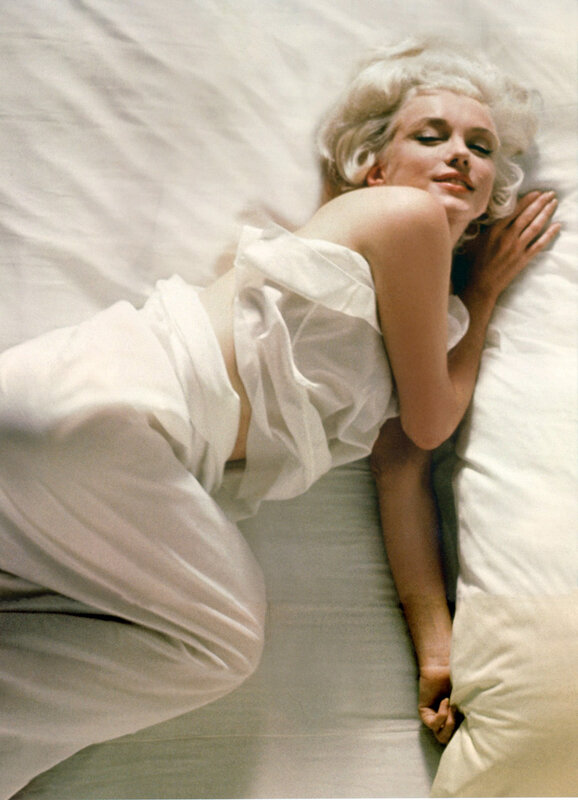 Pour ce qui est de ma bouche ouverte tout le temps,
je dors même la bouche ouverte.
Je le sais car elle est ouverte quand je me réveille.
---
source: citation extraite de l'interview accordée au Saturday Evening Post, Part 1, 05 mai 1956.
---
© All images are copyright and protected by their respective owners, assignees or others.
28 juillet 2018
Le vendredi 17 novembre 1961, dans un studio loué à Hollywood (le studio John Engstead sur Santa Monica Boulevard), le photographe Douglas Kirkland et ses assistants préparent la venue de Marilyn Monroe: du champagne Dom Perignon au frais, et des disques de Frank Sinatra.
On Friday, November, 17, 1961, in a studio rented in Hollywood (the John Engstead Studio on Santa Monica Boulevard), the photographer Douglas Kirkland and his assistants prepare the arrival of Marilyn Monroe: champagne Dom Perignon in the fridge, and records by Frank Sinatra.
Le rendez-vous est fixé à 19h, mais Marilyn arrive à 21h30. D'ailleurs, l'agent de Marilyn, John Springer, avait prévenu Kirkland et son associé, l'écrivain Jack Hamilton: "Elle arrive parfois en retard mais elle finit toujours par arriver."
Marilyn est accompagnée de deux assistantes: l'une s'occupe de la coiffure et du maquillage (Agnes Flanagan), l'autre est son habilleuse, portant un sac de vêtements.
Parmi les autres personnes présentes: John Springer, Jack Hamilton, un assistant et le responsable du studio.
Kirkland a installé un appareil photo sur le petit balcon pour photographier le lit en plongée. Mais il ne sait pas encore comment il veut la photographier: il a l'idée d'utiliser d'abord une grande étoffe blanche. Marilyn n'est pas emballée mais se prête au jeu en enfilant l'une des robes (de Norman Norell) qu'elle a apportée. La séance se révèle inefficace. Marilyn et Kirkland trouvent le tissu trop ordinaire: "Je ne suis pas du genre à porter de la toile au rabais !" Ils font alors une pause pour réorganiser la séance.
The appointment is fixed at 7 pm, but Marilyn arrives at 9:30 pm. Anyway, Marilyn's agent, John Springer, had informed Kirkland and his associate, writer Jack Hamilton: "She sometimes arrives late but she always ends up arriving."
Marilyn is accompanied by two assistants: one is in charge of hair and make-up (Agnes Flanagan), the other is her dressmaker, carrying a bag of clothes.
The other persons are John Springer, Jack Hamilton, an assistant, and the studio manager.
Kirkland installed a camera on the small balcony to photograph the bed. But he doesn't know yet how he wants to photograph her: he has the idea of ​​using first a large white fabric. Marilyn is not excited but she is ready to try and by putting on one of the dresses she has brought. The setting is ineffective. Marilyn and Kirkland find the fabric too ordinary: "I'm not the one to wear cheap clothes !" They then make a break to reorganize the session.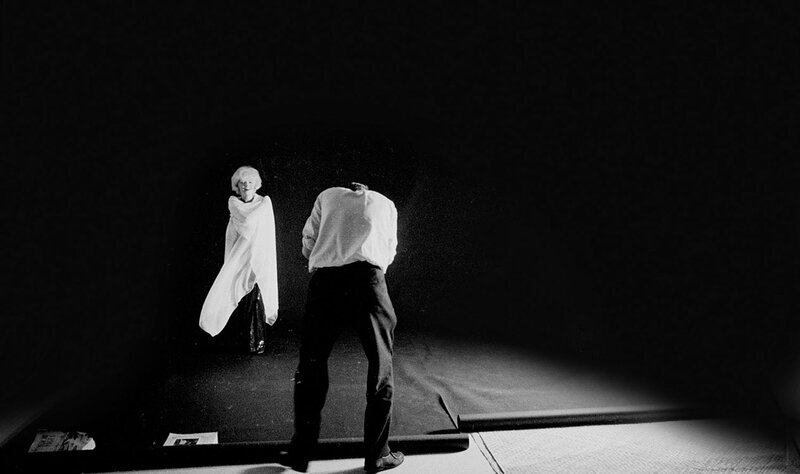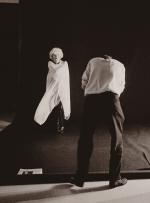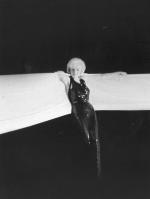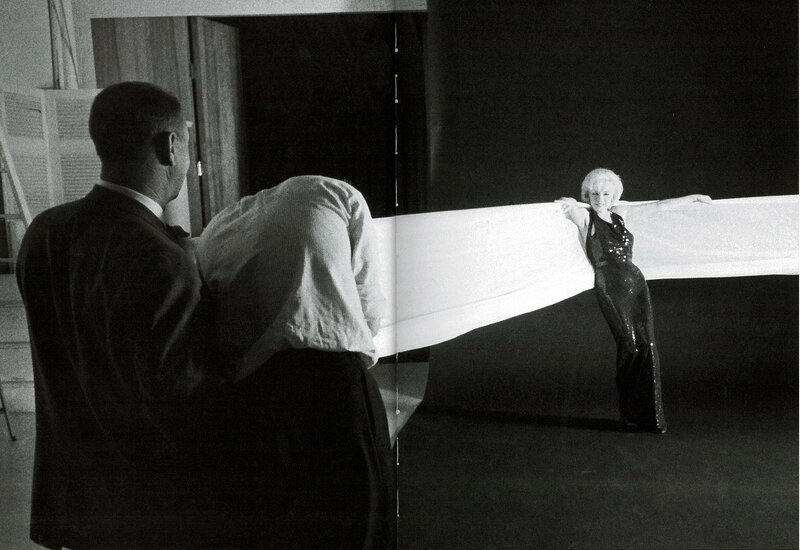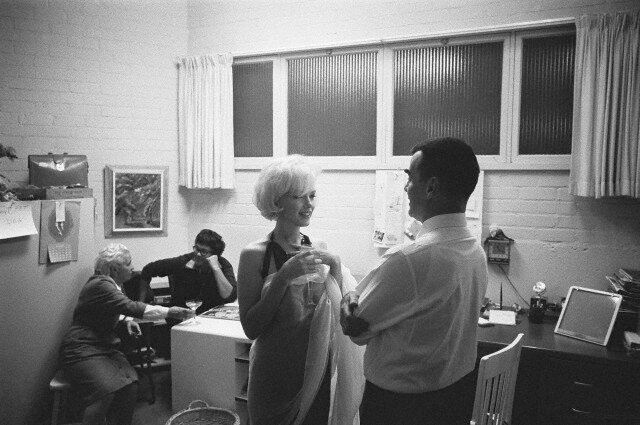 > avec le journaliste de Look, Jack Hamilton
---
Douglas Kirkland amène Marilyn vers le lit défait de draps de soie blanche en lui demandant d'imaginer comment elle aimerait qu'on se souvienne d'elle dans 25 ans, puisque la photo devait fêtait le 25ème anniversaire du magazine Look. Marilyn retourne dans sa loge et y ressort en peignoir blanc qu'elle retire pour se glisser dans les draps de soie. Pendant que Kirkland la photographie, perché du balcon, elle boit quelques gorgées de champagne. Parfois Kirkland s'arrête et boit avec elle.
En pleine séance, elle demande au reste de l'équipe de la laisser seule avec le photographe: "D'habitude, ça marche mieux comme ça !" Pour Kirkland, ce fut alors "Une expérience très intime (...) Tout se jouait désormais entre Marilyn, mon appareil et moi. (...) L'ambiance était calme, douce et séduisante."
D'après Kirkland, Marilyn lui demande en pleine séance qu'il la rejoigne dans le lit; il explique que bien qu'il en avait très envie, il était alors marié et père de trois enfants et sa bonne conscience lui fait refuser la proposition. Selon Kirkland, toute cette tension sexuelle a permis de livrer de bonnes photos.
Douglas Kirkland takes Marilyn to the unmade bed of white silk sheets and asks her to imagine how she would like to be remembered in 25 years, because the photo was to celebrate the 25th anniversary of Look magazine. Marilyn goes back to her dressing room and comes out in a white bathrobe, which she pulls out to slip into the silk sheets. While Kirkland photographs her, perched on the balcony, she drinks a few cups of champagne. Sometimes Kirkland stops and drinks with her.
In the middle of the session, she asks the rest of the team to leave her alone with the photographer: "Usually, it works better like that !" For Kirkland, it was then "A very intimate experience (...) Everything was now played between Marilyn, my camera and me (...) The atmosphere was calm, sweet and seductive."
According to Kirkland, Marilyn asks him to join her in the bed; he explains that although he wanted to do it, he was married with three children and his good conscience made him refuse the offer. According to Kirkland, all this sexual tension allowed to deliver good photos.
---
- The Bed Sitting -
- Backstage of The Bed Sitting -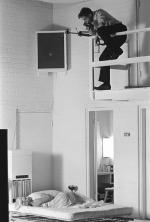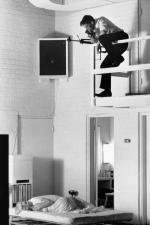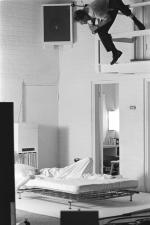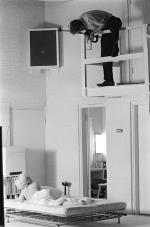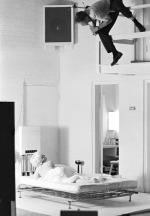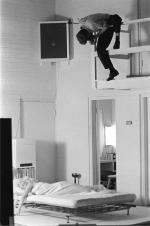 Quand il a terminé, il la rejoint et s'allonge par terre à côté du lit pour discuter seuls une vingtaine de minutes avant de refaire entrer les autres. Son assistant a pris quelques photos. Puis Marilyn remet son peignoir et retourne dans sa loge.
Elle part peu après minuit. Elle prend rendez-vous avec Kirkland le lendemain après midi chez elle pour visionner les photos.
When he has finished, he joins her and lies on the floor next to the bed to discuss about twenty minutes before the others enter. His assistant took some photos. Then Marilyn puts on her bathrobe and goes back to her dressing room.
She leaves the studio shortly after midnight. She makes an appointment with Kirkland the next day afternoon at home to view the photos.
---
Marilyn Monroe quitte le studio photo
Instantanés pris par James Haspiel
Marilyn Monroe leaves the studio
Snapshots taken by James Haspiel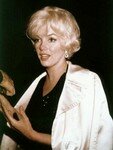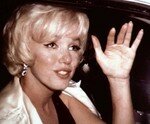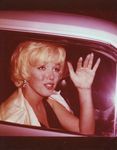 ---
> source: livre Douglas Kirkland, Une nuit avec Marilyn
---
© All images are copyright and protected by their respective owners, assignees or others.
copyright text by GinieLand.
25 novembre 2015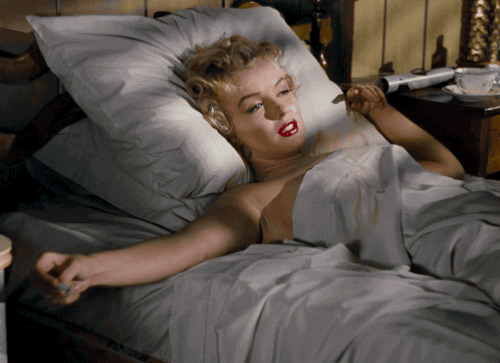 > source giphy.com
22 août 2015
Année: 1983 + 1984
Marque / Produit: Cotonflor / draps
Pays: France
Photographie: une sosie de Marilyn
Year: 1983 + 1984
Brand / Product: Cotonflor / sheets
Country: France
Photography: a lookalike of Marilyn
---
© All images are copyright and protected by their respective owners, assignees or others.
22 juillet 2015
Le 30 juin 1962, Marilyn Monroe est photographiée par George Barris pour le magazine Cosmopolitan, chez Walter 'Tim' Leimert, un magnat de l'immobilier, ami du photographe, dont la villa se trouve au 1506 Blue Jay Way située dans les collines au Nord d'Hollywood. Série "Blouse Pucci".
On June, 30, 1962, Marilyn Monroe is photographed by George Barris for the Cosmopolitan magazine, at Walter 'Tim' Leimert's house, a real estate tycoon, friend of the photographer, whose villa is at 1506 Blue Jay Way in the Nord Hollywood hills. "Pucci Jacket" sitting.
---
**** Pucci Jacket Sitting ****
Série Blouse Pucci
---
-- Parking voitures
Car's Parking --
-- Avec Patricia Newcomb (attaché de presse) et Whitey Snyder (maquilleur)
With Patricia Newcomb (press attache) and Whitey Snyder (for make-up man) --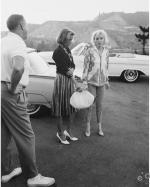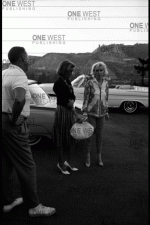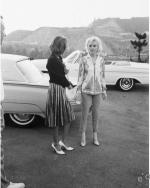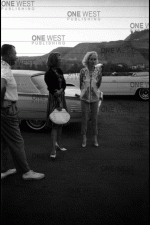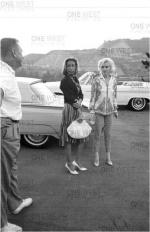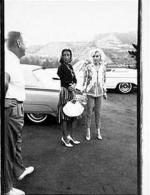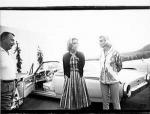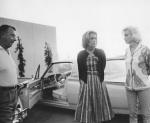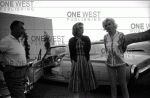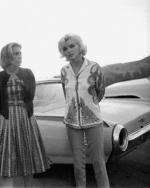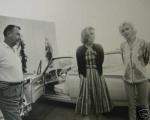 ---
---
-- Dans le patio
In the patio --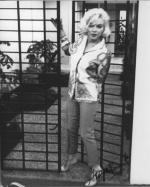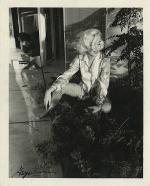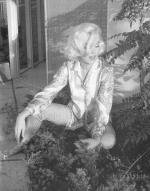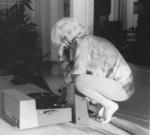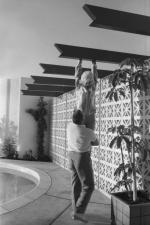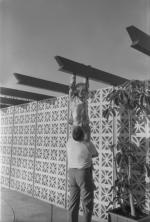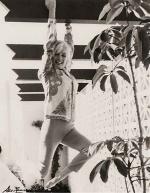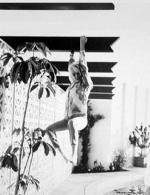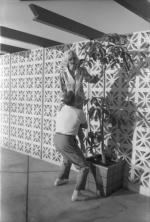 ---
-- Au salon bar
At the lounge bar --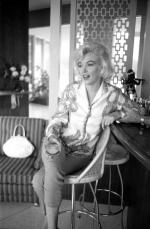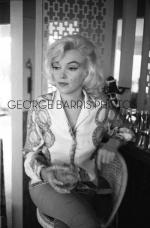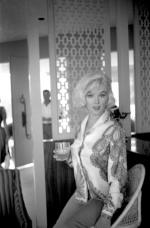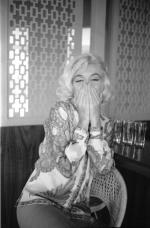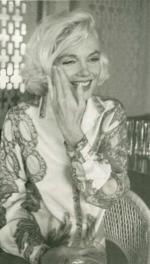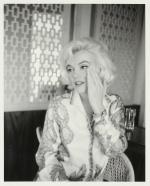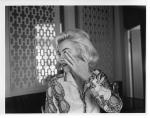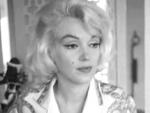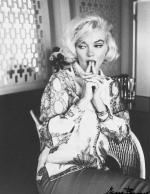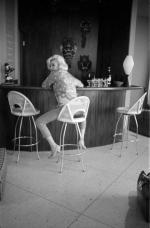 -- Avec Agnes Flanagan (coiffure) et Whitey Snyder (au maquillage)
With Agnes Flanagan (hairdresser) and Whitey Snyder (for make-up) --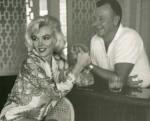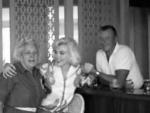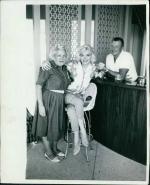 ---
-- Dans le salon
In the living room --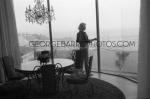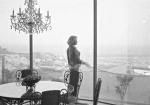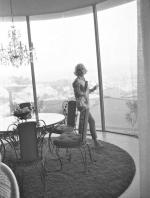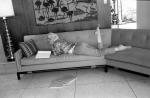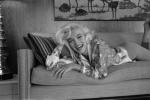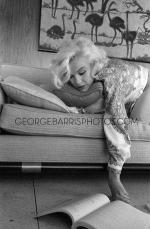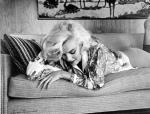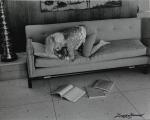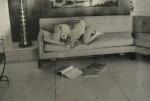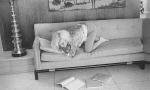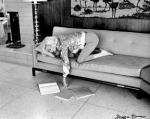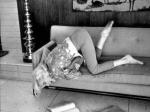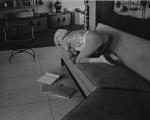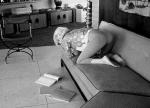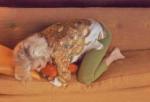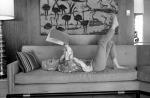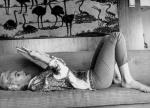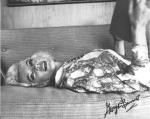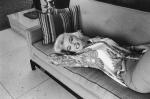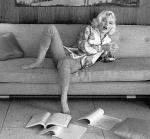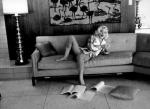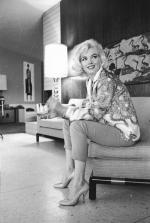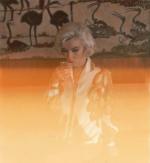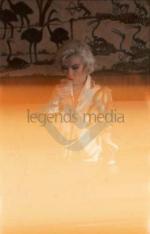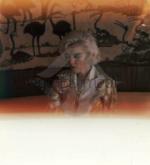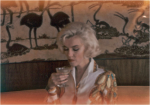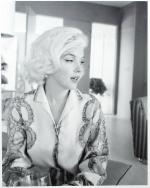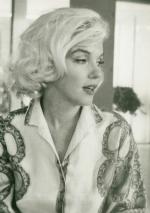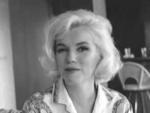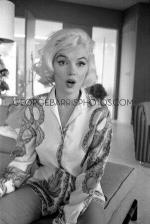 ---
-- Dans la chambre
In the Bedroom --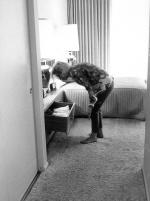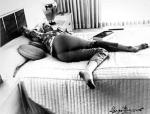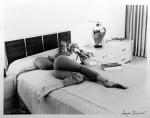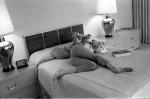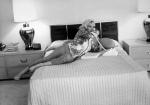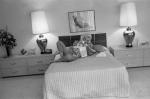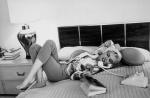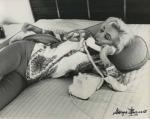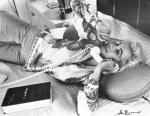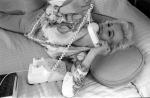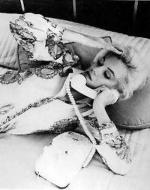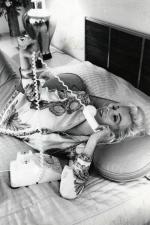 ---
-- Dans la salle de bain
In the Bathroom --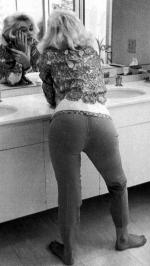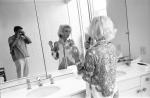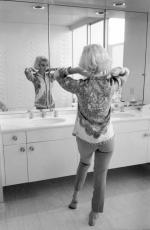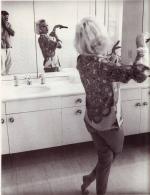 ---
Marilyn confie à Barris: "La période la plus heureuse de ma vie, c'est en ce moment... L'avenir est devant moi, et j'ai hâte d'y être, ça va être passionnant ! J'ai l'impression que je commence à peine: je veux jouer dans des comédies, des tragédies, un mélange des deux... Je n'ai aucun regret car, si j'ai commis des erreurs, je suis seule responsable... J'aime beaucoup rester ici (en Californie) mais, de temps en temps, j'ai des envies de New York. Alors, tout ce que j'ai à faire c'est fermer les portes [de devant et de derrière] et partir. J'aime bien avoir un ancrage solide."

Marilyn tells to to GB: "The happiest time of my life is now... There's a future and I can't wait to get to it -it should be intereting ! I feel I'm just getting started; I want to do comedy, tragedy, interspersed... I have no regrets, because if I made any mistakes, I was responsible... I like to stay here (in California) but every once in awhile I get that feeling for New York. Here all I have to do is lock the [front and back] doors and go. I like ground to stand on."
Source:
L'assassinat de Marilyn Monroe, par Jay Margolis, Richard Buskin
The Murder of Marilyn Monroe: Case Closed, by Jay Margolis, Richard Buskin
---
© All images are copyright and protected by their respective owners, assignees or others.
copyright text by GinieLand.
03 mai 2015
Marilyn Monroe le 10 juillet 1962
"The Bed Sitting" par Bert Stern.