23 mai 2015
Le mardi 19 mai 1953, Marilyn Monroe est invitée à l'émission de radio de Louella Parsons à 21h15 pour une interview. Marilyn porte une tenue du film "Les hommes préfèrent les blondes".
On Tueday of 1953, May, 19, Marilyn Monroe participates to the radio show of Louella Parsons at 9:15 pm for an interview. Marilyn wears a suit from "Gentlemen prefer Blondes".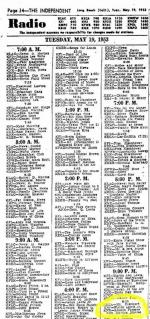 ---
© All images are copyright and protected by their respective owners, assignees or others.
copyright text by GinieLand.

25 avril 2015
En avril 1952, Marilyn Monroe est interviewée par Dick Whittinghill à la Southern California Radio.
In april 1952, Marilyn onroe is interviewed by Dick Whittinghill to the Southern California Radio.
---
© All images are copyright and protected by their respective owners, assignees or others.
copyright text by GinieLand.
21 décembre 2014
Alors que Marilyn Monroe a toujours déclaré être orpheline, l'existence de sa mère Gladys Baker est révélée dans la presse. Les studios demandent à Marilyn de clarifier la situation: elle donne donc une interview au chroniquer Erskine Johnson. Mais l'entretien a été répété et travaillé auparavant avec son ami Sidney Sklosky. L'article sera publié le 3 mai 1952 dans le Los Angeles Daily News:
MARILYN MONROE AVOUE:
MA MERE EST EN VIE ET VIT A HOLLYWOOD
par Erskine Johnson
Marilyn Monroe -la poupée glamour de Hollywood qui a récemment fait la une des journaux en reconnaissant qu'elle avait posé nue pour un calendrier - nous livre aujourd'hui une nouvelle confession.
Rendue célèbre par les agences publicitaires hollywoodiennes comme étant une pauvre orpheline n'ayant jamais connu ses parents, Marilyn reconnaît qu'elle est la fille d'une ancienne monteuse de la RKO, Gladys Baker et déclare: "Je l'aide et veux continuer à l'aider tant qu'elle aura besoin de moi."
En convalescence après une opération de l'appendicite au Los Angeles Hospital, Marilyn m'a donné des informations exclusives par l'intermédiaire de la Twentieth Century Fox, après l'apparition dans les studios de cinq femmes revendiquant Marilyn comme étant "leur fille perdue de longue date".
La reine du glamour hollywoodien a dit:
"Mes amis proches savent que ma mère est en vie. A mon insu, alors que j'étais enfant, ma mère passa de nombreuses années dans un hôpital public. Par l'intermédiaire du comté de Los Angeles, ma tutrice m'a placée dans plusieurs familles d'accueil, et j'ai passé plus d'un an à l'orphelinat de Los Angeles. Je n'ai jamais connu ma mère intimement et, depuis que je suis adulte et à même de lui venir en aide, je suis entrée en contact avec elle. Je l'aide à présent, et veux continuer à l'aider tant qu'elle aura besoin de moi."
Les amis de sa mère fournirent les informations complémentaires:
"Lorsque Marilyn était enfant, son père mourut dans un accident de voiture, à la suite de quoi sa mère souffrit de dépression nerveuse. Une amie de sa mère était sa tutrice légale. La mère de Marilyn recouvra la santé en 1945 et vécut peu de temps avec sa fille, en 1946. La même année, elle se remaria et redevint veuve pour la seconde fois, la semaine dernière, quand son mari mourut après une courte maladie."
La nouvelle que la mère de Marilyn était vivante fut une grande suprise, car les studios avaient largement tablé leur publicité sur le fait que Marilyn ne connaissait ni sa mère ni son père. Mais la nouvelle confession de la star, reconnaissant que sa mère, deux fois veuve, vit à Hollywood et qu' "elle lui vient en aide" est un grand soulagement pour le service judiciaire de la Twentieth Century Fox, très ennuyée par les revendications violentes de femmes prétendant que Marilyn était leur "fille".
---
While

Marilyn

Monroe

has always

declared to be

an orphan,

the existence

of her mother

Gladys Baker

is revealed in

the press.

The studios

ask

Marilyn

to clarify the

situation: she

thus gives

an interview to

reviewer

Erksine

Johnson.

But

the interview

was repeated and

previously worked

with her friend

Sidney

Sklosky

.

The article will be

published

in

May 3, 1952

:
MARILYN MONROE CONFESSES
MOTHER ALIVE, LIVING HERE
By Erskine Johnson
Marilyn Monroe - Hollywood's confessing glamour doll who made recent headlines with the admission thatshe was a nude calendar cutie - confessed again today. Highly publicized by Hollywood press agents as an orphan waif who never knew her parents, Marilyn admitted that she's the daughter of a one-time RKO studio film cutter, Gladys Baker, and that "I am helping her and want to continue helping her when she needs me."
Recovering from an appendectomy in a Los Angeles hospital, Marilyn gave me an exclusive statement through the Twentieth Century-Fox studio following the appearance at the studio of five women claiming Marilyn as their "long-lost daughter."

Said Hollywood's new glamour queen:
"My close friends know that my mother is alive. Unbeknown to me as a child, my mother spent many years as an invalid in a state hospital. I was raised in a series of foster homes arranged by a guardian through the County of Los Angeles and I spent more than a year in the Los Angeles Orphans Home. I haven't known my mother intimately, but since I have become grown and able to help her I have contacted her. I am helping her and want to continue helping her when she needs me."

Hollywood friends of her mother supplied the rest of the story: "When Marilyn was a small child her father was killed in an automobile accident and her mother subsequently suffered a nervous breakdown. A friend of her mother was appointed her legal guardian. Marilyn's mother recovered from her illness in 1945 and lived with her daughter for a short time in 1946. In the same year her mother remarried and became a widow for the second time last week when her husband died following a short illness."
The news that Marilyn's mother is alive in Hollywood came as an eyebrow-lifting suprise because of the extensive studio publicity that Marilyn had never known her mother or her father. But the new star's confession that her twice-widowed mother is in Hollywood and that "I am helping her" came as a relief to the Twentieth Century-Fox legal department, which has been confronted with wild claims by women insisting that Marilyn is their "daughter."
---
© All images are copyright and protected by their respective owners, assignees or others.
copyright text by GinieLand.
26 novembre 2012
Le mercredi 29 février 1956, Marilyn Monroe en compagnie de Amy Greene et de ses avocats quittent la maison du 595 North Beverly Glen Boulevard pour se rendre au tribunal.
In Wedneday, February 29, 1956, Marilyn Monroe with Amy Greene and her lawyers leave the house at 595 North Beverly Glen Boulevard to go to court.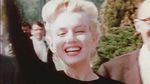 > captures d'un film de Milton Greene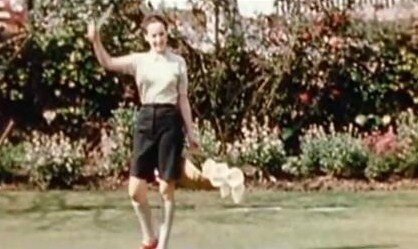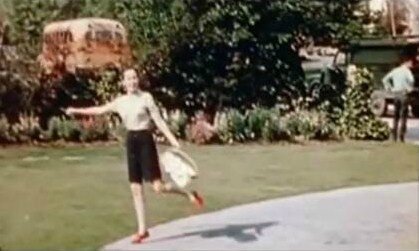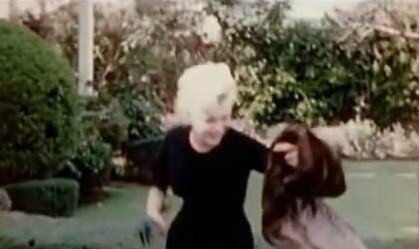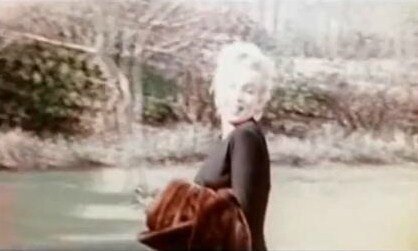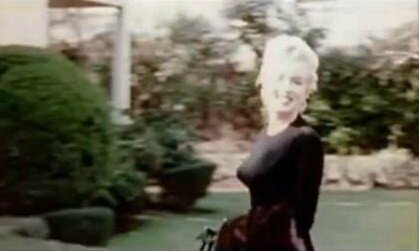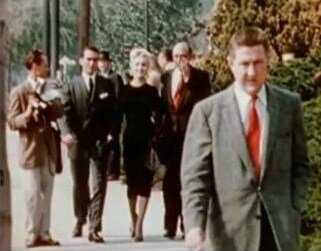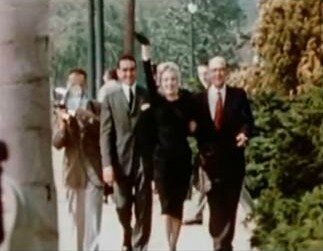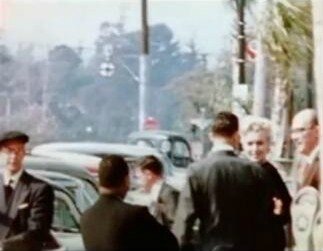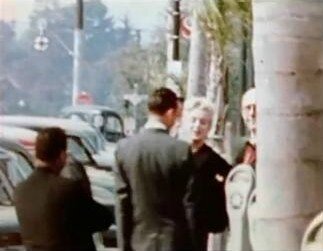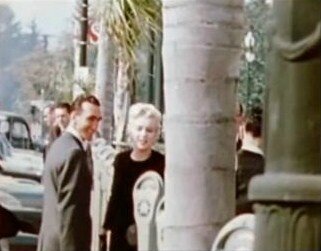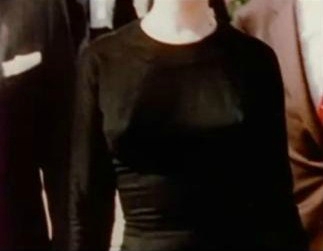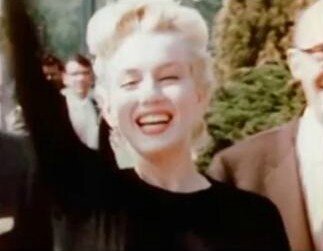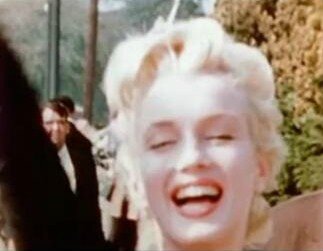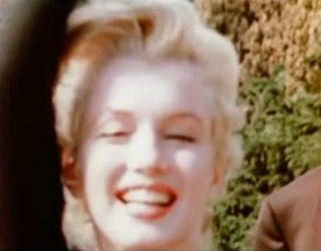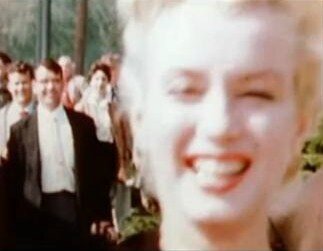 > video (films footage de Greene)

---
Marilyn Monroe comparaît au tribunal municipal de Beverly Hills City Hall, devant le juge Charles J. Griffin, pour trois infractions routières, datant du 21 novembre 1954, où, sur Wilshire Boulevard, elle conduisait sans permis de conduire à présenter, une conduite alors que le permis était expiré, et une conduite trop lente. Elle ne s'était alors pas présenté à la citation à comparaître.
Accompagnée de son avocat Irving L. Stein, elle plaide coupable aux trois chefs d'accusation dans l'affaire "Les gens contre Marilyn Monroe DiMaggio".
De nombreux journalistes et photographes (une vingtaine) sont présents. Le juge lui dit "Vous pensez peut être que c'est une bonne publicité. Pour votre information, j'ai reçu de nombreuses lettres et il semblerait que votre soit disant public ne pense pas qu'il s'agisse là d'une bonne publicité." Marilyn lui répond: "Je suis vraiment désolée pour tous les ennuis que je cause. Mais je n'étais plus en Californie." car Marilyn était en effet partie vivre à New York. Ce à quoi le juge rétorque: "Les lois sont faites pour tout le monde, que l'on s'appelle Miss Monroe ou non. Ce genre d'agissement ne vous apportera pas d'Oscar."
Elle paie une amende de 56 $ au procureur Ray Brainard (composée de 5 $ pour les amendes routières, 50 $ pour ne pas avoir comparu et 1 $ pour les frais de tribunaux).
Marilyn Monroe appears at the municipal court in Beverly Hills City Hall, before the Judge Charles J. Griffin for three traffic violations, dated on 21 November 1954, when, on Wilshire Boulevard, she was driving without an operator's license, driving after her license had expired, driving too slowly and failing to appear after a citation was issued.
Accompanied by her lawyer Irving L. Stein, she pleaded guilty to the three counts in the case "People vs. Marilyn Monroe DiMaggio".
Many journalists and photographers (about twenty) are present. The judge says "You may have the idea that this is a good publicity. For your information, I have received many letters and it would seem that your so-called public doesn't think it's such good publicity." Marilyn replies: "I'm very sorry for all the trouble I caused. But I was out of California." because Marilyn was indeed gone to live in New York. What the judge retorted: "The laws are made for all of us, whether our name happens to be Miss Monroe or not. Well, this kind of acting won't bring you an Oscar."
She pays a fine of $ 56 to the prosecutor Ray Brainard (composed by $ 5 for traffic fines, $ 50 for failing to appear and $ 1 for court costs).

---
---
> video 1 (muette, de mauvaise qualité)


> video 2 (gros plan)


> video 3 (FoxMovietone - muette + interview)


> video 4 (à la Cour)

> video 5 (interview de Marilyn)


---
---
© All images are copyright and protected by their respective owners, assignees or others.
copyright text by GinieLand.

21 août 2012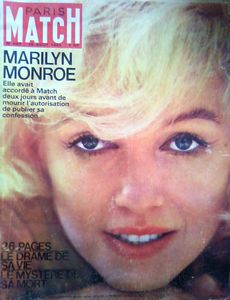 Le magazine Paris Match n°697, du 18 août 1962, rendait un grand hommage à Marilyn Monroe, mise à l'honneur en couverture, et avec un article de 37 pages intitulé "Adieu à Marilyn Monroe". Avec un article hommage par Jean-Marc Sabathier, la retranscription de l'interview donnée à Richard Merryman et publiée dans Life magazine; ainsi que la publication des photographies de Bert Stern.
29 juillet 2011
La journaliste d'investigation Aline Mosby, qui travaillait au bureau de Los Angeles d'UPI -United Press International- est la première à avoir découvert que Marilyn Monroe avait posé nue pour un calendrier en 1949 (les photos de Tom Kelley). La journaliste serait parvenue à retrouver le calendrier en février 1952. On raconte que c'est Jerry Wald, le producteur du film Clash by night (Le démon s'éveille la nuit) dans lequel jouait Marilyn et produit par la RKO, qui aurait soufflé l'affaire à la journaliste. Sans doute y voyait-il le moyen de faire du tapage autour de l'actrice et ainsi une bonne publicité pour le film. Marilyn étant sous contrat avec la Fox (qui l'avait juste prêtée à la RKO pour qu'elle tourne Clash by night), elle fut convoquée immédiatement dans les bureaux où les dirigeants lui demandèrent de nier en bloc. Mais Marilyn ne voulait pas mentir et les persuada de livrer sa version des faits. Ainsi, Marilyn, alors en plein tournage de Don't Bother to Knock (Troublez-moi ce soir), fut interviewée par Aline Mosby qui publia l'entretien le 13 mars 1952 dans la presse américaine. Marilyn y raconta simplement qu'elle était sans le sou et perdue. Les médias ont plutôt majoritairement bien acceuillis la nouvelle et Marilyn gagna la compassion du public.
> Avec le photographe George Long